This post contains affiliate links. We may receive a commission for purchases made through these links without any extra cost to you. Thank you for your support.
---
In this InstantAdPower review, let's find out if it's good enough using this safelist mailer to promote affiliate offers.
Using a safelist mailer could help you drive traffic to your offer. However, we always see it as a supporting tool, not a core tool to promote affiliate offers.
The primary indicator of a safelist mailer is the number of members and its user interface.
We have reviewed two safelist mailers, List Mailer Plus and Mister Safelist. This time, we'll cover another alternative worth considering, InstantAdPower.
Let's dive in!
What is InstantAdPower?
InstantAdPower is a safelist mailer that claims to give you quick results through email traffic and various ads. The owner of this safelist mailer is Sammy and Kenny Kolijn. These two owners are also the owner of List Mailer Plus. You'll notice the similarity in the interface when you sign up for InstantAdPower.
InstantAdPower Review: Key Features
In this section, let's look at the features of InstantAdPower and how you can utilize it to drive traffic.
Email Advertising
InstantAdPower allows you to send emails to its members. As you can see in the screenshot above, there are 2,860 available members you can send an email to right now. The number is a bit low, but it's still worth trying.
To send an email to all of the members available, you need credits. As any other safelist mailers work, you can read an email, click on the link, click on a banner, and log in to InstantAdPower to earn credits for free. Each email you read will give you 20 credits.
Sometimes, there will be a bonus credit within a limited timeframe. When you click on that bonus, you can earn 50 points. The way InstantAdPower work is very similar to List Mailer Plus, down to its user interface.
As you can see, you must put an HTTPS:// address in the URL row to promote your link. Otherwise, your offer won't load and will only show a blank screen. You can also use a [name] placeholder to create a personalized email to all the members. Moreover, there is also a Double Timer option to show your offer longer before anyone can skip it.
Ads
With InstantAdPower, there are six ads you can use to drive traffic to your affiliate offers. These are:
Premium ads. A standout branded banner ad with your picture, a headline, and a banner (468 x 60) in the membership area.
Power ads. A square ad banner with a headline and text on the sidebar.
Banner ads. A banner advertisement (468 x 60) that shown to InstantAdPower's active members.
Text ads. Create text ads to drive traffic to your sites and offers.
Login ads. The best exposure banner is the login ads banner. You can show your offer to all members who log in on a specific day.
Full Page ads. It's an ad that shows after the login ads. This ad will display your offer on a full-size page.
The primary difference between InstantAdPower and List Mailer Plus ads is the Power ad. It's a sidebar ad like what you saw in our sidebar with additional text information and the number of clicks shown.
Shop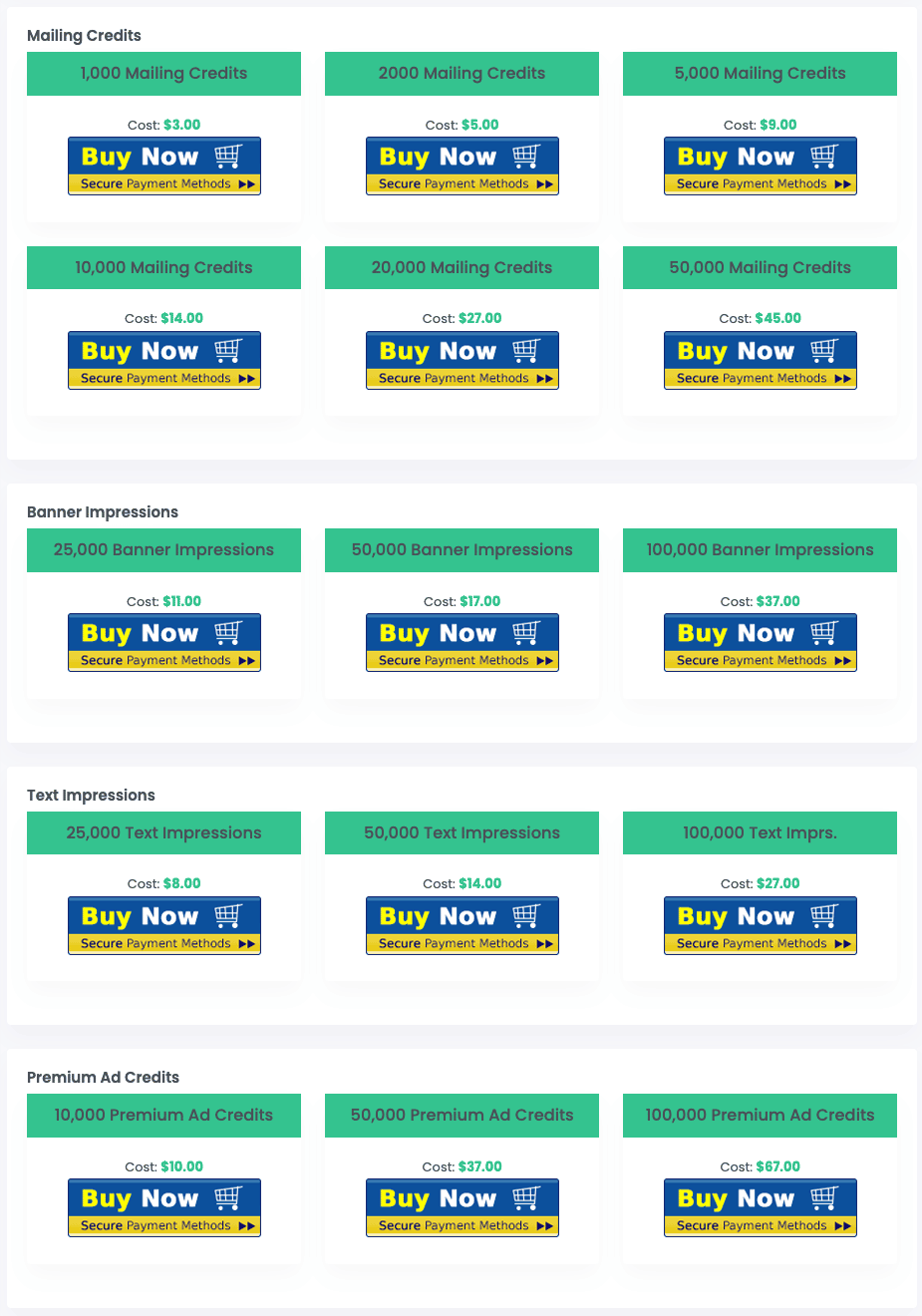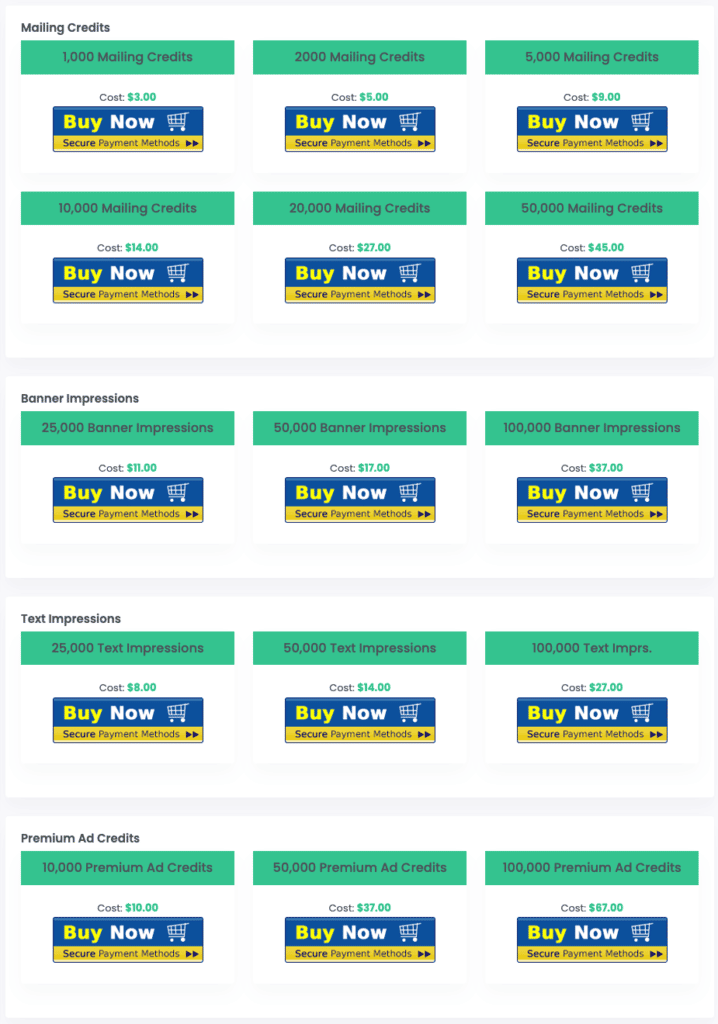 Inside InstantAdPower, there is a shop where you can buy mailing credits, banner impressions, text impressions, and premium ad credits. The price starts from $3 for 1,000 mailing credits. You can make a purchase using your credit card, Coin Payments, Uphold, Wise, and Skrill.
Membership Upgrade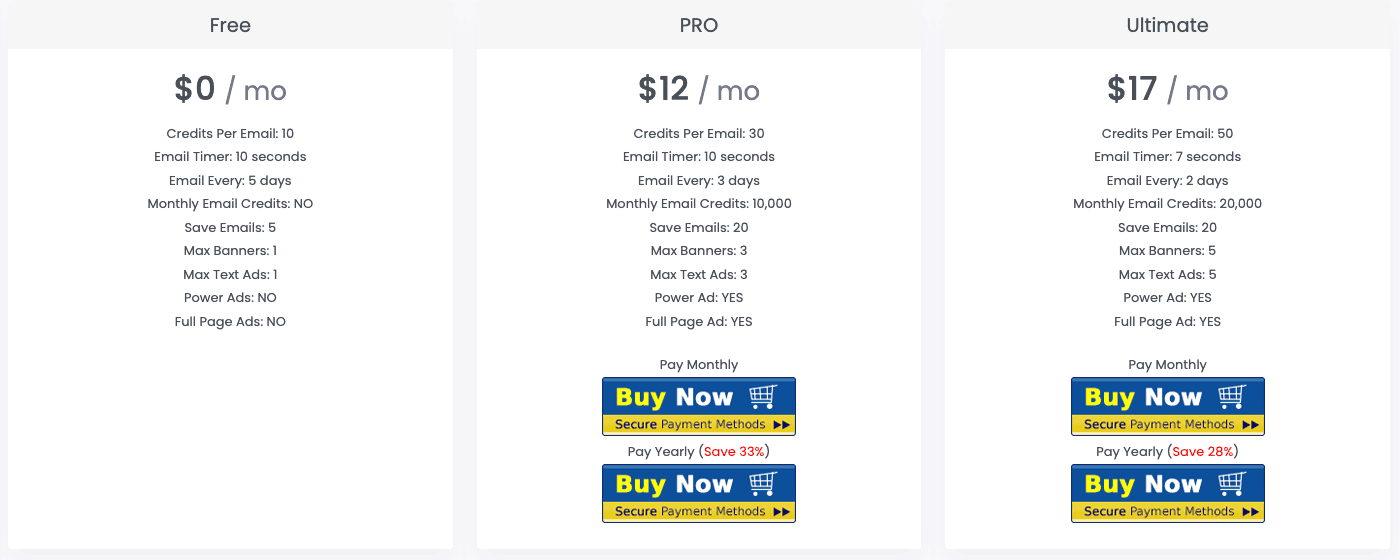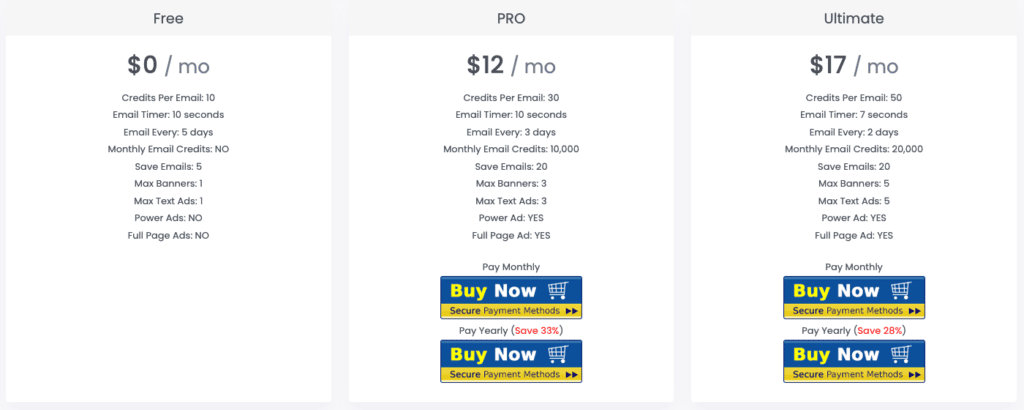 As you can see, there are three different plans to choose from when you use InstantAdPower to send emails. The Pro membership will cost you $12 per month, and you can send an email every three days. The Ultimate membership allows you to send an email every two days, and you'll get more credits from reading emails from other members. You can also pay yearly and save up to 33% on the Pro membership.
InstantAdPower Review: Affiliate Program
You can earn a commission by promoting InstantAdPower. There are seven levels of affiliate membership, from beginner to brand ambassador. The higher you achieve, the higher the commission percentage you will get. If you're at the brand ambassador level, you'll get a 50% commission.
Other than that, you will also get the chance to build your downline using the downline builder. However, similar to List Mailer Plus, you are building downlines for other safelist mailers and advertising sites.
Conclusion
To summarize our InstantAdPower review, we think List Mailer Plus and InstantAdPower have too many similarities. So, our recommendation is to choose between List Mailer Plus or InstantAdPower. It's almost the same thing. So, is it good enough? It is.
Why don't we recommend using both for better reach? Firstly, the primary reason to use a safelist mailer is to extend our network. However, based on our experience, the email we received is similar to what we have received from List Mailer Plus. In other words, there is a big chance it has the same members promoting the same offer. It's just redundant.
Generally speaking, we prefer List Mailer Plus because we are used to the contained layout. Even though the user interface is similar, List Mailer Plus feels neat and not too crowded. However, judging by the number of active users, InstantAdPower has more active users than List Mailer Plus. So, if you'd like to try InstantAdPower, you can create an account for free and try sending out some offers to more than 2,800 active members.
---
Sugiya is the Writer and Owner of We Recommend. He is passionate about helping people make better decisions when buying things on the internet.