This post contains affiliate links. We may receive a commission for purchases made through these links without any extra cost to you. Thank you for your support.
---
In this Glide App review, let's find out if you can build an app without coding with this tool.
If you think creating an app can only be made by developers, you might want to think again. As we browsed through the internet, we came across Glide as one of the best solutions for building an app without coding.
In this article, we'll highlight Glide features and show you an example of an app we create using one of the Glide Templates available for free. You'll be surprised that it takes us a few minutes to launch a ready-made app with little customization using Glide.
Without further ado, let's dive in!
What is Glide?
Glide is a web-based app builder you can use to turn data into apps and websites. You might be thinking, how can you create an app without coding? Fortunately, Glide made this possible by providing templates you can use to create your app. Moreover, Glide also offers a free plan for anyone interested in creating an app for free.
To give you a glimpse of an idea about Glide, you can watch this video explaining Glide in roughly 60 seconds.
Glide Features

Generally speaking, there are three features where you can use Glide to create apps and websites without coding. We'll go through this one by one.
Glide Apps
You can create custom apps using the Glide Apps. With this feature, the app development process would only take hours instead of months. It's not only going to save you more time, but you don't have to worry about getting your app on the Apple App Store or Google PlayStore. Why? Because it is a web-based app, which means anyone can use your app by scanning a QR code or clicking through a link you have sent. It's that simple.
Glide Pages
Other than apps, you can also create beautiful website pages with Glide Pages. You can create portals, dashboards, product directories, and many more. Glide Pages come with ready-made templates you can choose from. Moreover, you can also customize them based on your needs. It's handy and easy to use.
Glide Data Editor
If you already have a bunch of data to work with, using Glide Data Editor is part of integrating your app and website pages as one coherent database. Glide allows you to connect your data and keep it synchronized at all times. Even better, if you store your data on Google Sheets, Excel, or Airtable, you can easily integrate them into your apps and website pages. There is also another option to use Glide Tables to help sync your database across multiple apps easily.
Templates
As we previously mentioned, there are a lot of templates you can choose to create your apps and website pages. Moreover, you can browse them based on your industry and use cases. Many of these templates are free to use, and you can customize them to fit your business needs. Here are a few examples of templates you can use.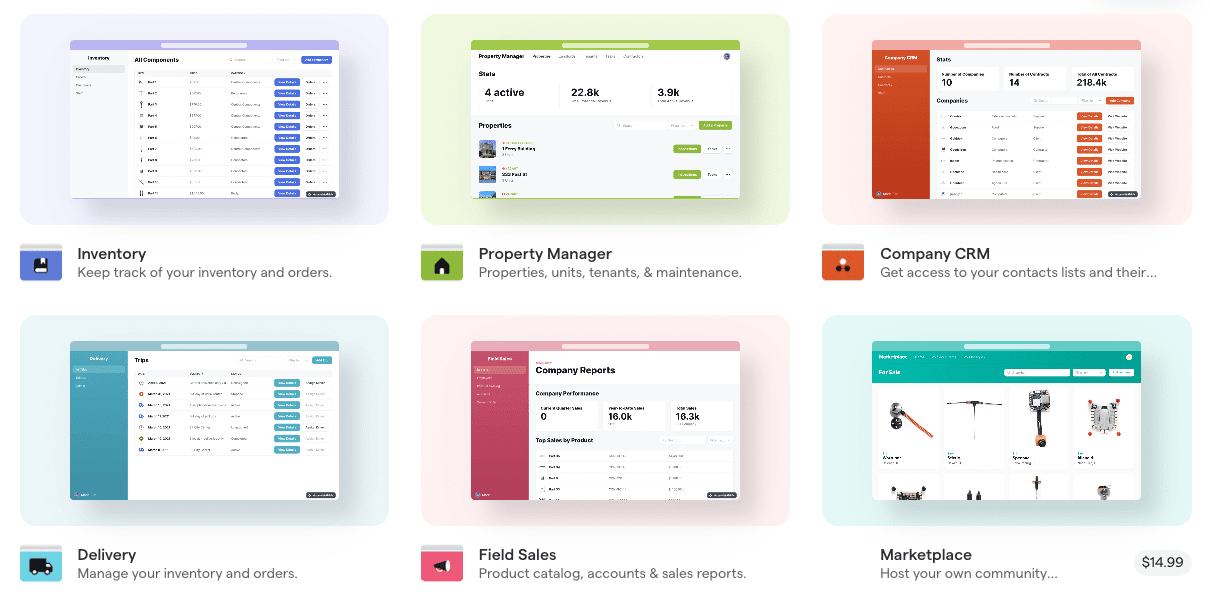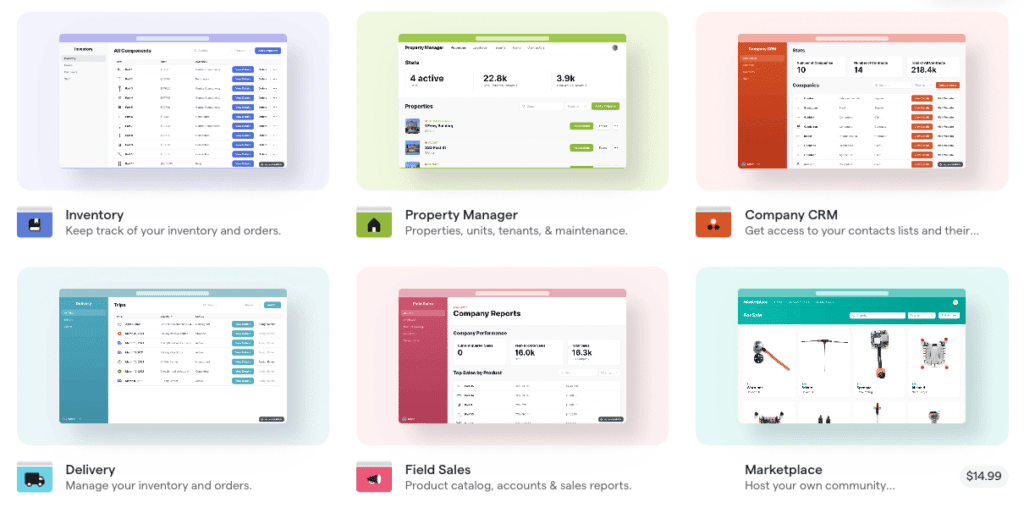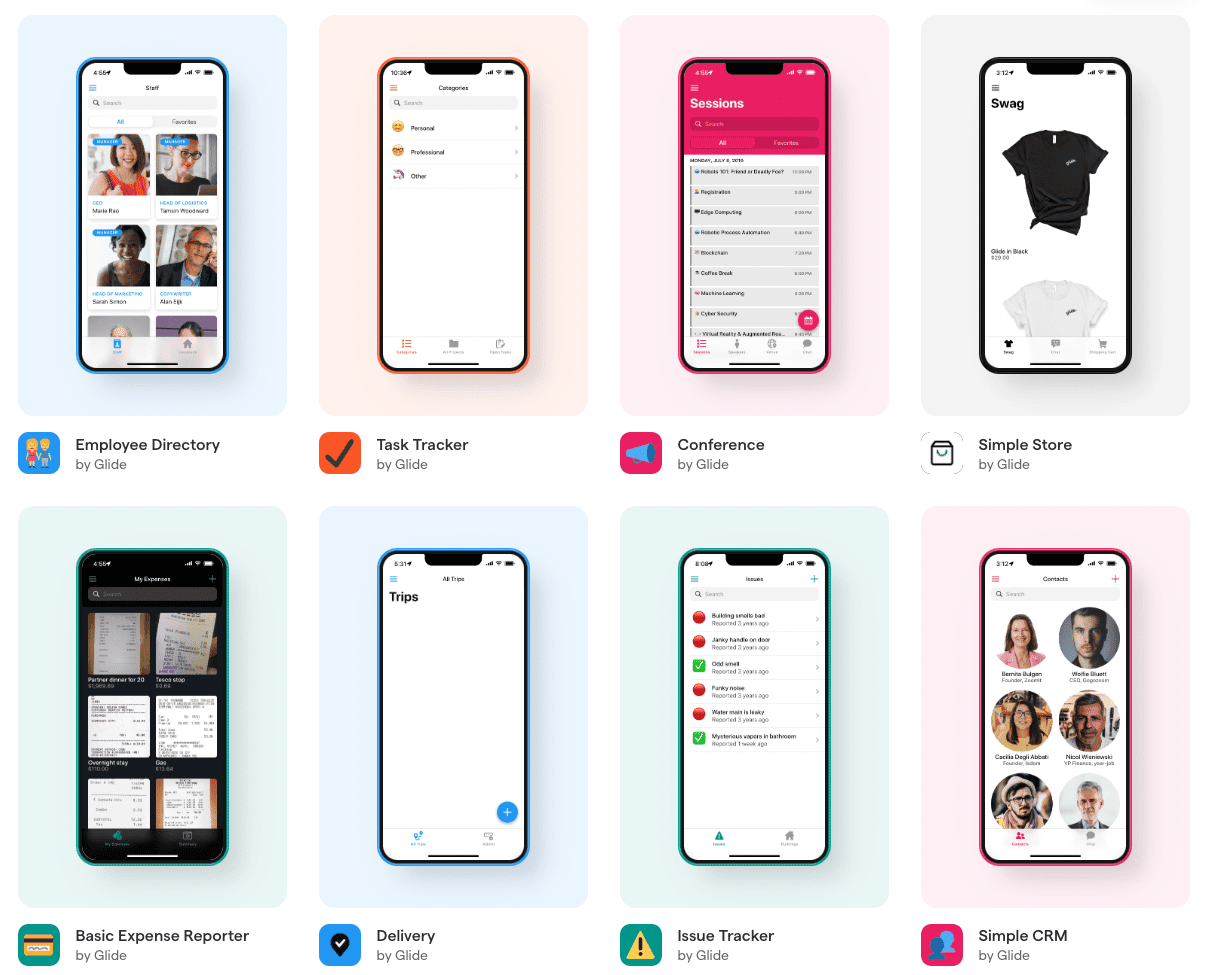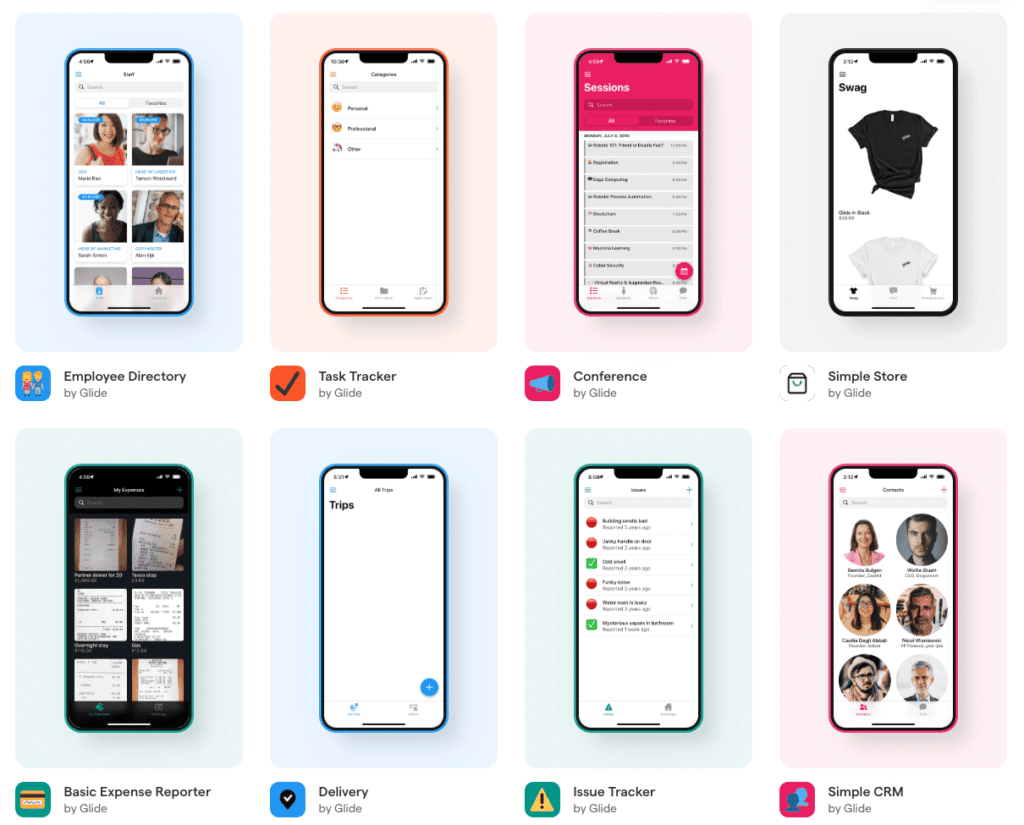 However, several other templates made by Glide Community Members require you to purchase them before you can use them. The price range is around $4,99 up to $99,99.
Glide App Builder in Action
As you might already know, we are not developers and don't even know how to do coding. So, we'll try to create a simple app based on the templates provided by Glide. We'll share the exact step-by-step process we're taking to build this app from scratch.
Step 1: Select Templates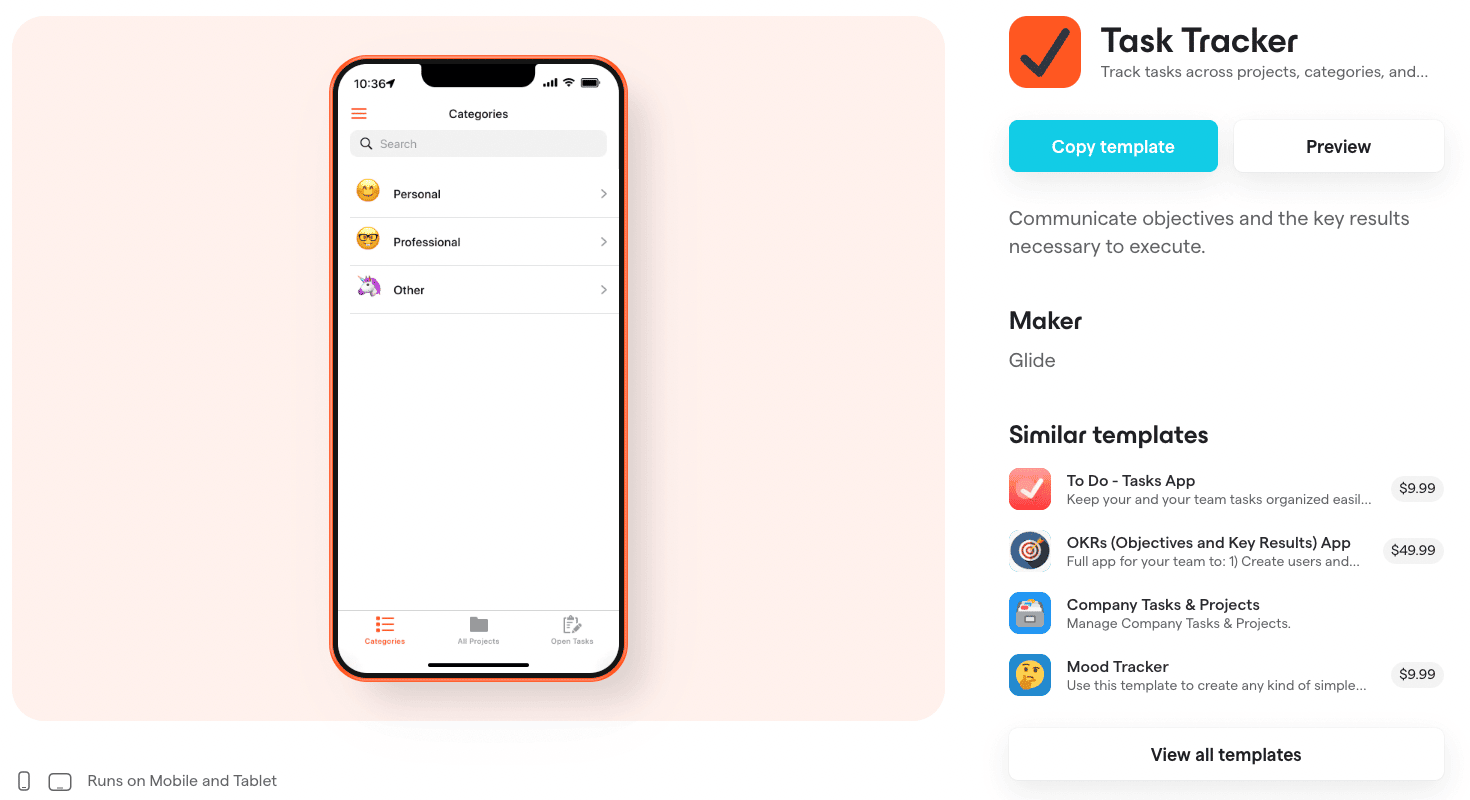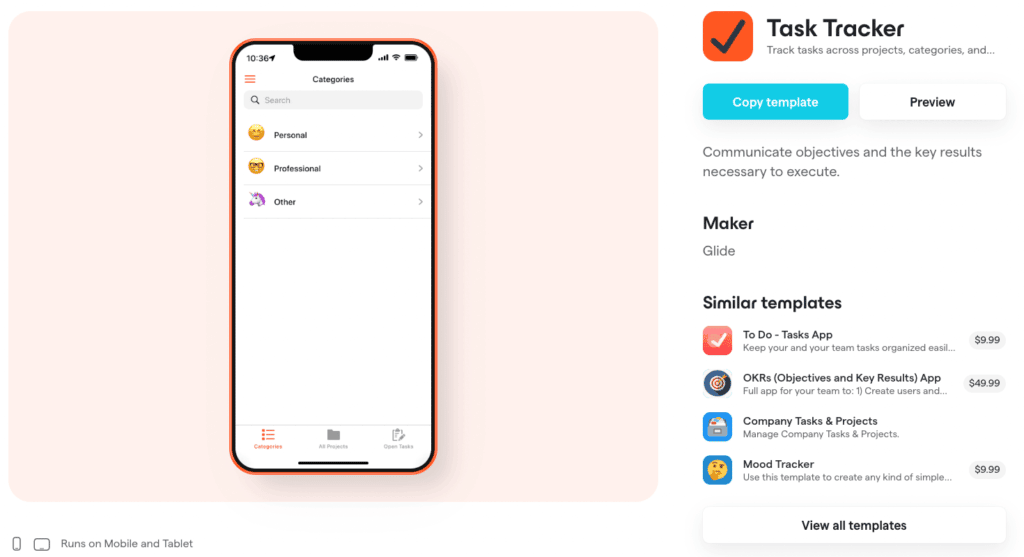 One of the easiest ways to create your app is to use templates. In this case, we will select the Task Tracker template and hit Copy Template button. After that, you will see a dashboard like this screenshot below.
Step 2: Customizing Your Apps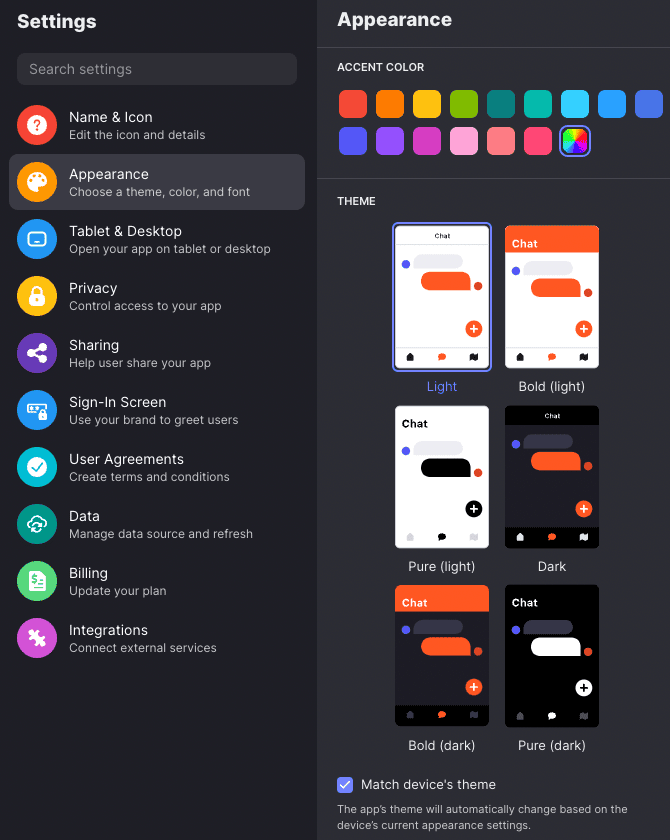 Generally speaking, your app is 90% done. You might want to go to the Settings menu and customize several things related to your app. You can customize the appearance of your apps, like the color scheme, typography, and many more.
However, one of the best settings to modify is inside the Privacy and Sharing menu. Inside these two menus, you can set access to your app to be Private or Public. Moreover, if you want to collect the email addresses of people using your app, you can arrange for your app to have a sign-in page.
Step 3: Publishing Your Apps
After you have customized everything, simply hit the Publish button, and your app is ready to launch. You can share the link or scan the QR code to download it. If you'd like to see our app, you can download it here. You can use it for free, and it is even available on Android and iOS.
Glide Pricing


Glide offers two pricing categories for its users. These are Individuals & Starters, and also Business & Enterprise pricing plans. However, it is worth noticing that the Starter Plan costs only $25 per month. This plan offers up to 1,000 public users. Moreover, you can store up to 5GB of file storage, making it a perfect choice for small business owners or if you'd like to create internal apps for your company.

Glide also provides a custom rate for people interested in developing a large-scale app. You can contact them and ask for a custom quotation based on your requests. We strongly recommend starting with a free plan, but if you already know what you are doing, we think getting a Starter Plan is a good idea.
Glide App Pros and Cons
Below are the pros and cons of using Glide to build your app. But, before that, we'd like to remind you that these thoughts were based on our experience as non-developers.
Pros
The Free plan allows you to create up to 3 apps and pages.
Affordable Starter Plan.
A lot of templates are available to use for free.
You get access to community support.
Glide is a web-based tool, so you can access it anywhere.
Glide provides a comprehensive knowledge base to help anyone get started.
Cons
The number of data is limited to 5,000 rows on the Starter Plan, which means if you have lots of data (e.g., product inventory), you might need to upgrade to the Pro plan for $99 a month.
There is no middle pricing after the Starter Plan.
Creating an app from scratch could be challenging and overwhelming for non-developers.
Frequently Asked Questions
Is the Glide app safe?
Based on our research, using Glide to create an app is safe and secure. However, as we learned through Glide Documentation, every app creator is responsible for providing the best possible security while building and organizing their app data. You can read more about it here.
Is Glide a web app?
Yes. Glide is a web-based app to create apps and website pages without coding.
Can you make money with Glide apps?
Yes. There are several ways to make money with Glide, such as creating Glide Templates and selling them or creating an e-commerce app to sell your products. Feel free to explore more about it here.
Conclusion
To summarize our Glide App review, Glide's strongest trait came from the variety of ready-made templates to use for free. Generally speaking, we think it is challenging to create an app from scratch for non-developers like us. So, we strongly recommend Glide for people interested in the app creation process.
When you want to create an app, there are many elements to consider, such as the user experience, navigation, layout, buttons, and many more. If you are a developer, we believe Glide will provide you with the best app creation process for the best result possible.
---
Sugiya is the Writer and Owner of We Recommend. He is passionate about helping people make better decisions when buying things on the internet.