This post contains affiliate links. We may receive a commission for purchases made through these links without any extra cost to you. Thank you for your support.
---
In this Gotrade review, let's find out if this is the best stock investment app for beginners.
If this is your first time hearing about Gotrade, you don't have to worry about it. We didn't even know anything about stock investment.
Nowadays, people are more interested in investment than a couple of years ago. There are a lot of apps about investment out there. So, you might get confused about which apps to choose. That's why we recommend something off the grid.
You don't have to worry because you don't have any experience with investment apps before. As we told you earlier, we don't know anything about investment. But first, let's have a basic understanding of stock investment.
What is a Stock Investment?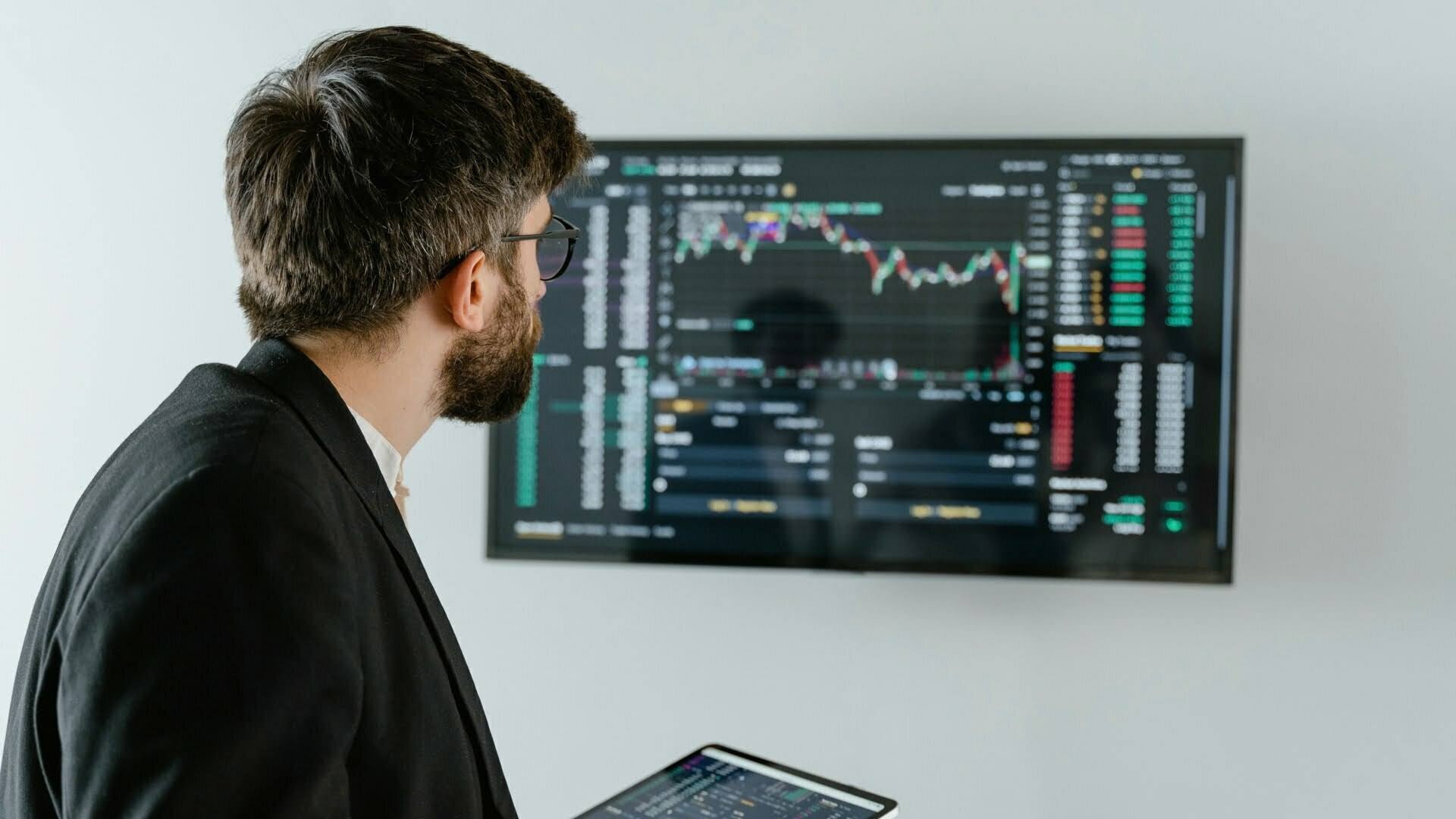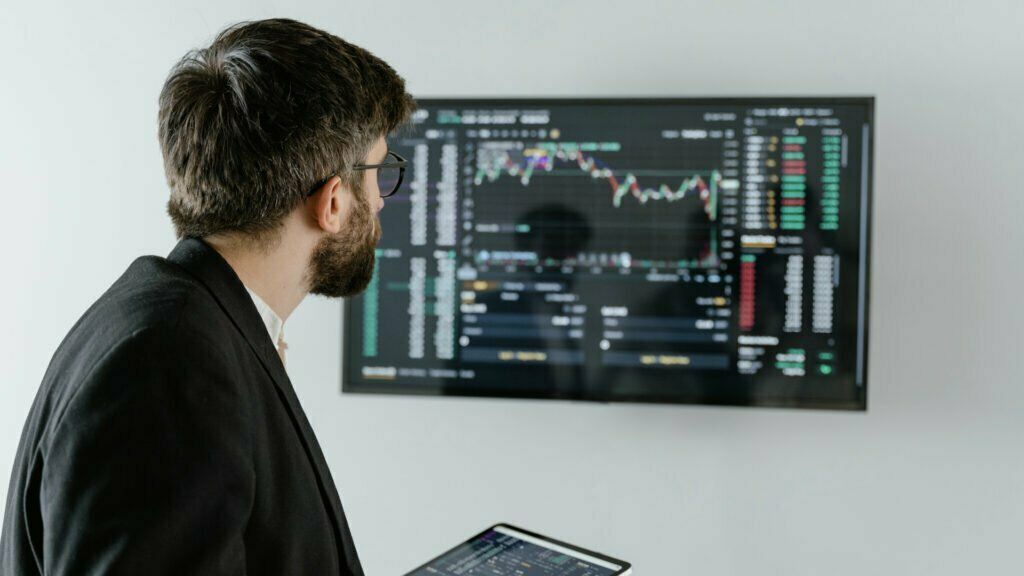 We assume that many people don't know about stock investments like us. So, we'll try to explain it to you in plain English.
You already know the big public companies like Apple, Amazon, Google, and Tesla. But, did you know you can buy those companies' shares?
Stock investment is about buying shares of ownership from public companies. By owning a small percentage of the company's stocks, you're investing in that company.
But, what's a stock?
In short, stocks are pieces of ownership of a company.
Think of a company as a large pizza. You cut that pizza into 100 tiny pieces. Each piece represents 1% of the company that anyone can buy.
If you buy 10-pieces, you own 10% of that company. That's how stock investment works.
Now, someday in the future, you're hoping the company performs well and grows over time.
At that point, your stocks become valuable. Other investors might want to buy from you for more than your actual investment.
So, you can earn a profit if you decide to sell them.
That's how it works.
Now, let's dive deeper to talk about Gotrade.
What is Gotrade?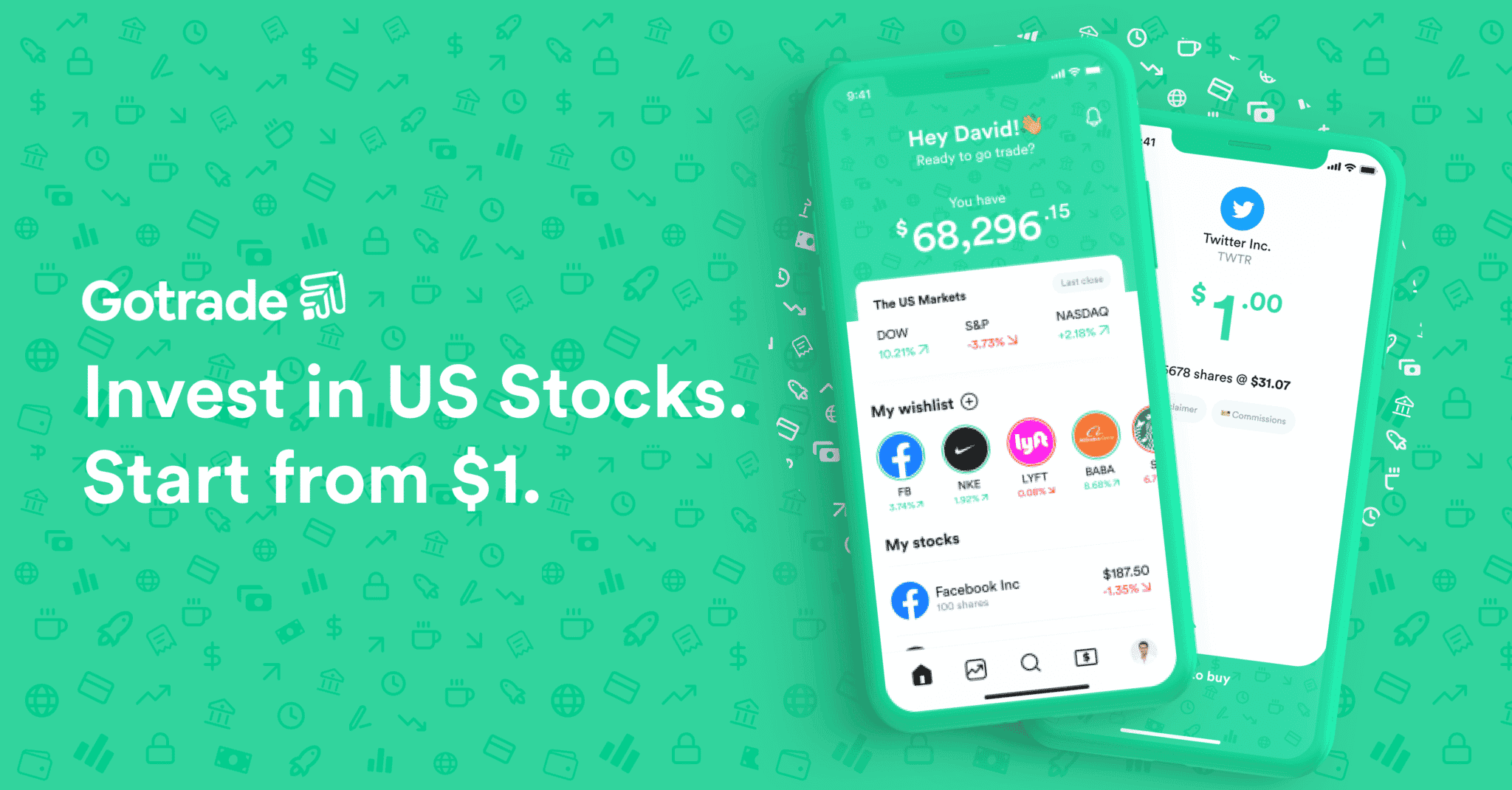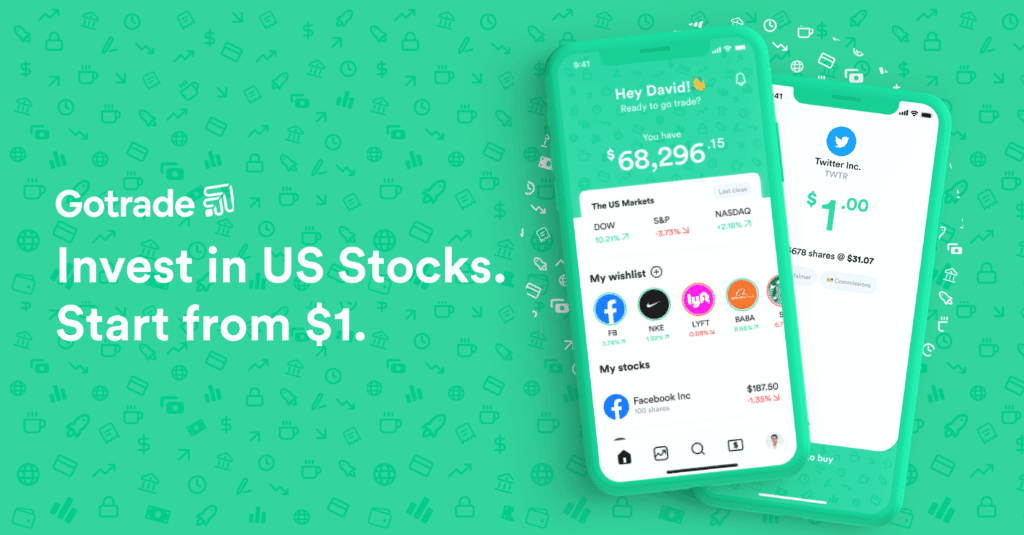 In short, it's a mobile brokerage that allows people to invest in fractions of US shares.
You might be asking, what does fraction mean? Here's how it works. A fraction means you're buying less than one share.
Let's say you want to buy Apple's stocks. But, you find out that they are trading for $100/share, and you can't afford it. Gotrade allows you to buy a fraction for 1/100th of Apple's share with $1.
How? It turns out that Gotrade Securities Inc. works with US regulated stockbroker who fractionalizes the shares. So, now you can own a small unit from many famous companies, like Apple, Amazon, Google, etc.
Why should you use Gotrade?
Here are 7 reasons why we recommend you to use Gotrade.
Product-wise, Gotrade is offering real stocks, not CFDs. So, when you invest in company stock, your name is listed as the owner. We'll explain this later in the FAQ section.
Gotrade offers you fractional share trading. You can buy any stock starting from $1.
You can deposit as little as $10 to start.
Gotrade is also commission-free. There are no buy or sell fees.
There are no admin, custody, inactivity, or dividend fees.
Gotrade also supports deposits in over 70 countries with low conversion rates.
Above all, SIPC protects your account for up to $500,000.
SIPC stands for Securities Investor Protection Corporation.
Gotrade Review: How to open an account?
Opening an account is easy. You only need a government-issued photo ID, a smartphone, and about 5 minutes to do it.
You might be thinking, where exactly your funds and stocks will be held? Alpaca Securities LLC will hold all your funds and stocks. It's their appointed clearing broker and custodian.
We researched this, and here's what we found.
Alpaca is a member of the Financial Industry Regulatory Authority, Inc., or FINRA. You can check their background on FINRA's BrokerCheck.
Alpaca is also a member of SIPC where your account is protected for up to $500,000. You can also visit www.sipc.org for more information.
In short, your fund is in the safe hand.
Now, we'll explore how you can buy or sell a stock with this stock investment app.
Gotrade Review: How to buy or sell a stock?
Gotrade's user interface is well designed and easy to use. You can buy or sell a stock in 6 steps.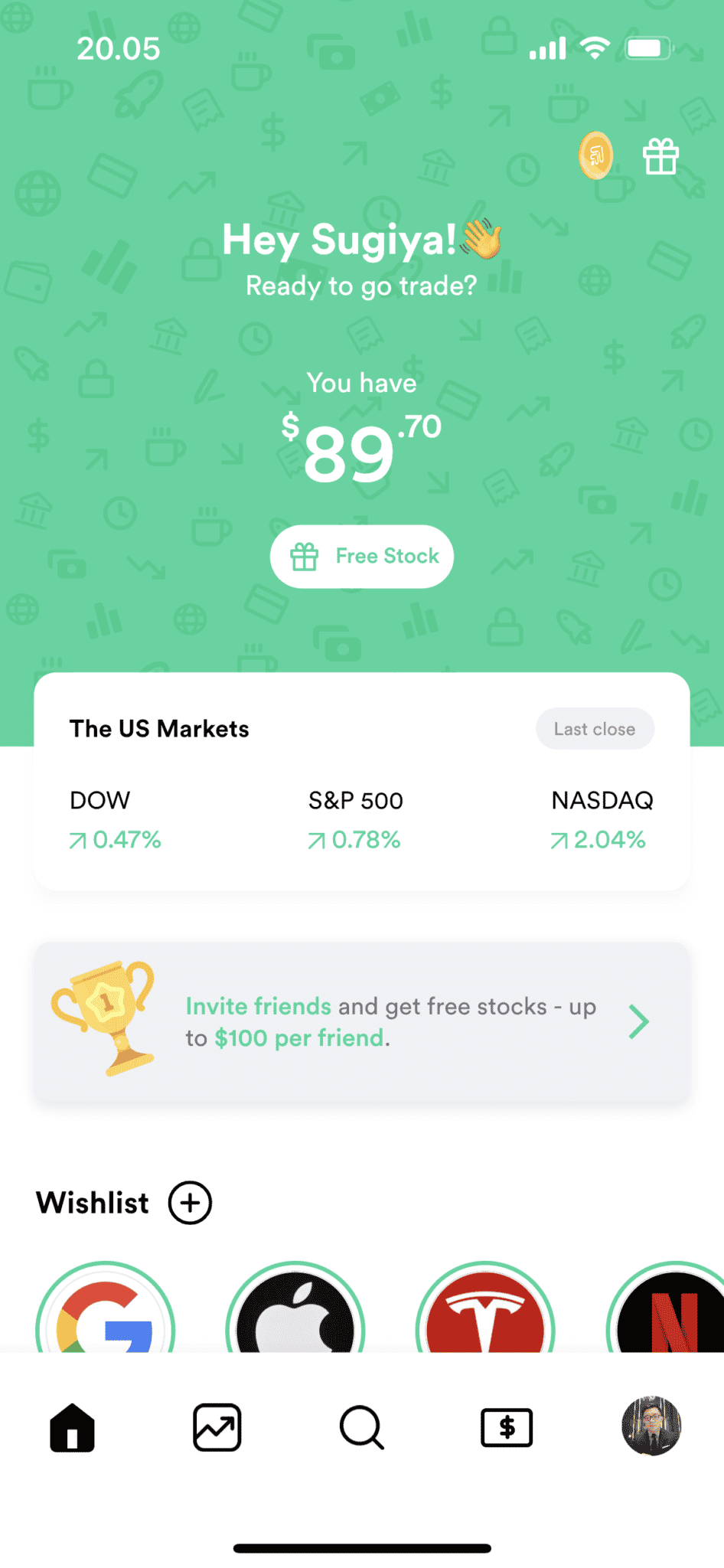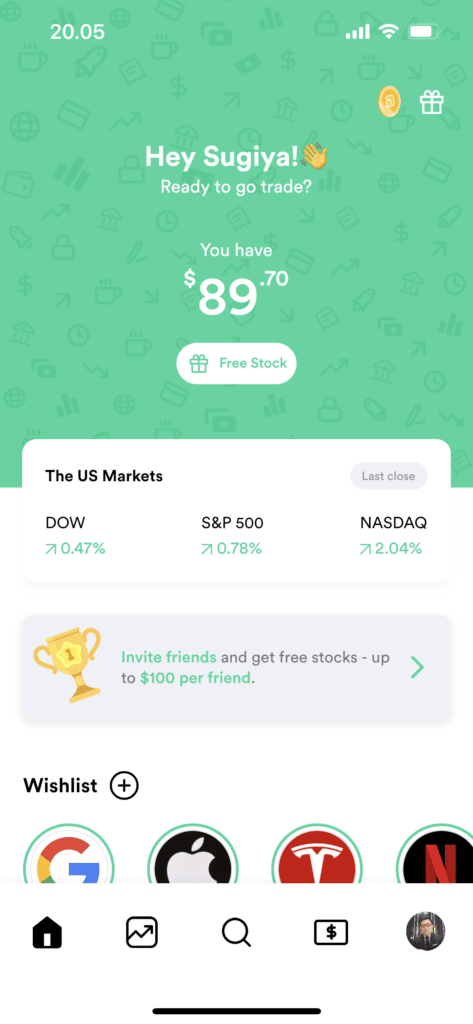 Step 1
Navigate to the Discover screen and search for the stock you want to trade. You can search by name to make it easier.
---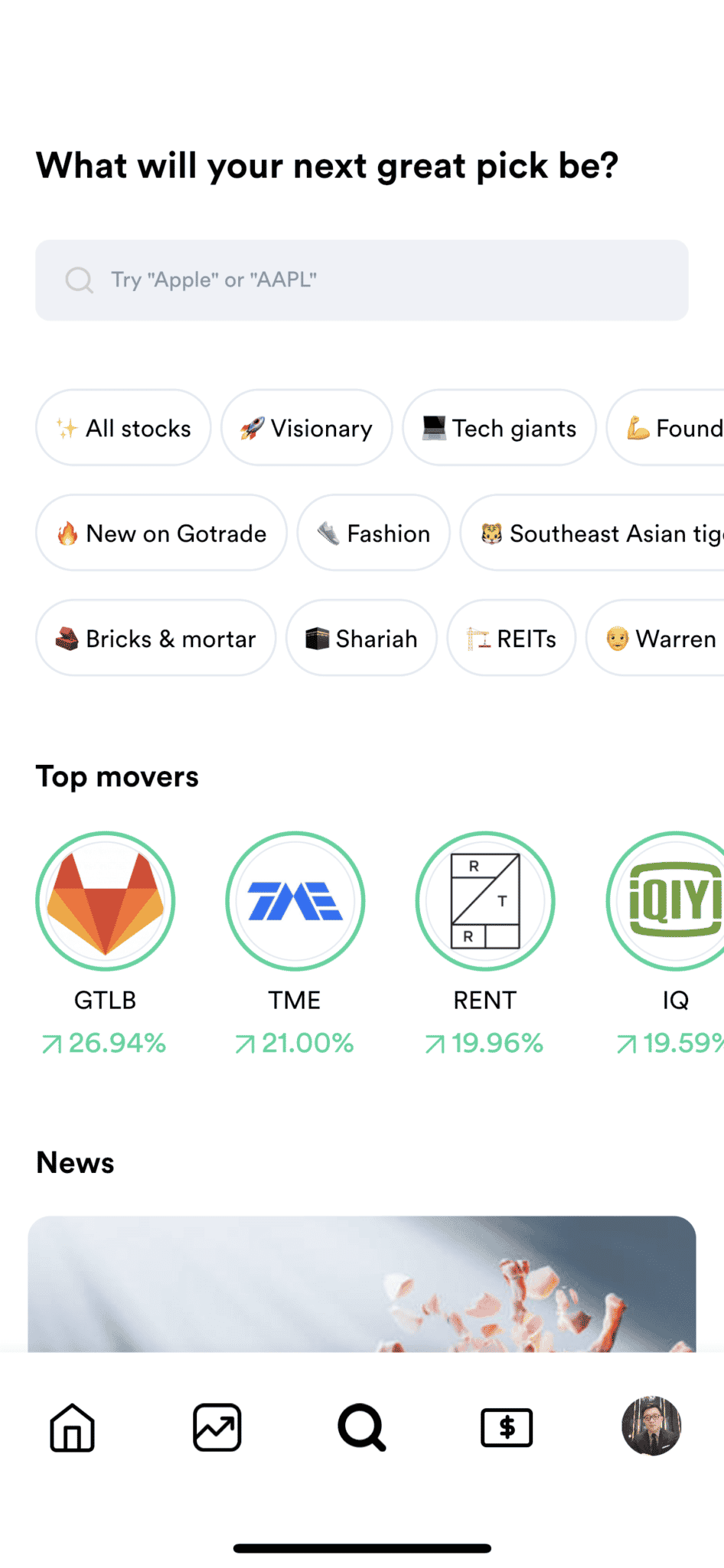 Step 2
Click on the search result to find your preferred company.
---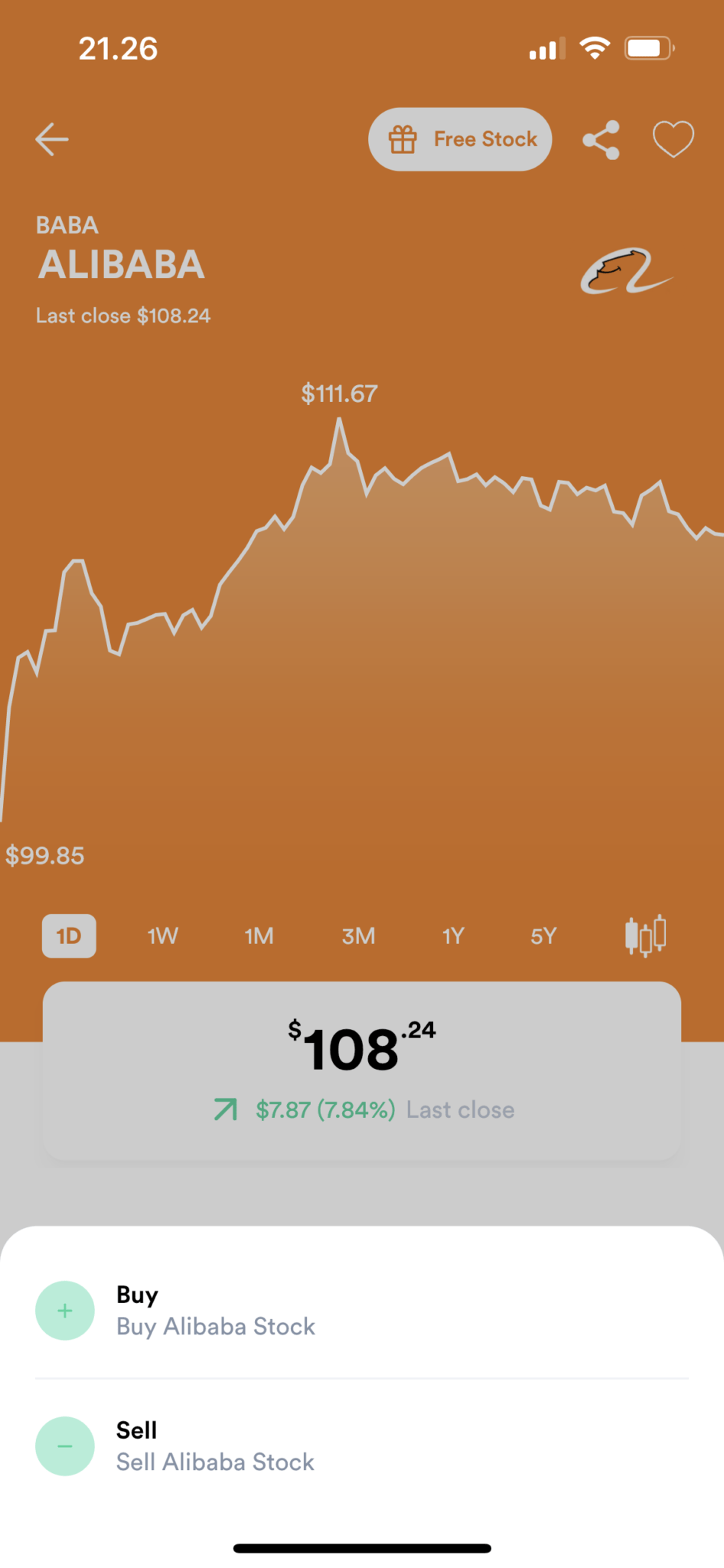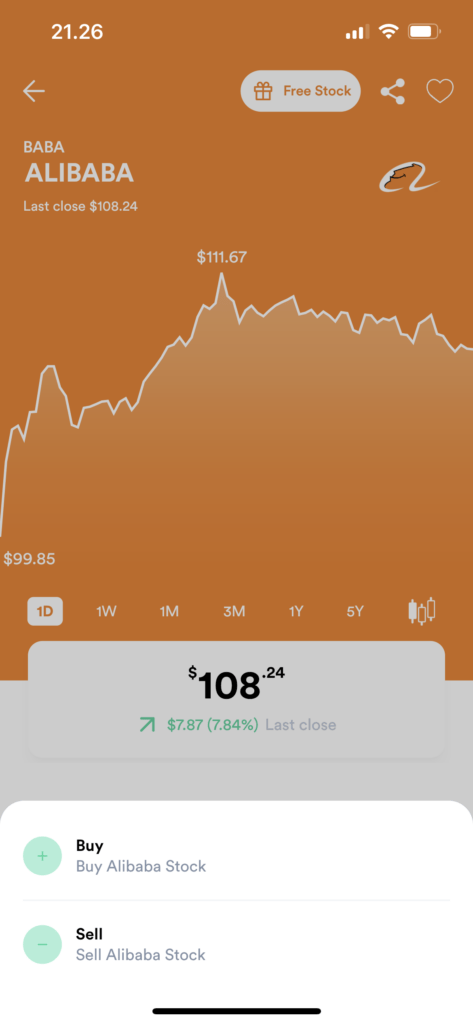 Step 3
Click on the Trade button. If you already own the stock, you'll get an option whether you want to buy more or sell it. Otherwise, Gotrade will process it as a buy.
---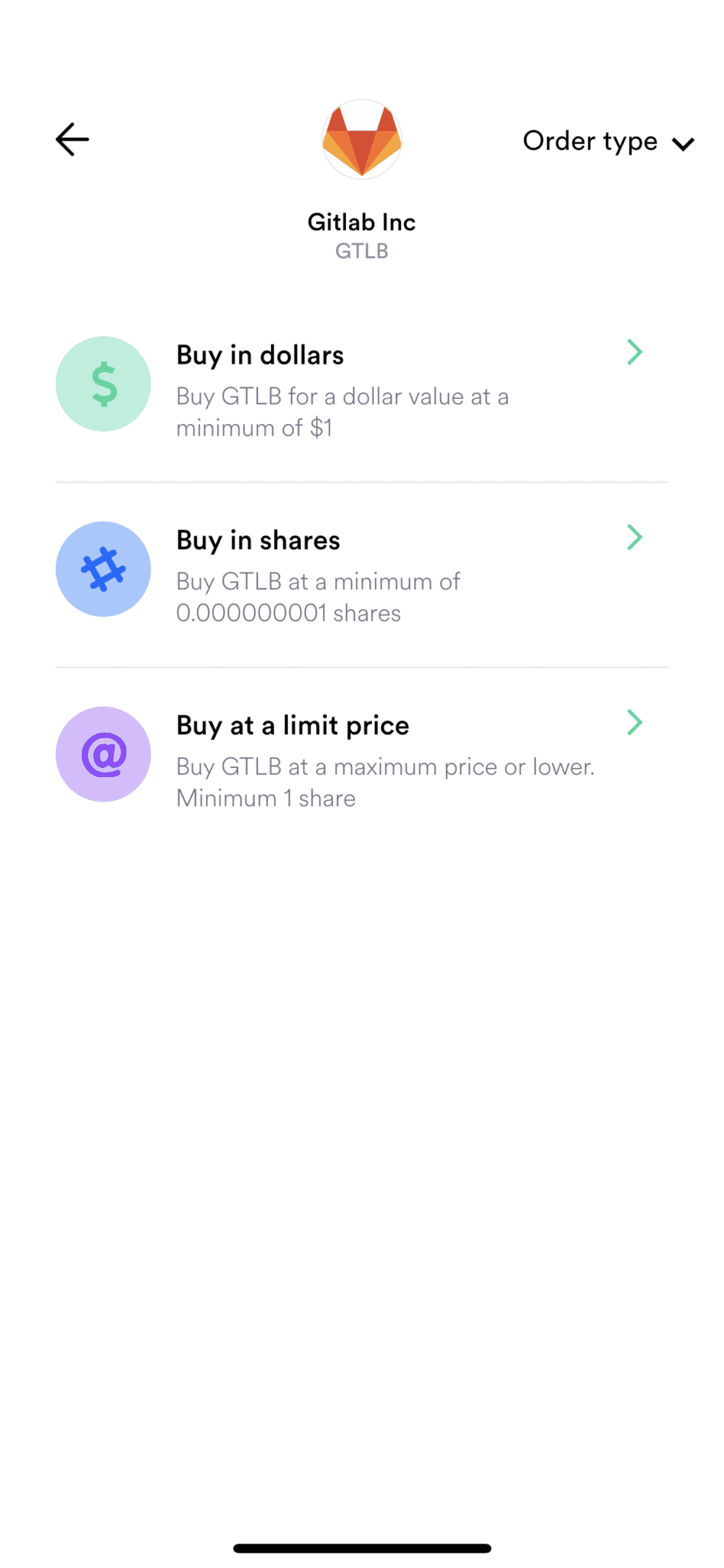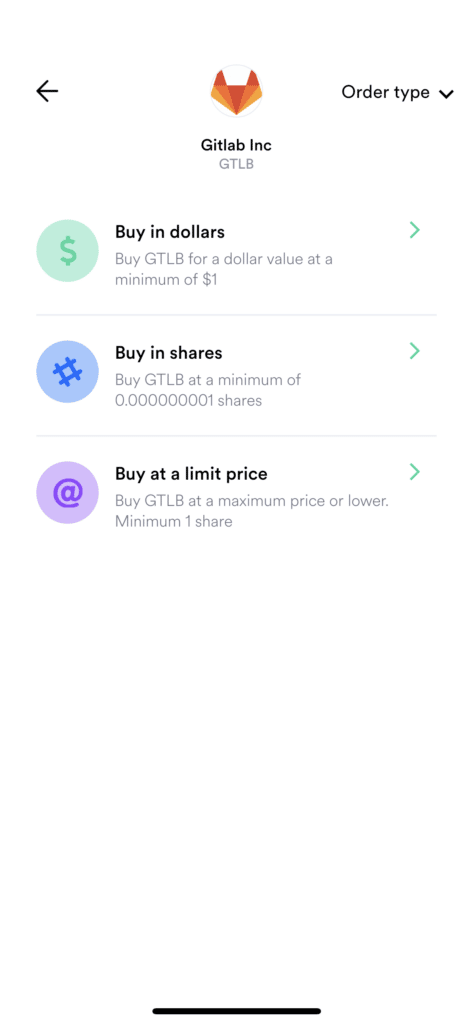 Step 4
Set your order type. You can choose three different order types. Buy in dollars, shares, or at a limited price. We'll this in the FAQ section.
---
Step 5
Input your order and tap the Preview buy button.
---
Step 6
Review your order and then swipe up to complete your transaction.
---
Even though we have never bought stocks, these steps are easy to follow.
Gotrade Review: How to track your stocks?
You can see all the stocks you own in a portfolio on your home and portfolio screen. Moreover, they will provide you with access to every transaction, such as:
Financial transactions: you can check every deposit, trade, withdrawal, etc.
Trade confirmations: you'll get a daily recap of all trades executed on your account.
Monthly statements: you'll get a monthly snapshot of your entire account.
Tax forms: you'll also get an annual form to help you fill your taxes.
Gotrade Review: Fees & Charges
They do not charge you any commissions on buying stocks, ETFs, REITs, and ADRs. But, they do charge you for e-wallet deposits made via Gotrade for 3% and 5% for credit card deposits.
Every country will have different fees. So, we recommend you check the deposit method available in your country.
So, how much does it charges for withdrawal?
The withdrawal fee is $2. This fee is available for supported local currencies/countries only. But, this isn't Gotrade's fee. It's a fee that they are charged to send your funds back to you.
We know that Gotrade is working to bring these down for everyone. They aim to get this down to $0 in the long run.
Frequently Asked Questions
Is it Regulated?
Yes, they are. Gotrade is a trading name of Gotrade Securities Inc., licensed by the Labuan Financial Services Authority.
Are these Contracts For Difference (CFDs)?
No. They do not offer CFDs. You will be trading actual shares directly on the NYSE and NASDAQ. In short, your name is on the list as the genuine and beneficial owner of the stock you buy. You have the rights associated with the security, such as dividends and voting rights.
Is it possible to invest in US shares from outside the US?
Yes. Gotrade enables clients from over 150 countries to invest in US shares.
What are the different order types?
Gotrade supports 3 different order types right now. Market orders in dollars, market orders in shares, and limit orders.
Market Orders in Dollars
This type of order allows you to input your order in a dollar amount, starting from $1.
Market Orders in Shares
This order type allows you to input your order in numbers of shares, starting at 0.000000001. But, subject to $1.
Limit Order
This order type allows you to input your order in share amounts starting at 1. This means fractional shares are not supported.
The goal with a limit order is to define the price you're willing to trade at (the "limit price"). So, your execution will be at the "limit price" or better than the "limit price."
For example, if you set an order to buy 1 share of Apple at a limit price of $100. The order will only execute at $100 or lower than $100.
What's the difference between market orders in dollars and market orders in shares?
Let's answer this using an example.
Let's say it's 6 PM Eastern Time, the market is closed, and Amazon ended the previous day at $100/share.
John enters a market order in dollars for $100. Mary enters a market order in shares for 1 share.
So, when the stock price opens at $110/share on the next day, both trades from John and Mary are executed.
John gets 0.909091 shares for his $100.
Mary gets 1 share for her $110.
That's the difference between the two order types.
Conclusion
As we mentioned earlier, we had no idea about investment until we found Gotrade. Moreover, we didn't know we could start investing with just $1.
So, we strongly recommend this app to everyone who wants to start in stock investment. Gotrade is user-friendly, and its interface is easy to use. More importantly, we found the registration is super fast and our funds are in the safe hand.
Here's an example of our achievement.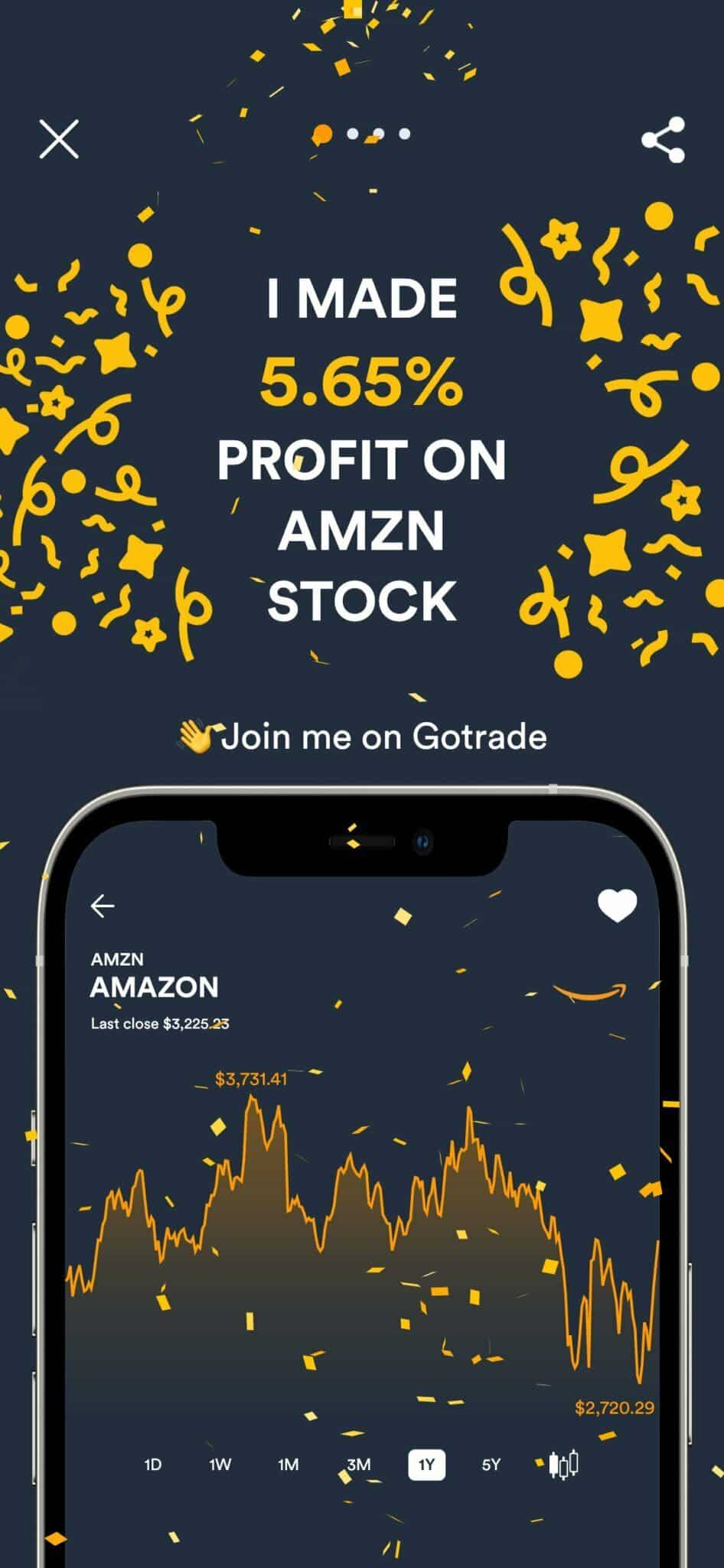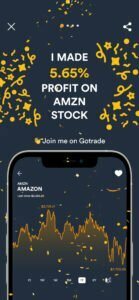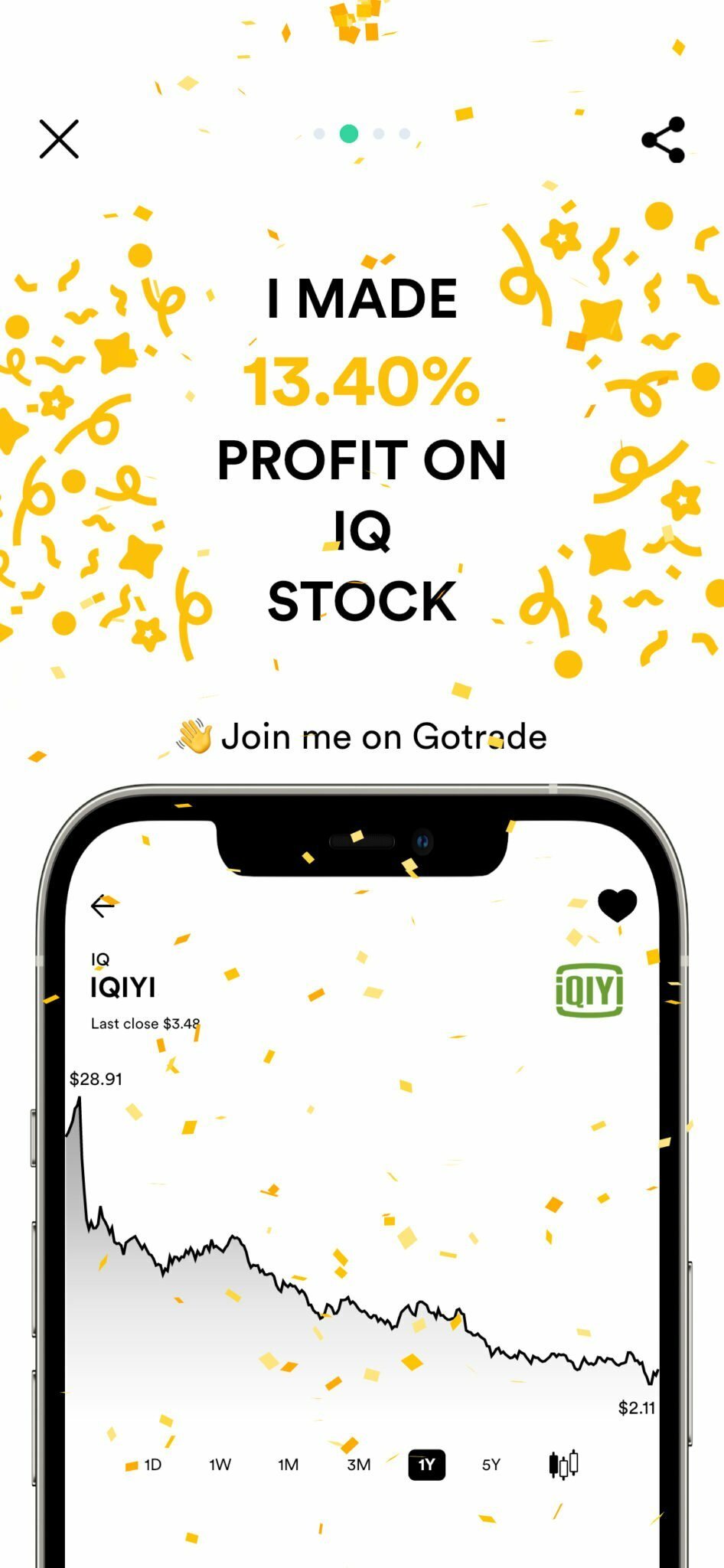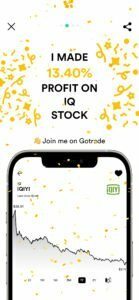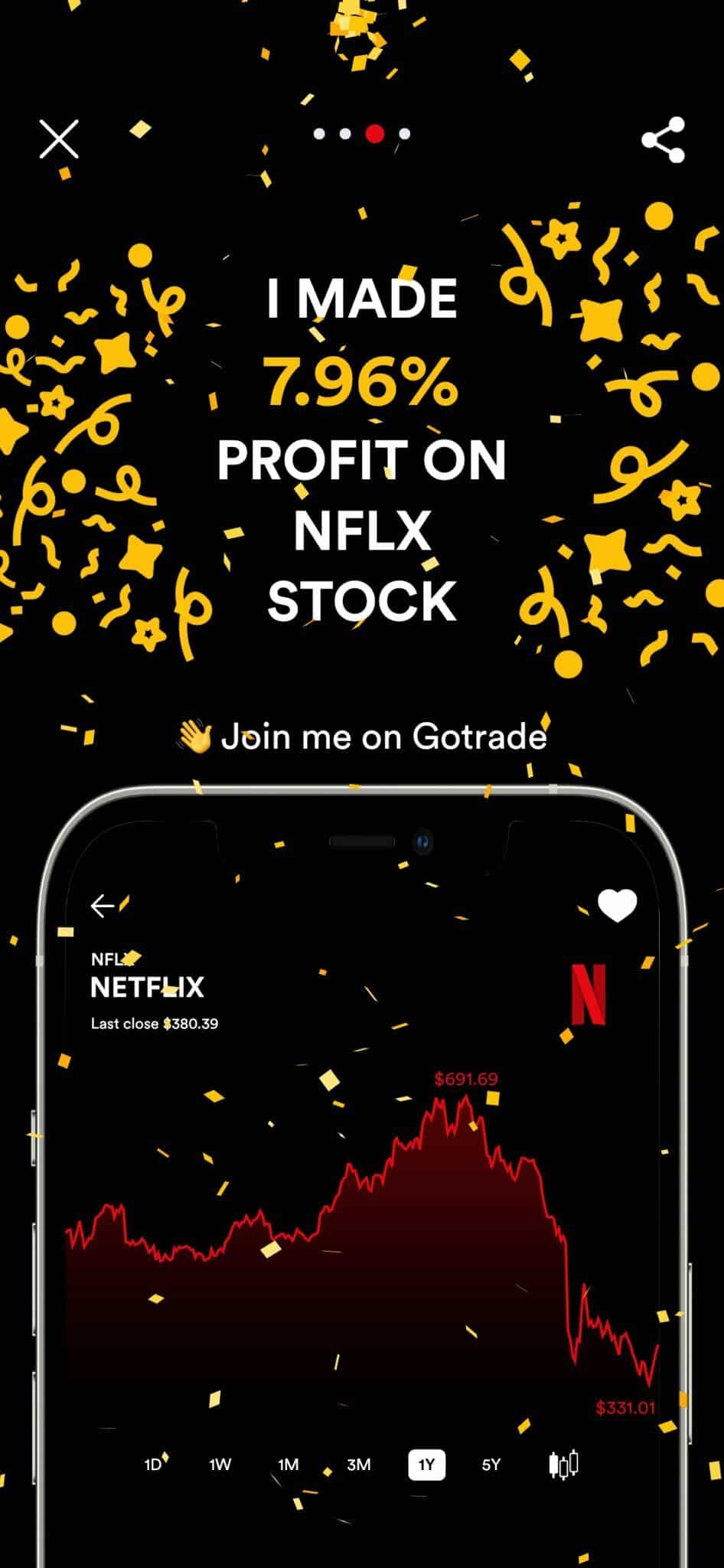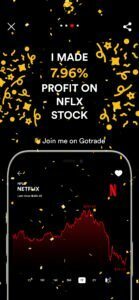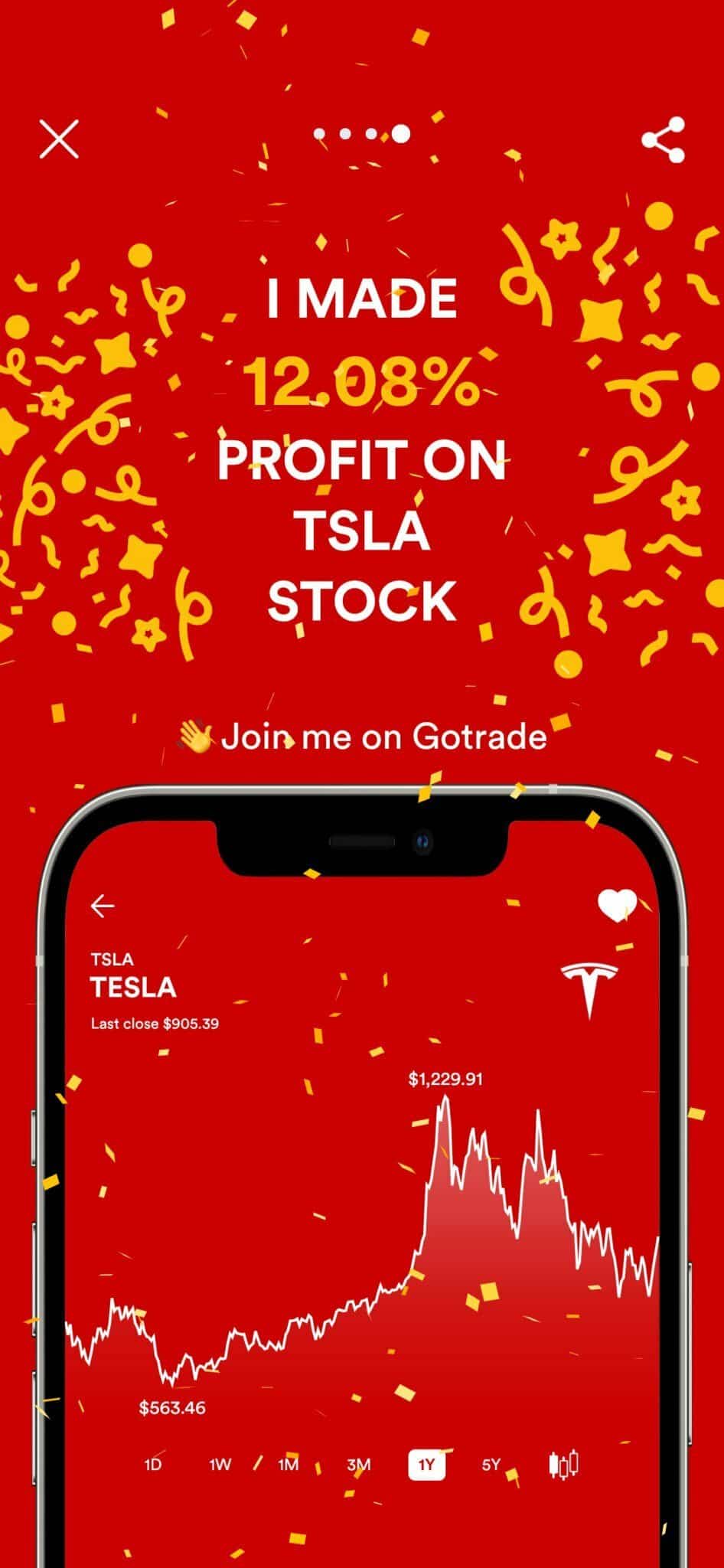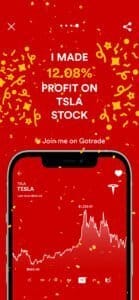 Also read: How To Make Easy Money While Browsing in 2022?
---
Sugiya is the Writer and Owner of We Recommend. He is passionate about helping people make better decisions when buying things on the internet.