This post contains affiliate links. We may receive a commission for purchases made through these links without any extra cost to you. Thank you for your support.
---
In this Honeygain review, let us show you how you can earn money by browsing the internet.
The idea of passive income is always mesmerizing, isn't it? This idea is pretty much effortless. Why? Because you can do it while browsing the internet.
You see, almost everyone is browsing the internet every day. Moreover, people are connected to the internet for at least 5 hours daily. What if you can share your internet connection and earn money from it?
Well, now you can browse and earn money with Honeygain.
What is Honeygain?
In a sentence, it is an app that helps you make money online. The way they're doing it is by tapping into your internet connection. Honeygain will convert your data plans into cash.
Personally, we think this is a brilliant idea. Why? Because you can earn money just by sharing your internet connection. In other words, it's an effortless passive income.
How does Honeygain work?
First, you need to download the app from their website. It's available on macOS, Android, Windows, iOS, and Linux. After installing it on your device, you simply run it in the background and do whatever you usually do. You can browse the internet, watch YouTube videos, open your email, etc., and you're done.
That's it.
Wait, what?!
Yes. That's it.
What you do is you essentially use your internet connection to make money. Honeygain will collect your bandwidth and convert it into cash.
Honeygain Review: How you can earn money?
First of all, let us do the math for you. For every 10MB shared, you will get 3 credits. If you have accumulated 1,000 credits, Honeygain will convert it into $1. So, if you browse every day and gather 10,000 credits, by the end of the month, you'll get $10.
But, this calculation is just from 1 device. You are allowed to connect up to 10 devices per account. So, if you have 3 devices connected, you can earn up to $30 per month. In other words, the more devices you have, the more credits you will get and the faster you can cash out.
You can earn up to $180 per month under certain conditions.
First, you must ensure that the Content Delivery setting is available in your country.
Turn on Content Delivery
What is content delivery? In a sentence, you'll speed up your earnings twice faster. Content Delivery will tap into the more resource-intensive content such as video streaming. This way, you can earn more and faster. For every bit of information shared on content delivery, you'll get 6 credits every hour.
Currently, the Content Delivery feature is available in these countries:
Argentina, Australia, Austria, Belgium, Brazil, Canada, China, Colombia, Czech Republic, Denmark, Finland, France, Germany, Greece, Hong Kong, Hungary, India, Ireland, Italy, Japan, Malaysia, Mexico, Netherlands, New Zealand, Norway, Poland, Philippines, Portugal, Romania, Russia, Singapore, South Africa, South Korea, Spain, Sweden, Switzerland, Taiwan, Thailand, Turkey, United Kingdom, and the United States of America.
Read more about Content Delivery.
Unfortunately, our country is not listed, so we can't tell you much about it. You can check the estimated earnings on their website.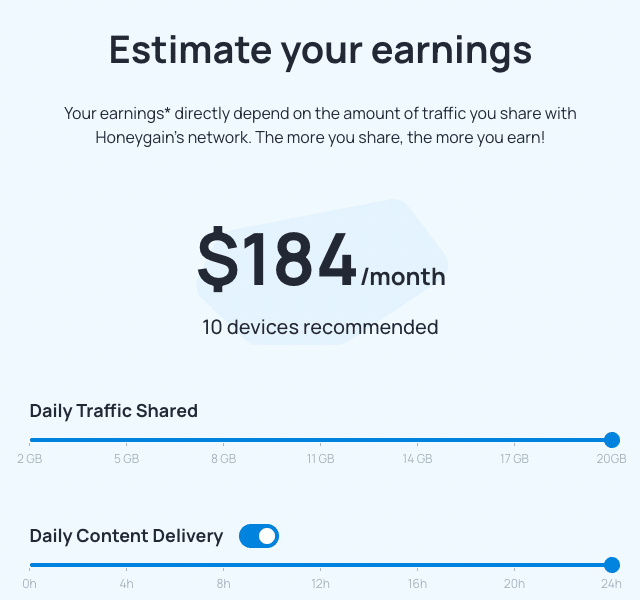 Open Lucky Pot & Honeygain Promo Code
Another method to earn credits is by opening Lucky Pot every day. When you log in to your dashboard, you'll get a notification to open a Lucky Pot. Each Lucky Pot contains 10 to 10,000 credits. So far, our highest record is 2,000 credits.
Furthermore, you can also earn credits through a referral system. Simply invite people through your link, and they will get a $5 starting gift for free. Above all, you'll get 10% of your referral's earnings.
Honeygain Review:
Is it safe?
We've been using it for about 6 months now. Based on our experience, we can tell you that it is safe to use. It does not gather any data from its users.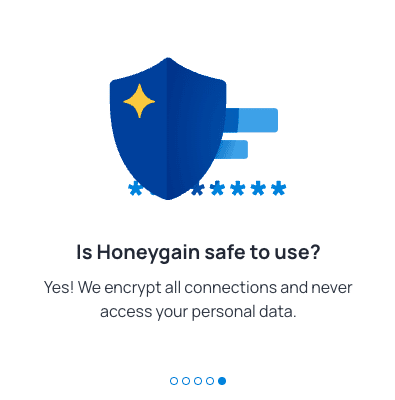 The only data they will have is what is necessary for its service. For example, your email, IP address, and payout methods. Honeygain app connection is inaccessible to outsiders and is fully encrypted. In other words, your private information is unreachable. You can earn money without compromising your security.
What kind of data is collected?
Honeygain facilitates proxy services to third parties, in this case, trustworthy companies.
Furthermore, these companies extract insights from the web using Honeygain to support:
Market research data,
Ad-fraud prevention,
Brand protection,
Pricing intelligence,
Travel fare aggregation, and
SEO monitoring services.
Frequently Asked Questions
What factors affect my earnings?
It depends on your location and the number of connected IP addresses. Your network ping/speed also affects your earnings.
How to increase your earnings?
You can add more devices to increase your earnings. In fact, you can connect up to 10 devices per account. If your country is eligible for content delivery, you can use it to speed up your earnings.
What payment method does Honeygain offer?
Currently, you can get paid through PayPal, Bitcoin, and JumpTask.
What is the minimum payment threshold?
$20 is the minimum threshold.
Can your credits expire?
If you're an active user, your credits will not expire. But, Honeygain credits will expire after 6 months. They count it from the last day you stopped sharing your internet connection.
Conclusion
To sum everything up, YES. We recommend Honeygain as a passive income idea. In fact, while we're working on this post, Honeygain also works for us.
We're using a MacMini M1 and a Macbook Air M1 as our main workhorse. Both devices are actively sharing and gathering bandwidth data in the background.
At first, your earning process may seem slow. But, there are plenty of ways to increase and stabilize your earnings. For instance, you can refer your friend with your Honeygain promo code and earn a 10% bonus on their earnings.
In addition, when you access their dashboard, you can open a Lucky Pot. Open it daily, and you will get a bonus credit ranging from 10 to 10,000.
Do you want to double your passive income stream?
---
Sugiya is the Writer and Owner of We Recommend. He is passionate about helping people make better decisions when buying things on the internet.