This post contains affiliate links. We may receive a commission for purchases made through these links without any extra cost to you. Thank you for your support.
---
In this post, let us show you how to grow your email list using solo ads.
There are various ways to build your email list. Some might say to utilize a lead magnet to capture anonymous visitors' information and turn them into potential customers. However, chances are you will get low opt-in rates if your visitor doesn't find your lead magnet interesting.
Although we receive 200 leads daily with My Lead Gen Secret, we also build our email list on GetResponse and SendSteed. Currently, we have more than 300 people opt-in to our email list, and more than 75% of them came from solo ads.


If you are struggling to build your email list, you might want to consider using solo ads to help you grow your email list.
How to Grow Your Email List Using Solo Ads?
You can grow your email list using solo ads by purchasing solo ads and promoting your lead capture page to get an email list from the solo ads seller. We strongly recommend buying high-quality solo ads from Udimi to avoid scams, fraud, and fake clicks.
What are Solo Ads?
Generally speaking, solo ads are an email-based advertisement method you can get by purchasing from other email list owners—in this case, solo ads sellers.
To put it into perspective, if you just started building your list, many people have done it a long way before you. Some people bought a list from legit or non-legit providers. So, one of the fastest ways to build your email list is by tapping into someone else's email list for a certain amount of money.
How do Solo Ads work?
We will use a simple analogy to help you understand this concept.
Let's say John has a 10,000 email list which he has built for years, while Bill doesn't have any. John provides solo ads service at $0,50 per click. In this case, Bill ordered 100 clicks from John.

Billy paid John $50 to deliver 100 clicks to his lead capture page or landing page so he could get potential leads from John's list. John runs an email marketing campaign to his subscribers and promotes Bill's lead capture page until he reaches 100 clicks.

However, despite Bill's order, John doesn't have any obligation to guarantee opt-ins to Bill's capture page. So, the primary currency in solo ads is the number of clicks delivered. John may deliver 100 clicks, and only 30 people opt-in to Bill's capture page. This way, Bill paid $50 and got 30% opt-in rates.
That's precisely how solo ads work.
How do Solo Ads Grow Your Email List?
Let's use the previous analogy to help you understand how solo ads could help you grow your email list.
So, when someone from John's list opt-ins to Bill's capture page, Bill will get a new subscriber to his email list. In other words, the best way to grow your email list with solo ads is to build an engaging lead capture page so people can sign up to see your offer. Other than that, you will also need an email marketing platform to send emails to your leads.
We use SendSteed as our primary email marketing platform because we are a LeadsLeap Pro user. It's a waste of money if we don't use it. Many affiliate marketers use GetResponse and Aweber. You can use any email marketing platform as long as they work well in delivering your autoresponder.
Use High-Converting Sales Copy on Your Lead Capture Page
When building your capture page, you need a high-converting sales copy to guide your targeted audience to enter your sales funnel. Based on our experience, we strongly recommend having a hook for your offer. Words like discover, find out, limited, uncover, revealed, and many more are great to use in your lead capture page. The best way to design a lead capture page is to think of it as a giant billboard to help your message convey within a few seconds.
The best example for us is one of the lead capture pages we use to promote List Infinity. Take a look at this screenshot below.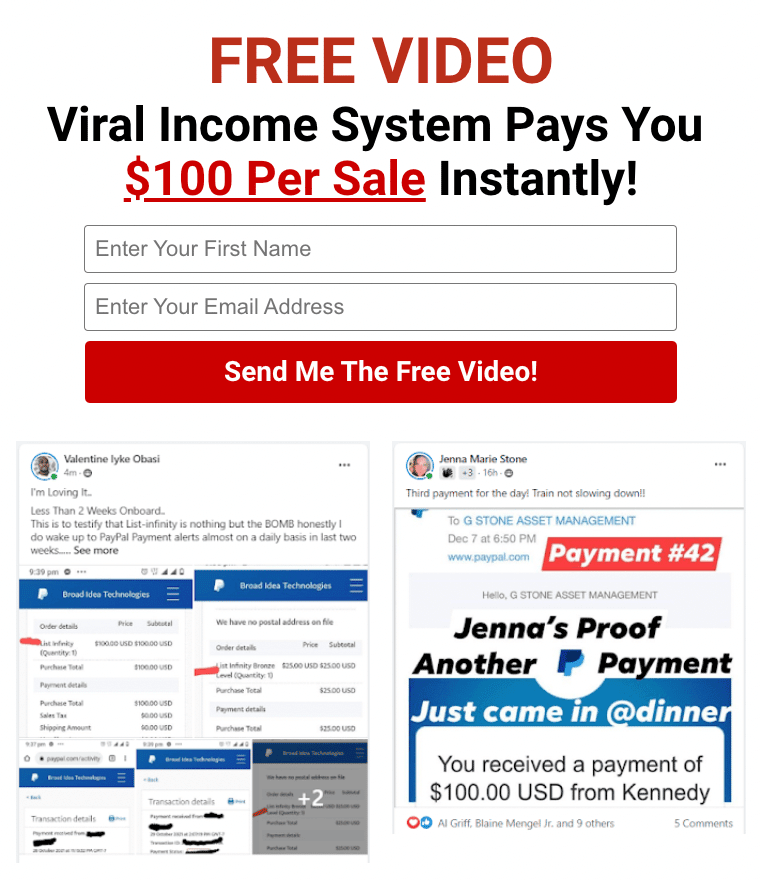 As you can see, this capture page is pretty straightforward and have income proof to help our targeted audience learn more about it.
Capture Both Name and Email on Your Lead Capture Page
When designing a lead capture page, you might want to consider adding a name and email placeholder. While some people only want to capture emails, we prefer to have both information for future personalization. According to GetResponse's email marketing benchmarks, using personalization in the email body performs well than not using it. Here are the percentages.
+2,81% higher open rates
+0,78% higher click-through rates
+1,95 higher click-to-open rates
Use Double Opt-in on Your Lead Capture Page
There are two preferences for opt-in when you run your solo ads. A single opt-in doesn't require people to confirm their email, while a double opt-in requires them. Even though it adds another step to using the double opt-in, we consider it a filter for people interested in knowing more about our offer.
Are Solo Ads Effective?
Based on our experience, the answer is yes. Solo ads still work and could help you grow your email list. We believe solo ads service will never die. It will keep growing because people—especially affiliate marketers need it to expand their network.
As previously mentioned, 75% of our email list came from solo ads. However, there are several things you need to consider before buying solo ads, such as the platform you use, the seller you choose, and the credibility of your seller.
These three components are crucial because you don't want to spend money on bot clicks. Many dishonest sellers are getting your money to deliver fake and useless clicks to your offer. So, you must be careful before purchasing solo ads to grow your email list.
Where to Buy Solo Ads?
Our best recommendation to buy solo ads is Udimi. It is a marketplace for solo ads to connect potential buyers with sellers looking to advertise their offers.
The main reason to purchase solo ads from Udimi is you get protection against fraud, spam, and useless clicks. Rest assured, there is no bot click, only real verified human beings.
When you purchase solo ads through one of the Udimi sellers, Udimi will track your link and verify every click. So, you will only get high-quality visitors without worrying about duplicate clicks or search engine crawlers.
Conclusion
In conclusion, solo ads still work well in growing your email list. Even though you need to pay for it, you can consider it an investment in the long run because you can promote any offer to your email subscribers. If you're promoting a high-ticket offer, a single purchase could pay back your solo ads expense, leaving you with profit.
---