This post contains affiliate links. We may receive a commission for purchases made through these links without any extra cost to you. Thank you for your support.
---
In this PropellerAds review, let's find out if it is legit to help you monetize your website.
As you can see, we are running Google AdSense on our website to support our activities. However, if you'd like to monetize your website, there are other ad network alternatives you can try, and one of them is PropellerAds.
Since applying for Google AdSense requires review and approval from Google itself, many people didn't get the chance to get accepted due to a lot of reasons. So, if you're looking for a legit alternative, you might consider trying to use PropellerAds for your website. We will highlight the requirements you need as publishers, the payment rate, and the system if you use PropellerAds to monetize your website.
Let's dive in!
What are PropellerAds?
PropellerAds is an advertising network similar to Google AdSense that offers payment for displaying advertising on your website. Monetizing a website with ads is one of the many ways to make money online. However, you need website traffic to make money. Otherwise, you can't earn anything because no one sees your ads.
With more than 150,000 publishers using PropellerAds worldwide, you can monetize your website with multiple ad formats for both mobile and desktop views. Moreover, PropellerAds is also AdSense compatible, so you can run both by combining various ad formats.
PropellerAds Requirements
To start using PropellerAds on your website, you can sign up and create an account for Publishers. You don't have to wait for the review process and approval since PropellerAds is open to anyone as long as your website does not violate their requirements.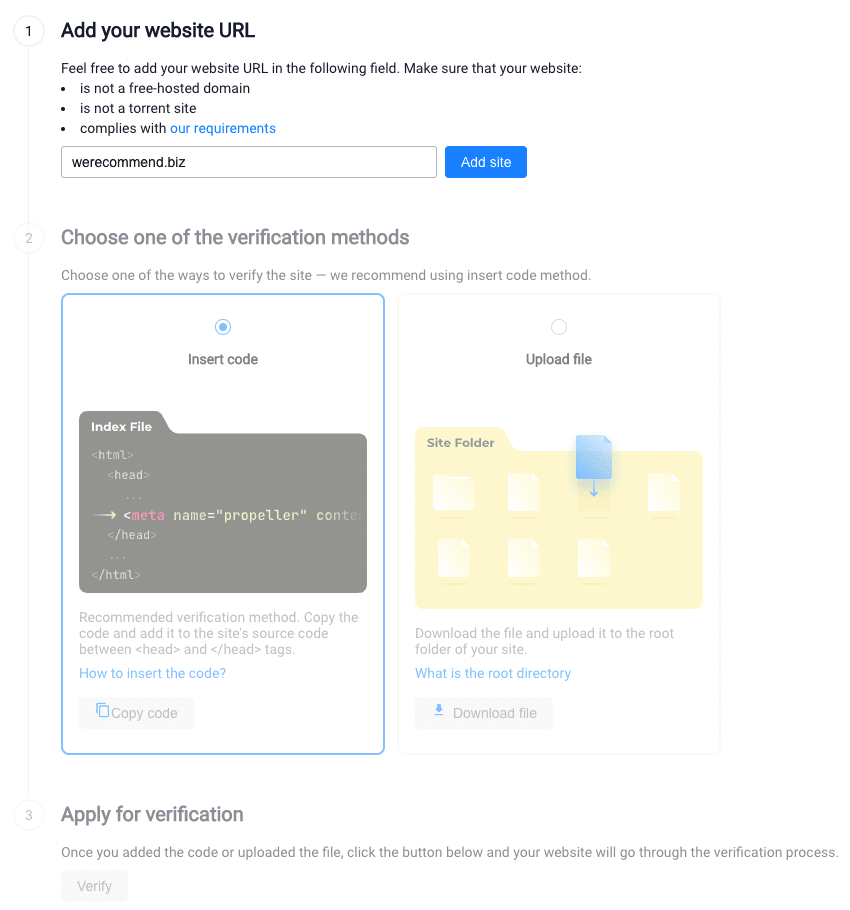 Moreover, the verification process is pretty much straightforward. Once you have signed up, you can add your website address to PropellerAds and use one of the two verification methods to get verified. Similar to Google AdSense, you only need to add a simple code between <head> and </head> tags on your website. You can do it with the free AdInserter plugin.
Another way to verify your website is by uploading a file to your website's root directory. You can access them through your cPanel or via an FTP client. After that, you only have to wait for the verification process, which takes a few minutes, before you can start displaying ads on your website.
PropellerAds Ad Formats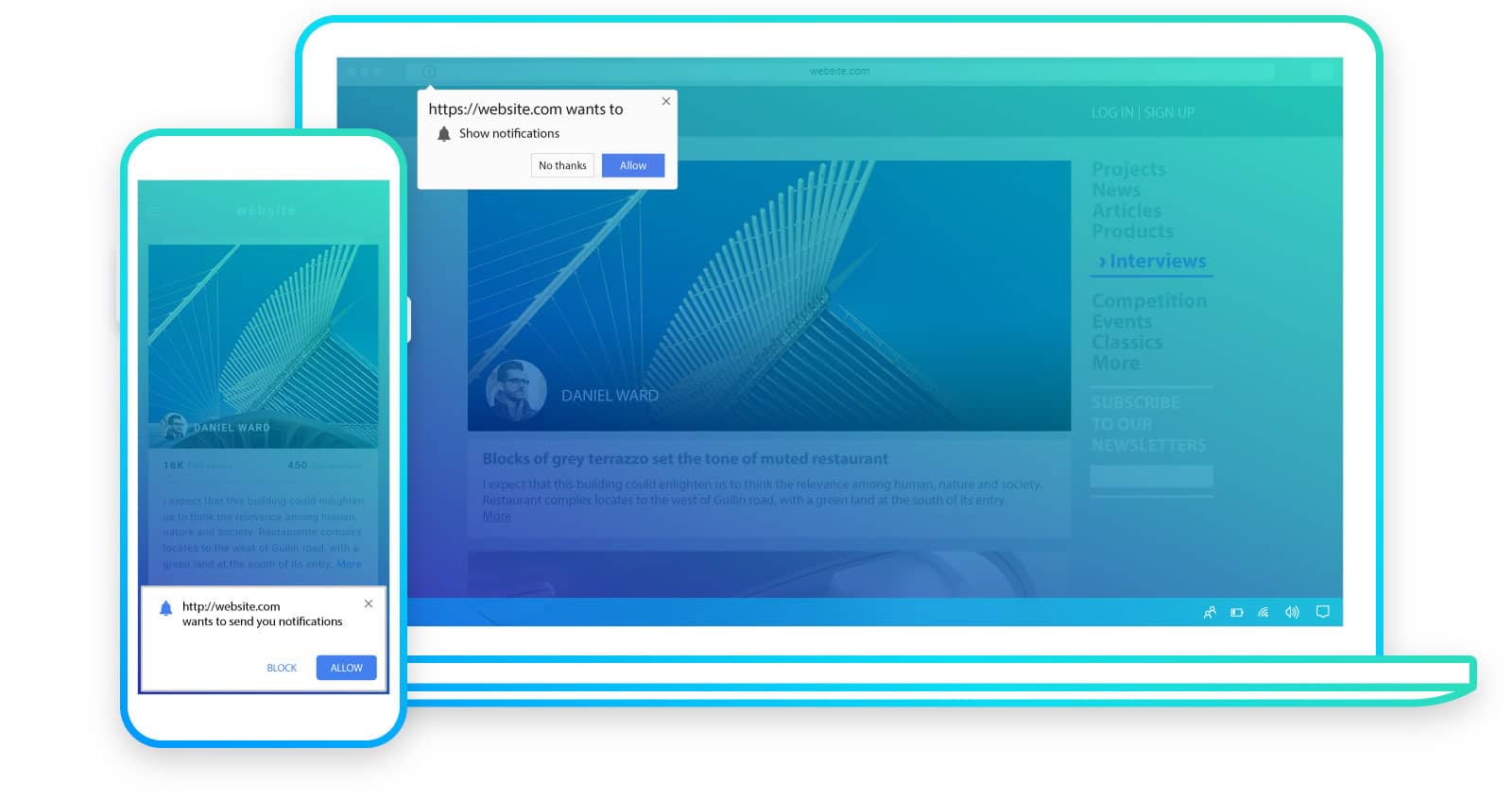 After you have finished your verification, you can start displaying multiple ad formats provided PropellerAds. Generally speaking, there are 5 types of ad formats to display:
Push Notifications: This type of ad is unique because it shows like a push notification if you view them on mobile devices. It works as a subscription method, so anyone can get notified by advertisers.

Onclick Ads (Popunder): As one of the top-performing ads on PropellerAds, a popunder works by opening a new tab if someone clicks on your website. However, this type of ad decreases your website user experience since it keeps adding a new tab browser.

In-page Push (Banner): This type of ad is similar to push notifications, but it shows as a display banner without any subscription option. It's one of the most engaging ad formats on PropellerAds.

Interstitials: Basically, Interstitials is a fast-loading and skippable ad unit that is displayed before or after a specific website page. You can customize these ads accordingly, and it offers a high CTR to increase your payout.

Smart Links: You can monetize traffic from custom URLs, such as 404 traffic, toolbar, and expired domains, and automatically take visitors to the most relevant offers.

To display these ads, you can add the PropellerAds tags to your website. One of the best practices is to use the multi-tag option to showcase all types of ads on your website. This tag generates the highest possible revenue and is optimized for user experience and the safety of your audience.


If you know what you're doing, you can create a customized tag based on your preference using each type of ad and showcase them on your website. This way, you can combine PropellerAds with other ad networks and boost your ad performance.
PropellerAds Payouts
With PropellerAds, your payouts will depend on your level. When you first sign up, you will be at the Green Level, which is the lowest level of the others you can achieve. As you get more impressions and clicks, you can exponentially grow your ad revenues with PropellerAds.
However, the benefit of being in the Green Level is you can request payouts anytime you want, with $5 as your minimum payout. You can receive your payouts via PayPal, Payoneer, Skrill, wire transfer, and other payment methods. Moreover, you can set these payments automatically. You can arrange them on a weekly or monthly basis.
Pro Tip💡
If you use Payoneer as your payment gateway, the minimum withdrawal is $20. For wire transfers, $550 is the minimum payout.
PropellerAds Affiliate Program
PropellerAds also have an affiliate program to help you boost your earnings and receive 5% of your referral earnings. You can sign up using your affiliate link and promote PropellerAds to your audience.
PropellerAds Pros and Cons
There are several pros and cons related to PropellerAds, which we will cover in this section.
Pros
Free sign-up and easy verification method.
Low minimum payout via PayPal, starting from $5.
Setting your ads is easy for beginners.
Multi-tag allows you to showcase all types of ads with just a single code.
Cons
Onclick Ads (Popunder) are annoying for us, so it might be better to exclude this type of ad on your website.
PropellerAds vs AdSense
Based on our experience, getting approved for Google AdSense is a big challenge. So, if you are rejected by Google AdSense, it might be a great idea to sign up for PropellerAds while reapplying for Google AdSense.
In terms of payout, PropellerAds has a lower payout than Google AdSense and also higher earning potential. But, if you can figure out a way to display both ad networks on your website, it could improve your online revenues. Since Google AdSense has better ads and many advertisers are using Google to advertise their offers, it would be a great idea to have both on your website.
Frequently Asked Questions
What countries are available for publishers to register?
Although PropellerAds accept publishers from more than 195 countries, there is a limited list of countries where you can't sign up. Click here to view the list.
Is there any chance of not passing the site verification process?
You will pass the site verification process if you install the tags correctly. We recommend using the AdInserter plugin to help insert the code on your website.
Conclusion
To summarize our PropellerAds review, PropellerAds is a legit ad network and a Google AdSense alternative. With a low payout starting from $5, you can try using PropellerAds to monetize your website. Moreover, you can also earn by recruiting more publishers to use PropellerAds as their ad network.
---