This post contains affiliate links. We may receive a commission for purchases made through these links without any extra cost to you. Thank you for your support.
---
If you're looking for the best productivity monitor for work in 2022, you're in the right place.
Due to Covid-19, we've been working from home since 2020. If you're working at home as we do, we are somewhat picky regarding tech stuff. Why? Because you're probably sitting for 8-10 hours a day in front of your monitor. That's why you need a high-quality monitor to support your productivity.
In this article, you'll learn our criteria for choosing the best productivity monitor and our recommendations based on personal experience.
Without further ado, let's dive in!
The Best Productivity Monitor for Work
Dell P2721Q is the best productivity monitor you can use for work. We think it's also the best productivity monitor in 2022 and the best 27-inch monitor you can buy. It has full ergonomic features and is compatible with USB C to power up your laptop. With up to 4K resolution, Dell P2721Q will help you improve your productivity at work.
Our Criteria for The Best Productivity Monitor
But, before that, we'd like you to know our criteria for choosing a productivity monitor.
Monitor Size
Firstly, we are looking for at least a 27-inch monitor.
Here's why.
We've tested a 24-inch monitor, and it feels weird. Well, you can multitask on a 24-inch monitor. But, there are limitations in the screen resolution. Usually, you're stuck with 1920 x 1080 resolution or Full HD.
So, we want to avoid that.
Check this out 👉🏻 The Best Home Office Monitor
Ergonomic Features
Secondly, the most important thing for a productivity monitor is its ergonomic features.
For example, does it have a height adjustment function? Can it be tilted, swiveled, and rotated? These features are essential for us.
Why? Because you occasionally need to adjust your position when working from home. Otherwise, you're going to have a back and neck problem. We bet you don't want that to happen, right?
So, if a productivity monitor doesn't have all of the ergonomic features stated above, we wouldn't recommend it to you.
Monitor Port Availability
Finally, the final important thing is the port availability.
Since we're using the M1 MacMini and the M1 Macbook Air, we need a USB-C connection that supports Power Delivery. This feature helps to reduce cable clutter.
How is it possible? You're only using a single USB-C cable from your laptop to your monitor. It serves as an extended display and charges your laptop. Pretty handy, isn't it?
In other words, you don't need any other cables, such as an HDMI cable to extend your display.
The Best Productivity Monitor 2022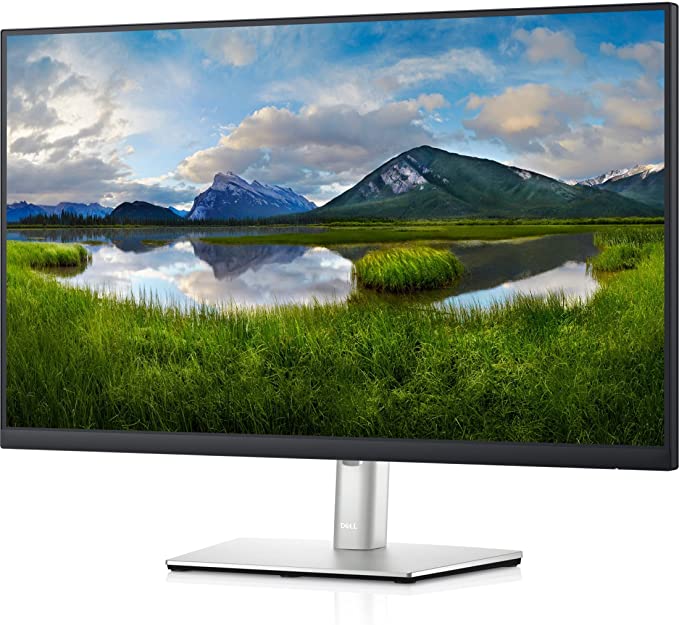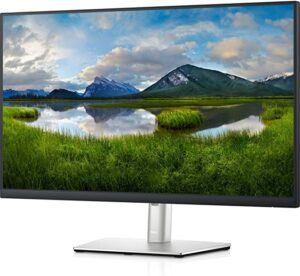 Therefore, our monitor of choice is Dell P2721Q. This is the best 27-inch monitor with a 4K display with an IPS panel. It's a total game-changer.
It has everything we mentioned above and weighs about 5 kilograms. In addition, the screen brightness is up to 350 nits with a 1000:1 contrast ratio. Sure the color is not as brilliant as other expensive monitors out there.
But, hey, we're talking about a productivity monitor here.
Dell P2721Q Tech Specs
Device Type WLED
Features USB 3.0 Hub
Panel Type In-plane switching Type
Aspect Ratio 16:9
Native Resolution 3840 x 2160 at 60 Hz
Pixel Pitch 0.1554 mm x 0.1554 mm
Brightness 350 cd/m ²(typical)
Contrast Ratio 1000: 1 (typical)
Response Time8 ms (normal)5 ms (Fast) – (gray to gray)
Color Support 1.07 billion colors
Input Connectors 1 x HDMI port version 2.01 x DisplayPort version 1.22 x High-Speed USB 2.0 downstream ports2 x USB 3.2 Gen1 (5 Gbps) downstream ports1 x USB Type-C (Alternate mode with DisplayPort 1.2, USB 3.2 Gen1 (5 Gbps) upstream port, Power Delivery PD up to 65 W)
Display Position Adjustments Height Adjustable 150mm Tilt (-5° to 21°) Swivel (-45° to 45°) Pivot (-90° to 90°)
Screen Coating Anti-Glare with Hard-Coating 3H
Dimensions (WxDxH) – using stand 24.08 inches x 7.28 inches x 15.17~21.07 inches
Diagonal Size 26.96 inches
Weight 11.20 lbs
Compliant Standards Energy StarEPEAT registered where applicable. EPEAT registration varies by country. See www.epeat.net for registration status by country. TCO Certified Displays.
We are using this monitor for work and have zero complaints about them. It is one of the best 27-inch monitors you can find right now. Dell P2721Q has all the ergonomic features you need. You don't have to worry about neck and back pain while working from home.
If you plan on using a monitor arm, Dell P2721Q also supports VESA mounting holes at 100 mm x 100 mm. More importantly, it has USB-C with Power Delivery support. You can simply charge your laptop while using it on an extended display mode, making it a single-cable setup.
Conclusion
In conclusion, this Dell P2721Q monitor is high-quality for the price. If you are still confused between a 24 or 27-inch monitor for office work, we strongly recommend 27-inch. You'll notice the difference when you use it.
We believe you will be glad that you invested in this monitor. It will support your productivity for at least the next five years.
Looking for something else?
Check this out 👉🏻 Best Budget Monitors
As an Amazon Associate, I earn from qualifying purchases.
---
Sugiya is the Writer and Owner of We Recommend. He is passionate about helping people make better decisions when buying things on the internet.