This post contains affiliate links. We may receive a commission for purchases made through these links without any extra cost to you. Thank you for your support.
---
Let us share some actionable email marketing insights after sending emails to 60,000+ email lists in the last 30 days.
In the past few weeks, we've been learning about email marketing.
To be precise, we've been sending one email daily with My Lead Gen Secret.
We received 100 or 200 leads daily, so we decided to conduct a small experiment with these lists.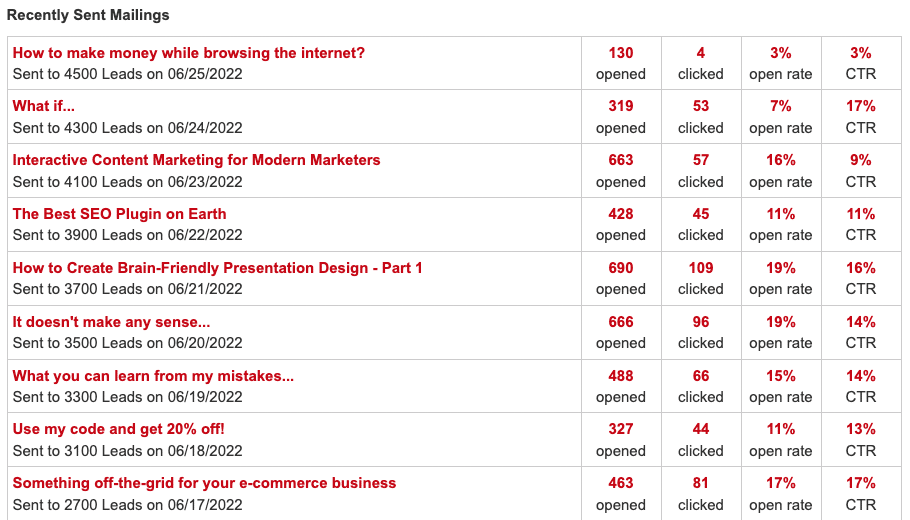 Since there are so many variables in email marketing, we'll try to explain our findings as concisely as possible. These findings are related to the open rates and the click-through rates metric for email marketing.
Without further ado, here they are:
1. Adding a decent profile picture helps you get recognized by your followers
In the first few days of our email marketing campaign experiment, we didn't add a profile picture to our email signature.
We thought adding a profile picture didn't mean anything—but it turns out that it helps build your credibility with your subscribers.
After adding a simple profile picture and my name to our email signature, we saw an increase in the open and click-through rates by 20%.

Not bad as actionable email marketing insights, right?
We assume this could have happened because people are interested in knowing about you and who you are.
Again, it helps you build your credibility.
2. Adding numbers to your email subject is a good idea
This actually works, but not all the time. We found it fascinating because it's similar to the on-page SEO for blog post titles.
It does work when your subject type is:
Informative (Top X, X of the best, How to get XXX, etc.)
Includes fear of missing out (X hours to go)
Includes sale ($XXX off)
But, it doesn't really work if you don't provide any context to your subject line. For example, we've sent emails with the subject $100 Per Day, but it didn't work well.
3. To capitalize or not capitalize each word of your email subject
Now, this is something that brings to our attention. And we've thought about this a few times.
Does it matter?
There is a slight difference in the open rates, but it seems writing in a sentence case works better if you're not trying to catch your subscriber's attention.
These are examples of one of our best email subject stats:
12 hours to go… You don't want to miss this!
It will look a bit weird if you capitalize each word.
12 Hours To Go… You Don't Want To Miss This!
You get what we mean, yeah?
4. Use famous song titles, lyrics, or movie titles
This one is interesting. We've read an article about this so we decided to apply it.
The idea behind that article is you can use famous song titles, lyrics, or movie titles as your email subject.
For example, one of our best email subjects is,
Don't Stop Me Now, I'm Having Such A Good Time.
You can explore many things with this method, as long as it is relevant to your email copy.
These two are our favorites;
Hello, it's me…, and Catch me if you can.
5. Using the first name on the email subject doesn't really work
But, if you're using it on the email body, it works well to increase your email open rates. We believe it feels too direct when using your subscriber's first name on the email subject.
Still, there is a practical example of using them, and that is when you are asking questions as your email subject, such as:
Excuse me, [first name]?
[first name], does it make sense to you?
If you're using instructional sentences such as,
[first name], act now before it's too late…
It doesn't really make a difference.
6. Keeping your email short and sweet doesn't really work
Now, this one is debatable. But, if you're just writing directly to the point like,
Check this out.
There is no point in sending an email to your subscribers.
Based on our experience, using around 6-9 short sentences works best to increase your click-through rates.
Basically, what we did was structure the email content with the PAS method:
[pain statement]
[agitate the problem]
[solution + your CTA]
It goes like this,
[Pain]
So, you have a new website and don't see any traffic coming to your site?

[Agitate]
It feels painful, innit? (pardon my British accent)

It's like doing a performance, and no one's paying attention.

[Solution]
Thankfully, I've found a solution for you.

LeadsLeap Pro will help you drive 2,748 traffic every month on autopilot.
Interested?

Sign up for free and get 100% genuine visitors to your site with a few clicks.

Click here to sign up.
You get the idea.
7. One CTA works better than multiple CTA
As for call-to-action, a single CTA works better than a multiple CTA.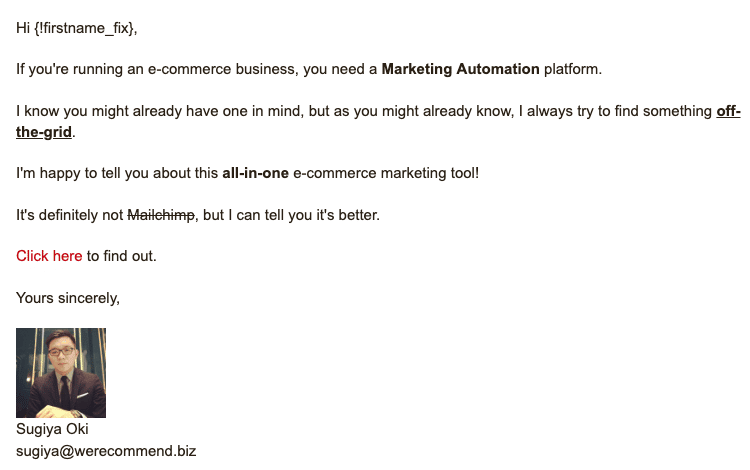 It's debatable, but having more than one CTA feels like you're SCREAMING to ask your subscribers to click.
And screaming doesn't solve any problem.
But, if you're writing a long email, you might want to add another CTA on top or in the middle of your email.
Experimenting is always fun!
So, there you have it.
These 7 actionable email marketing insights will be updated along the way. We might add more soon to help you send better emails to your subscribers.
If you're looking for ways to do email marketing, we suggest trying SendSteed or GetResponse for free.
There are a lot of variables to consider when you're doing an experiment. And that's the fun part about it.
It helps you to understand what works and what doesn't.
So, from all the insights above, which one would you try for your next email broadcast?
Let us know in the comment section.
---