---
Updated 26 April 2022


We'd like to give you an update on one of our posts about The Click Engine Review. It is now ranked on the first page of Google at 2nd position.
---
Choosing SEO plugins for WordPress could be challenging. This is true, especially if you're new like us. But, since we're here to help you choose, we will tell you our best recommendation: Rank Math SEO.
Don't get us wrong here.
We've tried and tested other SEO plugins such as AIOSEO and Yoast. We've been looking to use premium services from other SEO plugins before we ended up with Rank Math SEO.
Even with the free version, Rank Math is so powerful that we didn't even think twice to upgrade to the pro version.
We'll try to elaborate on 9 reasons we're not using the free version. In the end, you'll get the answer to why you should upgrade to Rank Math SEO Pro right away.
Before we dive in, allow us to tell you more about this powerful SEO plugin.
What is Rank Math SEO?
The best way to explain Rank Math SEO to you is by reading these testimonials.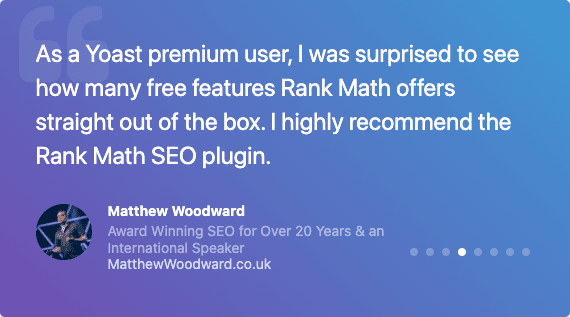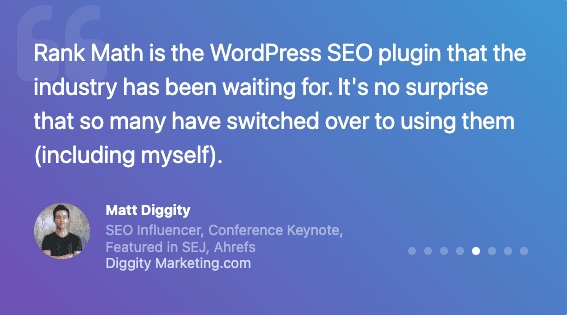 If you're not convinced by testimonials, you can watch this YouTube video for the best way to describe Rank Math.
In a sentence, you'll have complete control over your entire website's on-page SEO. We've been testing several SEO plugins before we finally ended up with Rank Math SEO. In fact, we confidently moved from Yoast.
Based on our experience, this is the best SEO plugin for WordPress users we've ever encountered. You will be able to customize your SEO settings. This includes optimizing your content to get better rankings on Google Search. Moreover, you can decide how you want your website to appear in SERPs with Schema.
If you're new to SEO, you might be wondering, "How good is Rank Math for SEO?"
It's REALLY GOOD.
Even though the free version is good enough, we don't recommend it. Why? Because you'll get even more benefits using the Pro version. We will explain why you should definitely upgrade to the pro version.
Now, let's talk about its features.
What Are The Features of Rank Math?
Setup Wizard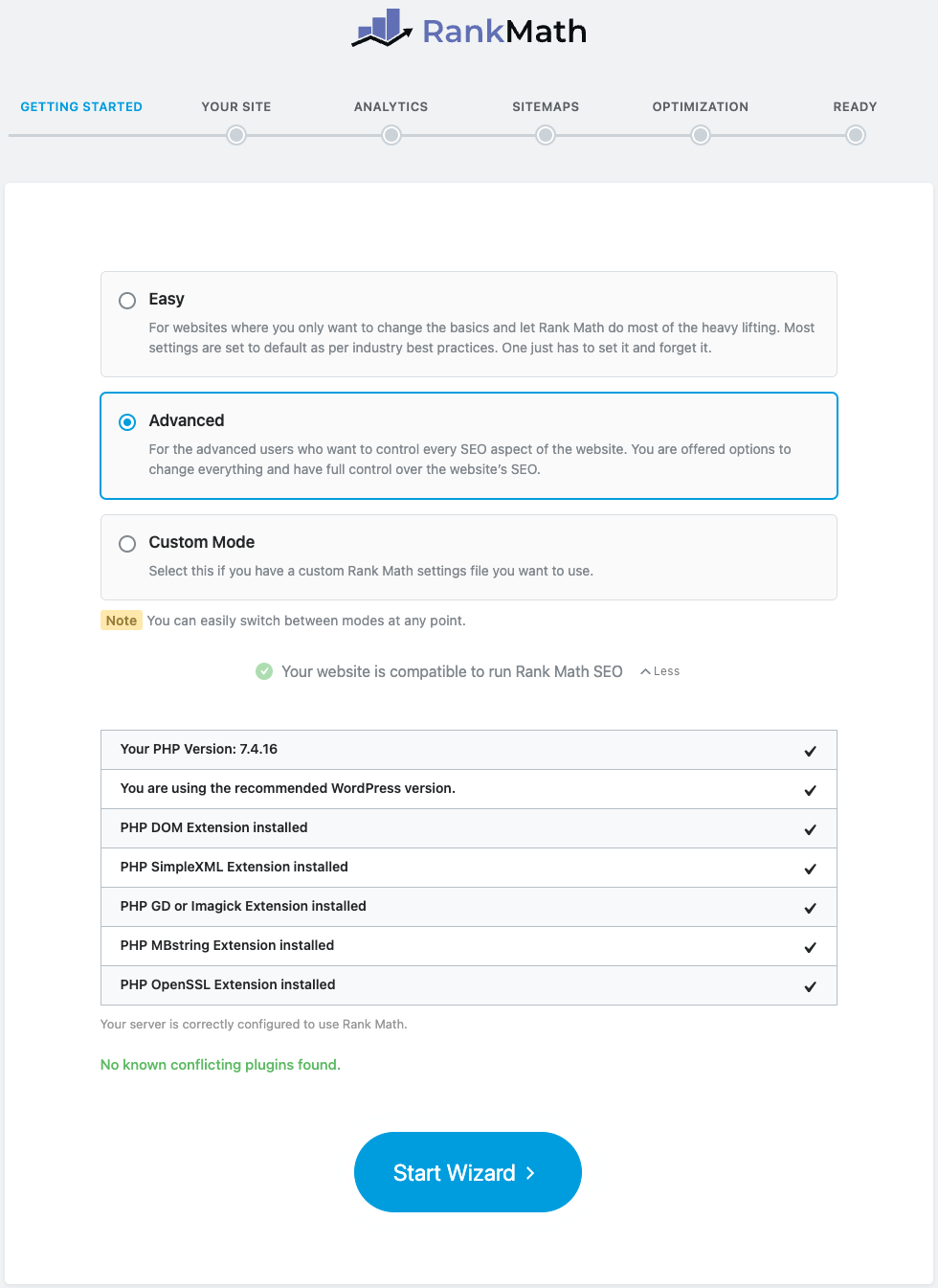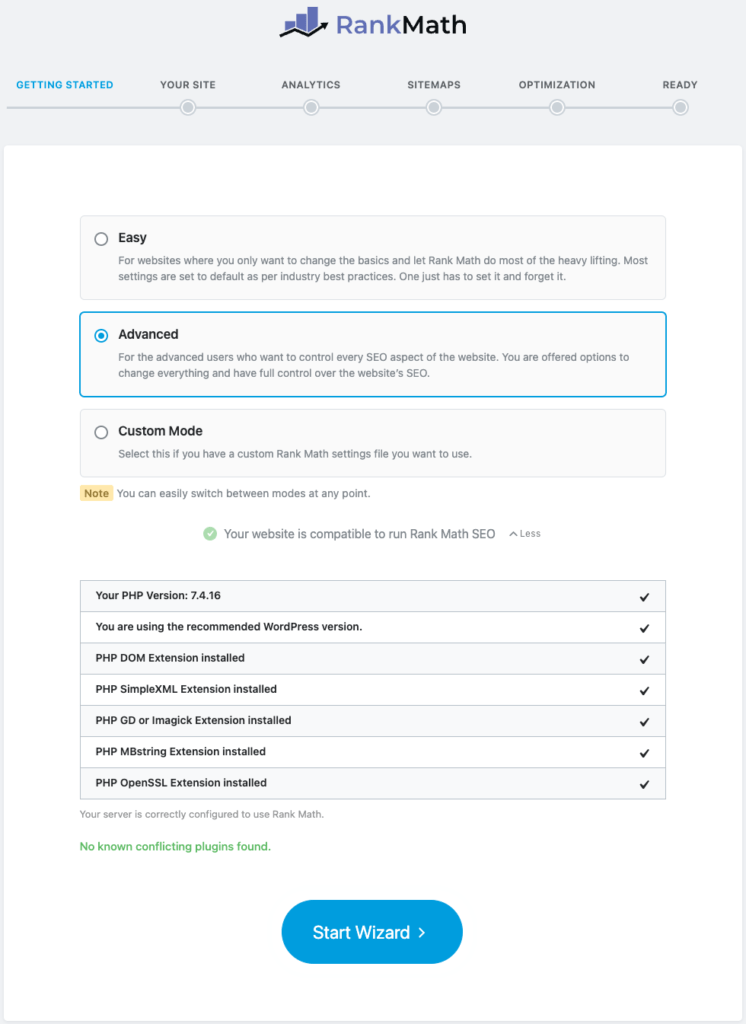 This is the 1st reason why we're not using the free version.
Even if you're not experienced with SEO, Rank Math will help you with its Setup Wizard. You'll be guided with a step-by-step configuration to set it up and running smoothly. We recommend you choose the Advanced option to tap into all the great features of Rank Math. More importantly, everything will be integrated after you complete the Setup Wizard. You can even integrate Google Analytics, Search Console, and AdSense services in this setup.
Click here to read more on how to use the Setup Wizard.
Clean & Easy User Interface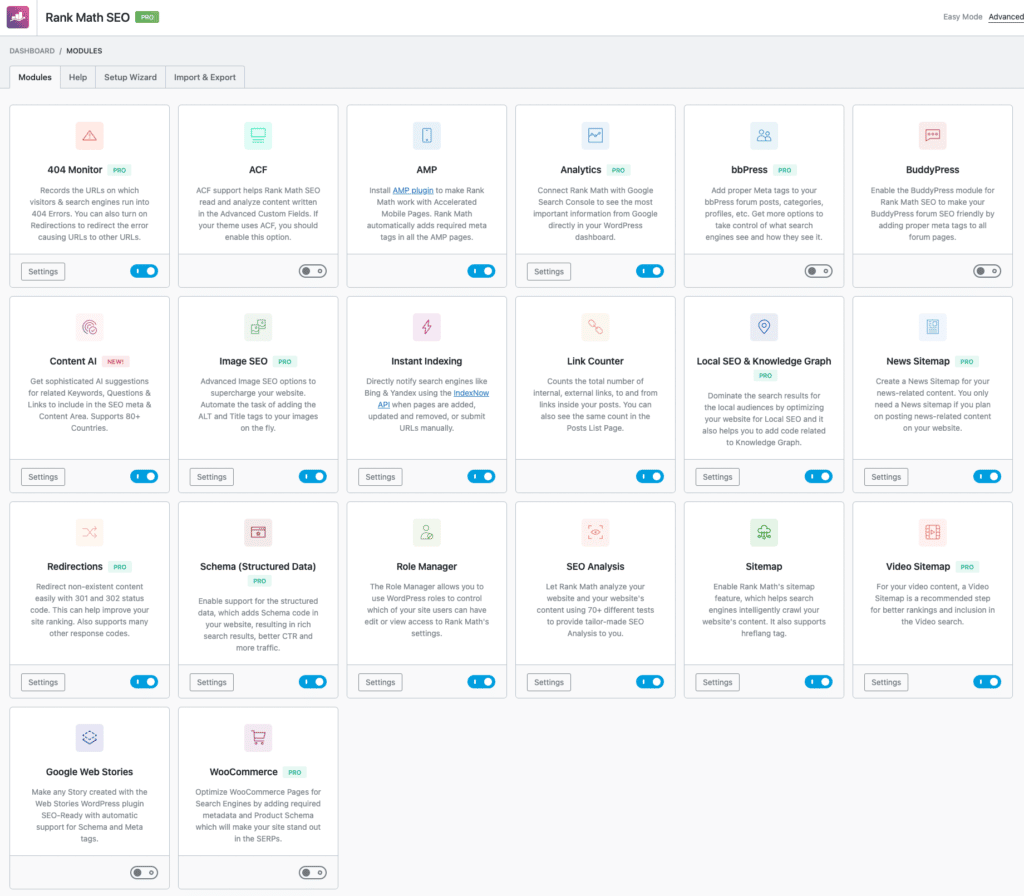 For newbies like us, it is crucial to have a clean and easy user interface for an SEO plugin. Well, Rank Math provides what we exactly need. For example, when you're going to create a post, you will be able to select a focus keyword for each of your posts. In fact, you will get a highlight on how to improve your content, as you can see below.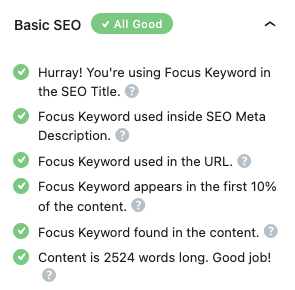 It doesn't stop there. It's like having a personal assistant to help you create SEO-friendly content. You'll see what we mean in the on-page SEO section.
Content AI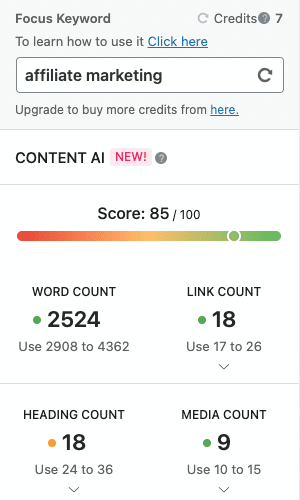 This is the main feature highlight and why Rank Math SEO is powerful. And our 2nd reason why we're not using the free version.
You see, writing SEO-friendly content is challenging. That's why you should take advantage of Content AI. This feature will give you generated suggestions of what you need to write. You'll get intelligent recommendations on which keywords to use in your content. Moreover, Content AI will tell you how many words to write and what headings you should use.
In fact, Content AI will also suggest how many links you should insert and how much media to use in your content. Simply type your targeted keywords, and Content AI will automatically give you suggestions. This is why we fell in love with Rank Math SEO. You should try it for yourself.
SEO Analytics
This is the 3rd reason why we're not using the free version.
Every content writer wants to know how well their content is performing. That's what exactly this feature is about.
If you're using Google Analytics, you know that it's one of the most powerful tools to see your site stats. Rank Math brings all the information you need to your WordPress dashboard. This way, you can track your search traffic and impressions. In fact, you can even check your keyword positions on Google Search.
It doesn't stop there. You'll get access to various tabs, such as:
Site Analytics
You can see your SEO score from each of your posts in this tab. 
SEO Performance
Rank Math also intelligently provides you with your SEO performance. Here, you can see your top winning posts and content.
Keywords
You'll be able to see top winning and losing keywords based on your posts.
Rank Tracker
You will get information related to your website's performance against preset keywords.
Index Status
In this tab, you can see how your URL status on Google. You'll be able to see whether your post is indexed or not.
This information will help you take your SEO game to the next level.
SEO Analysis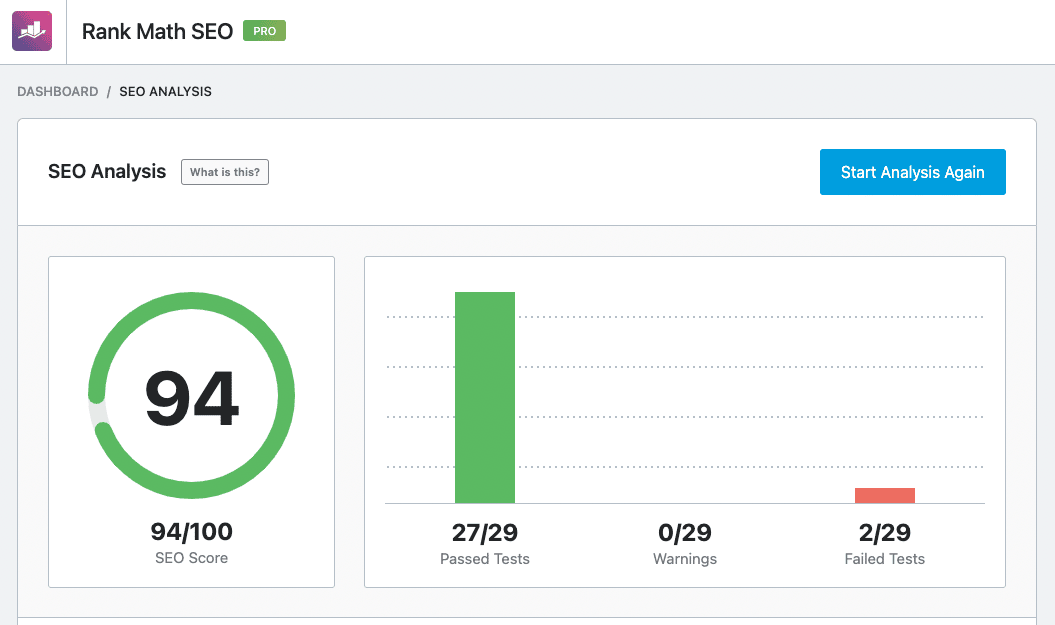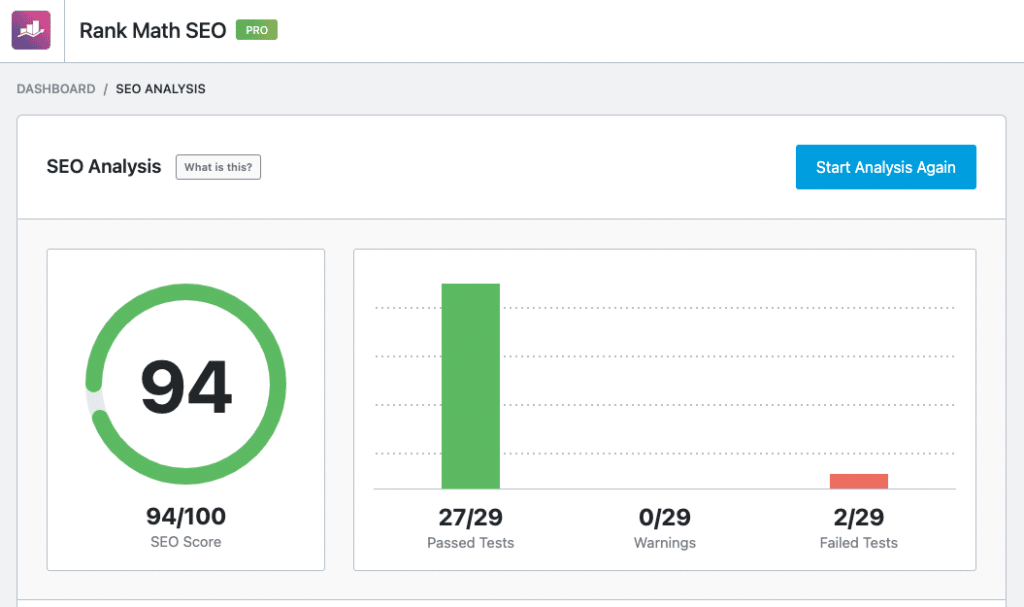 Another great reason to use Rank Math is because of this feature. In fact, this is the 4th reason why we're not using the free version.
This is one of our favorite features because Rank Math does a complete analysis of your website's SEO. They run up to 70+ different tests on your website and its content. So, you'll get every possible detail related to problems you might be having. More importantly, you also get a recommendation on how you can fix these problems. As an SEO newbie, this single feature helps us improve our SEO and bumps our website position.
Sitemap
If you run a website, your primary goal is to get it indexed on Google. So, you need a sitemap in XML format to do that. Thankfully, Rank Math provides a sitemap generator for WordPress. All you have to do is go to the Sitemap Settings. You can customize it based on your needs. You can include images and featured images in your Sitemap Settings.
After that, you can submit your sitemap on Google Search Console and let Rank Math do the rest in the background. Moreover, Rank Math will ping search engines when your sitemap gets updated. It's pretty convenient, isn't it?
Instant Indexing
This handy feature will help you to send URLs directly to IndexNow API.
Wait, what's that?
In a sentence, when you publish a new post, your website will notify search engines about it. Currently, this feature works with Bing and Yandex. Or, you can also submit URLs manually if you want.
Schema Templates
This is the 5th reason why we're not using the free version.
You're going to love this feature because this will improve your content visibility. Schema or Structured data provides more information about your website to search engines. This feature will help you get rich search results, better click-through rates, and more traffic.
There are 18 Schema templates that you can use, or you can create Custom Schema based on your needs. But, here's what's even better. You can import other websites' Schema and use them for your post!
Click here to read more about Schema.
404 Monitor
After you write a post and insert your affiliate links, you want all the links to be working. That's why you this feature to ensure no visitor & search engine goes into 404 errors.
What are 404 errors?
In short, this could happen when someone clicks on your website link, but the page can't be found. If your website has a lot of 404 errors, it's actually a bad sign for SEO. It can affect your site's bounce rate because visitors don't find what they want from your site. Thankfully, this feature is backed up by Redirections.
Redirections
You can easily set non-existing content with 301 and 302 status codes. In a sentence, if someone visits a link that has 404 errors, they will be redirected to an active page. This will improve your site ranking. Moreover, you'll prevent search engines from giving negative impressions of your site.
100/100 On-Page SEO
We've told you that Rank Math SEO is so powerful, right? Every other SEO also provides a scoring system, but this feature will blow your mind away.
This is the 6th reason why we're not using the free version.
First, you'll be able to input multiple keywords for each of your posts. Your first keyword will be the primary focus keyword. As you add more keywords, it will be considered the secondary keyword, and so on. Other SEO only allows you to put one focus keyword.
Secondly, you have Google Trends for Focus Keywords integrated inside the on-page SEO. So, you'll be able to research while you're writing your post. You can also see the trends on your targeted keywords based on the target country and date range.
Thirdly, you can set your content as Pillar Content.
Fourthly, you'll find a color-coding system to enhance your content.
Color-Coding System
Here is what the colors mean.
Green Tick: You'll see this color when your content passes the test with flying colors.
Yellow: When your content isn't optimized for the test, you need to spend more time fixing it.
Red Cross: Poor performance will be shown with red, so you need to spend more time optimizing your content.
You might be wondering, "What is a good score on Rank Math?"
Well, based on these colors above, here is the explanation.
Green (Score 81+): If you managed to score over 80, it shows green color. Even though it shows green, you can still optimize it to get closer to 100. We recommend you aim for at least 90.
Yellow (Score 51-80): If you score between 51-80, your post needs to be optimized for better results. There is plenty of room for improvement.
Red (Score 0-50): If your score is below 50—which is poor, you need to recheck everything. That means you don't follow all the fundamental SEO guidance.
This is our 7th reason to not use the free version.
The best score to achieve is 100. But, you can't acquire that using the free version. Why? Because you need the Content AI feature to do that.
There are several indicators to be considered in the on-page SEO. From 22 of them, you need to pay attention to at least 9 primary indicators to improve your score.
#1 Primary Focus Keyword in the SEO Title
Your focus keyword needs to appear in the SEO title.

#2 Primary Focus Keyword in the Meta Description
You need to have your focus keyword in the meta description.

#3 Primary Focus Keyword in the URL
You need to use your focus keyword in the URL of your post.

#4 Overall content length
The more your write, the better chance for Google to index and rank your site. We suggest writing at least 2,500 – 3,000 words to achieve the best results.

#5 Keyword Density
You need to optimize your keyword density but not overdo it. Try to aim between 1,5% and 2% for this indicator.

#6 URL Length
Shorter URLs have a higher chance of ranking.

#7 Title readability
80% of your work is done if someone clicks on your headline. That's why you need to spend more time on your headline.

#8 Table of contents
Use a table of contents to help your visitor navigate throughout your post.

#9 Use of short paragraphs
Rank Math will analyze your paragraphs. One paragraph should never be longer than 120 words. This will help your audience engage longer with your content.
Rank Math SEO Free vs. Pro
If you're reading this, congratulations! You've made it all the way down here. Let's take a look at Rank Math's pricing plan.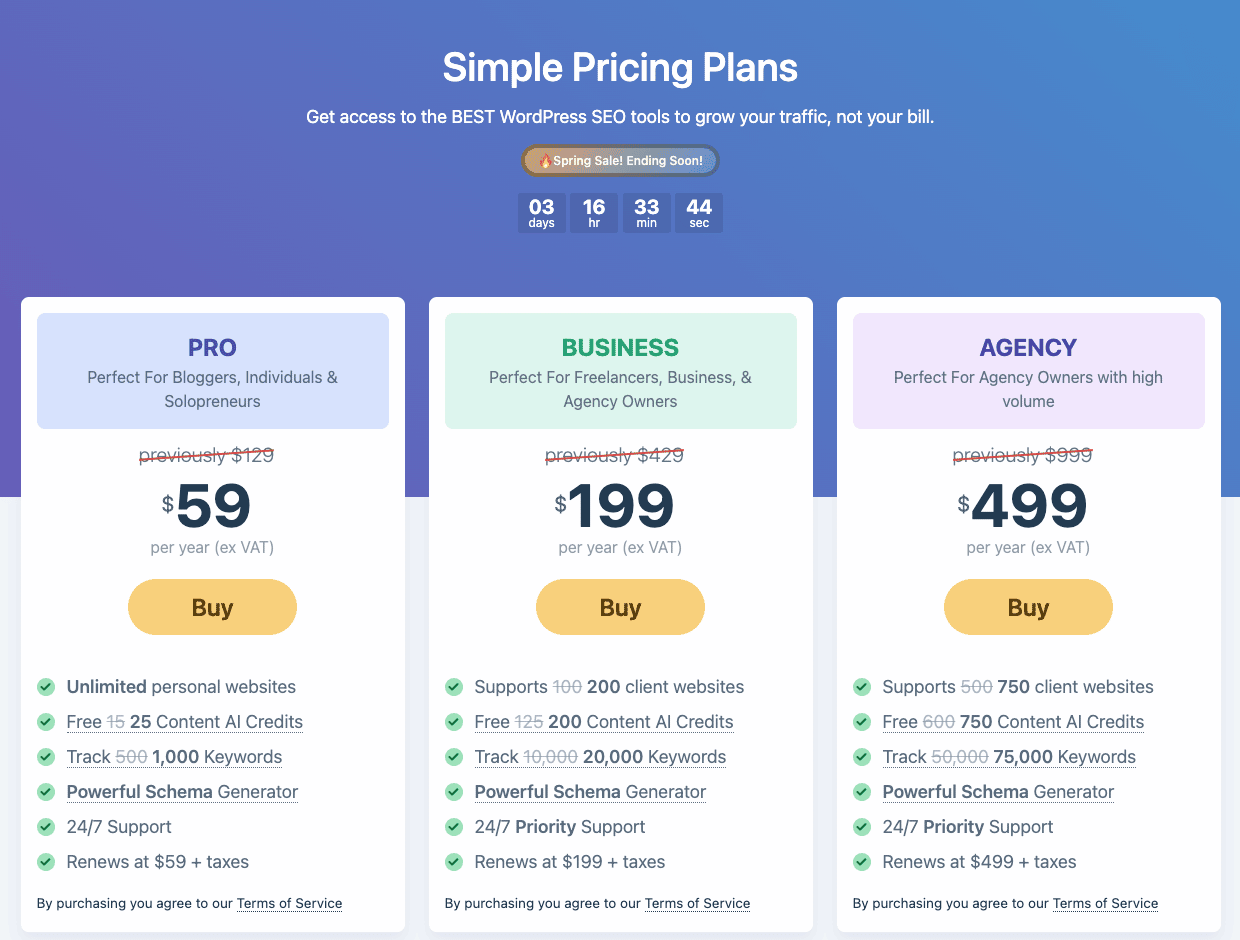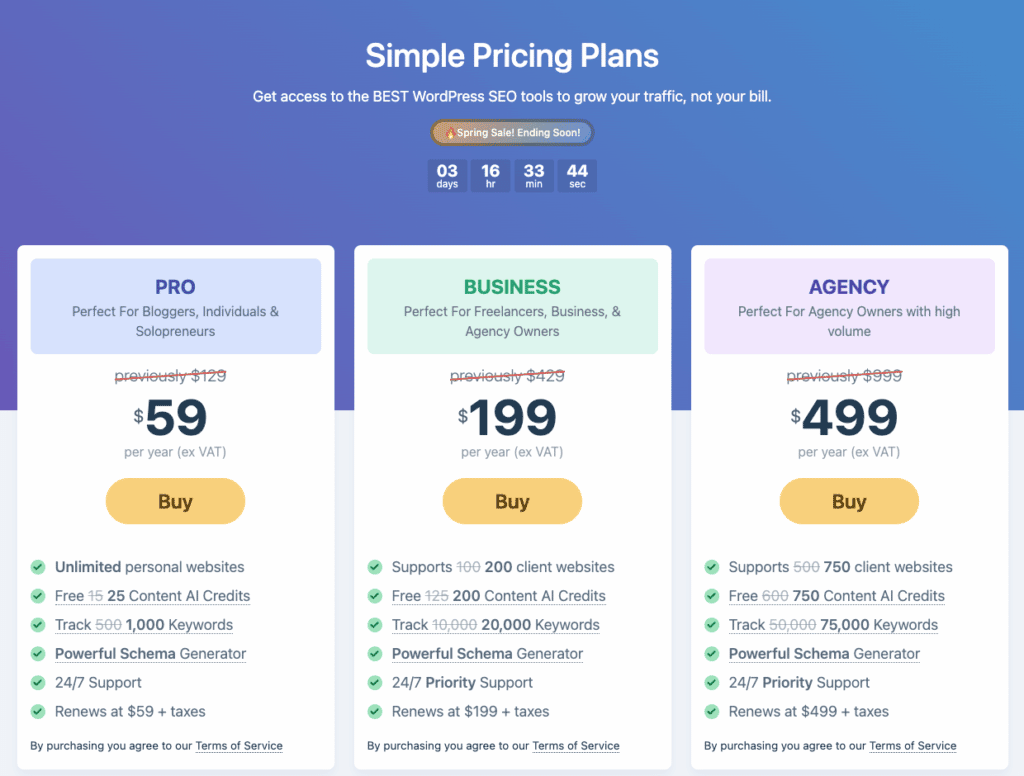 This is the 8th reason why we're not using the free version.
As you can see, at $5,5 a month, you'll get the best SEO plugins on this planet to level up your SEO game.
Moreover, you'll get 25 Content AI Credits, and you can track up to 1,000 keywords.
Here are the things that you're not getting with the free version:
404 Monitor
SEO Analytics
Image SEO
Local SEO & Knowledge Graph
News Sitemap
Redirections
Schema Generator
Video Sitemap
WooCommerce Integration
Are you going to miss all that powerful features to improve the SEO of your website?
Above all, Rank Math gives you a 30-day money-back guarantee.
Frequently Asked Questions
Can you use Rank Math on more than one website?
You can use Rank Math SEO Pro on unlimited personal websites. This website is the one you own 100%, and it needs to belong to you.
Which one is better? Rank Math vs Yoast SEO
Rank Math offers features that are not available in any other SEO plugin. It is one of the fastest SEO plugins you can find. Check out this table comparison, and you'll know which one is better.
Will the Pro plugin slow down your site?
Not at all. Rank Math is a compact plugin even with all those incredible features.
Can you try Rank Math before purchasing?
Yes, you can. Click here to download the free version and install it on your website.
Do you need to uninstall the free version to install the Pro version?
No. You should not uninstall the free version. The pro version is built on top of the free plugin. You need both installed and activated to use the pro version.
What payment methods does Rank Math accept?
You can pay with PayPal, Credit & Debit cards, and Amazon Pay.
What is Rank Math's refund policy?
You get a 30-day no-questions-asked refund policy. If you don't like the plugins, you can simply email [email protected], and they will refund your purchase.
Conclusion
In conclusion, this is the best SEO plugin for WordPress. We didn't even think twice about upgrading it to the pro version.
Why? Just take a look at our final reason below.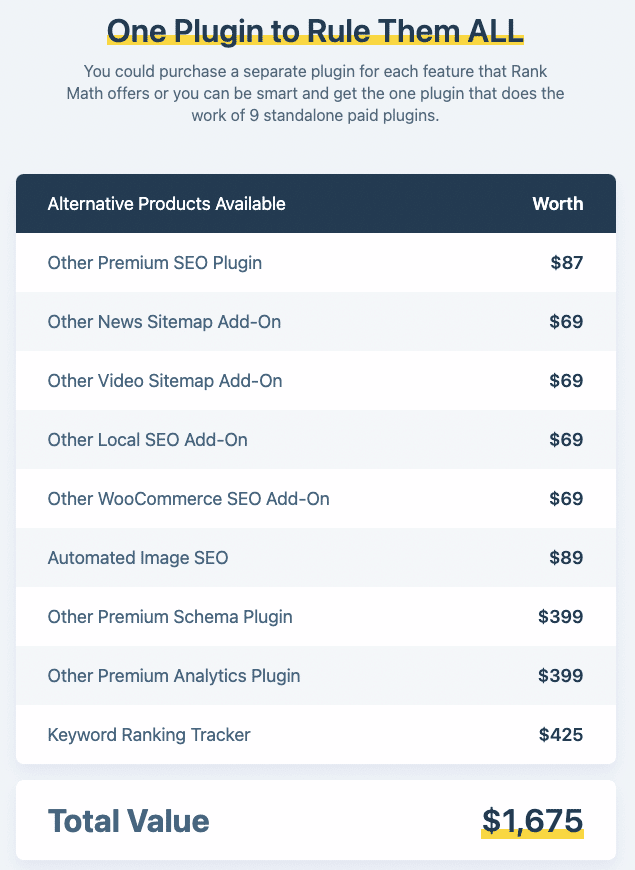 As soon as you install Rank Math SEO Pro plugins on your site, you'll be blown away by their user interface.
For us, this is a no-brainer deal. If you compare it to Yoast SEO at $99 per year, for $40 less, you get the best SEO plugins on this planet.
Above all, Rank Math gives you a 30-day money-back guarantee. It's time to upgrade your SEO game to the next level with Rank Math SEO Pro.
---