---
Are you looking for a legit Analisa.io review? Luckily, you're in the right place. In this article, we'll try to answer the primary question about Analisa.io and whether it is worth upgrading to their paid plan.
If you're using social media such as Instagram and TikTok for your business, you shouldn't rely on Instagram Insights and TikTok Analytics to analyze your social media performance. You can utilize it, but you won't get a deep understanding as you might get with a social media analytics tool. There are a lot of social media analytics tools to choose from, and one of them is Analisa.io.
Previously, we mentioned RelateSocial as an affordable social media manager. Well, Analisa.io is way more expensive than RelateSocial. If you're wondering if it is worth upgrading or not, keep on reading to find out more about Analisa.io and its features.
Let's dive in!
Is it Worth Upgrading?
If you're looking for Instagram and TikTok analytics platform that offers a comprehensive report without worrying about the price, Analisa.io is worth upgrading. However, because it is pricey, Analisa.io is not for everyone, especially individuals. It is more suitable for social media marketing agencies to provide better analysis and create a comprehensive marketing plan to improve social media performance.
What is Analisa.io?
Analisa.io is an AI-powered social media analytics tool you can use to provide insights for Instagram and TikTok accounts. The company was launched in 2019 and currently empowering businesses in more than 57 countries worldwide.
Usually, social media analytics tools provide data from multiple social media platforms, but Analisa.io focus more on Instagram and TikTok because it has a large audience. A large audience and users mean more data to be analyzed and reported.
Analisa.io Features
Analisa.io provides a comprehensive analysis of your Instagram and TikTok accounts. Even though you can use it for free, you are limited to only basic analytics. We'll cover more about the report you will get when you use Analisa.io.
Analisa.io Instagram & TikTok Profile Analytics
Since we're not very active on Instagram and TikTok, it will be embarrassing to showcase our account for analytics. So, we'll use the sample report provided by Analisa.io to help you get an idea about it.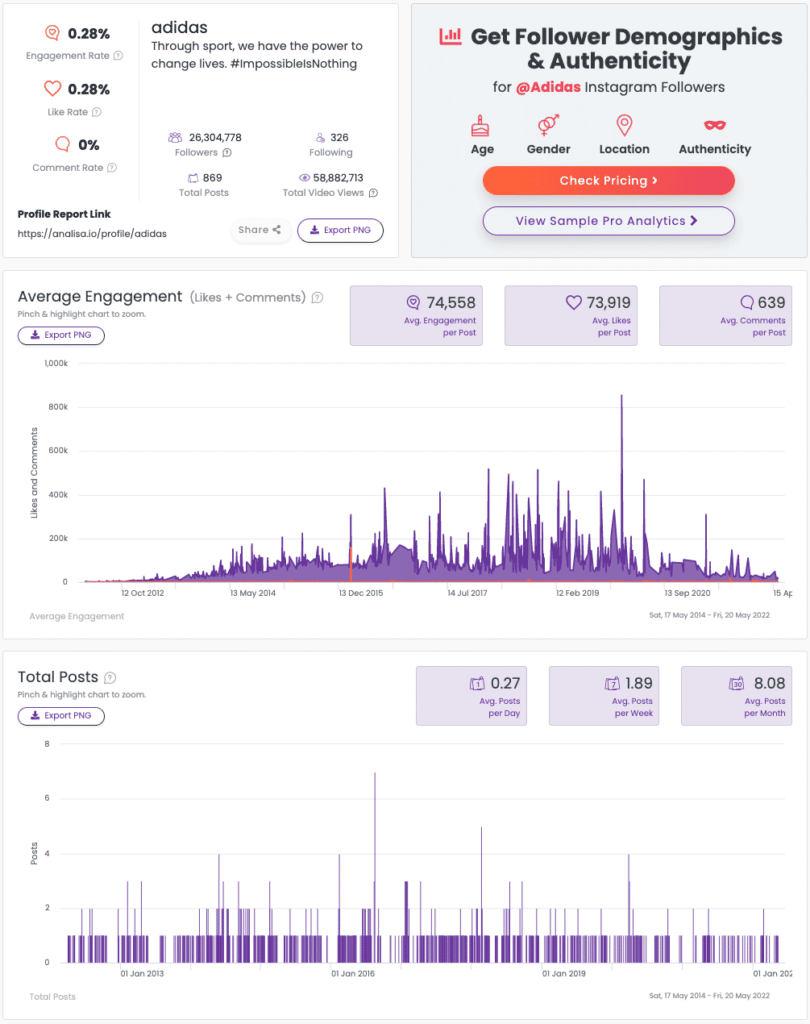 As you can see from the screenshot above, you'll get a comprehensive report about:
Engagement Rate
Like Rate
Comment Rate
Basic Stats (Followers, Following, Total Posts, Total Video Views)
Alongside this overview report, you will also get more detailed stats related to:
Average Engagement
Average Engagement per Post
Average Comments per Post
Average Posts per Day
Average Posts per Week
Average Posts per Month
Average Video Views
Total Video Views
Not only that. You will also get access to other valuable analytics such as:
Locations Tagged
Types of Posts
Tags and Mentions
Posting Activities
Audience Engagement
Most Used Hashtags
We think these are almost everything you need to analyze your social media performance. But, if you'd like to learn more about your audience—especially on Instagram, you need to go to Profile & Followers Analytics.
Analisa.io Instagram Profile & Followers Analytics
We think this is one of the best features you can use to analyze your followers. You can see your Follower's Authenticity and Demographics and set a strategy to reach them.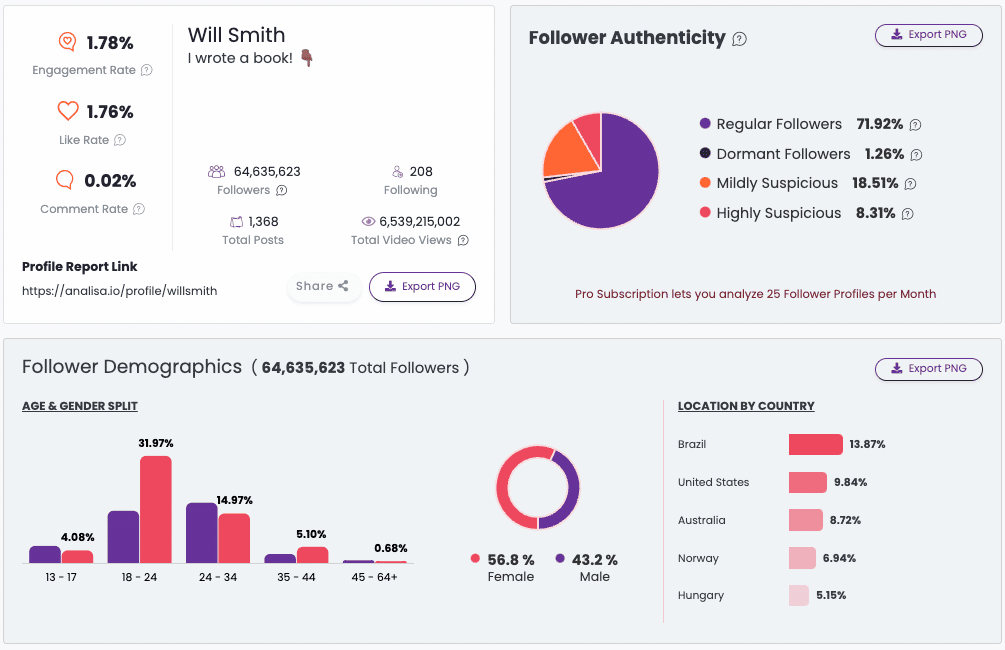 Based on this example above from Will Smith's followers, you can see the follower's classification and also their age range, gender, and location by country. If you're running a social media agency, this data is valuable to help you create a targeted social media marketing strategy.
Analisa.io Instagram & TikTok Hashtag Analytics
Another essential feature you will get with Analisa.io is identifying potential influencers and contributors based on hashtags analytics. First, take a look at the screenshot below.
When you use a hashtag on your Instagram & TikTok posts, other people could also use it on their posts. However, you might not notice if you have a potential influencer also using your hashtag. This feature helps you to identify that. You can see the top 5 ranking influencers based on:
Total Followers Reach
Total Posts
Total Engagement Rate
This data is valuable if you're looking for influencers to help you promote your social media campaigns. Choosing the influencer for social media is also a part of a digital marketing strategy. So, you might want to use Analisa.io for that purpose.
Analisa.io Pricing
We previously mentioned that Analisa.io is way more expensive than RelateSocial and probably any other similar tools. So, if you're looking for a more affordable option, you might want to eliminate Analisa.io from your list.

As you can see, the Premium plan starts from $59,35 per month on an annual payment. That's $712,2 a year. The most popular option, the Plus plan, will cost you even more. It's nearly twice as much at $109,55 per month. However, paying for a monthly plan is even more expensive than that. The Premium plan will cost you $69 per month, while the Plus plan will cost you $149.
But, the best justification for this pricing is that you get comprehensive analytics about almost anything you need as a social media analyst. More importantly, you can analyze up to 5,000 posts per profile. Even if you post every day, you need around 13,5 years to get 5,000 posts.
Another point to highlight in this pricing plan is that you will only get access to Instagram analytics for the Premium plan. To get both Instagram and TikTok analytics, you must upgrade to the Plus plan.
Analisa.io Pros and Cons
As you might have guessed, there are more Pros than Cons to using Analisa.io as your Instagram and TikTok analytics tool. Here they are.
Pros
Analisa.io provide more than just a comprehensive report. It's almost everything you need to analyze every metric related to your Instagram and TikTok accounts.
Hashtag Analytics could help you find potential influencers to boost your social media account performance.
You can track up to 5,000 posts. That's a lot of posts.
Your social media analytics reports will be updated in real-time after you use Analisa.io.
Cons
Analisa.io is expensive. However, it's worth all the data you need.
You only get access to Instagram and TikTok. Sorry, Facebook and Twitter.
It is suitable for social media agencies.
Analisa.io Alternative
If you're looking for an Analisa.io alternative, there are several options we would recommend.
Minter.io – At $39 a month, you'll get access to all major social media platforms (Facebook, Twitter, Instagram, TikTok), including LinkedIn.
Squarelovin – It's one of our best recommendations for a more affordable monthly plan for Instagram analytics.
Keyhole.co – One of the most robust social media analytics tools with additional analytics for YouTube.
Frequently Asked Questions
Does Analisa.io offer free trials?
Unfortunately, there is no free trial if you want to fully access Analisa.io features. However, you can still use it for free.
Does Analisa.io offer any refund policy?
No. Analisa.io does not offer any refund policy. However, you can cancel your plan anytime.
Conclusion
To summarize our Analisa.io review, we have two different thoughts about upgrading to Analisa.io paid plan. It all depends on the context of how you are going to use Analisa.io for your social media accounts.
Firstly, we strongly recommend Analisa.io, and it's worth upgrading if you are a social media agency with multiple clients. Getting a comprehensive data report and analytics like this is a competitive advantage you can use as a social media agency.
Secondly, we wouldn't recommend Analisa.io if you're not active on Instagram and TikTok. The price point is too expensive for individuals to purchase. More importantly, there are other affordable alternatives to choose from. Unless you have an unlimited budget, it's your call to use Analisa.io to track your Instagram and TikTok performance.
---