---
So, can you do affiliate marketing on Medium? If this question keeps appearing inside your head, this article might satisfy your curiosity.
There have been a lot of questions on how to start affiliate marketing with no money. Well, one of the answers is to write on Medium.
In this article, we'll share our thoughts and attempt to answer whether you can do affiliate marketing on Medium or not.
Without further ado, let's dive in.
Can You do Affiliate Marketing on Medium? (Explained)
Yes. You can do affiliate marketing on Medium by publishing valuable content regularly. Moreover, Medium allows you to use affiliate links on your posts. Even though you can write anything on Medium, we strongly suggest having a theme to help you focus on particular topics. Based on our experience, writing a bite-sized article works best to gain attraction from Medium readers compared to writing long-form content. Keeping your posts at around 600-800 words is better than writing 3,000-4,000 words if you are just starting out.
Common Misconceptions About Affiliate Marketing
Many people still think affiliate marketing is just about sharing affiliate links with other people without providing any value. We've seen a lot of these happen across almost every Facebook Group where we joined as a member.
Even though this could work, it won't help you in the long run. Why? Because sharing 'naked' affiliate links without any value are similar to spinning a slot machine. You rely on luck.
We always say this to aspiring affiliate marketers, to start affiliate marketing, you need a place to write and publish your content. You can create content on free hosted sites like WordPress, Blogspot, and Wix. But, your domain can't compete with higher authority domains using the .com or other top-tier extensions.
The Internet is full of billions of articles published daily, so you can't simply make an entrance and hope thousands of people suddenly visit your free hosted site. It won't happen. Trust us.
One of the best solutions is to create your content on sites like Medium. This site allows you to publish your post and insert your affiliate link on your post without any restriction. In the next section, we'll show you how to use Medium for affiliate marketing.
How to Use Medium for Affiliate Marketing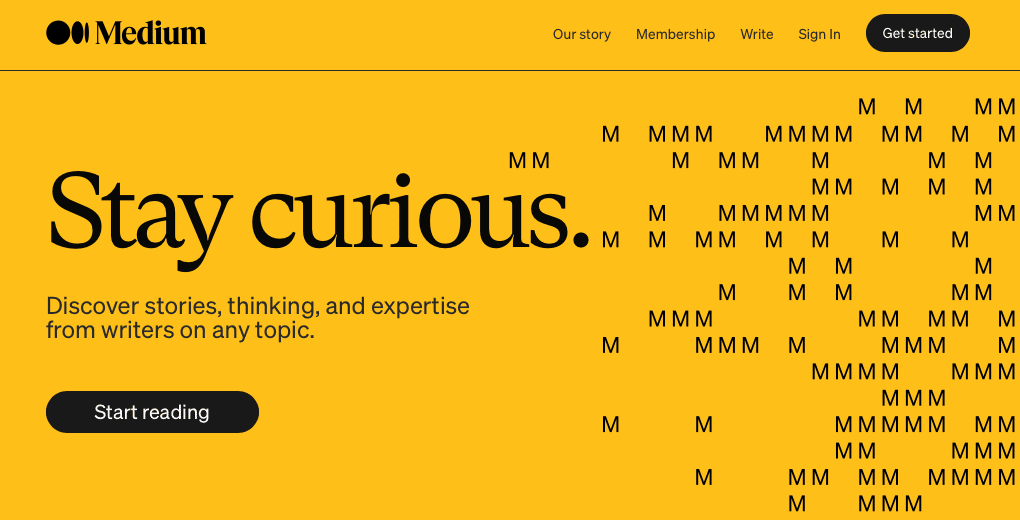 Firstly, you need to create an account on Medium. It's obvious, isn't it? After creating an account, you will arrive at the member area. At first, you will only see an empty dashboard since you haven't followed anyone on Medium. But, after a while, your dashboard should look like ours.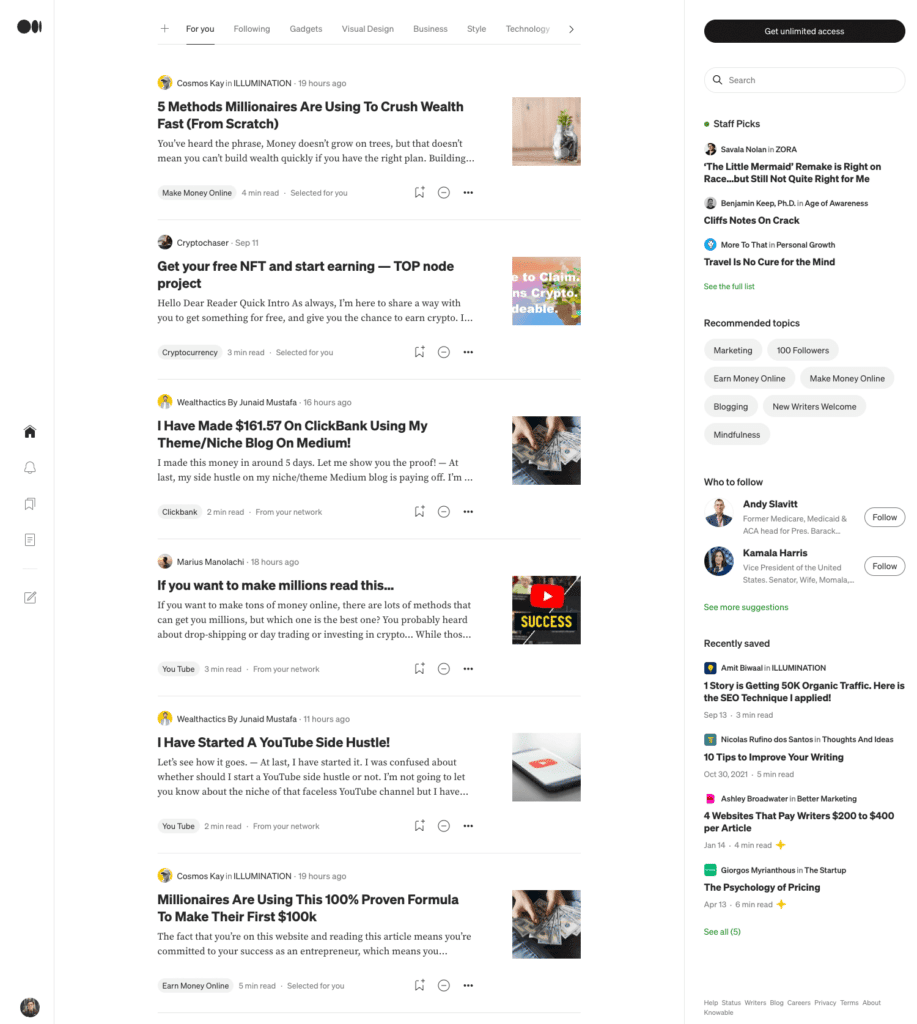 As you can see, almost all of the articles on Medium will have an affiliate link inside them. People are creating articles on Medium almost daily. You can notice that from the timestamp info next to each headline.
Step 1: Set Up Your Profile
Your profile is going to be seen by anyone who reads your article. So, you might want to put a decent profile image and a short bio to let your audience know about yourself. Here's an example of our profile bio on Medium.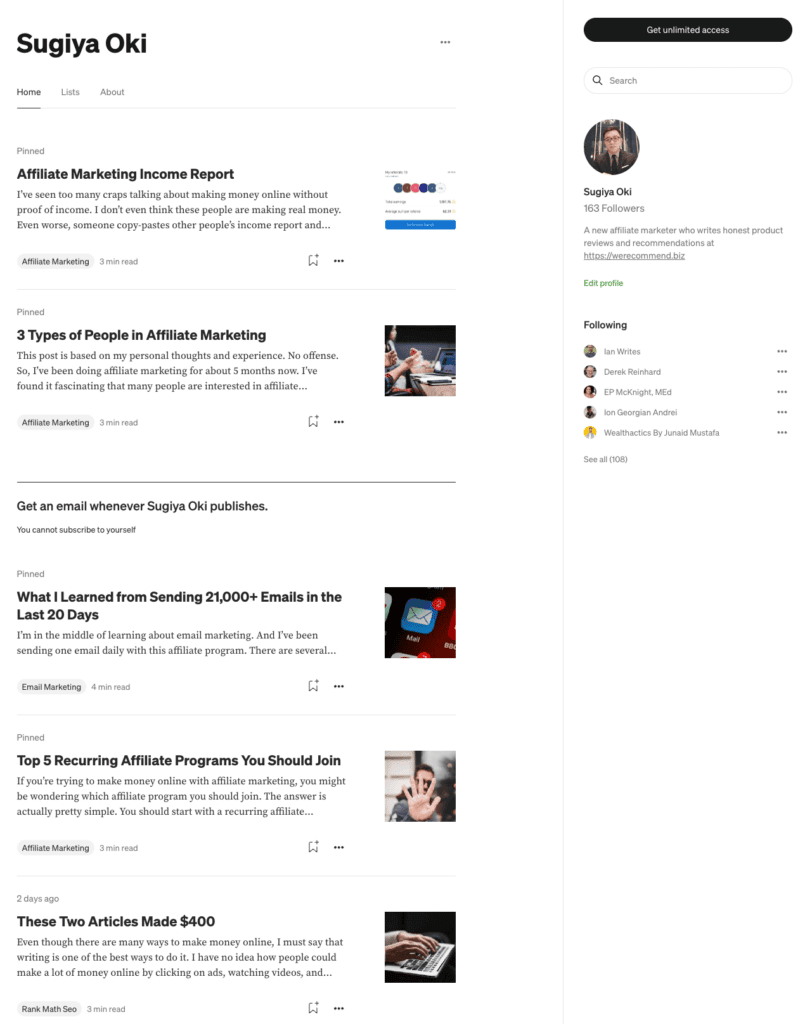 Pretty cool, huh? If you notice, there is a follower count on your bio. This is helpful if you want to apply to the Medium Partner Program to monetize your posts. You can also think of the follower count as your audience. In this stage, you don't want to worry about it as the number will grow if you publish regularly.
Step 2: Select a Theme for Your Medium Posts
Although you can write almost anything on Medium, it would be better to have a theme, so your audience could easily understand your expertise.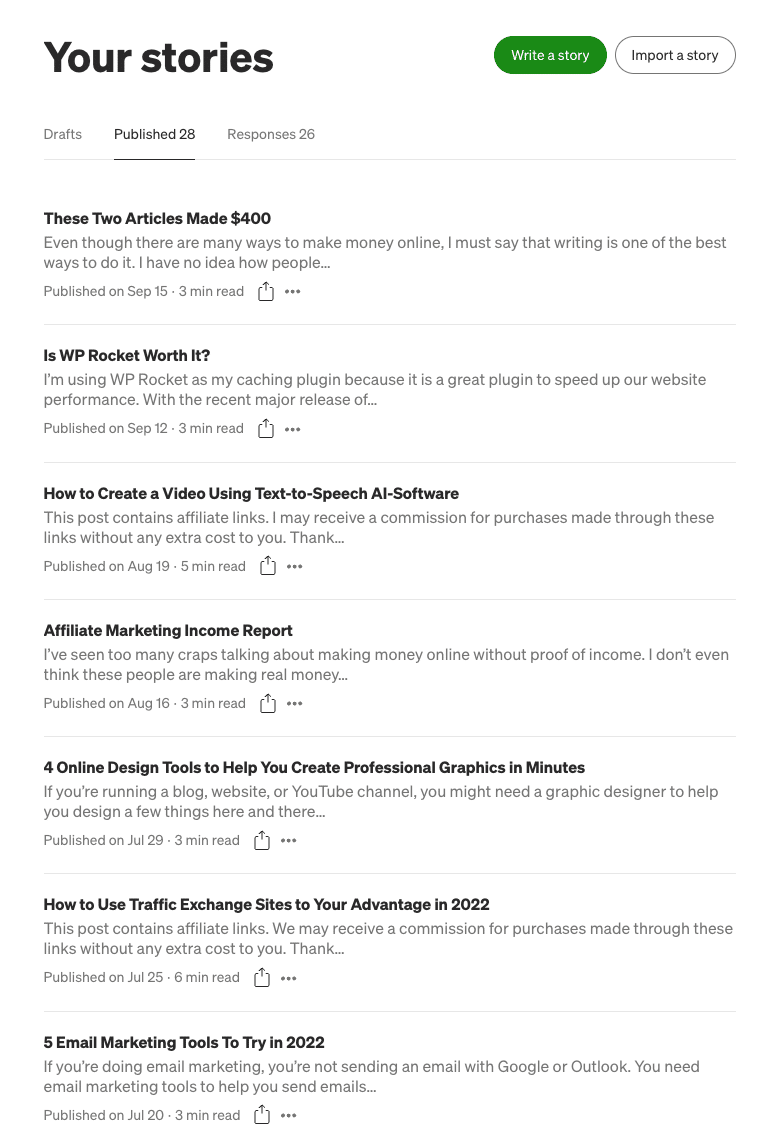 In our case, we are covering three big topics related to affiliate marketing, product or service reviews, and helpful tools for content creation. Having a theme has been helping us to create a consistent article on Medium, and gives an idea for our website content, too. We'll talk more about this later.
You can think of a theme similar to having a niche on your website. It's like a guideline about what you want to talk about. So, you want to keep writing along that guideline and not stray from it.
Step 3: Write Your Posts


As you can see from the screenshot above, writing on Medium is free of distraction. Simply input a title and tell your story. That's it!
Writing on Medium is like writing a blog post on a website. You can add content like images to your posts and affiliate links (that's what you want, eh?) to promote your offer. Moreover, Medium also allows you to import content from your website. So, you can simply customize and edit it accordingly. But, we don't recommend it, as you will see in the next section.
Step 4: Optimizing Your Posts
We've been writing on Medium for about 5 months now, and we could give you some tips to help you gain more attraction to get people to read your articles.
If you are just starting out, writing long-form content might not work. Start by writing bite-sized content of around 600 words or so. Some of our best articles are about 3-4 minutes of reading and are easy to understand. Unless your theme contains technical information, you should try to write in plain English as it works best on Medium.

Listicle also works well on Medium. Based on our experience, having a list like Top X and Best of X is something that Medium readers are looking for.

Naturally, write as if you're talking to someone on Medium. Remember, Medium is a publication website, so you already have an audience waiting for you.

Have at least one image as a featured image on your article. Luckily, Medium is interlinked with Unsplash and Pexels, so you can simply search for images and add them to your post.

Do not replicate what you've been writing on your website to Medium. We've tried this since you can import your website content to Medium. But, it turns out that it's not working. Based on our experience, people on Medium have plenty of articles as an option to read. So, writing long-form content wouldn't work unless you already have thousands of followers.

However, if you insist on importing content from your website, there is a way to do it. You can shorten your website content and create a link to your website to read more. So, your Medium article would link to your website post. This method has been working well for us.

Lastly, you should always leave an affiliate marketing disclaimer for content that has affiliate links on your post. We've seen many people put it at the end of their posts. However, we strongly recommend putting it before your first paragraph. It shows that you're giving your audience a heads-up beforehand.
Step 5: Interact With Other People's Content
One of the best ways to gain attraction from others is to interact with other people's content. On Medium, there is a way to appreciate content by giving claps and comments.
Leaving a clap will notify the creator that you are a fan of that content. Better yet, you might also want to leave a comment on content that deserve further discussion. This approach will help you build a mutual interaction with other Medium creators.
More importantly, you want to follow others that have been on Medium longer than you. But, wisely choose who to follow as many writers use AI to write clickbait headlines without giving any value. Reading those kinds of articles will only waste your time.
Conclusion
If you'd like to do affiliate marketing on Medium, you can do it by regularly publishing valuable content. It's possible because Medium doesn't ban the use of affiliate links on its platform. Moreover, since Medium has a high domain authority, your article could also get ranked on Google, even though it would be easier if you use LinkedIn, which we will cover in another blog post.
---