This post contains affiliate links. We may receive a commission for purchases made through these links without any extra cost to you. Thank you for your support.
---
So, can you promote affiliate products on your LinkedIn? In this article, we will attempt to follow up on our previous article about doing affiliate marketing on Medium. You might notice at the end of the article we said it would be easier to do it on LinkedIn.
If you're wondering why we said that, we'll answer that question in a moment. But, first, the point of using LinkedIn to do affiliate marketing is similar to Medium. The answer is pretty straightforward, you need a platform to publish content. That's all.
In this article, we'll highlight how you can promote affiliate products on LinkedIn, and if you do it properly, you can convert your LinkedIn network into customers.
Without further ado, let's dive in!
Can You Promote Affiliate Products on Your LinkedIn? (Revealed)
The answer is yes, you can. Since LinkedIn allows you to post affiliate links, you can use LinkedIn to write an article and insert your affiliate link. In fact, many affiliate marketers in the MMO niche have been doing it for years. Moreover, you can also network with other people via LinkedIn and start a conversation through messaging and promote your affiliate link there. However, please remember that LinkedIn is a professional networking platform, so try to publish high-quality content and differentiate them from your usual social media posts.
Can You Use Affiliate Links on LinkedIn?
Yes, you can. LinkedIn allows you to publish affiliate links whenever you post something or write an article on LinkedIn. However, simply sharing your affiliate links is similar to spamming. So, it would be best to create valuable content in the first place before promoting your affiliate links.
Why Use LinkedIn for Affiliate Marketing?
As many of you know, LinkedIn is the place to network with professionals worldwide. It's one of the largest networking platforms and has millions of active members logging in daily to check updates and seek work-related information.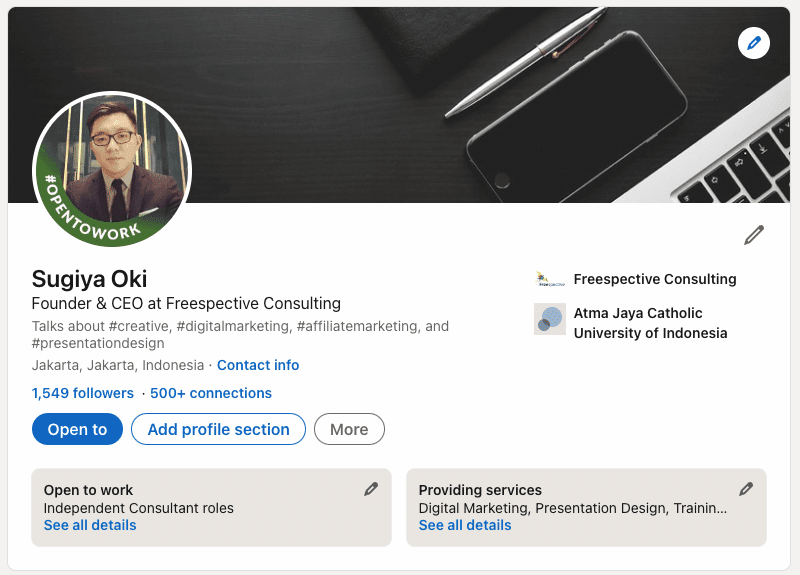 Many people use LinkedIn to connect with like-minded people and expand their network of connections. LinkedIn is also the best platform to scout talent and gets yourself hired by recruiters from many companies worldwide.
However, it's also one of the best places to write and publish your content if you don't have a website. The main reason is that LinkedIn has a 99/100 Domain Authority on Google. So, if you write an article on LinkedIn, there is a high chance it will get indexed and ranked pretty fast compared to publishing on a new website.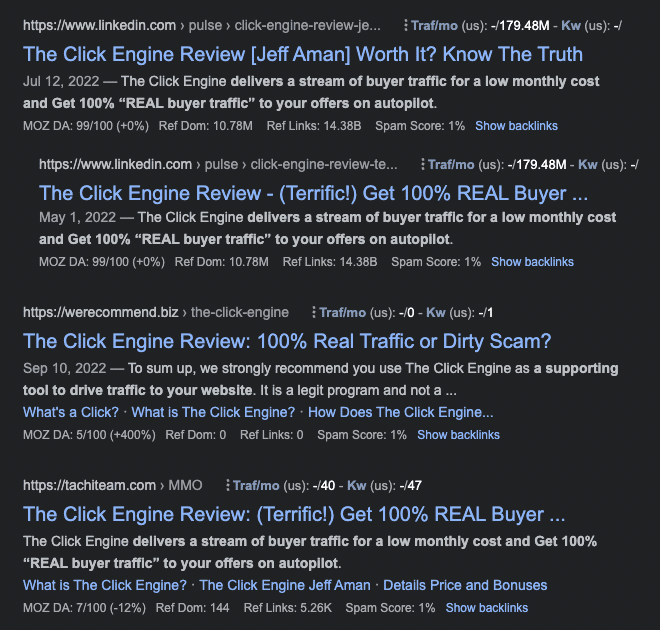 Based on our experience, many affiliate offer related to the MMO niche is published on LinkedIn. If you search for The Click Engine Review on Google, the first result shows two LinkedIn articles. It simply outranks our review because it has higher domain authority. A similar outcome happened for our latest post about Super Affiliate Hacks. If you search for Super Affiliate Hacks Review on Google, you will see another LinkedIn article ranks on the first page.
Pro Tip
We're using MozBar Chrome Extension to identify Domain Authority Rank.
So, writing an article on LinkedIn is also a great practice to increase your chance of getting organic traffic to your affiliate offers. That's why many affiliate marketers use LinkedIn to publish their content regularly.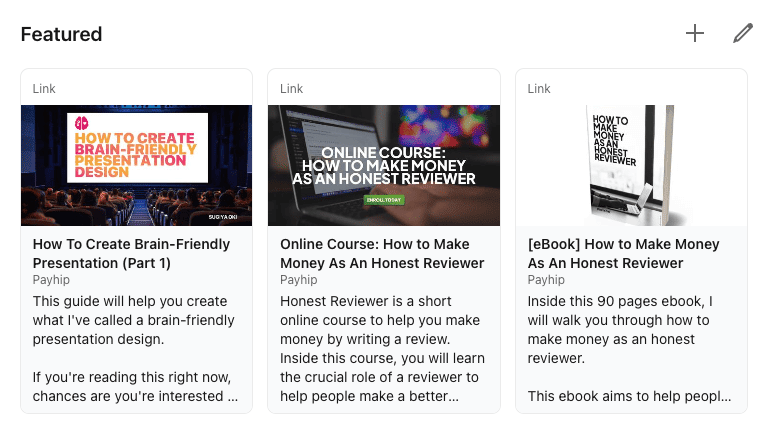 Based on our observations, many WarriorPlus products appear on the first page of Google search and outrank websites with high domain authority. However, this doesn't happen for other reviews outside the MMO niche. So, if you're in this niche, you might consider publishing your article on LinkedIn to see if what we're saying is correct.
How to Use LinkedIn for Affiliate Marketing
In this section, we will highlight several ways you can use to do affiliate marketing on LinkedIn. If you're already familiar with the platform, you can easily apply what we will be suggesting. So, we wouldn't bother you with setting up your LinkedIn account since you might already have one.
Write and Publish Article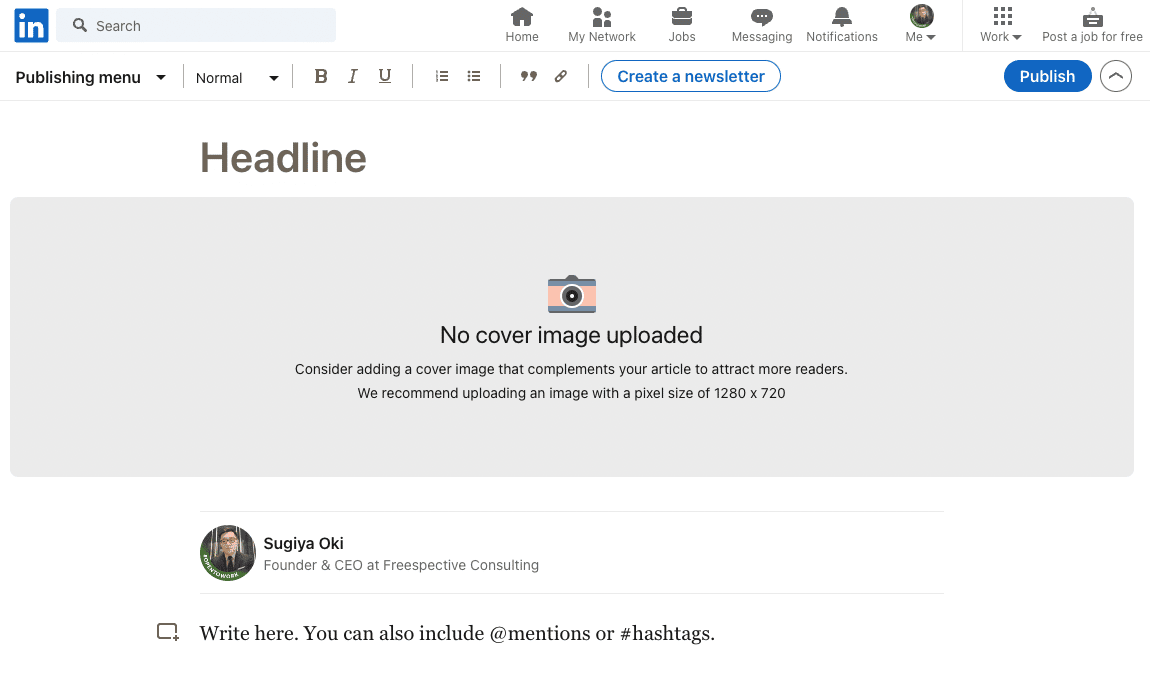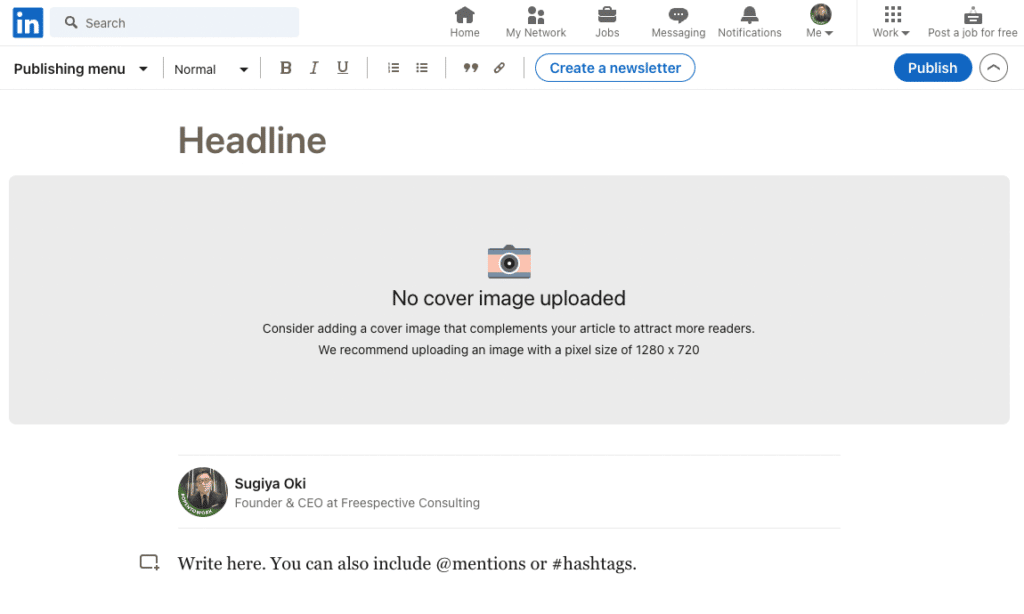 One of the ground rules of affiliate marketing is publishing valuable content in the form of an article. LinkedIn allows you to post articles on your own, which will definitely be indexed on Google search. Based on our experience, here's what works on LinkedIn:
Long-form article with more than 1,500 words.
Listicle, people love reading listicle.
Guides or tutorials to do something.
Case studies.
Use hashtags to increase your reach.
Always add a cover image.
Generally speaking, anything you would do on your website is suitable on LinkedIn. Moreover, if you publish regularly, you could increase your personal brand as an authority in your niche.
However, we recommend not overdoing your call-to-action since the purpose of writing an article on LinkedIn is to provide value. You should only put a few relevant call-to-action and avoid being too hard-selling when writing them. Furthermore, adding relevant hashtags such as #AffiliateMarketing #Review could help to increase your article's reach. You can't do that on your website.
If you have a website, you can also put an external link in your LinkedIn article so people who want to read more can visit your website.
Use Messaging
Since LinkedIn is a professional networking platform, utilizing the private messaging feature on LinkedIn is a great way to connect with like-minded people. However, this doesn't mean you can add people on LinkedIn and start bombarding them with a pre-written sales copy message. That's a big no, and you don't want to do that.
You need to build your connections and have a genuine conversation about a topic related to your niche. One of the best practices we've done is to ask people to give feedback on our articles. Moreover, you ask them to help share your article on their network.
Create a Newsletter
With the recent newsletter feature on LinkedIn, you can create a newsletter and invite your network to subscribe. Personally, we have more than one thousand connections on LinkedIn since we first made our account several years ago.
Although you can publish your newsletters daily, weekly, biweekly, and monthly, the rules are still the same. Always prioritize giving value and not promoting your offer in the first place. People subscribe to your newsletter because they find valuable information in it.
Post on LinkedIn
If you frequently publish on social media platforms, you can gain attraction and traffic to your offer by posting on LinkedIn. However, it would be best to post valuable information in the form of graphics than statements. Once again, your objective is not to promote your offer. Many people go overboard and constantly spam affiliate links on their posts. It's not a good idea.
Since LinkedIn has its own format for graphics resolution, you can use Canva, Visme, or DesignCap to design your content. There are various templates you can use to help you create engaging content for your audience. Ensure to provide captivating graphics that stand out from the rest of the competition. Many people who post regularly on LinkedIn know that it's a professional network, not a social network.
Furthermore, creating short video content is also possible on LinkedIn. TikTok Videos, YouTube Shorts, and custom videos work well to gain organic traffic to your offer. If you have no idea where to create one, you can try using Fliki or FlexClip. Both are great tools to help you create short and engaging videos. We would say 5 minutes is already the maximum limit for your videos. Keep longer videos for YouTube.
Utilize Featured Section on Your Profile
If you haven't utilized the featured section on your profile, you're missing out on the chance to promote your affiliate products and offers on LinkedIn. People who are active on LinkedIn constantly visit other people's profiles to see and read their experiences. Adding a featured section could boost your affiliate offer's reach and impressions.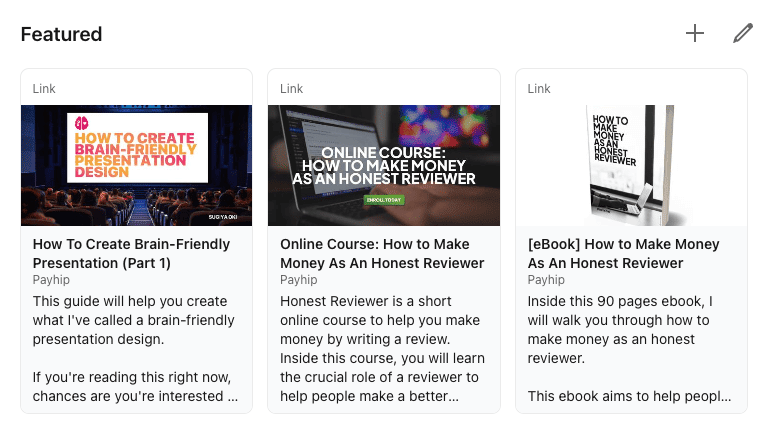 You can add your posts, ask people to join your newsletters, showcase your article, and even showcase your work in the featured section. It's an underutilized feature that many people don't use.
Conclusion
So, if you'd like to promote affiliate products on your LinkedIn, you can apply all the pointers above. A kindly reminder is to ensure your content looks professional on LinkedIn since it's a professional networking platform. Many people treat LinkedIn similarly to other social media platforms where they don't care about quality and just publish anything they want. It's not a good idea, and you don't want to do that. Otherwise, you're only losing your presence as an authority within your niche.
---