---
So, can you share affiliate links on WhatsApp? In this blog post, we'll try to answer this question and provide a clear answer about sharing affiliate links on a messaging app like WhatsApp.
We assume you might have this question because you were already approved or joined several affiliate networks, such as ClickBank, ShareASale, Amazon, WarriorPlus, and many more.
You might be tempted to share your affiliate links via WhatsApp and hope that someone might buy them. However, is it the right approach? Read this short blog post to find out.
Without further ado, let's dive in!
Can You Share Affiliate Links on WhatsApp? (Explained!)
Yes, you can share affiliate links on WhatsApp. However, we believe it's not the best practice to share bare affiliate links on WhatsApp as it doesn't have any context. Although you might get clicks, people who read them didn't quite understand the reason to buy through your affiliate links. So, it would be better to create valuable content and share them on WhatsApp.
How Can You Make Money by Sharing Affiliate Links on WhatsApp?
Technically, WhatsApp is a messaging app where you can post status updates, stories, and many more. In other words, it's a platform to share anything with anyone on your contact list.
So, if someone clicks on your affiliate link through a chat, status updates, and stories, they will be redirected to open their browser and view your offer. To put it into perspective, WhatsApp is a medium to share affiliate links, and if your contact buys through your links, you will get a commission. The same principle applies to sharing an affiliate link via email, social media, and other mediums.
Sharing a Link to Your Article or Post
One of the best ways to utilize WhatsApp is to share valuable articles or posts on your website. You can post your links via personal chat, broadcast messages, or status messages.
However, you should ensure the article you are sharing are optimized for the mobile viewing experience since many people will read them through mobile devices, such as smartphones and tablets. Also, have a clear call to action to increase your probability of getting signups and leads to your affiliate offers.
Create a WhatsApp Group to Promote Affiliate Offers
Another common way to utilize WhatsApp is by creating a WhatsApp Group so that people can join and learn about the affiliate offers you are promoting. Here, you can interact with people who have questions about your offer and provide assistance if they are confused.
This approach is suitable if you're trying to recruit people as your downline since you are the leader of your downline. You should lead them and provide guidance to your downlines. Moreover, you can post proof of your income and show them that what you're promoting works.
A good WhatsApp group should embrace valuable conversation instead of joking with stickers, emoticons, and GIFs. One thing you could do is limit the chat feature by only opening them at a particular time. This allows you to set up rules and create boundaries within the members to ensure high-quality conversations.
What Shouldn't You Do When Sharing Affiliate Links on WhatsApp?
As we said earlier, WhatsApp is another platform for sharing affiliate links. So, it would be better to understand what you shouldn't do when sharing affiliate links on WhatsApp.
Spamming Affiliate Links: Spamming is something you shouldn't do on any platform. Instead, it would be better to engage in a conversation, have a discussion, and provide value while promoting your affiliate links as the solution.

Sharing Bare Affiliate Links: It is tempting to share bare affiliate links and hope someone on your contact list will buy them. However, it is not recommended because it doesn't have any context whatsoever. To add context, you can create infographics and add your affiliate links afterward to help people in your contacts take action.

Not Sharing Consistently: If you attempt to share your affiliate links through status updates, it would be wrong to only share your link once and expect people to view them. We strongly recommend sharing consistently every day or every other day and not spamming your contact with multiple offers. This will only confuse them and indicates you as a spammer.
Conclusion
To conclude our post, you can share affiliate links on WhatsApp as you treat them equally to other platforms. Generally speaking, you should treat your contact as potential leads and engage them in a conversation. So, it would be better to not spam your affiliate links via WhatsApp as it only does more harm than good.
Add value to your affiliate links by creating valuable content and politely ask your contact to help share them to reach more potential audiences. If you can do this right, sharing affiliate links on WhatsApp could increase your conversion rate as people on your contact list are someone you already know. So, make sure to do it wisely.
---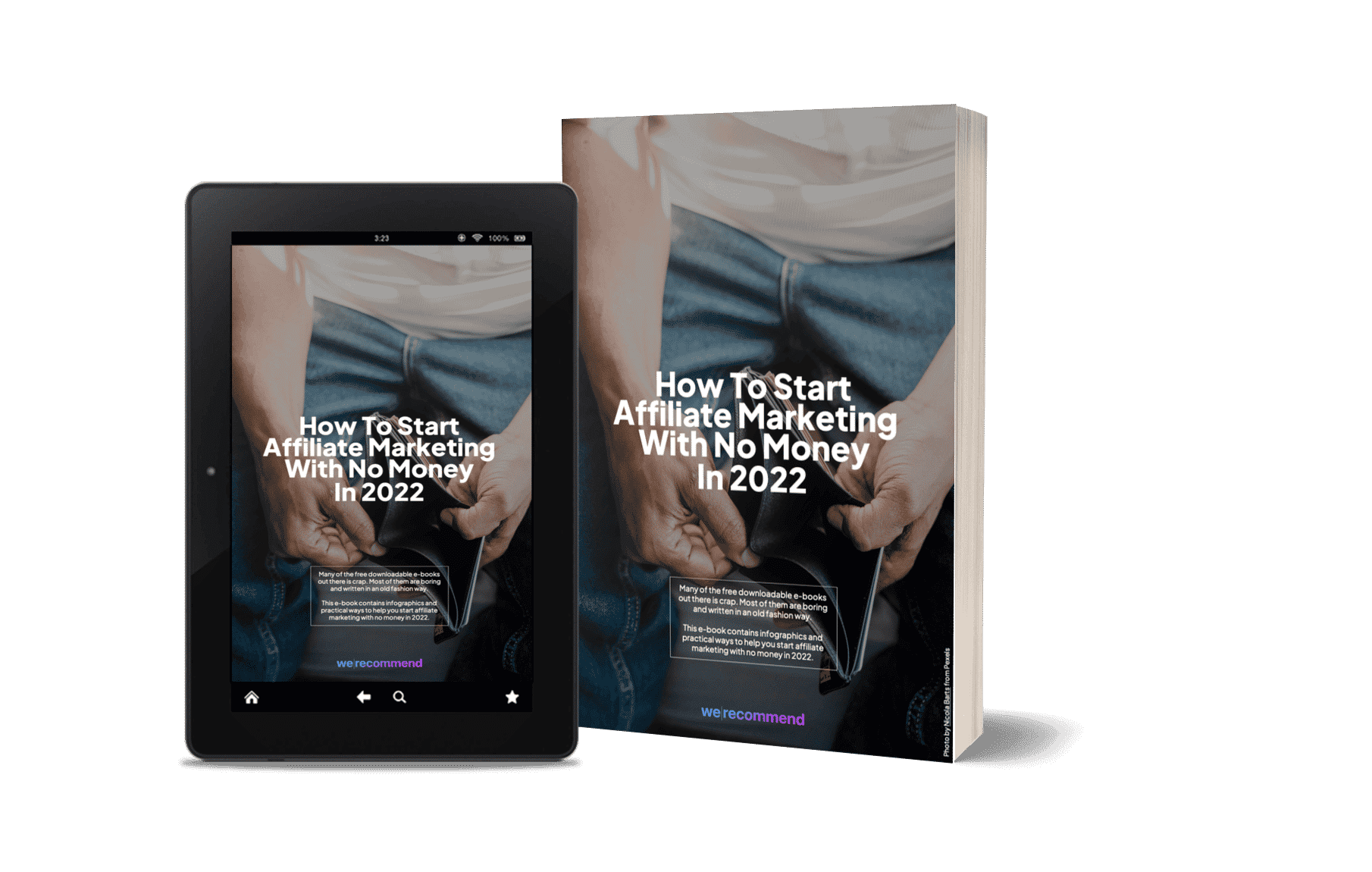 How to Start Affiliate Marketing With No Money in 2022
Many of the free downloadable ebooks out there is crap. Most of them are boring and written in an old fashion way. This ebook contains infographics and practical ways to help you start affiliate marketing with no money in 2022.
---