This post contains affiliate links. We may receive a commission for purchases made through these links without any extra cost to you. Thank you for your support.
---
In this Copysmith AI review, let's find out if it's the best AI writer for an eCommerce business.
As we've said in other reviews about free copywriting tools, almost every AI writer has something in common with features and functionality. So, it depends on how the company positions itself to appeal to its target audience.
One of the best ways to use AI to write content is when you run an eCommerce business. As you might already notice, running an eCommerce business means you're dealing with product descriptions. If you're looking for an AI writer that is suitable for eCommerce, Copysmith AI is the answer.
In this review, we'll explore Copysmith and its features. Moreover, we'll show you a few examples of how Copysmith can be used to write captivating product descriptions.
Without further ado, let's dive in!
What is Copysmith AI?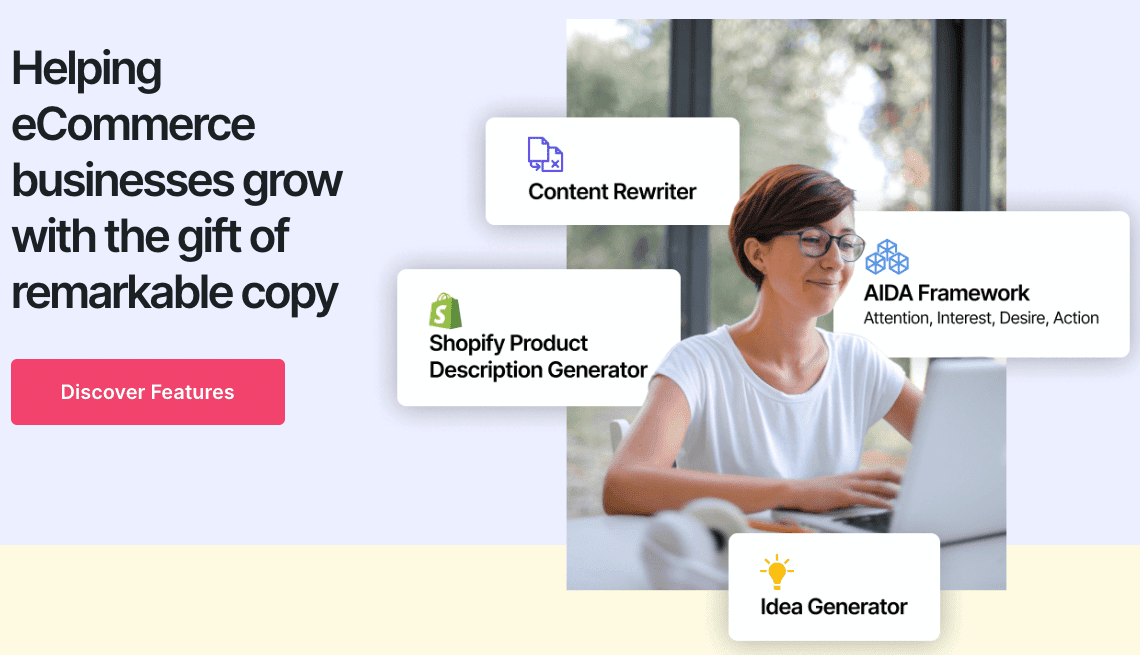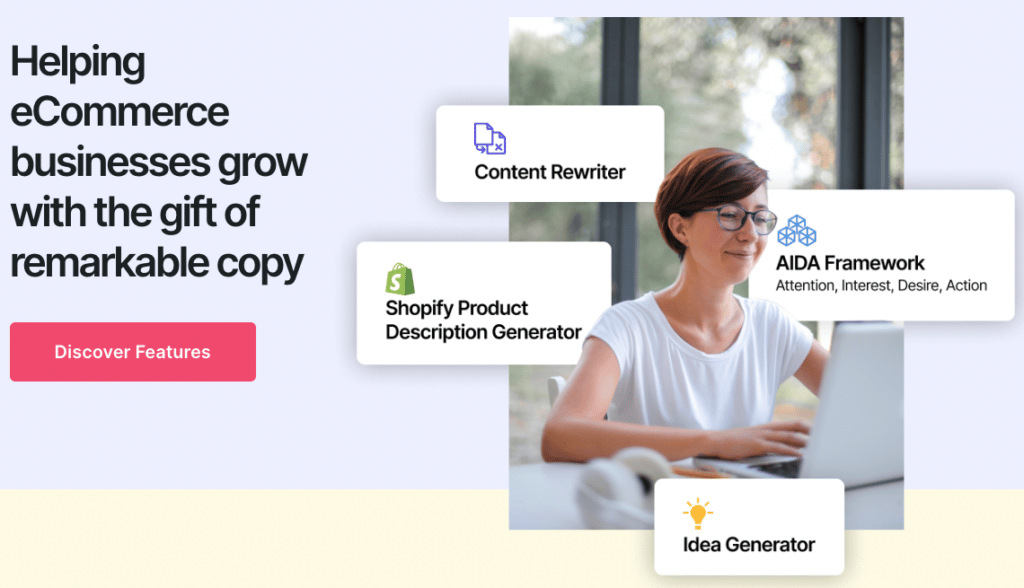 Copysmith is an AI content-creation tool for enterprise and eCommerce businesses. Compared to other copywriting tools, Copysmith is not too versatile due to limited use cases. Although you can also use it to write blog posts, social media captions, and content rewriter, we are more interested in exploring their eCommerce features.
This unique value proposition by Copysmith is needed in the competitive environment of AI copywriting tools. In fact, you can use Copysmith to launch an entire marketing campaign for your eCommerce business. We say this because their features are tailored for that purpose, as you will see in the next section.
Copysmith Features
We'll explore some features that make Copysmith stand out from the rest of the competition. However, we wouldn't highlight tools to create blog posts since the process is similar for many AI writers.
Integrations
If you're wondering if you could integrate Copysmith with other platforms, don't worry because they provide numerous integrations, such as:
Frase
Google Ads
Microsoft Word
Google Chrome Extension
WooCommerce
Zapier
Hootsuite, and
Google Docs
Although the list is not long, almost all of them are top-notch platforms in their respective area. For us, Google Docs is potentially the most valuable integration you can use with Copysmith. You can easily publish your content directly to Google Docs, so you don't have to copy and paste them.
If you don't find your software on the list, you can get Copysmith API and integrate them right away from your Copysmith Workspace. You can contact the team and request a demo. They will happily assist you for that matter.
Bulk Content Generation
One of the primary features of Copysmith is Bulk Content Generation. With this feature, you can create multiple product descriptions, social media captions, and even email marketing templates at once. Moreover, you can automatically download the results as a .csv file, which is pretty handy if you'd like to upload them instead of copy-pasting the result.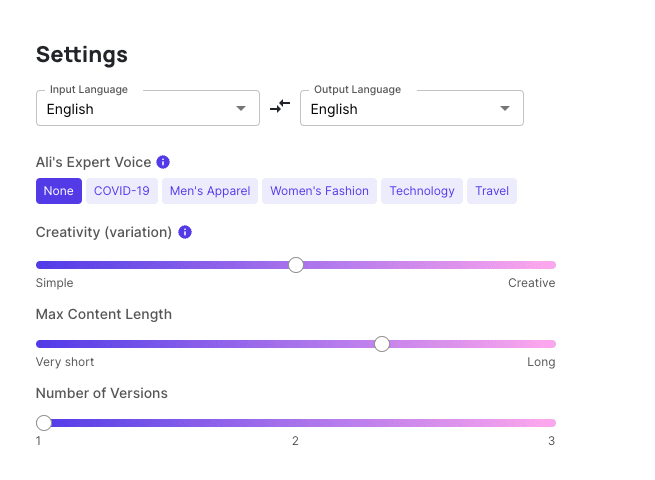 Before generating your copy, you can customize your result by playing with the settings above.
Ali's Expert Voice: Copysmith has an AI voice called Ali. She's an expert in several areas, as seen in the screenshot above. In other words, if you apply Ali's voice to your content generation, your result will be influenced by her knowledge of the subject of your choice.
Creativity (Variation): You can adjust the copy variations with simple or complex words. We recommend using the default setting here.
Content-Length: You can determine the length of your content based on your needs.
Number of Versions: Generally speaking, you might only need 1 version, but you can add up to 3 versions of each copy generated by Copysmith.
However, there is one catch, though. Bulk Content Generation works by providing a pre-built .csv template to the system. So, you need to add your content using the provided .csv template by Copysmith. To help you understand more this feature works, you can watch this short onboarding video here.
Teams & Collaboration
If you're running an eCommerce business, collaboration is one way to ensure your copy is captivating to your target audience. With Copysmith, you can add team members and collaborate with them on your project. Moreover, you can assign tasks to one of your team members, and once it's done, they can return it to you. Everything is done inside Copysmith, so you don't have to worry about losing your files.
This feature is available on every plan on Copysmith, starting from 2 members on the Starter Plan. With the Enterprise plan, you can add up to 10 team members to work with you. It's more than enough to launch and maintain an entire eCommerce business.
Campaign Builder
One of the most essential parts of running an eCommerce business is none other than launching a new campaign. That means creating product descriptions, social media ads, email marketing copy, and everything in sync across all channels.
Thankfully, Copysmith got your back and provided you with a campaign builder to help scale your content creation process faster and more efficiently. Since it's tailored for eCommerce, you will likely find a template ready for everything you need to successfully launch your campaign.
Copysmith AI Content Examples
This might be one of the best parts of this Copysmith review. If you'd like to know the copy quality and how Copysmith works, the best way to check them is to try them yourself. In this case, we're using the Product Description tool to help us write a captivating description for one of our tech products review, the Logitech MX Master 3.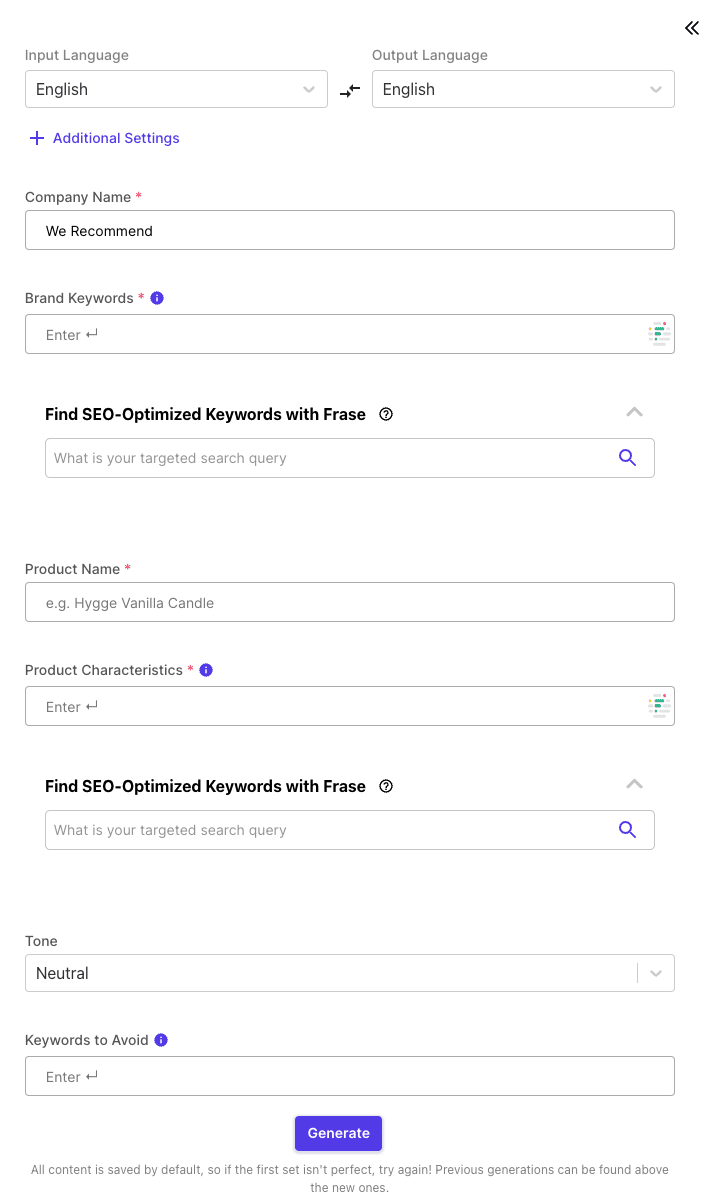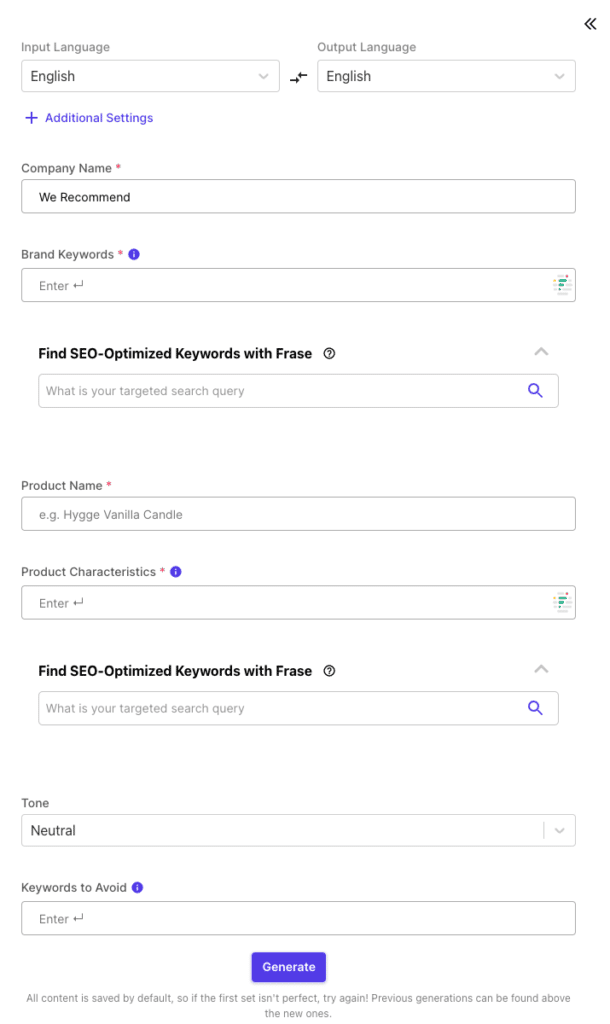 However, the input menu is quite complex. As you can see from the screenshot above, there are several lines you must fill out.
Company Name: Fill it with the company name of your product.
Brand Keywords: Add keywords related to the company's brand. Copysmith recommends using 1-3 keywords.
Product Name: Fill it with the product name.
Product Characteristics: Add keywords related to the characteristics of the products. You can add up to 8 keywords for the best results.
Tone: Choose the voice tone you want for your content.
Keywords to Avoid: If you have any keywords you want to avoid, you can add them here.
Pro Tip💡
If you have no idea what to add to the Brand Keywords and Product Characteristics row, you can use Frase to find SEO-optimized keywords on your behalf.
Now, let's see the results.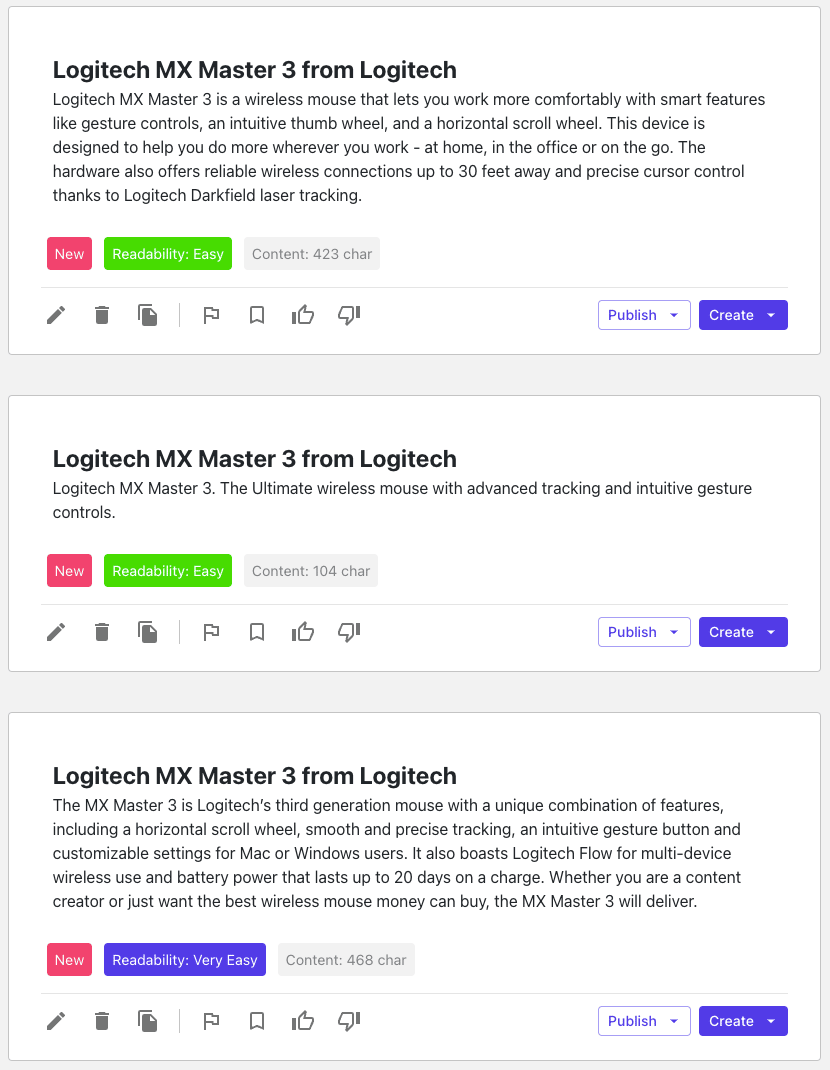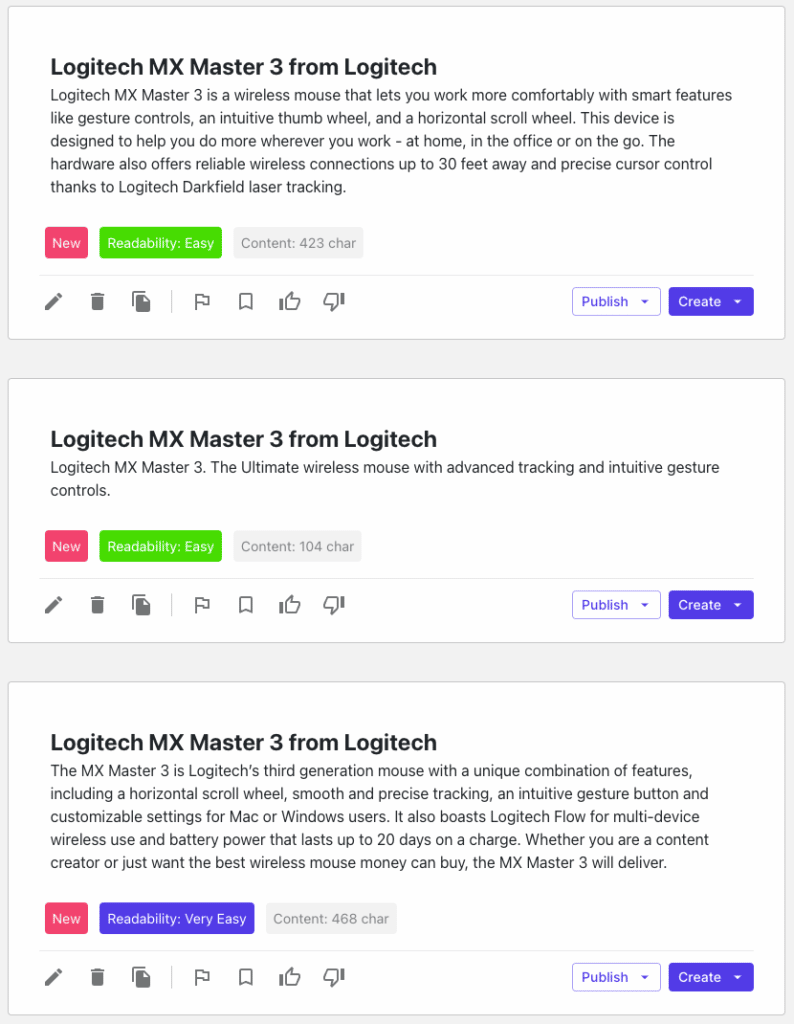 As you can see, you have several results that highlight what you need for a captivating and engaging product description. More importantly, there is a Readability Score on each copy. Depending on your purpose, selecting content with Very Easy Readability Score is recommended for almost any case.
Copysmith AI Pricing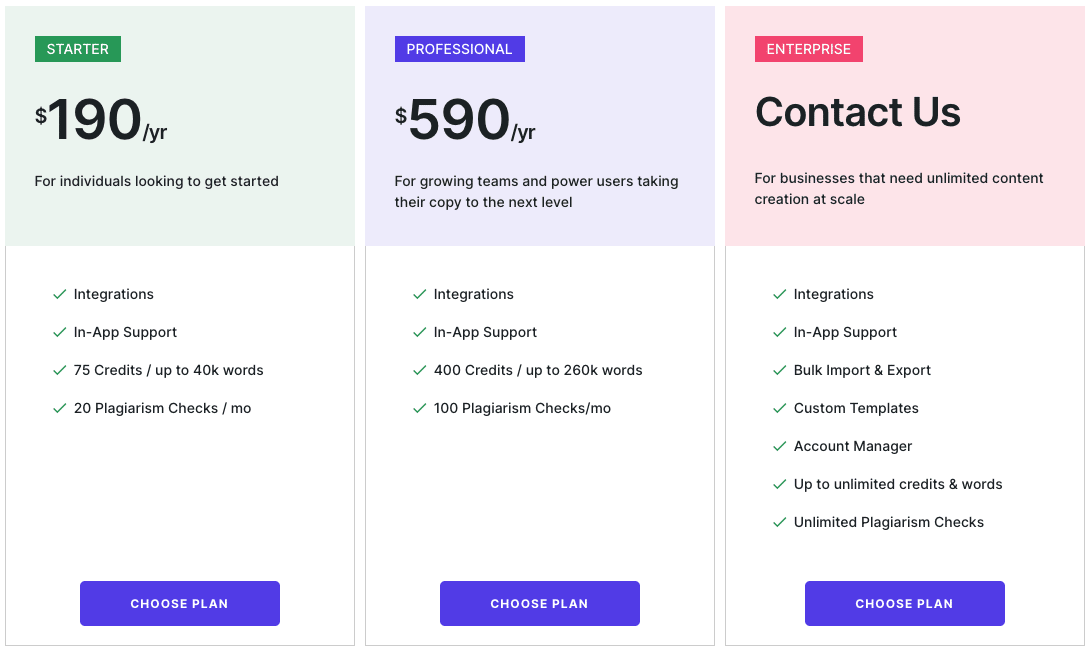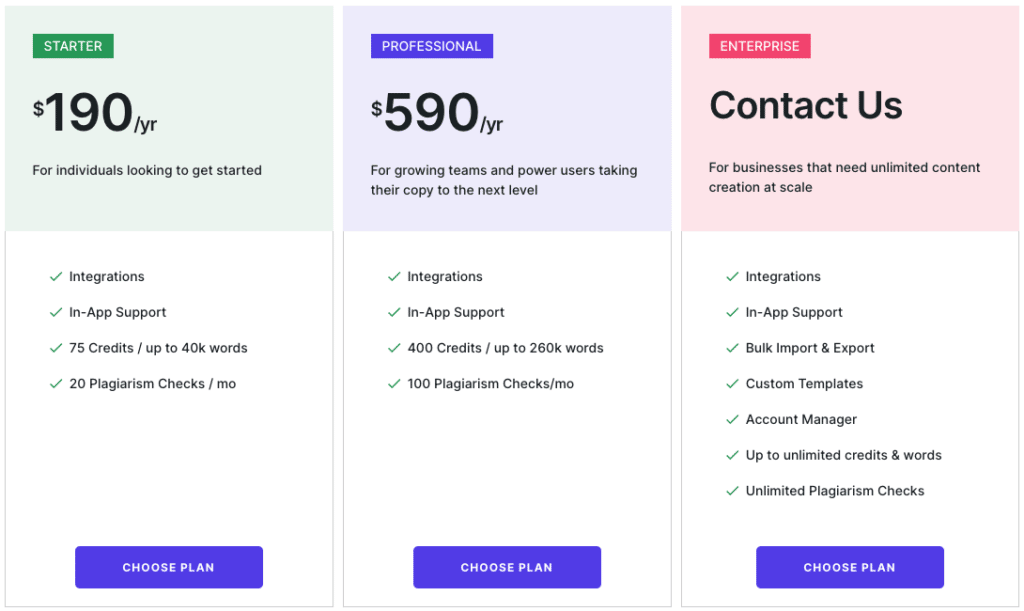 Copysmith's pricing plan is straightforward. They have two plans available, Starter and Professional. The Starter Plan starts from $190 on an annual payment or $19 per month. With the Starter Plan, you can generate up to 40,000 words per month with Copysmith. The pricing is more on the affordable side compared to other AI writers.
If you'd like to get unlimited credits, you can contact them and ask for an Enterprise Plan. This plan is more suitable for medium to large companies, as anyone could use Copysmith to write captivating content within minutes.
Copysmith Pros and Cons
Although Copysmith is affordable, there are several pros and cons you might want to consider before purchasing.
Pros
The free trial plan offers access to all Copysmith features.
Suitable for eCommerce business.
Affordable monthly and annual plans for Starter.
Available in 100+ languages.
Powerful integrations with top-notch platforms.
Cons
Limited use-cases.
A rather complex input system.
Limited plagiarism check.
Frequently Asked Questions
Is Copysmith free?
No. You can't use Copysmith free apart from the 7 days free trial option.
Can you create hundreds of content with the Bulk Content Generation feature?
Yes. You can create thousands of product descriptions, meta descriptions, or anything at scale. Just make sure to use the provided template of the .csv file.
Conclusion
To summarize our Copysmith AI review, Copysmith is one of the best AI writers for the eCommerce business. The Bulk Content Generation feature is a powerful feature that makes Copysmith stand out from the competition. Moreover, it's available in more than 20 languages for the same purpose. So, wherever you are in the world, you can use Copysmith to power up your content creation.
With an affordable pricing plan starting from $19 per month, you can't go wrong with Copysmith. However, if you're looking for an AI writer that you can use for free, Copysmith is not the answer. It's only available for a 7-day free trial. So, before deciding on a plan, it would be better to explore its features and try them yourself.
---