This post contains affiliate links. We may receive a commission for purchases made through these links without any extra cost to you. Thank you for your support.
---
Have you ever felt that you have an idea but don't know what to write? Have you ever been stuck on a blank screen for hours? Well, you're experiencing writer's block.
To be honest with you, copywriting is hard. Sometimes, we just don't know what to write. Don't worry. We've all been there. This is where free copywriting tools come to the rescue.
However, these are not your typical copywriting tools to help you write clearly, like Grammarly or Hemingway. We're talking about AI-powered copywriting tools.
Well, what's that? In a sentence, it's a computer-generated writing tool to help you write.
We will explore 5 of the best AI copywriting tools we have tested.
Without further ado, let's dive in!
Amongst all the tools we have tested, Copy AI is the most versatile AI copywriting tool compared to others. Copy AI uses advanced AI to generate unique content to overcome your writer's block. Even with the free version, you have more than 90+ tools to help you write better content.
What can you create with Copy AI?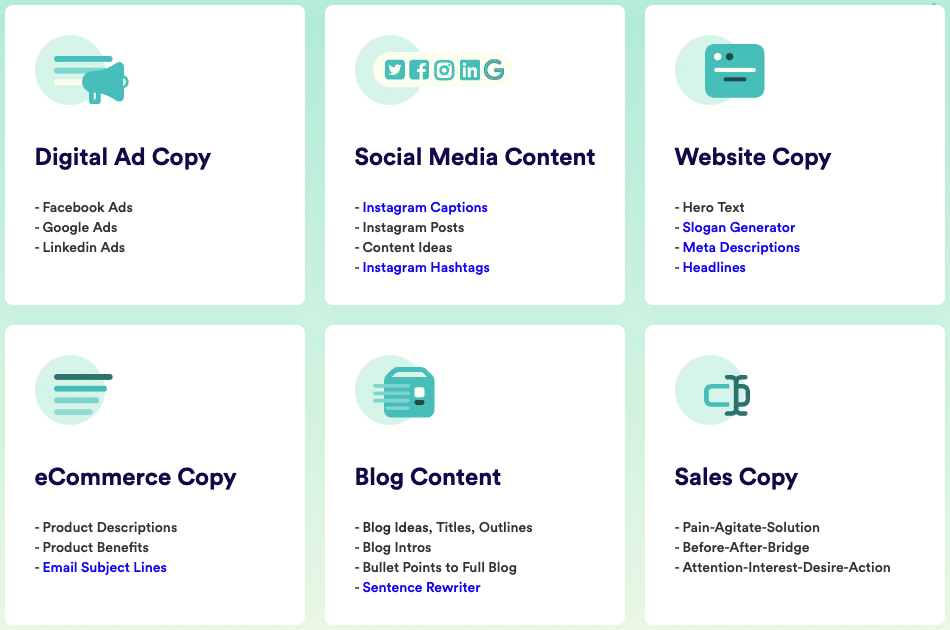 It's nearly everything you need for content marketing. Copy AI is a good option for blog writers, social media marketers, and email marketers.
If you're into affiliate marketing, you will love Copy AI. Why? Because you're going to need their blog content tools. In fact, one of our favorite tools is the Free Blog Post Ideas Generator.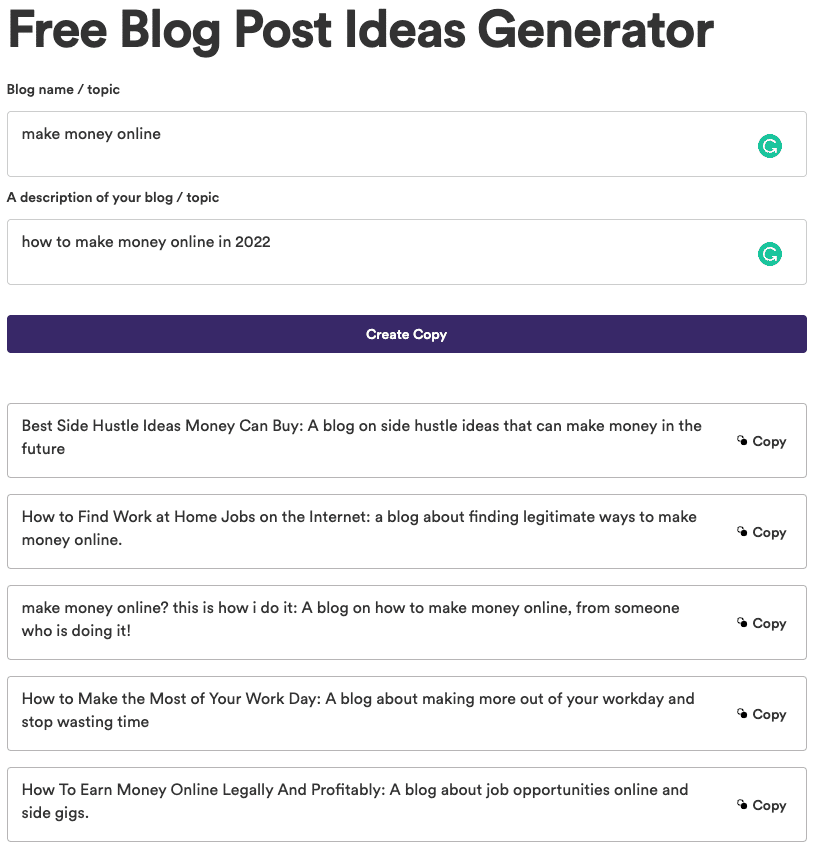 As you can see, by simply adding a topic and a short description, Copy AI will give a list of ideas for your next blog post. Pretty handy, isn't it?
Why should you use Copy AI?
Below are the reasons you should sign-up and try it right away.
A credit card is not required—it's completely free
You get 100 free credits to use
90+ tools to explore
It's been used by great companies like eBay, Nestle, Microsoft, and even Ogilvy
It's available in 25+ languages
Copy AI Pricing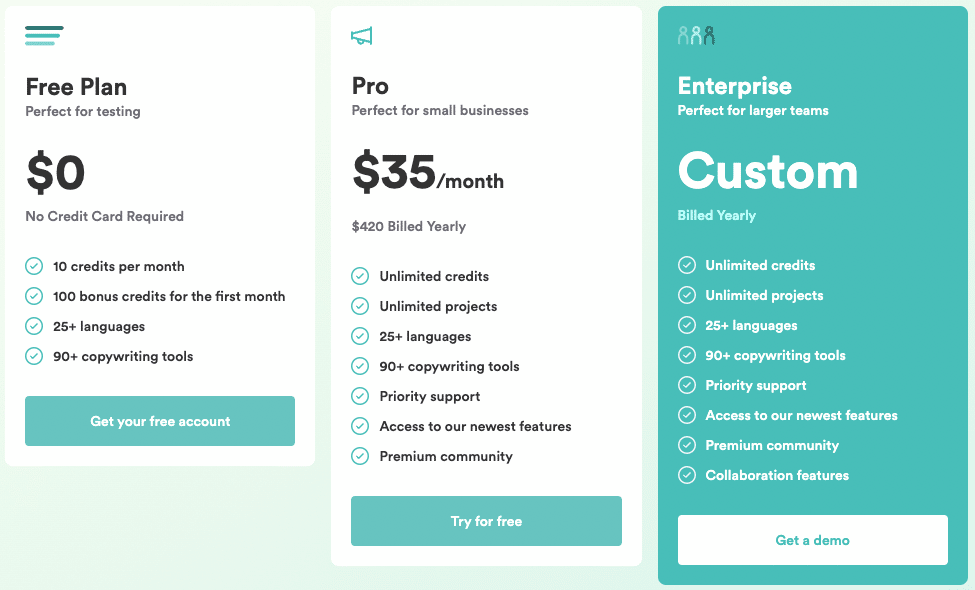 They have 3 different plans; Free, Pro, and Custom. The Pro plan is priced at $420 on an annual payment. However, if you choose to pay monthly, it will cost you $49 per month.
It seems pricey, but we're talking about 90+ tools here. But, if you upgrade within 4 days after creating your free account, you can get a whopping 40% discount! You don't want to miss this great deal.
Sometimes, you're writing on a tight deadline. You're stuck with the topic and don't know what to write. So, you need a fast result. Then comes another obstacle, you need at least 1,000 words. If you're talking long-form content, then you should try Writesonic.
With over 60 powerful features, you can write almost anything within minutes. Writesonic will speed up your writing process, and what you need to do is simply edit and add your final touch.
What can you create with Writesonic?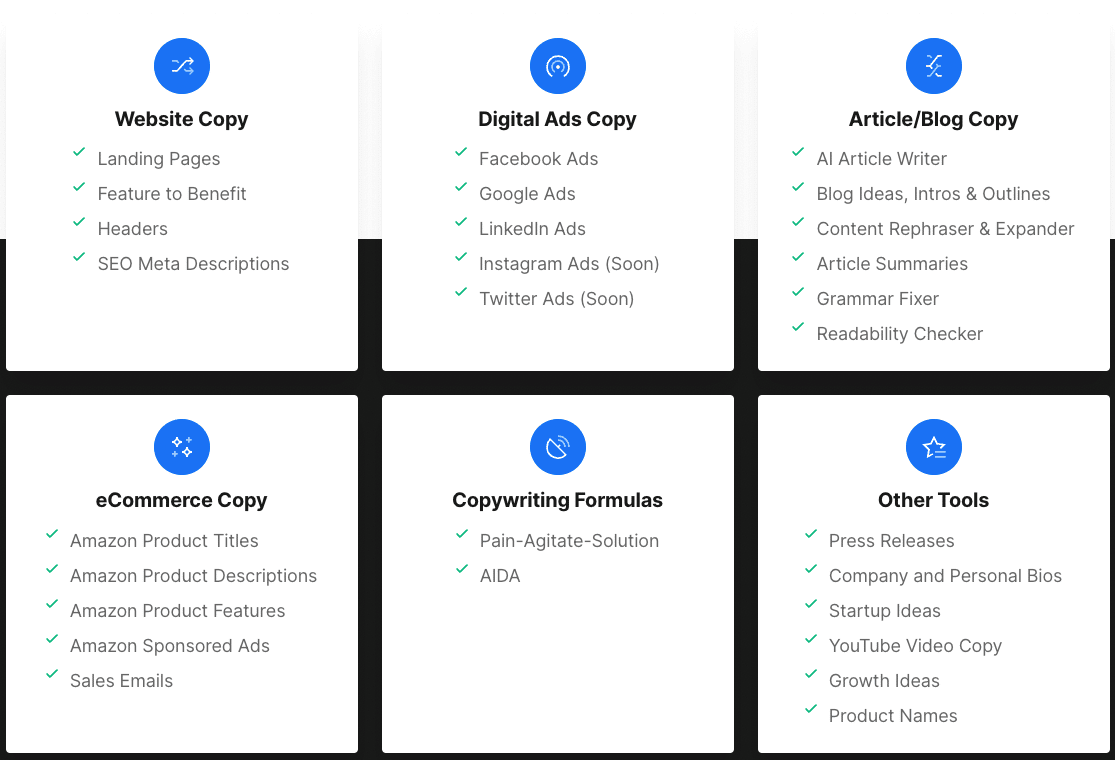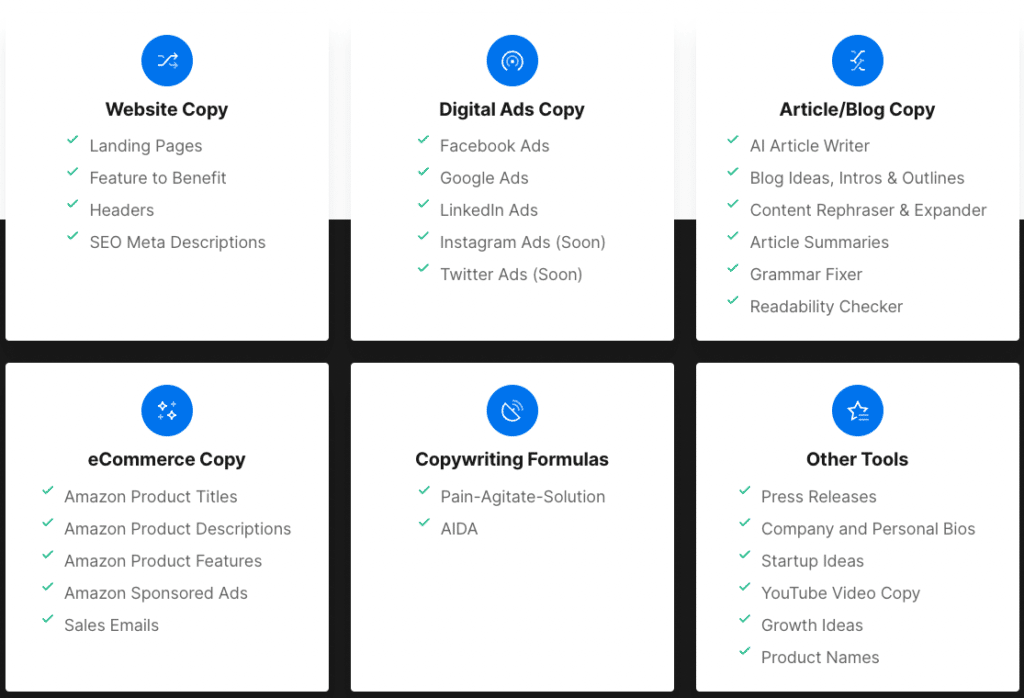 You can create high-quality articles, blog posts, landing pages, and anything you want in seconds. Writesonic is one the best free copywriting tools for speedy results. From e-commerce copywriting, social media captions, and even press releases, Writesonic can cover your back.
Why should you use Writesonic?
Rated 5-star in 5.000+ reviews
Featured on Entrepreneur, Tech Crunch, The Verge, Venture Beat, Tech Radar, TNW
Free trials with no credit card required
40+ copy templates available
Available in 25 languages
Writesonic Pricing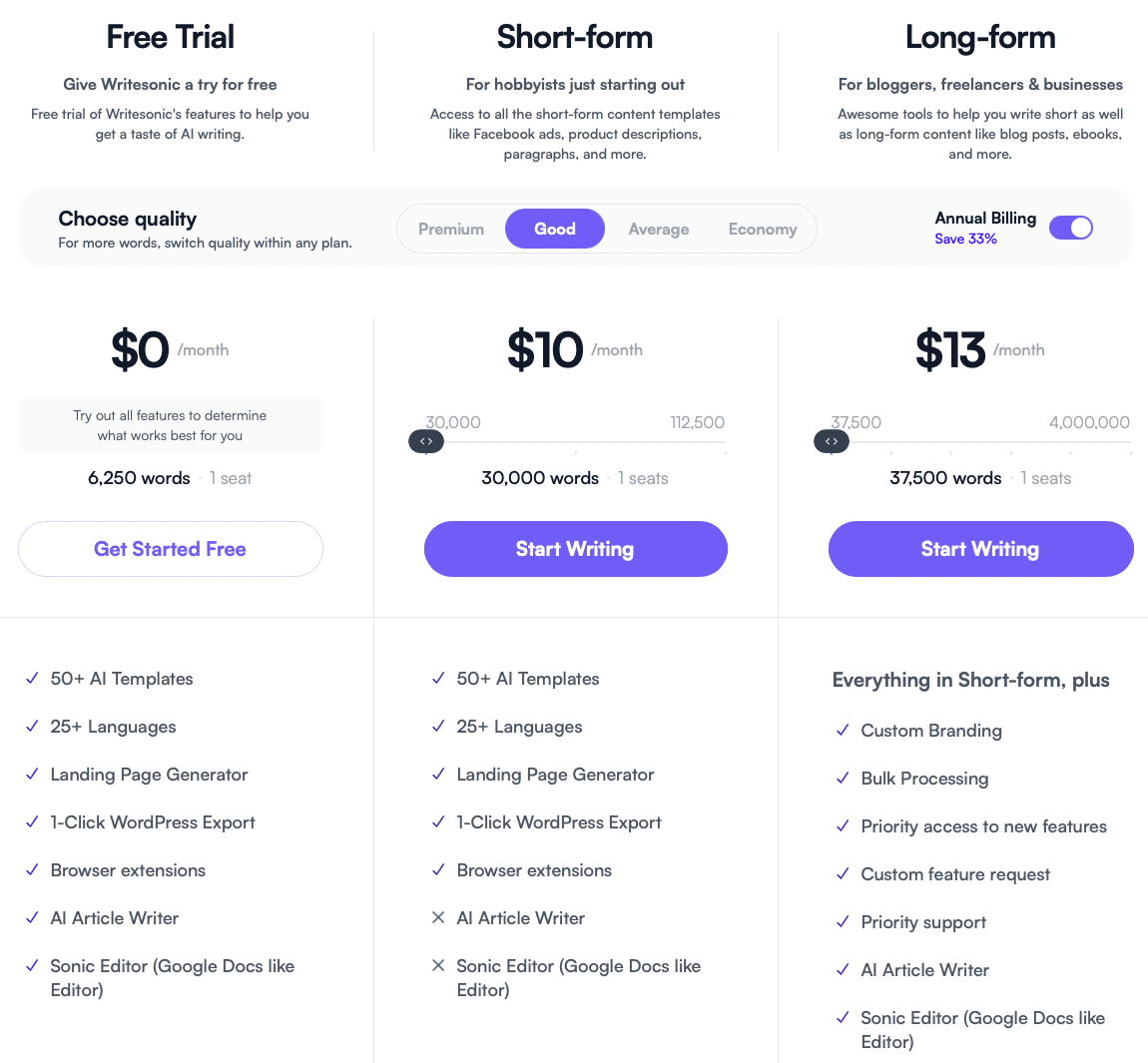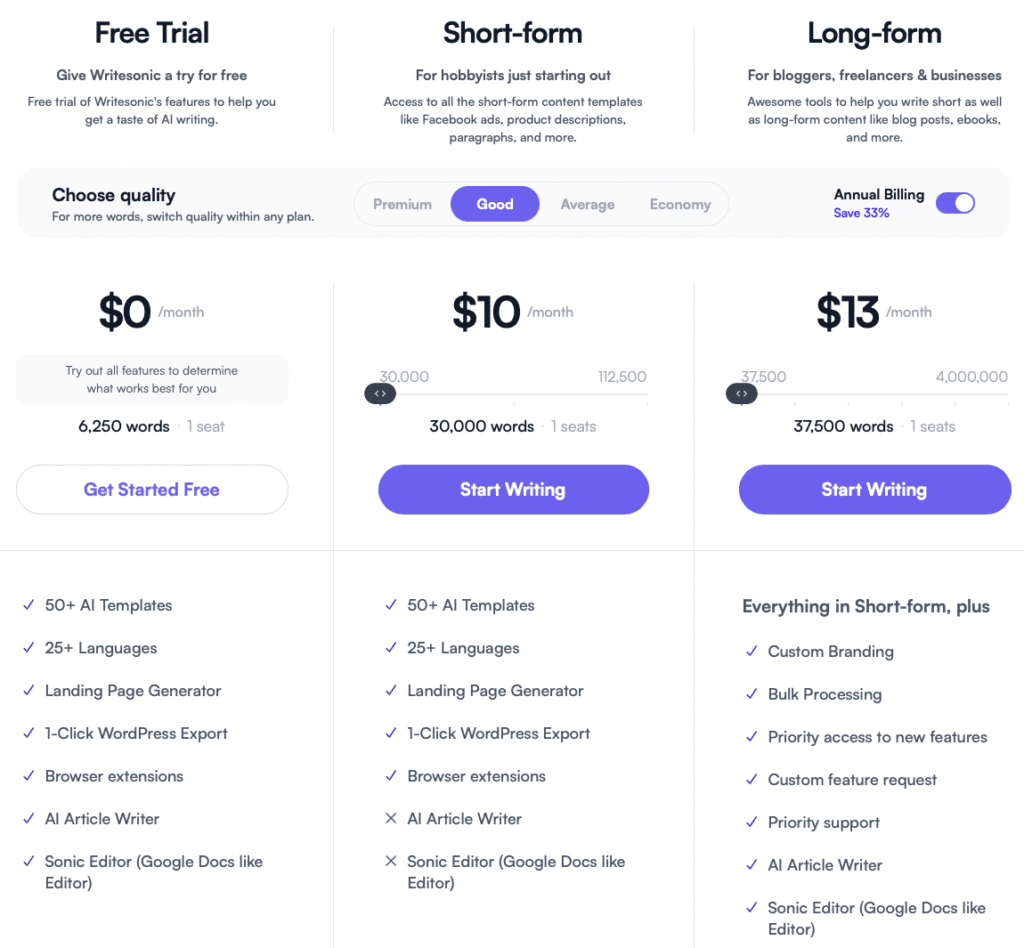 Compared to other platforms, Writesonic offers various plans with various price points. It's a bit confusing to choose because there are a lot of variables inside their pricing plan.
To summarize Writesonic's pricing, you got to choose between short-form or long-form content. Both plans got a different amount of words you can generate with Writesonic.
You can also choose the words quality, ranging from economy to premium. The Economy option will generate more words for you, and the Premium option will give you fewer words but delivers the highest word quality.
Writesonic's plan starts from $10 per month on an annual payment for 1 user. The price goes up if you add more users.
If you're experiencing writer's block, writing 600 words is painful. This is true when you don't have an outline for your post.
Not anymore.
Rytr is one of the best free copywriting tools to help you solve this problem.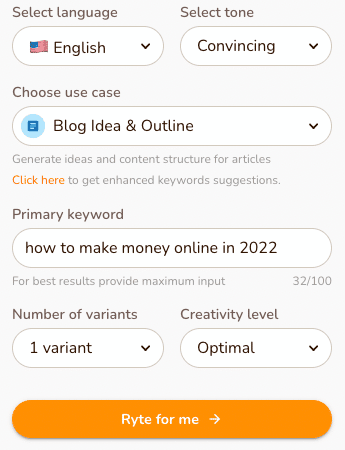 In every blog post, you need an outline and focus keyword to help your content rank higher on Google.
You simply write your primary keyword, and Rytr will instantly create an outline for you. If you use Rank Math SEO like us, you can also find a specific secondary keyword to add to your post.
What can you create with Rytr?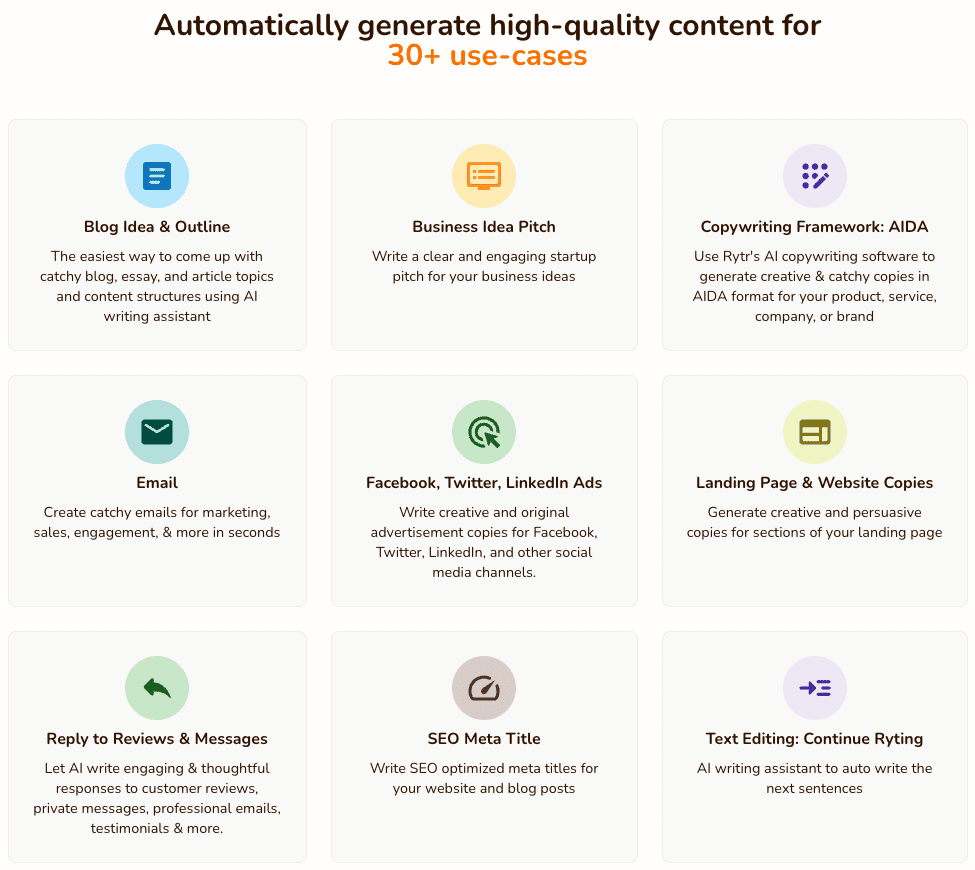 Rytr has more than 30+ use-cases to choose from. You can create everything from email marketing to video ideas for your YouTube channel. Rytr covers it all.
Why should you use Rytr?
4.9/5 satisfaction rating from 1.000 reviews on TrustPilot, G2, & more
Trusted by more than 1.000.000 content writers from companies like IKEA, Adidas, and Ford
Access to more than 30 use-cases
Available in 30+ languages
A built-in plagiarism checker is included
Rytr Pricing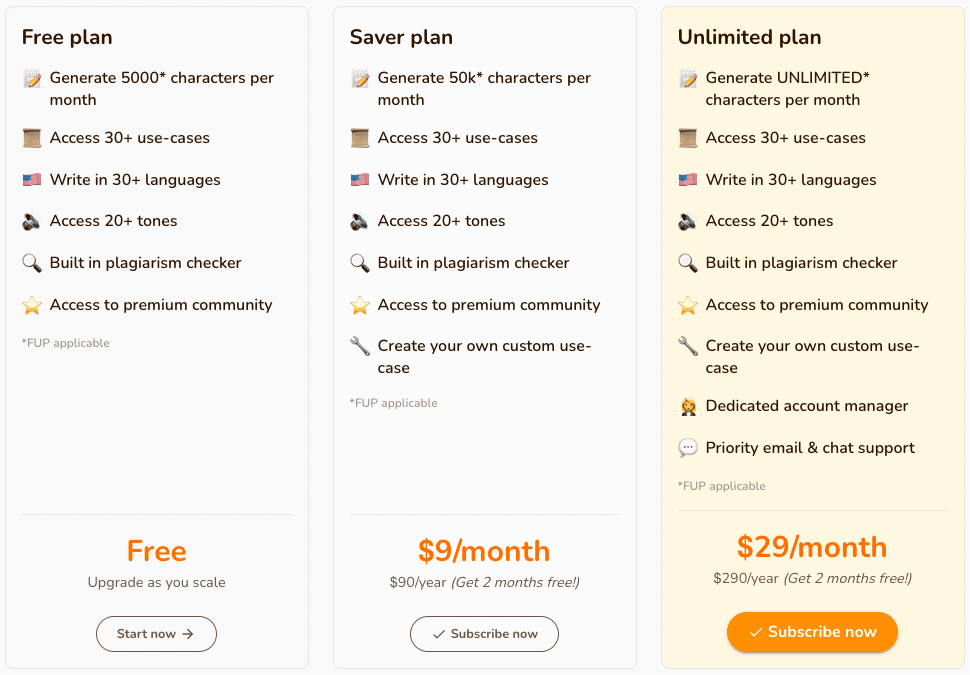 Rytr also has 3 different plans like other free copywriting tools: Free Plan, Saver Plan, and Unlimited Plan.
You can increase your monthly quota by up to 10.000 credits by spreading the word about Rytr. Simply write a review on Linkedin, Facebook, and Twitter to earn 1.000 credits from each platform. You can also write reviews on App Sumo, TrustPilot, and G2 Crowd to earn 7.000 credits. If you manage to earn 10.000 credits, Rytr is one of the best free copywriting tools you'll ever need.
The Saver Plan is the most affordable and what we recommend for everyone. It starts from $9 per month or $90 on an annual plan.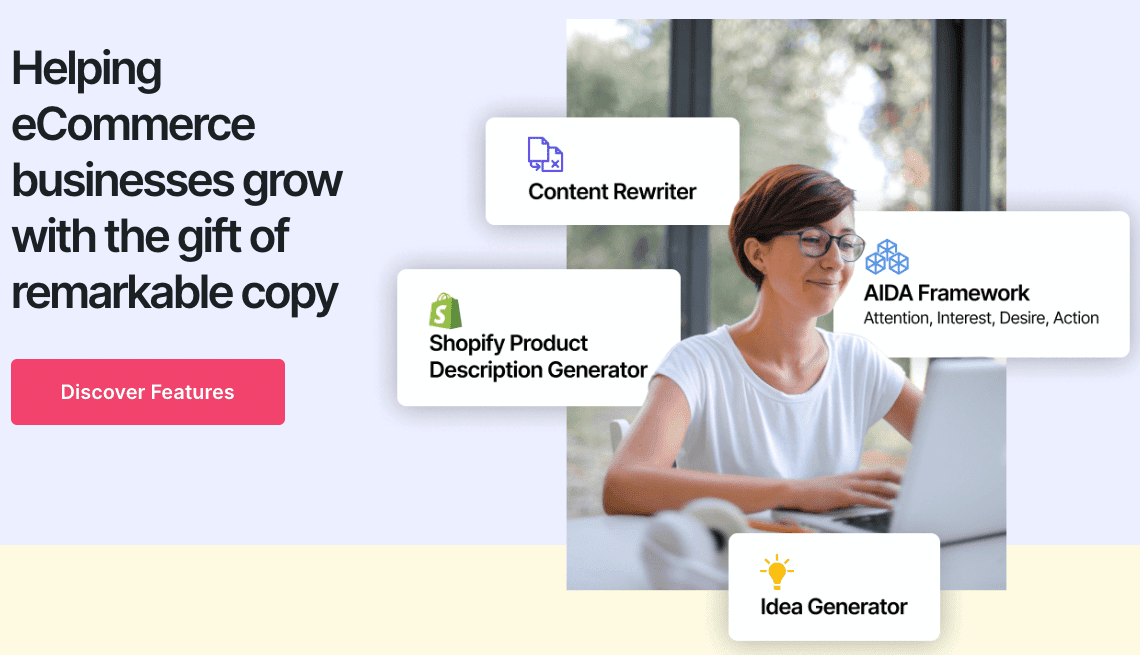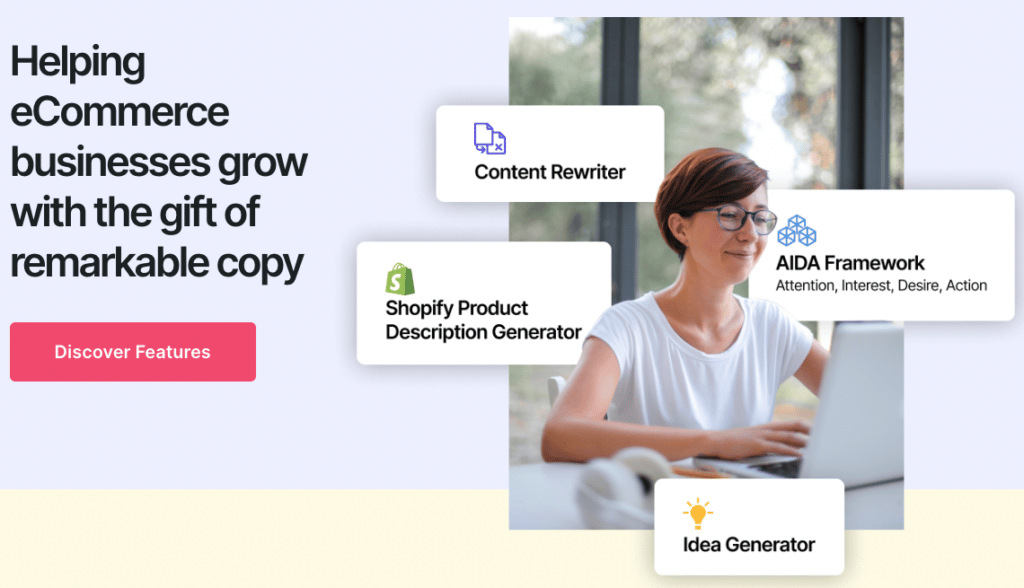 If you're in the eCommerce business, you know that feeling of writing a product description copy. You want it to be concise and boost sales conversions. But, you're stuck—even though it's your own product. So, what's the best free copywriting tool you can use for your business? It's none other than Copysmith.
What can you create with Copysmith?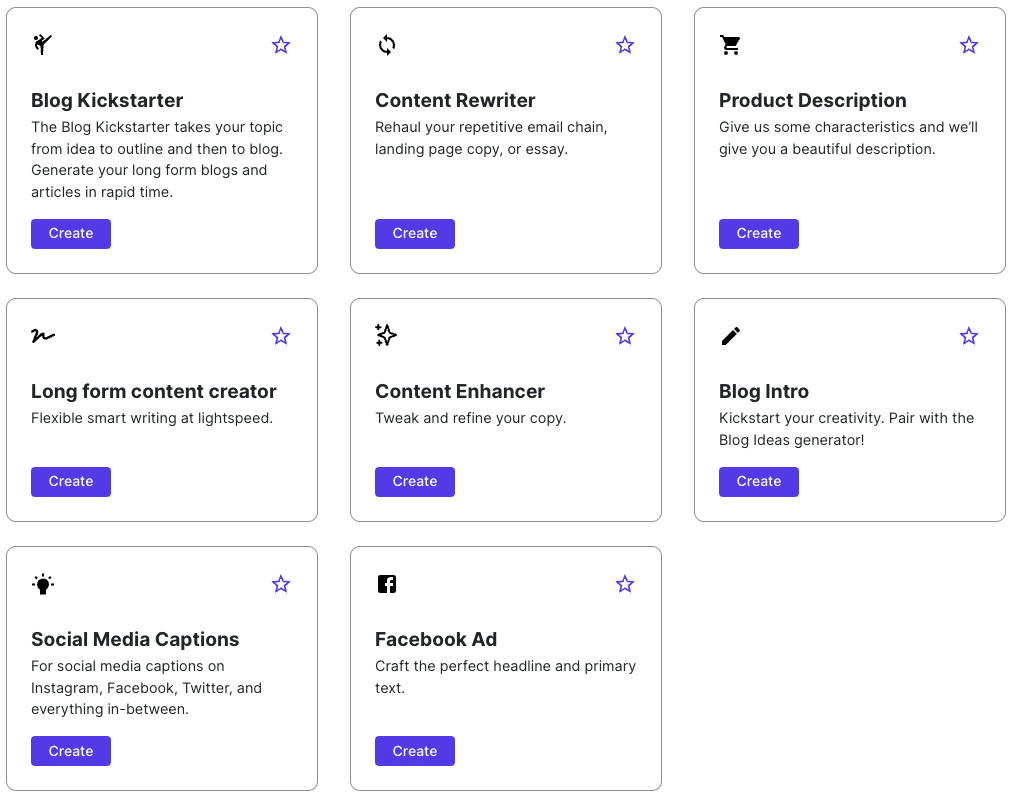 Compared to other AI copywriting tools, Copysmith's features are limited. But, it focuses more on the e-commerce business. So, if you're an Amazon Associate, we recommend you use Copysmith to write product descriptions.
Why should you use Copysmith?
Suitable for eCommerce business
Offers 7-day free trial – no credit card required
40+ templates available
Plagiarism checker available
Easily target search query
Available to work in teams
Easily target SEO search query
Copysmith Pricing
Copysmith offers 3 different plans; Starter, Professional, and Enterprise. The Starter Plan will cost you $192 on annual payment. Or, if you want to pay monthly, you can do so for $19.
If none of the above we mentioned suits your taste. You probably have similarities with us. You believe in data-driven copywriting. This is one of the free copywriting tools you should try: Anyword. It's the first copywriting tool with AI to offer a predictive score for you.
What can you create with Anyword?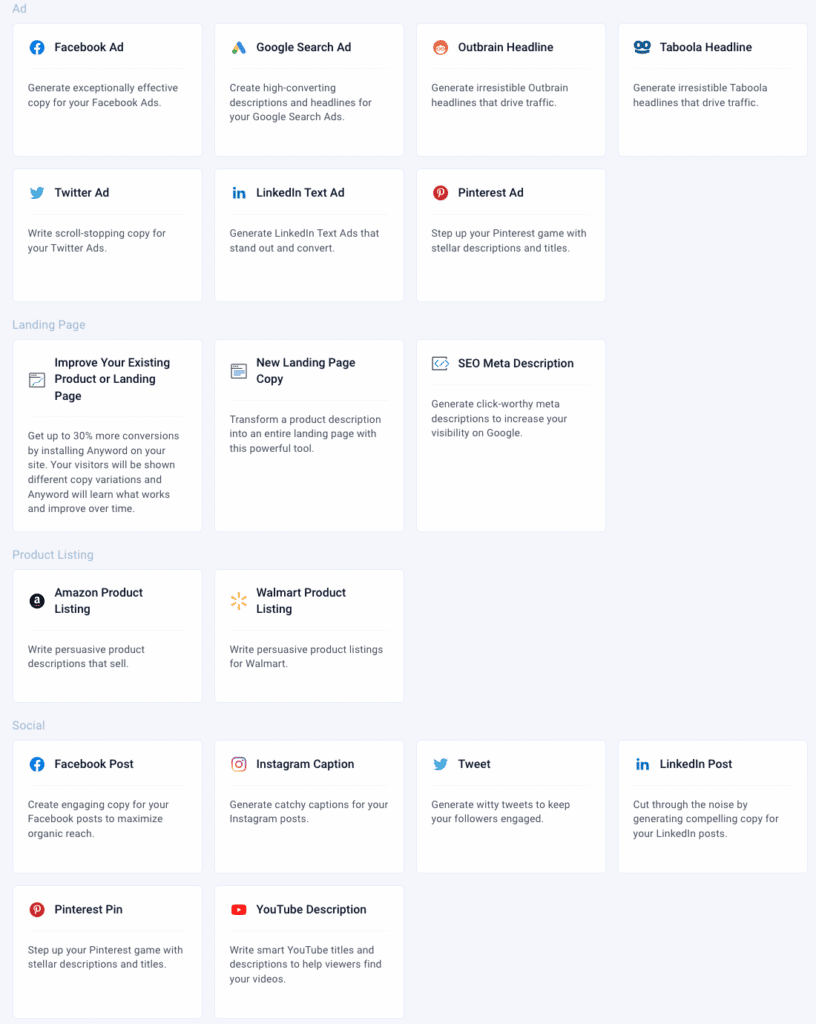 You can create anything literally with Anyword. The best part for us when trying to create content with Anyword is the scoring system. It motivates you to write better content.
Why should you use Anyword?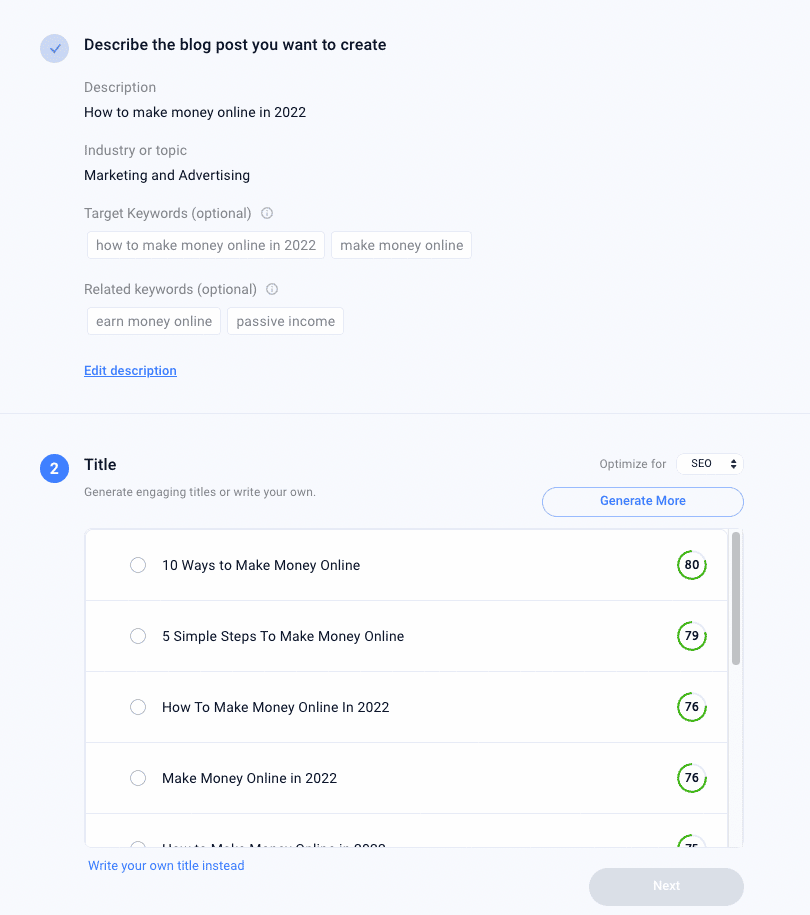 Top ratings in 1.000+ reviews
1.000 words per month on the free plan
Available in 25 languages
Optimize copywriting for better results
Easy-to-use user interface
Generate multiple text variations
Accurate content generation
Plagiarism detector included
Anyword Pricing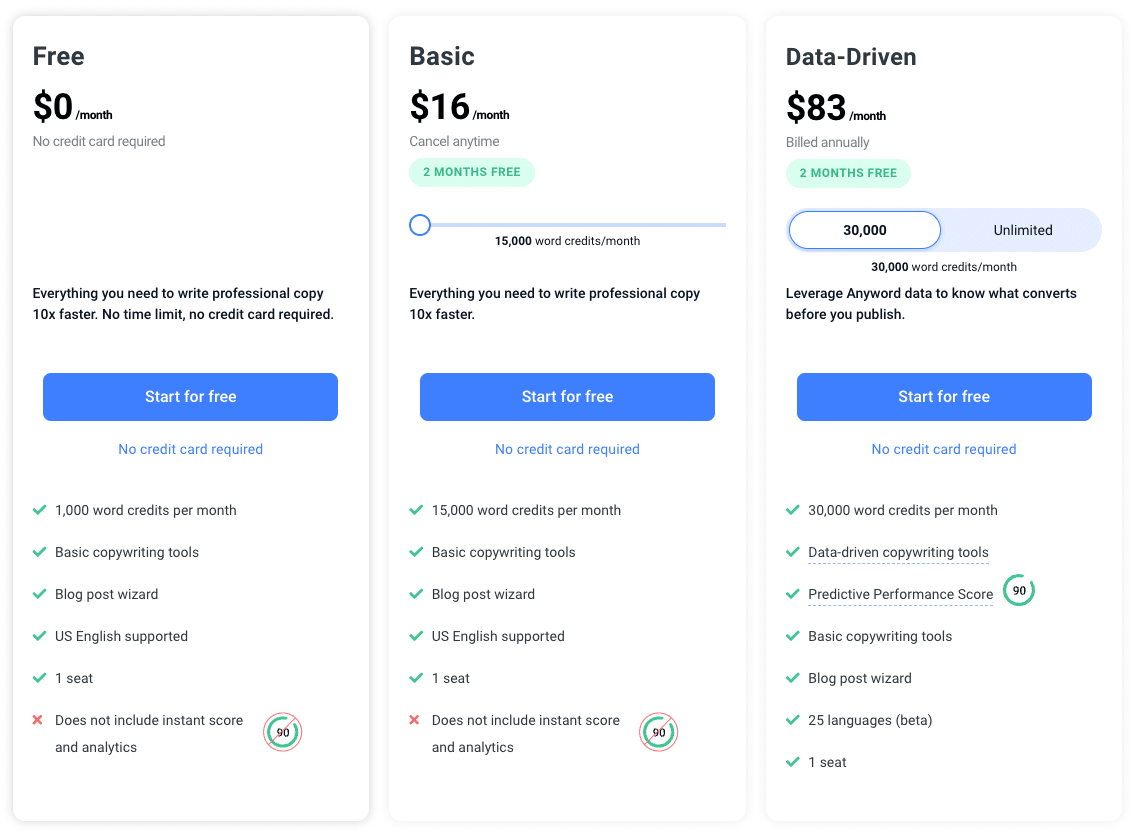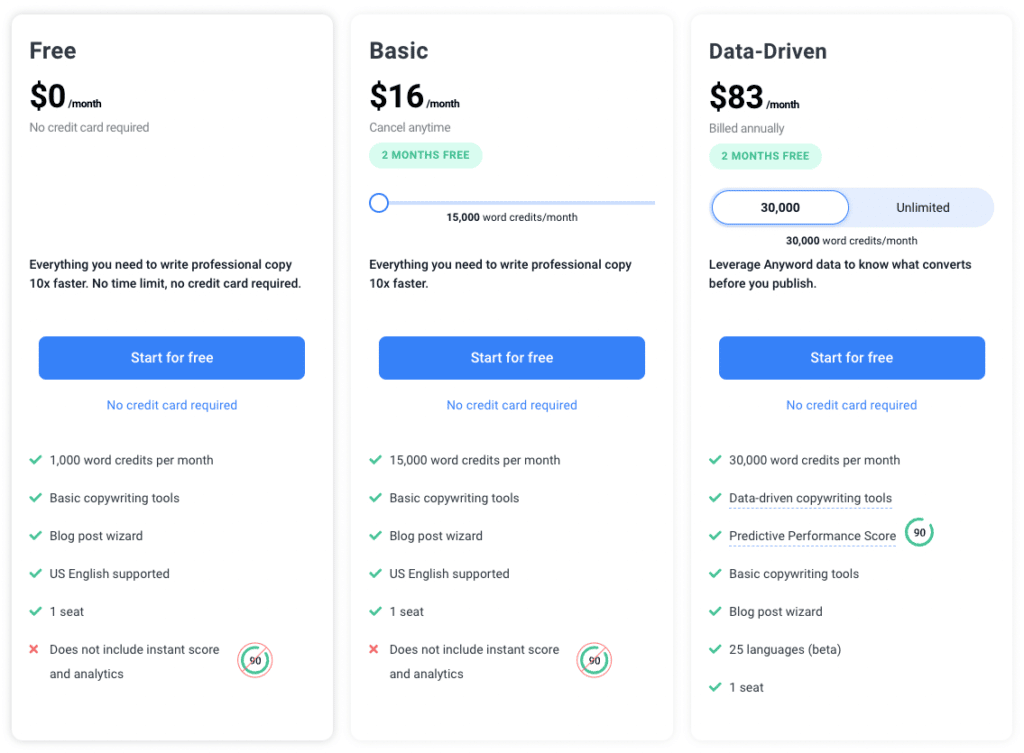 Anyword offers 3 different plans: Free, Basic, and Data-Driven. For $83/month, you can get the Data-Driven plan to produce 30.000 words per month.
It's the most expensive monthly plan compared to other free online copywriting tools. But, if you use our promotional code: Anyword20. You can get 20% off your purchase.
Conclusion
In conclusion, these are 5 of the best free copywriting tools with AI you can use to overcome writer's block. You can use these copywriting tools based on your needs.
Here's a simple cheat sheet to help you choose.
| AI Copywriting Tools | Feature Highlights |
| --- | --- |
| Copy AI | The most versatile |
| Writesonic | Best for writing long-form content |
| Rytr | The most affordable plan |
| Copysmith | Best for e-commerce business |
| Anyword | Best data-driven copywriting tool |
So, which one of these tools will you use for your next blog post?
Share your thoughts in the comment section.
---
Sugiya is the Writer and Owner of We Recommend. He is passionate about helping people make better decisions when buying things on the internet.