This post contains affiliate links. We may receive a commission for purchases made through these links without any extra cost to you. Thank you for your support.
---
In this Writesonic review, let's find out if this is the fastest AI writer for writing long-form content.
We've tested and reviewed various tools on AI writers, and one of the top contenders is none other than Writesonic. It's one of the best paid AI writers to help you write long-form content.
So, without further ado, let's dive in and learn more about this tool.
What is Writesonic?
Writesonic is an AI copywriting tool powered by GPT-3 to produce high-quality, cost-effective content at lightning speed. Like any other AI writer, Writesonic will help you scale your content creation process faster with the help of artificial intelligence.
With more than $2,6 million in total funding, Writesonic gained popularity amongst marketers, entrepreneurs, and content creators in the last two years. Check out these testimonials below.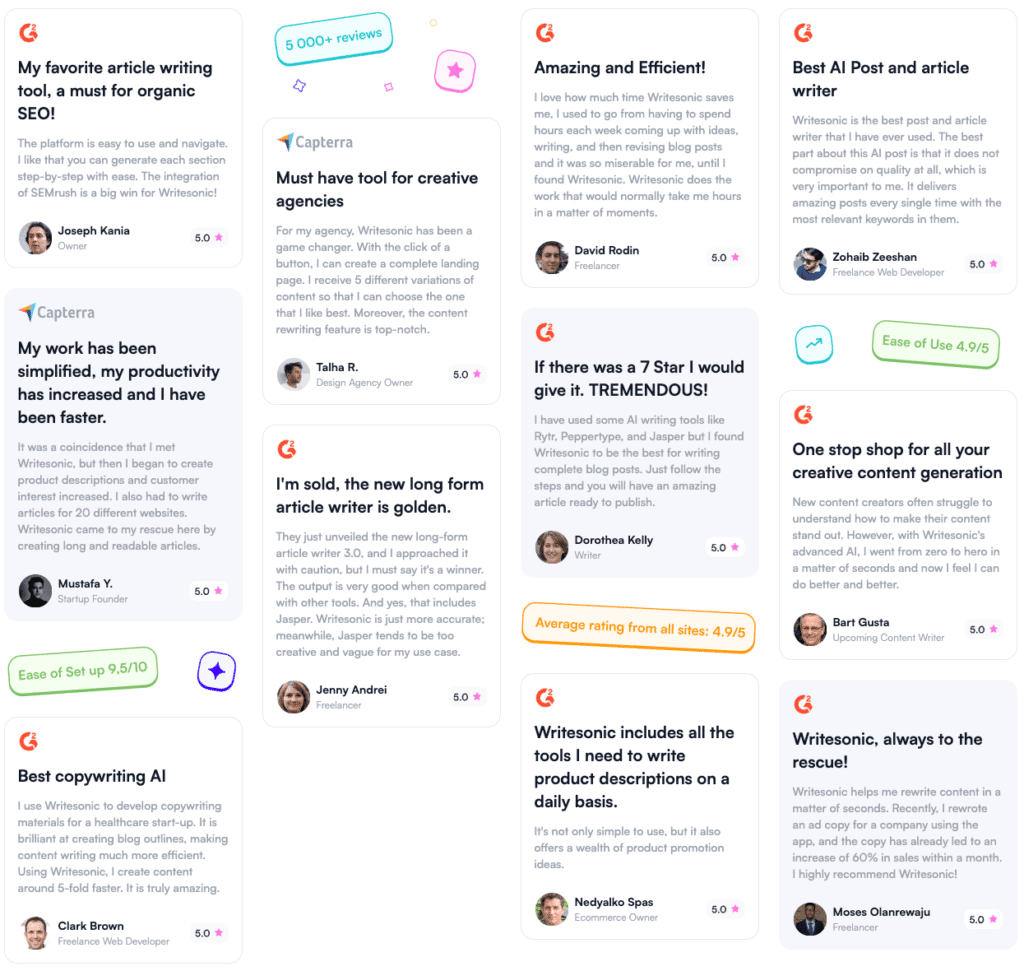 Writesonic Review: Key Features
Now, let's look at the features Writesonic has to offer. Bear in mind that some of these features are available in other AI writers, but several features make Writesonic stands out from the competition.
70+ Powerful Features
Currently, there are more than 70+ features to use on Writesonic. You can browse them in six categories:
Article and Blogs. One of the most favorite tools on Writesonic is the AI Article & Blog Writer. Moreover, you can ask Writesonic to help you brainstorm blog ideas and create blog intros and outlines.
Ecommerce Product Description. If you're selling things on Amazon, you might want to use these features to write engaging product descriptions.
Ads and Marketing Tools. If you ever need inspiration for writing digital ads or YouTube videos, you can visit this category to create any marketing copy based on your needs.
Website Copy. Don't underestimate the value of powerful copywriting on your website or landing page. You can create engaging headlines and landing page copy like a professional copywriter.
General-purpose Writing. One of the most used features by marketers resides in this category. Everything related to email marketing, writing cold emails, and answering a question on Quora are all here.
Others. You will find everything else, such as AIDA Framework, Pain-Agitate-Solution, Analogy Maker, and other unique features in this category.
Generation Quality
Here is something different from other AI writers we have reviewed so far. You can change the quality of the words generated with Writesonic accordingly. There are four different settings to choose from: Economy, Average, Good, and Premium. Here's a simple guideline to help you understand the numbers.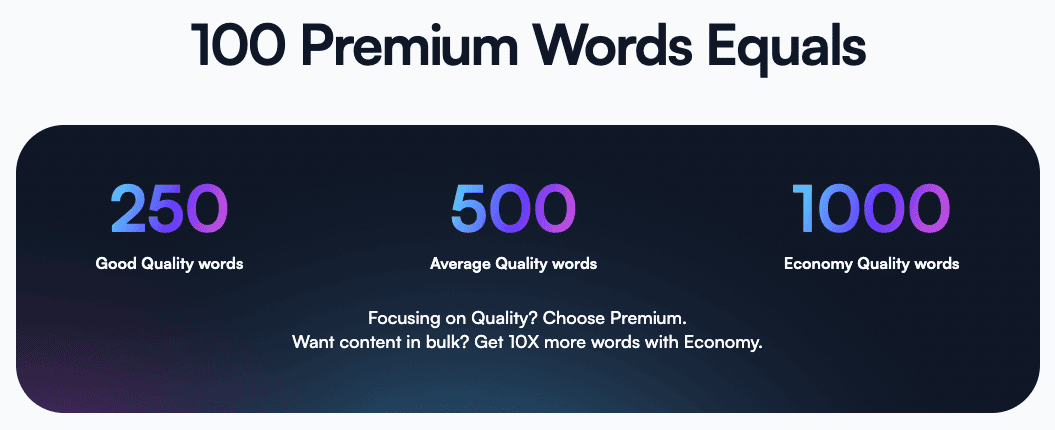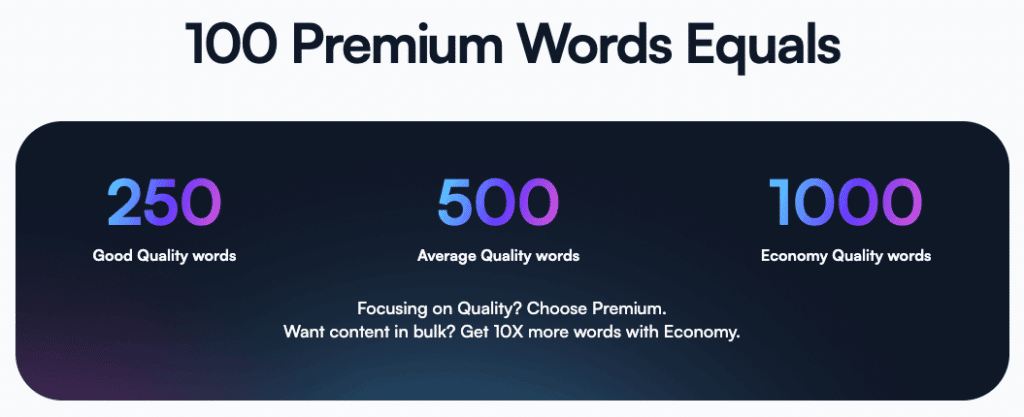 If you're focusing on quality, you can change the setting to Premium to get the best possible result. However, if you want to create long-form content, you can choose Economy to receive your content in bulk. This feature is something that you change anytime, even in the middle of writing your article. So, you can mix and match the result accordingly.
A great practice to utilize this feature is to write an introduction and conclusion paragraph with Premium word. Why? Because these are the parts where you want to capture your reader's attention and ask them to take action. It's a unique feature you can only find in Writesonic.
Instant Article Writer
This feature is the best feature to describe Writesonic as the fastest long-form AI writer. We're talking about speed here. If you're on a deadline and need to write your article fast, you can rely on this feature to get results.
Instant Article Writer is a one-click article writing to generate up to 1,500 words of blog posts. This feature is different than Article Writer 3.0 inside Writesonic. The primary difference is in the creation process. The Article Writer 3.0 allows you to customize your title, introduction, and outlines, before finally generating your article in the draft version. You're following a step-by-step process to create your first draft.
Instant Article Writer provides directly to your result because it chooses the best introduction and outlines for you. If you're dealing with a tight deadline, you might want to use this feature to get the fastest result. Here's a tutorial video to see how fast it is to write an entire blog post with Writesonic.
Song Lyrics
If your job is related to music, you might want to try this new feature from Writesonic called Song Lyrics. We didn't imagine AI could go this far until we saw this screenshot below.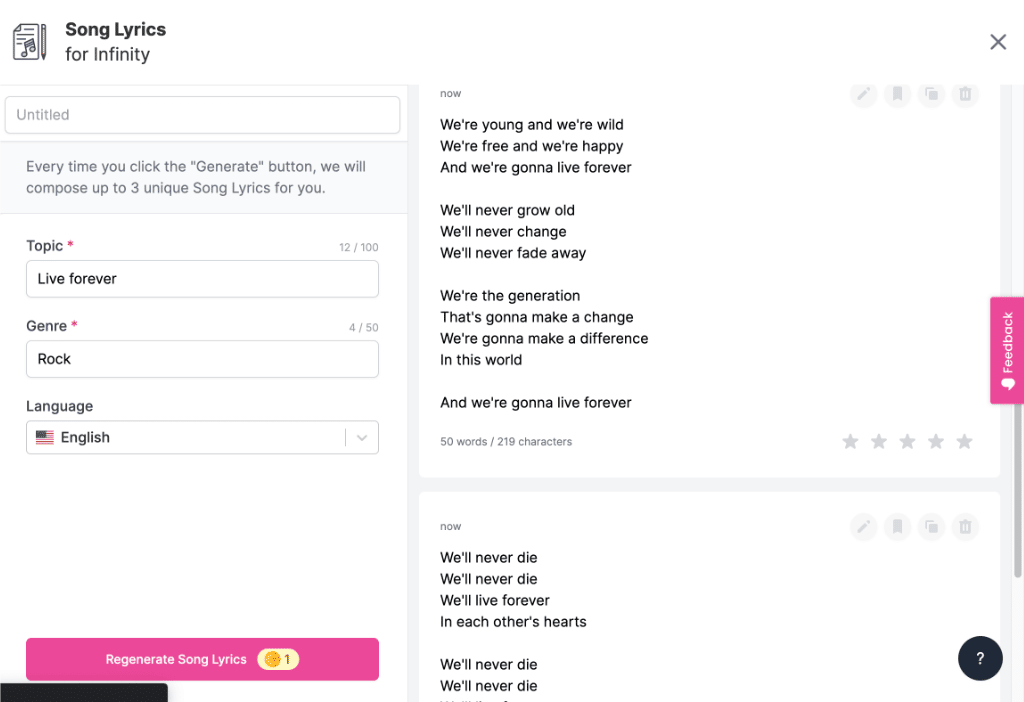 As you can see, with a click of a button, you can create an entire verse of a song lyrics with Writesonic. Moreover, you can even customize the genre instantly! We think this is a handy feature for songwriters and lyricists to get inspiration and brainstorm partner with Writesonic.
Sonic Editor
One of the best use-case to write long-form content is to use the Sonic Editor. It's similar to Google Docs editor with an AI assistant to help you generate content. The best way to utilize this feature is by writing an introduction paragraph and gradually expanding it based on your initial input.
In Sonic Editor, you can adjust the output and creativity level of the AI-generated words. The low creativity value will provide more fact-based results, while the high creativity value will yield more creative results. Moreover, you can also adjust the quality of the words produced from Economy, Average, Good, and Premium. Here's a video to show you how this feature works.
Integrations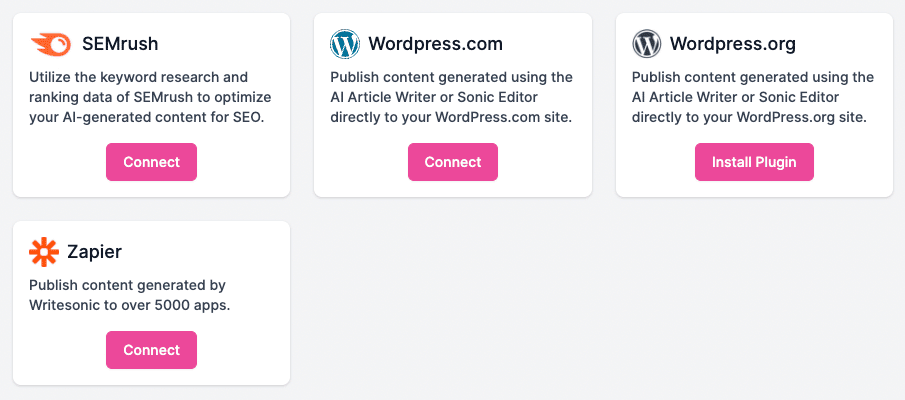 Writing and publishing long-form content means nothing if you don't want to rank on the first page of the search engine result page. That's why Writesonic is integrated with Semrush to help you with your keyword research and optimize your content for SEO.
Furthermore, you can also integrate Writesonic with WordPress.org, WordPress.com, and Zapier to publish your AI-generated content directly to these platforms. You don't have to worry about manually copy-pasting your result because you can connect these sites directly from Writesonic.
Writesonic Pricing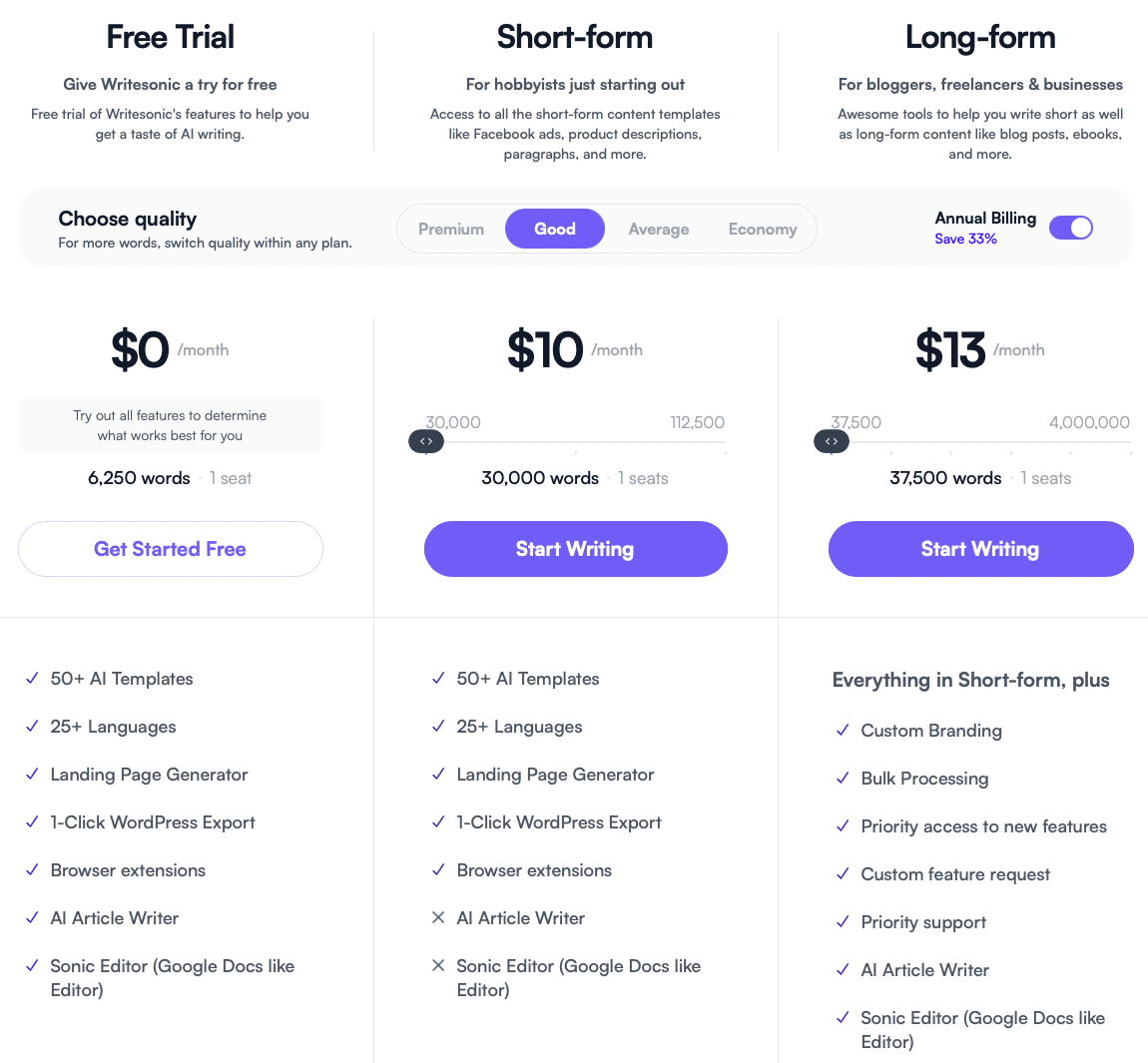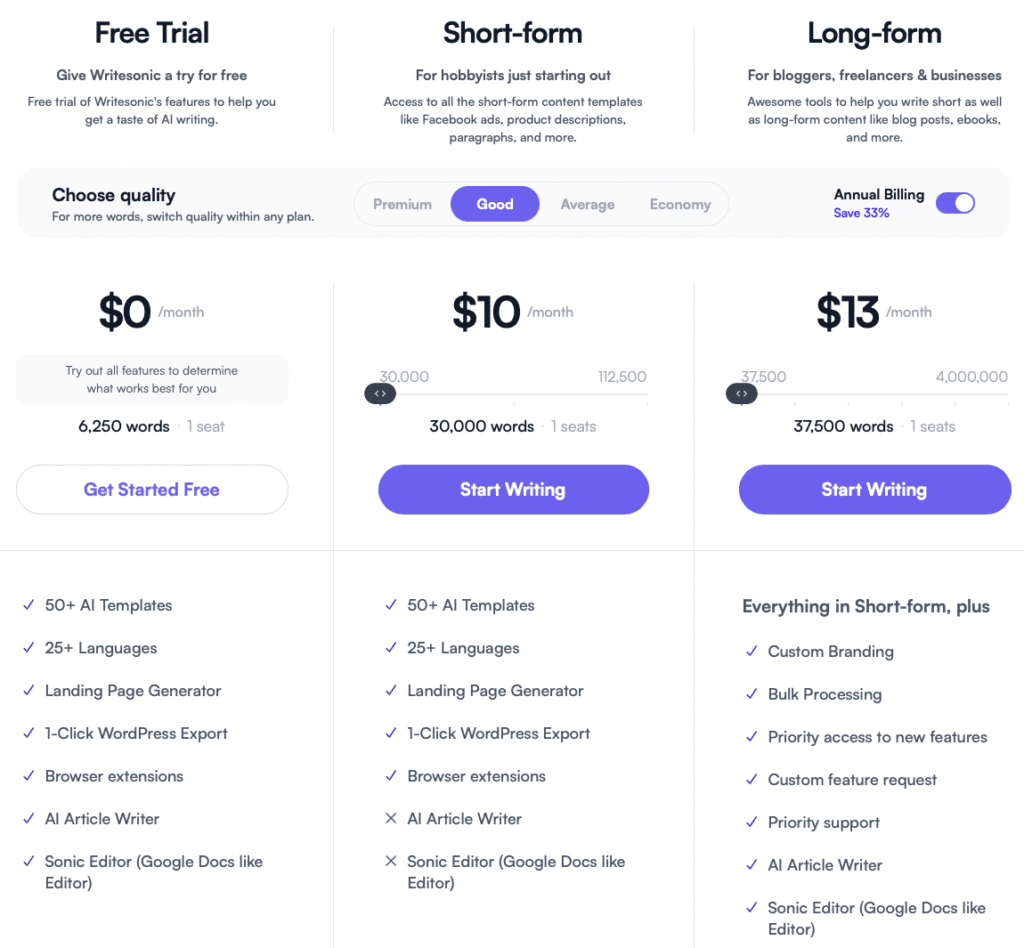 In June 2022, Writesonic implemented a new pricing system that is quite confusing. As you can see above, there are two plans: short-form and long-form. Writesonic is using the word-based system for your subscription. The best way to understand these systems is to look at the number of words you will produce in a month using AI.
For example, if you choose the short-form plan, you will be charged $10 per month on an annual payment for 12,000 AI-generated words. In addition, you will also get access to Zapier Integration and 1-Click WordPress Export. But, you don't get access to the Article Writer and the Sonic Editor.
However, if you select the long-form plan, you'll get 19,000 words at $13 per month on an annual payment alongside other benefits such as Article Rewriter, Bulk Processing, and Sonic Editor.
We realized this might seem a little bit complex to other people. So, after we thought about it, the primary difference between both plans is the intention to use Writesonic as your AI assistant. If you're using it to write blog posts and articles, the long-form is the best plan to buy. Other than those usages, it will be better to choose the short-form plan. Additionally, the more words you need, the higher price will be.
Writesonic Pros and Cons
There are several pros and cons to using Writesonic as your AI writing assistant, so here they are.
Pros
We consider the pricing quite affordable in both plans on an annual payment. 12.000 premium words are more than enough to write up to 10 blog posts per month.
Writesonic is available in 25+ languages.
Semrush integration is a great feature to consider.
Instant Article Writer is fast enough to generate high-quality content within seconds.
Based on our experience, the result is pretty decent.
Cons
There is no free plan.
It could be hard to differentiate between Premium, Good, Average, and the Economy AI-generated words.
You don't get access to Article Writer and Sonic Editor in the short-form plan, which is weird.
Frequently Asked Questions
Does Writesonic offer a free trial?
Yes. Writesonic offers a 7-day free trial with full access to the long-form plan. You'll get 2,500 premium words or 6,250 good words.
Does Writesonic offer a free plan?
Currently, Writesonic has no free plan. That's one of the cons of using it.
Can you invite team members to use Writesonic?
Yes. Both the short-form and long-form plans offer team members invite up to 10 members.
Can you publish the content generated by Writesonic directly?
Although Writesonic claims the content generated is 99% plagiarism-free, we don't recommend publishing it directly without any editing.
Does Writesonice offer a refund policy?
As far as we know, there is no refund policy once you sign up for a subscription plan. However, you can cancel anytime you want.
Conclusion
To summarize our Writesonic review, this AI writer is one of the fastest to produce long-form content with the help of Instant Article Writer. As you can see from the previous video, you can get up to 1,500 words within a few seconds. However, if you're looking for a free plan, there are other AI copywriting tools you can use with limited features.
If we consider the price at $19 per month for a monthly plan, it's worth paying to get up to 19,000 premium words or 190,000 economy words to generate high-quality articles based on AI recommendations. So, we recommend Writesonic to bloggers or copywriters to create their first draft. But, it's better to consider the 7-day free trial to experience all of Writesonic's features before deciding.
---