---
In this Grammarly review, we will share our perspectives as daily users.
If English is your second or third language, you might already know Grammarly from advertisements on YouTube and many more. In fact, this tool has been around since 2009.
As daily users, we use Grammarly to help us write our blog posts, emails, e-books, and documents in English. Even though we could write in English without it, writing on Grammarly help us to identify every mistake we might accidentally make.
Now, let's find out more about Grammarly.
What is Grammarly?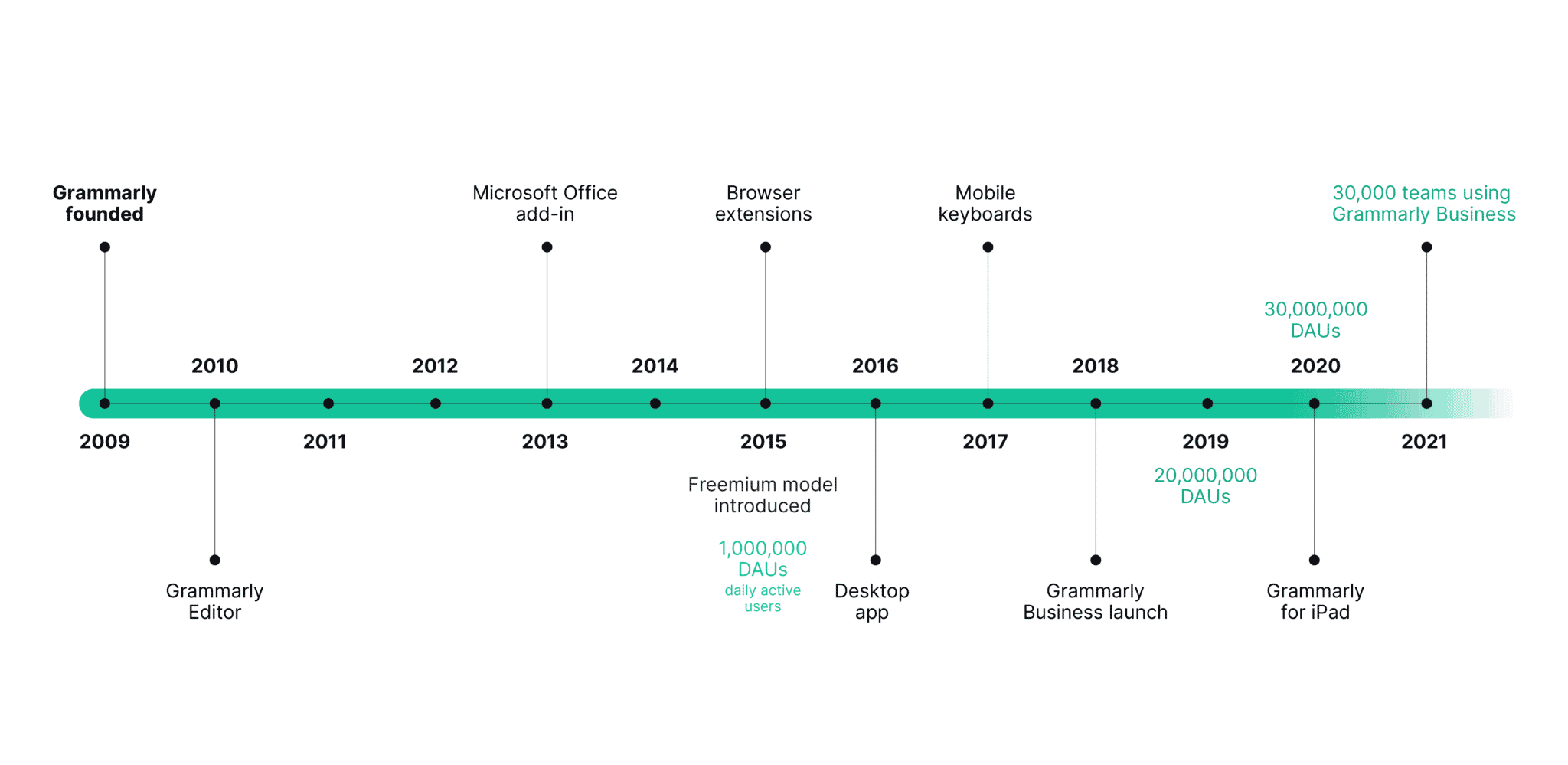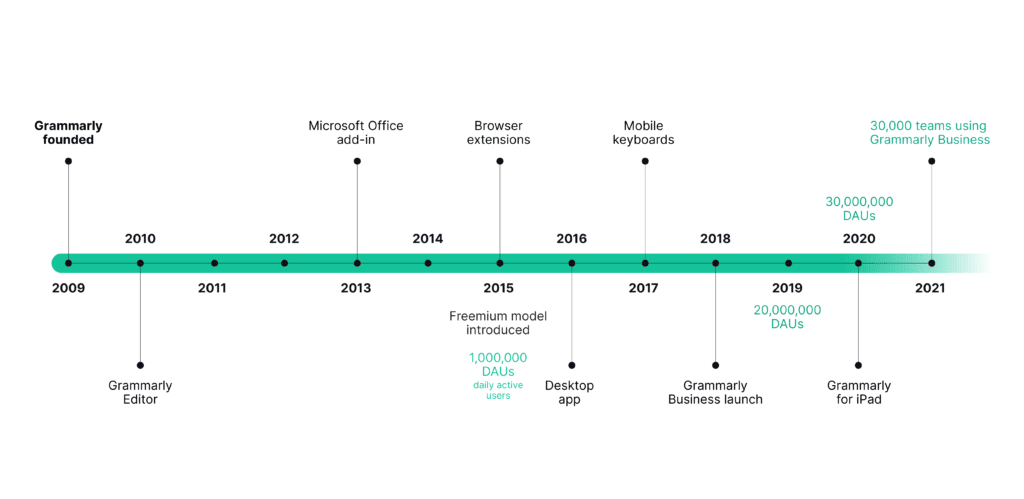 Grammarly is an online tool to help you write better in English. It was founded by Max Lytvyn, Alex Shevchenko, and Dmytro Lyder. As you might notice, these guys are not native English speakers, as you can tell from their names.
However, the first use of Grammarly is to support students' grammar and spelling. Later, it was developed as a tool to help writing in almost any circumstance in English. This might be the best tool if you're not a native English speaker.
How does Grammarly work?
Grammarly allows you to correct grammar, punctuation, and spelling mistakes in your sentences, refine your vocabulary and synonym use, check for plagiarism, and many more. If you have already written a document, you can copy and paste or upload it to Grammarly to have it checked for free. It's really that easy.
The ultimate purpose of Grammarly is to help its users communicate better in English and deliver the message in a relevant context that matters. As daily users, we rely on Grammarly's real-time suggestions when we write our blog posts. It's an AI writing assistant that works as an advisor to provide the best content for our readers. Just take a look at this screenshot below.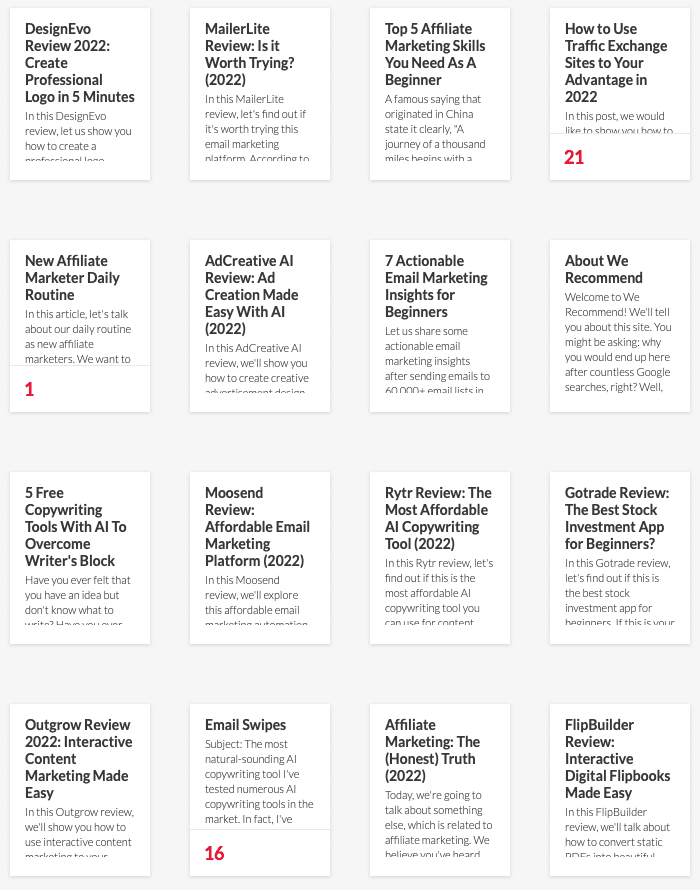 You can use Grammarly in various environments and writing scenarios. It is available on:
Desktop
Windows
Mac
Browser Extensions
Safari
Chrome
Firefox
Edge
MS Office
Google Docs
iPhone
iPad
Keyboard
It's not too much to say that whenever you need to write, Grammarly is available for you. Here's a short video that explains it well.
How to use Grammarly?
To use Grammarly, you must sign up for an account. You can create a free account using Gmail or Facebook. After that, simply answer a few questions until you see this screenshot below.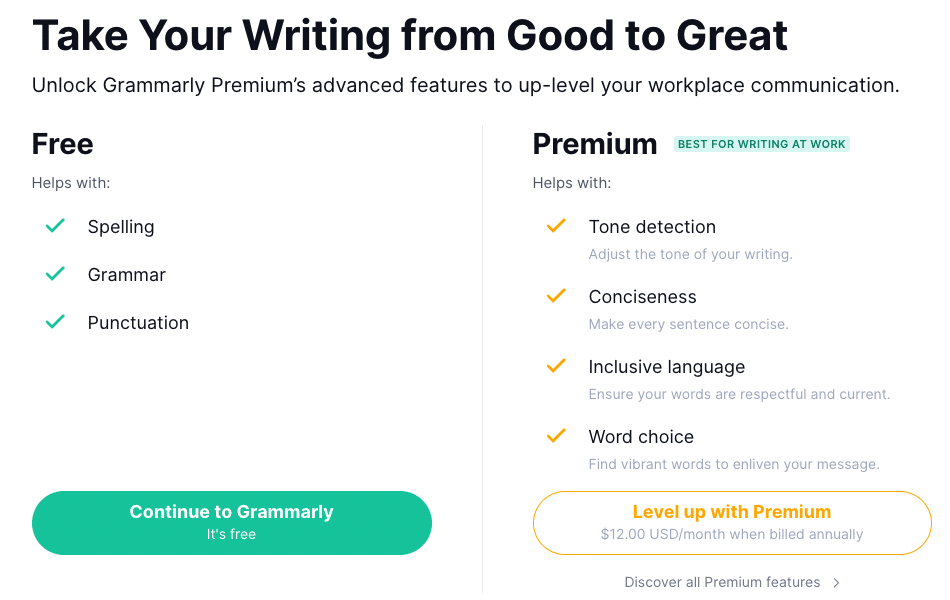 As you can see, the Free plan will help you with spelling, grammar, and punctuation. However, it might not be enough for most people. Later, we'll show you how to maximize the use of Grammarly for free. But, if you can afford the Premium plan, feel free to upgrade. It's a worthy investment.
Step 1: Learn from the Demo Document
After creating your account, you will see a Demo document like this below.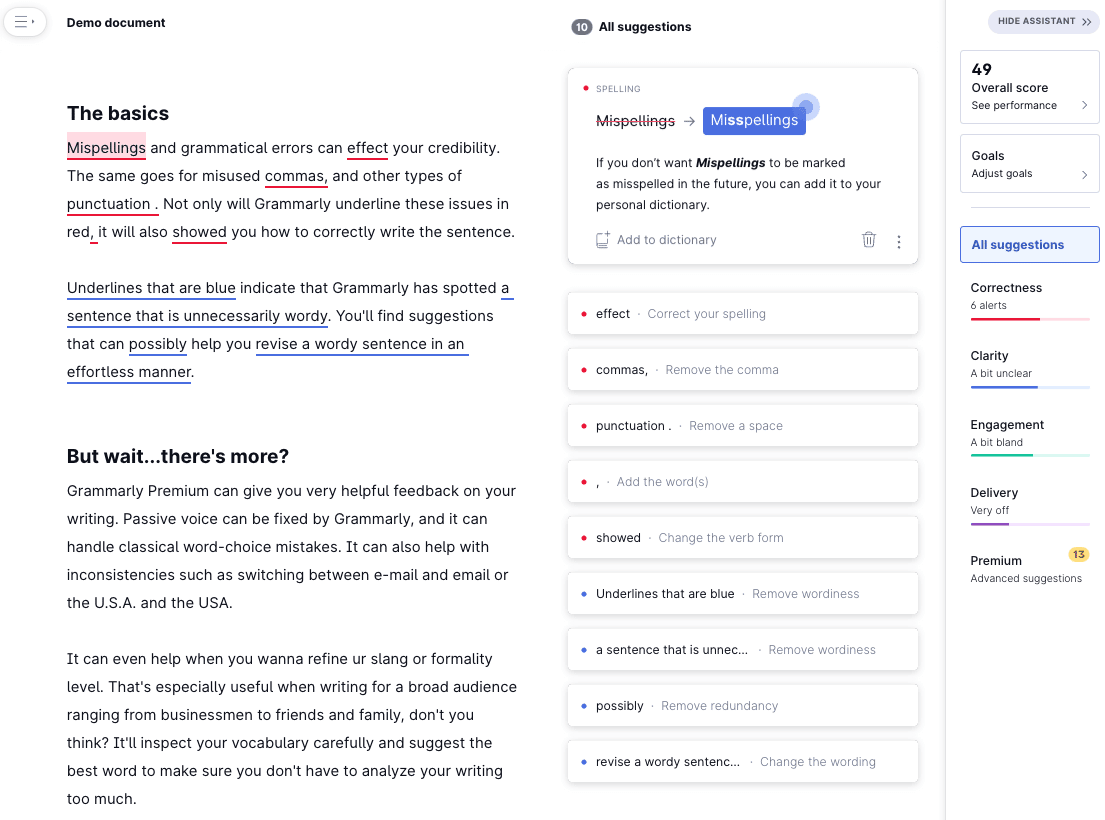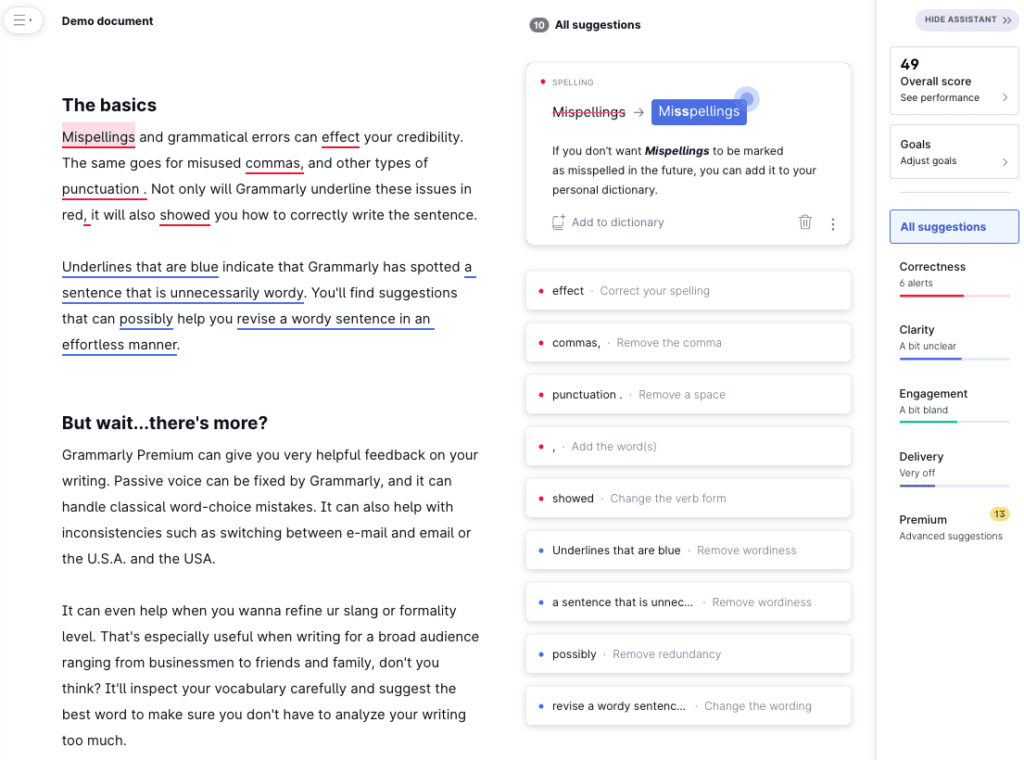 This document will show you everything you need to know about how Grammarly could help you write better. From the top right corner, you'll see an overall performance score of your writing. If you click on that menu, you will see a pop-up like this screenshot below.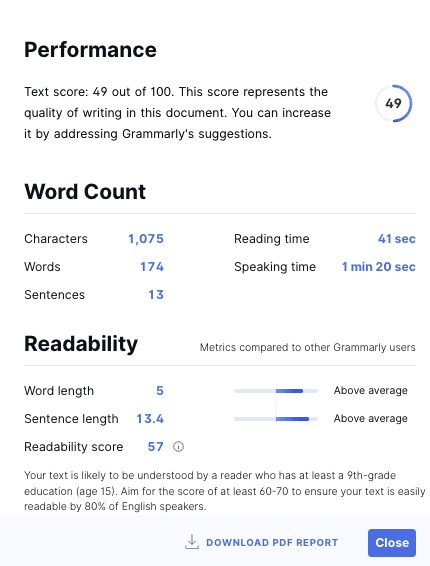 You can track your word count, get an estimated reading time, and check the readability of your writing based on Grammarly's data. It's a handy feature to track how many words we've written and how easy it is to understand our content.
Next up, there are several underlines coding that you need to understand:
Red underlines: These underlines refer to the mistakes related to spelling, grammar, and punctuation in your sentences.
Blue underlines: These underlines are suggestions to help you make your writing easier to understand.
Yellow underlines: These underlines are Advanced suggestions related to many things such as word choice, inappropriate colloquialisms, text inconsistencies, incorrect phrasing, and many more.
Step 2: Setting Your Goals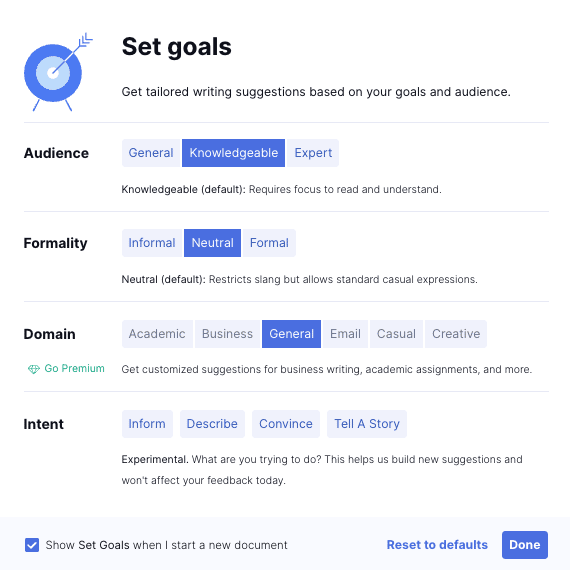 Now, this is an essential step in using Grammarly for free. To be honest, sometimes, Grammarly's suggestion doesn't make sense. Later, we found it is related to the Goals section. Generally speaking, this is the default option when you're using Grammarly to write.
There are 4 options to set your goals.
Audience: You can choose between General, Knowledgeable, and Expert. This option explains the level of understanding of your audience when reading your content. While Knowledgeable is the default option, we suggest changing it into General as you want your writing understandable by most people.
Formality: Simply choose the level of formality in your writing from Informal, Neutral, and Formal. We suggest using the Informal option to produce a more casual writing style for your audience.
Domain: This option is available for the Premium plan. However, the default option is set to General.
Intent: As you can see in the screenshot above, Grammarly didn't set anything to this option. Actually, you can choose all of these options. This helps Grammarly understands the intention of your writing. However, we use Inform and Convince as our options for most of our posts.
Step 3: Write and Revise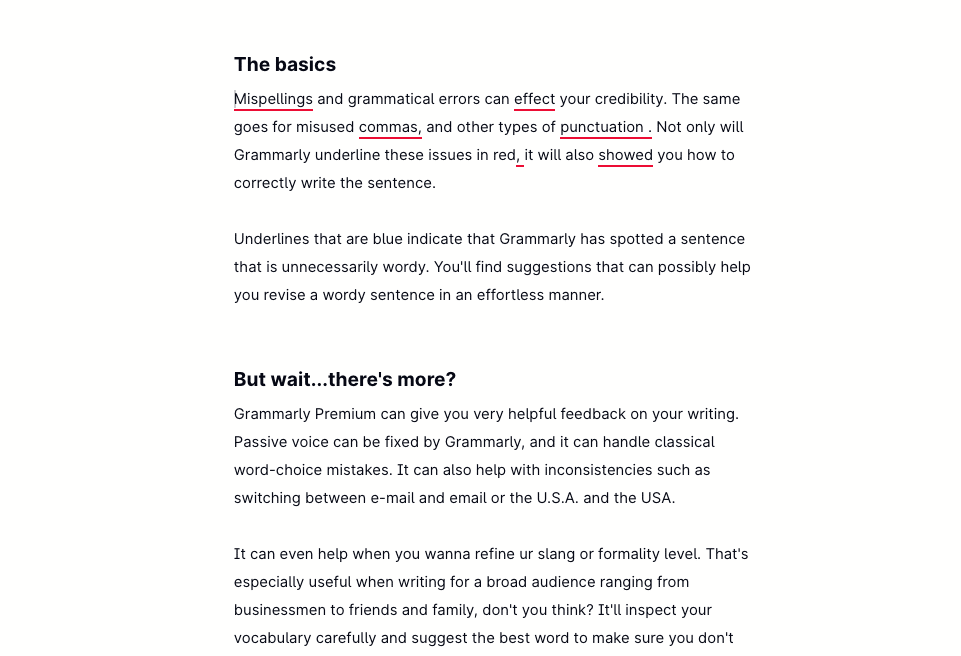 The next step is none other than writing and revising accordingly. You can choose to hide the Grammarly Assistant by clicking the Hide Assistant button on the top right corner of your writing page. This is handy if you'd like to write without any distractions.
Now, we will show you to maximize the potential of using Grammarly for free.
Firstly, your aim is to eliminate all suggestions by Grammarly. This includes every red, blue, and yellow underline. Yes, we know what you were thinking, "Isn't yellow underline a Premium suggestion?"
Generally speaking, you can eliminate Premium suggestions by rephrasing your sentences. Take a look at this example from the Demo document.

Grammarly gives suggestions on the sentence, "…to correctly write the sentence."
You can rephrase your sentence by looking at the hints on the right side of your writing. It seems that the words are misplaced. So, if you change it to "…to write the sentence correctly." You will see that the yellow underline is now gone. Here's the revised version of the entire paragraph.

By following Grammarly's suggestion, you can still achieve the best possible result in your writing. It's possible even if you're using a free account. Now, let's take a look at Grammarly's key features.
Grammarly Review: Key Features
We will highlight Grammarly's features that we use every day to write our blog posts. Even though there are more features available, it is a premium feature. We couldn't afford the premium plan, but it is still worth using.
Grammar Checker
For us, this is the most used feature in our list. We understand English, but sometimes we might have missed a few things, which causes grammatical errors in our sentences. That's why having Grammarly to check our grammar is the best feature we can rely on.
More importantly, it also does corrections on spelling and the use of punctuation. In other words, it also helps enhance our writing to be more precise and accurate. Here's a testimonial that explains well about our experience.


Tone Detector
When you write, your writing can define your tone. Since tone is the key to effective communication, you might want to control your tone. This feature is available if you use Grammarly as a browser extension. Check out this list of tones below.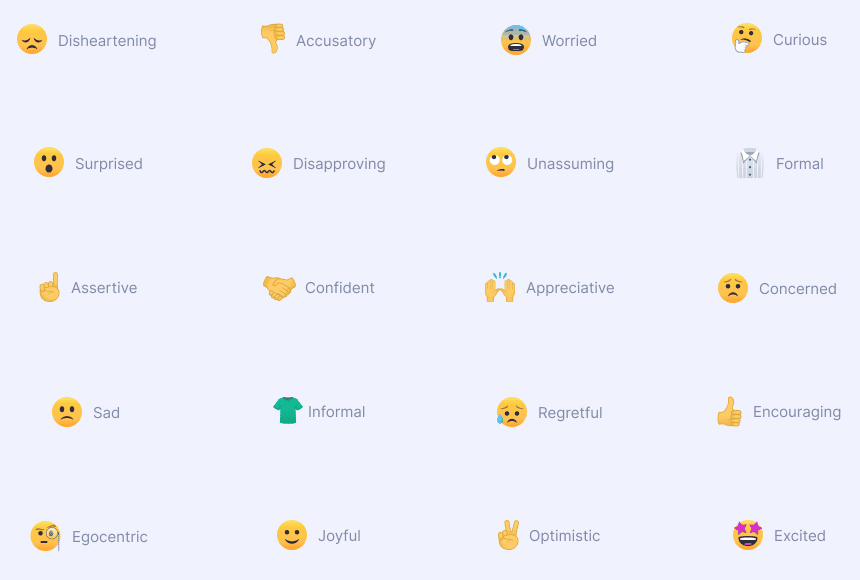 When writing your sentence, Grammarly automatically detects your tone and how it may sound to your readers. If you're on the Premium plan, Grammarly will give tone suggestions to help you communicate your message clearly. This feature is handy when you're writing for email marketing. We think it's a cool feature!
Essay Checker
At some point in our lives, we might need to write an essay, right? Thankfully, Grammarly provides an Essay Checker to help us identify writing issues and avoid unintentional plagiarism.
When you use Grammarly, you can feel confident writing your sentences. You don't have to worry about which vocabulary to use because Grammarly will provide valuable suggestions for you. Nothing is better than having professional assistance to help you write naturally and fluently in English. Here's a testimonial from a college student who uses Grammarly.

Plagiarism Checker
As a writer, nothing is more frustrating than founding your content is similar to other content on the internet, right? That's why Grammarly's Plagiarism Checker is a part of the Premium plan.
The way it works is simple, simply click the Plagiarism button in the down right-side corner of your Grammarly page editor. Grammarly will detect if your content has been copied from billion of other pages on the internet to your posts.
However, there is no way to avoid 100% free plagiarism when writing a general topic such as product or service reviews like ours. Why? Because there might be a similar expression of what a reviewer feels when testing a particular product or service. But, still, it's a great feature to reduce the percentage of your content being unintentionally copied from someone else, right?
Grammarly Pricing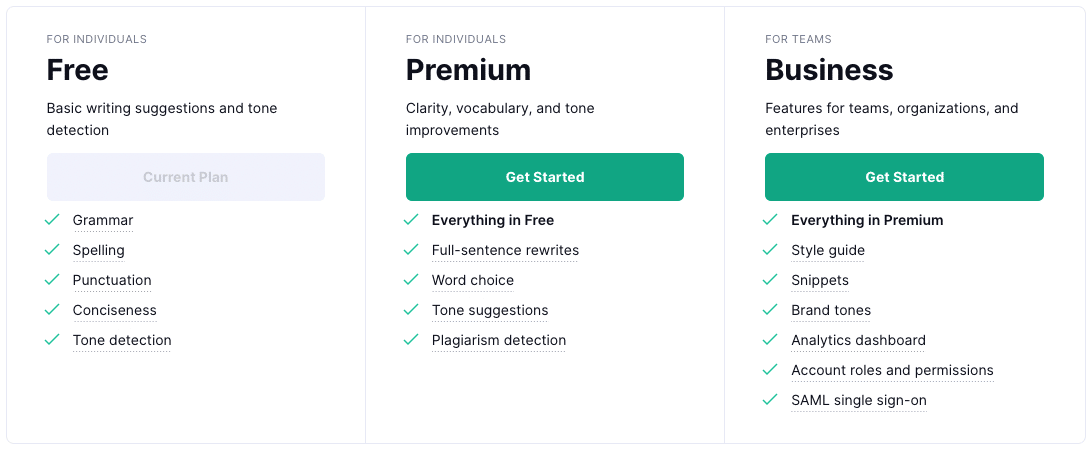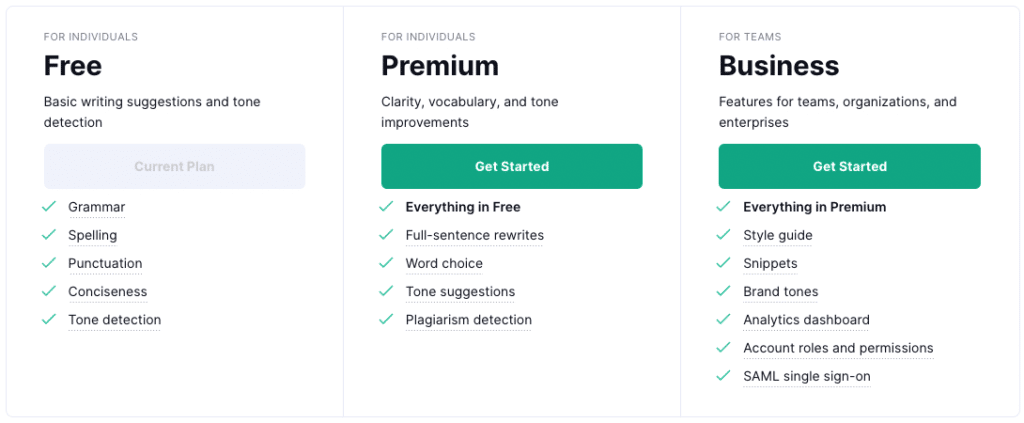 As you can see above, there are several key differences between the Premium and Business plans. The best feature in the Premium plan is none other than full-sentence rewrites, tone suggestions, and plagiarism detection. These three features are more than enough to help you write better.
However, if you're working in a large-scale organization, you might consider choosing the Business plan. You can get access to other powerful features such as a style guide, snippets, brand tones, and an analytics dashboard.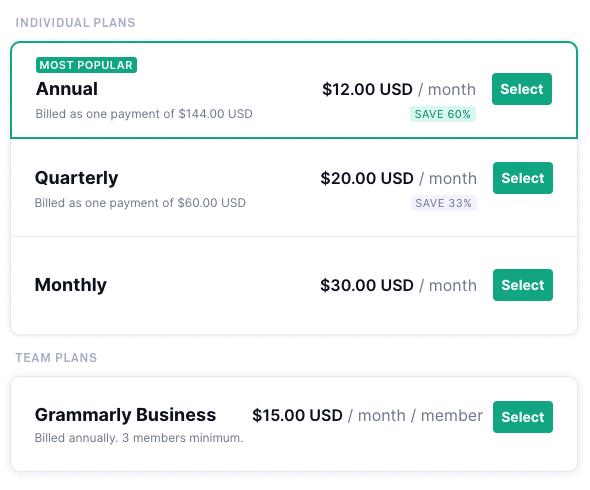 Grammarly has a unique pricing plan where you can choose between Monthly at $30 per month (really expensive), Quarterly at $20 per month (also quite expensive), and Annual at $12 per month. We can't afford the annual plan, but that's the best offer with 60% off.
If you might want to use Grammarly for your business, you can also check the Business/Team Plans for $15 per month per member. This plan is billed annually with 3 members as the minimum requirement. It's suitable for copywriters, journalists, and anyone who writes daily to make their living.
Frequently Asked Questions
How many devices can you use with Grammarly?
Grammarly's membership allows you to use Grammarly on up to five devices.
Is there any limitation on using Grammarly to check your documents?
Unfortunately, yes. Within 24 hours, you can check up to 100 documents or 50,000 words. This limitation applies to both Free and Premium plans. Also, within 30 days, you can check up to 300 documents or 150,000 words max.
Does Grammarly offer a lifetime account?
As far as we know, Grammarly doesn't have a lifetime account. The best plan is none other than the annual plan.
Does Grammarly have a refund policy?
Apparently, Grammarly does not offer any refund policy. However, you can cancel your subscription and still use Grammarly until the end of your subscription period.
Conclusion
In conclusion, as a daily user of Grammarly, we strongly recommend you use it to help you write and communicate better in English. This is especially true if you're a non-native English speaker like us. Moreover, if you can afford the Premium plan, we suggest paying annually to get 60% off. It's totally worth the price compared to the monthly payment.
But, you can always use it for free as we do. It's possible to maximize Grammarly for free if you use our methods. Feel free to sign up and create your Grammarly account.
---