---
In this InstaCopy review, let's find out if this AI writer is any good compared to other tools.
After reviewing several other AI copywriting tools, we realized one thing for sure.
"Each AI writer has a unique characteristic that differentiates them from other similar tools."
A new copywriting tool doesn't mean it's just another me-too product or service. It's a different breed that is worth testing and exploring. That's how we found out about InstaCopy.
So, without further ado, let's dive in to learn more about this new AI content writing tool.
What is InstaCopy?
InstaCopy is an AI writing assistant to help you write short and long-form content. Similar to other copywriting tools, InstaCopy uses artificial intelligence to generate copy in a short amount of time.
Generally speaking, every AI copywriting tool is developed based on one objective: efficiency. Using AI to help you write is not only a time-saver but also improves your productivity. However, this doesn't mean you can leave everything to AI to do your job. We always recommend using AI as a supporting tool, not to replace your work.
What Can You Create With InstaCopy?
There is a saying that sometimes less is more. Even though we nominated Copy AI as the most versatile AI copywriting tool, we didn't use all the 90+ tools inside it. Sometimes, you don't even need 10+ tools. Currently, InstaCopy only has 22 tools to use, as you can see in the screenshot below.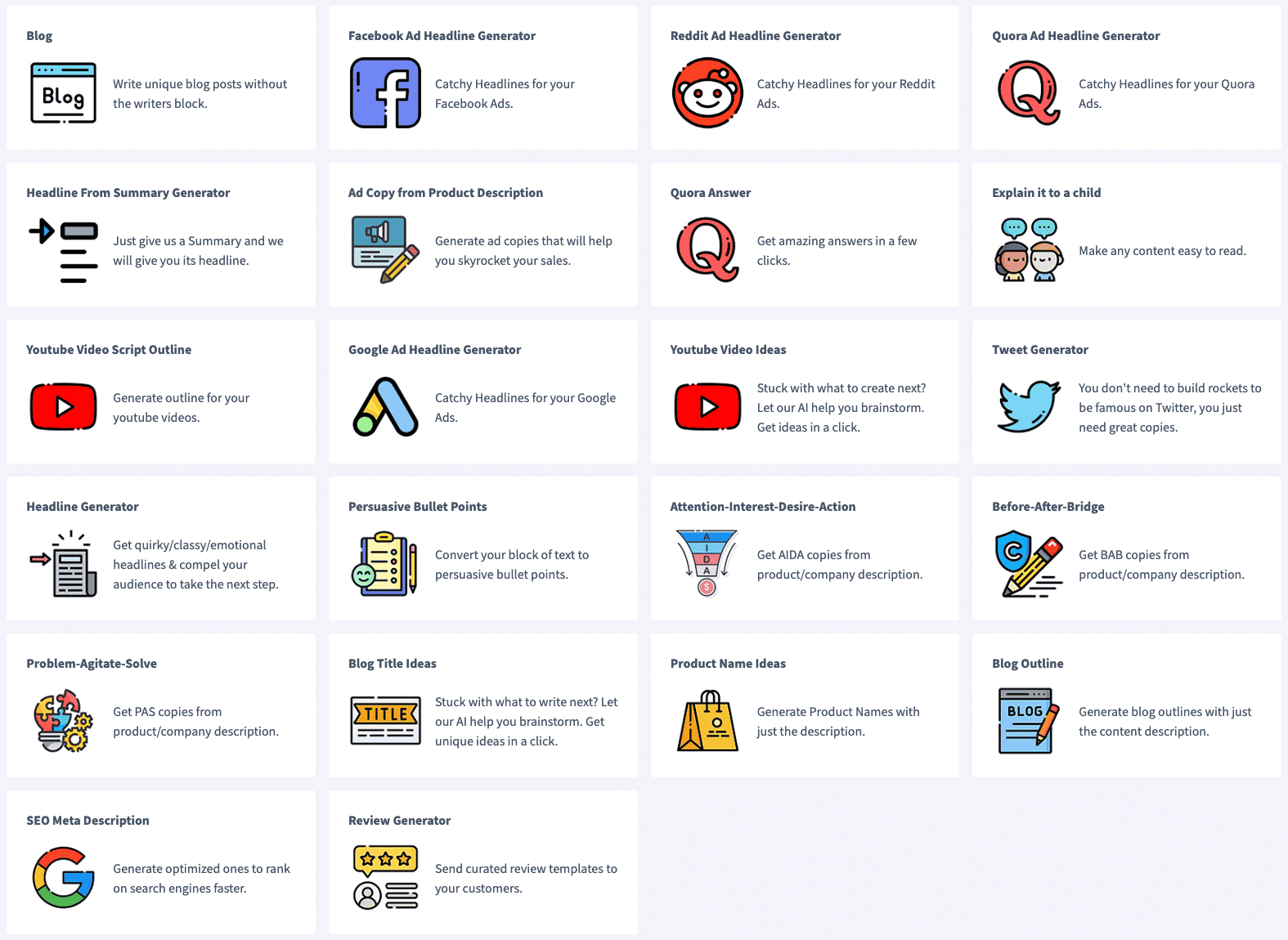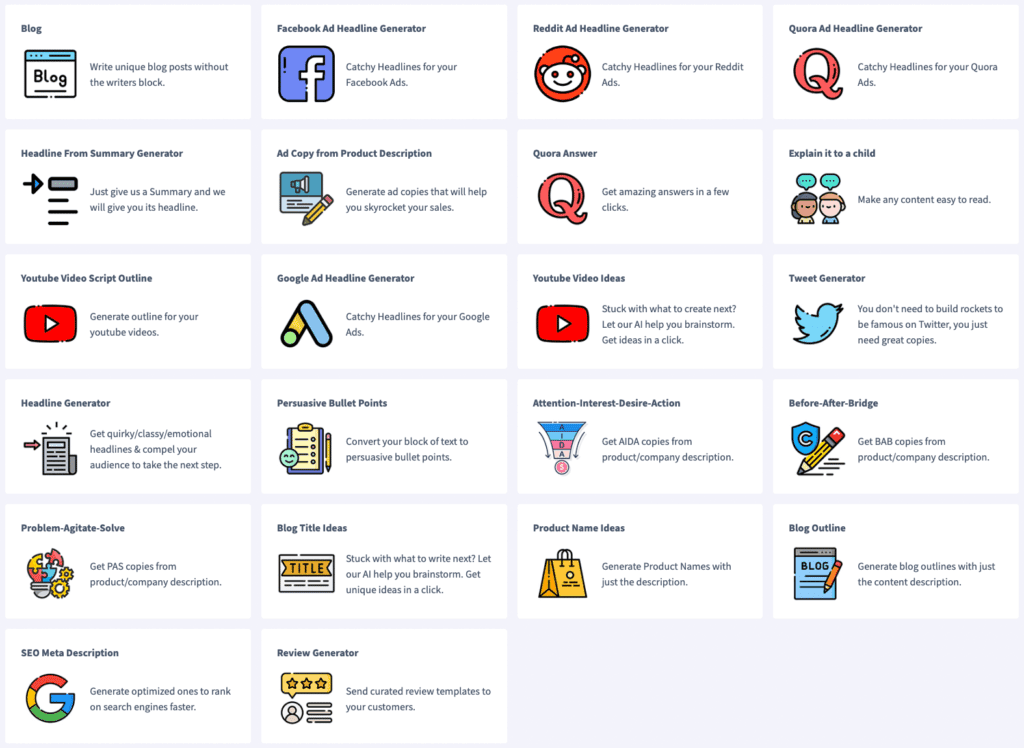 Although it is pretty straightforward, we think it would be better to see all the features arranged based on categories to improve the overall user experience. To help you understand what you can create with InstaCopy, look at this screenshot below.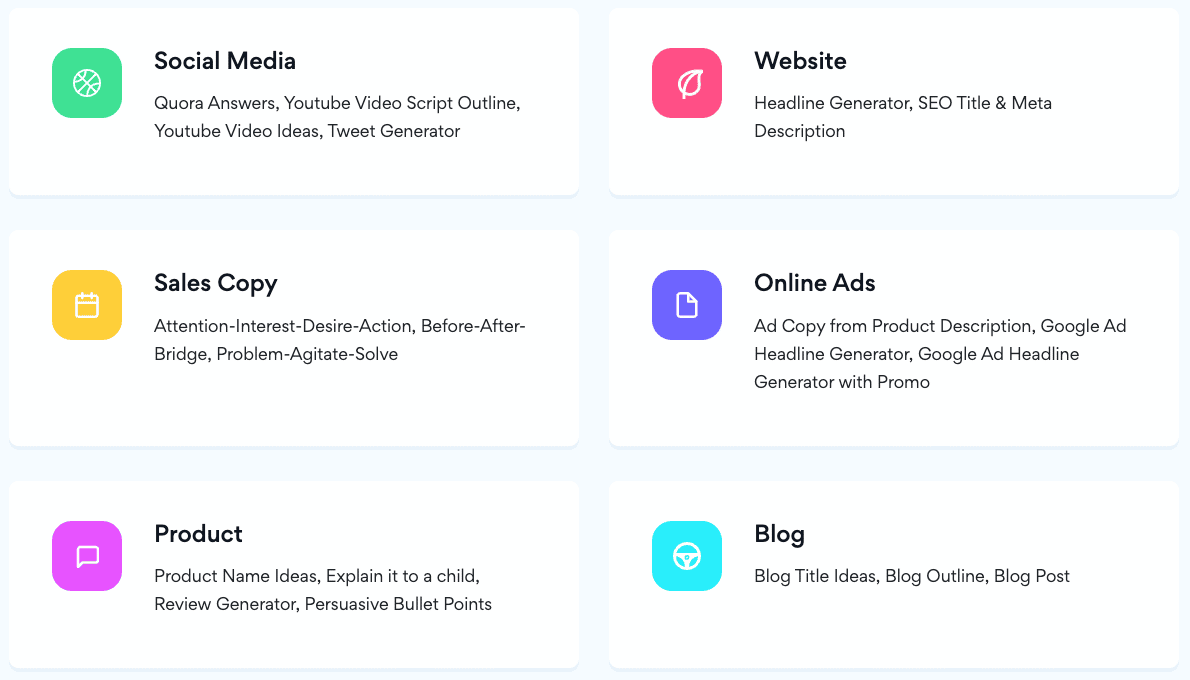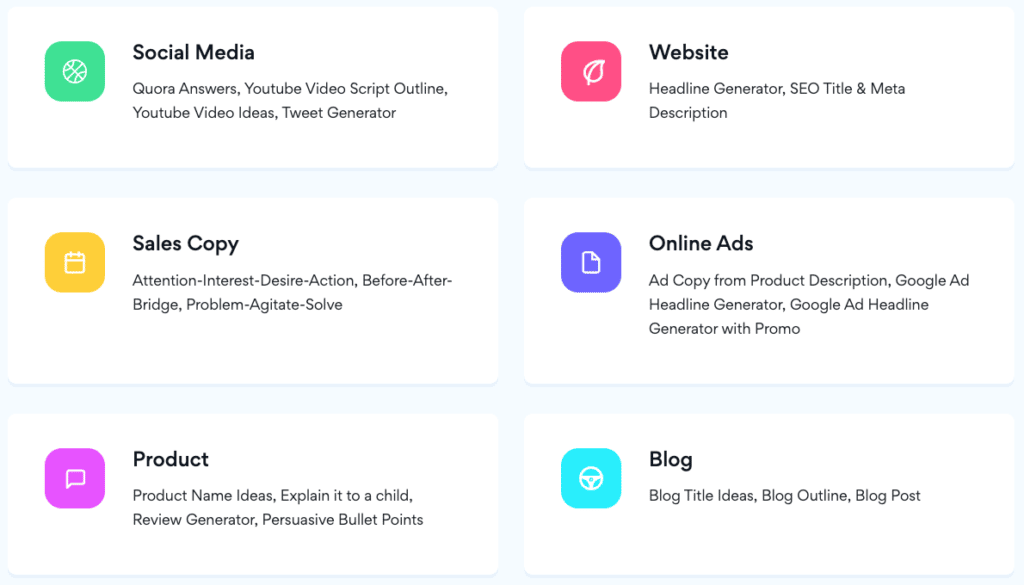 InstaCopy Review: Insider Experience
Now, let's talk about our experience testing and exploring InstaCopy features. Since we try this tool for free, we can't test it to create a blog post. So, we'd like to show you a few use cases to see the generated AI copy.
Long-Form Content
You can write a blog post using the Blog feature. This feature allows you to generate AI copy based on the blog title and keywords. If you're feeling stuck, you can use the Blog Title Ideas feature to create several blog post ideas for your next blog post. After that, you can create an outline using the Blog Outline feature.
However, this might be the only long-form content you can write with InstaCopy. Currently, this feature is only available if you pay for a subscription. We'll cover more about this in the pricing section.
Short-Form Content
If you'd like to use InstaCopy for free, you use it for any short-form content purposes. One of our favorite features is the Explain it to a child. This feature might be the best way to simplify any long and complex information for free. For example, take a look at this screenshot below.


As you can see, you only need to insert a complicated paragraph and hit the Generate button to let InstaCopy simplify it for you. We use our content from the honest reviewer online course.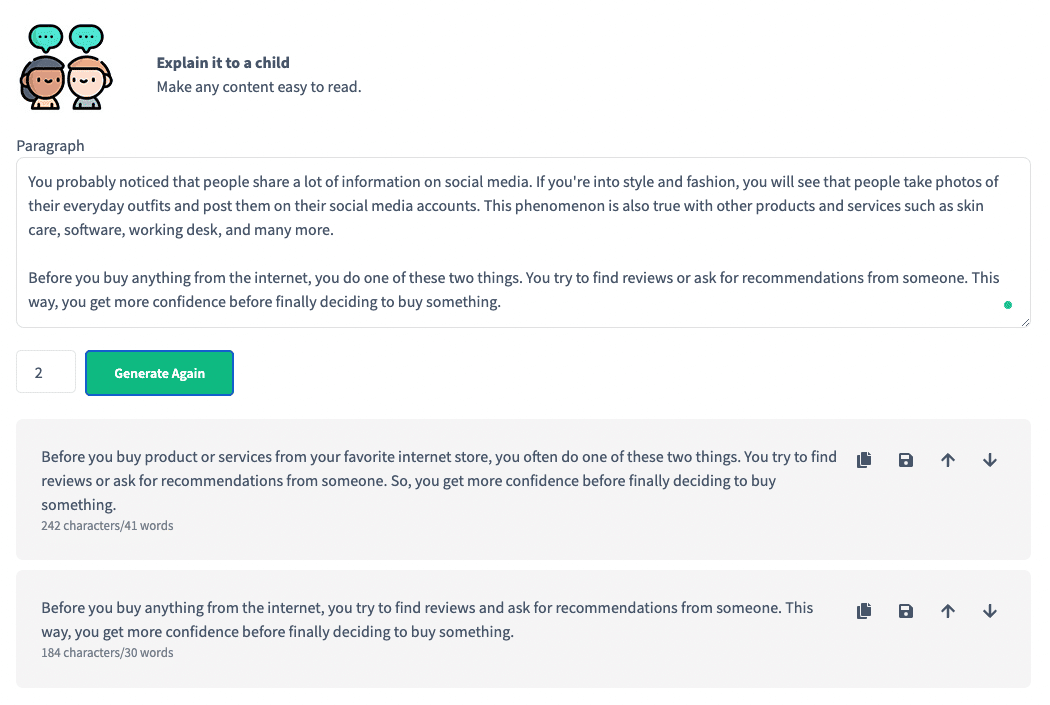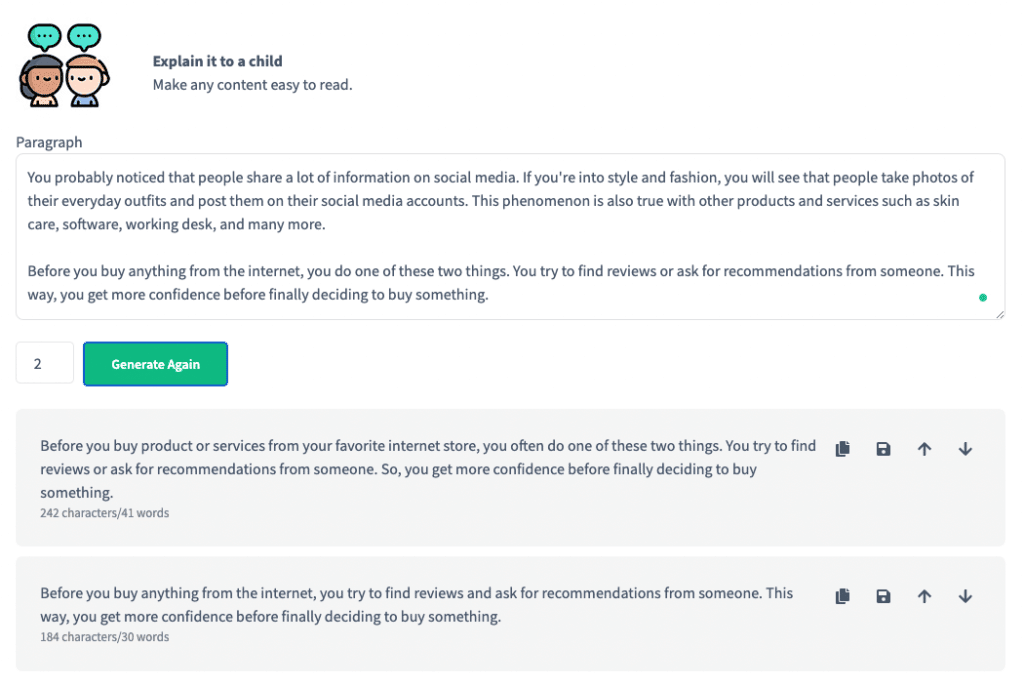 The result is not what we expected from an AI writer. It is simplified, but it's not that good. The result is more like an attempt to paraphrase our paragraphs. We thought there was a problem, so we would like to rerun it. Surprisingly, the result is way better.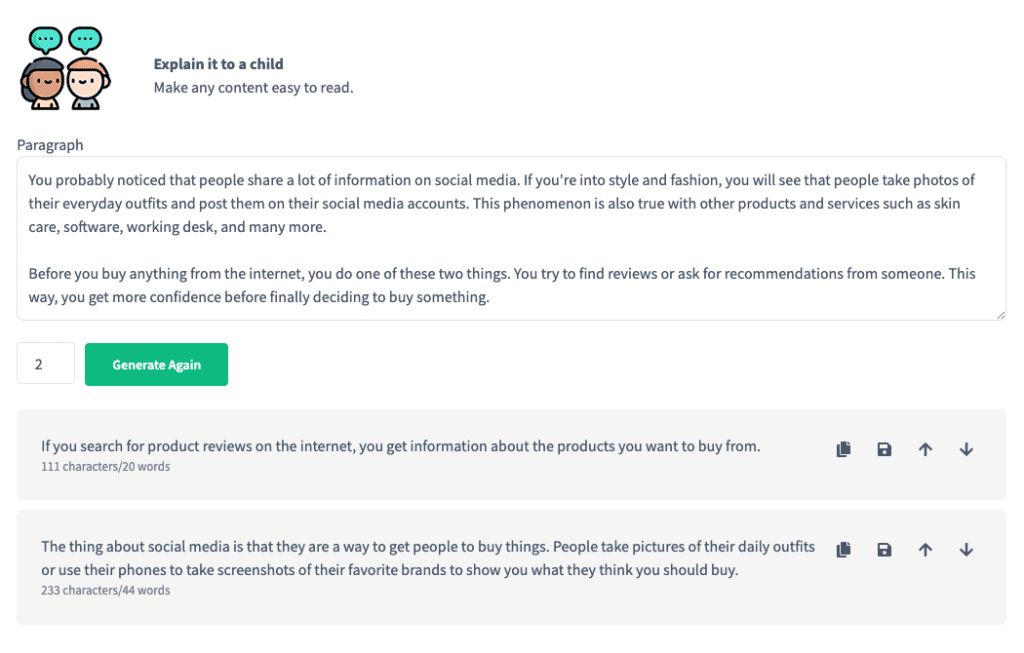 We thought we should try something else, such as writing a sales copy using the PAS framework. This time, we would like to convert our online course description. Here's the result.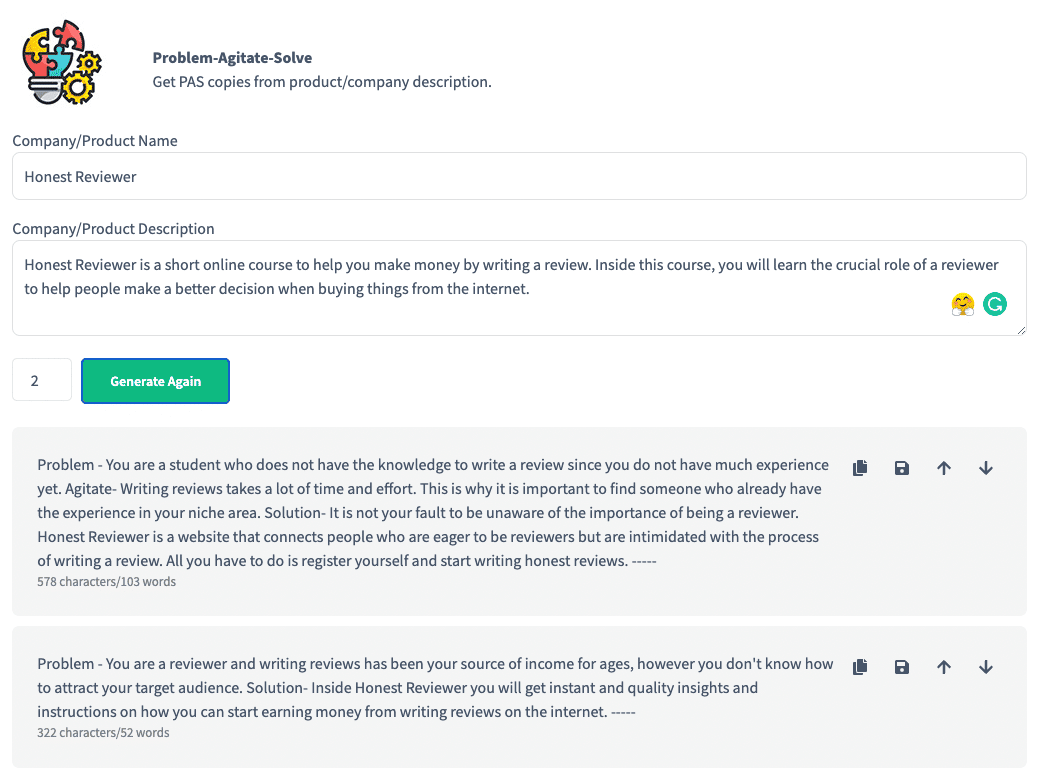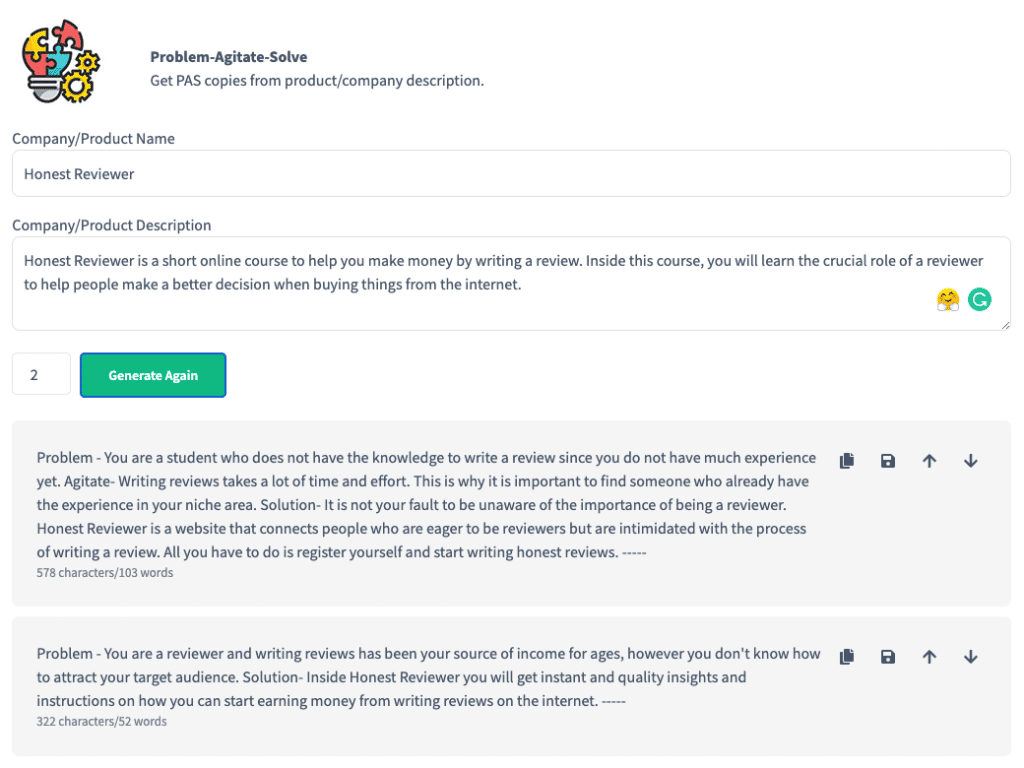 Honestly, the result is quite average. But, in the second result, InstaCopy doesn't show the Agitate part after Problem. We didn't know if something was not working right, but the result was pretty decent. It's acceptable for us.
Now that we have already run two tests with InstaCopy, we'd like to see another result if we use the AIDA framework. Let's see the result.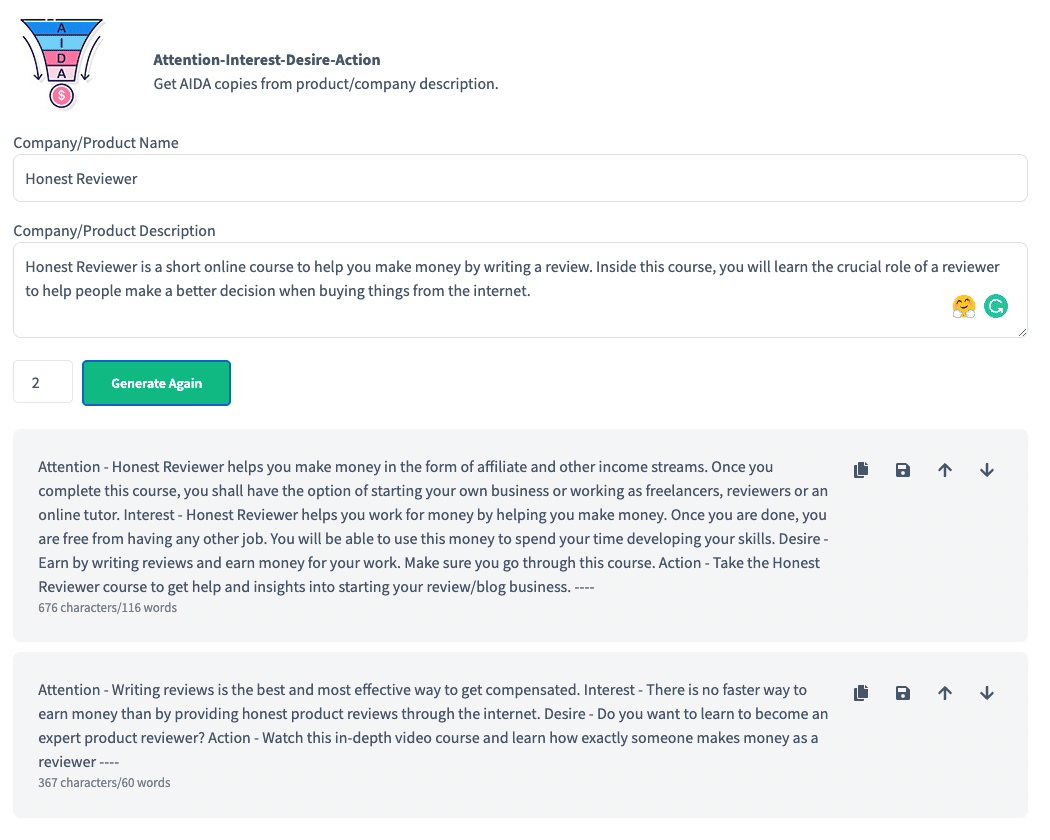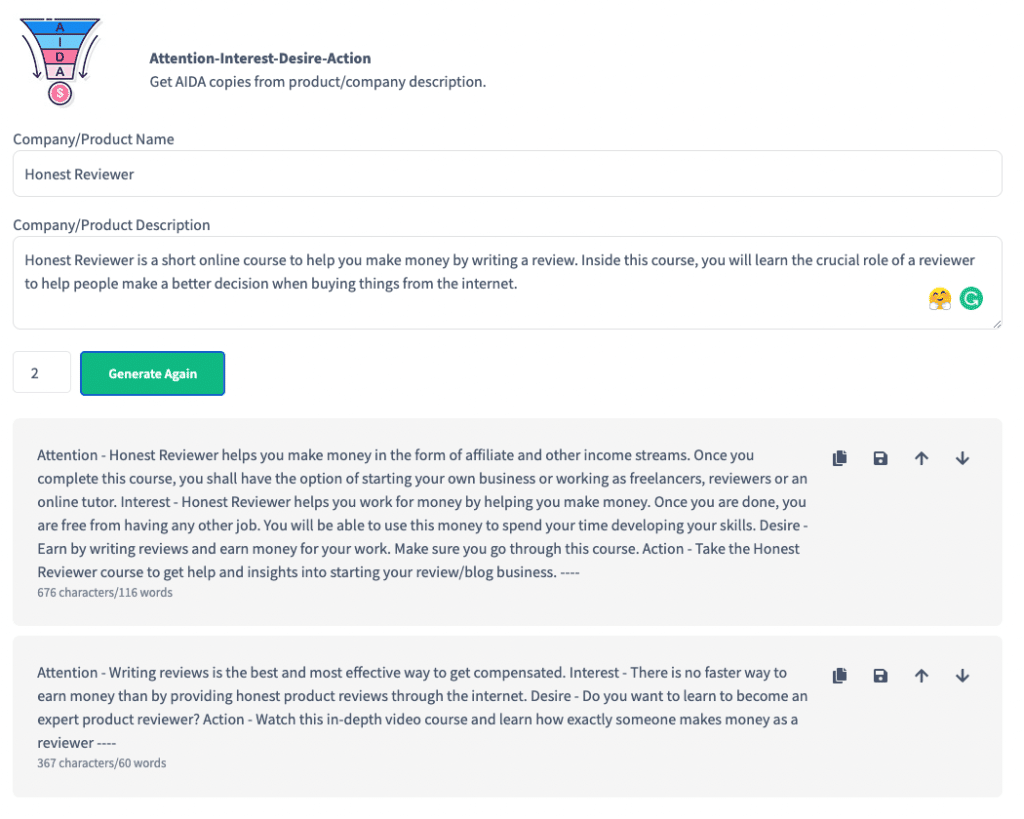 This time the result is much better than our previous test, especially in the first result. It's engaging and good enough to use in our email marketing campaign.
Based on our experience, we think the AI-generated words are not stable. Sometimes, it produces a good result, and sometimes it doesn't. However, we could understand this because it's still new. Hopefully, soon, InstaCopy would improve the AI result.
InstaCopy Review: Pricing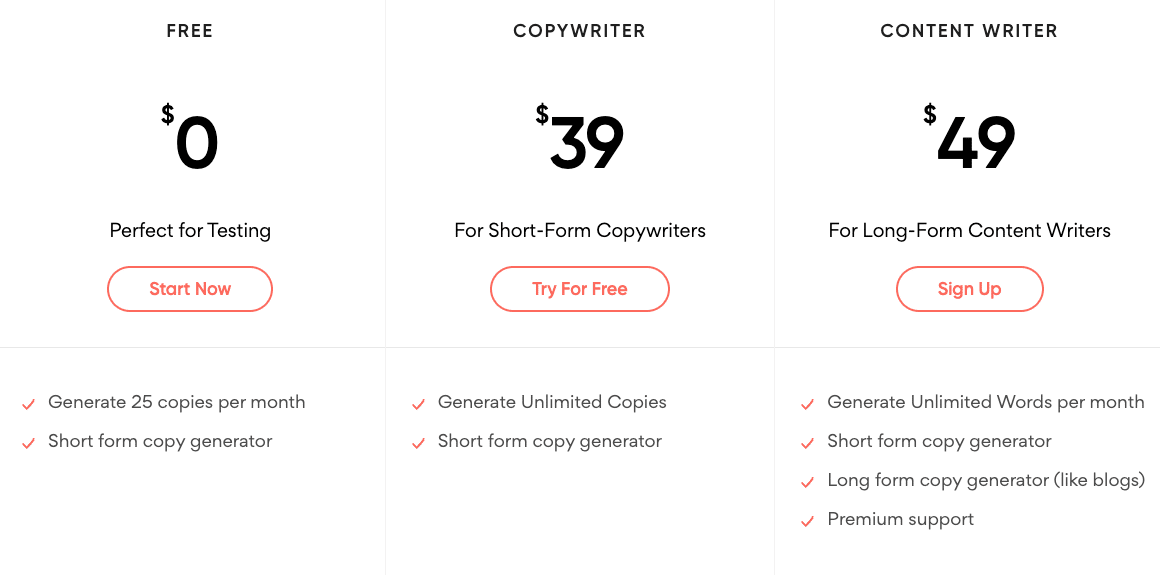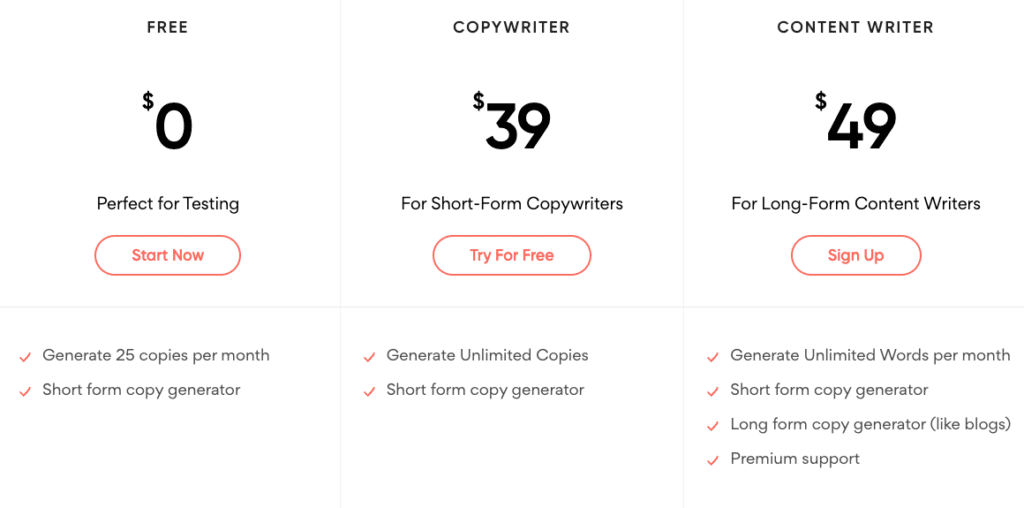 When it comes to pricing, this might be the most straightforward pricing offer you will find. You can generate 25 short-form copies per month using the Free plan. That's pretty good for us.
However, the Copywriter and Content Writer plan is a bit too expensive compared to other AI copywriting tools. Even though you can generate unlimited copies at $39 per month or $399 per year, you don't get access to the long-form copy generator. So, we think it's better to purchase the Content Writer plan at $49 per month or $499 per year.
InstaCopy accepts payment using credit or debit cards such as Visa, American Express, and MasterCard. But, we recommend you try it for free to test and explore everything in the short-form content.
Pro Tip ????
Currently, InstaCopy is running a lifetime deal for only $49! Unlimited AI writing assistant to help you anytime you want!
InstaCopy Pros and Cons
We will outline several pros and cons of using InstaCopy as your AI writing assistant. Here they are:
Pros
InstaCopy has a simple user interface and is user-friendly for beginners.
It gets the job done for short-form content.
The free plan is quite generous to create 25 short-form copies every month.
The AI-generated copy result is acceptable.
You can generate unlimited AI copies with the paid plans.
There is still plenty of room for improvement.
Cons
There is no feature categorization in the features menu.
The paid plan is quite expensive compared to other tools.
You can only write in English. InstaCopy does not support other languages.
Frequently Asked Questions
Can you invite team members with InstaCopy?
Based on our experience, you can invite team members even in the free plan. Go to your Account Settings, and click on Users to add your team members.
Can you use the AI-generated copy from InstaCopy directly?
We never recommend a 100% copy-paste without any editing process when you generate copy with the help of artificial intelligence. So, the answer is no. But, if you'd like to use it as it is for short-form content, you can.
Is there any refund policy if you cancel your subscription?
As far as we know, there is no refund policy in any AI copywriting service. It's just not possible. However, you can cancel your account anytime.
Conclusion
To summarize our InstaCopy review, it's a good AI copywriting tool for writing short-form content. We could consider InstaCopy as an alternative for someone who doesn't want an uncluttered view with too many features in their AI writer.
For us, the simple user interface and less confusing copywriting features are enough reasons to use InstaCopy for free. However, it would be better if InstaCopy allowed access to a limited number of long-form content in the free plan.
We will monitor this tool and update it as soon as we find any improvement in the quality or pricing plan. As for now, you can sign up for free and generate up to 25 short-form copies per month with InstaCopy.
---