This post contains affiliate links. We may receive a commission for purchases made through these links without any extra cost to you. Thank you for your support.
---
In this Copy AI review, let's find out if this is the most versatile AI copywriting tool.
If you're writing to make a living, you know the drill. You need a lot of research to write valuable content. More importantly, you need a lot of time to do that.
So, how to solve this situation? We think it's about time to give AI copywriting tools a chance to help you write.
But, before that, we have a bit of a disclaimer for you. About 45% of this post is generated by Copy AI, and it takes less than 3 minutes to produce 600 words. We did a slight tweak here and there to ensure it is optimized for search engines.
Without further ado, let's read it together, shall we?
What is Copy AI?
Copy AI is a relatively new platform that helps you write better for your website, email, and social media.
It leverages the most advanced language model ever created, GPT-3, to generate more natural and engaging content than what you'd get from a human writer.
Here's a short video to give you an idea about Copy AI.
How to Use Copy AI?
Copy AI is a web-based app you can use on any device, including your laptop or desktop computer. It also works on any operating system.
So, you don't need to worry about having an older version of Windows or macOS—you can use Copy AI on any computer you have.
To use Copy AI, simply sign up for a free account and start testing them to write a copy for you! The interface of Copy AI is simple, intuitive, and very clean. The user experience is excellent because it's easy to use. You can read our practical guide if you'd like to use Copy AI for free.
How Does Copy AI work?
Copy AI works by predicting your next word, sentence, and paragraph while you write. It uses machine learning technology to predict the words that are coming next.
Copy AI works on all websites, apps, and devices. You can use it on mobile phones, desktop computers, and tablets.
What's even better is that you can write in 25 different languages. So, no matter where you are in the world, you can create engaging copywriting with Copy AI.
Who Uses Copy AI?
As we mentioned earlier—if you're writing to make a living, you will find this tool a valuable asset. But, if we think deeply about it, anyone could benefit from using Copy AI. If your job is related to one of the lists below, we recommend you sign up and try it for free.
Digital Content Creators
Web Designers
Agencies
SEO Professionals
Online Advertisers
Social Media Managers
Digital Marketers
Side Hustlers
In short, you can use Copy AI for any work, as long as it needs writing. Here's a good testimonial from one of its users.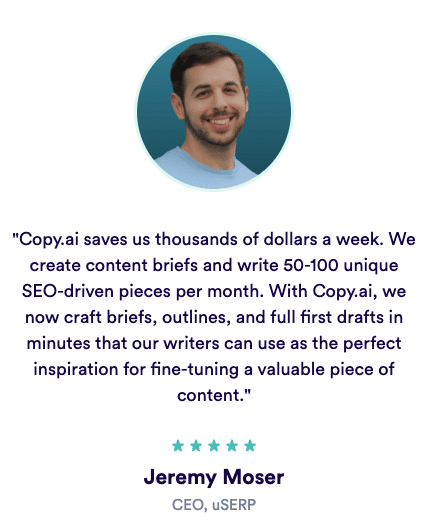 Pro Tip 💡
Signing up is free. No credit card is required. You get 30 free credits when you sign up.
Copy AI Features
Now, let's talk about its key features.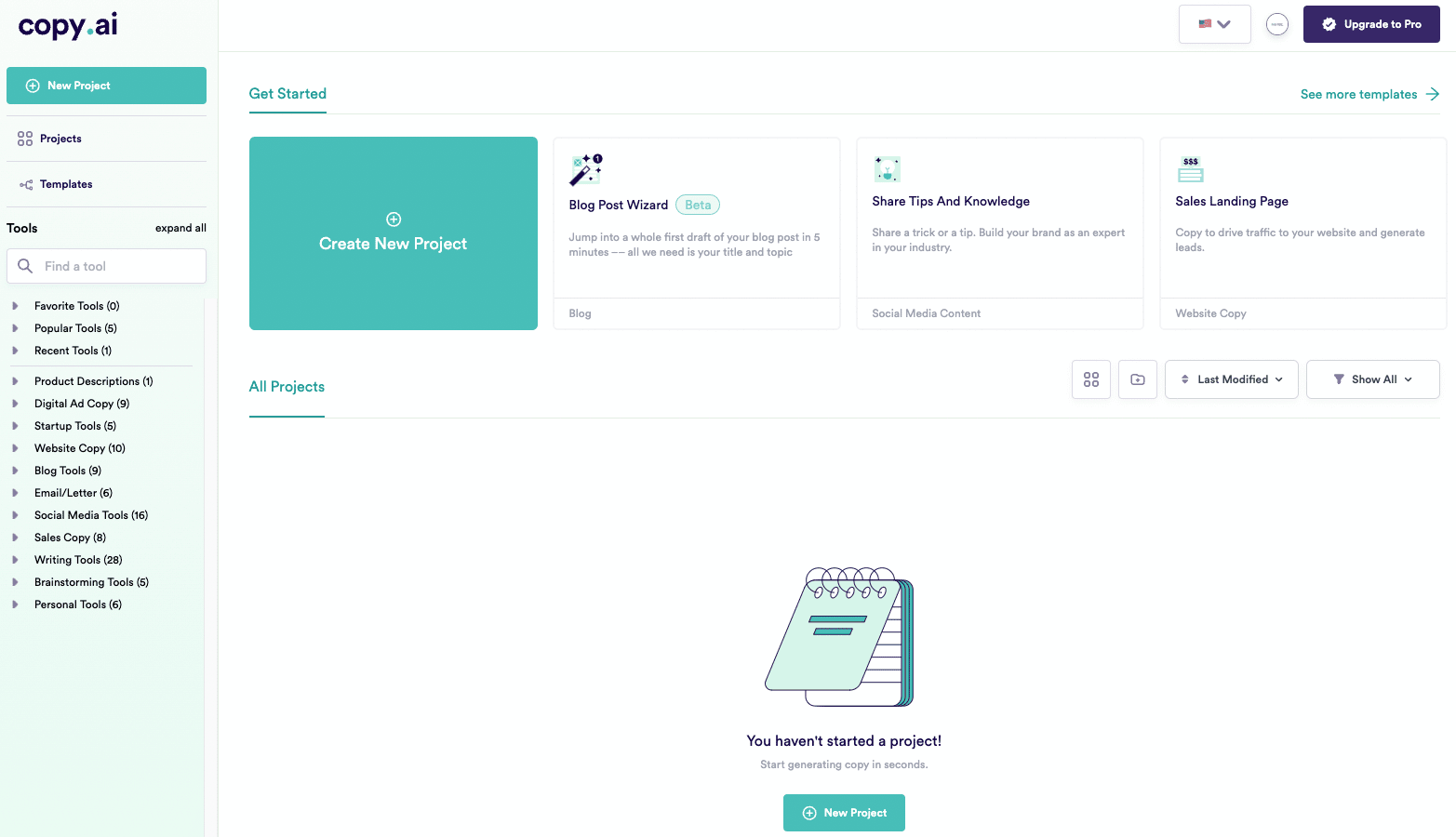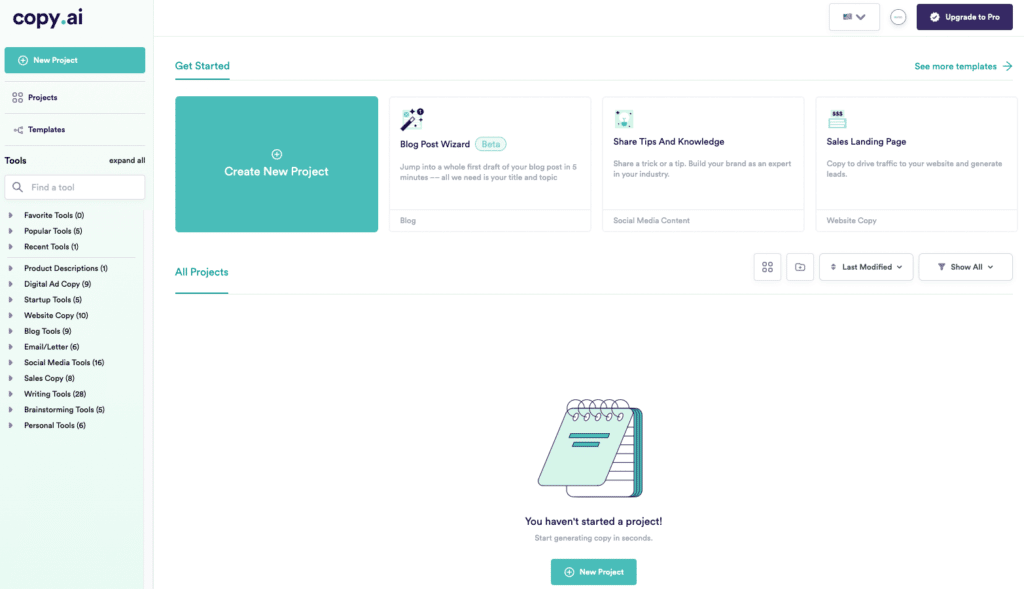 As you can see in the dashboard, it looks like an online word processing tool. On the left side of the screen, you'll see a lot of ready-made tools to use.
Here are the complete lists:
Product Descriptions
You can write detailed product descriptions using this tool.

Digital Ad Copy
From Ad Copy Variants, Facebook Ads, Google Ads, and LinkedIn Ads, you can use Copy AI to generate them for you.

Startup Tools
Everything you need to write a compelling description about your business.

Website Copy
This tool simply helps you to write everything you need for your website. Call to action, landing page, meta description, you name it.

Blog Tools
Writing a blog has never been easier with this tool. Create an entire blog post with the help of Copy AI.

Email/Letter
Do you have any trouble writing emails? Well, not anymore if you're using this tool.

Social Media Tools
You have everything you need to write the best social media post that engages your audience.

Sales Copy
Need help writing using the AIDA, BAB, FTB, FAB, PAS, 4Ps, or QUEST format? It's all ready for you.

Writing Tools
Writing an introduction, outline, effective bullet points, and conclusion has never been this easy.

Brainstorming Tools
Simply brainstorm with Copy AI for any niche, products, and ideas.

Personal Tools
Rewrite your CV, bio, cover letter, and even love letter with Copy AI.
Blog Post Wizard (Our Favorite Tool)
Let us show you how we're using the Blog Post Wizard to write this blog post.
First, click on the Blog Post Wizard button, and you'll see a form like this: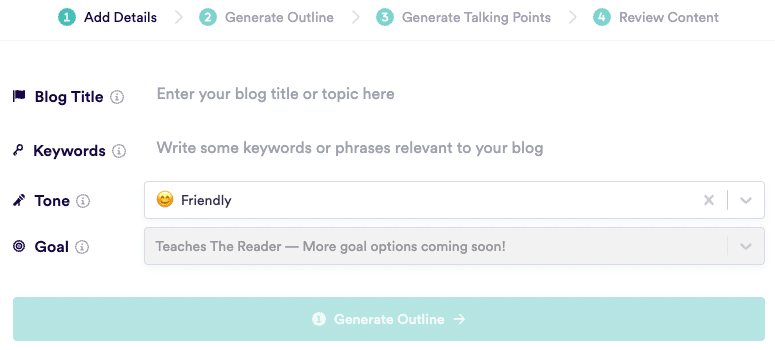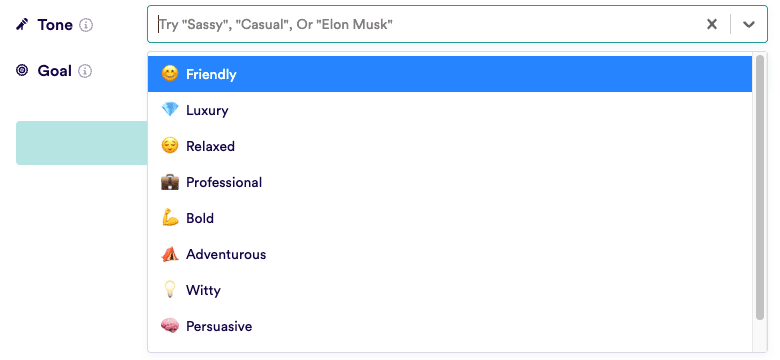 Simply enter your blog title and keywords, and choose your tone.
Hit the 'Generate Outline' button after that.
For our example, we got a suggestion like this: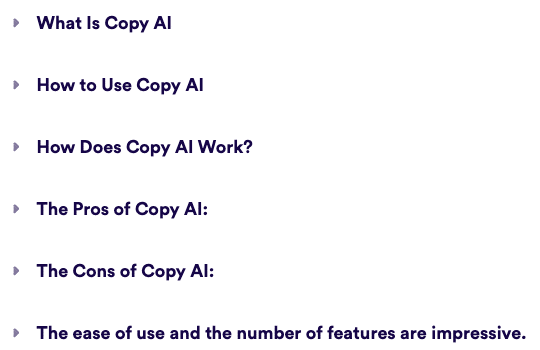 Pro Tip 💡
You can add more outlines for your content. Make sure it is relevant to the one suggested by Copy AI.
If you don't like the result, you can click on the 'Regenerate All' button.
After that, you can hit the 'Generate Talking Points' button.
It will come up with a list like this: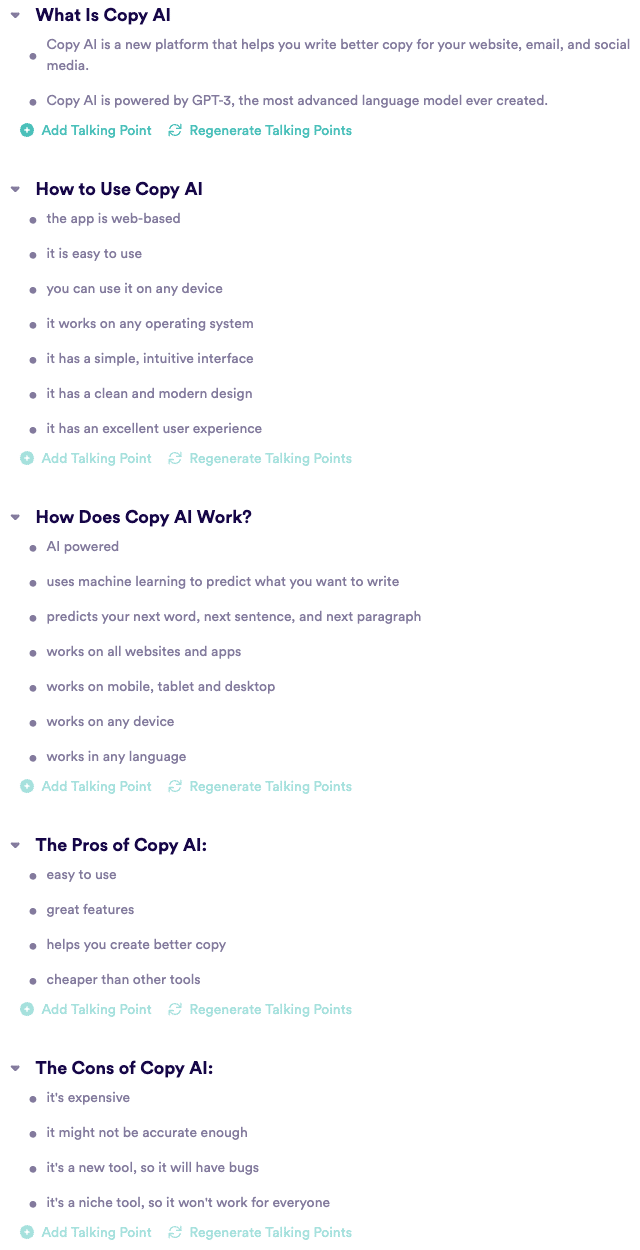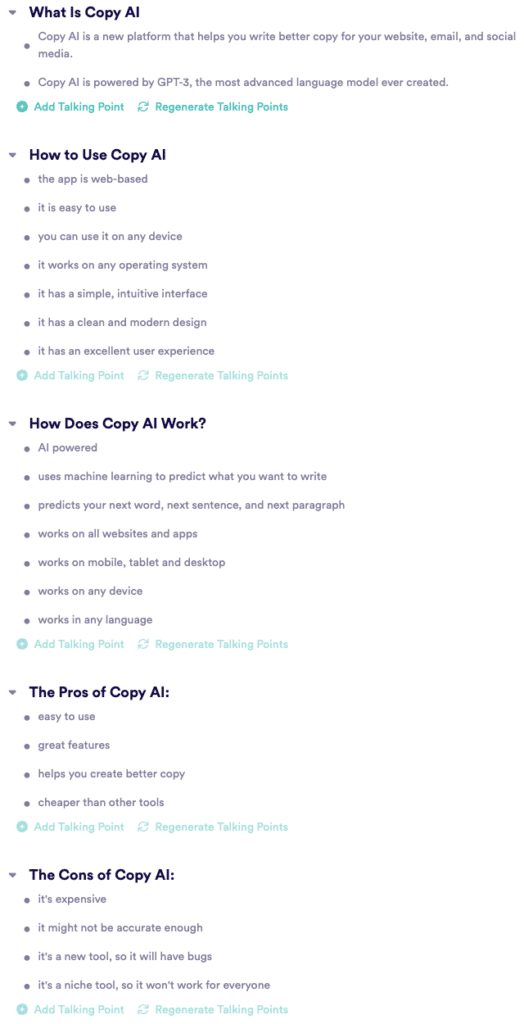 Simply re-check your talking points and add more to your taste. Or, simply hit the 'Regenerate Talking Points' button if you don't like the result.
As for the next step, click on the 'Generate Content' button.
Boom, your blog post is done.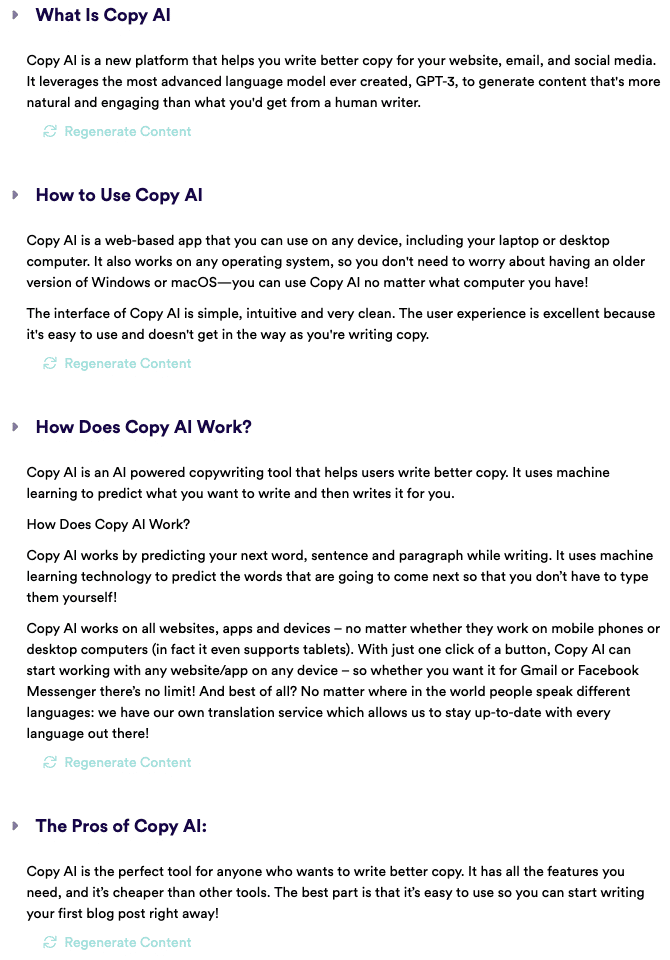 Isn't it amazing?
Blog Tools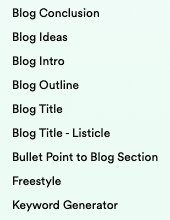 You can also write a blog post using Blog Tools. You can start with creating your Blog Title to Blog Conclusion. You can even ask Copy AI to give you Blog Ideas.
We will highlight two of our favorite tools inside the Blog Tools: Keyword Generator and Freestyle.
Keyword Generator
If you're familiar with keyword research, you know it is used to help your content rank on Google. The objective of keyword research is to get a list of potential keywords, so you can sprinkle them in your post.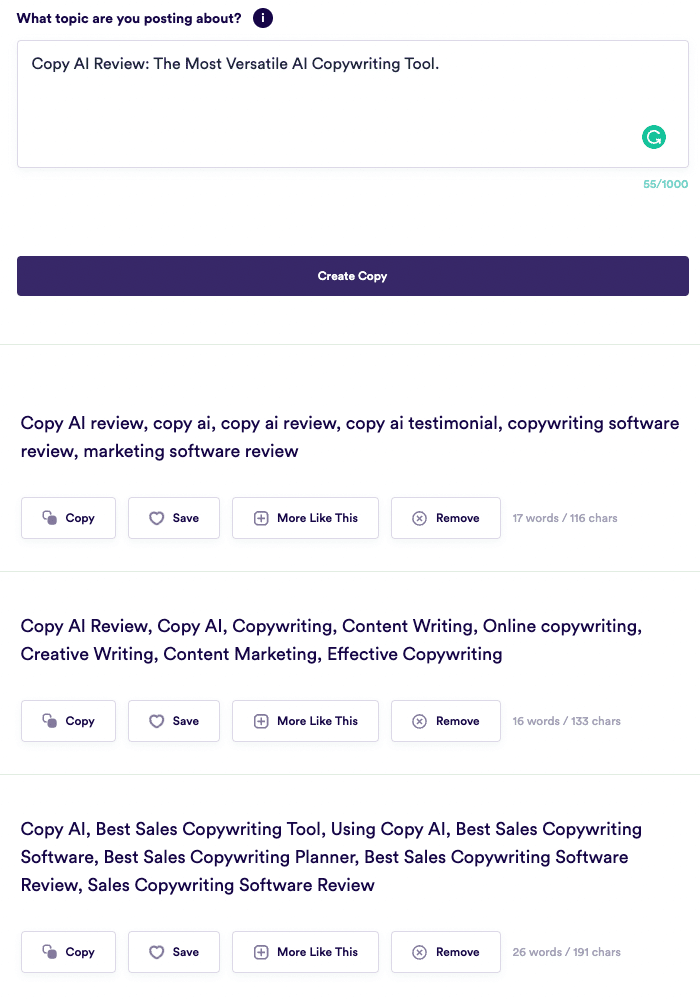 With Keyword Generator, you can simply write a sentence or two (in our case, we use this blog post title). Copy AI will automatically create a set of keywords for you. You can explore more related keywords by hitting the 'More Like This' button.
Freestyle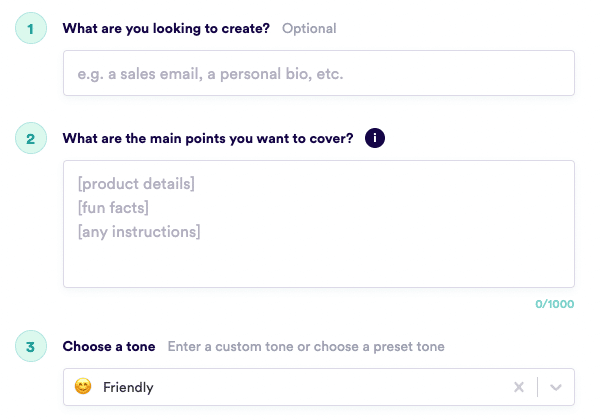 Another great tool to explore is using the Freestyle tool. Simply fill out all the blank sections, and Copy AI will create it for you based on the tone you want. You can even change to tone into a customized version, such as Elon Musk. In addition, to ensure the best result, Copy AI also provides you with tips.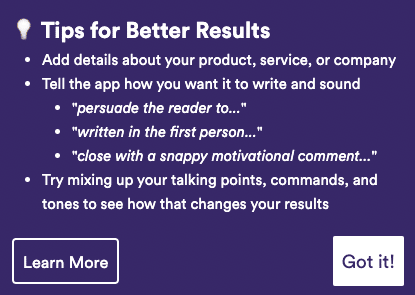 Email/Letter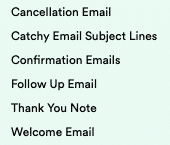 If you're doing email marketing daily, you must try this tool. We use this tool to create some of our emails for our subscribers. You can create a Catchy Subject Line, Welcome Email, and Follow Up Email in minutes. This works great if you're writing an Autoresponder to promote an affiliate program.
Sales Copy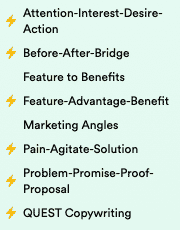 Now, this tool is a bit different. You can notice a yellow thunder mark before each option, right? Let us explain it to you.
When you want to write a Sales Copy, you can activate the Supercharge button. It allows Copy AI to take information from a website and turn it into a powerful copy.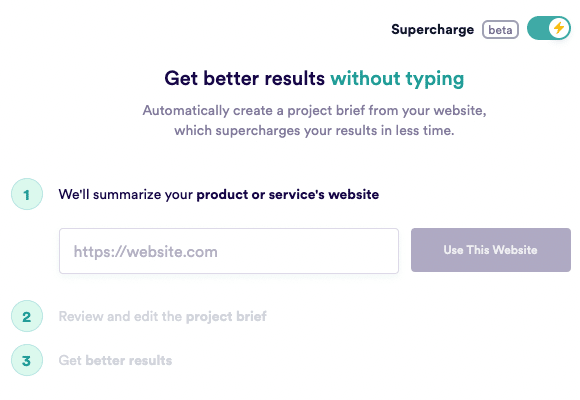 In this example, we will use our website to show you how it works. First, hit the Supercharge button and enter your website URL address.
Copy AI will retrieve every information available from your website and generate a filled form like this.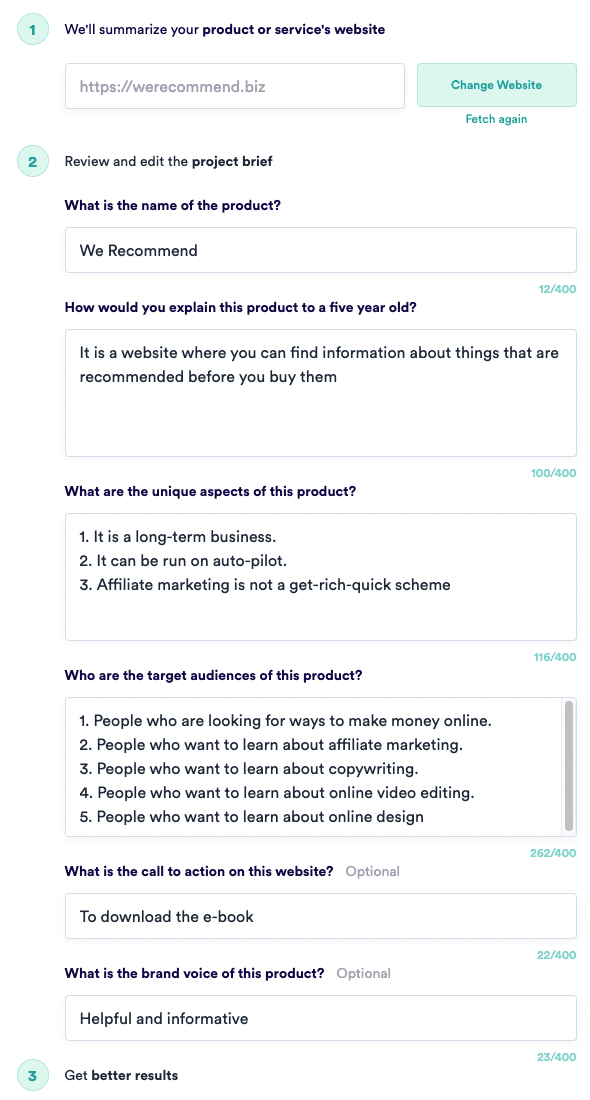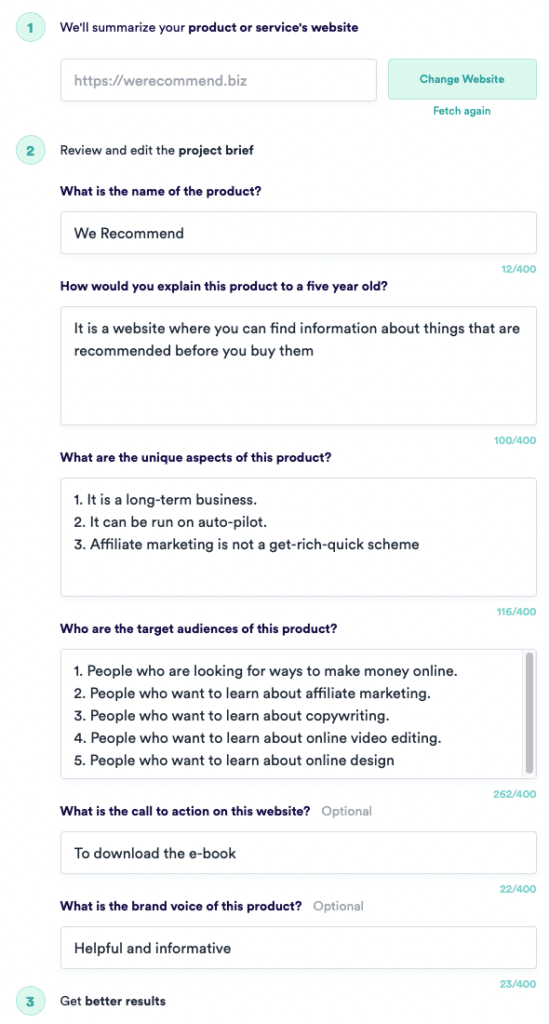 You can customize all of the information to match your requirement. After that, hit Create Copy button, and you can see the result. Each method will provide different sets of sentences. In this example, we are using the PAS method.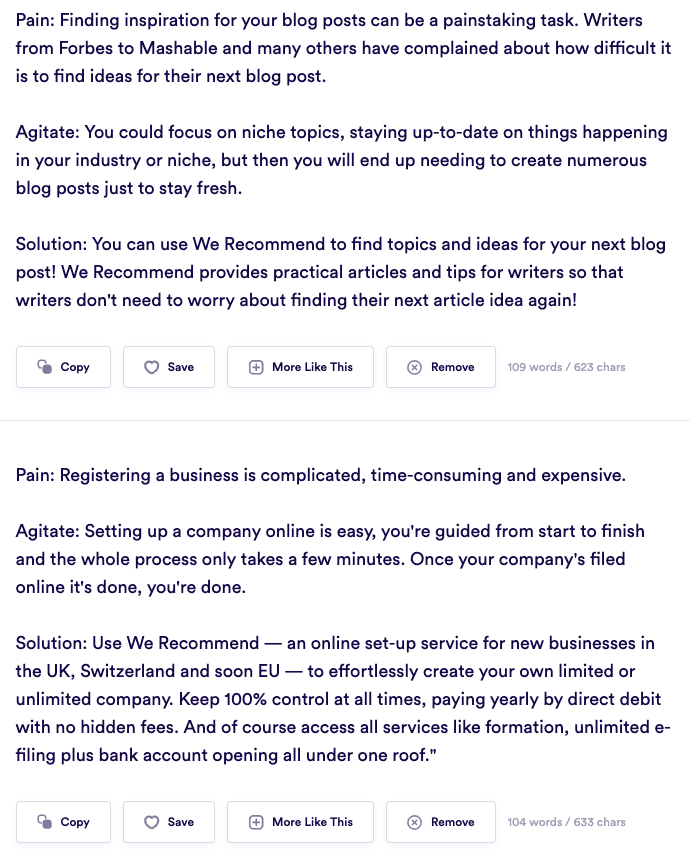 After that, simply
The Pros of Copy AI
When it comes to Copy AI, experiencing is believing. Here are our thoughts.
It's an ideal tool for anyone who wants to write a better copy.
It has all the features you need and is cheaper than other tools.
It's easy to use, and you can start writing your first blog post in minutes.
The Cons of Copy AI
While Copy AI is a fantastic tool, there are some downsides.
It costs $5 a month to use Copy AI, which isn't much money in the grand scheme of things but can add up if you're using it on multiple projects.
It has been proven to be accurate over 97% of the time. But, still, it isn't perfect.
Copy AI Pricing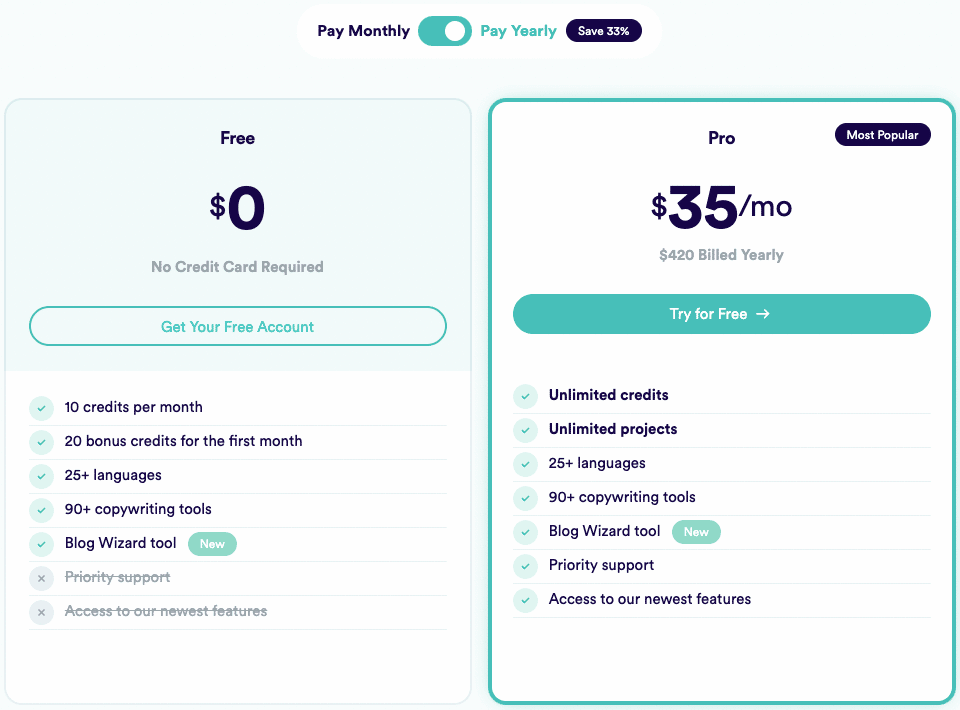 If you find Copy AI valuable to your business or work, you might go for an upgrade to the Pro version. It will cost you $49 per month or $420 on an annual payment. You will get unlimited credits and projects. It's a great deal.
However, if you want a customized plan for your business, you can book a demo with the Copy AI team.
You can also use Copy AI for free with limited monthly credits. It's enough to create 1 high-quality post every month.
Pro Tip 💡
If you upgrade within 4 days after creating your free account, you are eligible for a one-time offer of 40% off for the first year. This offer is only available through our affiliate link.
Frequently Asked Questions
What languages does Copy AI support?
Currently, you can write in 25 languages:
English, German, Polish, Bulgarian, Finnish, Latvian, Swedish, French, Italian, Danish, Czech, Hungarian, Romanian, Spanish, Dutch, Chinese, Greek, Japanese, Slovak, Portuguese, Russian, Estonian, Lithuanian, Slovenian
Is it worth it to upgrade to the Pro plan?
It depends on your needs. If you're writing daily, it's a good idea to upgrade. You can get a one-time offer of 40% off if you upgrade within 4 days. It will cost you $252 or just $21 per month.
Should you publish your content as it is with Copy AI?
No. Since we regularly publish several posts each month, we do not suggest publishing your post as it is. The main reason is that AI-generated content is against Google's Webmaster Guidelines.
How to use AI copywriting tools effectively?
One of the best ways to utilize an AI copywriting tool is to generate your first draft. You will still need to add, polish, and rephrase a lot. But, it surely helps you write faster.
Is there any Copy AI alternative out there?
Yes. There are many copywriting tools such as Anyword, Hypotenuse AI, and others to generate content. However, in terms of versatility, Copy AI is a great option.
Conclusion
To sum up, we recommend Copy AI to everyone who wants to write better. It's the most versatile AI copywriting tool for many tasks.
Imagine if you could write well and quickly, no matter the task. Imagine if you could make any writing more persuasive, engaging, and memorable. Now imagine that it's possible in 2022.
With Copy AI, you can write better in minutes and have it proofread by an actual human—who gives you feedback on improving your message even further.
If you're ready to level up your writing skills and take on the world of marketing and copywriting, this is the tool for you!
---