This post contains affiliate links. We may receive a commission for purchases made through these links without any extra cost to you. Thank you for your support.
---
In this Rytr review, let's find out if this is the most affordable AI copywriting tool you can use for content writing.
We have done several reviews about AI-powered copywriters before. While many offer a free trial or a free plan, their paid plan is pricey compared to Rytr. But, a low price could indicate low quality, isn't it? 
Well, let's find out.
What is Rytr?
Rytr is an AI writing assistant to help you create high-quality content at an affordable price. If you're wondering why you need a copywriting tool, there are two good reasons to use it.
Firstly, it is none other than saving time. Don't get us wrong, even writing an Instagram caption takes time, right? That's why Rytr is considered an option for many copywriters. It's a fact that even copywriters use AI copywriting tools to help them write better content.
Secondly, to save money. According to Indeed, the average salary for a copywriter is $54,861/year. That's more than $4,500 per month. While copywriting needs a skilled and experienced copywriter, AI copywriting tools will create similar results at a fraction of the price.
How good is Rytr?
With a 9,5 satisfaction rating on Trustpilot, G2, and AppSumo, Rytr is one of the most trusted AI copywriting tools for big companies such as Adidas, Dell, Ford, PWC, and even IKEA. So, is it good? Take a look at these testimonials below.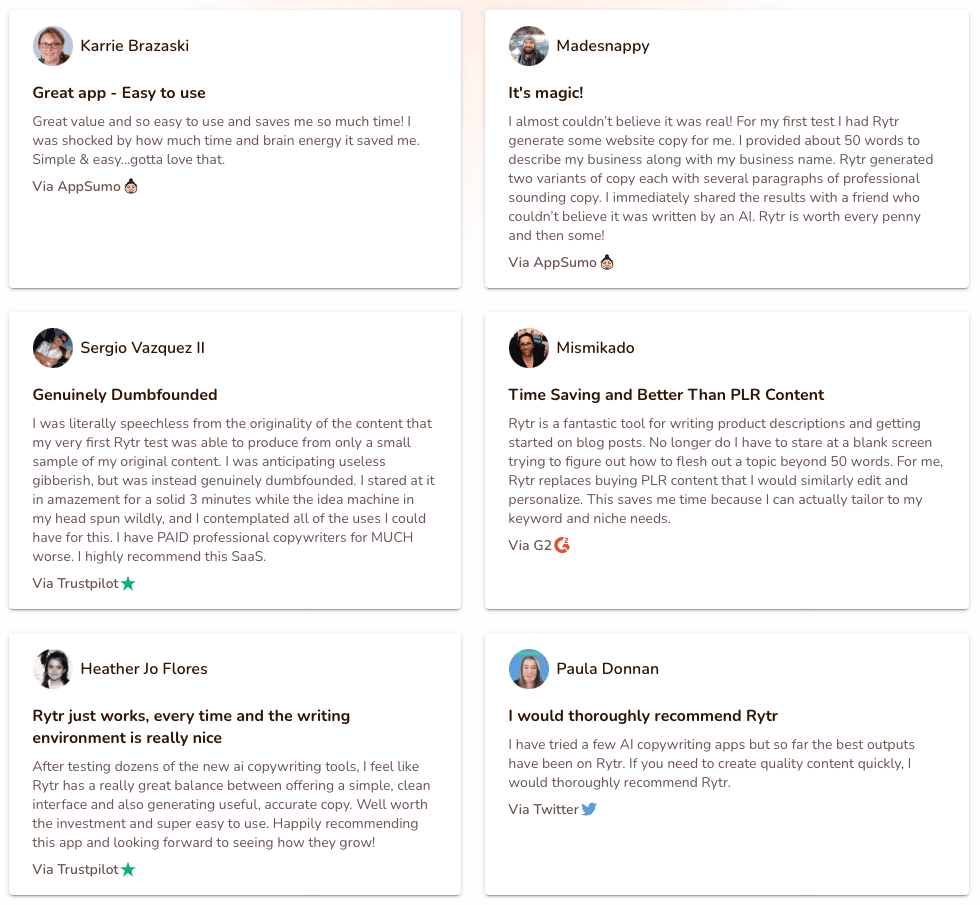 Rytr is easy to use and a time-saver for marketers and professionals. In addition, it has been used by more than 1,500,000 people in the copywriting industry. If you're writing to make a living, you can rely on Rytr.
Watch this video to learn more about Rytr.
Rytr Review: Key Features
As an affordable AI copywriter, you might be curious about Rytr's features, right? Is it any good? Can it compete with other copywriting tools? We will outline all the best Rytr features for you.
30+ Use Cases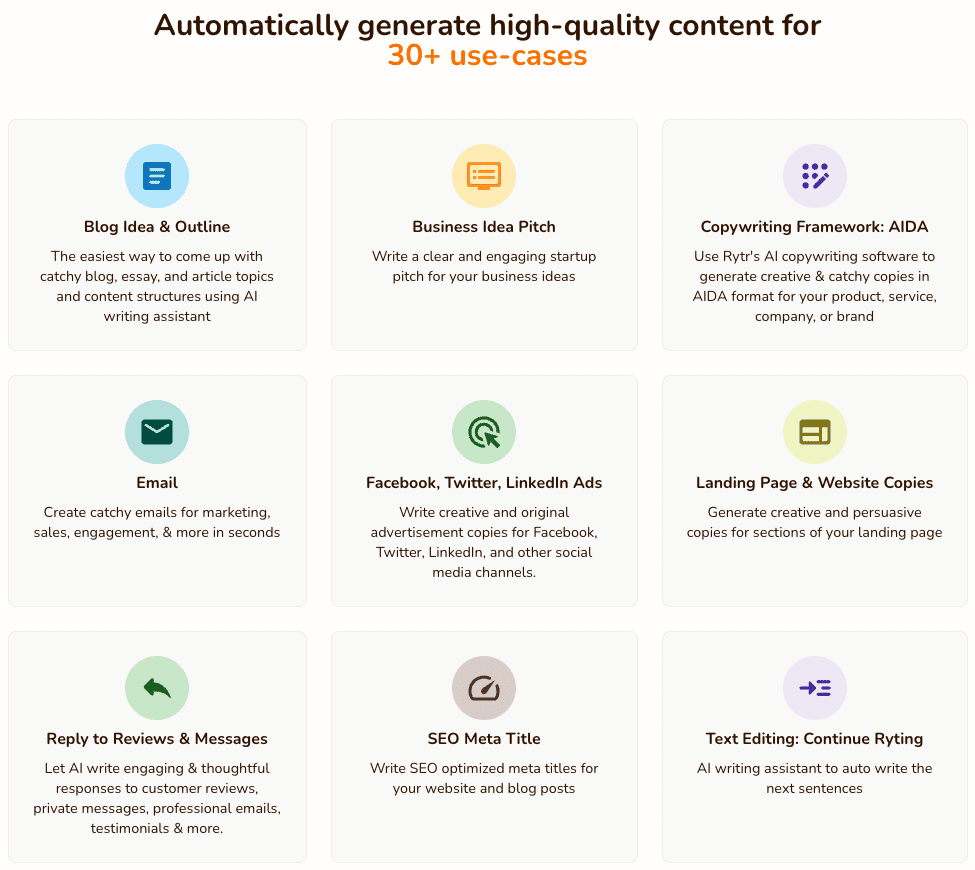 Use-cases are the context of your writing. Different use-cases will generate contextual AI-generated copies, and Rytr has more than 30 use-cases for you.
Here is the complete list of Rytr's use-cases:
Blog Idea & Outline
Blog Section Writing
Brand Name
Business Idea Pitch
Business Idea
Call to Action
Copywriting Framework: AIDA
Copywriting Framework: PAS
Email
Facebook, Twitter, LinkedIn Ads
Google Search Ads
Interview Questions
Job Description
Landing Page & Website Copies
Magic Command
Post & Caption Ideas
Product Description
Product Description (Bullet Points)
Profile Bio
Question & Answer
Reply to Reviews & Messages
SEO Meta Description
SEO Meta Title
SMS & Notifications
Song Lyrics
Story Plot
Tagline & Headline
Testimonial & Review
Text Editing: Append Content
Text Editing: Continue Ryting
Text Editing: Expand Content
Text Editing: Improve Content
Text Editing: Paragraph Content
Text Editing: Reword Content
Text Editing: Shorten Content
Video Channel Description
Video Description
Video Idea
That's a long list of use-cases, isn't it?
Here, we'll show you one of the most simple use-cases for Blog Idea & Outline.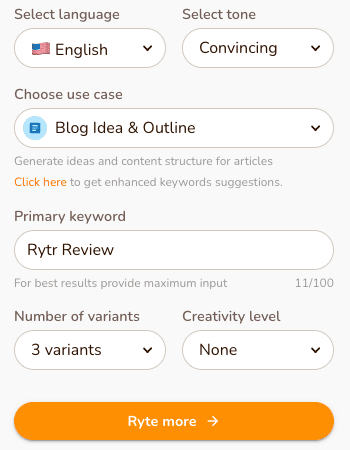 As you can see, Rytr's menu is simple compared to other AI copywriting tools. You can simply choose your use case and set your primary keyword. The more keyword you can give as input, the result will be more comprehensive.
When creating an outline, you can get up to 3 different variants to appear on the result. This allows you to have flexible options to choose from. Another option to set is Creativity Level. You can choose between 6 different options:
Optimal
None (more factual)
Low
Medium
High
Max (less factual)
Pro Tip 💡
If you're writing reviews like us, we recommend setting the option to None to get a more authentic result.
In this example, we're using Rytr review as our primary keyword. Just take a look at this result.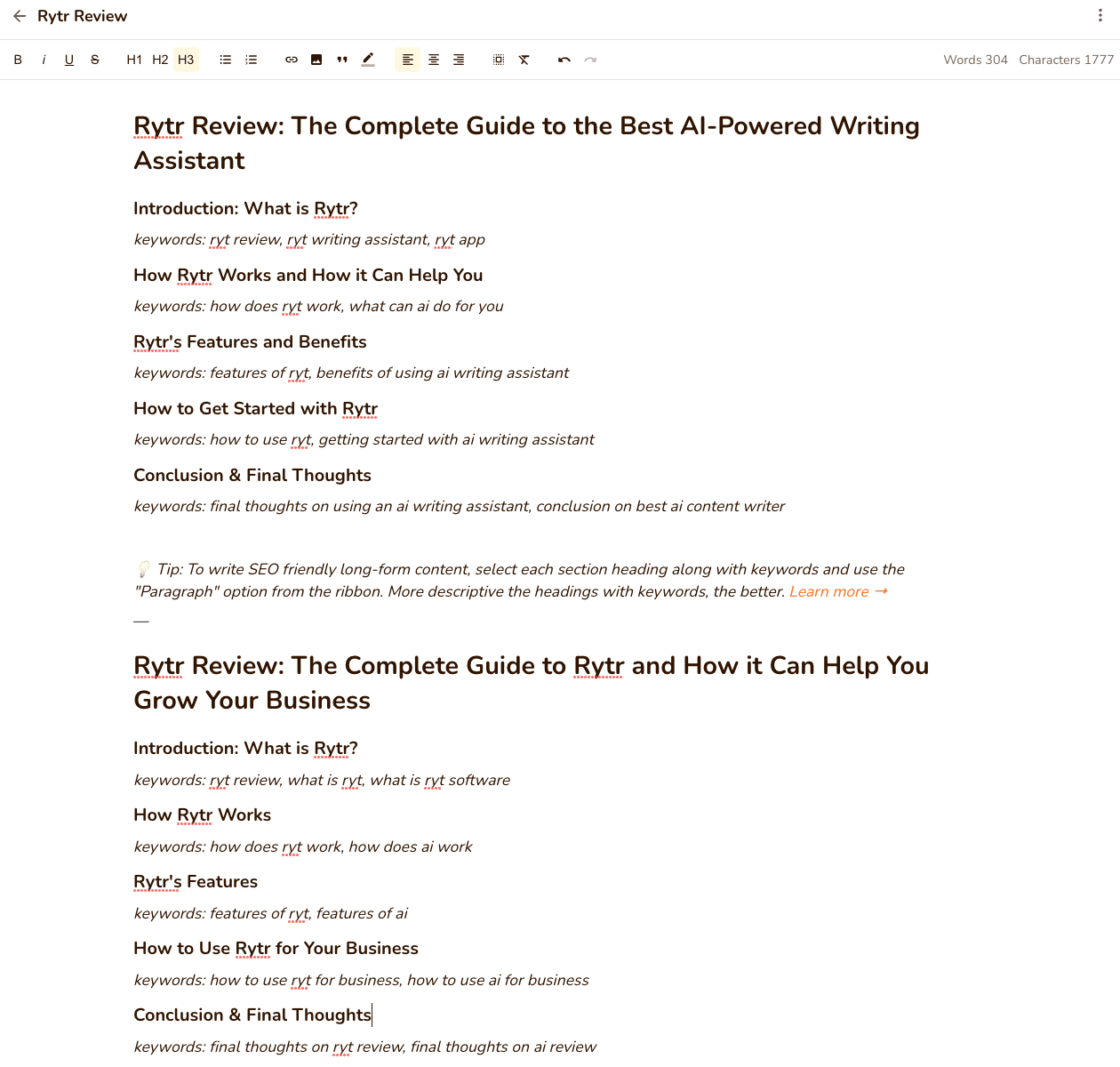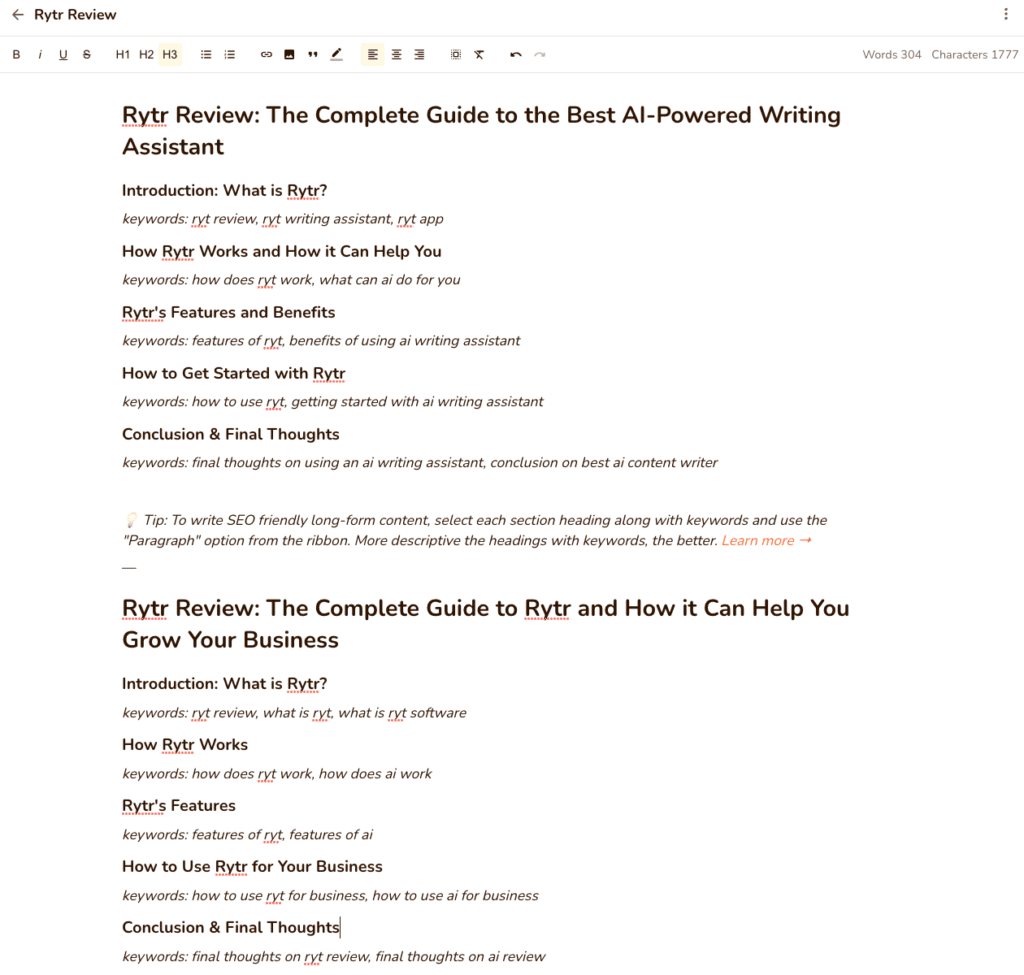 Within seconds, Rytr generates an outline for an entire blog post, including the related keywords to sprinkle in your content. Isn't it amazing?
30+ Languages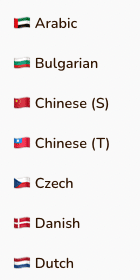 As you can see in the previous menu, there is a drop-down menu for choosing the language you want to write. Here is the complete list of languages that Rytr can write on.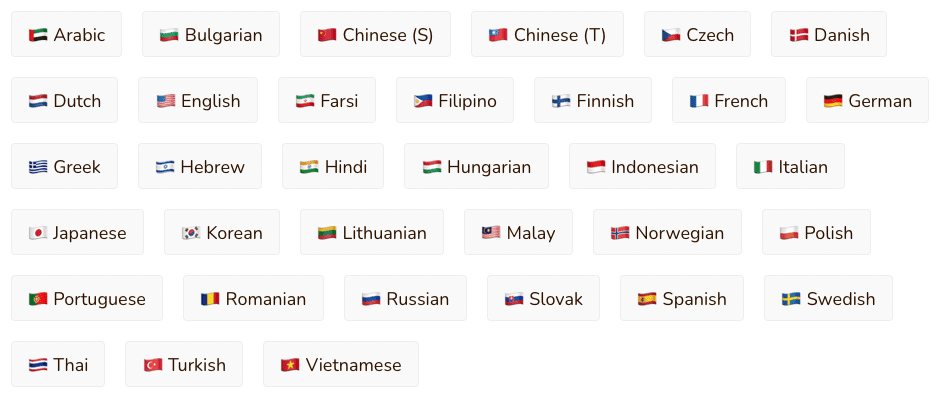 We can't test the accuracy of other languages since we only speak English and Indonesian. However, based on our experimentation using the Indonesian language setting, the result is not what we expected.
20+ Tones of Voice
This is one of the most valuable features inside Rytr, and that is changing your writing tones. Sometimes, you can be monotonous if you're writing every day. Well, Rytr got you covered with more than 20 tones to choose from. Check out the complete list below.

You can generate different tones for one topic with just a click. This is particularly great for writing email marketing, social media captions, and blog post.
Browser Extension
If you're familiar with Grammarly, you know there is a Google Chrome extension to help you write anywhere. Well, Rytr also has one. You can use Rytr while writing your email on Gmail or Outlook—and even on social media like Twitter, Facebook, Instagram, and LinkedIn.
Plagiarism Checker


Whenever you write with Rytr, you can ensure your content originality with a built-in plagiarism checker. Simply block all of your writing, click on the More button, and click that Plagiarism button. Rytr will check it for you.
Rytr Review: Pricing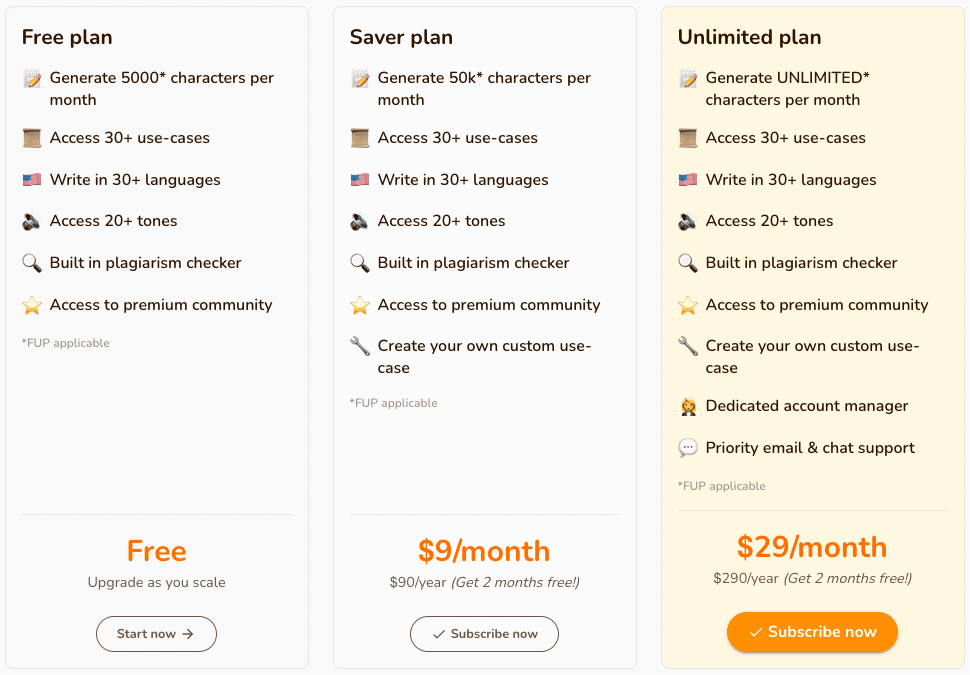 Rytr's Saver Plan, priced at $90 per year, is affordable compared to other tools. Even if you pay monthly for $9, it is still lower than other AI copywriting tools' price points.
However, Rytr counts the generated content based on characters, not words. It's up to 50,000 characters per month which could be translated into around 7,142 to 12,500 words. Assuming you're writing a blog post with a minimum of 1,500 words, that's approximately 12 blog posts per month!
Frequently Asked Questions
What AI language models does Rytr use?
Rytr uses the GPT-3 based language models and fine-trained these models for each use case accordingly. 
Can you add team members on Rytr?
Yes. On the paid plan, you can add team members with each team seat costs $19 per month on the Unlimited Plan and $9 per month on the Saver Plan.
Does Rytr accept PayPal?
Currently, Rytr doesn't support PayPal. They are using Stripe for payment processing.
What is Rytr's refund policy?
If you're subscribed to Rytr's paid plan, there is no refund policy.
Conclusion
To summarize our Rytr review, we strongly agree that this is the most affordable AI copywriting tool compared to others. At $9 per month generating 50,000 characters is more than enough for most people.
In terms of quality and versatility, many other tools can beat Rytr, such as Anyword with its Data-Driven AI and Copy AI with more than 90 tools.
If your budget is limited, Rytr is still a good investment. You can access 30+ use-cases and write in 30+ languages. In addition, don't forget that you can write in more than 20+ tones. All for $9 per month or $90 per year.
---