---
In this Copymatic review, let's find out how good this AI writer is at generating content and copy.
Despite many copywriting tools, one of the most searched AI writers nowadays is Copymatic. If you're having a hard time generating content due to writer's block, using AI to help you is worth it because you can create your first draft within minutes.
Generally speaking, many AI writers are similar to one another. However, what makes them different is the quality of the copy they generate and the various tools they have for many use cases. We will highlight Copymatic's copy quality in this article by giving several examples of its use case.
Without further ado, let's dive in!
What is Copymatic?
Copymatic is an AI content generator to help you create a high-quality copy in a short time. It's one of the most generous AI writers you can try for free to generate up to 1,500 words.
To use Copymatic, you can select from more than 70+ tools available and easily create your content with the help of AI. You can create short and long-form content effortlessly, and everything is done within a few clicks. We will cover more about this in the features section.
Like other copywriting tools, Copymatic uses GPT-3 language model to produce its copy, so you'll get a natural and unique copy each time you use it. Moreover, Copymatic also uses a credit system to generate high-quality copies on your behalf. If you sign up for a free trial, you'll get 10 credits which you can use to generate 1,000 – 1,500 words of blog content.
Copymatic Features
In this section, we will highlight several essential features of Copymatic for its users, and you will also see an example of the copy produced by Copymatic.
70+ Tools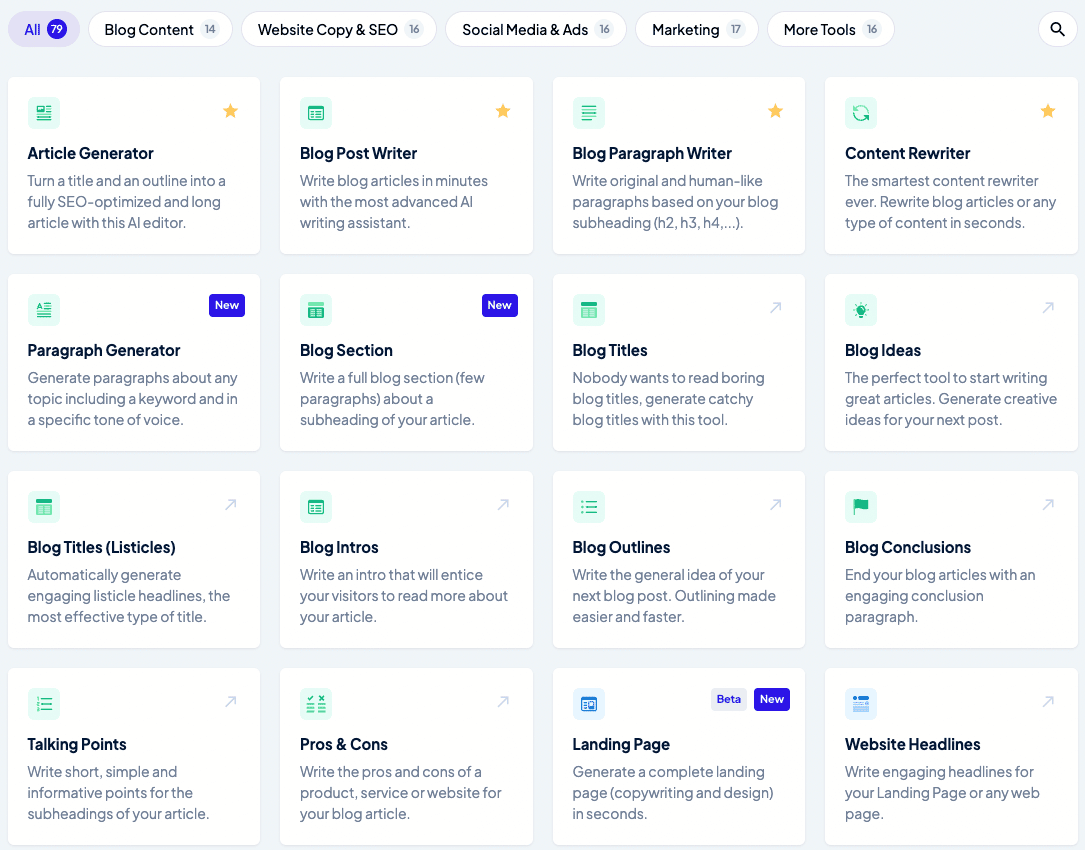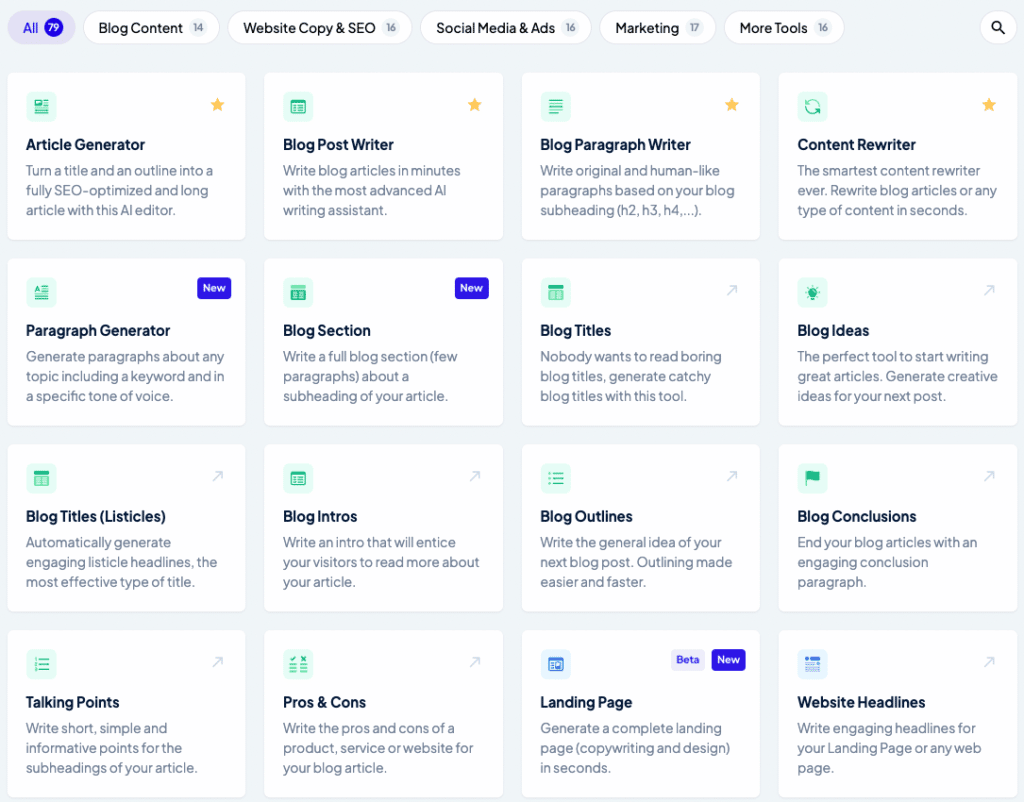 Copymatic is quite versatile, with more than 70+ tools in its arsenal. These tools are neatly categorized into 5 categories:
Blog Content
Website Copy & SEO
Social Media & Ads
Marketing
More Tools
What we like about these categorizations is that you can identify your objective just by looking at these categories. If you want to create a long-form copy, you can browse the Blog Content. Everything is laid out neatly, and there is a short explanation of each tool to help you understand the output you will be getting. A kindly reminder is that some of these tools are still new and might be in the Beta version, but you can still use them.
25+ Languages
If English is not your primary language, you don't have to worry about using Copymatic to generate your copy. Copymatic is available in 25+ languages, including Spanish, French, German, Hindi, Portuguese, Italian, Dutch, Romanian, Czech, Slovak, Slovenian, Hungarian, Polish, Finnish, Danish, Swedish, Norwegian, Turkish, Russian, Japanese, Chinese, Thai, Korean, and Indonesian.
Plagiarism Checker
One of the primary concerns of using AI is none other than getting a plagiarised result. However, Copymatic easily tackles this with a built-in plagiarism checker to ensure your content is original. However, this tool is only available if you upgrade to a Starter or Pro account. It's also consecutively limited to 3,000 words and 10,000 free words.
SEO Keyword Research


This new feature is one of the best features built-in inside Copymatic. If you're stuck about which SEO keywords you should use in your content, you should try to use this tool to find keywords ideas. So, instead of using other keyword research tools, you can do it right inside Copymatic.
You can target KGR (Keyword Golden Ratio) and long-tail keywords and find related search terms to support your content. However, this tool takes 3 credits per search, so it's better to upgrade your account to utilize this tool to help you find potential keywords to rank.
So, if you're serious about ranking on search engines, we strongly recommend trying it. After that, you can use other tools from Copymatic to create an article or blog post and publish them to drive traffic to your website.
WordPress Plugin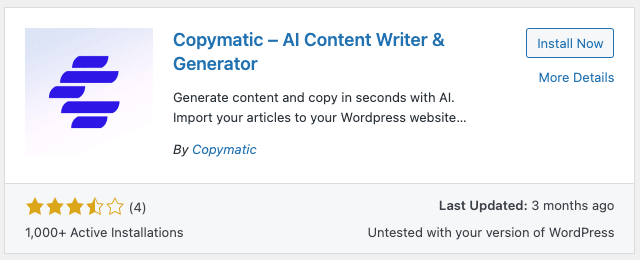 Another feature that makes Copymatic stand out is you can install a WordPress plugin on your website to help you write content with Copymatic. Generally speaking, not many AI writers can do this. However, it only has 1,000+ active installations and 2 positive reviews.
Copymatic Use Cases
If you're wondering about the result of Copymatic, in this section, we'll show you a few contents from some of the tools we use to test Copymatic copy qualities.
Blog Post Writer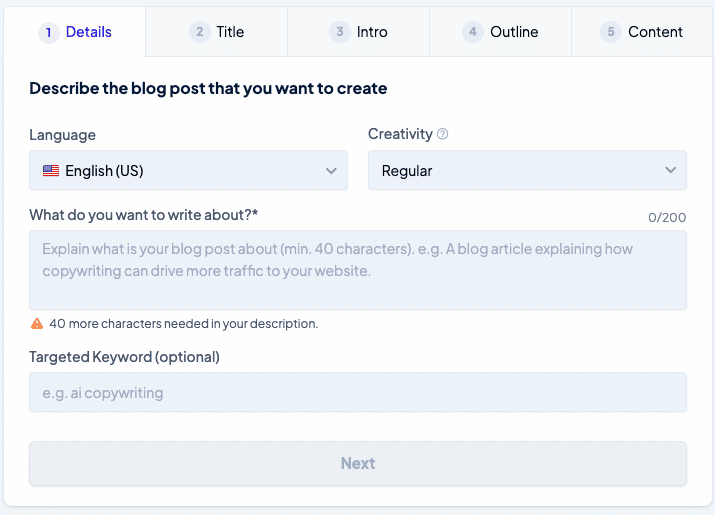 In this example, we'll try to use Copymatic Blog Post Writer to create a blog post about the top 5 online business ideas to try in 2022.
One thing you might notice from this tool is the Creativity menu. Sometimes, you'll get a monotonous result from AI. This is unavoidable due to the nature of AI itself. However, you can control it on Copymatic by changing the creativity setting from regular to high.
Now, let's take a look at the intro from Copymatic for this example.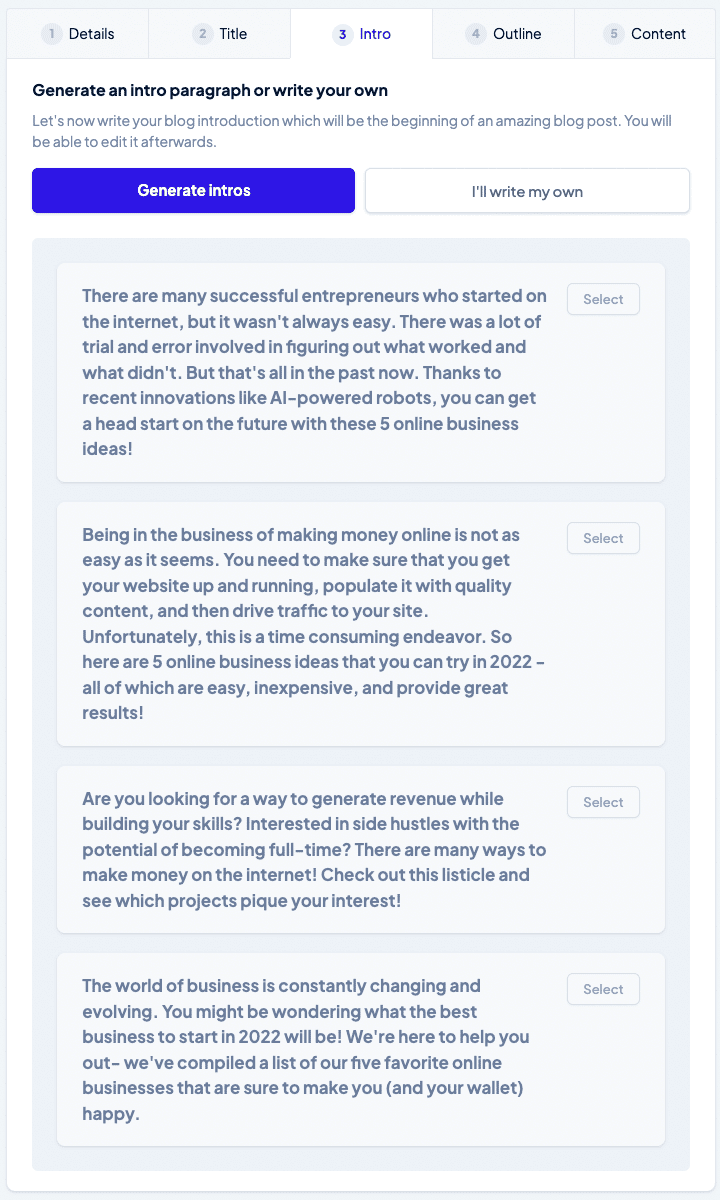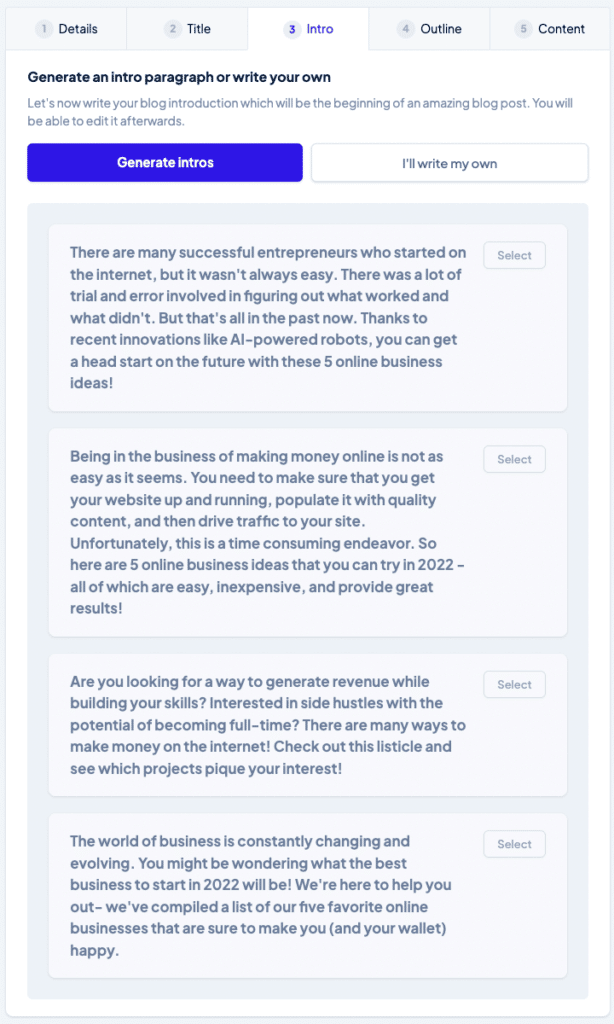 As you can see from the example above, the copy quality is more than decent, notably the last result. You can select your intro and move on to the next step, where Copymatic will create an outline on your behalf.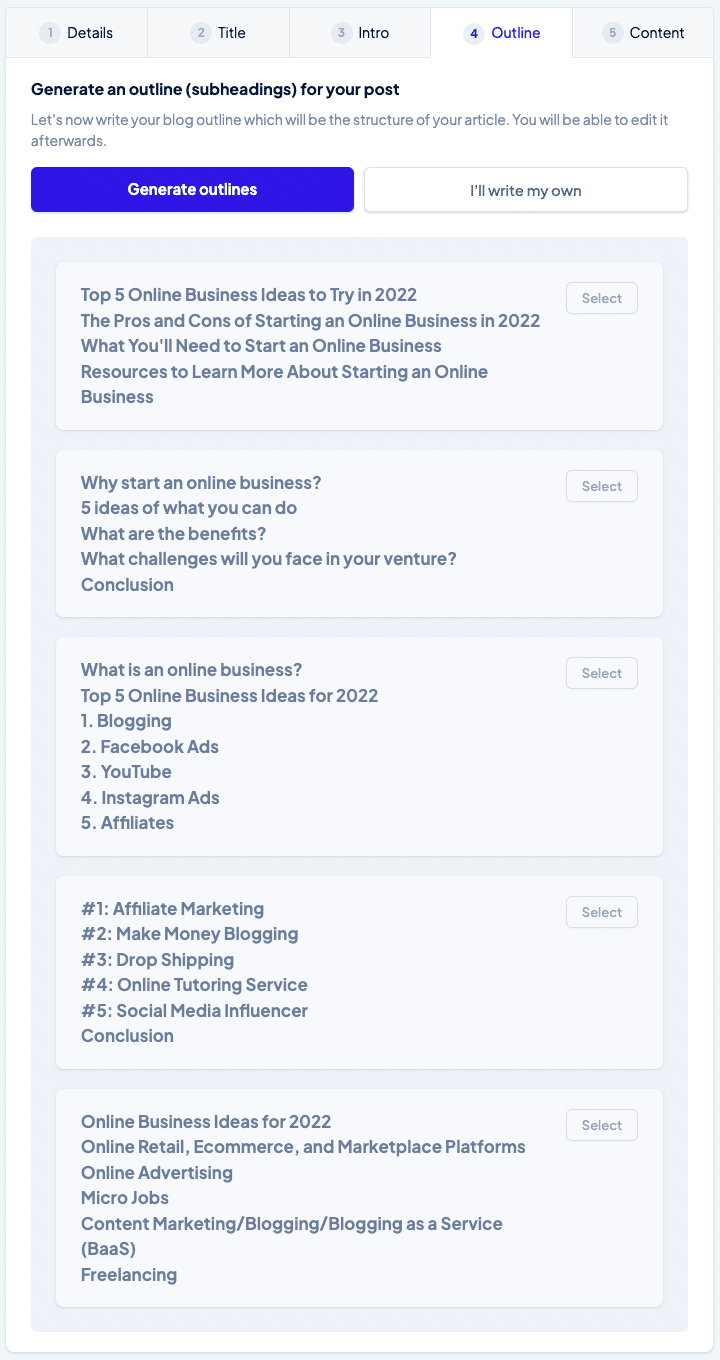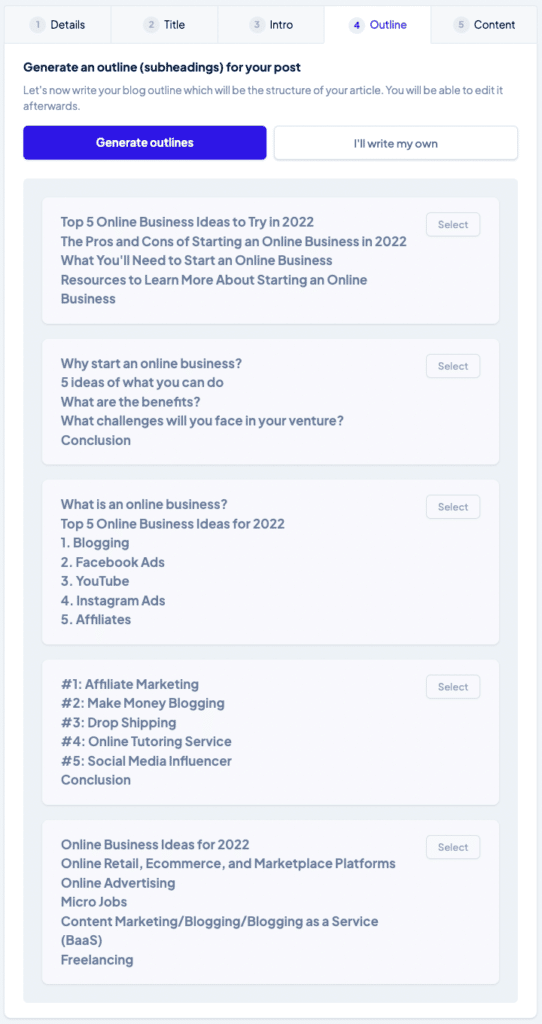 So far, we are impressed with the result since everything is on point. We like the first option, so we'll move on with that.
Aren't you curious about the content quality? Let's take a look, shall we?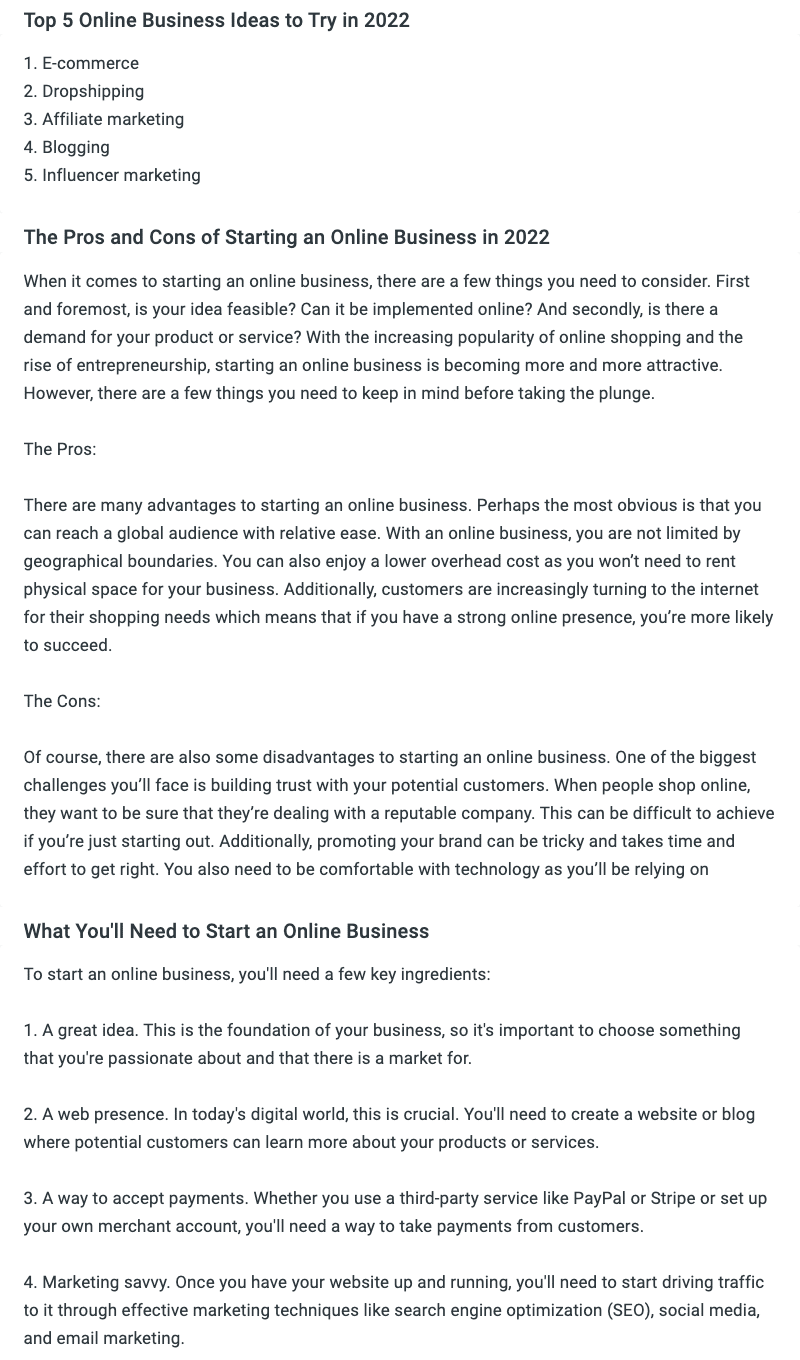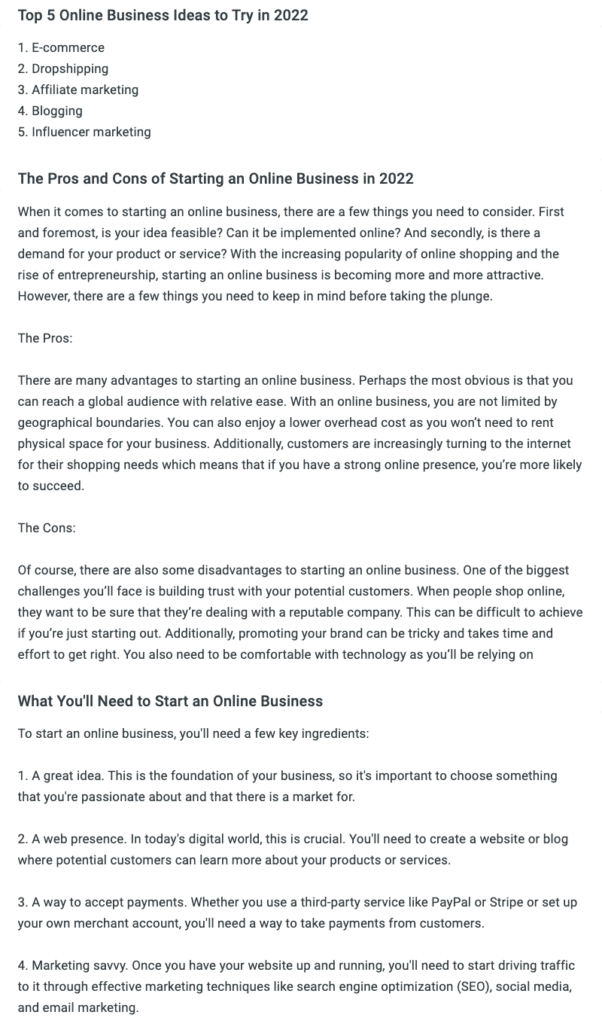 You can see that Copymatic provides a decent copy and still align with each heading. More importantly, you also get an additional SEO scoring system to help improve your content.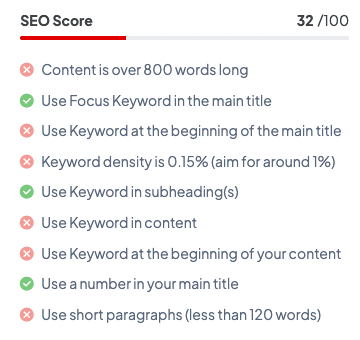 As a first draft result, we believe Copymatic provides a great result. You can elaborate more and expand your content to improve your SEO score. So far, we've produced 543 words in less than a minute. Pretty decent, right?
SEO Keyword Ideas
Next up is the SEO Keywords Ideas. We'll use online business ideas as our keyword and show you the result.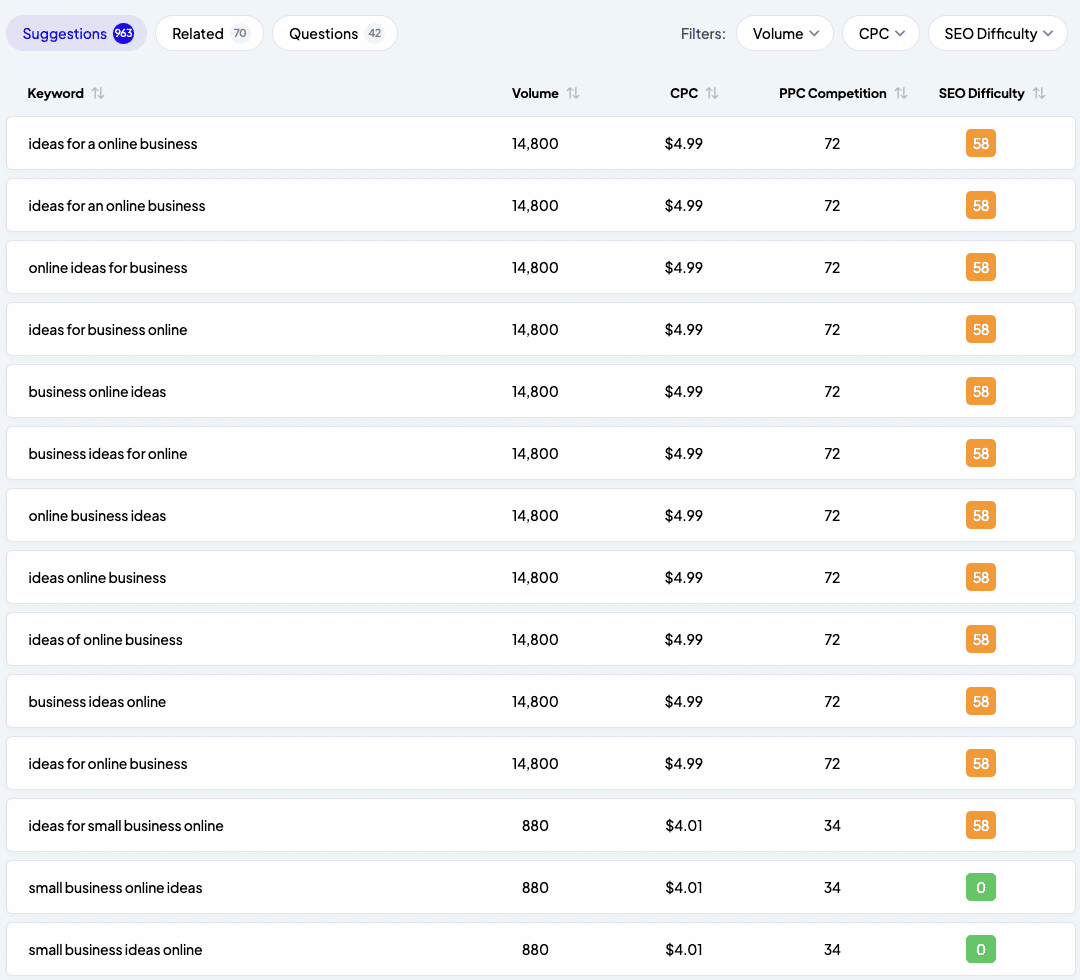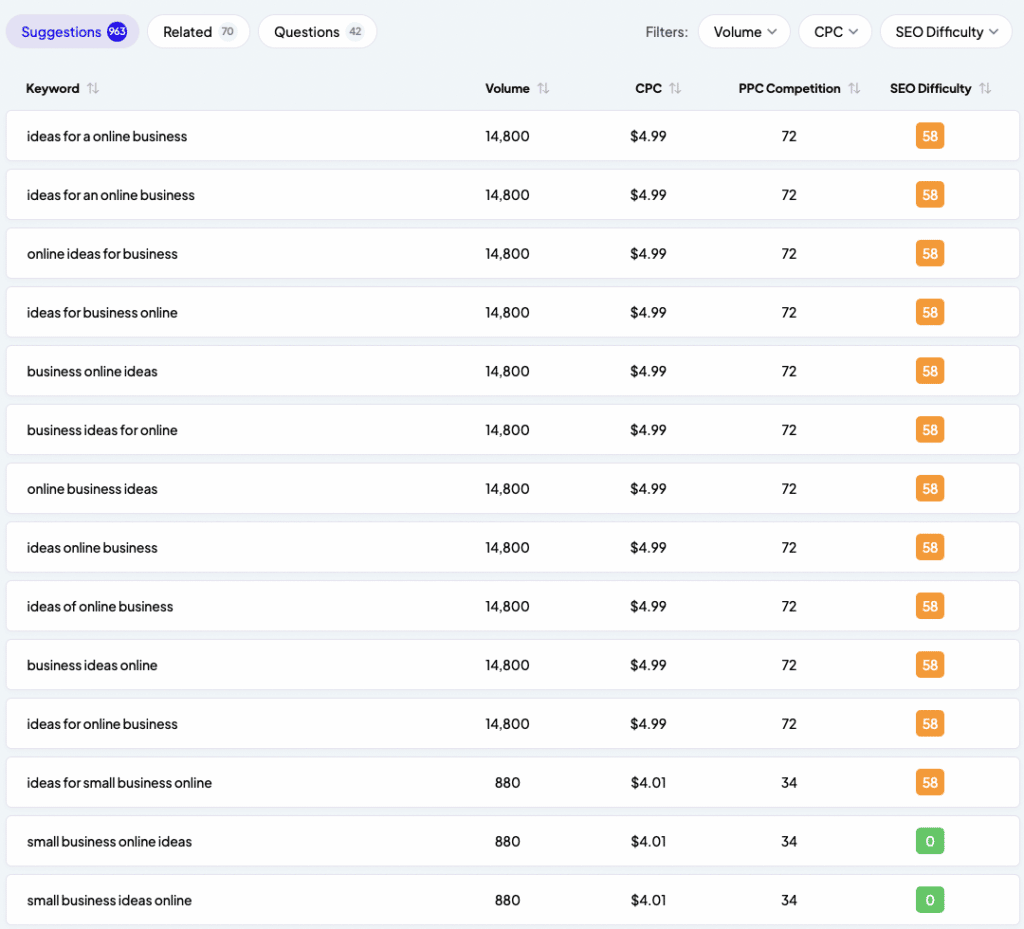 Honestly, we didn't expect this keyword research result. It's comprehensive because you can get keyword suggestions, find related keywords, and find questions to help you write valuable content with Copymatic. Moreover, you can sort these results to find Keyword Golden Ratio (KGR) with less than 250 searches and low allintitle.
It doesn't stop there. You can also apply filters to sort these data based on search volume, CPC, and SEO difficulty. This allows you to find the right keywords and create content around it.
However, one question we have in mind is the data source for these results since search volume is essential to determine the right keywords. But, regarding that, the result is unexpected from an AI writing tool.
Copymatic Pricing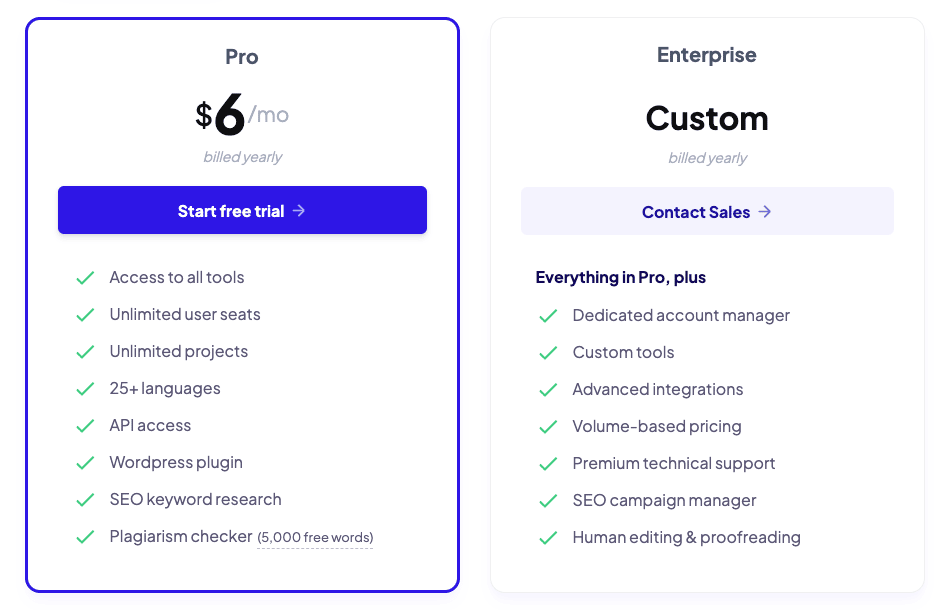 Copymatic has two different plans, Pro and Enterprise. The Pro Plan has affordable pricing of only $6 per month for an annual plan or $72 per year. However, the monthly payment is more expensive at $29 per month.
If you plan on having more words to generate, we have compiled this table to help you find the best plan for your needs.
| # words/month | Monthly Payment | Yearly Payment |
| --- | --- | --- |
| 15,000 | $9 | $72 |
| 50,000 | $29 | $229 |
| 200,000 | $49 | $384 |
| 400,000 | $99 | $792 |
| 800,000 | $199 | $1,584 |
| 1,600,000 | $399 | $3,192 |
| 3,200,000 | $799 | $6,384 |
Pro Tip????
You can use our Copymatic promo code 20TODAY to get 20% off.
Copymatic Pros and Cons
Despite the copy quality, there are several pros and cons if you consider using Copymatic to help you write your upcoming copy.
Pros
Decent copy quality.
Available in multiple languages.
Clean user interface.
50,000 words per month is a lot of $19 per month. You can create up to 25 blog posts per month with 2,000 words minimum.
The built-in SEO keyword research tool inside Copymatic is handy because you don't have to buy a separate keyword research tool.
Cons
The monthly payment is too expensive. It's better to purchase the annual plan because you get up to 4 months free.
We still doubt the data source for the SEO keyword research tool.
Frequently Asked Questions
Can you use Copymatic for free?
Copymatic does not offer a free plan. However, there is a free trial option to explore Copymatic tools and generate up to 1,500 words.
What is Copymatic's plagiarism rate?
Based on the information on their website, Copymatic has the lowest plagiarism rate at 2%. In other words, you don't have to worry about your content originality.
Conclusion
To summarize our Copymatic review, this AI writer is good enough and worth buying at $19 per month. We consider it affordable compared to other AI copywriting tools. Moreover, it has a handy feature to help you do keyword research inside Copymatic.
So, if you're looking for another affordable AI writer, you should try Copymatic and see the result of its copy yourself. We think you're going to like it.
---