This post contains affiliate links. We may receive a commission for purchases made through these links without any extra cost to you. Thank you for your support.
---
In this Frase IO review, let's find out if this AI writer is worth trying for only $1 for a 5-day free trial.
Despite the competitive environment of AI copywriting tools, there is no end to what AI can do to improve content writing. The possibility is endless. Some AI writers focused on eCommerce, and others focused on versatility and ranked on search engines.
Many people would love to pay to use AI to help them write better content. Some AI writers are affordable, and some are even overly expensive. So, if you're looking for a complete package of AI writing tools with an average price point, Frase IO might be the answer.
Many AI writers offer free trials to attract potential customers. In other words, you don't have to pay anything. However, that's not the case with Frase IO. In this review, we'll explore its features and let you decide if it's worth paying $1 for a free trial.
Without further ado, let's dive in!
What is Frase IO?
Frase IO is an all-in-one AI content generator to help you write better SEO content by performing keyword research beforehand and content analytics after you have published your content. As we said earlier, it's a complete package like no other AI writer.
At a glimpse, it might seem like one of the best AI writers on the market right now, and judging by the $1 free trial offer, they might have something up their sleeve to charge potential customers to use their service. That's why we were intrigued to try it and explore its features.
If you'd like to know more about Frase IO, you can watch this video to learn more.
Frase IO Features
Before diving deeper to learn more about Frase's features, there are several tools you can try for free. So, you don't have to pay $1 for a 5-day free trial. However, you don't get access to the dashboard since these tools are available on their website.
Free AI Writing Tools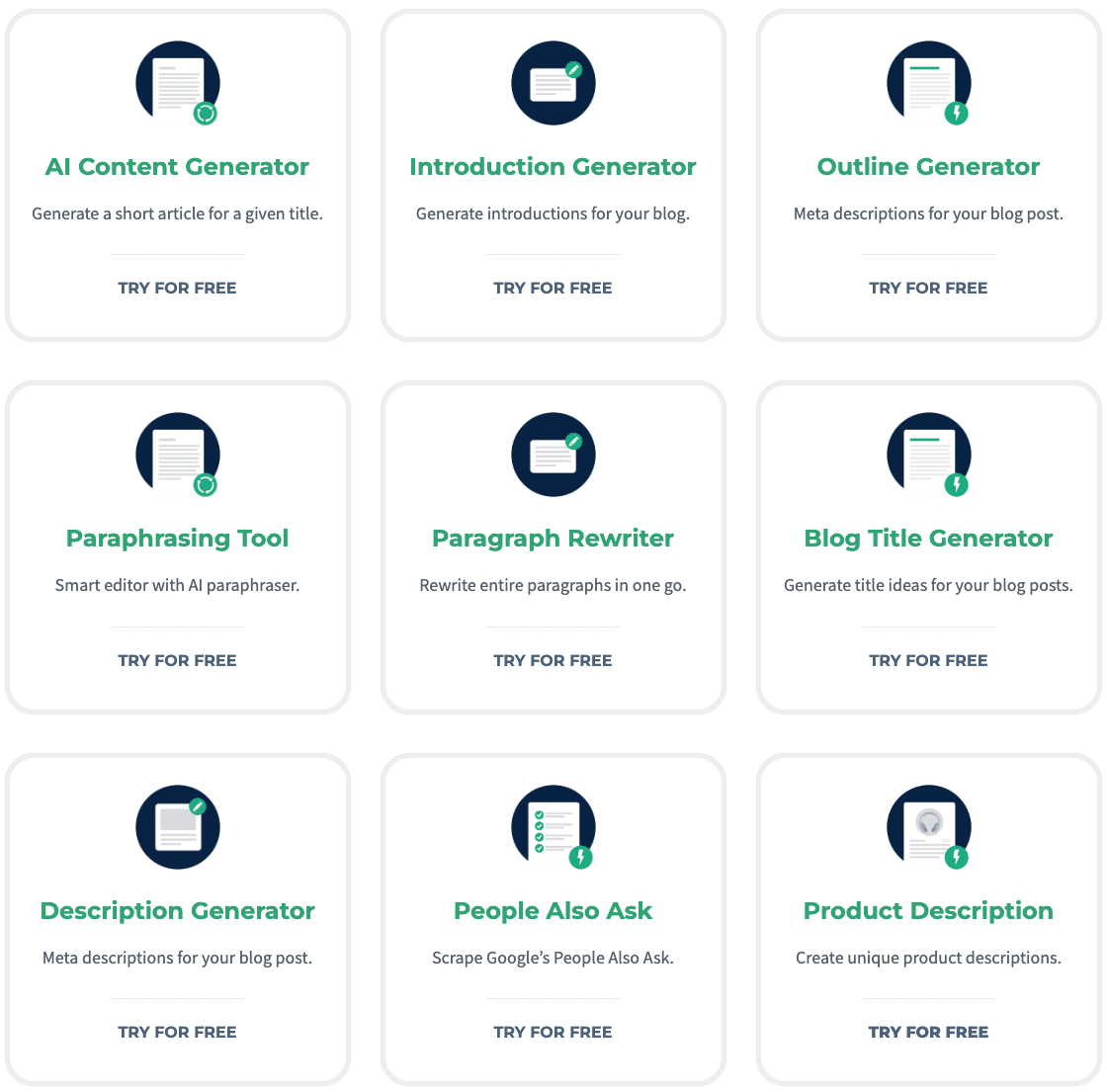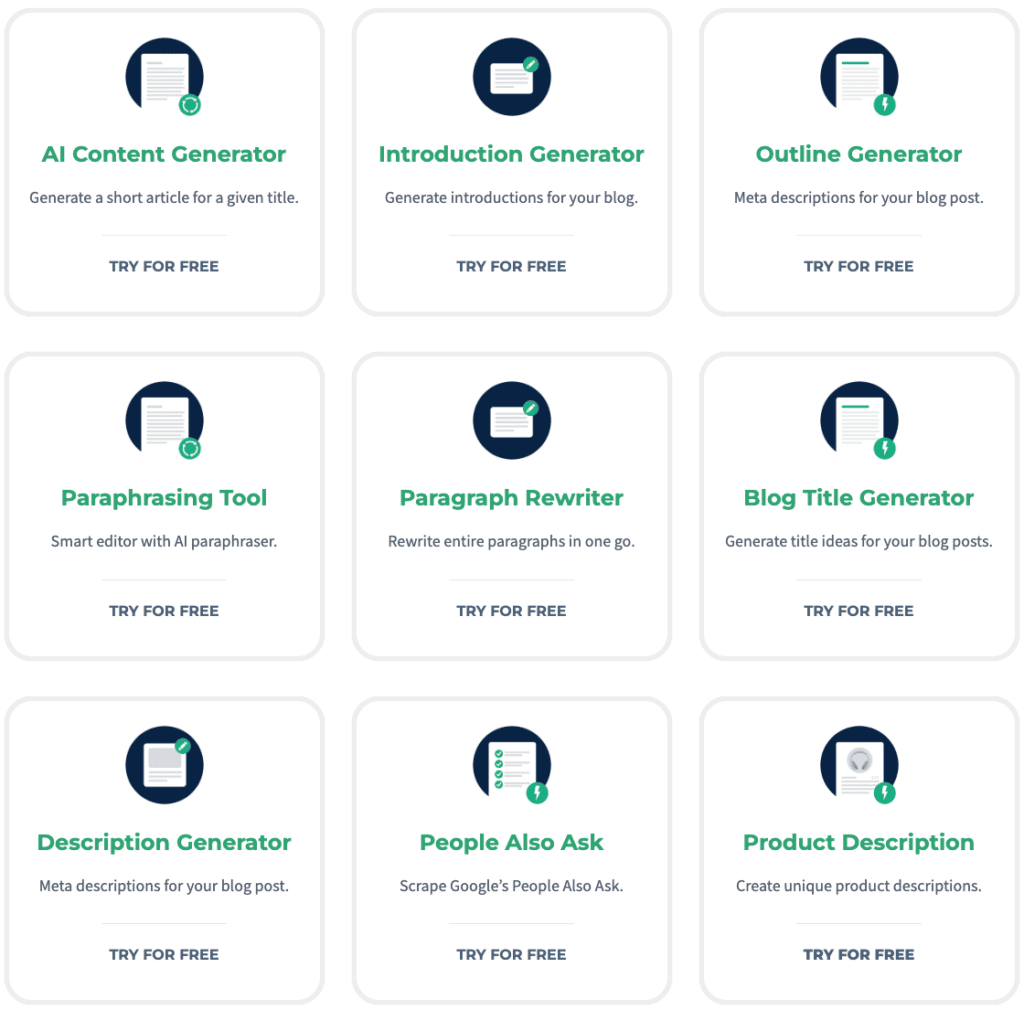 Most AI writers will use a credit system to limit content generation. Well, that's not the case with these free tools. You can use them for free, without limitation. However, don't expect the quality will be the same with the $1 free trial option.
So, what are the tools you can use for free?
AI Content Generator
Introduction Generator
Outline Generator
Paraphrasing Tool
Paragraph Rewriter
Blog Title Generator
Description Generator
People Also Ask
Product Description
Slogan Generator
Summary Generator
Value Proposition
Sentence Rewriter
Honestly, that's a lot of tools you can use for free. If you're curious about how this tool works, we'll show you one example of the AI Content Generator. This tool allows you to create a listicle within a few seconds. In this case, we'll use a general headline you might have seen a lot on Medium.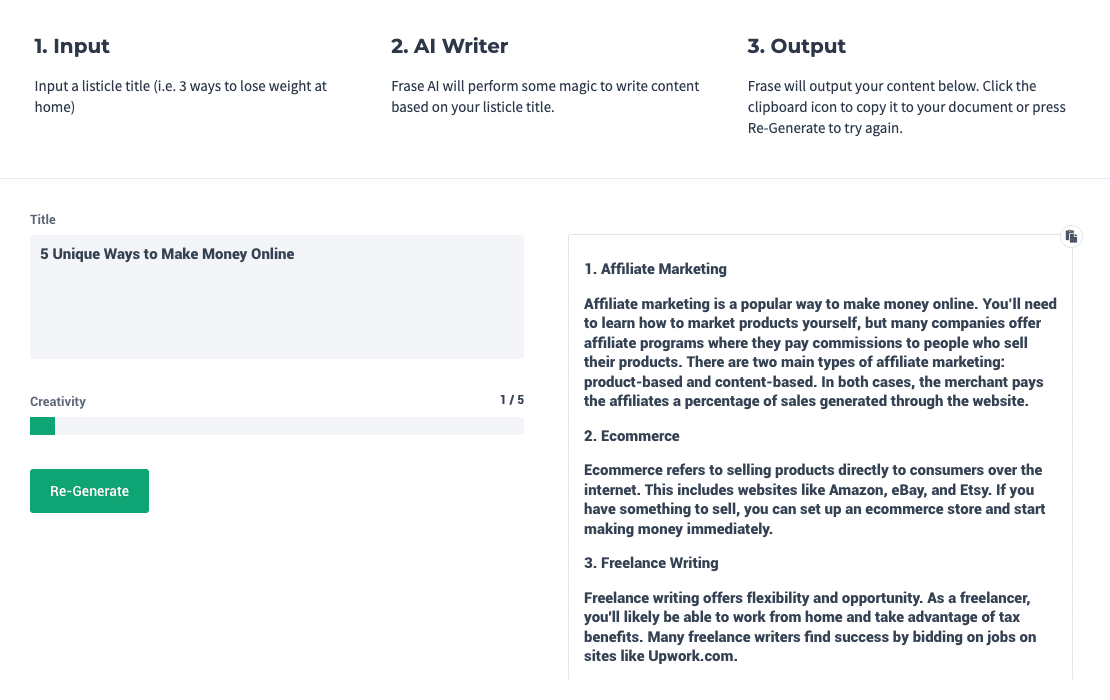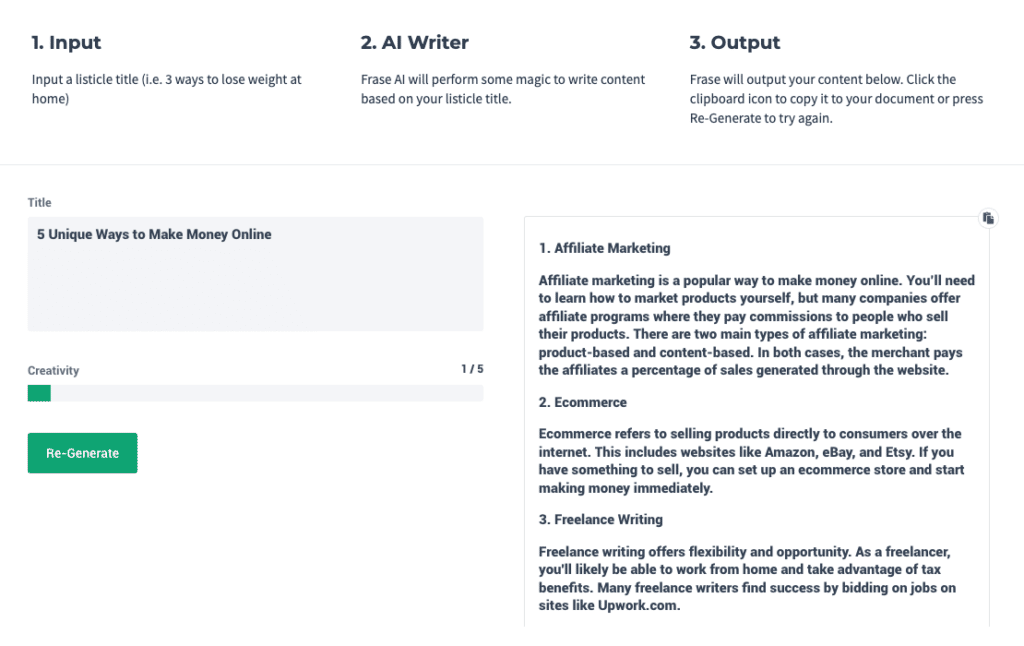 As you can see from the screenshot above, you only need to write a listicle title, and Frase will generate content for you. However, the content quality is far from what you would expect. It's below average. Moreover, there is a limit to the number of listicles you can generate. For instance, we tried to create another listicle by changing the number from 5 to 10, but Frase only showed 7.
Research
Now, let's head straight into the dashboard for the free trial option. The first thing you will see is something like this in the screenshot below.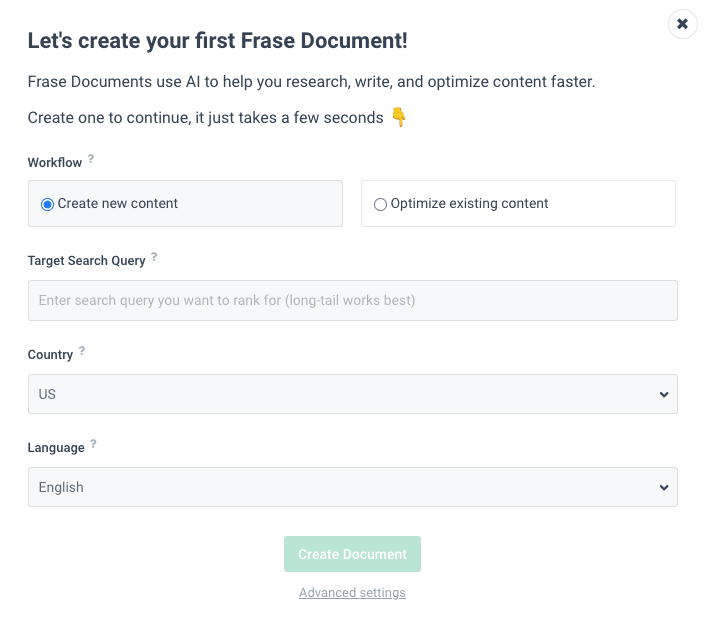 You can choose to create new content or optimize existing content with Frase. Depending on your choice, you can import content from a URL directly to Frase to optimize them. In this case, we'll use it to create new content.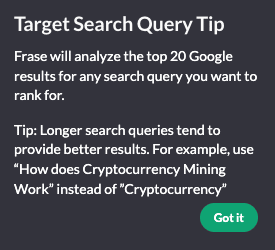 The next thing you should input is the target search query. It is recommended to use long-tail keywords to provide better results. Moreover, you can change the country and language to match your target audience. In this example, we'll use this search query: "Should You Use Numbers in Titles For SEO?"
Pro Tip💡
If you'd like to know how we came up with this search query, we strongly recommend reading one of our blog posts about achieving keyword rankings within two weeks. It will give you a better idea about doing keyword research using Google.
Let's go back to see the results of our research. This dashboard reminds us of Scalenut's dashboard. So, it's easy for us to navigate and find out what it's all about.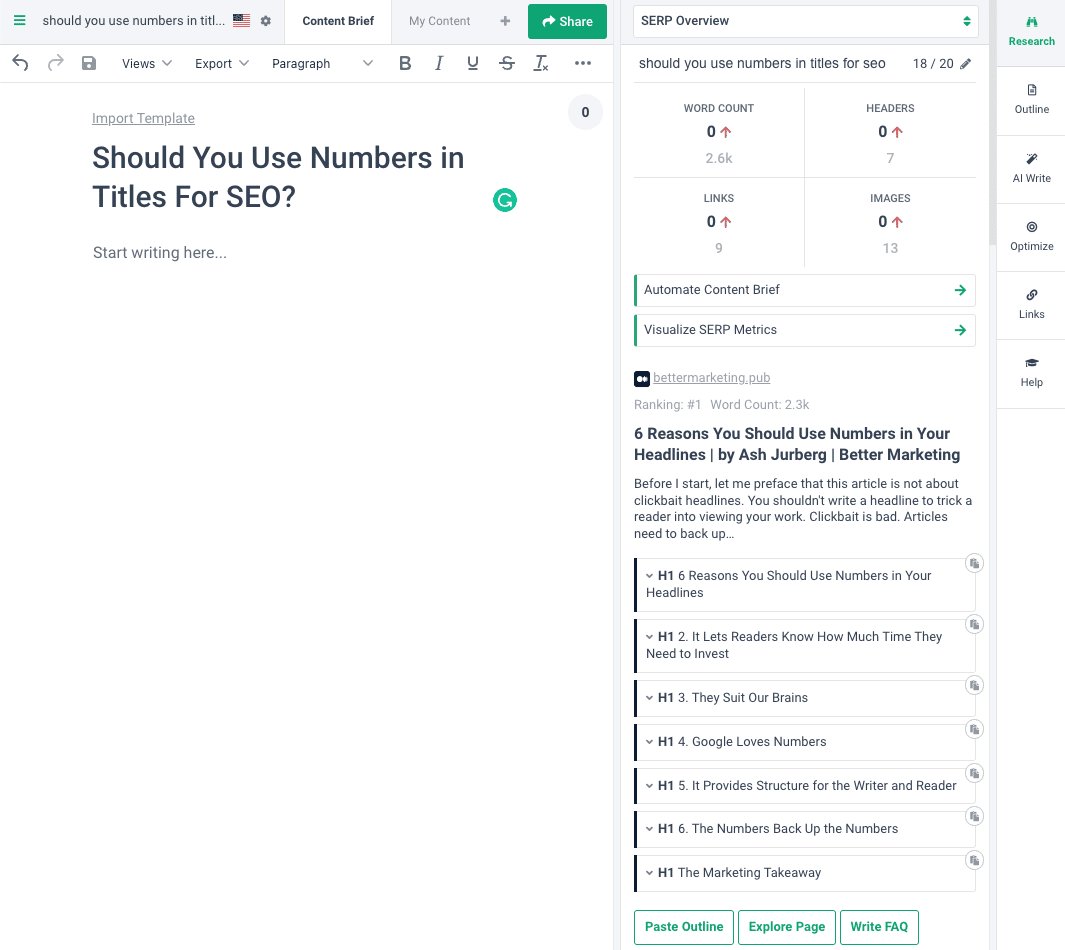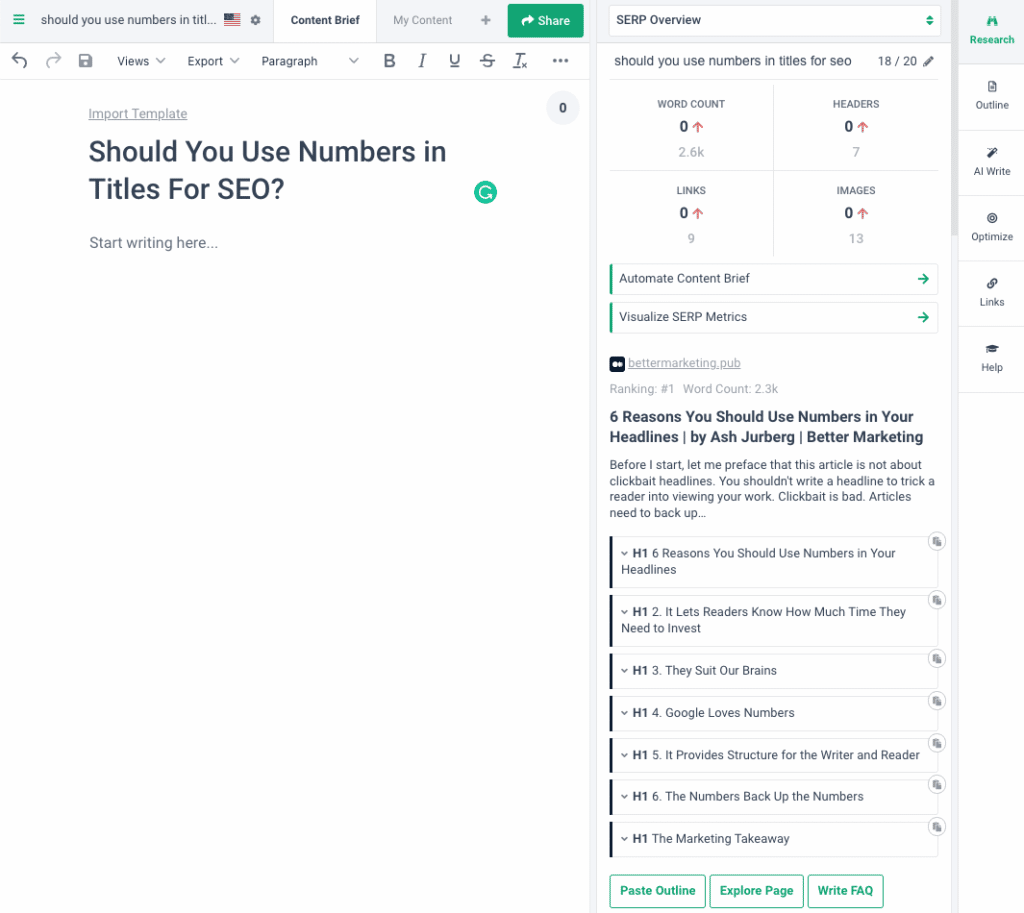 In the research stage, Frase analyzes the top 20 results from Google Search for the search query you use. If you'd like to outrank these pages, you are expected to write better content than the rest of the competition.
On the right side of the menu, you'll see various suggestions like word count, headers (or headings), links, and the number of images to use in your content. This information is valuable to us because it helps to identify how our competition is doing on their post. You can see the number of words and their ranking without leaving Frase.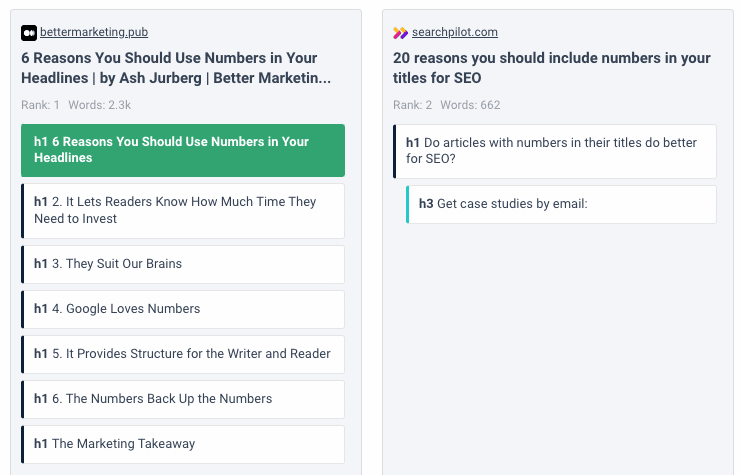 Moreover, you can also check their outlines and study how your competitor structure their post. This gives you an idea about what to write and outrank them.
AI Write
With Frase IO, you can create an entire post with the help of AI and add your personal touch based on its suggestions. So, we tried to generate an outline and let AI write for us, and here's what we got.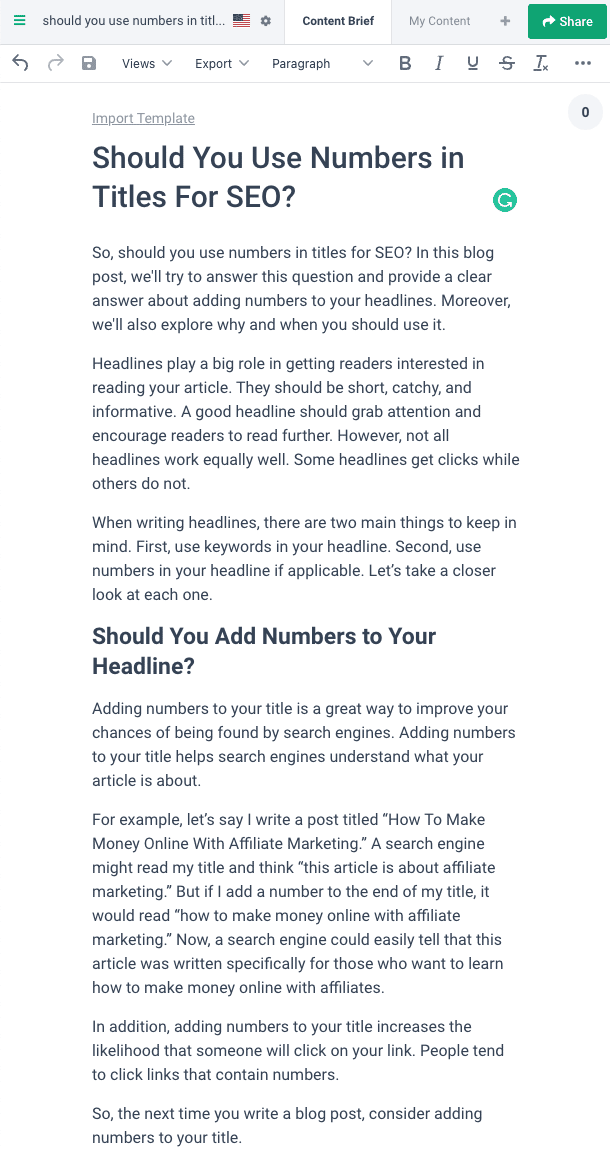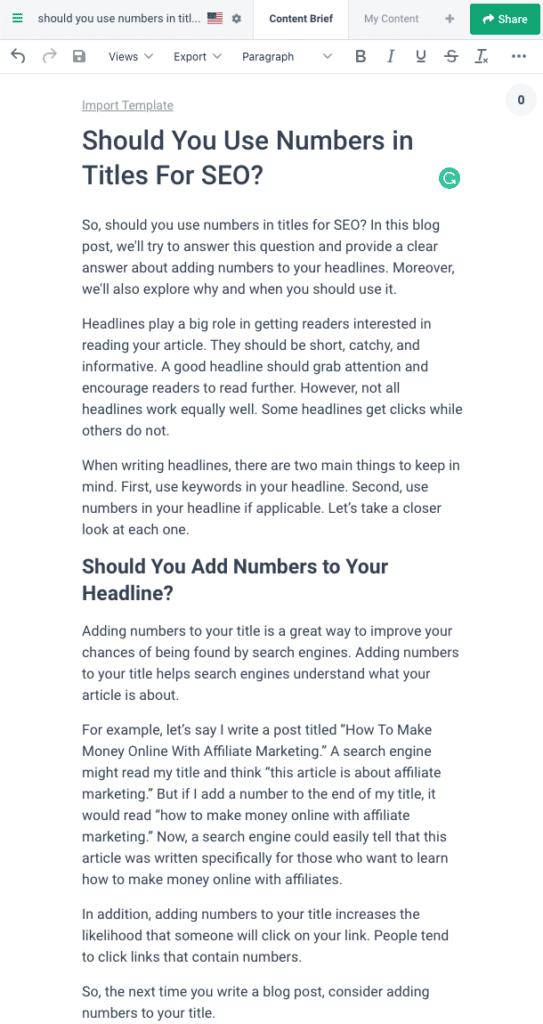 As you can see from the screenshot above, we can create our first draft for this article within minutes. It doesn't take long for Frase IO to generate content that is unique and captivating. Although some of the sentences might be out of place, it's still a pretty decent result.
Optimization
Once you're done with your content, you can start optimizing your blog post or article with relevant keywords related to your search query. Thankfully, Frase IO provides a list of keywords to add to your content, so you don't have to spend more time researching keywords. Take a look at this screenshot below.

You can sprinkle those keywords and rewrite your sentence until you meet the gold threshold line at the top of the menu. This line acts as a guide to help you rank for potential keywords.
Frase Answers

Another feature that makes Frase stand out from the rest of the competition is Frase Answers. You can think of it as analytics for your content. After installing a single line of code within your website <head>, Frase will crawl your website and access your content. This way, you can analyze your content performance.
Moreover, Frase also uses your Google Search Console data to provide insights on what you should work on. So, you can identify potential ranking loss beforehand. This feature is valuable as an alert system to remind you to refresh your content.
Frase IO Pricing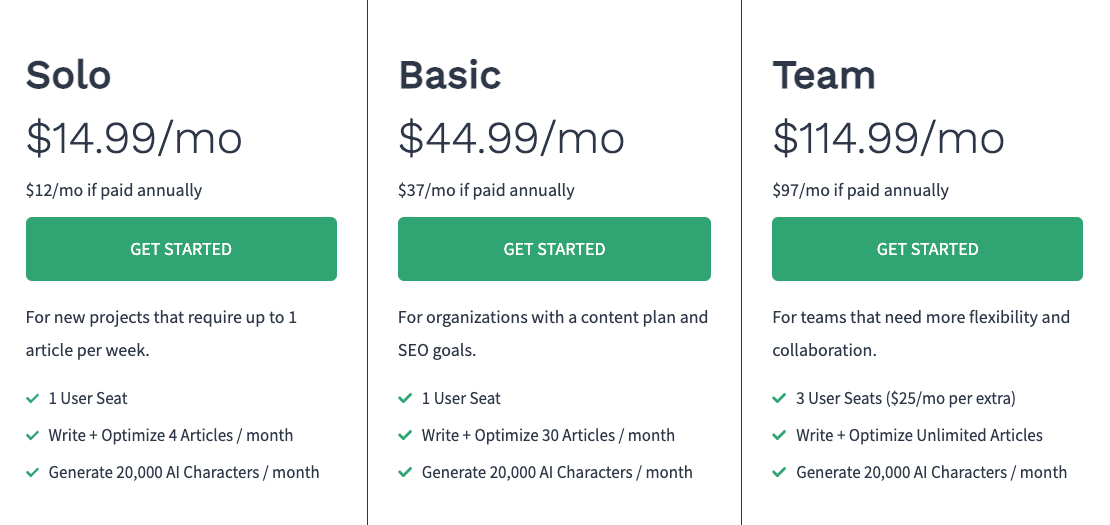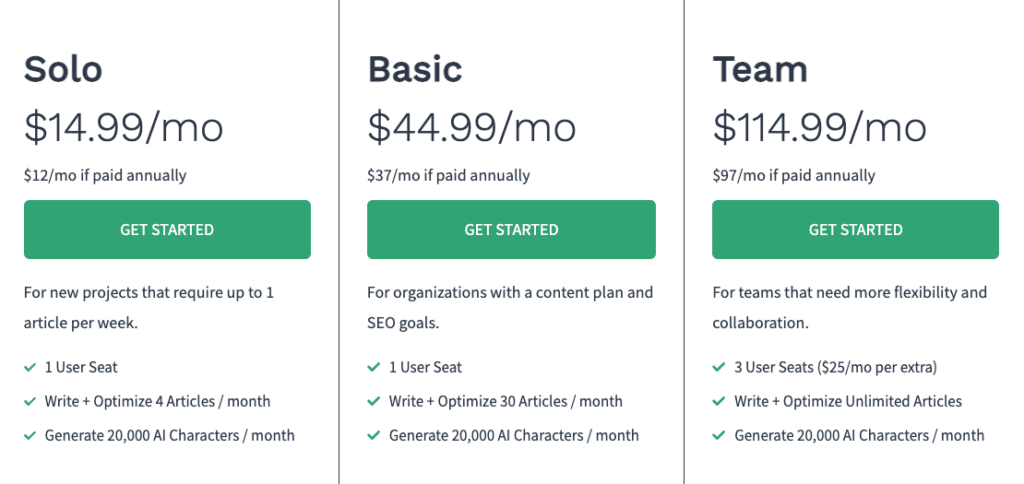 At $14,99 per month or $144 per year, you can use Frase IO Solo Plan to help you write better content. However, if you notice, all plans are limited to only 20,000 AI characters per month. If you're writing 1,500 words on average, it might not be enough for your case.
That's why there is a Pro Add-on option for $35 per month to get unlimited AI-generated characters. If you'd like to optimize more content, you can try the Basic Plan at $44,99 per month or $444 per year. You can write and optimize up to 30 articles per month. In other words, publishing one post daily is possible with the basic plan.
Based on this pricing system, you need to pay at least $49,99—including the Pro Add-on, to get the most out of Frase IO. Compared to other AI copywriting tools, it's pretty expensive. We'll let you decide about that. However, a $1 free trial for all of those benefits above? It's a big yes for us.
Frase IO Pros and Cons
Despite all the benefits above, we believe there are several pros and cons worth considering before deciding to use Frase IO to scale up your content creation process.
Pros
Frase IO has a powerful feature in research and optimization.
Everything is done inside Frase IO, so you don't have to go anywhere else.
Cons
It is expensive. You will most likely need the Pro Add-on to get unlimited AI characters. Otherwise, you'll have to wait until next month when you run out of credits.
Frase IO is more suitable for individual users. Their Team Plan is expensive compared to other AI writers. Moreover, you can invite team members even with the free plan.
Frequently Asked Questions
Is Frase IO free?
Yes. You can use all the free tools provided by Frase IO and generate content for free. However, the content quality will be different than what you'll get inside the member's area.
What happens after your free trial ends?
Depending on your plan, you will automatically be subscribed to the monthly plan. If you'd like to cancel your plan, make sure to do it before the 5th day of your free trial.
Conclusion
To summarize our Frase IO review, it's worth paying $1 to try and explore Frase features in the 5-day free trial option. You can generate a few high-quality articles for $1 and learn how to use Frase to its maximum potential.
However, if you plan on using Frase to research and write content, we recommend the Basic Plan over the Solo Plan because you can create and optimize up to 30 posts per month. It's a perfect plan to publish regularly and scale up your website content.
---
Sugiya is the Writer and Owner of We Recommend. He is passionate about helping people make better decisions when buying things on the internet.