This post contains affiliate links. We may receive a commission for purchases made through these links without any extra cost to you. Thank you for your support.
---
If you'd like to know how to achieve keyword rankings within two weeks, we've got various tips based on our experience writing content on our website. In fact, many of our posts have been ranked on the first page of Google Search.
We will highlight our process and share the tools we use to achieve keyword rankings within two weeks. However, since every site is different, there is no guarantee that your website could achieve the same result even after you have followed our tips. What we share in this article works for us, and it might work for you.
So, without further ado, let's dive in!
How to Achieve Keyword Rankings Within Two Weeks (Step-by-Step Guide)
If you'd like to achieve keyword rankings within two weeks, you need to target long-tail keywords by spotting the user-generated content from websites like Quora and Reddit. If the result shows the actual questions rank on the first page, you can expect to outrank those results in the first place. Write your content and apply the general SEO practice to your post. After that, you only have to wait to get your post indexed and ranked for those keywords within two weeks.
Tools We Use
Before diving deeper into each step, we'll share with you all the tools we use on our website. Some of these tools are free, and some have free and paid versions. Depending on your budget, you might want to invest in these tools to help you achieve keyword rankings within two weeks.
Assuming that you already know the basic process of writing content on your website and you also use WordPress as your content management platform, it would be better if you use and install:
1. Rank Math SEO Pro Plugin
We have said this several times in our posts, Rank Math is the best SEO plugin on Earth. If you already have Rank Math as your SEO plugin, you might consider upgrading to Pro after reading our 9 reasons for not using the free version.
Why do we insist on upgrading to Rank Math Pro? Because you can only access all the valuable analytics features if you use the Pro version. We happened to write a guide on how to improve your Google Ranking with Rank Math. Make sure to read it.
2. MozBar Chrome Extension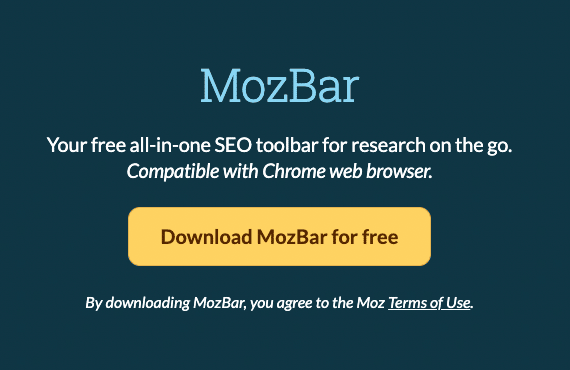 If you haven't heard about Moz, you are a few steps behind your keyword research game. It's an all-in-one SEO toolbox to help you understand your website performance and keyword rankings. However, we only use the MozBar Chrome Extension to help identify Domain Authority rankings. We'll explore more about this in the later steps.
3. Keywords Everywhere Chrome Extension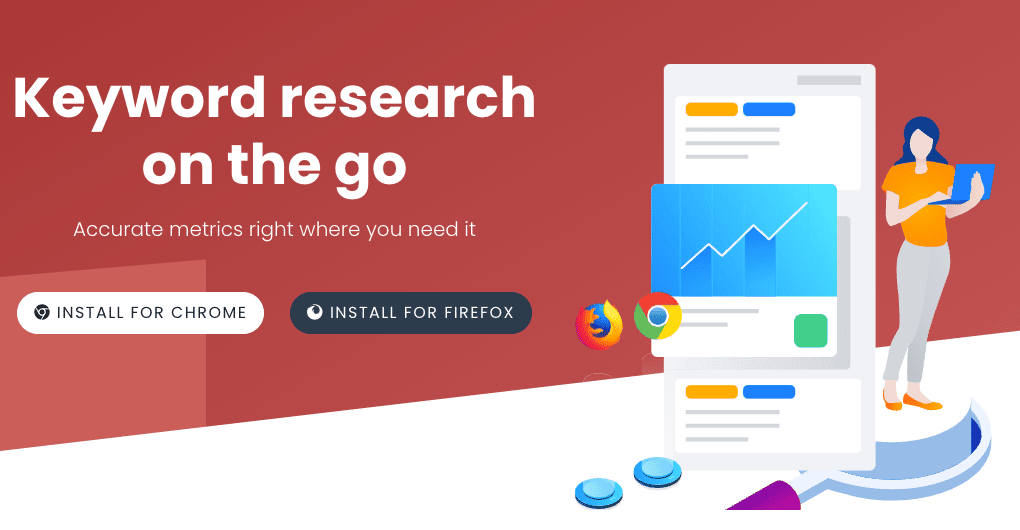 Another free Chrome Extension you want to add to your arsenal is Keywords Everywhere. This extension will give you a rough estimate of the volume search of any keyword you enter in Google Search. Moreover, you also get information on Related Keywords, People Also Search For, and Long-Tail Keywords.
These three tools are the ones we used to do the first and most essential step, keyword research. Additionally, if you're not fluent in English as we do, you might consider using Grammarly to help you write your initial content before moving them to your website.
Now that you already have everything in place, it's time to start with the first step, which is keyword research.
Step 1: Do Keyword Research
If you haven't done any keyword research, there are several keyword research tools to find long-tail keywords. However, what we're going to show you right now is something that we personally learn from one of the most successful affiliates on Wealthy Affiliate, Partha Banerjee, also known as ParthaB.
How to Use Google Search for Keyword Research
Basically, one of the rules of thumb for keyword research is targeting long-tail keywords. However, many people don't know that even if you target long-tail keywords, there is no guarantee you can get ranked on Google for that particular keyword. Moreover, you can't just rely on keyword research tools, as they utilize data based on their own historical records. That being said, there is a discrepancy between keyword research tools and the actual search result.
So, if you're wondering about the best keyword research tool, it's none other than Google itself. In other words, you should pay attention to what people (actually) search on Google. One of the most fundamental mistakes people make is optimizing their content for search engines. People often forget there is always a human factor that uses search engines daily.
When searching for long-tail keywords, the best way to understand search intent is to provide answers to questions. In other words, writing informational posts. That's what we're going to implement using this keyword research method.
To do keyword research using Google and see the potential to get ranked could be done by spotting these two criteria:
Firstly, you want to look for questions from sites like Quora and Reddit, where people ask questions about your niche. To do that, we'll implement this search formula on Google.
"site:quora.com" YOUR NICHE/SUB-NICHE/KEYWORDS "1 answer" "k views"
This formula helps you find questions related to your niche that people are (actually) searching for on Quora that only have 1 answer and thousands of views. That means people are looking for answers to that question and haven't found anything satisfactory yet.
Secondly, you want to search on Google for the exact keyword and see the competition. If you search for that question on Google and the result shows you the previous Quora question as the first result, there is a high chance you can outrank those results. This process will be related to the second step, which we will cover later, along with its reasons.
Keyword Research Example
To help you understand the process, we'll show you how we research this post and target this long-tail keyword. In this example, we'll implement the search formula and use SEO for our keyword. Here's the result.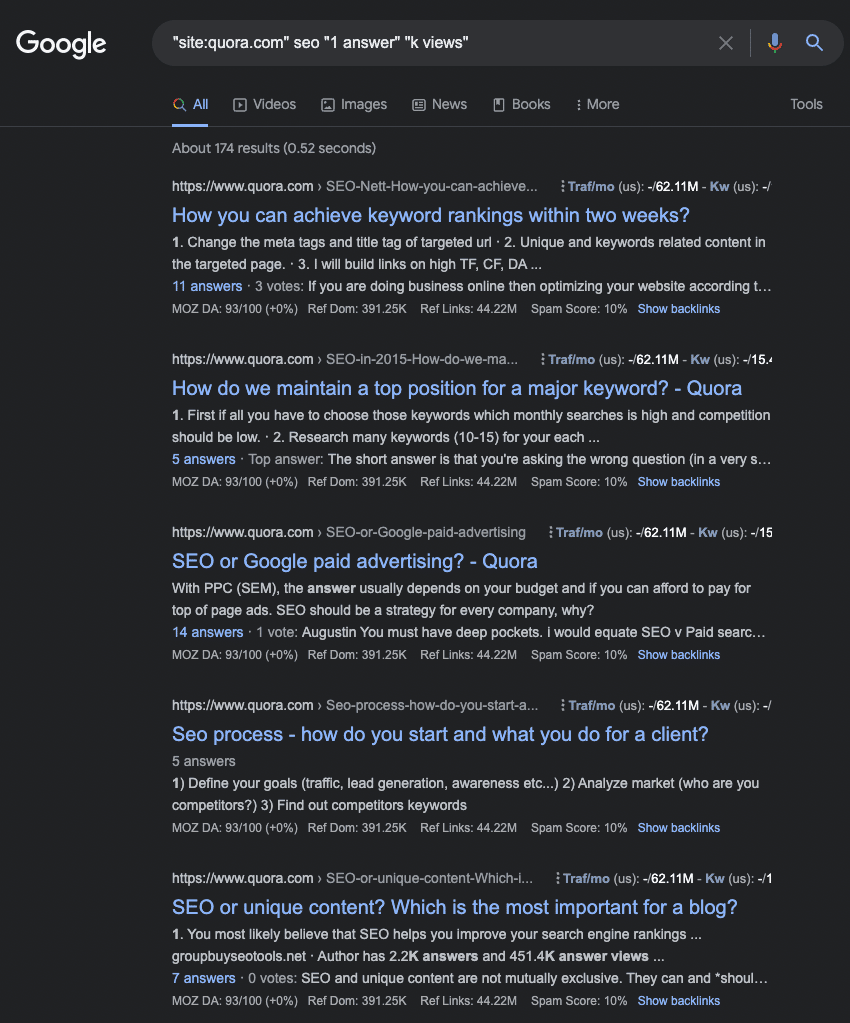 As you can see from the result above, this question appears on the first result and already has 11 answers. Compared to other questions, we are more comfortable answering this question. So, your knowledge and expertise play a role in selecting which post you can provide the answer to.
Even though the best practice is to look for questions with only one answer, it's still possible to achieve keyword rankings if your actual Google search for that question fits the second criteria we previously mentioned. Now, let's move on to the second step.
Step 2: Check The Competitions
After you have selected your questions, it's essential to check the competition. So, you type the exact question on Google and see the result.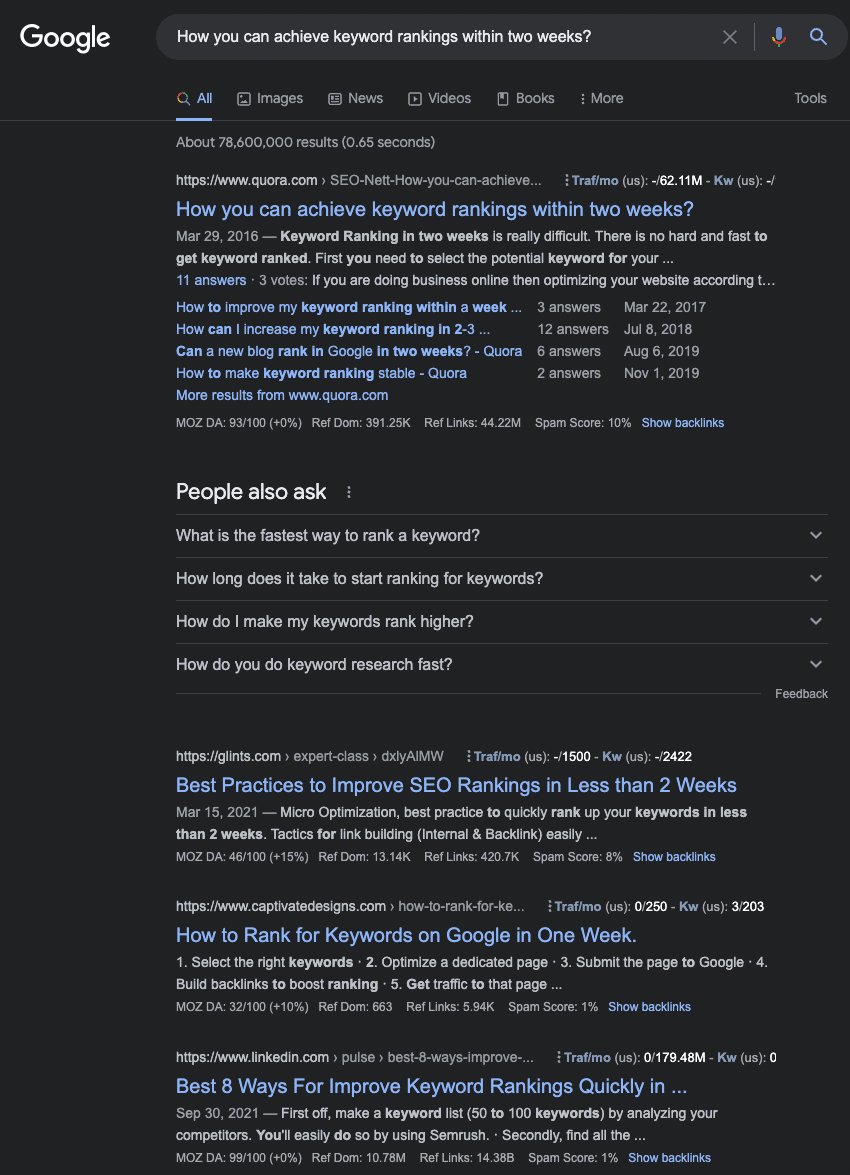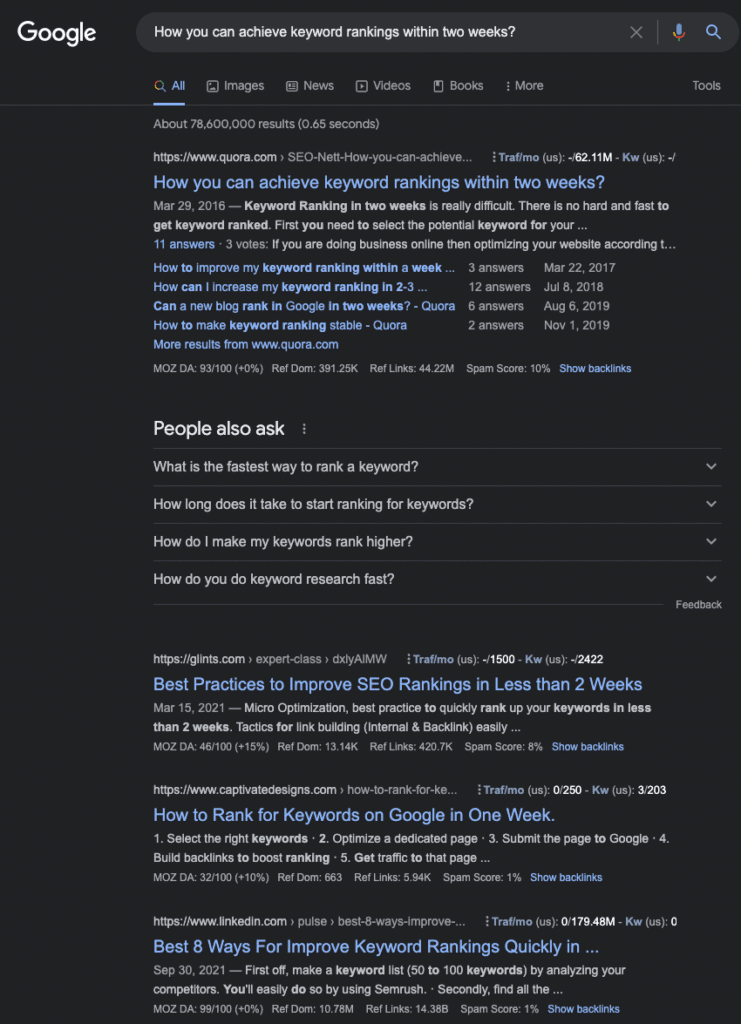 If you notice, the exact question still appears on the first page of Google Search. That means there is no post that answers elaborately on how to achieve keyword rankings within two weeks. However, there are several other posts below that answer similar questions. In other words, there is a chance to rank because Quora Answers are not optimized for search intent.
But, if the search result shows you sites other than Quora and has a high Domain Authority score, there is no chance you can outrank them within two weeks. You might want to search for another long-tail keyword or find another question that fits both criteria.
So, to summarize your keyword research process using this method, you need to:
Find questions related to your niche with 1 answer on Quora. You can try other questions with more than 1 answer and consider your knowledge and expertise to answer that question.
Check for the competitions for the exact question. You can only proceed if the first result is the Quora result you previously searched for.
If you follow this process and find long-tail keywords that fit both criteria above, you can achieve keyword ranking within two weeks.
Step 3: Create an Outline
The next step is to create an outline for your post. We strongly recommend it to help you arrange your thoughts and provide the most helpful answers to your audience.
Since you are writing an informative post, it's best to divide your headings accordingly. Otherwise, people will be confused when they read your content. Always remember your aim for creating an informative post is to provide value to your audience. No one read a paragraph full of long sentences without any spacing.
If you need help creating an outline for your posts, you can use AI writing tools to help you. However, we always suggest using them wisely for drafting purposes, not publishing purposes.
Your outline should have <H2> and <H3> headings for breaking down your content. Leave the <H1> heading for your title. It's a common practice to help your audience navigate through your post.
Step 4: Write Your Content
After finishing your outline, it's time to write your content. In this case, we wouldn't bore you with how to write content to provide a helpful answer to the question you're trying to answer. Follow your outline and write as you naturally talk to people.
When writing your content, you might want to consider several suggestions from your Keywords Everywhere Extension. Also, you want to sprinkle related keywords into your content. This way, you can provide helpful answers and fulfill the search intent of your targeted keywords.
Again, if you need help writing your content, you could use free AI copywriting tools to help you create your first draft. However, you should never rely on it and publish them without ever checking and editing your content. The main problem with using AI to help you write is that they don't understand emotions and the whole context of your entire post.
So, you can't rely 100% on using AI to write your content. Why? Because you have more knowledge than AI, and you can write better (not faster) than AI. If you're looking for a partner to brainstorm with your content, you can use AI to help you. It's good enough for that purpose.
Some of the best AI copywriting tools we recommend are Copy AI, Anyword, Rytr, Scalenut, and Writesonic. You can explore any of them and read our review about those tools.
Step 5: Optimize Your Content
The next essential step is optimizing your content. As a general rule of thumb, you should:
Add an internal and external link to your content. The more internal links you have, the better. Ensure all of them are relevant to the context of your post.
Include your long-tail keywords in the first 10% of the introduction part.
Use a table of contents plugin to help your audience navigate your post. We recommend using the Easy Table of Contents plugin.
Add your keywords in the subheadings.
Add relevant images or videos with alt text using your keywords.
Keep your headline less than 60 characters.
Keep your URL slug less than 75 characters.
If you apply these optimizations, your chance to achieve keyword rankings is higher. Also, you don't have to worry about getting a 100/100 mark on the SEO plugin. Keeping it green above 80/100 score is more than enough. There is no correlation between higher SEO scores and achieving keyword rankings.
Step 6: Publish Your Content
Once everything is done, read your post once again before publishing. Ensure there is no typo in your content, as it could ruin the reading experience of your audience. We recommend using Grammarly to write your content before moving it to your website. Grammarly will check for grammatical errors and fix them for you. If you need help setting up your Grammarly, we did write a review about it.
After publishing your content, ensure to follow the standard procedure to get your post indexed by submitting your URL to your Google Search Console and requesting Google to index your post. If you need help with indexing, you can download our free ebook to help your post get indexed on Google faster.
---
How to Get Your Post Indexed on Google Within 72 Hours*
This ebook will help get your post indexed on Google within 72 hours*. It's free for a limited time.
*Every site is different. But, based on our experience, it works in almost every niche. As long as your posts consist of at least 600 words, you should be fine.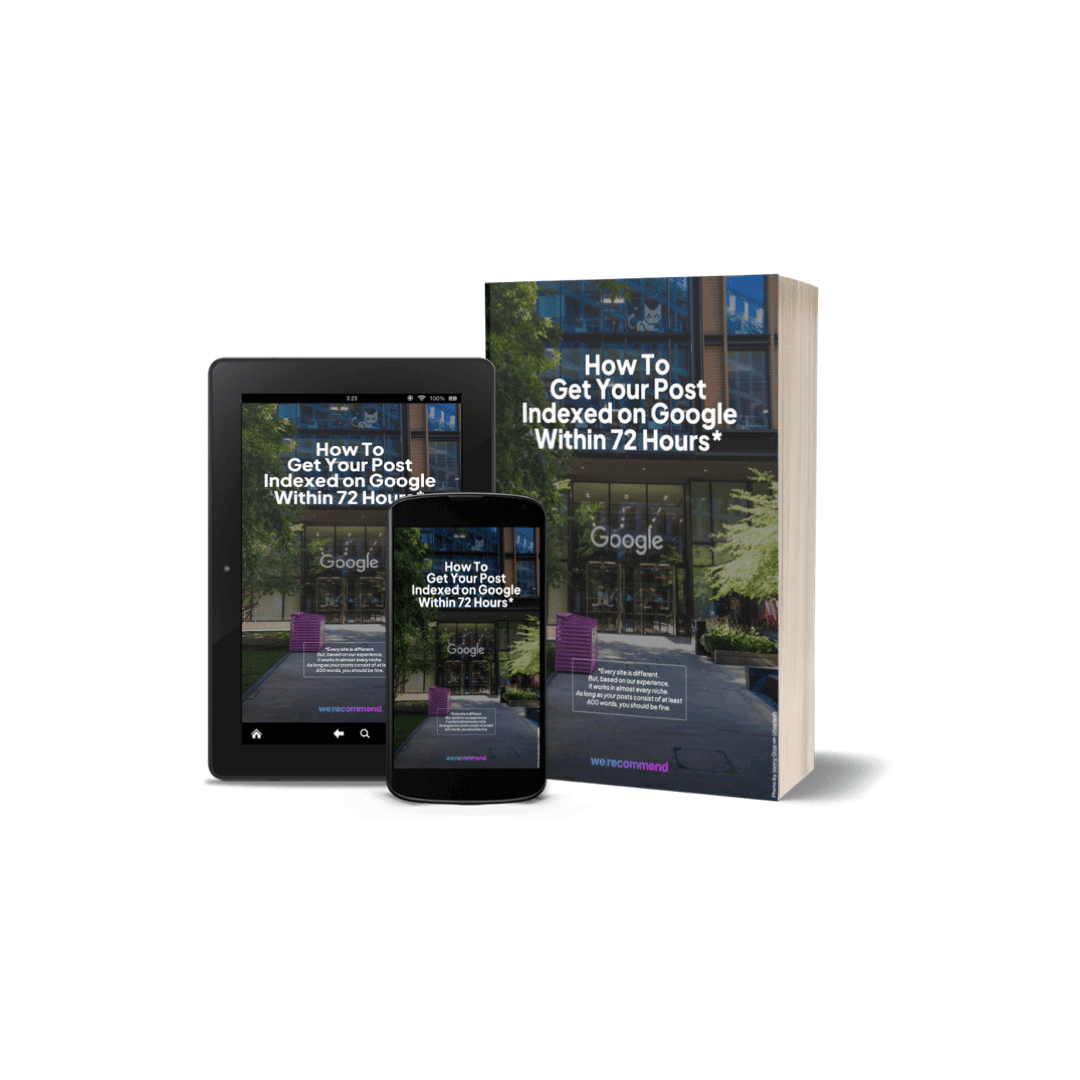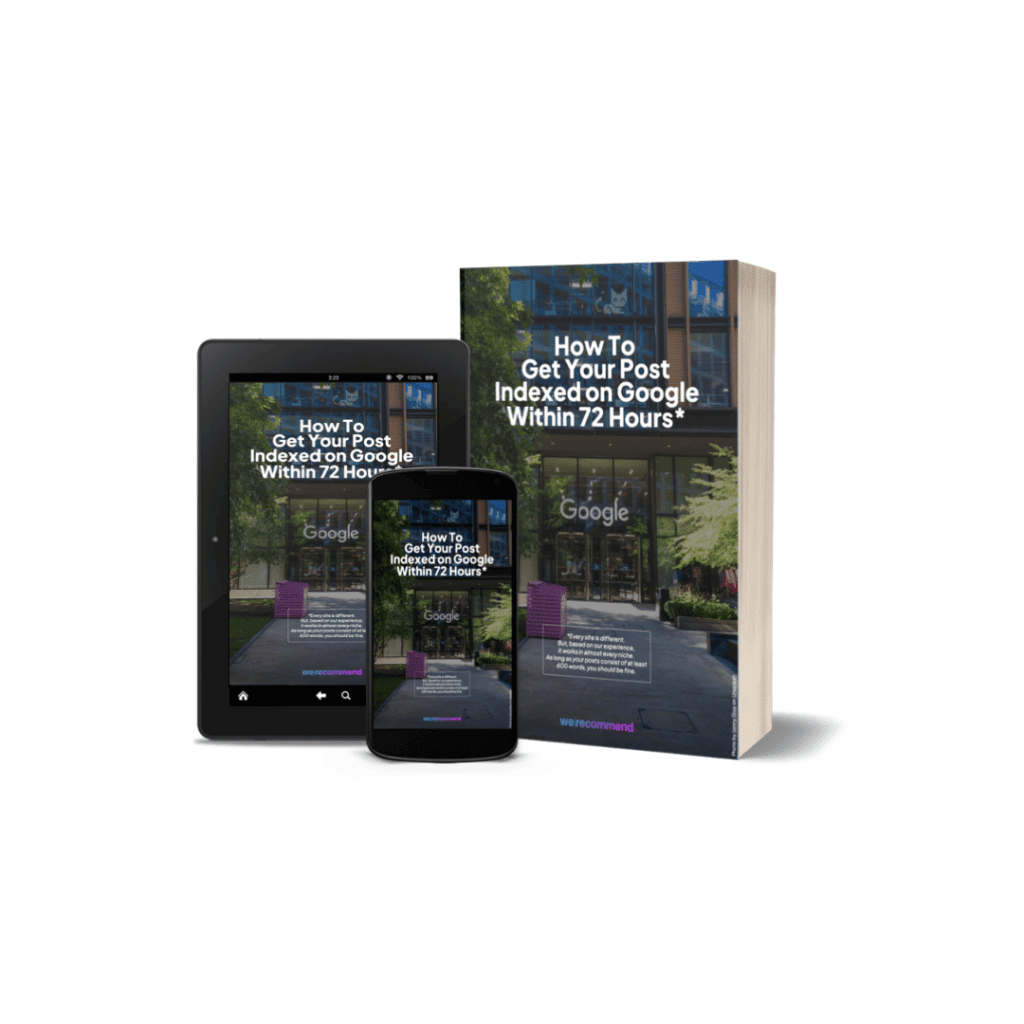 ---
As for this post, we will update you with the result after two weeks.
UPDATE
After two weeks, this post has been indexed and ranked on the first page of Google Search. Take a look at this screenshot below.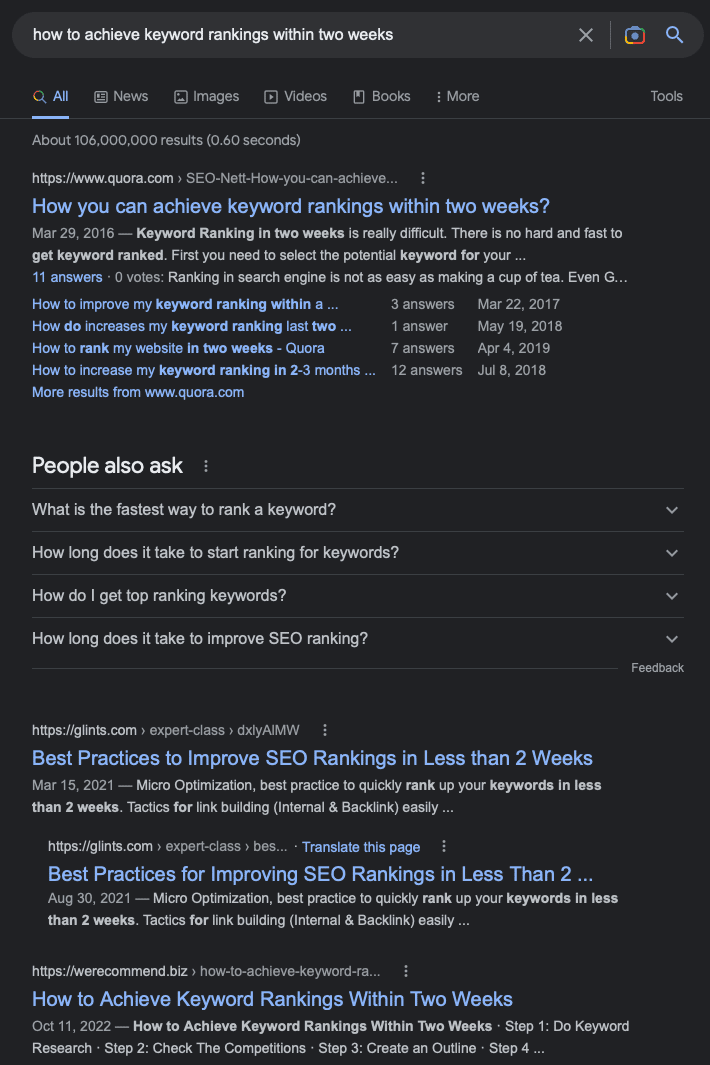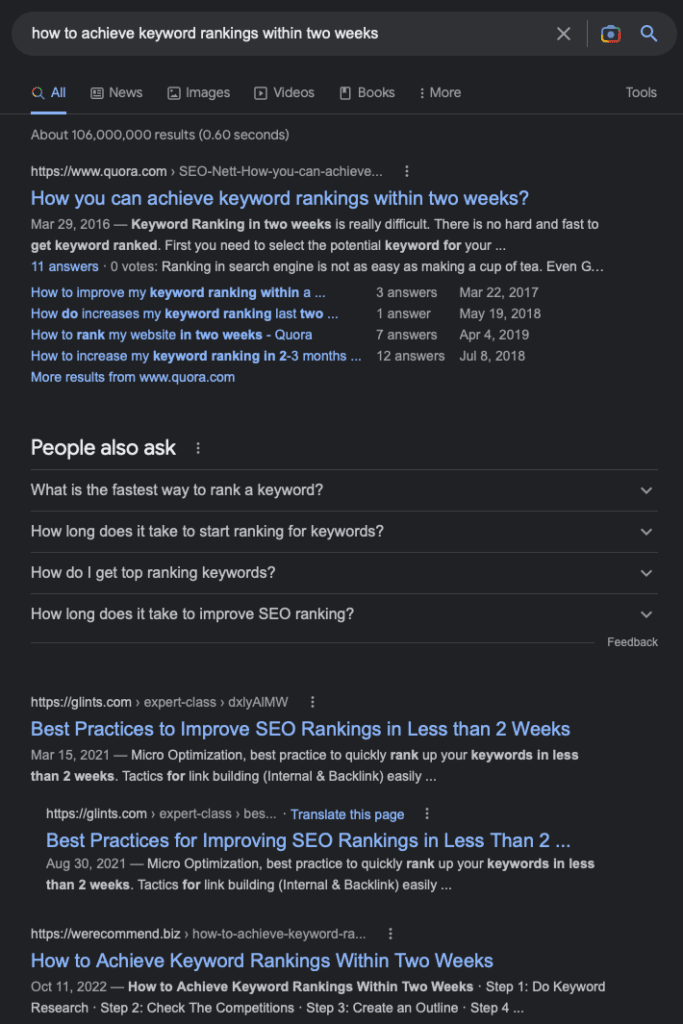 Here's another result from WhatsMySERP.


As you can see, we jumped straight away to the first page and outranked thousands of websites. This method proves that you don't need backlinks to rank on the first page of Google. It's all about providing value to your targeted audience.
Conclusion
So, there you have it. We hope this article can help you understand how to achieve keyword rankings within two weeks. Once again, our method is based on our experience writing content on our website. It might work for us, and not for you.
However, our keyword research method was proven to rank many—of our posts within two weeks and sometimes less than two weeks. If you have other strategies, let us know by leaving a comment below.
---