This post contains affiliate links. We may receive a commission for purchases made through these links without any extra cost to you. Thank you for your support.
---
If you're looking for a Wealthy Affiliate unbiased review, you've come to the right place. We are a member of Wealthy Affiliate, but we'll give you our honest opinion about this platform. At the end of this Wealthy Affiliate review, you'll find out if this is a legit platform or not.
There is nothing to hide, and with our recent hosting migration, we think it's almost time to write everything about Wealthy Affiliate.
Without further ado, let's dive in!
Is Wealthy Affiliate Legit?
Wealthy Affiliate is a legit affiliate marketing education platform to help people start their online businesses from scratch. Although there is so much value to offer, one of the downsides of Wealthy Affiliate is the inability to provide refunds and slow website hosting performance on mobile. Other than that, Wealthy Affiliate is a great community to get involved with.
What is Wealthy Affiliate?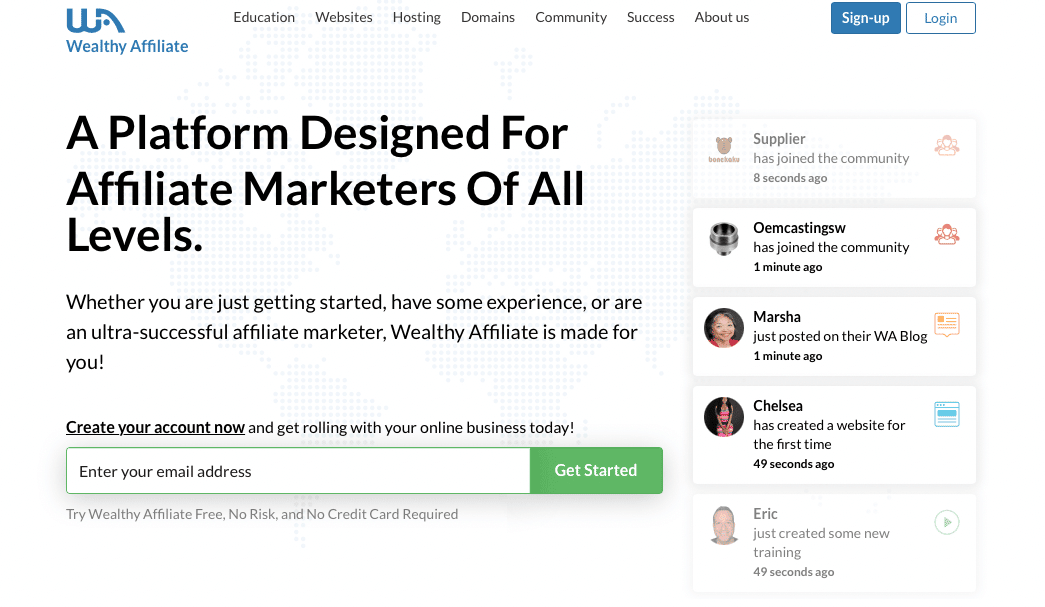 Wealthy Affiliate is a platform to help people start their online businesses by teaching them about affiliate marketing. It was founded by two Canadian, Kyle Loudon and Carson Lim. We have personally interacted with them on the platform, and there is no doubt both are genuine people and legit.
To this day, Wealthy Affiliate has no less than 1,400,000 members. It's been 17 years in the business and has members from 193 countries. They have more than 1,800 expert coaches ready to help you start your journey 24/7. Here's what other members have to say about Wealthy Affiliate.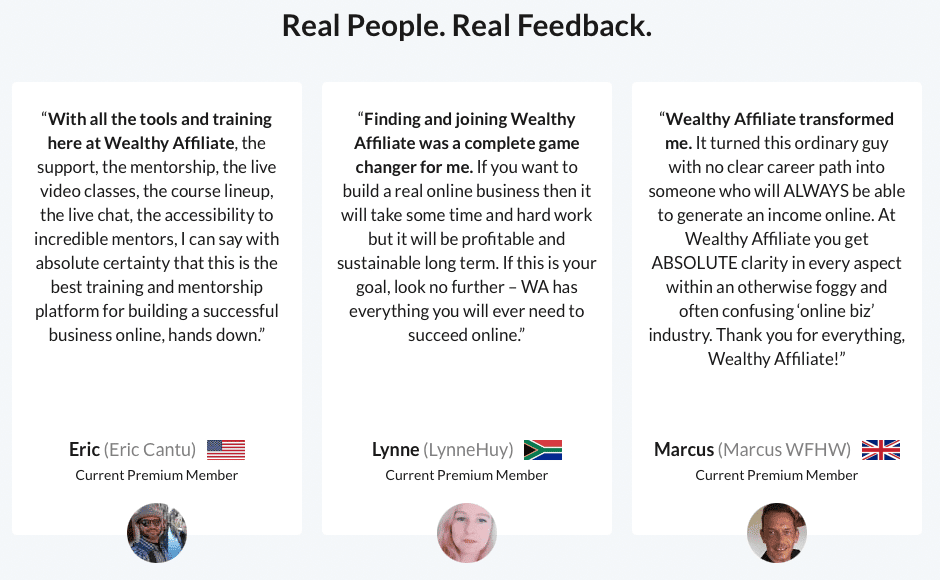 The good news is that you can start affiliate marketing with no money with Wealthy Affiliate. In other words, you can try Wealthy Affiliate for free. There is no risk and no need to input your credit card number.
Who is Wealthy Affiliate for?
First of all, Wealthy Affiliate is not a get-rich-quick scheme. It's an education platform to help you make money with affiliate marketing. So, don't expect to make money overnight when you join Wealthy Affiliate. However, many people who have joined didn't know this and expected to earn money as a free member. Let us state it clearly for you: you can't.
Based on our experience and observation, you need a lot of time and investment to be able to make money with Wealthy Affiliate. Some members say to give around 6 months to a year to start seeing an income. However, this is also related to your niche and how you spend your time building your online business. It's obvious and applies to any business.
Wealthy Affiliate is for people who want to start their online business from scratch and are willing to invest their time and money to make it work. We believe this is not for everyone because the investment is not on the affordable side. So, if you're not ready to invest your money, you can stop reading this review and move on.
But, as you might see in our income report, we made our first sale in the third month after we started our website on Wealthy Affiliate. After that, we keep on making money with affiliate marketing. Moreover, there are a bunch of members we personally know who have made money with Wealthy Affiliate by simply referring people to the platform. We'll cover more about this later.
How Does Wealthy Affiliate Work?
Since Wealthy Affiliate is an educational platform, it works by giving you step-by-step instructions to create your own website from scratch. So, why do you need a website to start your online business?
We can guarantee there is no successful affiliate marketer without a website. If anyone tells you that you can make money with affiliate marketing without a website, it is possible, but not in the long run. It would be hard to make money without any website. If you can't afford a website, the least you can do is to have a medium or platform to write content.
Wealthy Affiliate's primary goal for each member is to create a website around a specific niche and stand out as an authority in that niche. For example, if you want to start your online business as a coffee connoisseur, the ultimate goal of your website is to establish your brand as a credible source of coffee-related terms. The same principle applies to other niches such as making money online, health and fitness, automotive, and many more.
So, Wealthy Affiliate works by providing you with comprehensive modules and lessons through their courses. As you can see from our website, this is possible because we've been through all the lessons from Wealthy Affiliate courses. In the next section, we'll show you an overview of what you'll learn.
Wealthy Affiliate Course
Generally speaking, there are two training with more than 120 lessons to start your online business with Wealthy Affiliate. As we said earlier, Wealthy Affiliate provides comprehensive step-by-step instructions for anyone willing to invest their time to learn about everything related to affiliate marketing.
Don't worry. We won't bore you with everything inside since you can access it if you become a Starter Member. We will outline what you're going to learn in each training.
Online Entrepreneur Certification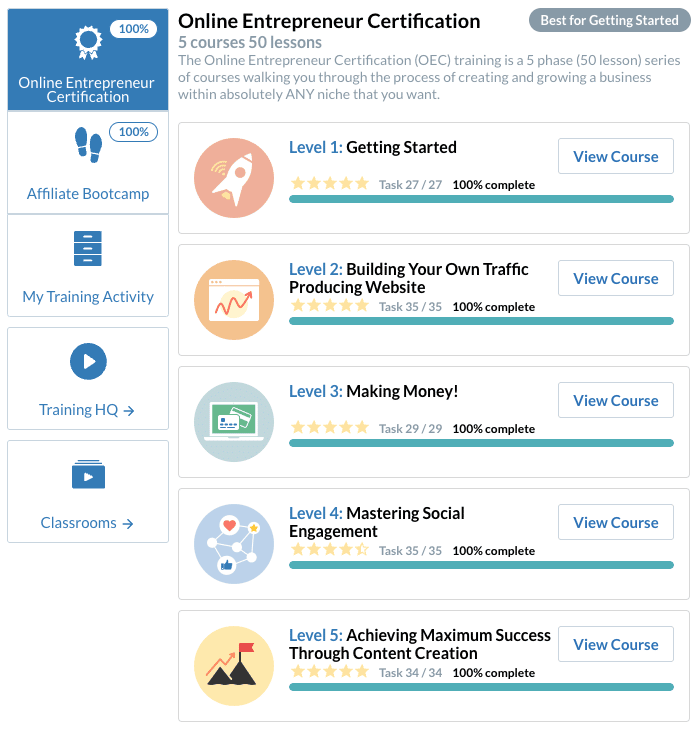 This is the most fundamental training that every member needs to follow to start their affiliate marketing journey. It has 50 lessons in total and is divided into 5 modules. You will need to complete several tasks to move on to the next lesson. You can cheat by ticking all the boxes, but we wouldn't recommend it. We think it's best to follow and execute all the tasks when you're just starting out.
This training covers everything you need to start your online business. Most importantly, the main principle of making money online and how to find your niche. As a Starter Member on Wealthy Affiliate, you can follow all these lessons for free. However, you need to upgrade your account to Premium to unlock other modules.
If you choose to upgrade your membership, the first month will only cost you $19. But, in the upcoming month, you will be charged $49 as a Premium member. As we said earlier, this is not for everyone. So, if you intend to pay monthly, you will need at least $539 in the next 11 months.
One of the things that you need to also pay for is upgrading your domain name. Depending on your domain name and the extension, you'll need to prepare at least $14,99 to upgrade. The primary reason for this upgrade is that you can't compete with a hosted domain name such as https://domainname.siterubix.com/. The chance for your site to get ranked is low compared to using a unique domain name with a .com extension.
If you already purchase your domain name from other platforms such as Namecheap or GoDaddy, you can keep using them and simply pinpoint the DNS to WA hosting. However, we will talk more about this in the hosting review later.
Affiliate Bootcamp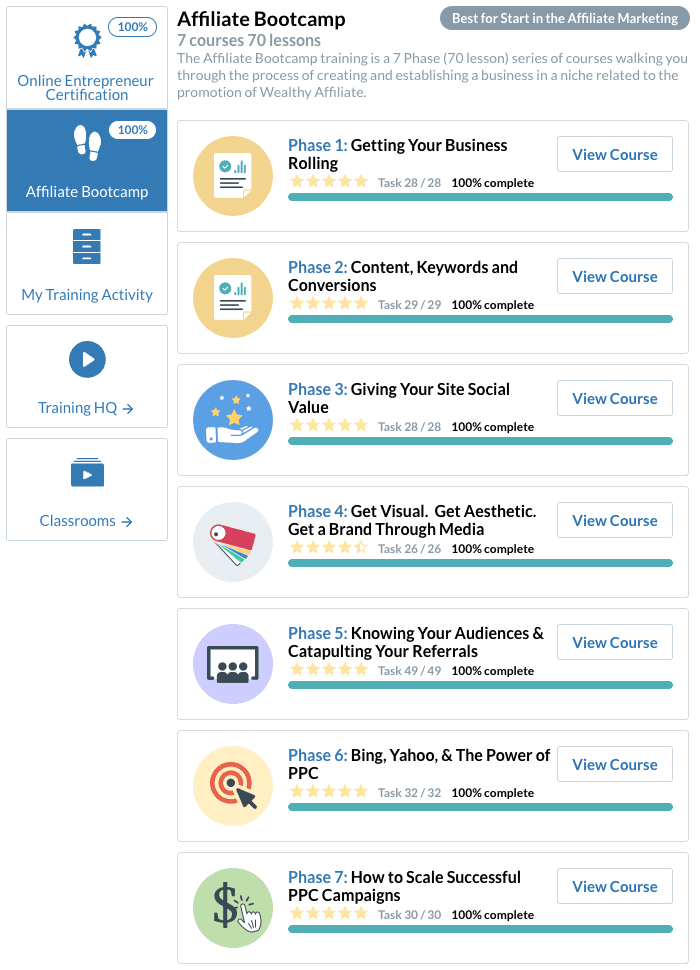 Once you're done with the Online Entrepreneur Certification training, you will have your website up and running, publish several contents on your website, and set up relevant social media to help promote your site.
If you are in the making money online niche, you can enroll in another training called Affiliate Bootcamp. This training mainly focuses on promoting the Wealthy Affiliate platform to help you make money online.
Moreover, you will also learn about keyword research, how to write a review, and implement basic tracking stuff to your websites, such as Google Analytics and Google Search Console. At the end of the day, you will need to publish more content to get traffic to your site.
Generally speaking, most of the lessons are valuable and quite an eye-opener if you're new to affiliate marketing. But, some of the materials are outdated and irrelevant to the current situation. So, if you're reading somewhere else and it says the same thing, it's true.
However, this is easily tackled because if you're a Premium member, you can catch up with the weekly training from the Wealthy Affiliate Trainer/Coach Jay Neill. Here's a screenshot of his profile.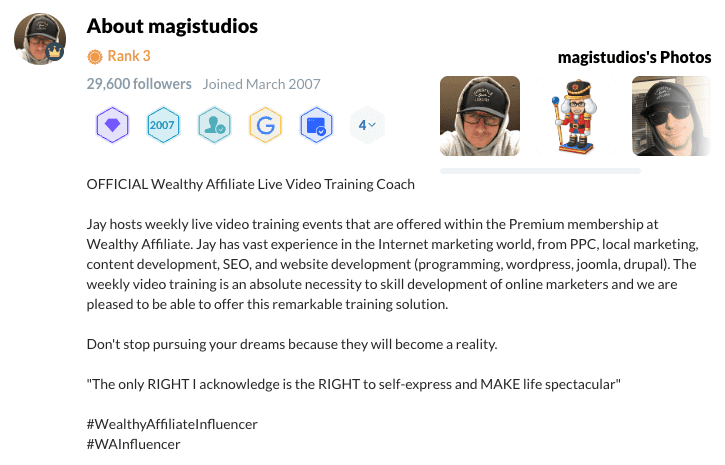 Other than Jay's training, other members could also publish their own training to keep up with relevant updates. Well, that is the beauty of Wealthy Affiliate as an education platform. The community is very active 24/7. Everyone is supporting each other to help and strive together. You will always find an answer to almost any question on the platform.
Wealthy Affiliate Features
Now, let's talk about the features and benefits you get when you become a Wealthy Affiliate member. We will highlight several features that make them stand out to start your online business.
Website Management Suite
If you plan on hosting your website using the Wealthy Affiliate platform, you'll get access to the Website Management Suite. This is a brilliant solution to manage everything inside your website within Wealthy Affiliate. But, this could also be a limited option to do everything related to your website's backend process.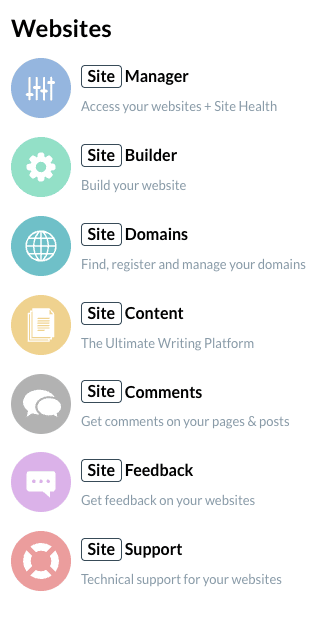 As you can see from the screenshot above, there are 7 menus inside this website management suite.
SiteManager: This is where you can find everything related to your website information, such as your login details, PageSpeedInsights of your posts and pages, and Installed Plugins on your website.

SiteBuilder: If you want to start creating your website from scratch, this is the menu to help you do that. You can start with a free SiteRubix domain as a Starter Member. However, as we said earlier, it won't be too much of a use to compete.

SiteDomains: When you become a Premium Member, you can manage up to 10 websites simultaneously within Wealthy Affiliate. This menu is where you can manage your website domains. Many of the members we know own more than one site. However, we wouldn't recommend it for starters, as managing one website is already a tedious process, to begin with.

SiteContent: You can write posts and pages using the SiteContent menu. This feature helps you to identify if your website posts and pages are indexed on Google. Moreover, you can access your writing stats and create templates to help you write your posts. It helps to motivate you if you're just starting out. Once your post is done, you can publish it directly to your website and edit everything else there.

SiteComments: One of the main benefits of having thousands of active members is you can help each other by giving comments. This is one of the main reasons people like Wealthy Affiliate. You can request comments by leaving comments on other members' sites. Leave two comments before you can get comments on your site. However, this feature has a bit of a flaw since many of these comments will be fake because people leave it to get credit. But, you can choose to disapprove of those comments until you get the right one.

SiteFeedback: Now, if there is one feature to help you grow as an online marketer, it's to receive feedback related to your site. You can ask for feedback from other members. If you have more experience, you can also leave feedback on other members' sites to help them. It's a give-and-take process that supports the Wealthy Affiliate community thrives.

SiteSupport: One of the best support teams for any problem you have within your website could be solved by submitting a ticket to SiteSupport. They are available 24/7 and will respond to any request within minutes. However, this only applies if you host your website on Wealthy Affiliate.
Live Chat
When you sign up as a free member, you can interact with all the active members through a live chat feature inside the platform. You can ask questions and have a light chat about anything there. However, there is a rule not to promote anything inside Wealthy Affiliate as your account could get banned.
Wealthy Affiliate Ambassadors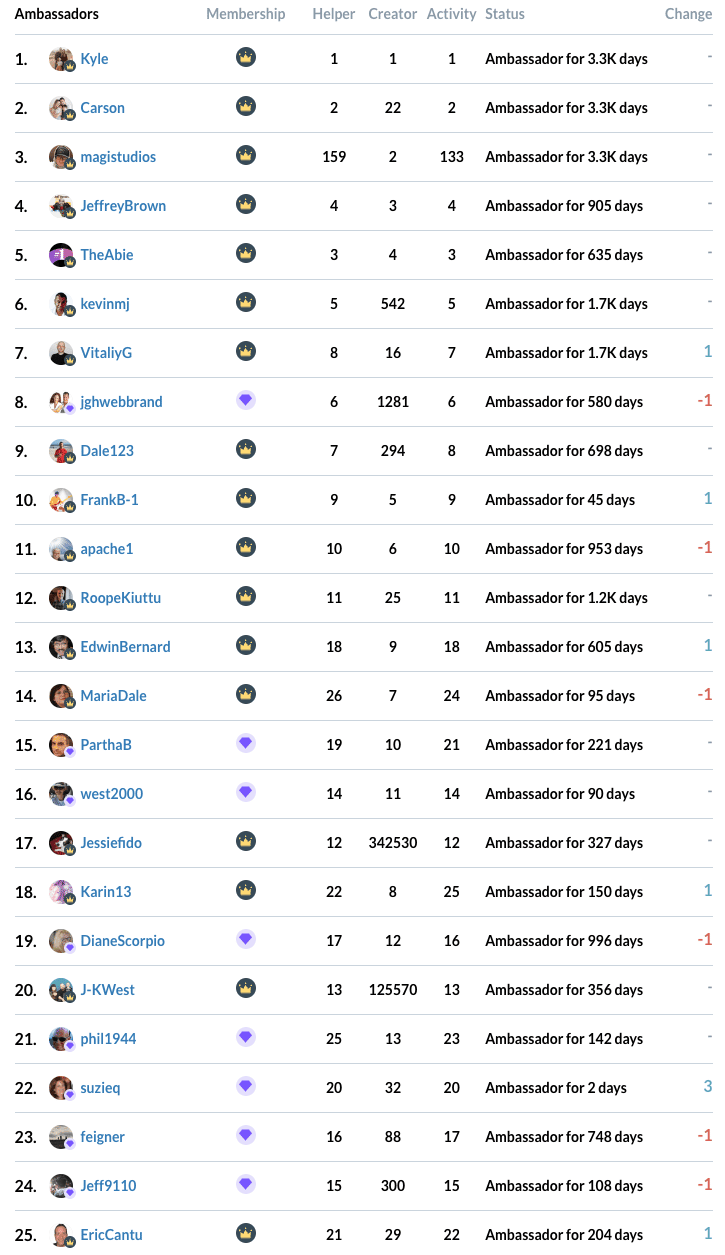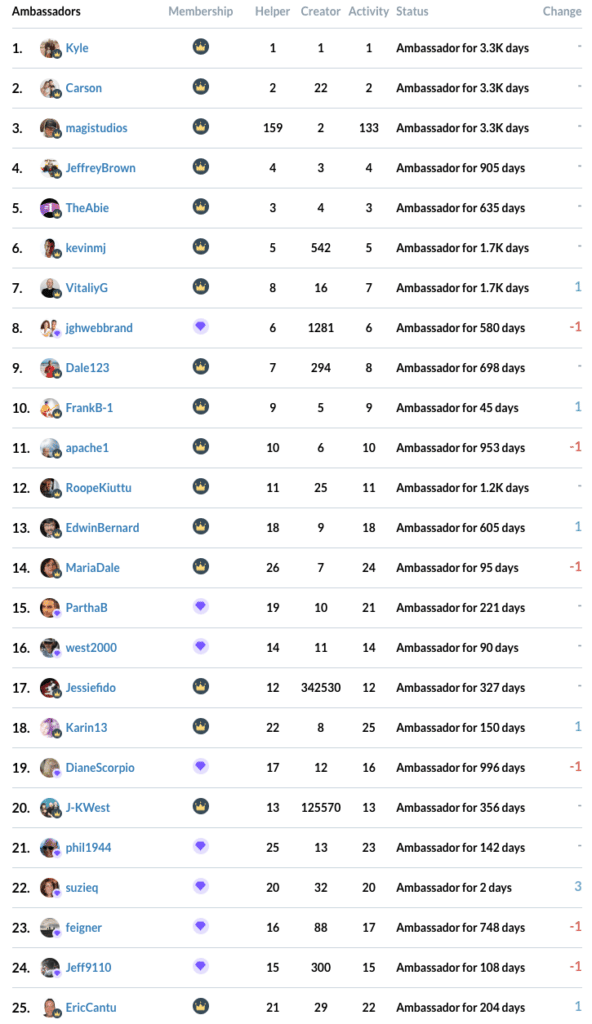 There is this ranking system inside Wealthy Affiliate that helps you to get noticed by other members. Amongst all of them, the top 25 are called Ambassadors. You can climb up the rank by being active on the platform. One of the best ways to do that is by regularly answering questions from other members.
You can also post regularly inside the Wealthy Affiliate blog section or create training to help other members. In short, proving yourself as a helpful member by providing valuable information and knowledge to other members will help you boost your rank within the platform.
When we write this post, our rank is at 134, as you can see from the screenshot below.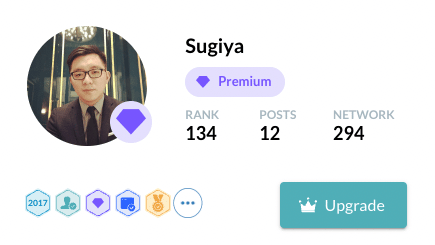 One of the best benefits of ranking high within the top 100 is you get noticed by other members. When it comes to affiliate marketing, expanding your network is always a great idea. Moreover, you are networking with like-minded people, which is a plus.
Wealthy Affiliate Review Trustpilot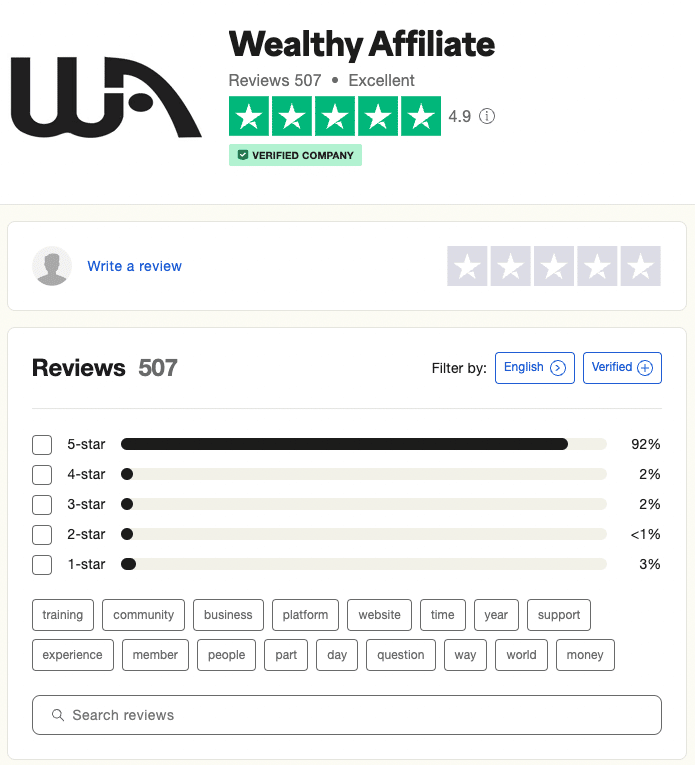 Wealthy Affiliate is a verified company on Trustpilot. So, if you'd like to see the reviews, you'll be surprised that it has more than 500 reviews with a 92% 5 stars rating. This could be legit, as some of the people who leave reviews are members we personally know around the platform.
Wealthy Affiliate Hosting Review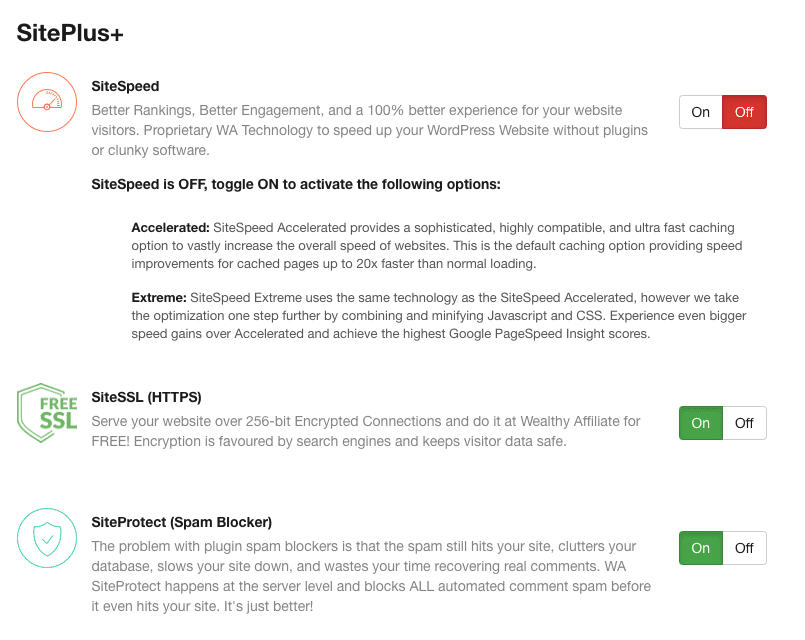 Now, here's the thing that we personally didn't like about Wealthy Affiliate hosting. Wealthy Affiliate claimed it as a Premium hosting, but it lacks to pass your website's mobile Core Web Vitals performance. The performance on the desktop is good enough, but it rarely passes the Core Web Vitals with flying colors.
Moreover, we have had several experiences where we can't log in to our site. For a new website like ours, getting 24/7 uptime is crucial, and when our site doesn't load instantly, people might leave, which could hurt our bounce rate.
For your information, when we hosted our website on Wealthy Affiliate, we used WP Rocket as our caching plugin. However, the performance still lacks compared to our current website speed.
That's why we decided to move to Rocket.net hosting. If you're amazed by our website speed, you're experiencing Rocket.net and not Wealthy Affiliate hosting. We believe we made a good decision and investment here. Furthermore, the fact that this site runs on AdSense and still loads almost instantly is mindblowing.
Can You Make Money With Wealthy Affiliate?
If you're wondering whether you can make money with Wealthy Affiliate, let us state it in the beginning: you can, but it will be very challenging. Here's why:
Wealthy Affiliate is not for everyone.
The price is more on the expensive side.
Expect not to make money in the first 6 months.
Many people are not interested in learning the hard way about affiliate marketing.
The platform has been around for 17 years, and more people have heard about it.
If you had no idea about Wealthy Affiliate before reading this review, would you join this platform? We don't think so. It is challenging to make money by promoting Wealthy Affiliate as an educational platform because you need to target the right audience.
Although you can promote Wealthy Affiliate as a Starter Member, it is still a challenging task. Even as Premium Members, we only manage to get 1 recurring sale with Wealthy Affiliate since February 2022. Fortunately, a monthly recurring commission could go a long time when promoting something like Wealthy Affiliate since you have to use the platform for your online business.
But, if your intention is to make money with your niche by applying what you've learned from Wealthy Affiliate, then the answer is 100% yes, you can. In fact, we've made nearly $1,000 since we launched our website back in February.
Wealthy Affiliate Commissions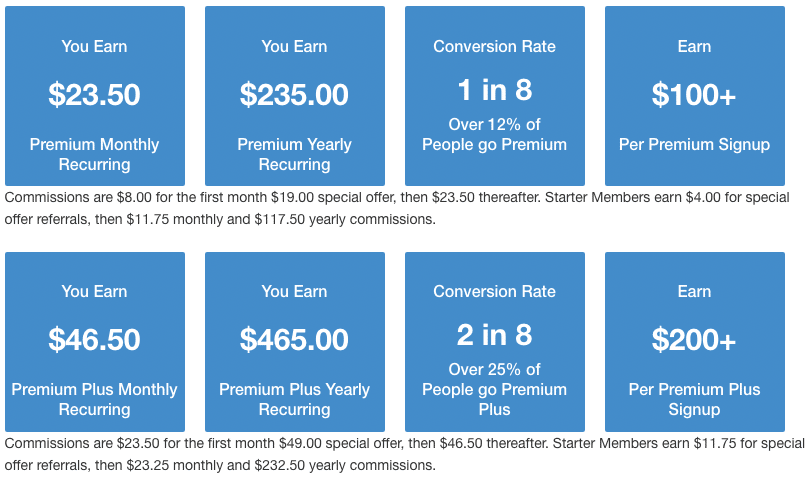 As a Premium Member, you can earn 47% commissions when you promote Wealthy Affiliate to your audience. This could be monthly recurring or yearly recurring commissions. Payment will be made on the 1st date of every month via PayPal. The minimum threshold to receive your commission is $10.
Wealthy Affiliate Pricing
There are two different pricing plans for Wealthy Affiliate Membership, Premium and Premium Plus. The difference is quite significant in price, but it would be better to compare it with the Free/Starter Membership.
Free/Starter Membership
10 step-by-step lessons on how to do affiliate marketing (Value $99)
Free WordPress Powered Website (Value $49)
Web Hosting (Value $199)
SiteRubix Website Builder (Value $199)
Domain Marketplace (Value $149)
Jaaxy Keyword Research Tool (Value $99)
Affiliate Program Search (Value $99)
7-Day Free Access to Premium Support (Value $199)
You can do the math. It's more than $1,000 if you buy it separately. However, you can get all the benefits above if you sign up as a Starter Member for free. This is why Wealthy Affiliate is called the University of Affiliate Marketing. They are giving a lot of trials for free so more people can experience and learn about affiliate marketing.
Premium Membership
Other than what you get in the free membership, you will also get:
100+ step-by-step video lessons (Value $999)
52+ expert classes per year (Value $999)
10 premium WordPress-powered websites (Value $499)
Faster web hosting (Value $299)
Premium Help & Tech Support (Value $499)
Premium Private Coaching (Value $999)
It's nearly $4,300 ($4,294 to be exact). But you don't have to pay it all. You only need to invest $49 per month.
Holy cow, that's only 1,14% out of $4,294!
But, if you decide to upgrade to premium membership now. You'll get 59% off for your first month's premium subscription.
$19. You can't find any better deals than this. However, if you plan on upgrading to a yearly membership, which we recommend, you will only pay $300 per year ($299,04, to be precise). Here is a table of comparisons for both membership options.
Premium Plus Membership
Other than what you get in the Premium Membership, you will also get:
50 Premium WordPress-powered websites
200+ Expert Classes per year
Jaaxy Enterprise Research Platform
Exclusive Access to Jaaxy Alphabet Soup x Beta
Coaching & Mentorship from the Founders of Wealthy Affiliate
Bonus Success Classes, 7 Experts in 7 Days
We won't provide any value as you might already notice it will be much more than the Premium Membership. However, if you think you have to pay more than $100 per month to access everything inside Wealthy Affiliate, then you might be wrong. The Premium Plus Membership will cost you $99 per month or $999 a year. Even better, for the first month, you only have to pay $49.
But, we wouldn't recommend it for starters unless you know what you're doing. It would be better to start as a Premium Member to get familiar with the platform while building your online business.
Wealthy Affiliate Pros and Cons
Despite many of the benefits you've seen above, there are several pros and cons to consider before deciding to become a member of Wealthy Affiliate.
Pros
Active community and full of valuable insight related to the current situation and condition in internet marketing.
You can host multiple websites inside Wealthy Affiliate.
If you can get referrals to join Wealthy Affiliate, the commission will stay for a long time because of the system.
The training material is suitable for beginners without prior knowledge of internet marketing.
Cons
There is no refund policy.
Some of the training materials are outdated.
Wealthy Affiliate website hosting is so slow on mobile.
Frequently Asked Questions
Is Wealthy Affiliate a pyramid scheme?
No. Wealthy Affiliate is not a pyramid scheme where you can have a residual income from your referrals. Wealthy Affiliate provides a transparent earning based on your referral upgrade.
How do I cancel my Wealthy Affiliate membership?
To cancel your Wealthy Affiliate membership, you can check your account settings, select the subscription, and cancel billing.
Conclusion
To summarize our Wealthy Affiliate review, Wealthy Affiliate is a legit affiliate marketing education platform to help you start your online business. As you may already notice from the course material, Wealthy Affiliate provides a step-by-step process to create your own website from scratch.
You can test and get familiar with the platform within 7 days for free before finally deciding to upgrade your account to Premium or not. However, if your concern is related to website speed and performance, you shouldn't use Wealthy Affiliate hosting. It's not possible to pass the Core Web Vitals.
As a member of Wealthy Affiliate, we like it as a place to share and interact with like-minded people. Since our mission is to provide valuable information and help other people to make better decisions, feel free to join Wealthy Affiliate as a Starter Member. We will surely help you to get familiar with the platform.
---