This post contains affiliate links. We may receive a commission for purchases made through these links without any extra cost to you. Thank you for your support.
---
In this Leadfeeder review, let's find out if this is the best B2B intent data platform to uncover hidden leads from your website visitors.
It's not a big secret that every business needs to capture leads and convert them into sales. People use lead magnets, newsletter subscription forms, and other tools to capture valuable information such as names, emails, and phone numbers.
If you're running a B2B (business-to-business), leads mean everything. Without any leads, there will be no sales. You might think the solution lies in using Google Analytics to track your visitors. Well, that's not the wrong approach. But, the thing with Google Analytics is you have no idea who is visiting your website when they didn't fill out your contact form. As a result, a visitor will only count as a visitor.
As an affiliate marketer, we thought about this too. We have no idea about our visitors at all. We know there is a business opportunity when someone sends us an email. But, that might only explain a few of them from thousands of our monthly visitors. That's why we tried to look for a solution, and that's when we found out about Leadfeeder.
Leadfeeder might be the solution we're looking for to understand our website visitors and hopefully turn them into potential leads for business opportunities.
So, without further ado, let's dive in and learn about this platform.
What is Leadfeeder?
Leadfeeder is a startup based in Helsinki that provides marketing insights from website visitors' data and onsite activities. These valuable data have the potential to identify people visiting your website and mix-match them to Leadfeeder's database. As a result, you will be able to understand who is visiting your website and identify potential leads. You could think of it as Google Analytics on steroids.
Here's a short video showing you what Leadfeeder is all about.
What does Leadfeeder do?
The way Leadfeeder works is simple. You can sign up for free and start with 14 days free trial. After that, you can add your website to Leadfeeder and input a script into the Head setting of every page. We use the AdInserter plugin to do that. Moreover, you can integrate Google Analytics to Leadfeeder to get the best possible result.
After everything is set and done, Leadfeeder will do its magic and identify companies visiting your website by cross-checking with their database. The way it works is by analyzing and filtering the IP address of your visitor. This process automatically removes bots, ISPs, and other sources of traffic that are not qualified as a lead. So, in the end, you will have information about who's visiting your website, alongside the potential contact person.
You can watch this short video to learn more about how Leadfeeder works.
Leadfeeder Features
In this section, we'll talk about features that make Leadfeeder one of the best sales intelligence tools you can trust to generate potential leads.
GDPR-Compliant Data Quality
Now, what sets up Leadfeeder apart from the competitors is the data quality it can give you just by installing the Leadfeeder Tracking Script to your website. We can't disclose other data but look at this screenshot below.
As you can see, you have almost everything. In this case, since we applied as an affiliate, we can show you that Leadfeeder does visit our site. Even without submitting any information to our contact form, we could get this amount of valuable data. You get company information, its phone number, down to the potential contact person.
In addition, this data is already GDPR-compliant, so you don't have to worry about breaking the law and regulations. It turns out that Leadfeeder updates its database in real time and uses machine learning to analyze your site visitors. Moreover, it is trusted by more than 60,000+ businesses worldwide. Take a look at these testimonials below.

Customized Filtering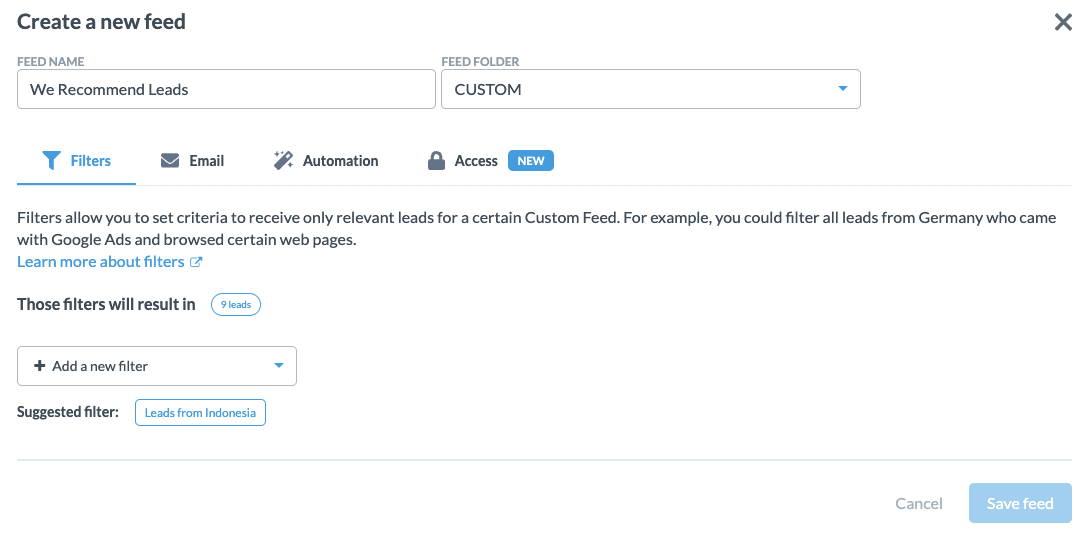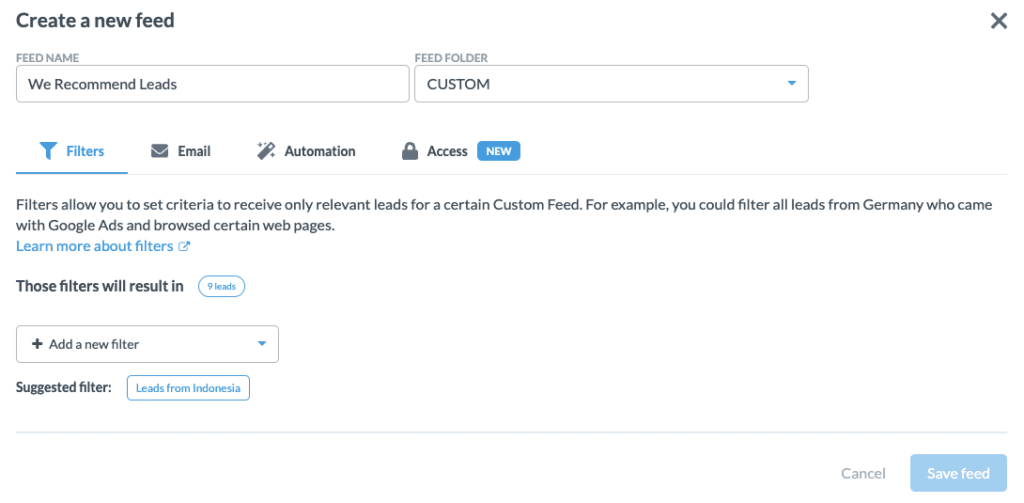 Apart from the basic filtering provided by Leadfeeder, you can also create a custom feed yourself. There are several customization features you can use for your tracking, such as:
Behavior. This filter might be the one we utilize the most for our custom feed. You can identify your site visitor based on device types, domain, file download, form fill, visit length, and many more. It's essential to identify potential leads using this filter. For example, when a website visitor stays long enough on a few of your pages, you can consider that a buying intent.
Acquisition. This filter will help you identify valuable visitors based on the traffic sources. You can customize the filter based on the campaign, keyword, traffic origin (social media, advertisement, or other sites), and many more. It is a powerful filter when you run a campaign to promote your product or services. So, you can identify the success of your campaign with Leadfeeder.
Company Information. As the name says, this filter will give you an exact match based on the company information. You can customize the company city, continent, country, company name, employee count, industry, etc. For example, if you want to promote your product or service overseas, you need this filter to identify potential leads.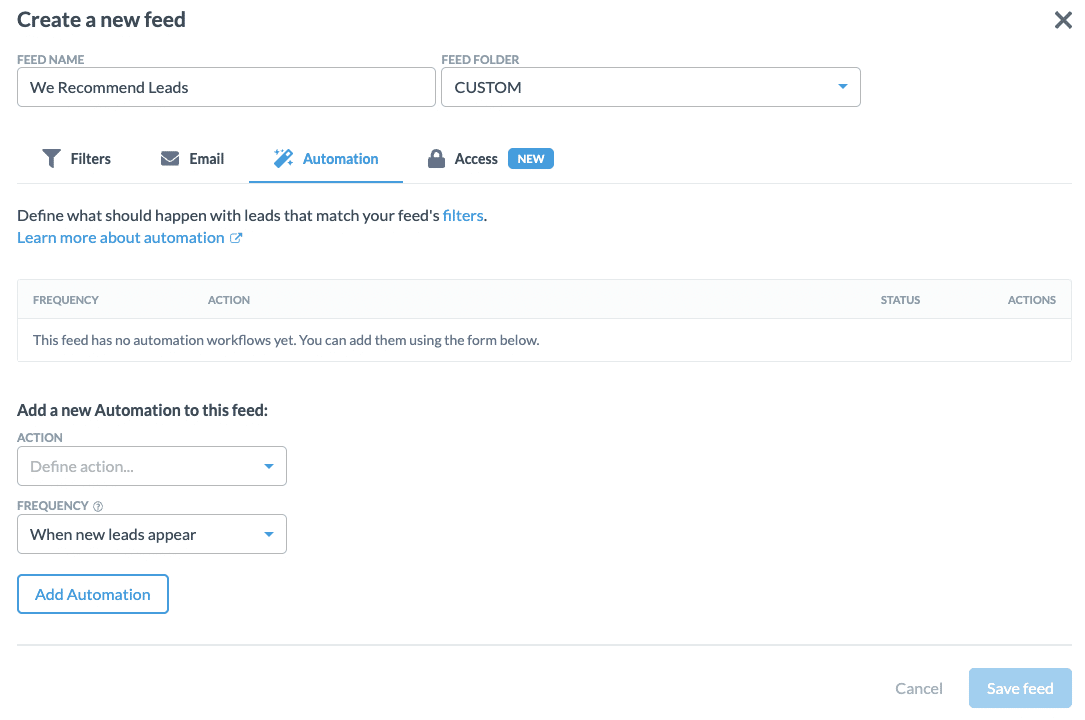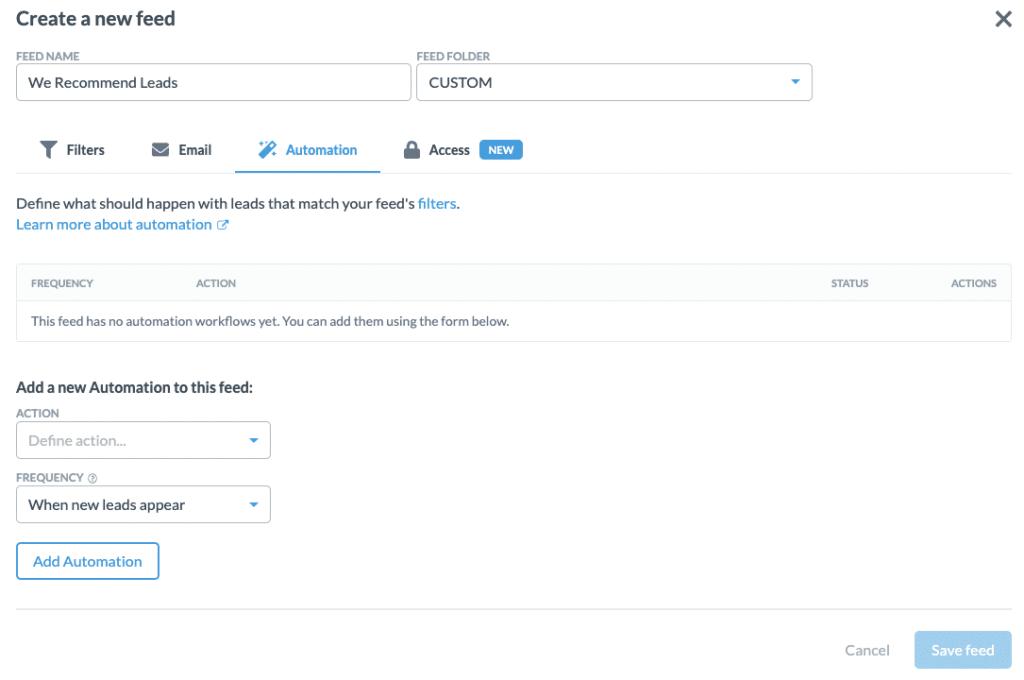 However, it doesn't stop there. When you create a custom feed, you can set Automations based on the result. For example, when a lead matches your custom feed, you can send those leads to your CRM platform.
You can set action-based automation such as adding a tag whenever a potential lead appears or assigning them to your sales team for follow-up. Furthermore, you can also set the frequency to trigger this automation, such as daily or weekly depending on your preference and marketing strategy.
Integrations
Identifying anonymous visitors into leads is already good enough. What if you can also integrate Leadfeeder with your CRM platform? It turns out that you can do it with Leadfeeder.
Currently, these are the platforms you can integrate with Leadfeeder.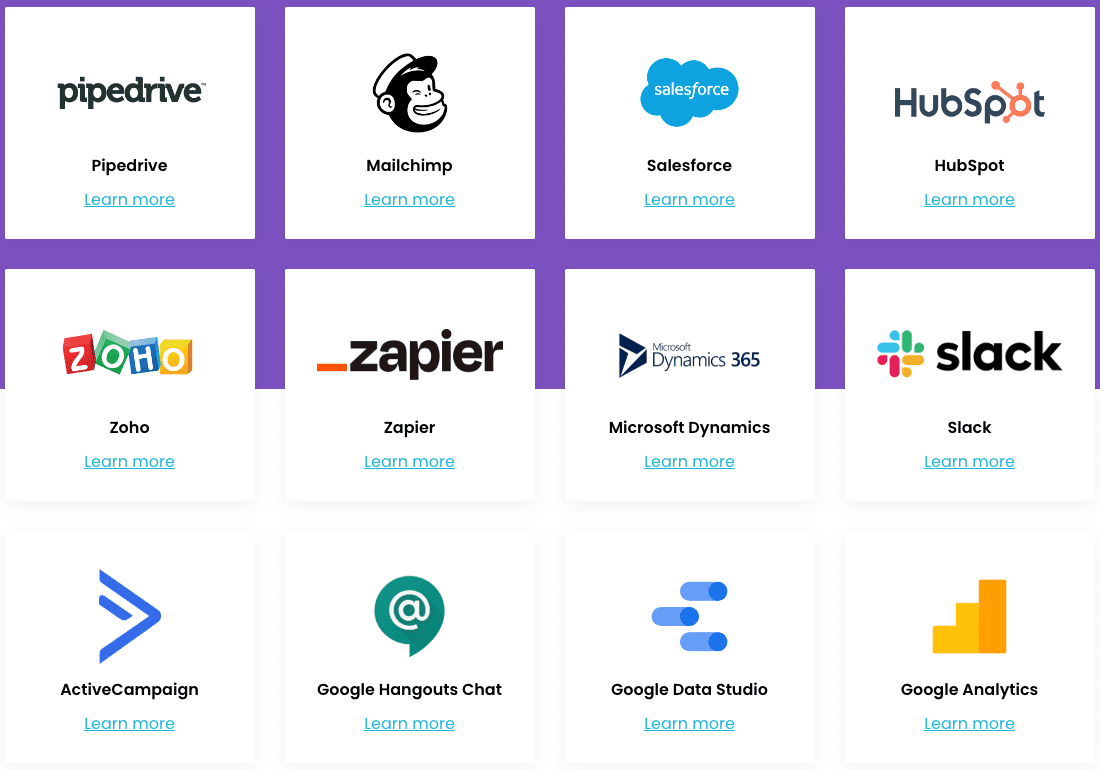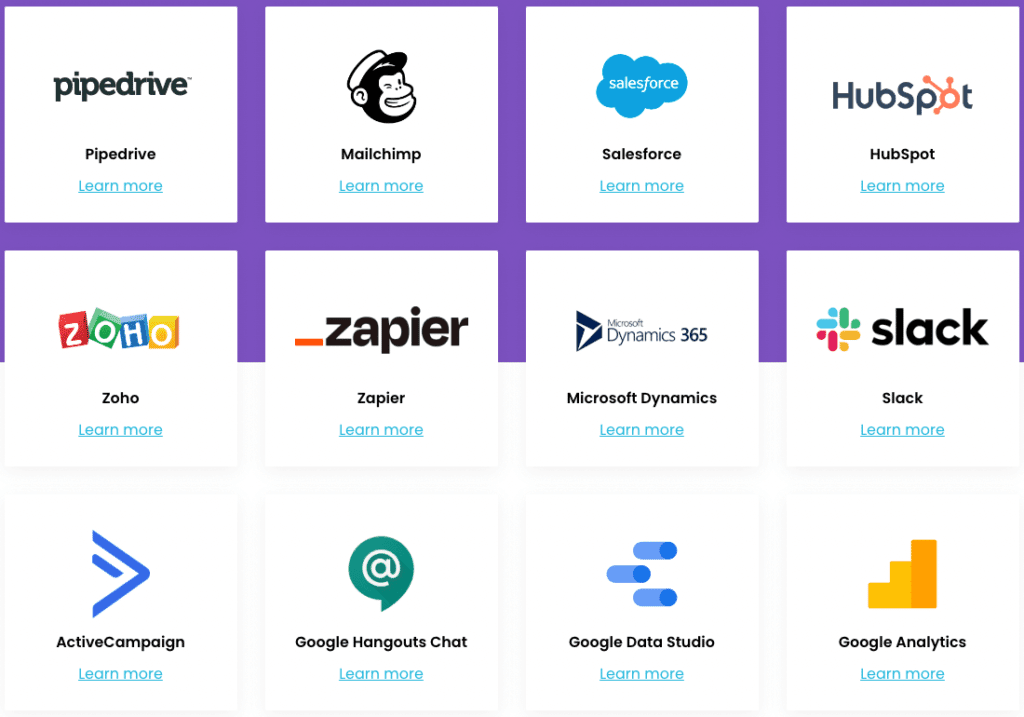 When you combine sales intelligence tools with powerful integrations, you will streamline your business process and save a lot of time in scaling up your business. Imagine following up on potential leads you already know have the buyers' intent. Wouldn't it be easier?
Leadfeeder Pricing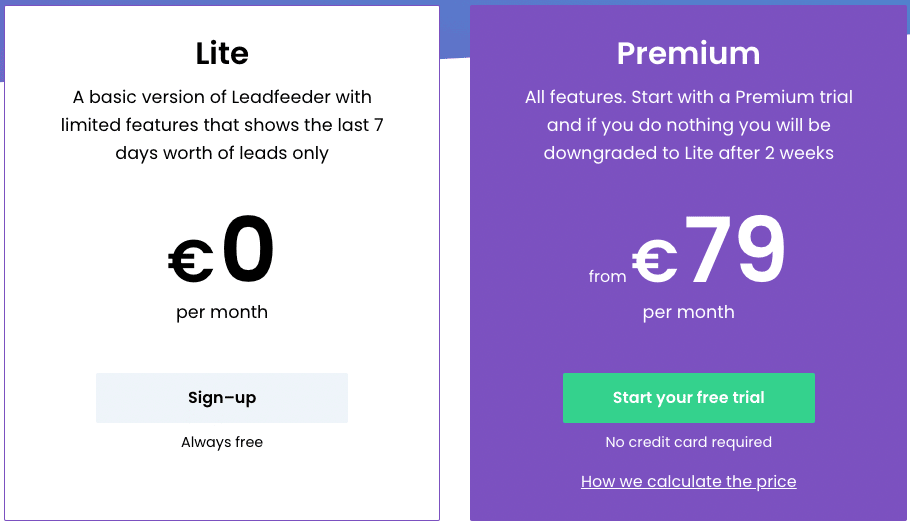 Even though you can use Leadfeeder for free with the Lite version, we recommend you to opt for the Premium plan if you can afford it. At €79 per month on an annual payment, it is still considered pricey but judging by the value this platform can deliver, it's worth it.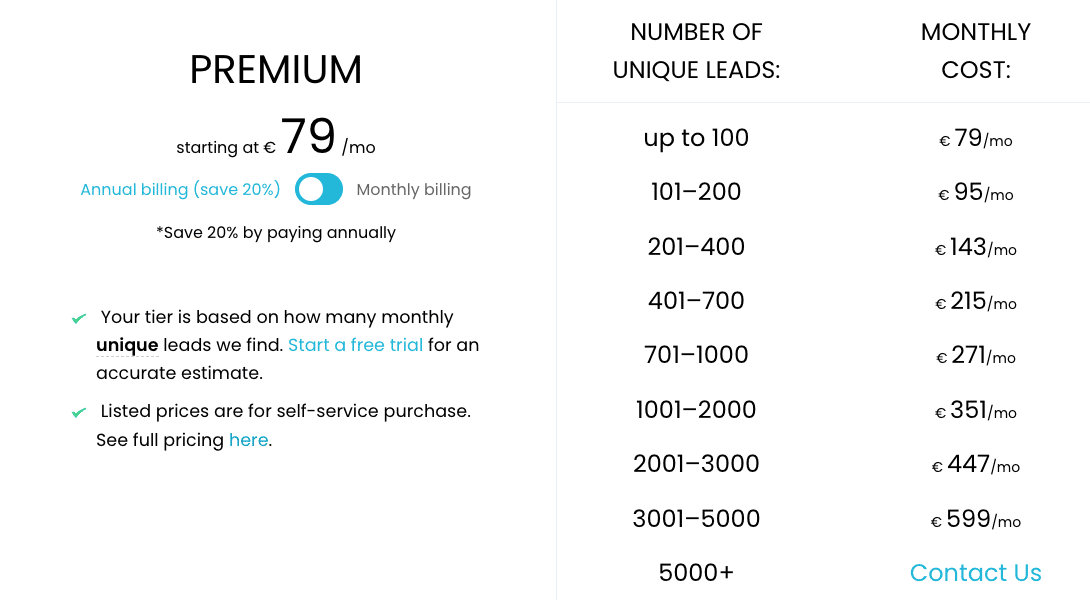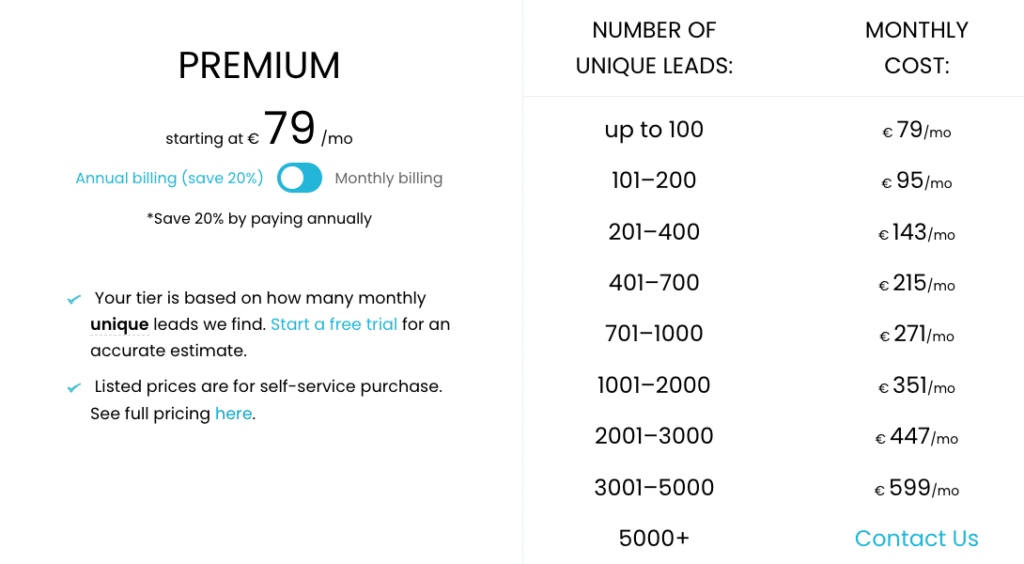 However, the price goes up based on the number of unique leads you get. We still recommend an annual payment than a monthly payment due to the 20% off discount.
Leadfeeder Pros and Cons
Despite the powerful features and the value this sales intelligence platform can deliver, there are several pros and cons to consider before you purchase the subscription plan.
Pros
Easy installation. You only need one line of code to activate Leadfeeder.
Powerful insight to identify your website visitors.
Powerful automation when you create a custom feed to generate high-quality leads with Leadfeeder.
Cons
A bit expensive for startups.
Lack of integrations with other email marketing services.
Frequently Asked Questions
Can you still access all the information when you use the Lite version?
No. The Lite Version only allows you to capture leads visiting your website without additional details. Moreover, the data retention is limited to 7 days.
How many websites can you track with Leadfeeder?
You can monitor as many websites as you like when you subscribe to the paid plan.
What happens after you have finished the free trial period?
Leadfeeder will automatically downgrade your plan to the Lite version. If you purchase the paid plan, you will continue with the Premium plan at the end of your trial period.
What payment processor does Leadfeeder accept?
As far as we know, you can pay based on an invoice sent to you or your company or a credit card payment.
Conclusion
To summarize our Leadfeeder review, this is one of the best B2B intent data platforms you can use to generate leads from your website visitors. If you can afford the paid plan, we strongly recommend it to see how this powerful tool can help you generate leads and identify their behavior on your site. You will be blown away by the capabilities of this tool.
Even though it lacks email marketing integration options, we recommend you test and explore it with the free trial option. You'll understand why we installed it on our site. It's like Google Analytics on steroids.
---