---
In this Outgrow review, we'll show you how to use interactive content marketing to your advantage as an online marketer.
This Outgrow review is suitable for:
Online coaches and trainers
Affiliate marketers
Business owners
Email marketers
Freelancers
People who want to learn more about interactive content marketing.
Let's face it. Who doesn't want a higher conversion rate, lower bounce rate, and higher social shares? These essential metrics can be achieved through interactive content marketing provided by Outgrow.
Every online business needs high-quality leads. Technically, you want visitors to your site to convert into loyal customers. That's why we create landing pages, pop-up forms, lead magnets, and many more. All these efforts enable online businesses to gain trust and eventually collect leads.
However, Outgrow takes this process one step further with interactive content marketing. Now, let's go ahead and dive deeper to take a look.
What is Outgrow?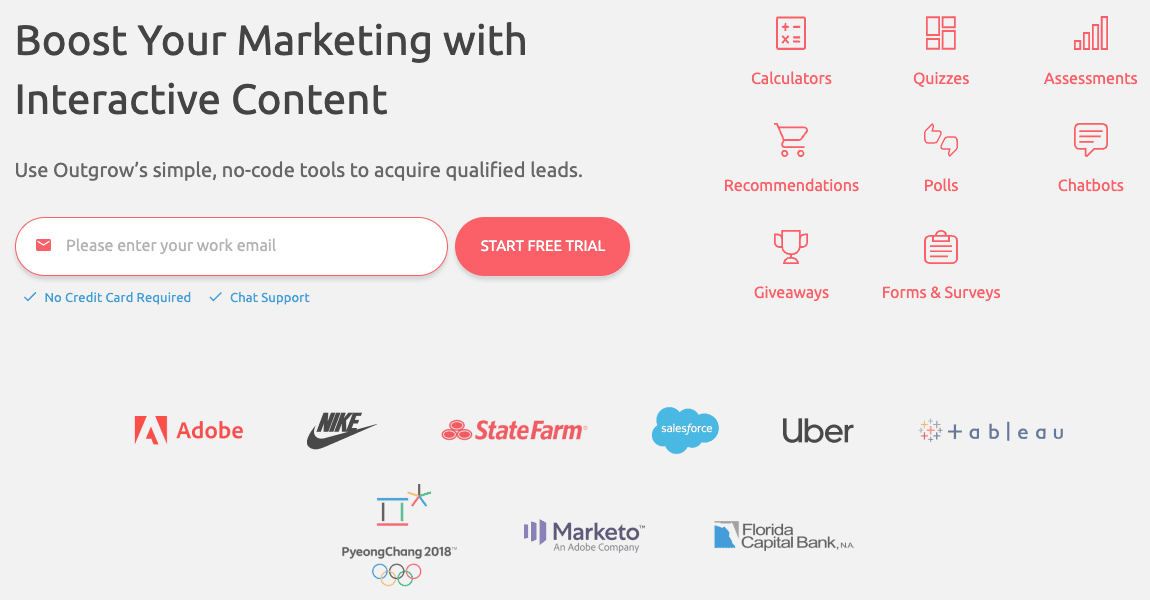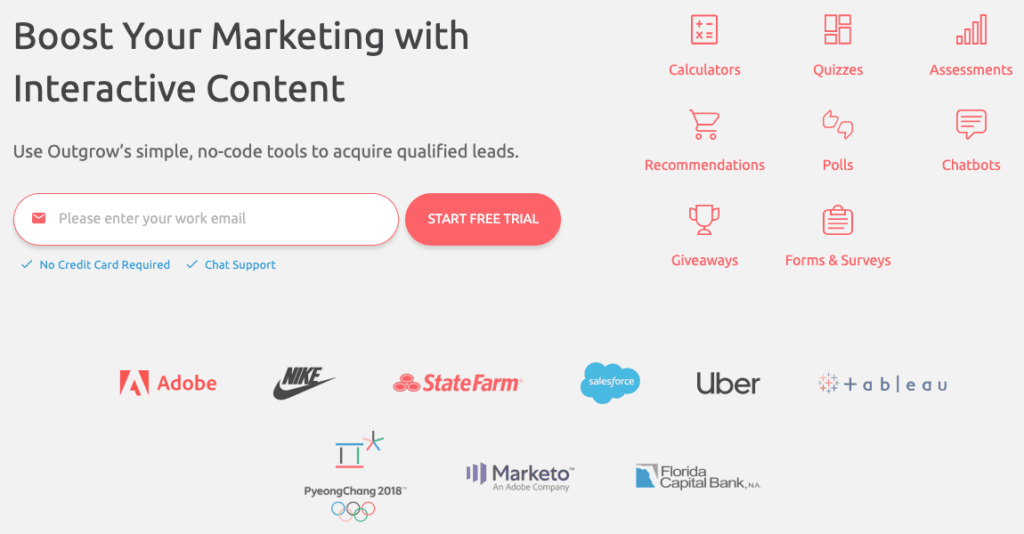 Founded by Pratham Mittal and Randy Rayess, Outgrow is an interactive content marketing platform to generate new traffic and improve conversions.
To quote from one of Outgrow's blog posts,
Interactive content is content that requires the audience to interact or engage with the content piece. It's more like a two-way conversation between you and your audience. It requires active participation from both sides.

—Outgrow
There are several types of interactive content such as quizzes, calculators, assessments, polls & surveys, infographics, videos, and many more. According to Outgrow, 45% of B2B customers preferred interactive content over other content types. Here's a table comparison to help you understand the benefits of interactive content.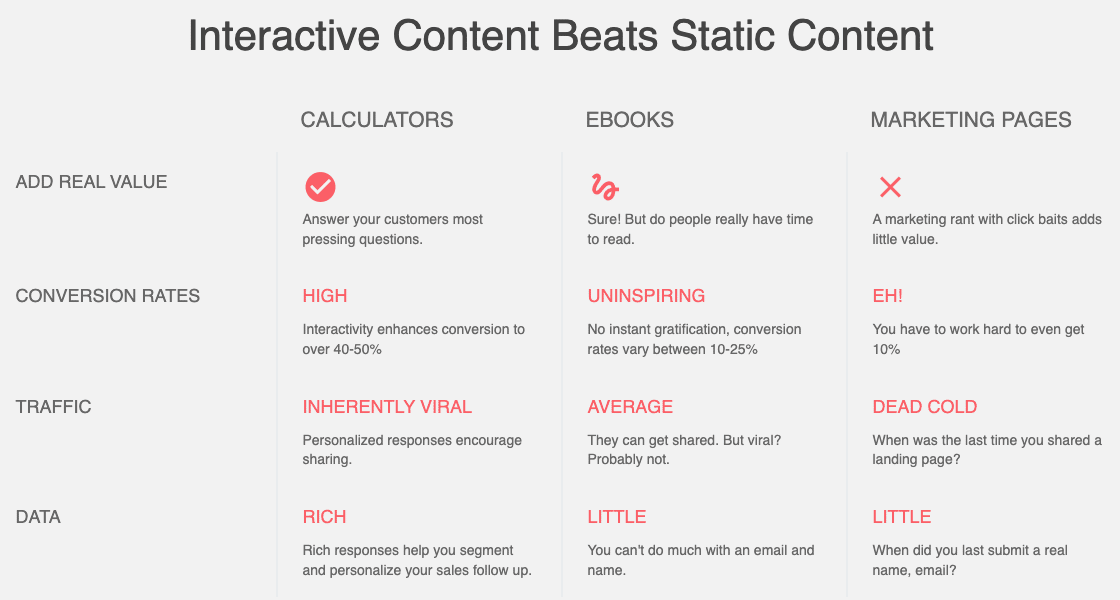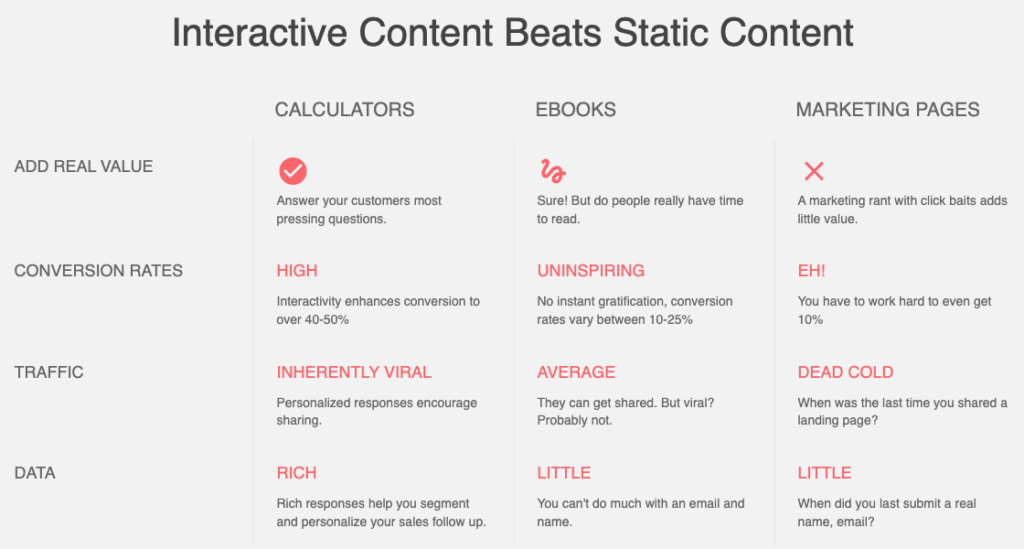 It struck our hearts reading this table. But, we couldn't agree more that our e-books (our lead magnet) don't provide any information about readers. As for marketing pages, you know this stat better than we do.
Here's a testimonial that explains it well about Outgrow.


How does Outgrow work?
You might be thinking, do you need to learn about coding to create interactive content?
Fortunately, Outgrow has already done the hard work for you. They have provided various ready-made templates to help you get started. Here's a short video to help you understand how Outgrow works.
Interesting, isn't it?
No coding is needed, and you can customize your content to almost anything possible. Simply embed Outgrow templates on your website and choose from the various options below.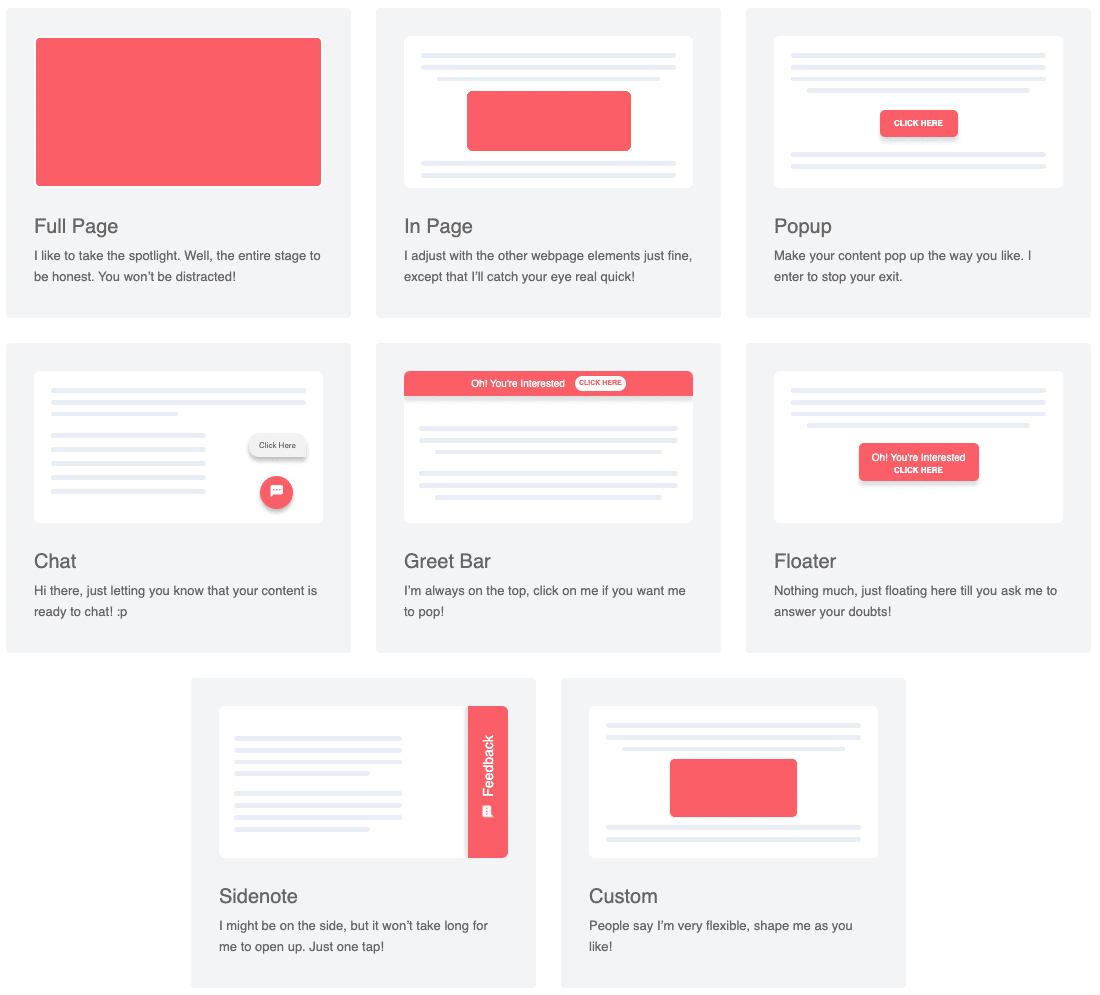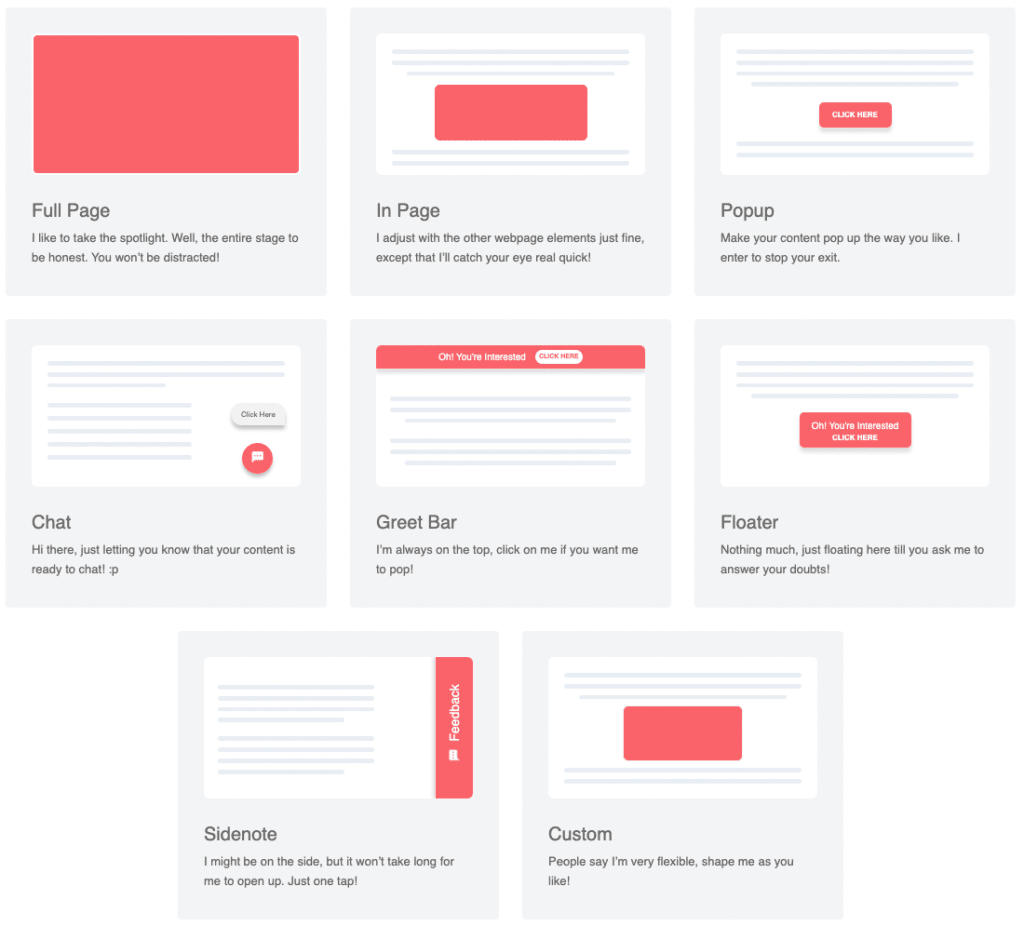 Outgrow Features


Now, let's get straight to Outgrow's key features. What types of interactive content can you create with Outgrow? There are 8 possibilities:
Calculators
Product Recommendations
Quiz
Chatbots
Assessments
Forms/Survey
Giveaways/Contests
Polls
We'll explore these types one at a time.
1. Calculators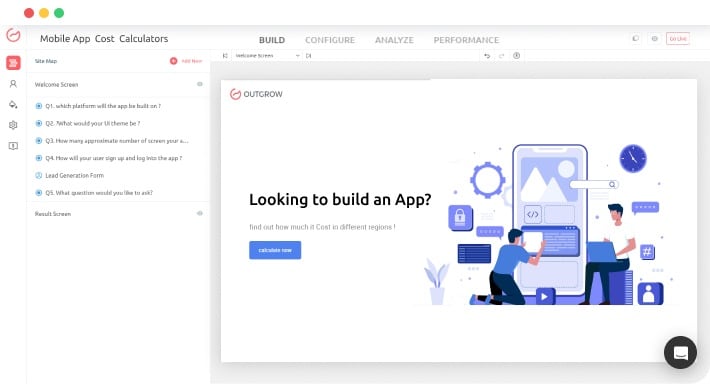 The first and probably one of the most favorite templates used by Outgrow users are interactive calculators.
Why a calculator? Basically, providing a calculator helps you deliver more value to your audience. For example, take a look at this stunning landing page below.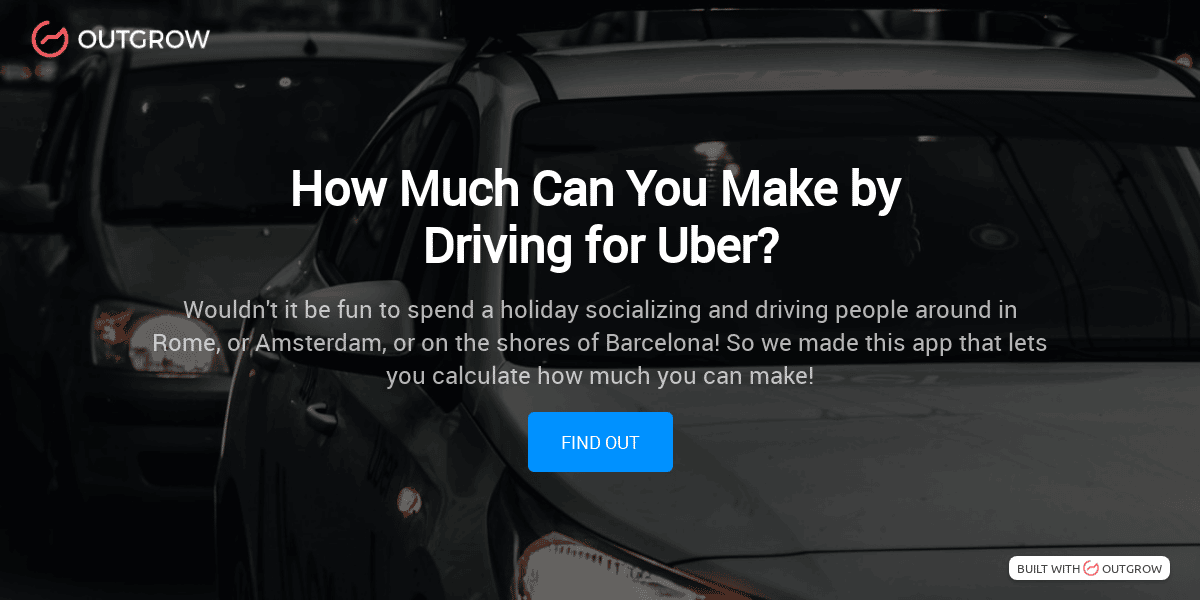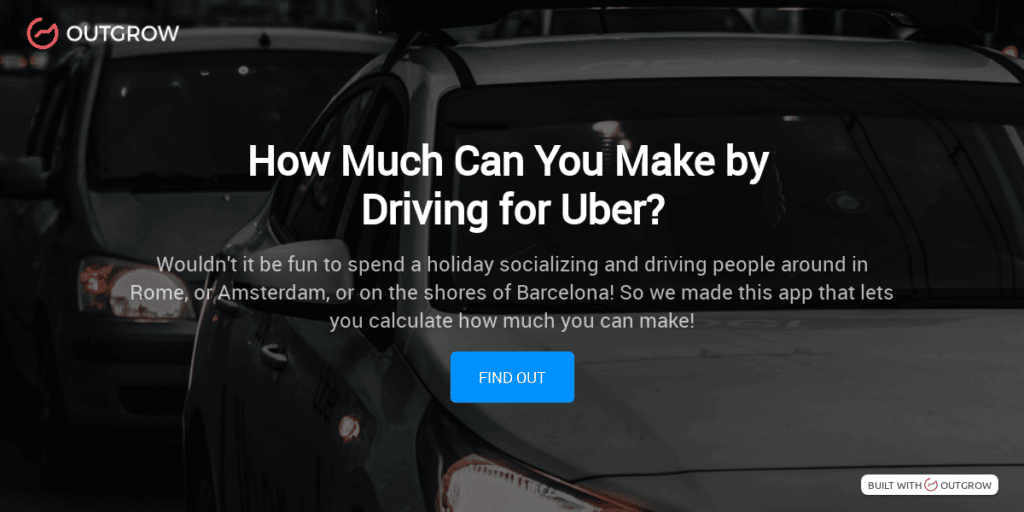 So, when you click on the 'FIND OUT' button, you will see this form.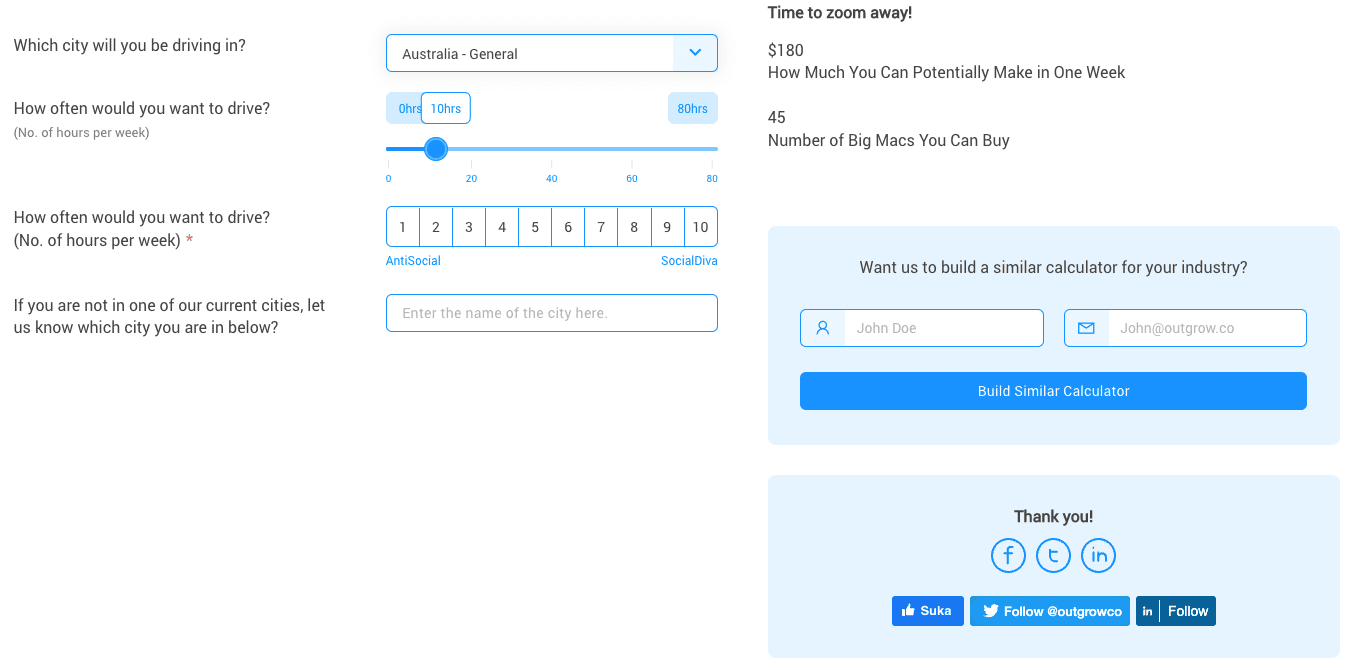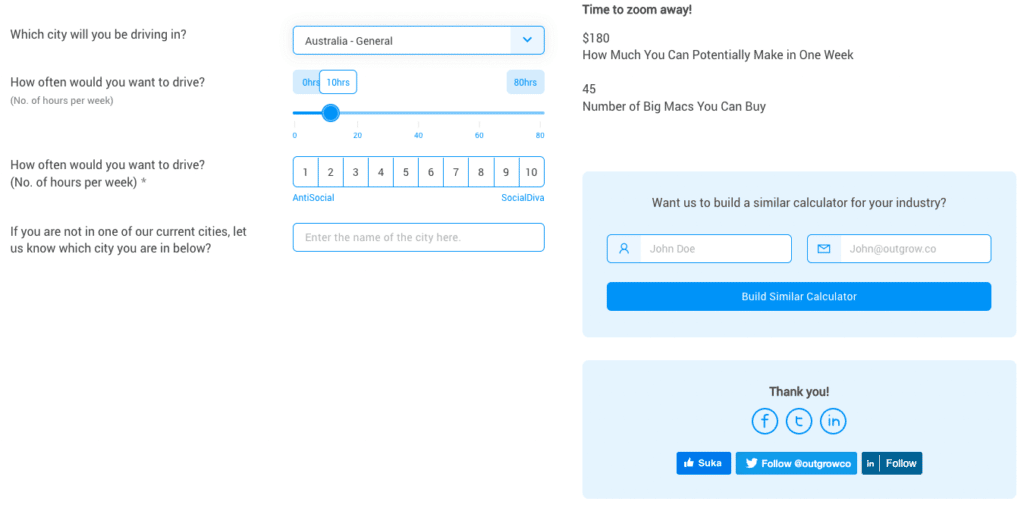 As you can see, you can easily engage with your audience with this calculator. This calculator allows your audience to estimate their earnings if they want to be an Uber driver. Imagine using this calculator to drive more leads and recruit new potential Uber drivers.
You might be thinking, what kind of industry/niche fits in to use calculators? If you're working in the finance, real estate, insurance, or software industry, using calculators can help you generate more leads. It even works in the fashion industry, too!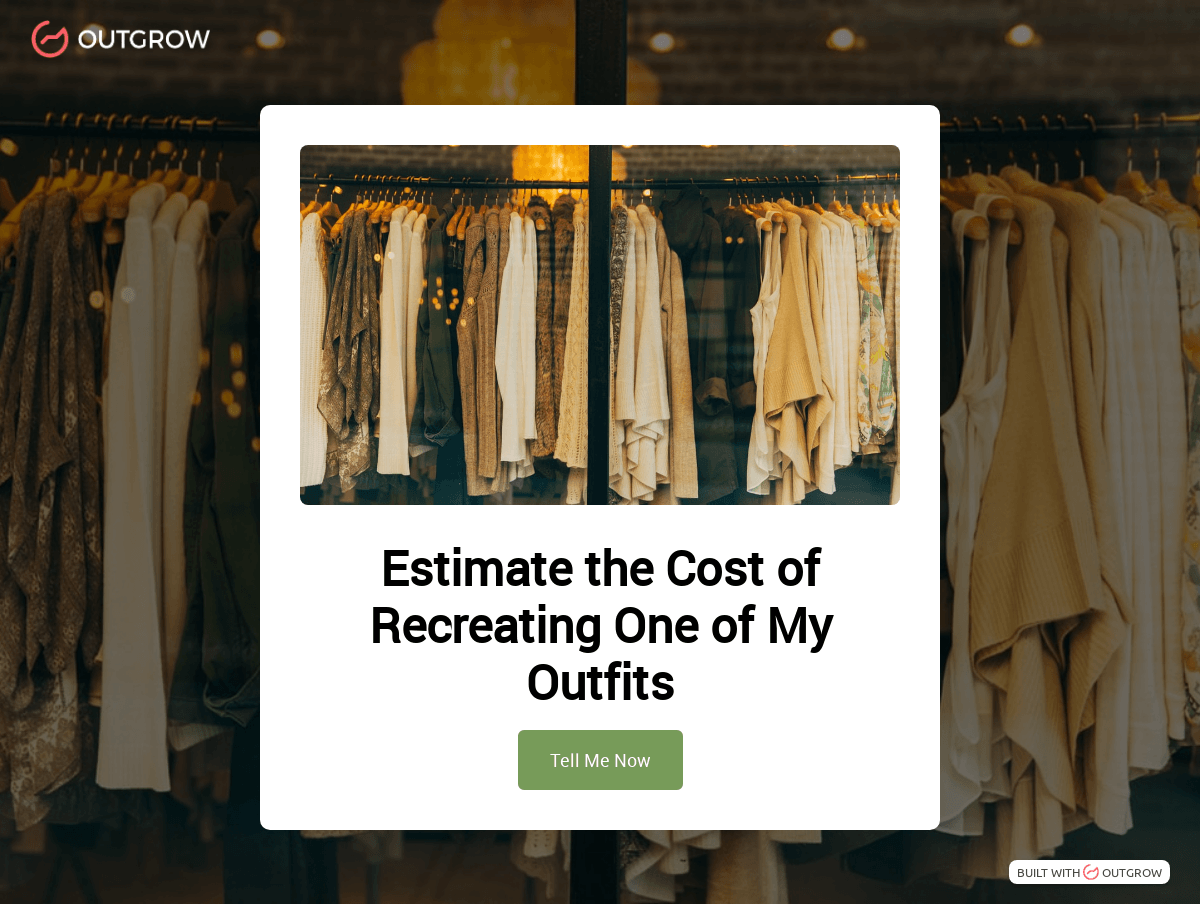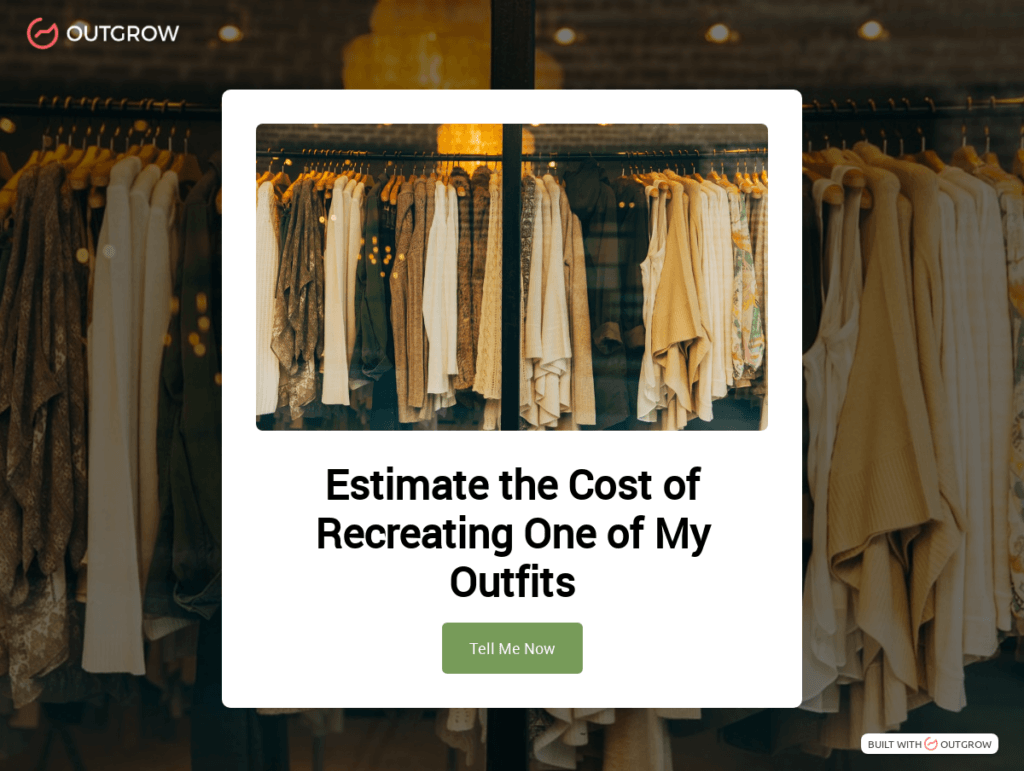 This is just one of the many calculator examples you can create with Outgrow. You can customize your calculators using the pre-made templates available.
2. Product Recommendations
Now, if you're running an e-commerce business, you'll love this product recommendations template. First, let's watch this short video to learn how it works.
Instead of promoting offers, you can learn about your customer through e-commerce quizzes and lead them to your recommended product based on their responses. Take a look at these examples below.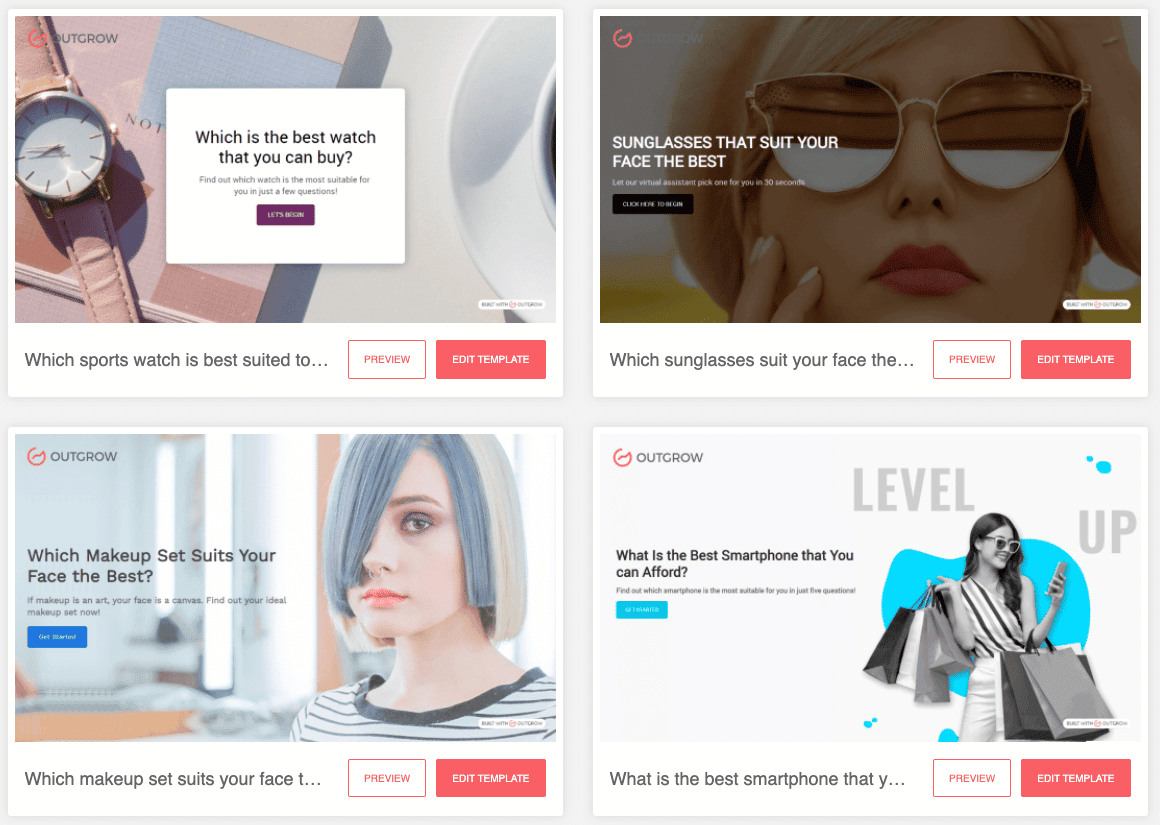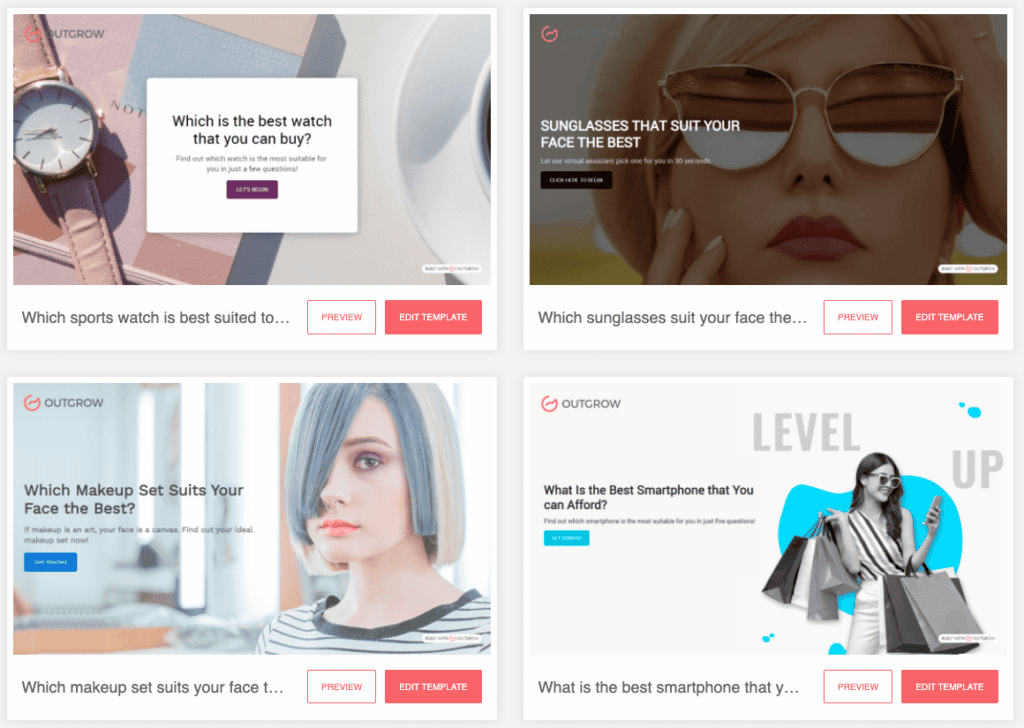 Let's say you're selling sunglasses and want to direct your customers to buy a pair. You can create a sales funnel through a simple quiz.
For example, you can ask about your customers: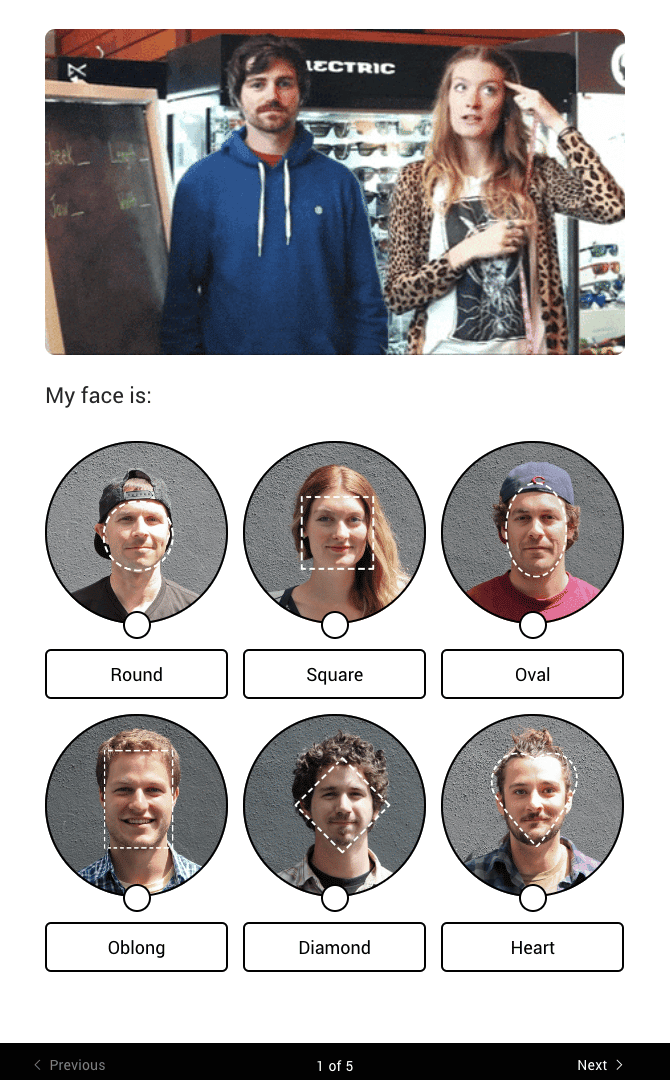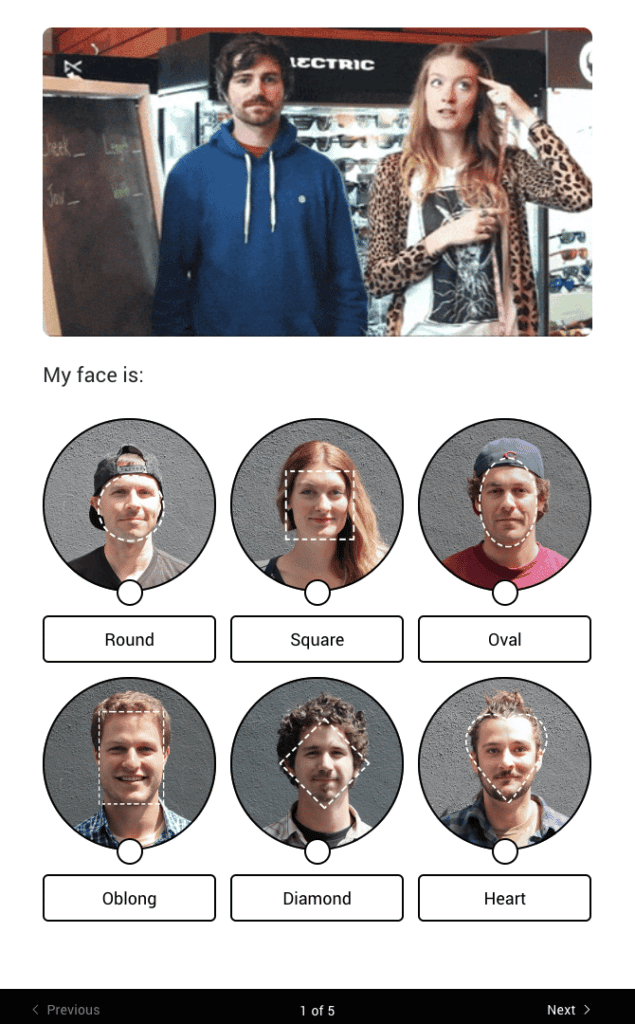 Face shapes
Preferred brands
Preferred styles
Price range, and many more!
This allows you to engage with your customers by providing valuable information based on your product range. Not only does this template deliver a unique shopping experience, but it also helps you eliminate abandoned carts.
As you might have guessed, an abandoned cart is a nightmare for e-commerce businesses. It's like an almost but not yet a sale situation. Your product is already inside your customer's shopping cart, but there is no intention to check out. If you currently have problems with abandoned carts, you should try this product recommendation template.
3. Quiz
Everyone loves quizzes, right? What if you can incorporate quizzes on your site to drive more traffic and leads? Wouldn't it be great?
With Outgrow, you can create customized quizzes from various layouts and templates available. You also get access to more than 1,000,000 free stock images powered by Unsplash. Moreover, you can add GIFs and videos, too!
Let's take a look at this example below: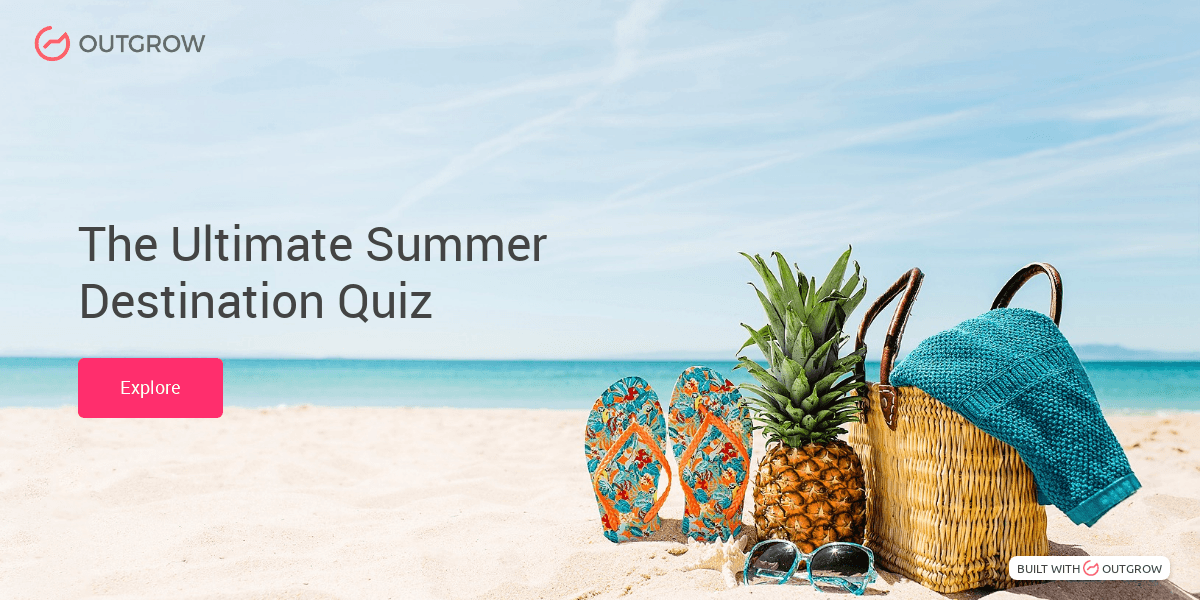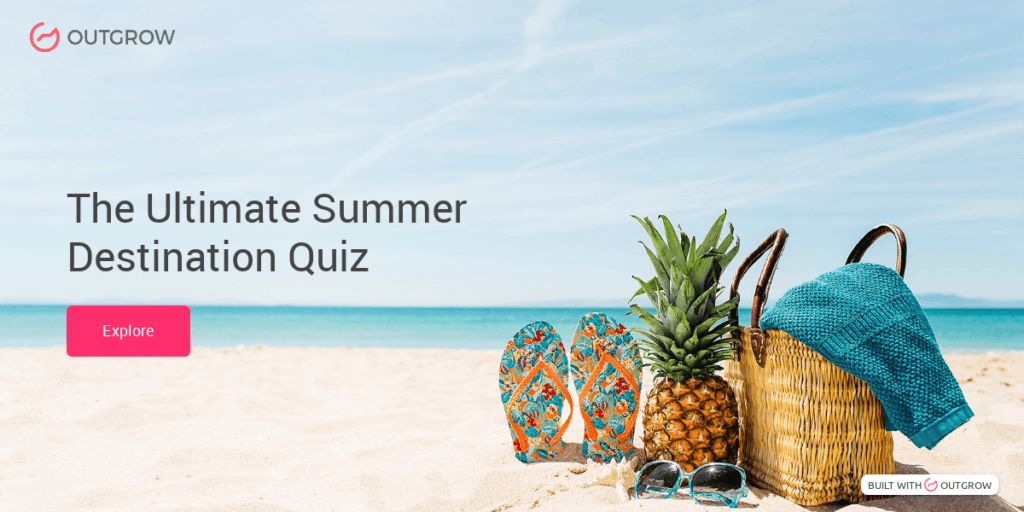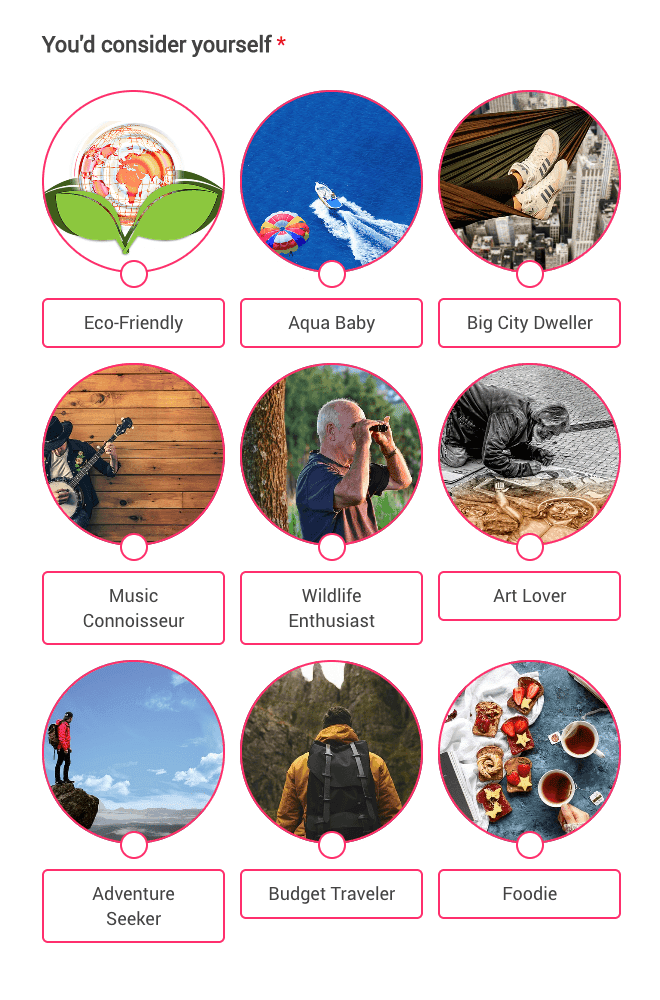 You can use quizzes in various industries/niches. It's fun, engaging, and effective! More importantly, you can generate leads and drive more sales with quizzes.
Here's a great case study from a website called Masculine Style, a men's style consultancy site. They implemented a quiz titled Learn Your Archetype that helps people determine how they should be dressing.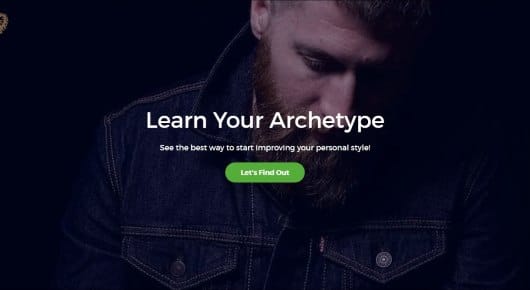 Check out these fantastic results.


It's not bad at all, isn't it?
4. Chatbots
Another great template you can create with Outgrow is definitely using chatbots. Why? Because it serves your visitors 24/7 without any break. Chatbots will help guide people down your funnel without hassle. In other words, you can focus on other tasks while your chatbots work for you.
Here's a great example of utilizing chatbots to learn more about your customers and capture lead info.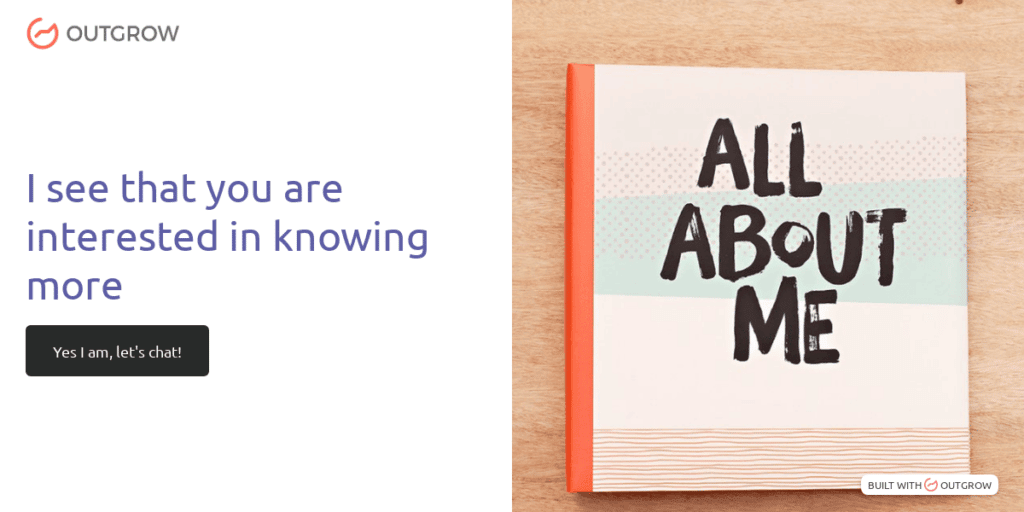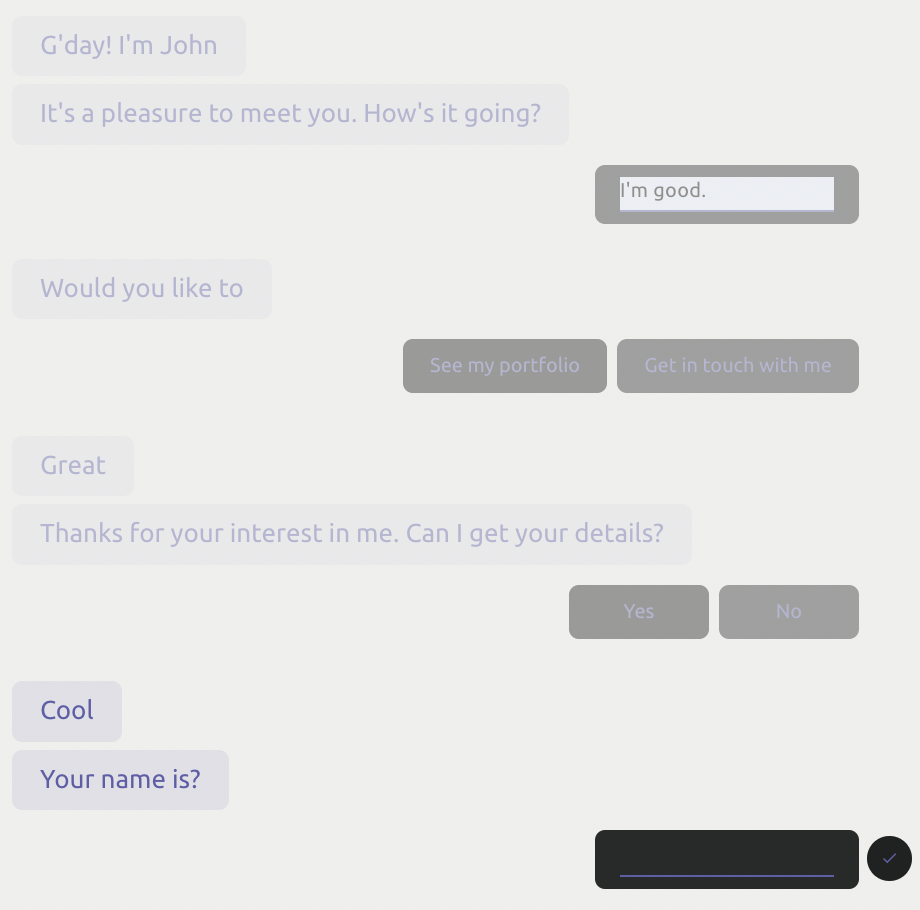 As you can see, you can create any kind of chat sequence with Outgrow. Chatbots are also widely used to get feedback from your customers. It helps you build automated communication between you and your audience.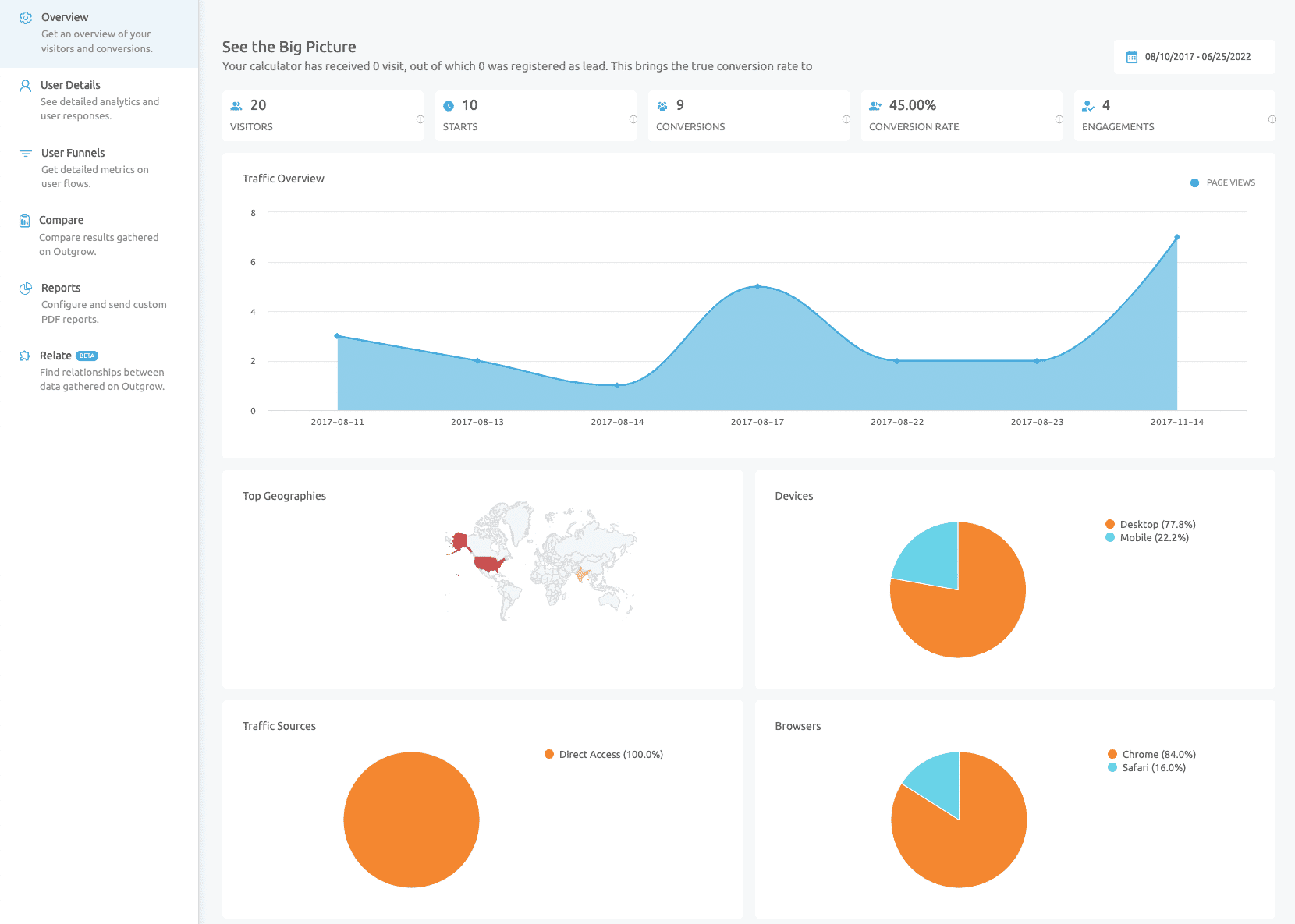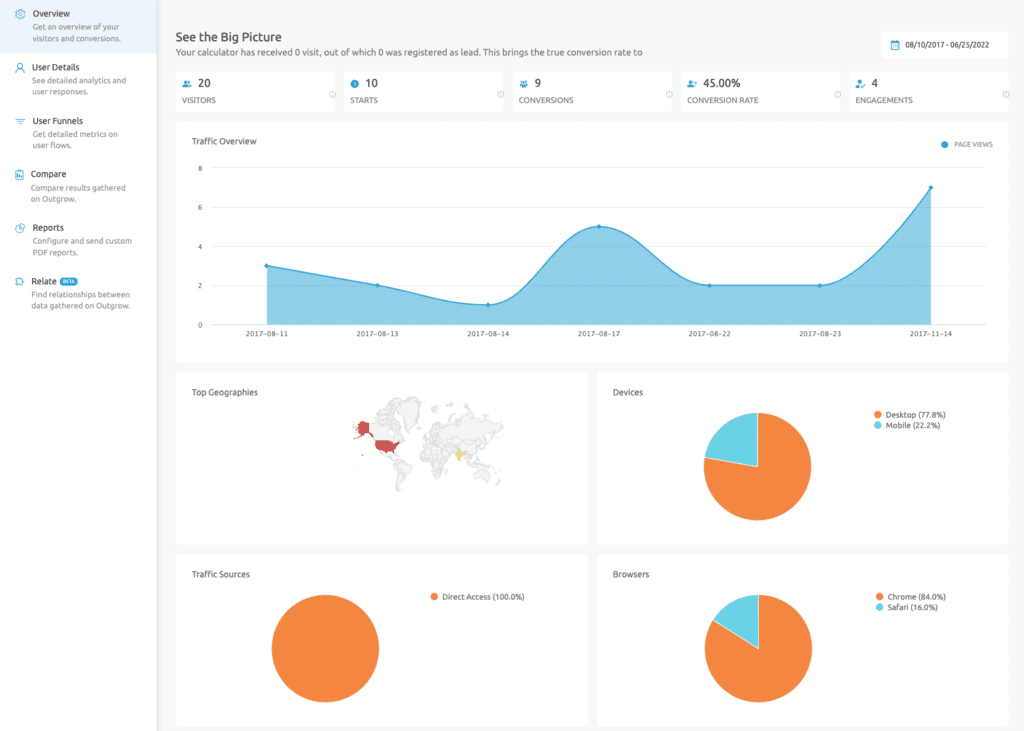 You can simply segment and analyze your chatbot data to gain insights from your visitors. You can map your visitor demographic, responses, and other valuable data about your customer. After that, you can create a personalized follow-up plan for your customers.
5. Assessments
Assessment is a term used in business, especially in HR and Psychology. In fact, people loved to get an assessment of themselves. 
Now, you can create an engaging assessment with Outgrow. There are more than 10 different question types, such as multiple-choice, text input, drop-down, numerical slider, rating, and even file upload.
Here's a simple assessment example about calculating your IQ.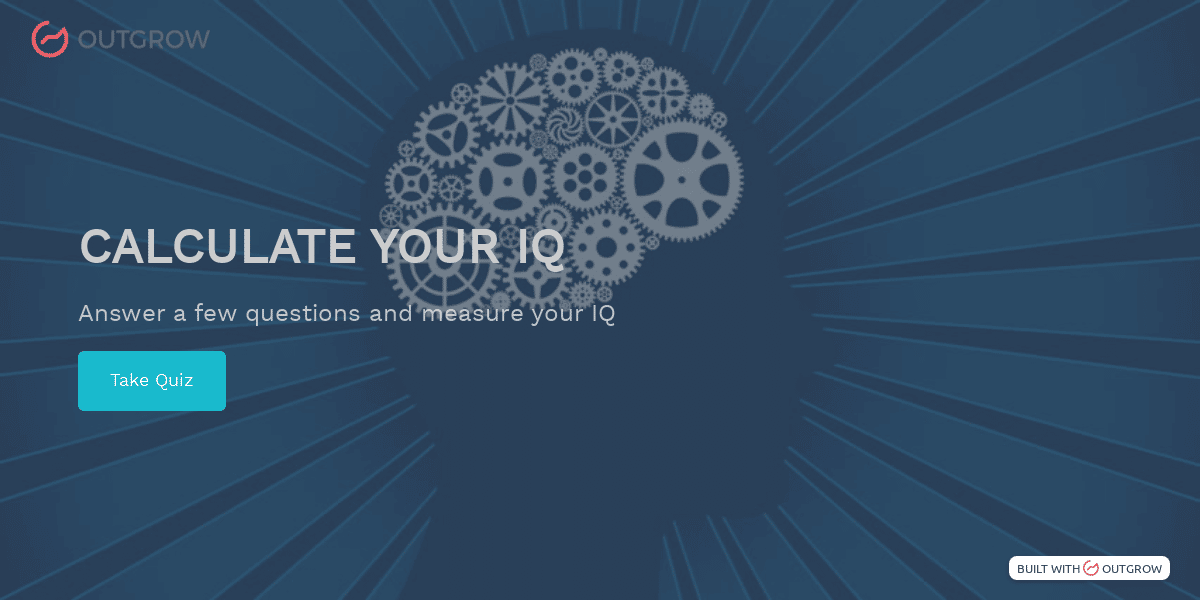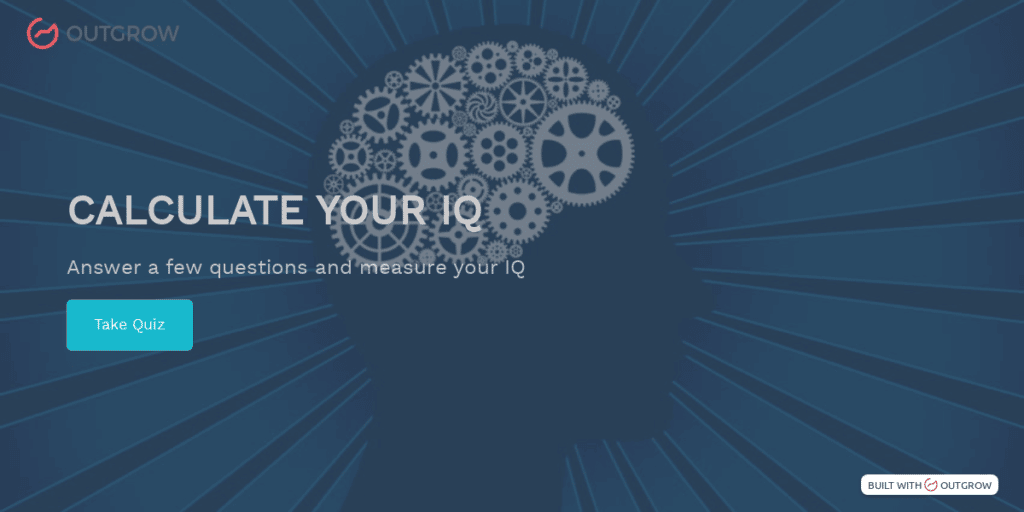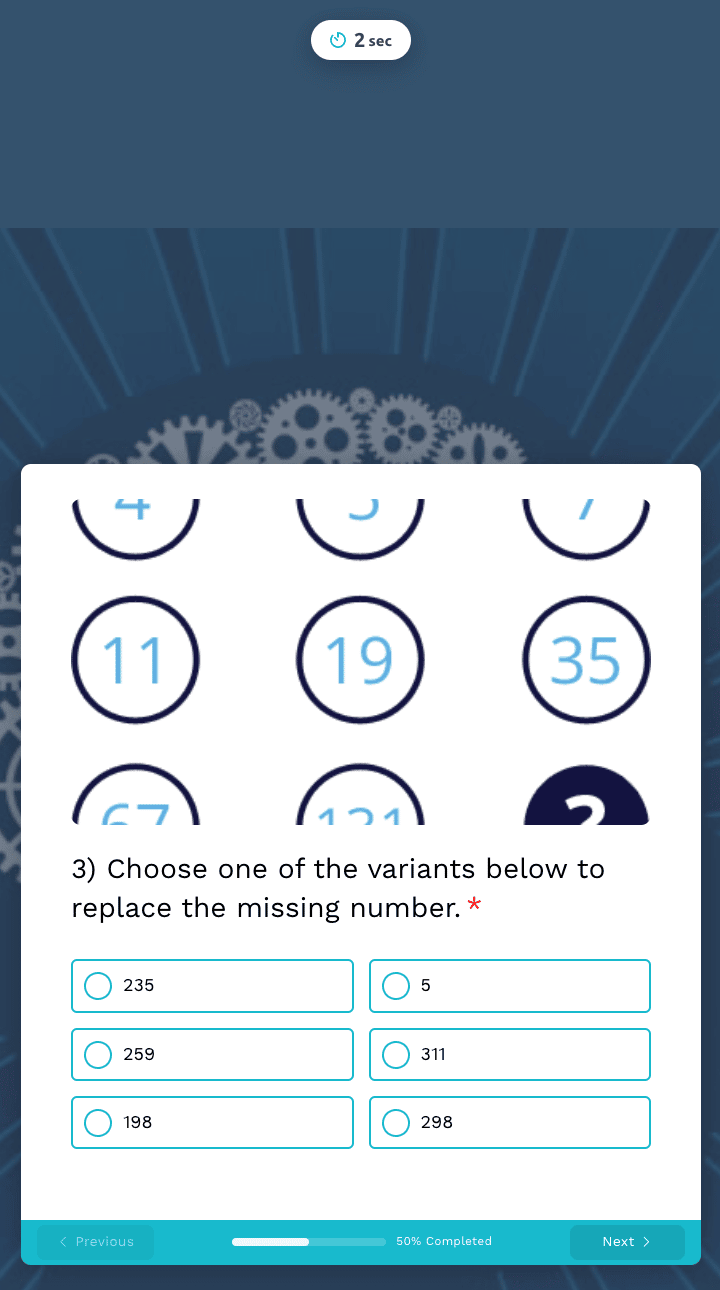 As you can see, you can even set a timer using Outgrow's template. It helps you create a professionally designed assessment using ready-made templates. Not only that, but you can also access the result through the analytics dashboard provided. Above all, it is fun and engaging for your customers.
6. Forms/Surveys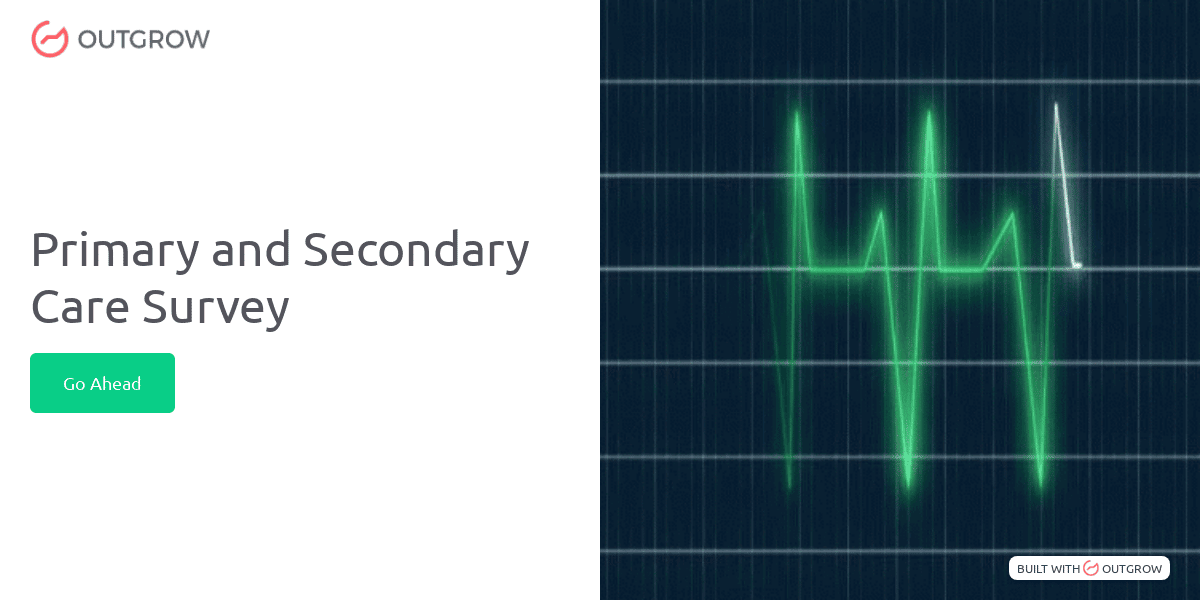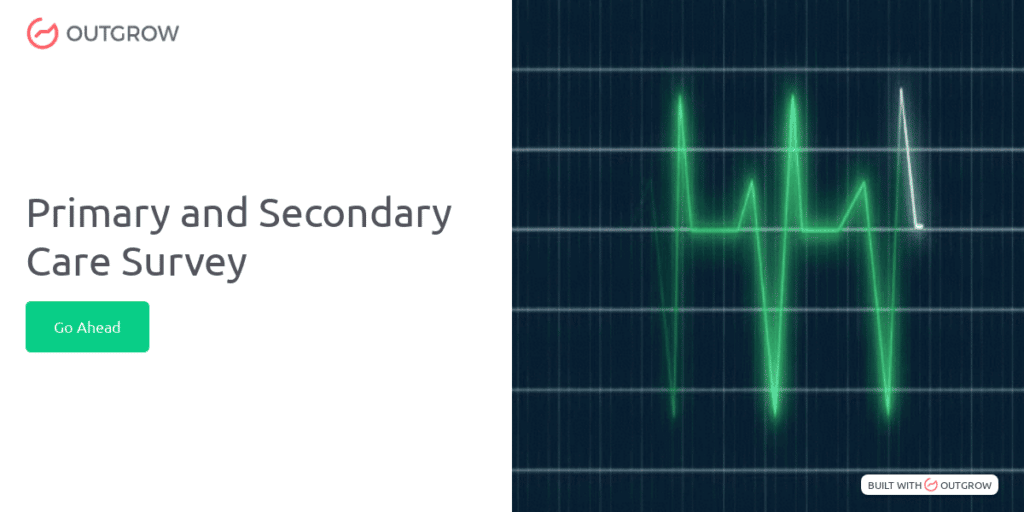 Another valuable template to get feedback is using forms/surveys. During Covid-19, people need to fill out a lot of documents when they are entering a building or need to travel overseas. This process can be done using Outgrow's templates. You can create personalized forms/surveys easily.
If you're working in the service or research industry, you need forms/surveys to capture data. One of the benefits of using Outgrow is you gain access to all the analytics in real time.
Here's an example of the analytics dashboard you can access.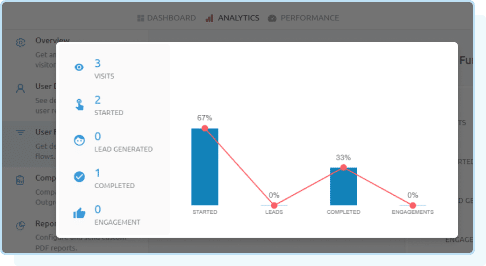 7. Giveaways/Contests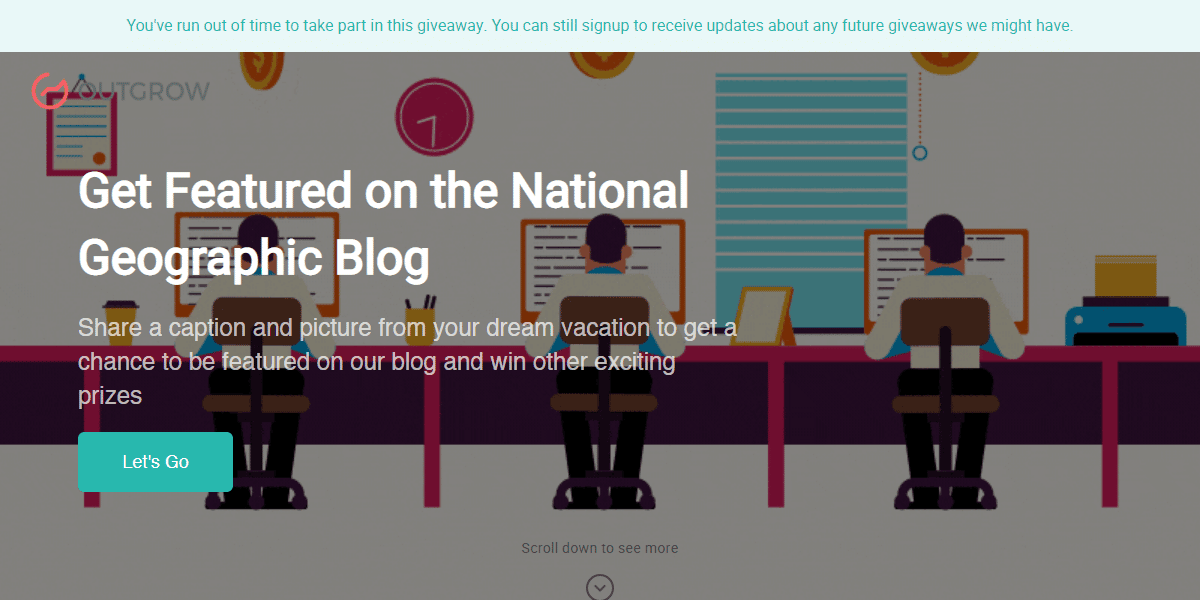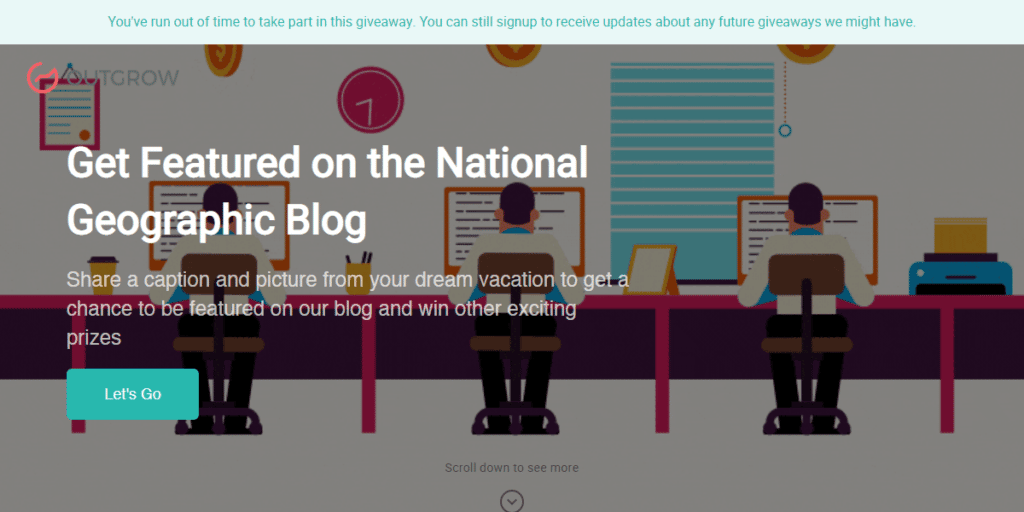 One of the best ways to drive traffic and engagement to your site is through giveaways/contests. This method is widely used in social media. Now, you can create one for your site with Outgrow.
Let's take a look at this example below.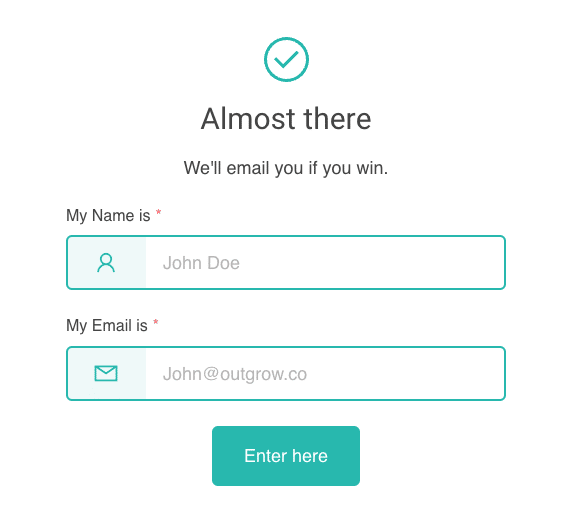 You can generate traffic and leads altogether using giveaways/contests. Moreover, you can also trigger follow-up emails based on your user's response. Even better, you can create these within minutes.
8. Polls
Now, if you'd like to ask for an opinion from your audience, you should use polls. Why? Because it's simple, easy, and effective. What your audience needs to do is simply click on their choices. However, Outgrow takes polls to another level.
Let's take a look at this fun example below. It's a poll to differentiate between breakfast foods and desserts.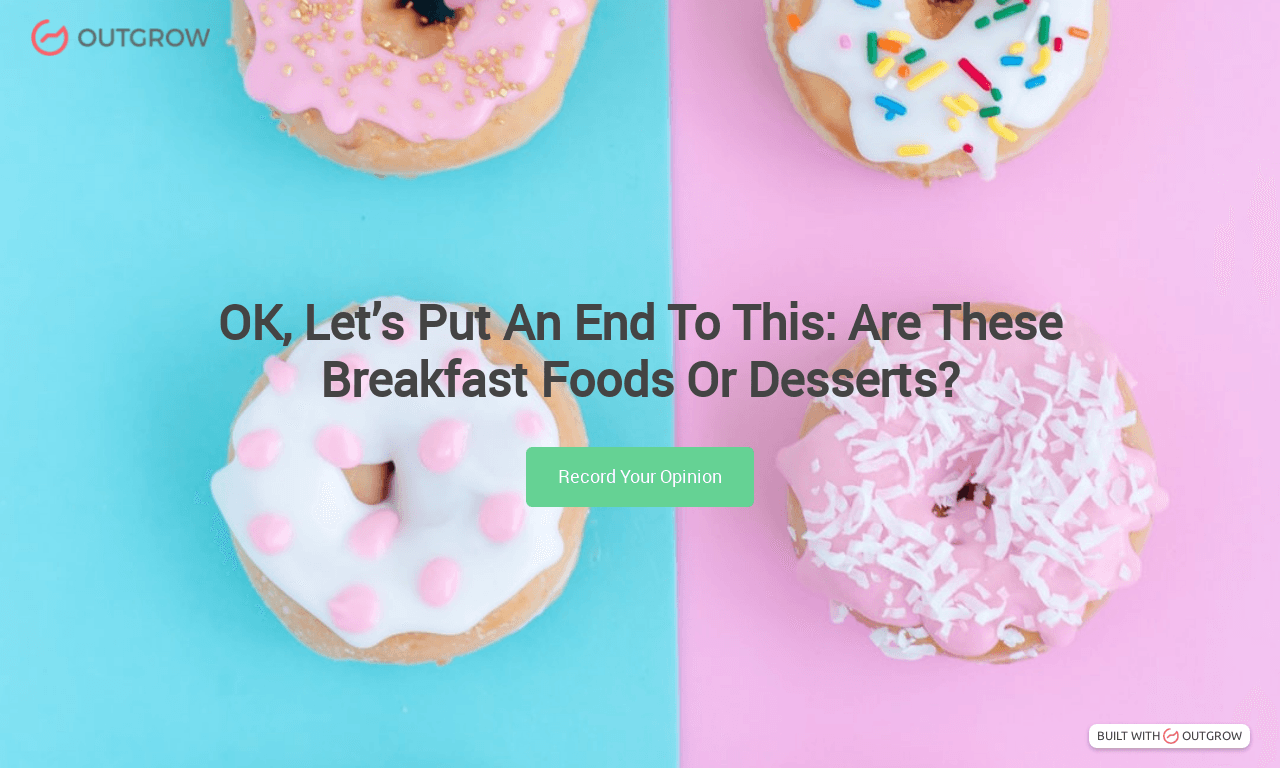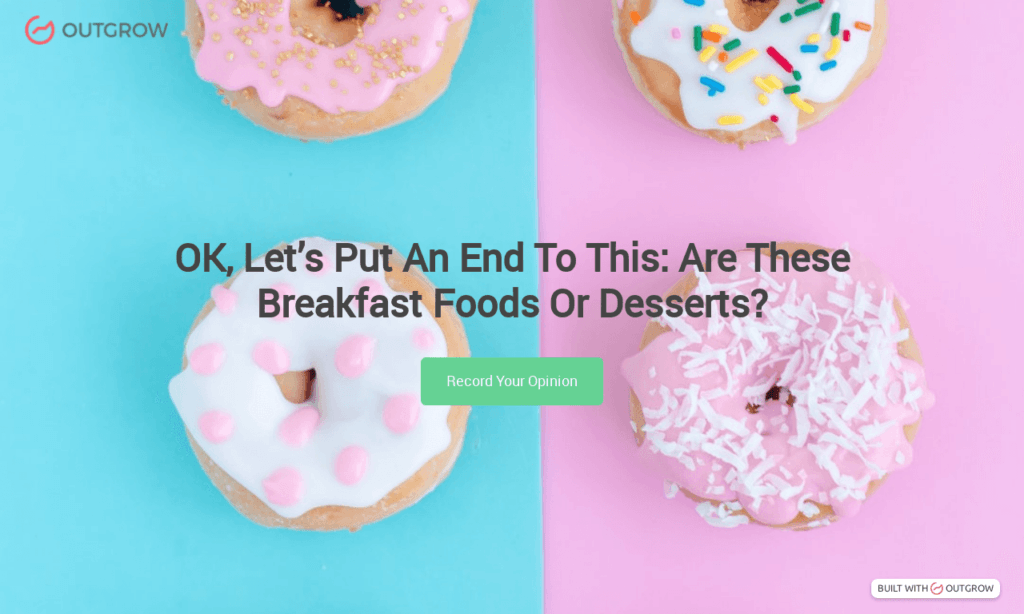 As you can see, you can show the result in real-time to your audience. This allows your audience to engage even more to see results at the end of the polls.
Outgrow Pricing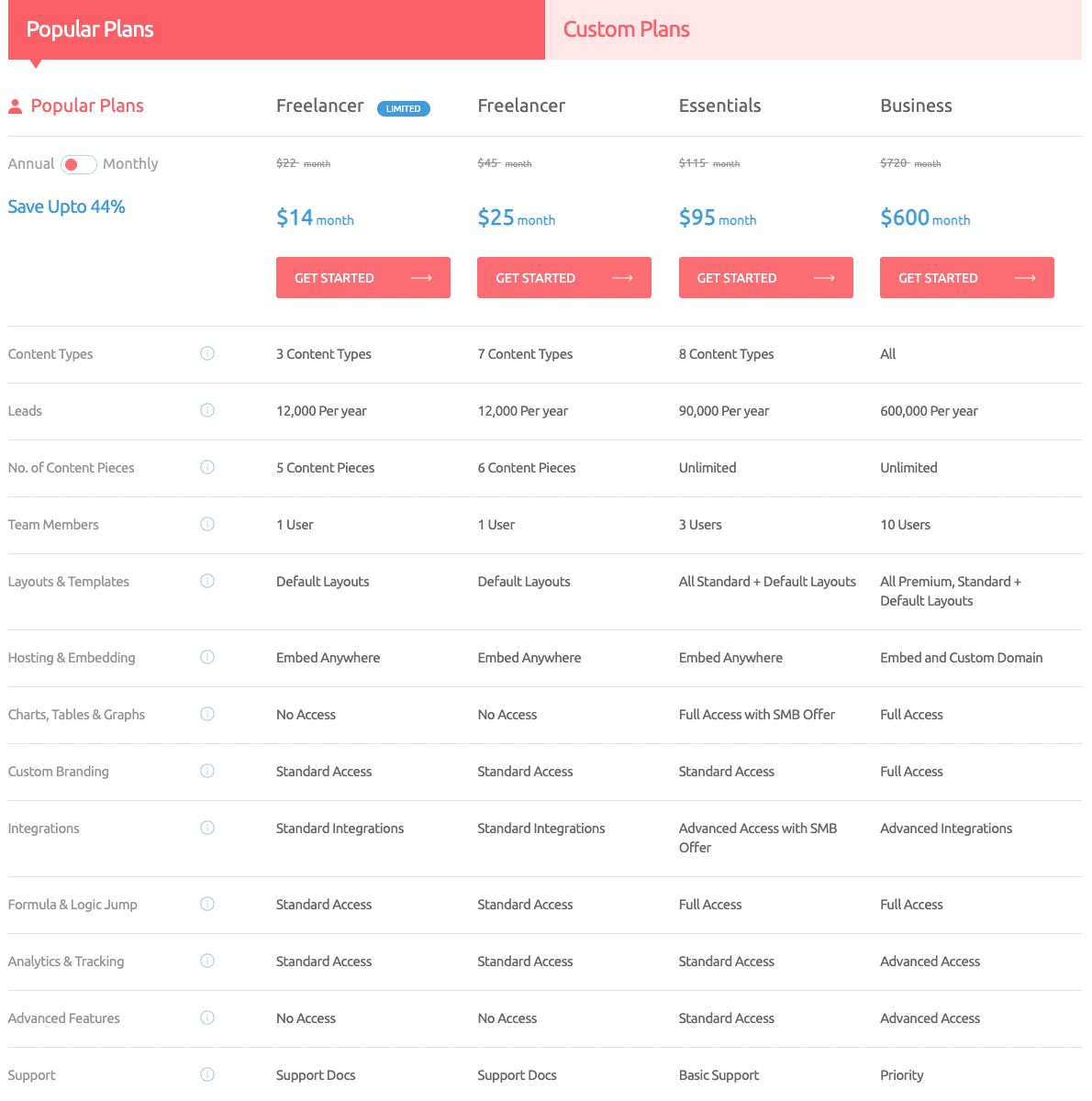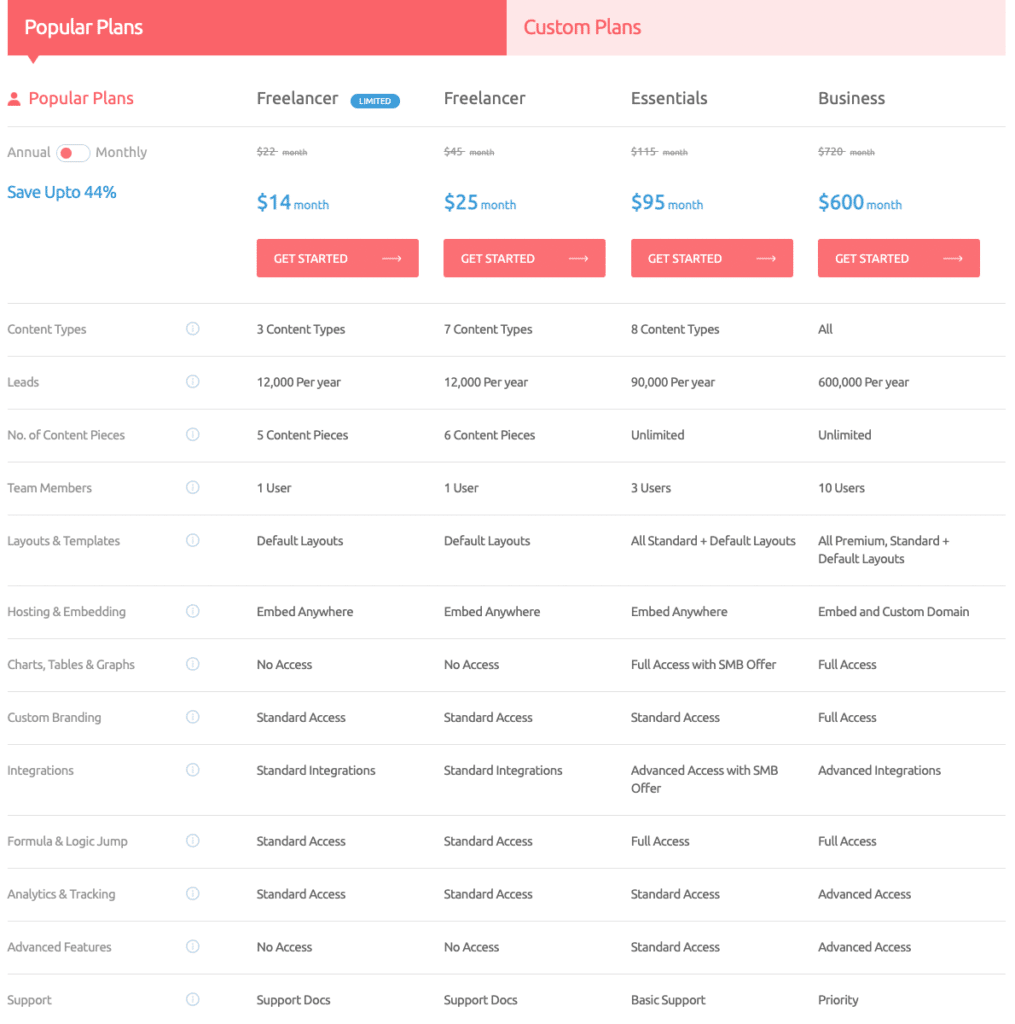 With these powerful features, Outgrow is priced at $14 per month on an annual payment for their Freelancer plan. It's $168 a year. It's more than enough to capture 12,000 leads for an entire year.
However, there is a Custom plan where you can get more content types at $25 per month or $300 per year. Whichever subscriptions you choose, make sure it is comfortable with your budget.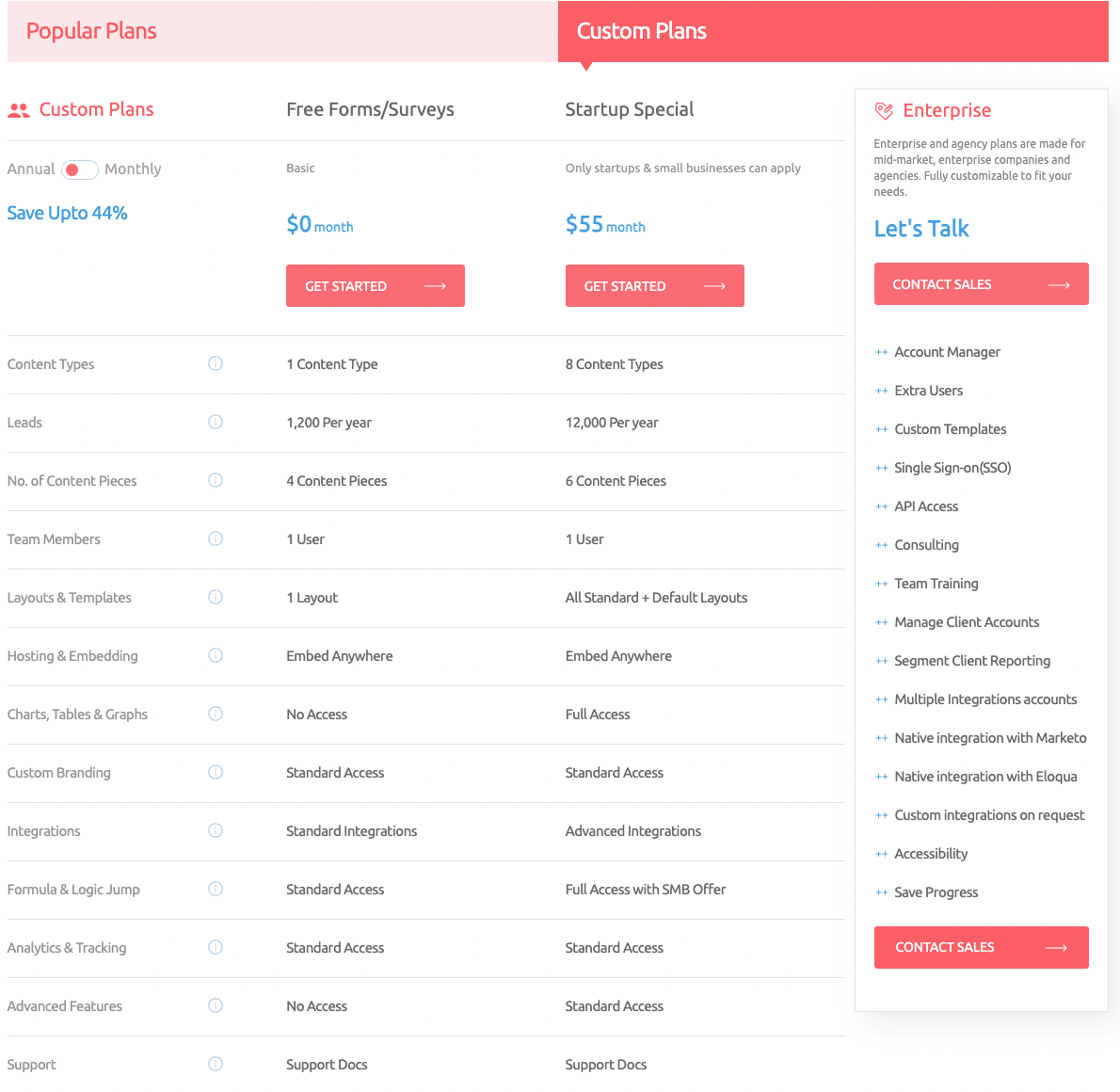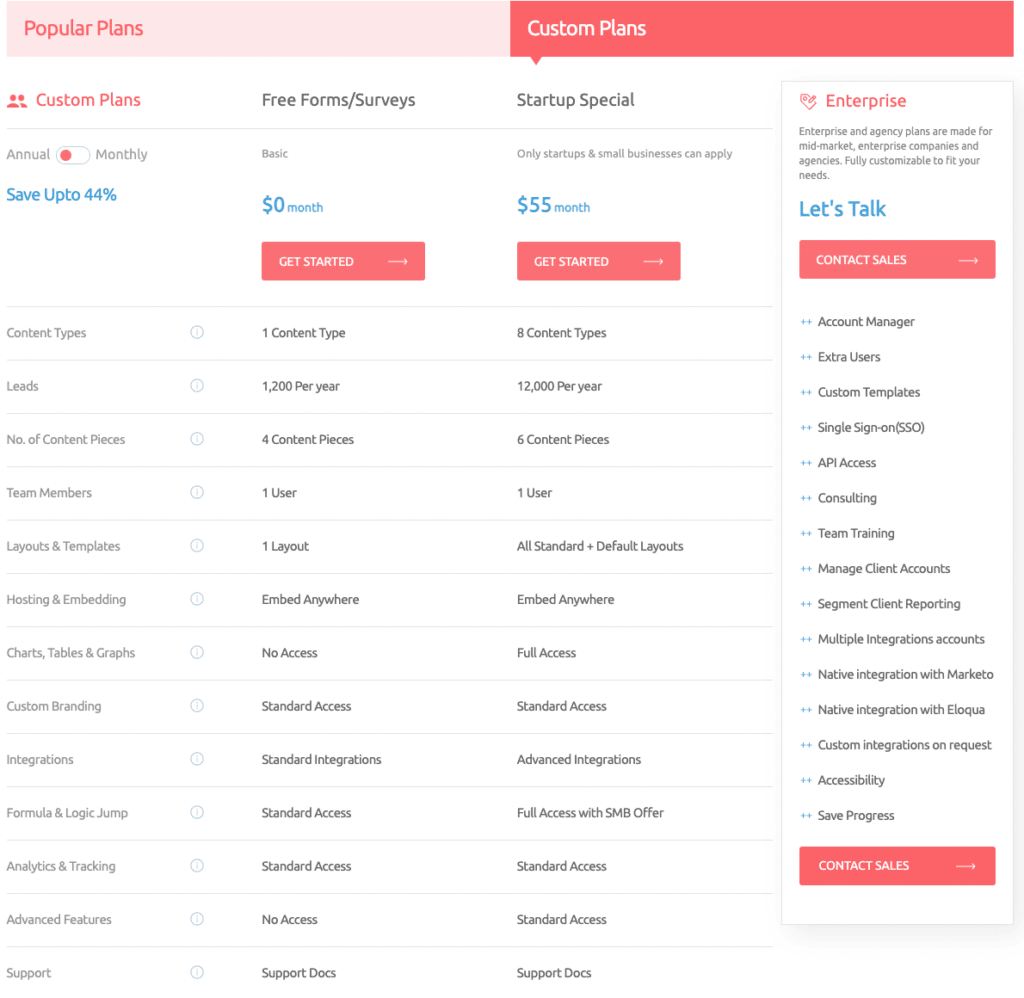 Frequently Asked Questions
Does Outgrow provide any free trial?
Yes. You can access the Business features with 7 days free trial.
Does Outgrow provide any tutorials?
Yes. Outgrow does have a lot of tutorials related to creating every template we've explained above.
Can Outgrow really boost conversions?
One case study indicates more than a 30% increase in conversion using Outgrow's interactive content marketing tools.
Conclusion
To summarize our Outgrow review, interactive content marketing is one of the best ways to create an engaging experience with your audience. We strongly recommend Outgrow for every online marketer who wants to reinvent their marketing strategies.
If you want to create a high-quality funnel for your business, you can trust Outgrow to do it for you. Simply access all of Outgrow's ready-made templates and embed them on your site. You don't even have to worry about analytics because everything is captured in real-time.
More importantly, price-wise, we believe Outgrow is still in the affordable range—even for businesses. Create a free account and start your 7 days free trial right away.
---