This post contains affiliate links. We may receive a commission for purchases made through these links without any extra cost to you. Thank you for your support.
---
In this My Lead Gen Secret review, let's find out if this is a legit or a scam affiliate program.
If you're in the affiliate marketing business as we do, one of the most challenging tasks is to build your email list from scratch. As far as we are concerned, building your list doesn't happen overnight. Don't you agree?
However, My Lead Gen Secret offers you the opposite of that struggle by giving you leads daily. By the time we update this post, we have received more than 30,000 leads and have been sending emails consistently with MLGS. You can check our income report to see how much money we make through this program.
Now, let's dive deeper to learn more about this program.
Is My Lead Gen Secret Legit?
My Lead Gen Secret is a legit lead generation program. We have been using it to promote several affiliate offers, and the leads are legit and genuine. However, we do not recommend My Lead Gen Secret if you have no experience with email marketing and copywriting. But, if you use it consistently, this program can certainly pay off in the long run.
What is My Lead Gen Secret?
My Lead Gen Secret is a lead generation program that gives you 100-200 leads daily. It's a called secret because it's a way that many online marketers are doing but rarely shared.
First, let's watch this video by Jim Harmon, the Founder of My Lead Gen Secret.
As you might notice from what he said, you'll be given 100 leads every day if you join this program. Almost all of the leads came from the US. That being said, it is top-tier traffic for any business. Although this program is not free, you will be surprised to know the initial investment is considerably low.
How Does My Lead Gen Secret Work?
Once you've signed up and joined the program, you can send emails daily to the leads given by My Lead Gen Secret. You are allowed to send 1 email every day via the built-in mailing system inside this program.
There are two ways to send those emails. First, you can download the leads into a .csv format and upload them to your preferred email marketing platform. Secondly, you can use the built-in mailing system inside this program to send those emails.
Based on our research and findings, it would be better to use the built-in Mailing System rather than uploading the list to other mailing platforms.
Why? There are two reasons for that.
The first reason is safety. You are going to send emails to people who have opted in through My Lead Gen Secret and send them promotional information. If you're using other email marketing platforms, you risk your account getting banned if they report you as spam—even though these are permission-based leads.
You see, sharing leads without their permission violates the CAN-SPAM Act. However, these leads were gathered differently. They have chosen to opt-in to updates or promotions sent by third parties—in this case, My Lead Gen Secret.
The second reason is related to effectiveness and tracking service. If you use other email marketing platforms, imagine manually updating your list every day. It would be exhausting, right?
With My Lead Gen Secret, you can import and select all the leads you received. It's pretty handy for us. More importantly, you can track basic stats for each email you send, such as open rate, clicks, and click-through rate. These data are available on the Statistics menu inside the membership area.
My Lead Gen Secret Features
To learn more about how My Lead Gen Secret works, we'll give you an insider look at the membership area.
As you can see, you've got a neat dashboard inside the membership area. You can go to the My Leads tab to see and download your leads. Every 24 hours, you'll get another 100. So, in 30 days, you will have 3,000.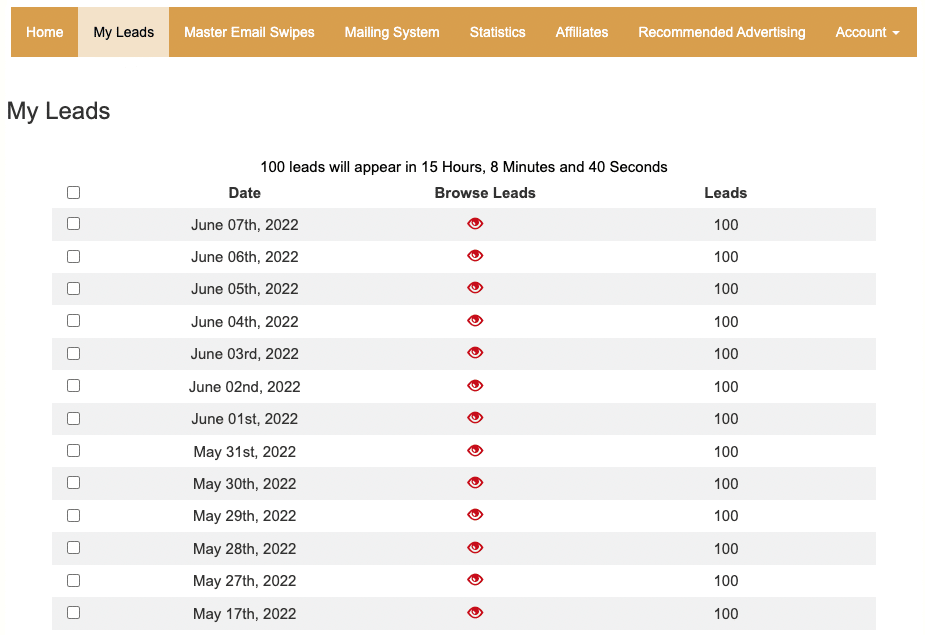 The next tab is Master Email Swipes. Here, you will get a one-time offer to access 30 pre-written email swipes proven to convert these leads to a customer for My Lead Gen Secrets. However, this will cost you $59,95 as a one-time fee. We don't recommend it if you're on a limited budget.
MLGS Mailing System
Inside the Mailing System, you'll see two options at the top of the page.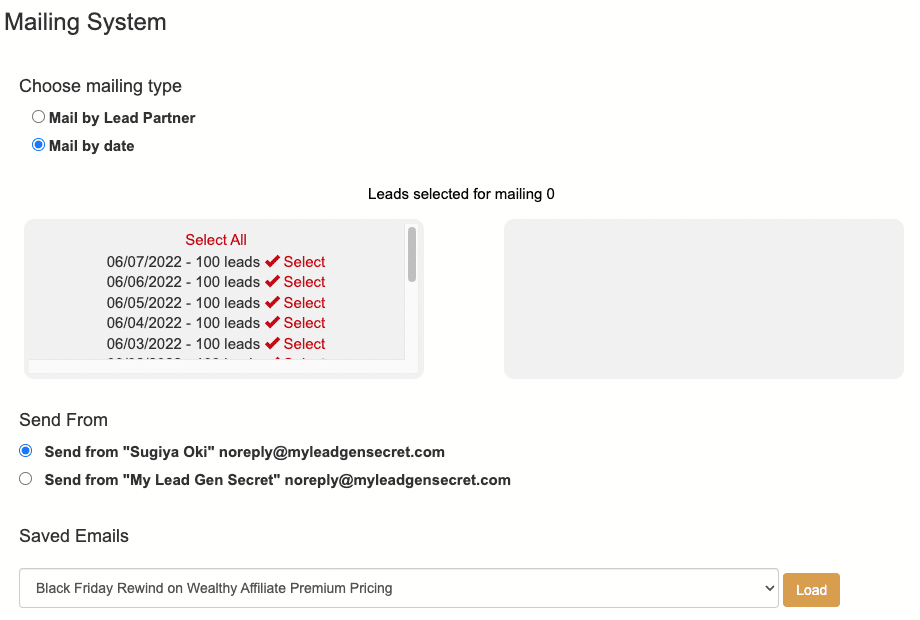 Mail by Lead Partner means you can mail them based on the categorization from Lead Partner I to X. We have no idea about these categorizations. However, we assume it might be related to how recently these leads were acquired.
Mail by date means you can send emails to the recently added leads. This option might be handy if you want to test your email marketing copy. Generally speaking, you can add all of them collectively by clicking the Select All button.
Below these options, you can select the options to show your name as the sender or use My Lead Gen Secret. We always use our name because it reflects our identity.

One of the best features is saving your email as a template. So, whenever you send an email to your leads, you can save and reload them for future use. This is a handy feature because we can identify which email copy works best for our leads.
Moreover, you can also write your email subject line and body with optional codes to personalize your email with the names of the leads.
Pro Tip💡
Based on our experiments, it's better to not include names in the email subject unless you have a captivating statement or question.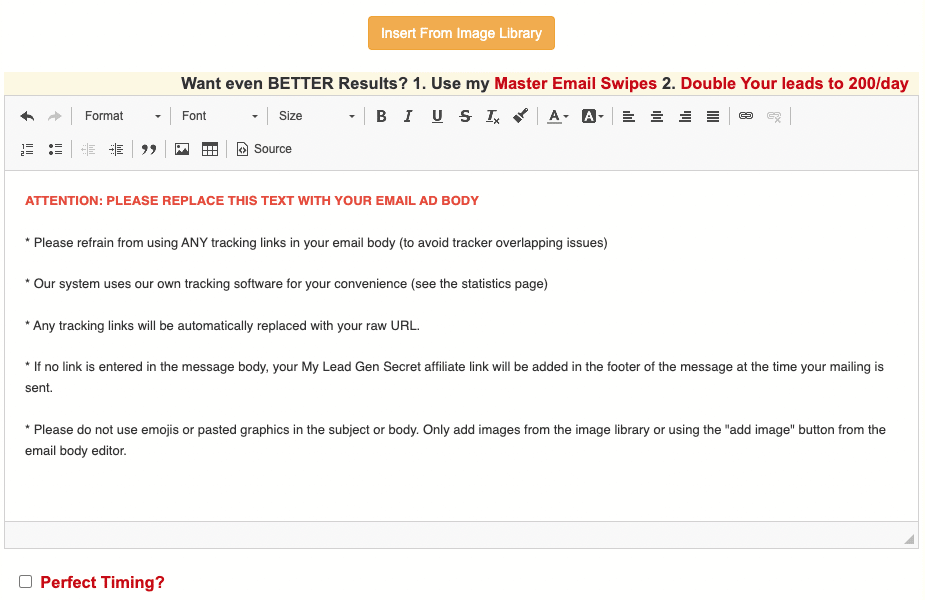 If you scroll down to the bottom of the Mailing System, you can have the option to tick the Perfect Timing button or not. Basically, when you activate this button, it predicts the optimal delivery hour of the day for each of your leads. You can think of it as the time slot where they are most likely to open and click your emails.
Pro Tip💡
We suggest you always tick this button when sending your emails.
MLGS Affiliate Program
Now, if you are interested in joining this lead generation program, you can promote My Lead Gen Secret and earn a monthly commission. Here is the compensation plan.
| Downline | Commissions |
| --- | --- |
| Level 1 | $5 per month |
| Level 2 | $4 per month |
| Level 3 | $3 per month |
| Level 4 | $2 per month |
| Level 5 | $1 per month |
Moreover, there is a Weekly Superstars Bonus Contest. This is where you can earn $100 cash bonuses if you get 5 paid new customers to My Lead Gen Secret. The contest starts from 12:00 AM Monday to Sunday 11:59 Sunday every week.
There is no limit to this. If you can refer 10 new paid customers, you'll get $200. Commissions will be paid out via Paypal, check, or Bitcoin.
One of the primary benefits if you manage to refer just one person to join My Lead Gen Secret, you get 100 bonus leads every day. In other words, you are doubling your leads. Instead of 3,000, you can get 6,000 every month!
Other resources you get as an affiliate are pretty general, such as:
10 pre-written affiliate email swipes
5 Text Ads
4 Banner Ads
My Lead Gen Secret Pricing
So, how much does this program cost? You must pay a $30 setup fee and a $30 monthly fee in the first month, both paid upfront. Next month, you will pay $30 for 100 or 200 leads if you manage to get your first referral.
Is it considered affordable? Yes. It only costs you $1 a day to get 100 leads. It's even cheaper at 0,50 cents per lead when you refer just one person to join MLGS.
Imagine sending an email to your 100 leads, and you get a $100 sales commission from one person. You'll get your money back right away. That's just one day of sending emails. Multiply that by 30 days. There is a potential to make at least one sale every day with this program.
My Lead Gen Secret Pros and Cons
Despite the low cost, you might consider several pros and cons of this program.
Pros
It's an opportunity to blast your offers to another set of customers other than your email list.
It is considered affordable.
The leads are responsive, meaning that they are real humans. However, you might need a bit of trial and error to find the best formula to convert them into customers.
You can promote My Lead Gen Secret to these leads.
Cons
You need to have knowledge of copywriting and email marketing to engage with these types of customers.
You can only send one email per day with the Mailing System.
You can't schedule your email in advance.
The leads won't respond if you send them a personal email. We've done this.
Frequently Asked Questions
What type of products/services will your leads be interested in?
Many of the leads have expressed interest in the MMO niche. However, based on our research, it also converts for other niches such as weight loss, diet and fitness, and many more.
What information do you get with your leads?
You will get an email address, full name, IP address, and opt-in date for each lead.
Can you pay with Bitcoin?
Yes. My Lead Gen Secret accepts Bitcoin.
How to cancel My Lead Gen Secret?
You can cancel anytime without worrying about penalties by submitting a support ticket.
Conclusion
To summarize our My Lead Gen Secret review, it's not a scam. MLGS is a legit lead generation program to make money online. However, if you're starting out on your journey, it's much better to learn the basics and fundamentals of affiliate marketing, such as finding your niche and writing content.
So, we don't recommend this program to someone without prior knowledge about making money online. Moreover, since we have tested this program ourselves, we believe it is recommended for a more advanced affiliate marketer.
Nowadays, we're having fun testing and exploring the possibilities to increase our open and click-through rates every day. If you think you're up for this challenge, you can start receiving your leads today with My Lead Gen Secret.
---
Sugiya is the Writer and Owner of We Recommend. He is passionate about helping people make better decisions when buying things on the internet.