This post contains affiliate links. We may receive a commission for purchases made through these links without any extra cost to you. Thank you for your support.
Pawns App Review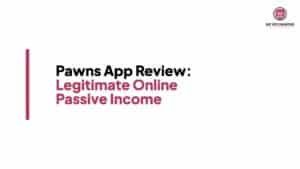 Pawns App (previously IPRoyal) is a legitimate passive income app where you can earn money by utilizing your internet connection or filling up paid surveys. The low payout threshold makes this app one of the best ways to generate passive income.
Price: Free
Price Currency: $
Pros
Easy to set up. You don't require any technical skills.
Available worldwide.
Cover all devices from PC and smartphones.
Low payout threshold.
Cons
Earnings may be slow depending on your country and internet connection.
Completing surveys is a tedious task.
---
If you're looking for a way to make passive income, you're in the right place. In this Pawns App review (previously IPRoyal), we'll share our experience and show you how you can earn with this platform.
You have probably heard or read our review on Honeygain before. Like Honeygain, Pawns App also employs your internet connection to make money online and generate passive income by utilizing your internet connection.
What is Pawns App?
Pawns App is a platform where you can earn passive income by sharing your internet connection and completing surveys. It has been used widely by more than 1,8 million users worldwide, and we've been using it for more than 6 months. Moreover, we made our first withdrawal from this platform not so long ago. You can check them on our income report.
How does Pawns App Work?
Once you have installed Pawns App on your devices. It will run in the background to gather your internet connection and convert them into money. In other words, you don't have to do anything other than share your internet connection. Pawns App work as long as you have an internet connection from a unique IP address. Moreover, we use it alongside Honeygain and EarnApp to maximize our passive income earnings. If you'd like to learn more about Pawns App, watch this short video below.
How to Earn Money With Pawns App?
Generally speaking, there are three ways to earn money with Pawns App. We'll cover everything in this section. A general principle in mind is that the more you share and complete, the more you earn.
Share Your Internet Connection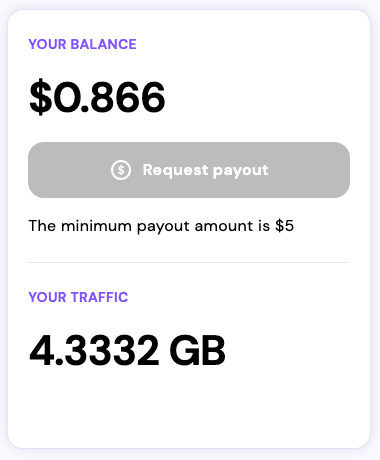 The first way is easy. You only need to sign up, create a free account, download the app, and install them on your devices. You can use Pawns App on multiple devices for up to 10 IP addresses. For every GB you share through your internet connection, you'll earn $0,2. However, each device must have a unique IP address. Otherwise, it won't work.


One of the best scenarios is to run 10 devices and use them non-stop for 24 hours straight. As you can see from the screenshot above, you can earn up to $96 per month with this scheme. You can use Pawns App on various platforms, such as Windows, macOS, Android, iOS, and CLI. This makes it suitable for multiple devices to run Pawns App in the background and gather your internet connection.

In reality, how much you can earn really depends on several things, such as:
Location of your IP Address
Right now, several locations will be more profitable than others. In other words, you won't know until you try and test it yourself.
Unique IP Address
You can earn more if you use more than one unique residential IP address. The more unique IPs you use, the more you will make money.
Internet Speed
A faster internet connection will share more traffic to Pawns App, so you can earn more.
Complete Online Surveys
The second way is by completing online surveys. Once you install Pawns App on your mobile phone, you can complete surveys and get paid. Every survey has different payouts, with the average payout being $1 per survey.


Completing the survey will take you from a few minutes to up to 30 minutes. We strongly recommend taking surveys in your spare time to maximize your earnings. So, if you have 10 devices completing surveys, you can earn up to $70 per month with Pawns App.
Referral Program
Another way to earn money with Pawns App is to promote and refer people to install and use them on their devices. One of the benefits of referring people is you can get 10% of your referral income as your earnings. The more referral you bring in, the higher the earning potential.


Furthermore, if your referral signs up using your referral link, they will instantly get $1 deposited to their account. You will also earn $1 when your referral request their first payout. It's a win-win situation.
Is it Safe to Earn With Pawns App?
Based on our experience, it is safe. Pawns App facilitates proxy service to third-party entities. In other words, it doesn't gather any data from its users. The only data they use is email, IP address, and your preferred payout methods.
If you're wondering what kind of data these companies use from your internet connection, the answer is a lot.
The answer is A LOT.
Your network is used by Pawns App business partners for:
Corporate Intelligence and SEO
Brand Awareness and Protection
Advertising Verification
Software Testing
Content Distribution
Market Research
Talent Sourcing and Acquisition
Buying Limited Edition Items
Social Media Management
Above all, the Pawns App connection is inaccessible to outsiders and fully encrypted. So, you don't have to worry about it.
How to Receive Payment from Pawns App?

Currently, you can cash out your earnings through PayPal, Bitcoin, or virtual gift cards, depending on your country's availability. What's more interesting is that compared to Honeygain, the payout threshold from Pawns App is significantly lower. They offer payouts starting from $5. So, as soon as you earn $5, you can withdraw that amount to your preferred payment method.
Pawns App Pros and Cons
Pros
Easy to set up. You don't require any technical skills.
Available worldwide.
Cover all devices from PC and smartphones.
Low payout threshold.
Cons
Earnings may be slow depending on your country and internet connection.
Completing surveys is a tedious task.
Frequently Asked Questions
How long does it take to get to the minimum threshold?
Depending on your country and your internet connection, it could take months if you only set up one device.
Does it consume a lot of battery power on mobile devices?
Unfortunately, the answer is yes. Like any app running in the background, Pawns App will drain your battery faster than it should. We strongly recommend using it on your secondary smartphone.
Conclusion
To summarize our Pawns App review, we recommend Pawns App as one of the best passive income apps that is safe and legit. As affiliate marketers, running these apps in the background doesn't slow down our M1 Mac Mini or M1 Macbook Air and our mobile devices. Everything works smoothly, and you don't even notice anything.
We have received our first payout, and we're looking to earn more in the long run. If you're interested in generating passive income with Pawns App, feel free to use our referral link to get your first $1.
---