This post contains affiliate links. We may receive a commission for purchases made through these links without any extra cost to you. Thank you for your support.
---
In this Payhip review, let's find out if this is the best place to sell your digital products for free.
One of the best ways to make money online is to sell digital products, such as ebooks, online courses, subscription services, print-on-demand, and many more.
So, let's say you create an ebook, and you want to sell it to make some money. One of the two questions you might ask is:
Where can you sell it online?
Where is the most uncomplicated place to do it?
The answer is simple. You can use Payhip. In fact, this is the place where we host our ebooks and online course for free!
We'll highlight everything you need to know about Payhip and its competitive advantages compared to other platforms.
So, without further ado, let's find out more about it.
Is Payhip The Best Place to Sell Your Digital Products?
We think Payhip is the best place to sell digital products because you can use them for free. Payhip packs a lot of features for anyone to sell digital downloads, online courses, consultancy services, and many more. With a 5% commission for every purchase through your store, we think it's a great deal.
What is Payhip?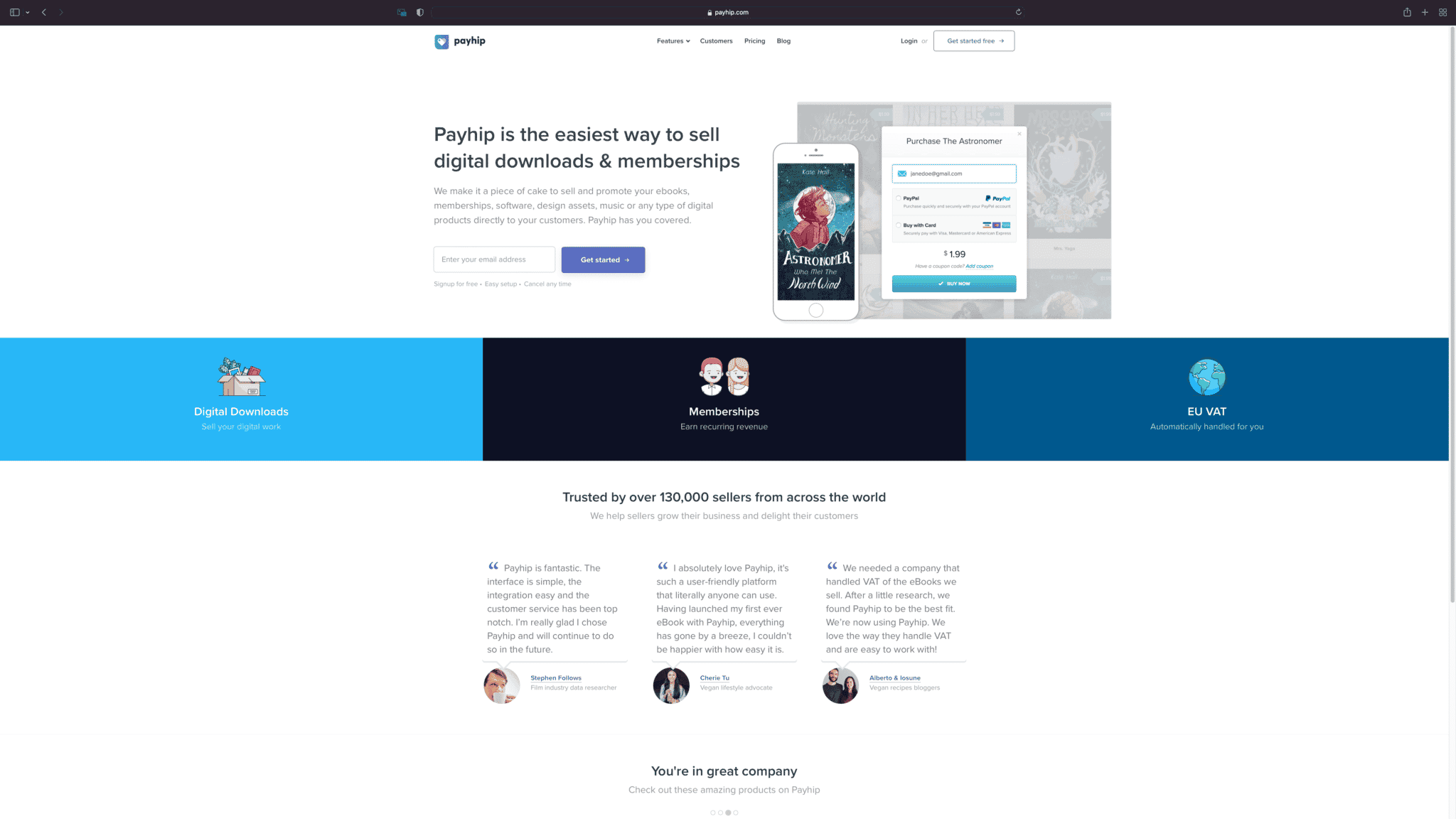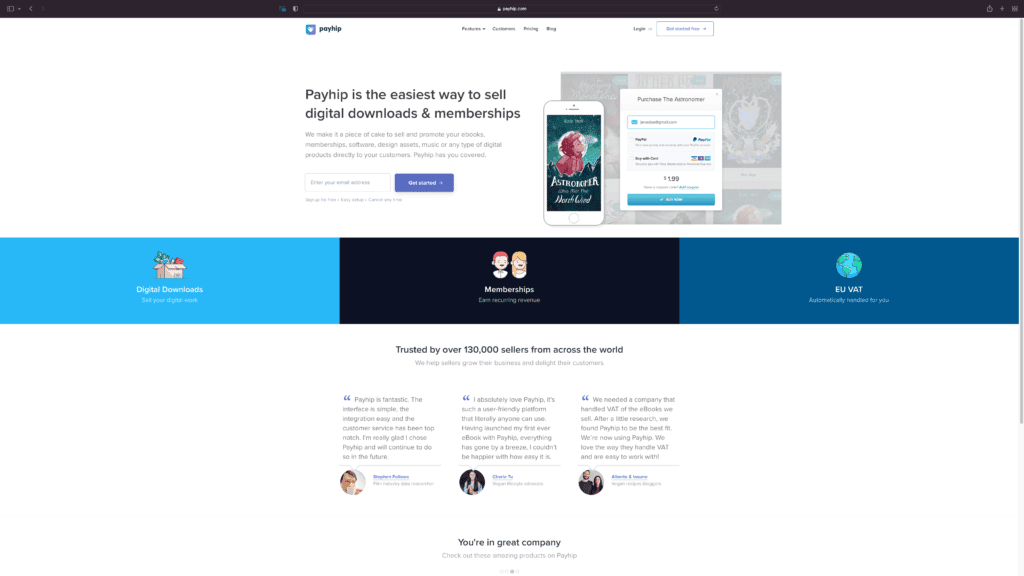 Payhip is an eCommerce platform to help you sell membership or digital products within a few clicks. In other words, you can create your online store in a few minutes. It is an all-in-one solution to sell ebooks, software, and anything you can download online.
Moreover, you can also sell membership or subscription services through this platform. You can accept recurring payments within minutes, and what is more interesting is that Payhip does all the hard work. They will help you do customer management, email updates, and content delivery.
How Does Payhip Work?
You might be thinking, why do we recommend this site to sell digital products? As you might read in one of our posts about Todoist, we like something easy and intuitive, and Payhip delivers that for you. You'll be amazed that this platform has been around for more than 10 years, and you can use it for free.
Although there are other similar platforms, you get limited access when you sign up for a free account. However, that's not the case with Payhip. Payhip gives you everything for free. So, you don't have to pay any amount at all to use its service. Pretty interesting, right?
To start using Payhip, you only need to sign up and create an account. After that, you'll see a dashboard like this screenshot below.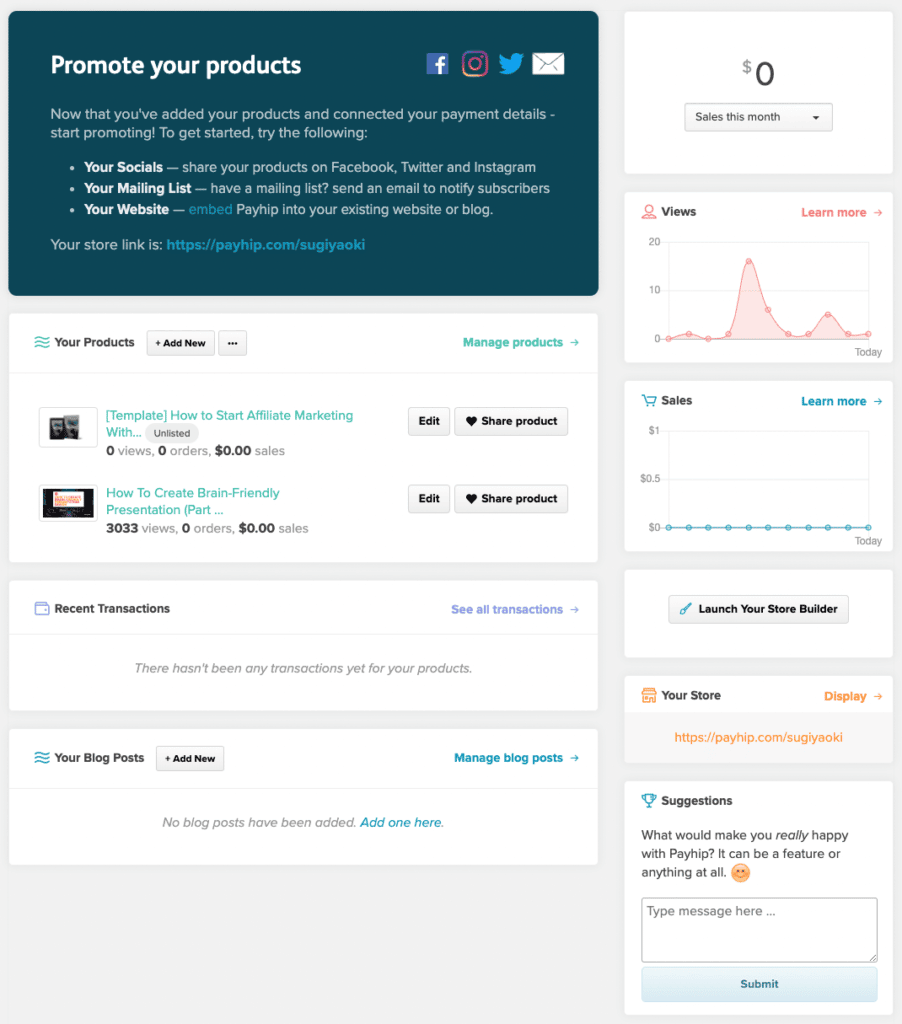 You can add your product by clicking the +Add new button. The first option you see is to select your product type.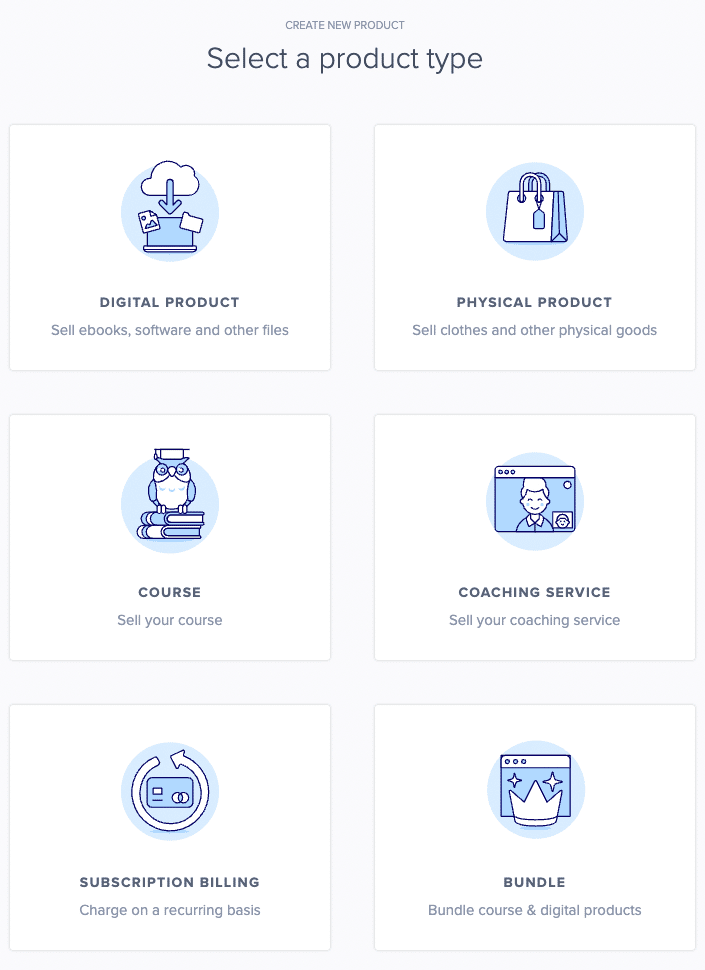 As you can see from the screenshot above, there are 6 products to choose from.
Digital Product. If you plan on selling ebooks, software, or any downloadable files online, choose this option.
Physical Product. If you want to sell physical goods such as a t-shirt, hoodie, mug, and anything tangible, you can opt for this option.
Course. If you plan to create and host your online course inside Payhip, you can do it freely with Payhip.
Coaching Service. You can also create a coaching service without paying a single penny to Payhip.
Subscription Billing. If you plan on creating a paid newsletter, or recurring membership, simply choose this option.
Bundle. If you have more than one product and want to combine it so your subscriber can get a discount, you can do it with the bundle option.
Fill up every information you need, such as the name, price, images, and product descriptions. You can do it within a few minutes.
Payhip Features
Depending on the choice of your digital product, there are various features you can use on Payhip for free. We will highlight some of the features we use to sell our ebooks.
Customizations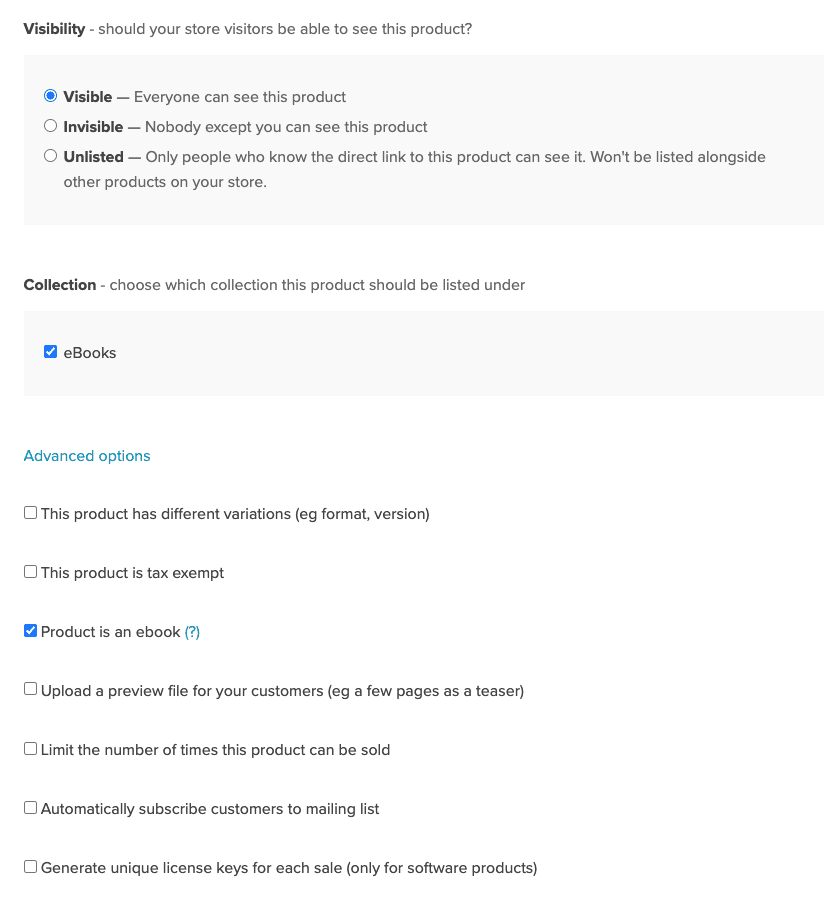 When you add your digital product, Payhip provides you with a lot of great features, such as:
Visibility: Should your store visitors be able to see your products? There are three options to choose from; visible, invisible, and unlisted. You can utilize the unlisted option to make your digital product accessible to people who know the direct link to your product. Use this option to tease your audience with a bonus download or other sales pitch ideas.

Preview File: Do you want to give a preview to your audience before they decide to download? If your digital product is an ebook like ours, this is a great feature you can use. You can create a short chapter and set it as a preview.

Download Limitation: Do you want to make your product available for a limited amount? You can limit the number of times people can download your product, making it like a limited product offer. You can get all these customizations even if you sign up on a free account.

Subscriber Management: One of the main benefits of selling digital products is to grow your email list by collecting your customer's information. If you integrate Payhip with an email marketing platform, you can set an option to automatically add your buyers to subscribe to your email list.

Generate Unique License Keys: If you're selling software, you want to keep track of the licenses for each of your customers, so you'll know the historical data of their purchases. Payhip does that for you by generating unique license keys for each software downloaded from your online store.
Marketing Tools
As we said earlier, Payhip offers everything for free, including marketing tools. Many of you already know that one of the best ways to promote digital products is by offering a discount.
With Payhip, you can easily create a coupon, offer a limited-time sale, and even create a social discount if your customer shares your product on social media. This feature still amazes us because everything is provided for free. Just take a look at this screenshot below.

You can create various offers such as cross-selling, referral programs, and even upselling your product to attract more potential buyers. Everything is done without paying anything.
Integrations
If you'd like to integrate your email marketing platform with Payhip, you can easily add your API key and URL. Currently, these email marketing platforms are available to integrate with Payhip:
Active Campaign
AWeber
Campaign Monitor
ConvertKit
Drip
Elastic Email
Email Octopus
MadMimi
MailChimp
SendFox
Payment Gateway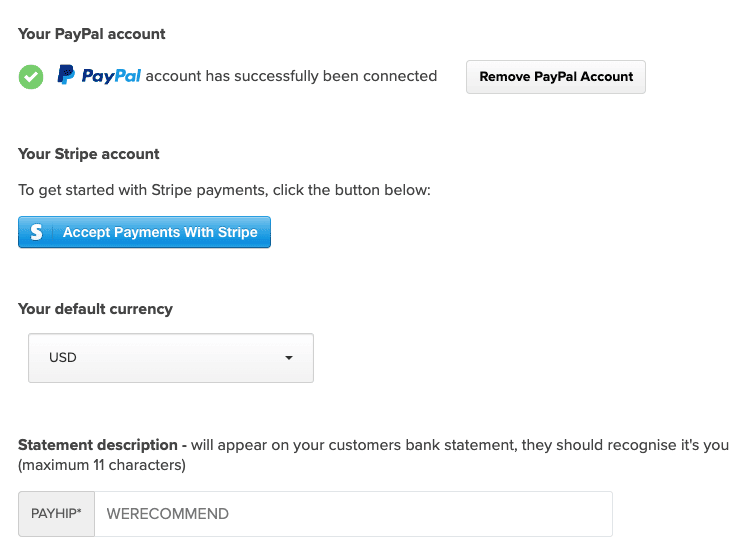 The beauty of selling your digital products is you can receive payment directly to your payment processor account. Currently, Payhip accepts payments from PayPal and Stripe. You can also set your currency according to your country and target market for a better exchange rate. However, most people will use USD for their currency settings.
Sharing Options
After you have finished adding your product, you can start promoting it. There are several options to share and promote your product. You can share it via social media like Facebook and Twitter.
Or, if you have a website, you can embed your store by adding a custom HTML code to your site, as you can see in our sidebar. Moreover, you can also add a button if you plan on writing a blog post about your product.
If you want to see what your store will look like, check out our store below: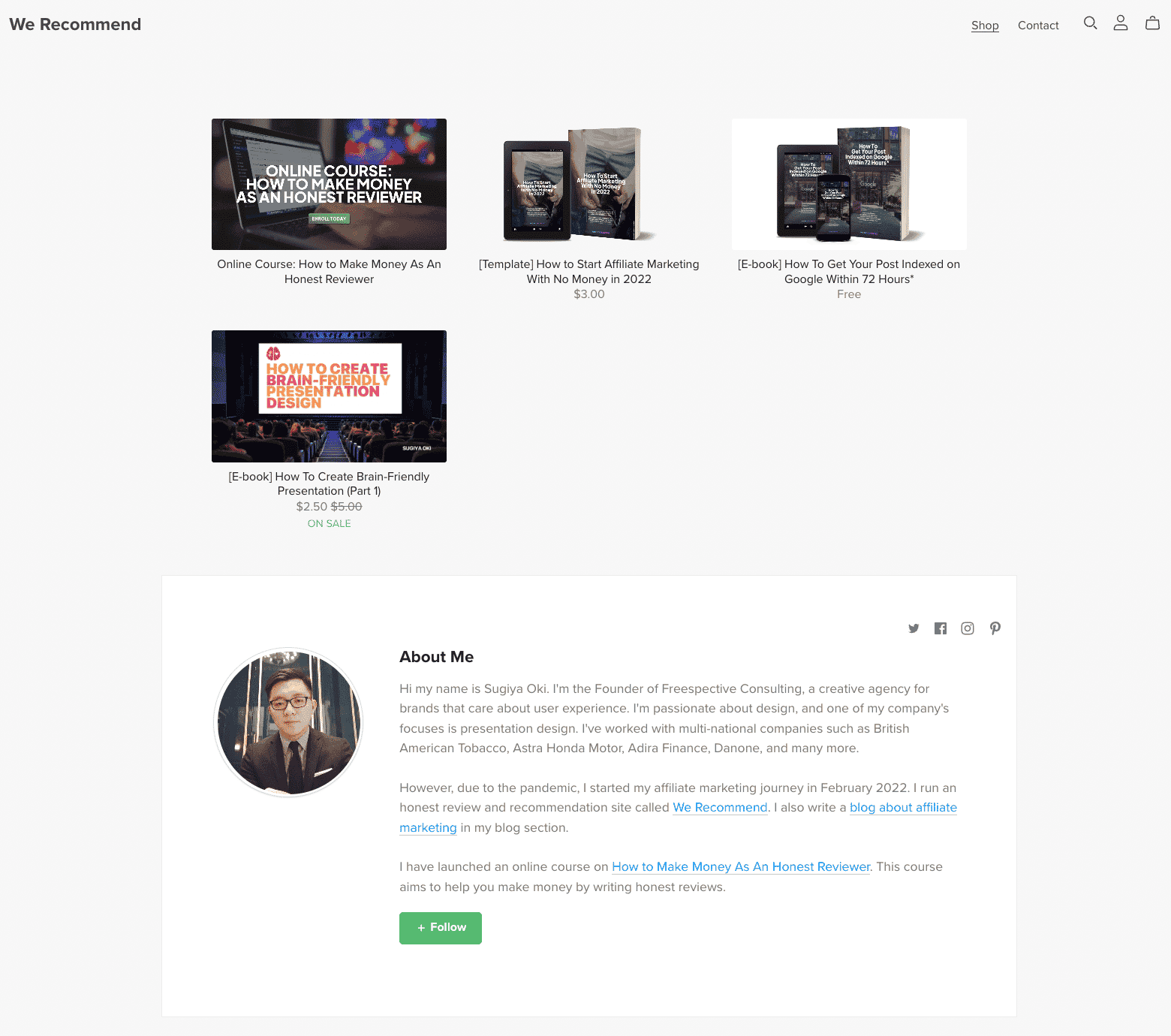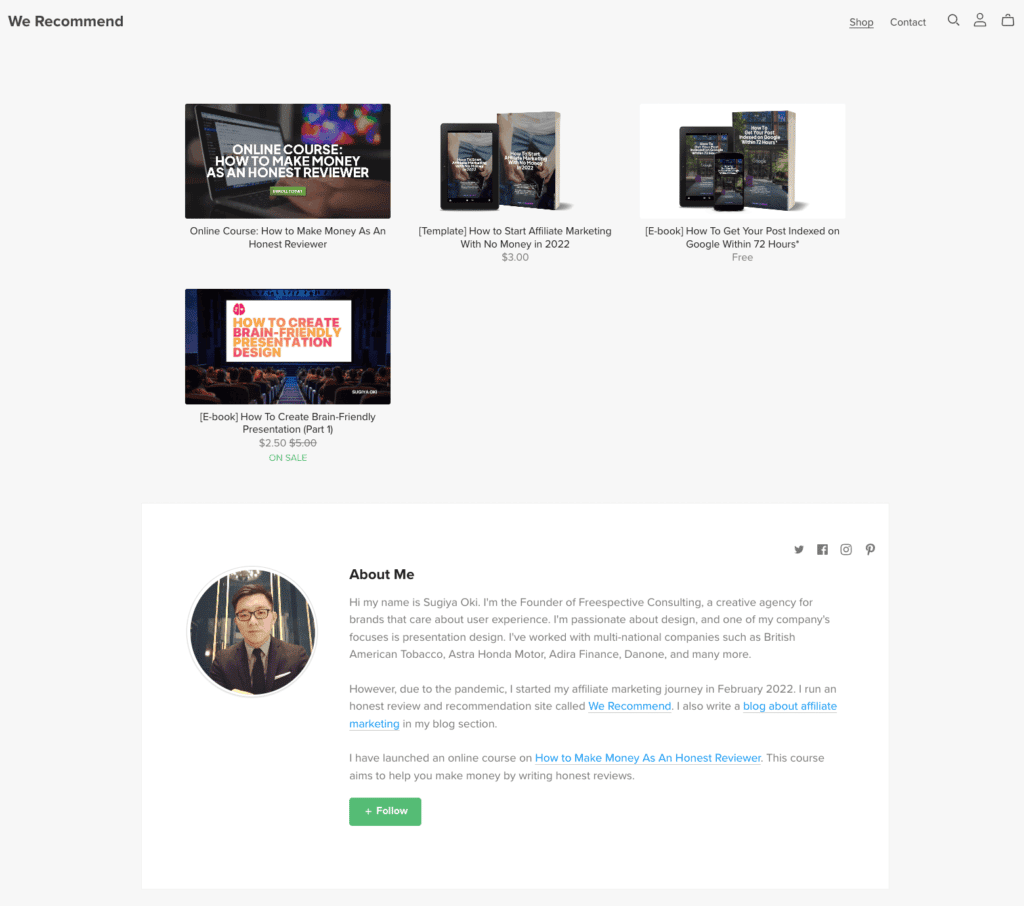 Do you need any coding skills to do that? Not at all. It is easy enough for beginners like us.
Analytics
Setting up your online store to sell your digital products is not enough if you can't monitor your traffic and sales. Thankfully, Payhip also provides an analytic feature to help you monitor your target audience and further improve your marketing strategy.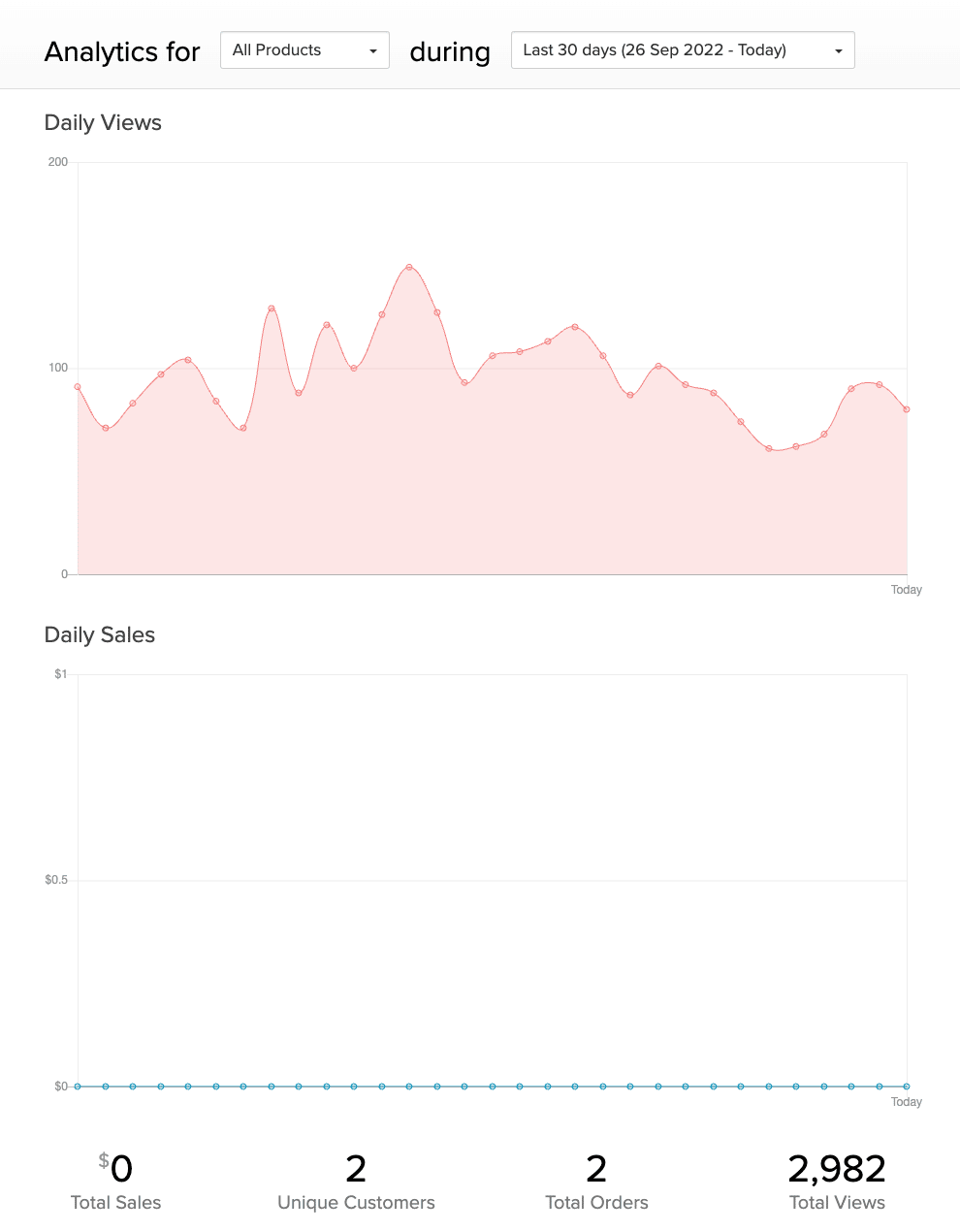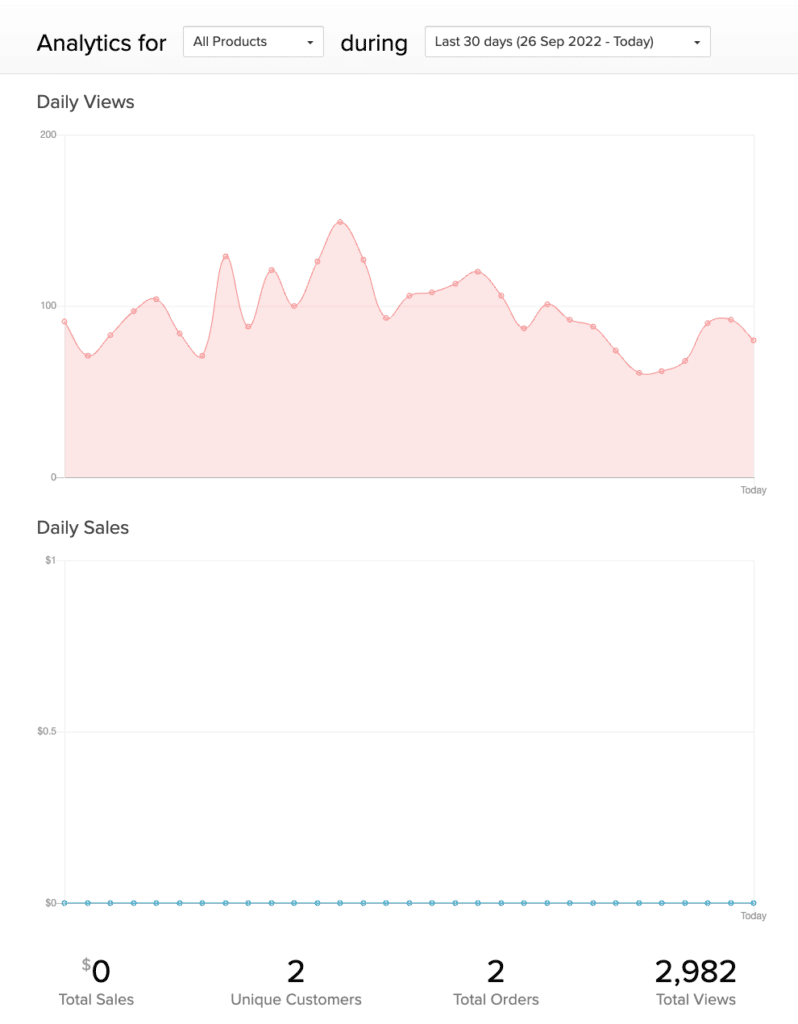 As you can see from the screenshot above, you can easily monitor your daily visitors and sales to your online store. Payhip data is accurate and blocks bot traffic to avoid you getting skewed analytics of your online store performance.
Payhip Pricing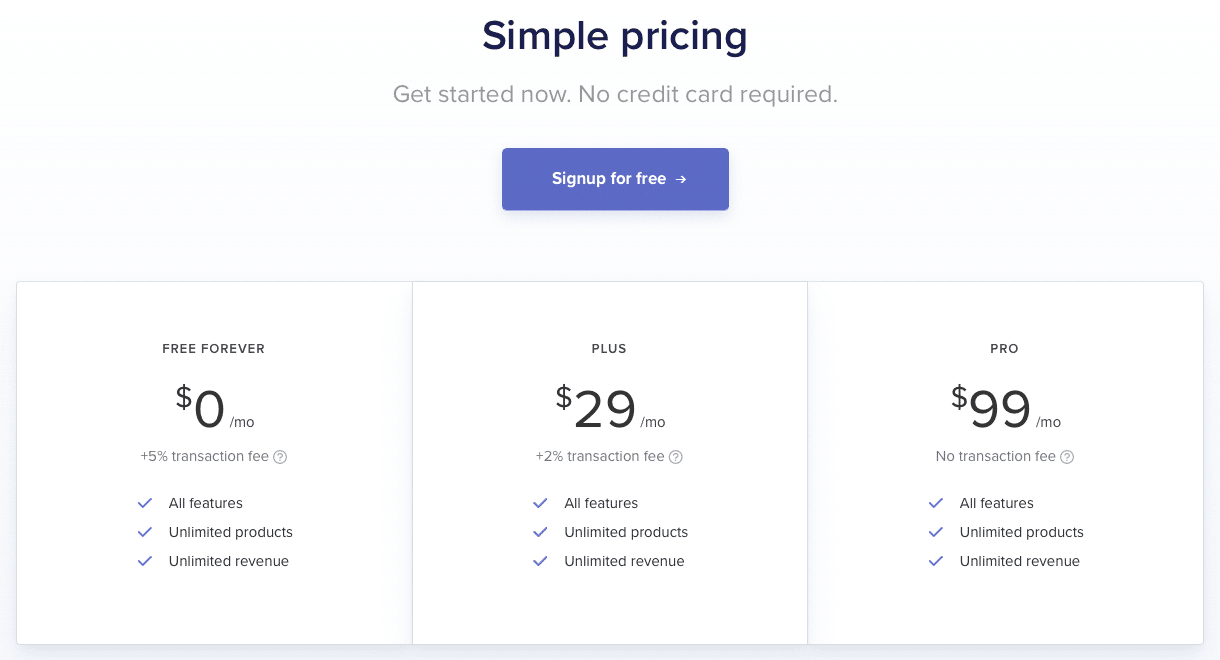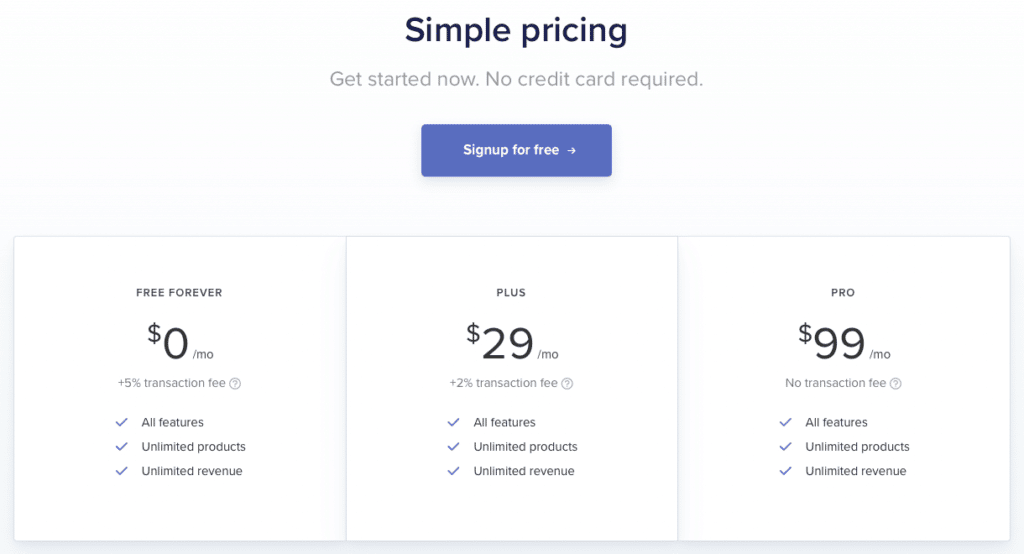 If you sign up as a free member, Payhip will take a 5% commission for every purchase through your store. However, if you'd like to upgrade your membership to $29 a month, Payhip will reduce the commission to 2%.
But, if you plan on adding plenty of digital products and you're confident that people will download them. You can opt for $99 a month, and every sale will go directly to your account without any commission for Payhip.
Payhip Pros and Cons
As you might have guessed, there are many pros than cons of using Payhip to sell your digital products.
Pros
A complete package for launching your online store without paying anything.
Lots of customization features to diversify your marketing strategy.
Unlimited products and revenues straight to your payment processor account.
Affordable transaction fee, even for a free member.
Powerful integrations with various email marketing platforms.
Beginner-friendly store builder with a drag-and-drop feature.
Cons
So far, we haven't found anything negative about using Payhip.
Frequently Asked Questions
Is Payhip legit?
No doubt. Payhip is a legit platform to host and sell digital products for free.
Conclusion
To conclude our Payhip review, we think Payhip is the best place to sell digital products without worrying about the cost and limited features. We strongly recommend it to anyone who wants to sell digital products online.
Setting up a free account is easy, and adding your products is supported by many great customization features. More importantly, you can embed your store into your website by adding custom HTML code to one of your pages.
If you're confident that your product will attract many customers, you should opt for a Plus account. However, even if you use it for free, Payhip only takes 5% as an affordable commission. You can scale up your content as you grow your audience.
---