This post contains affiliate links. We may receive a commission for purchases made through these links without any extra cost to you. Thank you for your support.
---
In this Todoist review, let's find out if it is the best free to-do list app.
If you're working from home like us, you'll be surprised at how unproductive you are if you don't plan your day.
That's where a to-do list comes in handy. You're going to love Todoist for that.
At We Recommend, we try to be paperless in our everyday activities.
So, we try to keep every note, review, journal, and anything else up there in the cloud.
We're not talking about creating the best to-do list here because you probably know it better.
But, just in case you don't know, there are a lot of to-do list apps out there.
So, you might be confused about choosing one for yourself.
Without further ado, let's dive in!
What is Todoist?
Yeah, we know. If we're talking about to-do list apps, you might be asking, what's the difference?
All of us can create a note in our notepad or even word document, and you can call that a to-do list.
You're right.
But, what we're going to recommend is a FREE app with great features to help you get productive doing whatever you're doing every day.
Todoist is a simple app to organize and list everything you need to do.
No matter what you're going to do, writing on it will help you stay organized and keep everything on track.
Watch this video to get a better idea about Todoist.
Todoist Review: Key Features
We recommend this free to-do list app because of the simplicity of its user interface.
It has many great features, even if you use the free version.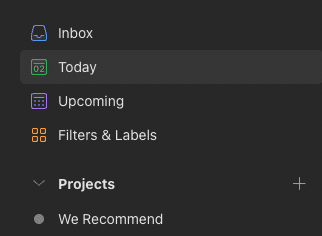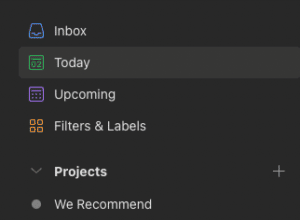 As soon as you open it, you will see four integrated folders on the left; Inbox, Today, Upcoming, and Filter & Labels.
Inbox will show everything you have in your Todoist app.
Today's folder will show your task list for the day.
Upcoming is the task that you previously scheduled before.
Filters & Labels, you can add filters and labels according to your own needs. You can even add a color-coding system to identify your task from a different project that you're doing.
Furthermore, you can also categorize your task by creating Projects.
Here, you can view your to-do list based on which project you're working on.
Todoist Review: Adding a Task
Adding a task is simple.
Just click the Add task button and write the task name.
You can also write a description for that specific task.
Another great thing that you can do is when you add a task, you can schedule it for any day you want.
Just click the schedule button and set it to your preference.
Moreover, you can also flag your task.
You can set it based on priority.
Todoist gave four levels for you to choose from, so you can work on your to-do list based on that priority.
You can also write your tasks' due date.
Todoist is programmed to understand your task's due date.
Todoist understands things like:
Meeting with a client today,
Buy groceries this weekend,
Send report Feb 28 at 9 am
This feature is one of the main reasons we recommend it as the best free to-do list app.
Todoist Free Version Downsides
As with any other subscription, there are downsides if you're using the free version.
You can't access the reminders features.
The number of projects you can manage is limited to only 5, and the number of collaborators you can invite is limited to 5 people.
Frequently Asked Questions
Can I connect it to my calendar?
Yes. You can connect it to your preferred calendar app like Google, Apple, or Outlook Calendar.
Can I add other people as collaborators when using Todoist?
Yes, you can. You can add up to 5 collaborators per project using the free version.
What's the difference between the FREE vs. Pro Version?
You'll get unlimited reminders, more themes, more projects, etc. For more information, check out their plans.
How much does it cost?
For their Pro Plan, they charged a $36 annual fee or $4 if you pay monthly. For Business Plan, it's $60 a year or $6 on a monthly charge.
Conclusion
To sum everything up, YES.
We recommend it.
If you're looking for a to-do list app to easily organize and track your progress, we recommend Todoist as the best free to-do list app.
Todoist is available on both macOS, Windows 10/11, and mobile apps.
And it's available on a mobile app, too.
In other words, everything is in sync whether you open it on your Mac or PC.
Moreover, if you're using an Apple Watch, you can track your task from your wrist.
Another great thing is that if you somehow forget your phone or laptop, you can still access Todoist from any browser.
Pretty handy, right?
Boost your productivity with this 27-inch monitor
---
Sugiya is the Writer and Owner of We Recommend. He is passionate about helping people make better decisions when buying things on the internet.