---
In this AdCreative AI review, we'll show you how to create creative advertisement designs with the help of artificial intelligence.
Social media ads are one of the best ways to drive traffic to any offers. A well-designed advertisement could convert anonymous visitors into profitable customers. However, creating an ad creative could be challenging if you don't have design skills. Well, AdCreative AI could be your next solution.
Artificial Intelligence has been used widely in copywriting and design. With the help of AI, you're speeding up the creation process several times faster than manually doing it. This is possible because machine learning allows you to generate high-quality output within minutes, even seconds.
You can imagine creating an ad for your business just by uploading a logo. It would save you tons of time and resources.
Now, let's explore what AdCreative AI can do for you.
What is AdCreative AI?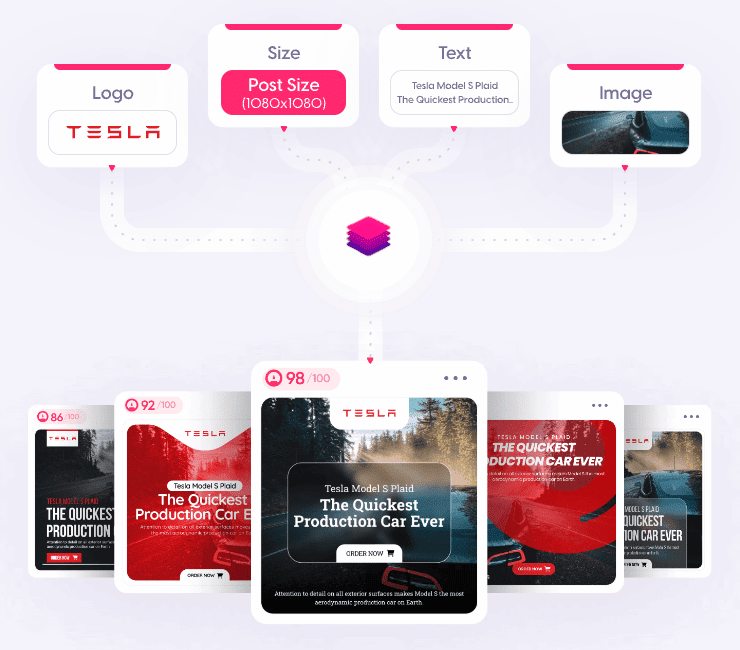 In a sentence, Ad Creative AI is a tool to create ad creatives, such as banners in various sizes for social media platforms.
When you're uploading ad creatives to social media like Facebook or Instagram, you need to make sure you have the required size to display your ads. Otherwise, your ad won't show up and load properly. This is essential if you're running an advertising campaign on multiple platforms.
With the help of AdCreative AI, you can save more time and resources because it helps you generate thousands of visual options within minutes. So, you can choose the ones you want and test them for your marketing activities.
Here's a short video to help you understand about AdCreative AI.
Who Should Use AdCreative AI?
eCommerce
Even though any business may or may not need an ad creative to promote their business, those in the eCommerce industry might need it more. When selling products, you need to showcase them to your targeted audience. Otherwise, they wouldn't know.
Imagine selling a shoe without showing any pair of shoes on your website. It would be weird. That's why an ad visual is essential to capture people's attention. Showcasing your product catalog is an easy task if you use AdCreative AI.
Startups
Another business that may find AdCreative AI beneficial is startups. As you already notice, a startup company needs more exposure to as many people as possible. Without any brand awareness, a startup company wouldn't survive for long. That's why many of them created an advertisement to promote their business.
Since a startup's pace is usually fast and dynamic, creating various ad sets will take time. If you're a startup founder, you don't want to waste any time going back and forth revising ad creatives, right?
You might think that's why you need a designer to do it for you. However, hiring a professional designer could cost you a lot of money. You can compare the cost later in the pricing section.
Agencies
One more business that benefits AdCreative AI capability is none other than agencies. If you're running an ad agency, designing an ad is a part of your service. You need to present them before running your ads. However, your client would like to see options, so it's better to showcase several ad creatives to your client. 
With AdCreative AI, you can generate unlimited ad creatives for your client. In fact, every single one of your agency staff could bring 10 of their design. You will never run out of options with this tool.
The testimonials below will back up our explanation.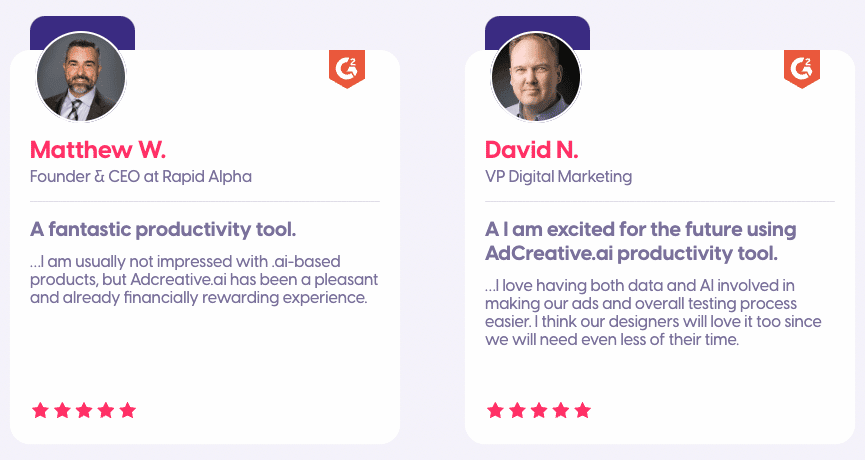 How to Create Ads With AdCreative AI?
With AdCreative AI, you can create ads by following these simple steps. After signing up and creating your account, you will see a dashboard like this below.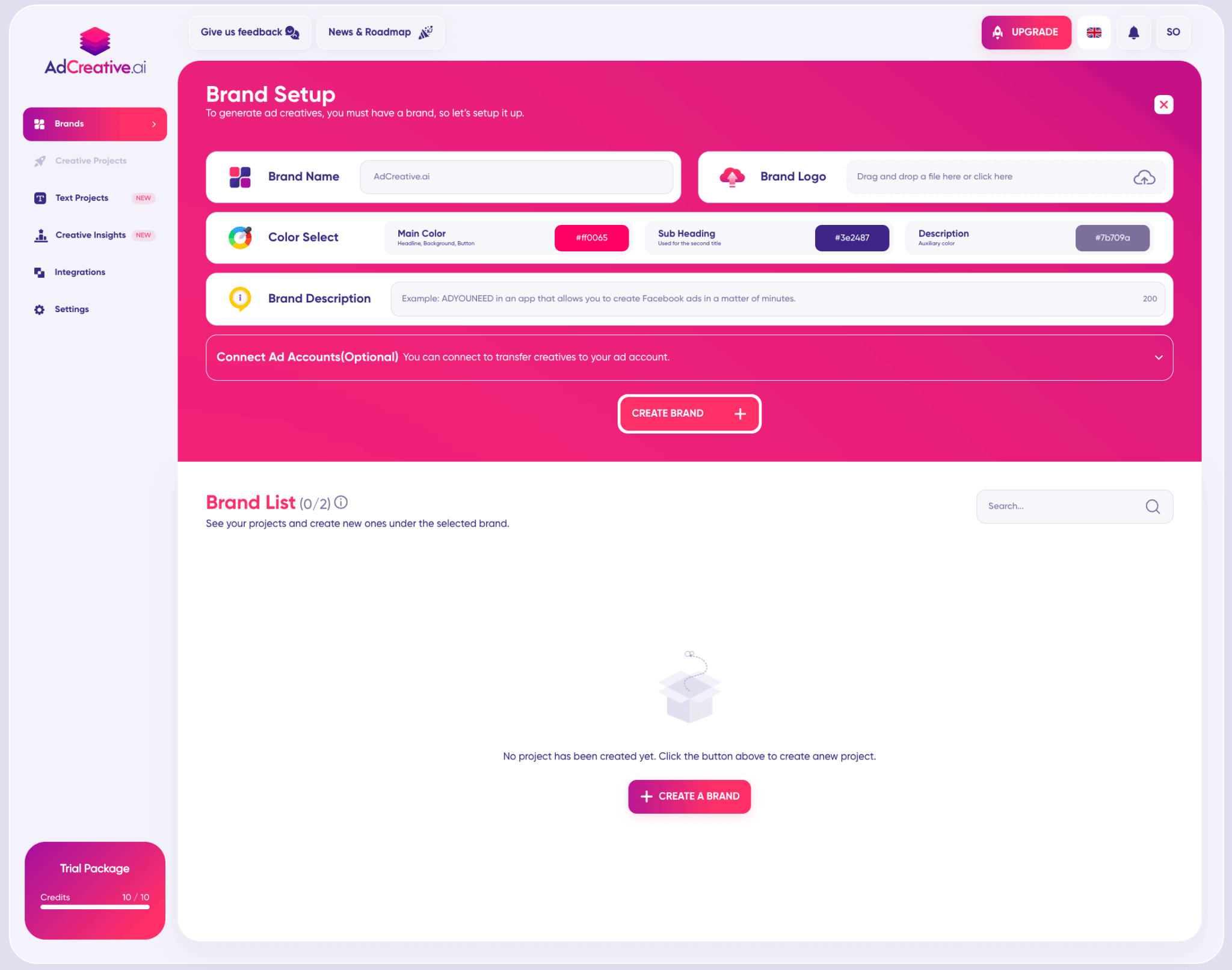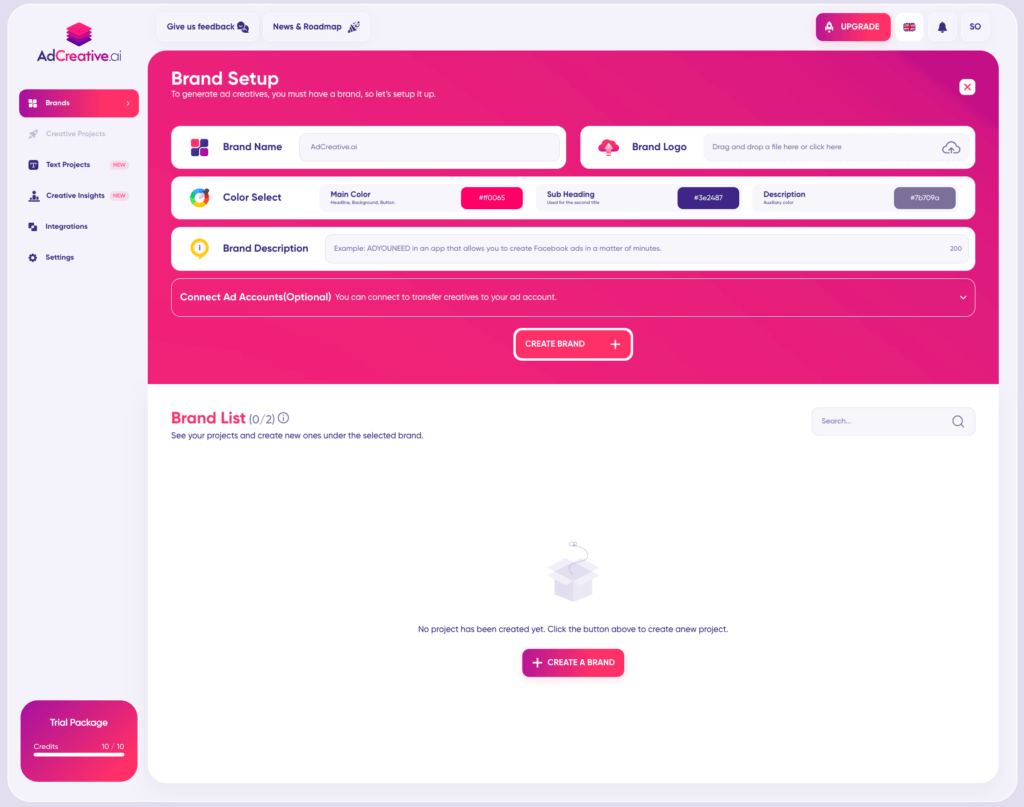 To set up and design your ads, you must fill in all the information on your Brand Setup menu. This will determine your brand name, brand logo, ad color scheme, and your brand description.
Pro Tip????
Uploading your brand logo will give you an automated suggestion of your color schemes.
Step 1 – Choose Creative Format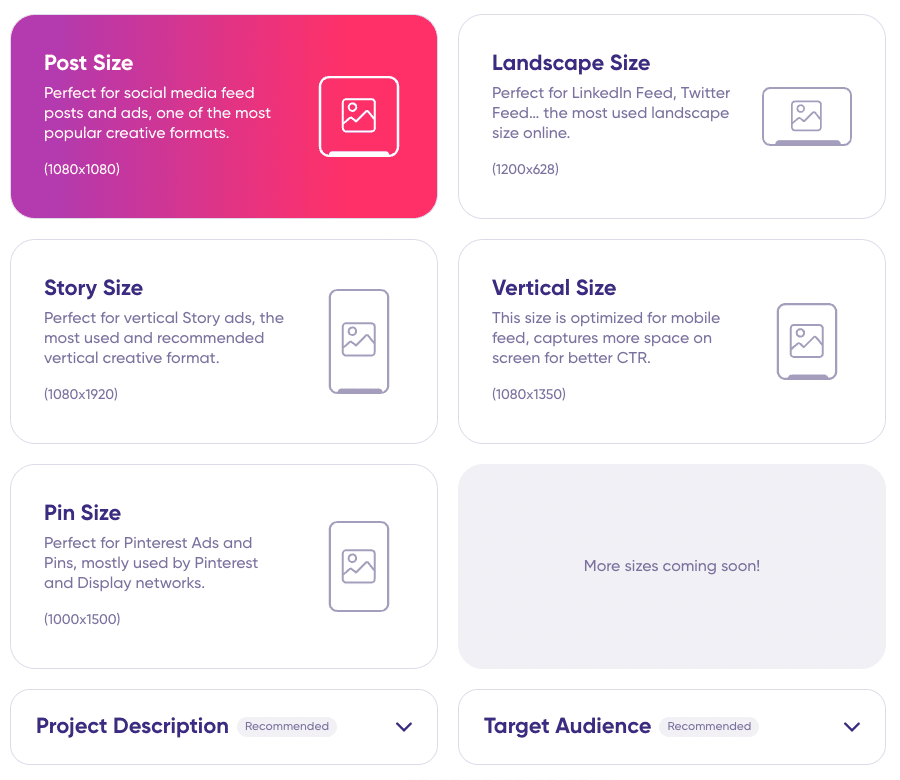 Firstly, you can choose the ad format to preview your ad creative. You can choose from various sizes, such as:
Post – 1080 x 1080
Landscape – 1200 x 628
Story – 1080 x 1920
Vertical – 1080 x 1350
Pin – 1000 x 1500

Don't forget to fill in the Project Description and Target Audience. Make sure to provide a brief explanation for better results.
Step 2 – Choose Texts and Buttons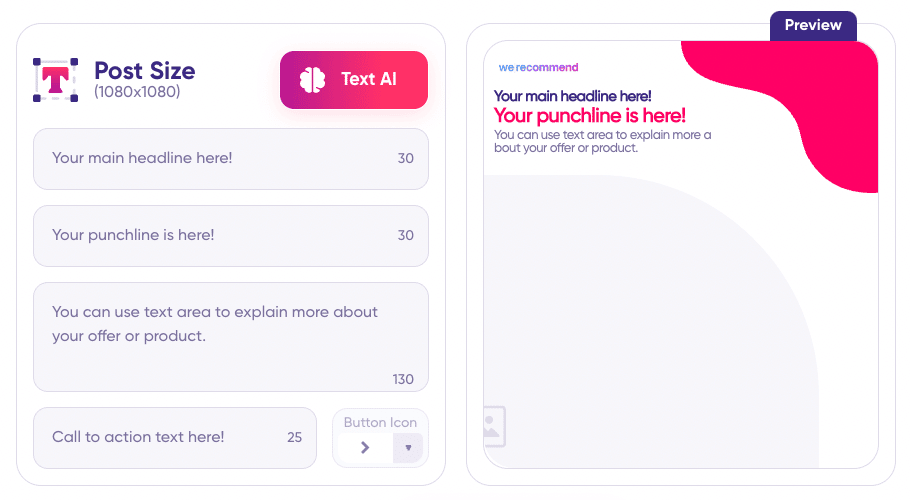 As you can see, this is where your ad creative takes shape in copywriting. Fill in all the needed information such as Headline, Punchline, Description, Call to Action, and Button. You can roughly see what it will look like in the Preview area.
However, if you have no idea what to write, hit the Text AI button. It will generate various options for you. In addition, you can choose between English, French, and Spanish as an output for your text. Pretty convenient, right?
Step 3 – Choose Your Image
The next step is choosing your image to upload as a background for your ad creative.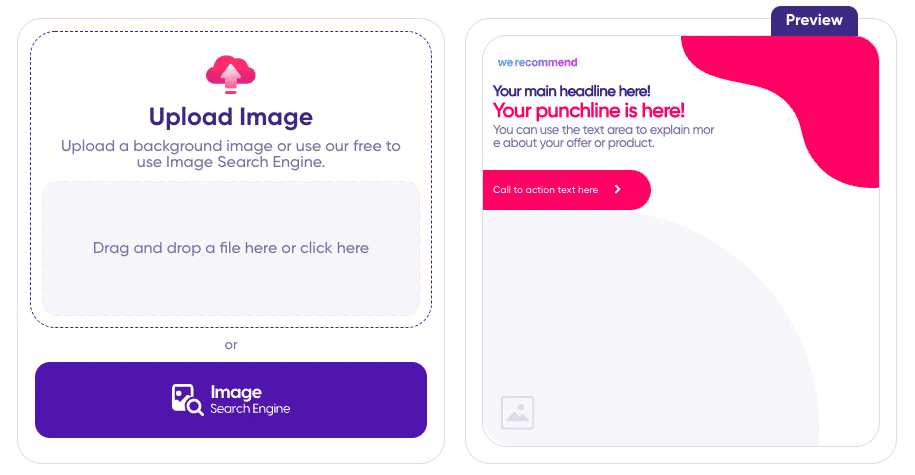 You can upload your own image or search from various free stock images available inside AdCreative AI. You can always change them with other options later on. After that, hit the Create A Post button.
Step 4 – Review & Tweak Your Result
Curious about what your ad creative will look like? Let's take a look at our example below.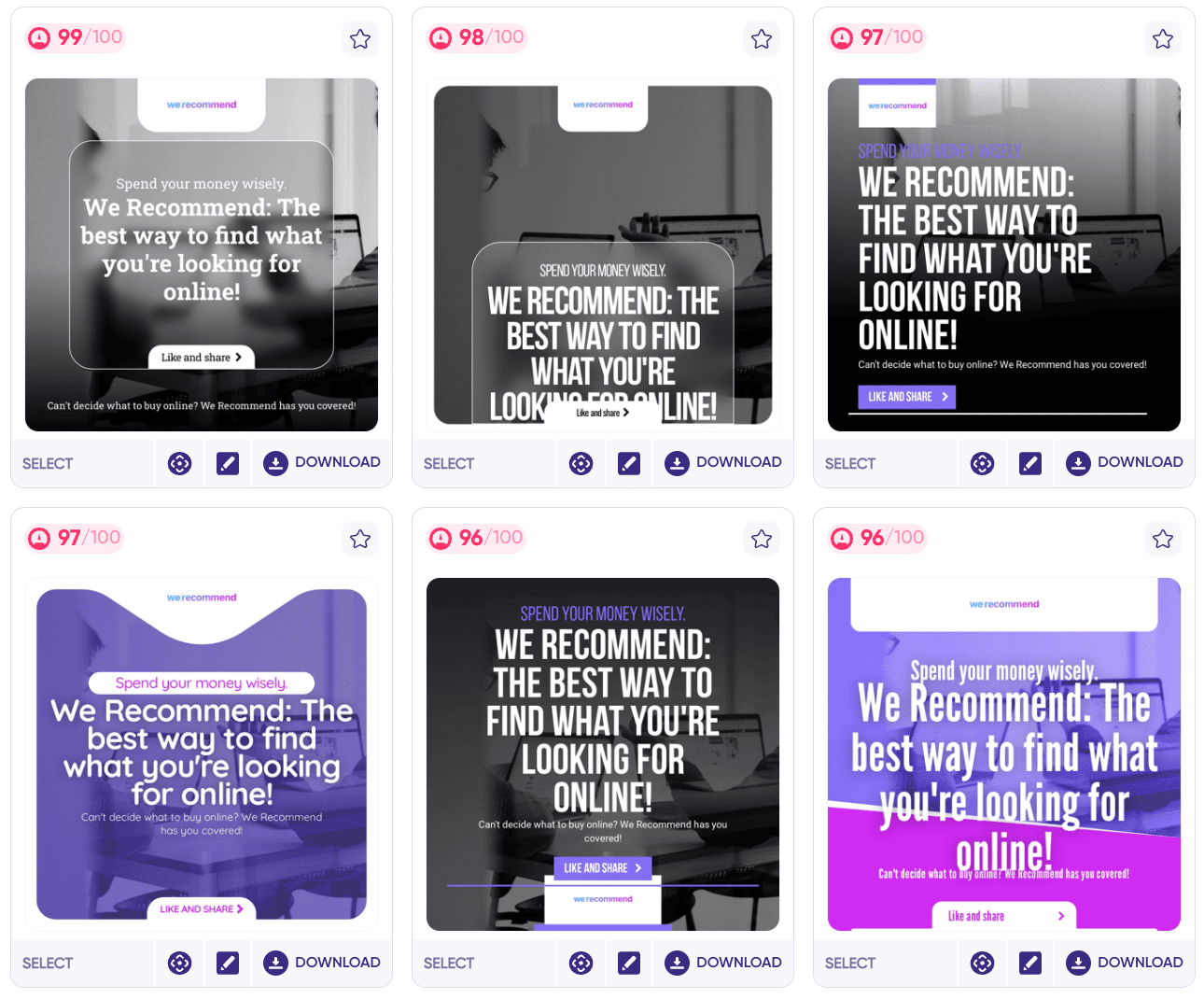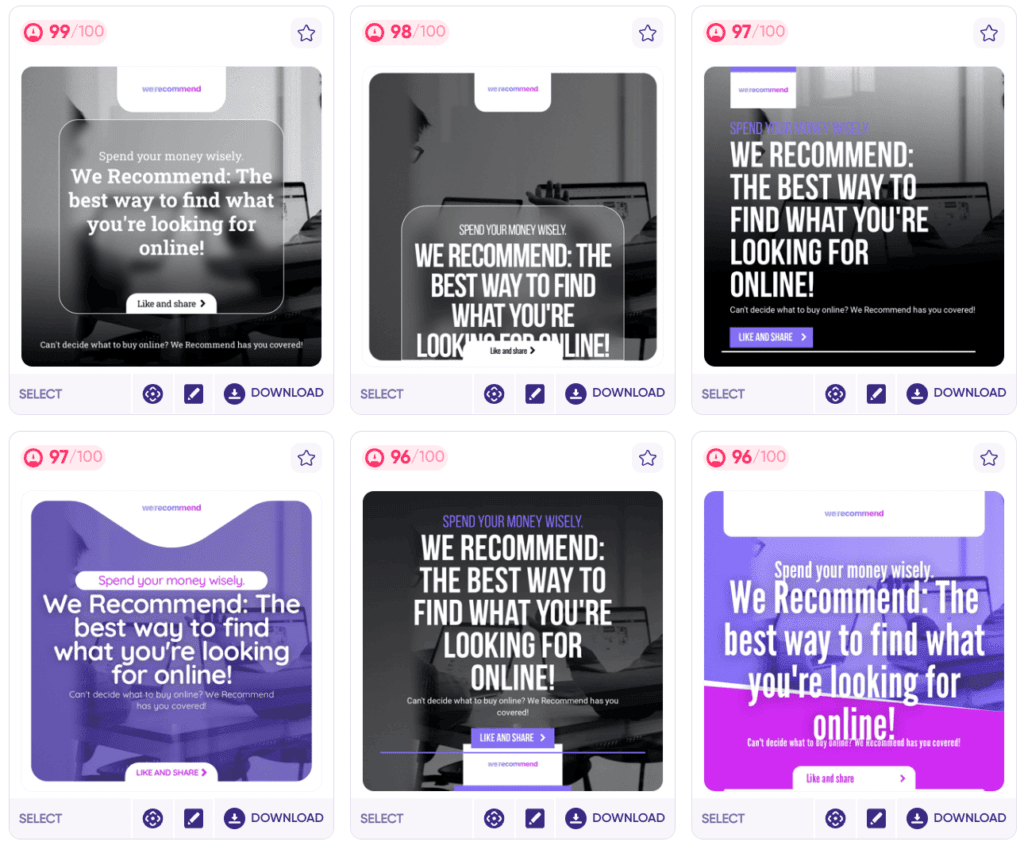 As you can see, you have various options for the best ad creative for your project. You can select and download all of them if you want, or select a few that strikes your attention.

Either way, you may want to look at the Scoring System provided on the top left of each ad. Initially, your result is sorted based on the score. Higher scores indicate the best result possible based on the AI Recommendation. We strongly recommend you browse through all the variations to see all the possibilities.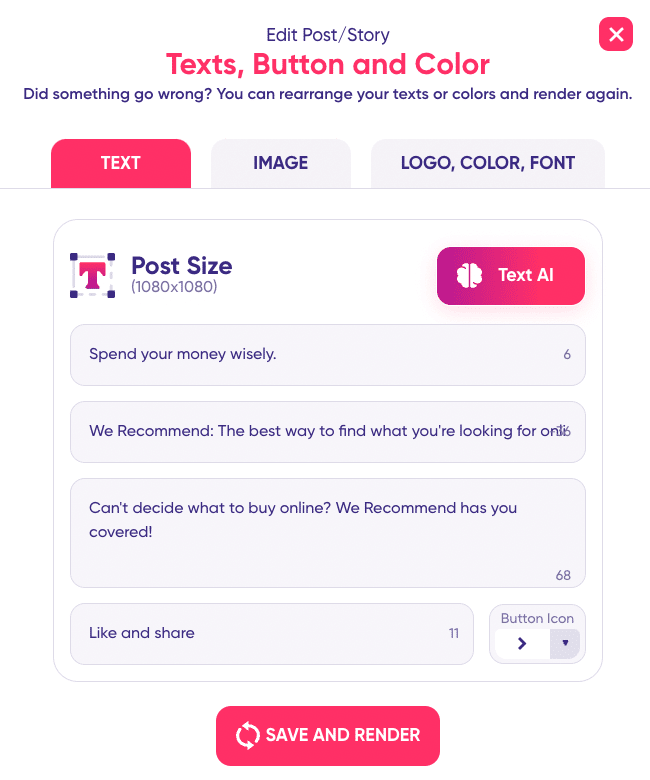 If you want to tweak your result, hit the Edit All At Once button. You can change everything just like in the previous steps.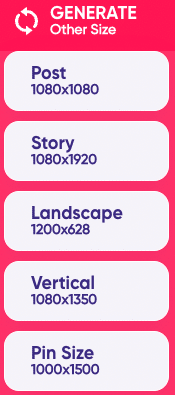 If you are satisfied with the result and want to create ads for different sizes, you can hit the Generate Other Size button. Choose the size you want, and you'll see a box like this below.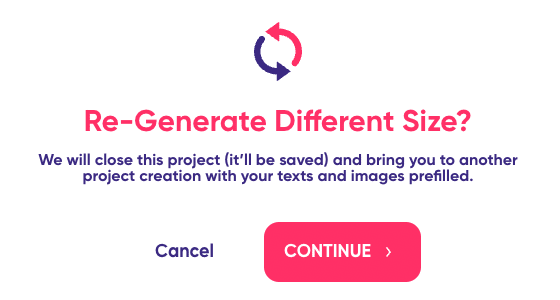 Your previous design will be saved, and AdCreative AI will generate a new project for you. You can create unlimited projects with your brand. Imagine generating thousands of visuals of ad creatives within minutes.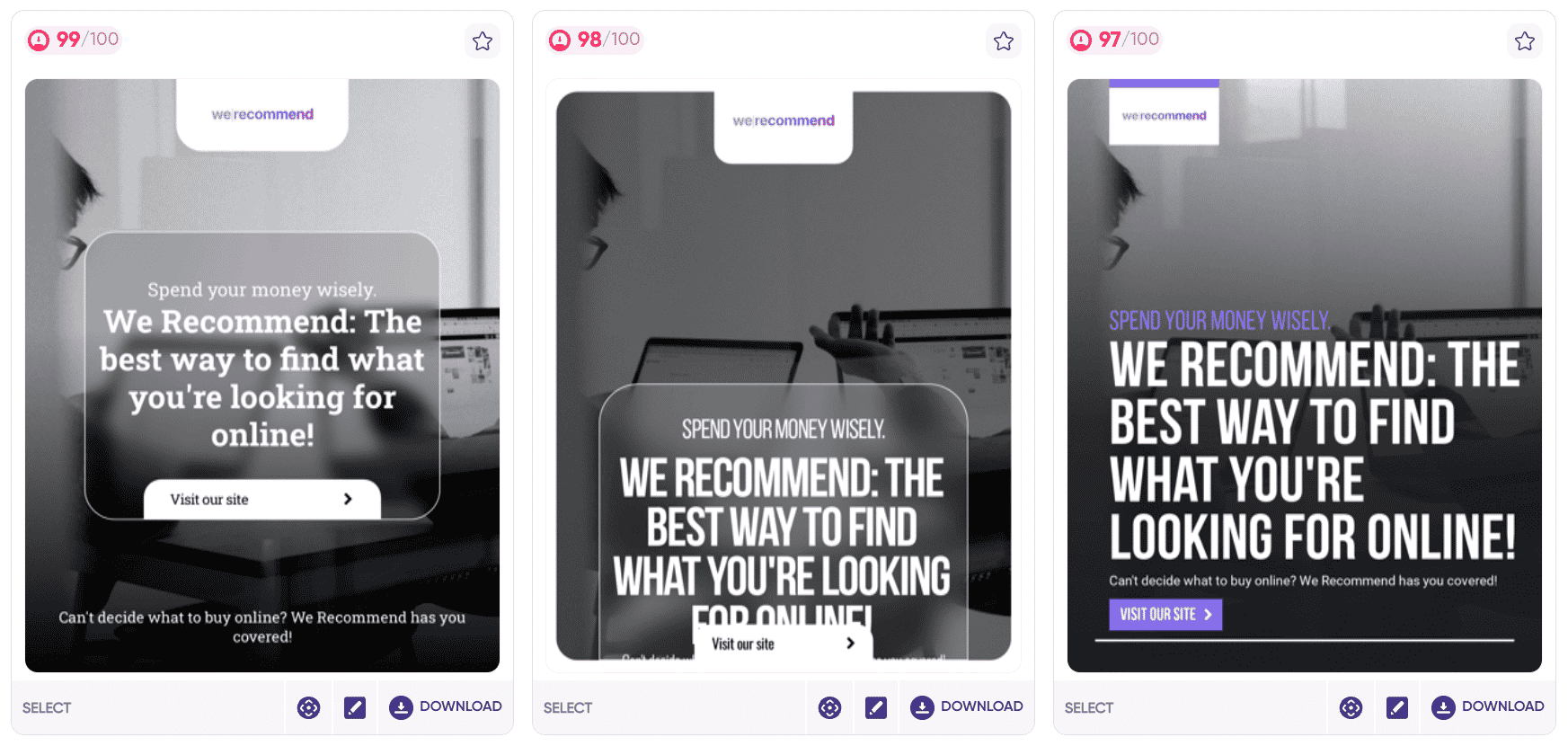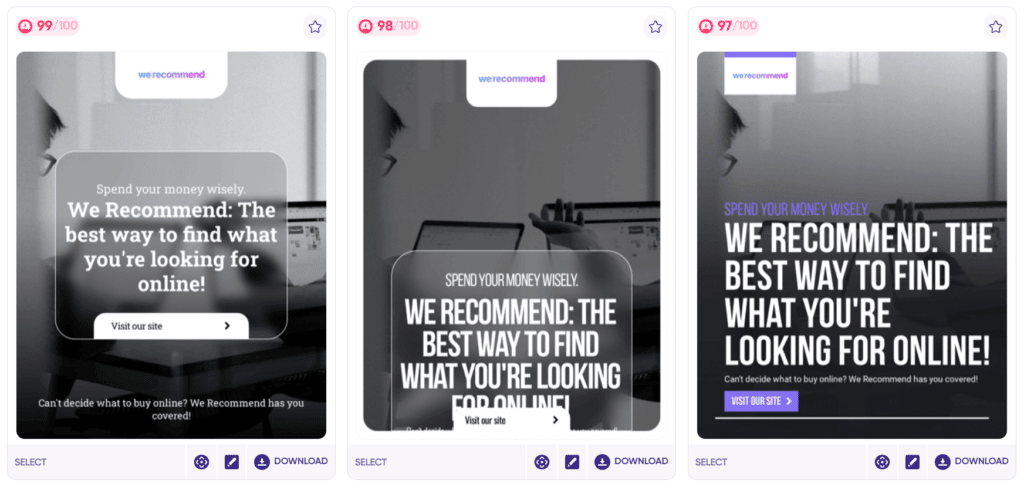 Pretty handy, right?
AdCreative AI Features
Now, let's talk about AdCreative AI's features other than creating ad design. Some of these features are suitable for e-commerce. Let's take a look, shall we?
Text Projects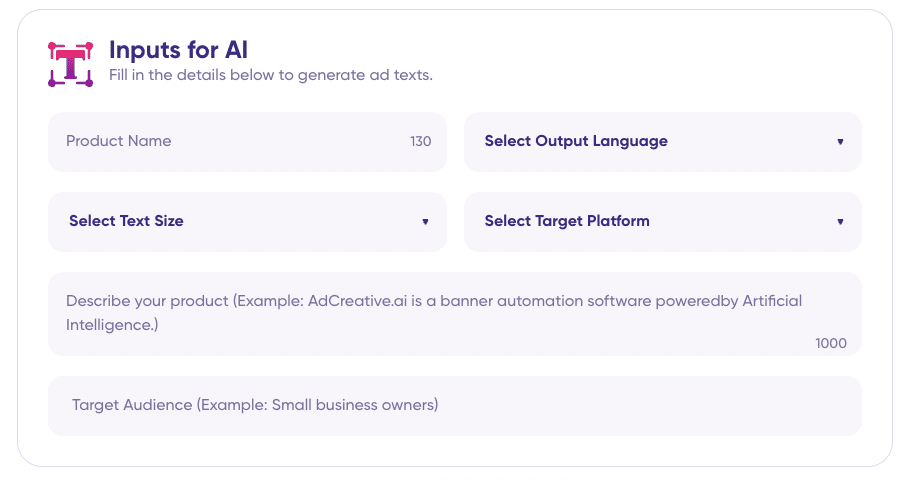 You can create a product description using the Text Generator feature. Fill in all the information needed, such as: 
Product Name – Maximum 130 characters
Output Language – choose between English, Spanish, and French
Text Size – choose between Ad Copy (up to 260 characters) or Ad Headline (up to 60 characters)
Target Platform – select one from General Use, Facebook, Google, or LinkedIn.
Description
Target Audience
After that, hit the Generate Texts button and see the result.
Integrations


You can run your ad through AdCreative AI. It is already integrated with Facebook Ads and Google Ads. What you need to do is connect your accounts and publish your ad. More platform integrations are coming soon, such as Google Analytics, Adyouneed, and Zapier.
Creative Insights
If you run your ad through AdCreative AI, you can see the analytics of how your ad performs. So, you can see which ad creatives deliver the best result for your business.
Collaborate
Another essential feature for companies is to invite their team members to work on a project. Depending on the plan, you can invite up to 15 users, which is suitable for agencies.
AdCreative AI Pricing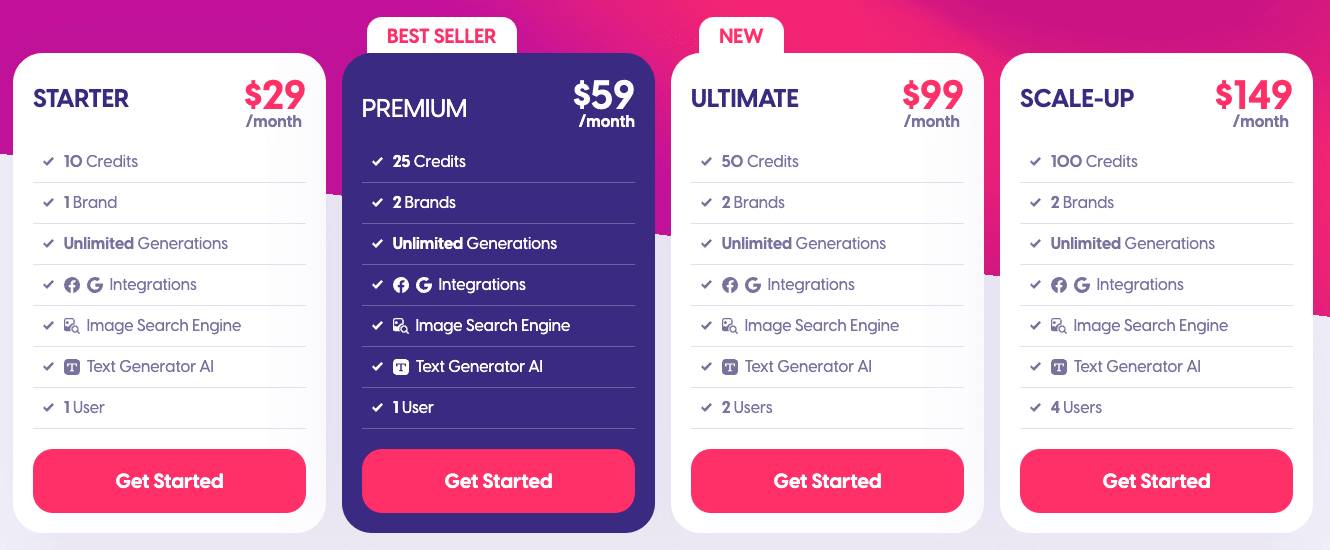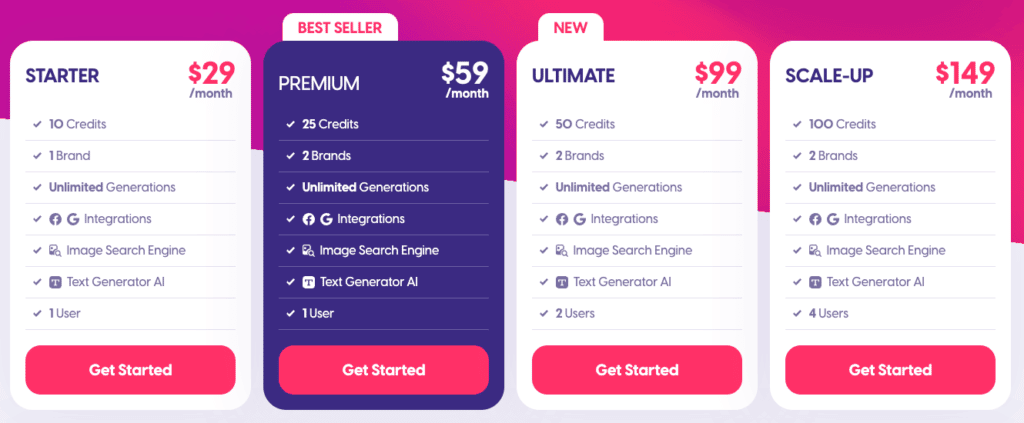 As you can see, there are two different categories of pricing: Startups and Professionals. The Starter Plan starts at $29 per month or $290 per year. We think it's more than enough to create ads for one brand for an entire year.
If you're scaling your business and planning to run multiple campaigns, the Premium Plan at $590 per year could be an option. You'll get 25 credits per month to create ads for your campaigns.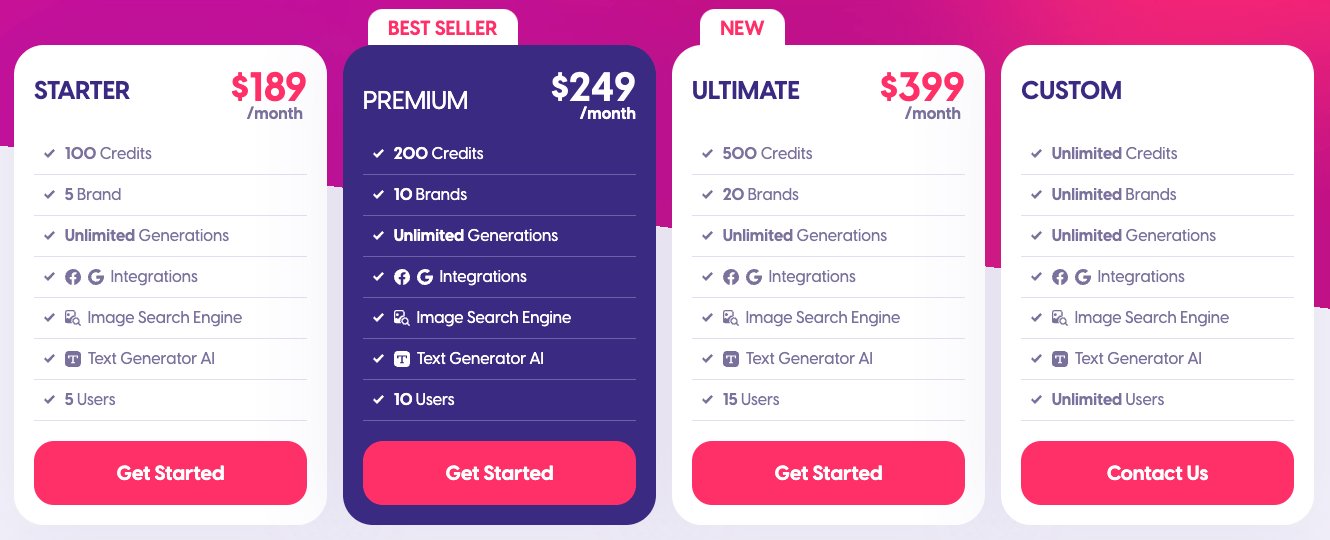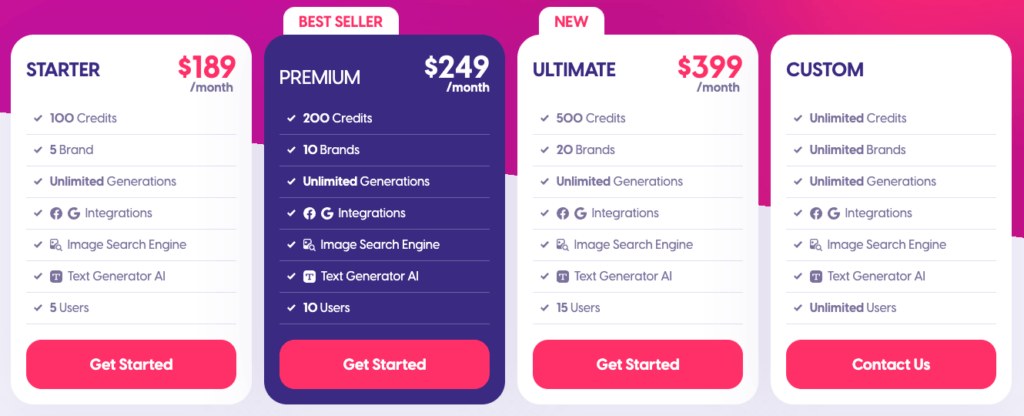 For agencies or someone running an ad creation service, you might want to check on the Professionals plan, starting at $189 per month or $1,890 per year on an annual payment. You'll get 100 credits per month and 5 brands to manage. If none of the above suits your needs, you can opt for a Custom Plan, where you'll get unlimited credits and brands to handle.
Pro Tip ????
You can get $25 off on any package for 12 months. Use the code: FIRSTYEAR25 after signing up.
Frequently Asked Questions
Is AdCreative AI legit?
AdCreative AI is a legit online ad creation platform you can use to generate thousands of ad designs within minutes.
What is a Credit?
The number of ad creatives you choose to download counts as 1 credit. These credits are renewed every month.
Can you buy additional users if you're on the Starter Plan?
Yes. Each user will cost you $25 per month.
Do you need to input your Credit Card to sign up for the free trial?
Yes. You will automatically get the Ultimate Plan set as your default plan. However, you will not be charged during your free trial.
What happened after the 7 days of the free trial?
On the last day of your free trial, unless you cancel your subscription, you will be automatically charged by the type of subscription plan. Make sure to cancel and delete your account if you do not wish to proceed.
What is a Standby Mode?
If you have already created several ads and plan on subscribing in the future, you can choose a Standby Mode. This allows you to preserve everything you have created by paying $5 per month.
What is AdCreative AI's refund policy?
AdCreative AI provides a full refund policy within 7 days on a monthly subscription and 30 days on an annual payment. Send an email to [email protected] to proceed with your refund.
Conclusion
To summarize this AdCreative AI review, this might be one of the best ad design tools you can use to create digital ads within minutes. It's simple, easy to use, and packed with unlimited generation options to help you generate highly converting ads.
However, since you need to input your credit card number to start your free trial, you might want to always remember the date when your free trial started. Otherwise, you'll be charged on the last day of your free trial.
We recommend using AdCreative AI to help you create ads without worrying about the design factor. It's a great tool for startups, agencies, and e-commerce businesses to produce high-quality digital ads in a few minutes.
---