This post contains affiliate links. We may receive a commission for purchases made through these links without any extra cost to you. Thank you for your support.
---

Disclosure: This post is sponsored by Visme. All opinions inside this post are based on our personal experience testing and reviewing Visme without guidance from the brand itself.
---
In this Visme review, let's find out if it is the best visual content creation tool to try in 2022. No matter what you do, there are several things you can't avoid: visual content.
When you write blog posts, you need visuals. When you write an advertisement, you need visuals. Even a social media post needs visuals. To create these visuals, you need a reliable design tool. Amongst many design tools out there, you've probably heard big names such as Adobe Illustrator and Affinity Designer.
However, not all of us are savvy with those technical design tools. Sometimes, we need a simple online design tool where you can create engaging content without worrying about design skills. So, allow us to introduce you to Visme. You'll be blown away by this powerful tool, and we will tell you all about it.
Let's dive in!
What is Visme?
Visme is an all-in-one content creation tool for individuals or organizations to create engaging content within minutes.
With Visme, you don't have to worry about not having design skills because Visme is made for non-designers. But, if you're already a designer, you can utilize this fantastic tool even further.
Here are the exact words about Visme from the CEO:
---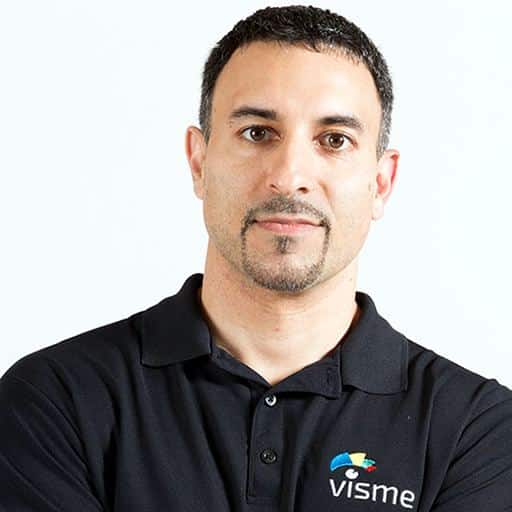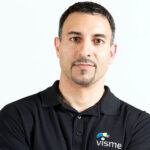 "Think of Visme as PowerPoint marrying a design tool (such as Canva or other design tools). It's intuitive and easy to use but also packed with some power. Best of both worlds."

— Payman Taei, CEO of Visme
---
We couldn't agree more with that statement.
To give you a better context, we are professional presentation designers in our country. We've been creating PowerPoint presentations since 2014. So, we thought we'd give it a try.
After we tested Visme, we realized this could entirely change the process of creating our presentations and any kind of design. Visme is like a workshop to create beautiful visuals. It's packed with powerful features and ready-made templates.
Watch this short video below to learn more about Visme.
In short, you can create all forms of visual content in one place.
Now, let's dive deeper to see what kind of content you can create with Visme.
What Can You Create With Visme?
As we mentioned earlier, Visme can aid you in creating almost any type of visual content. Let's take a closer look at each of them.
Presentations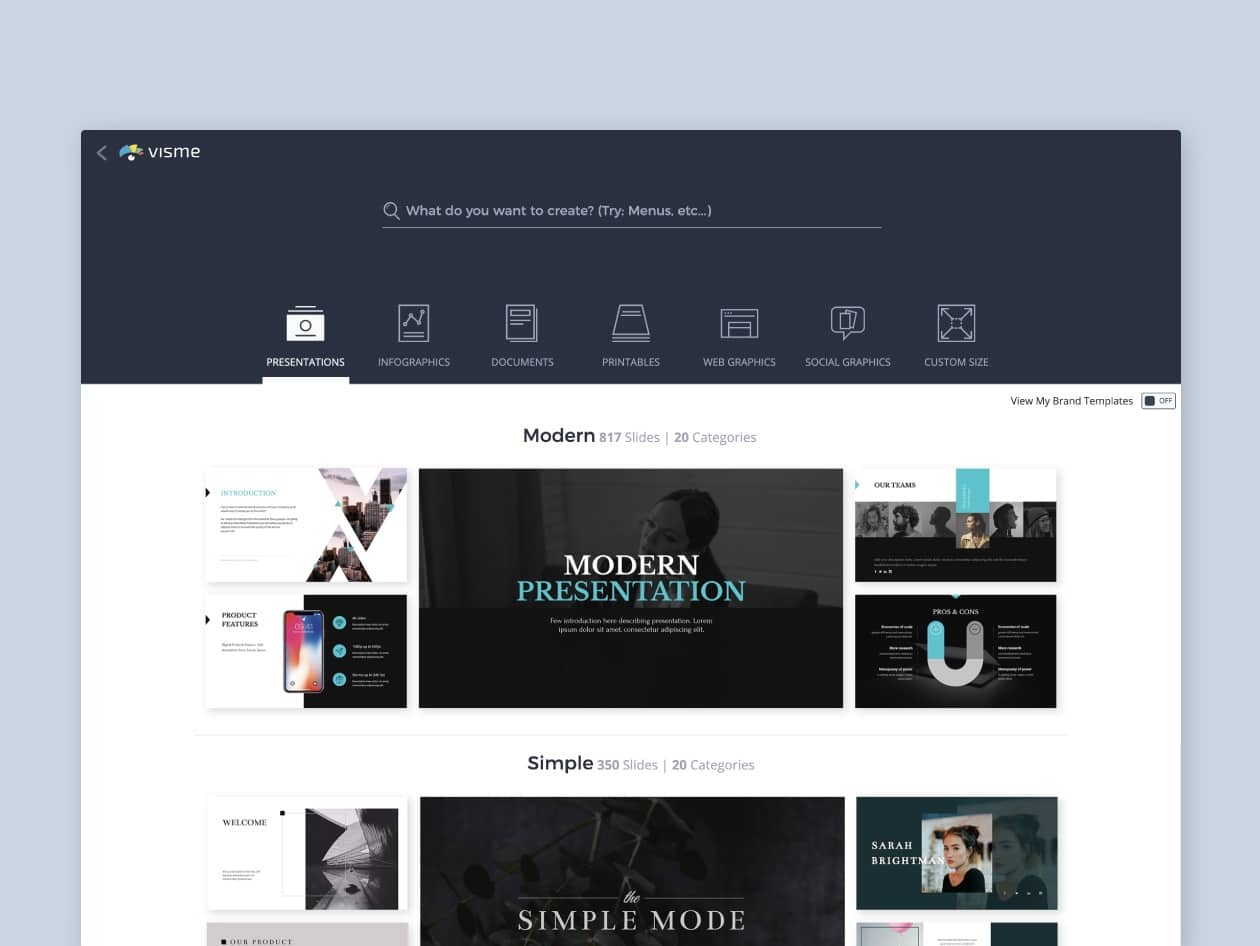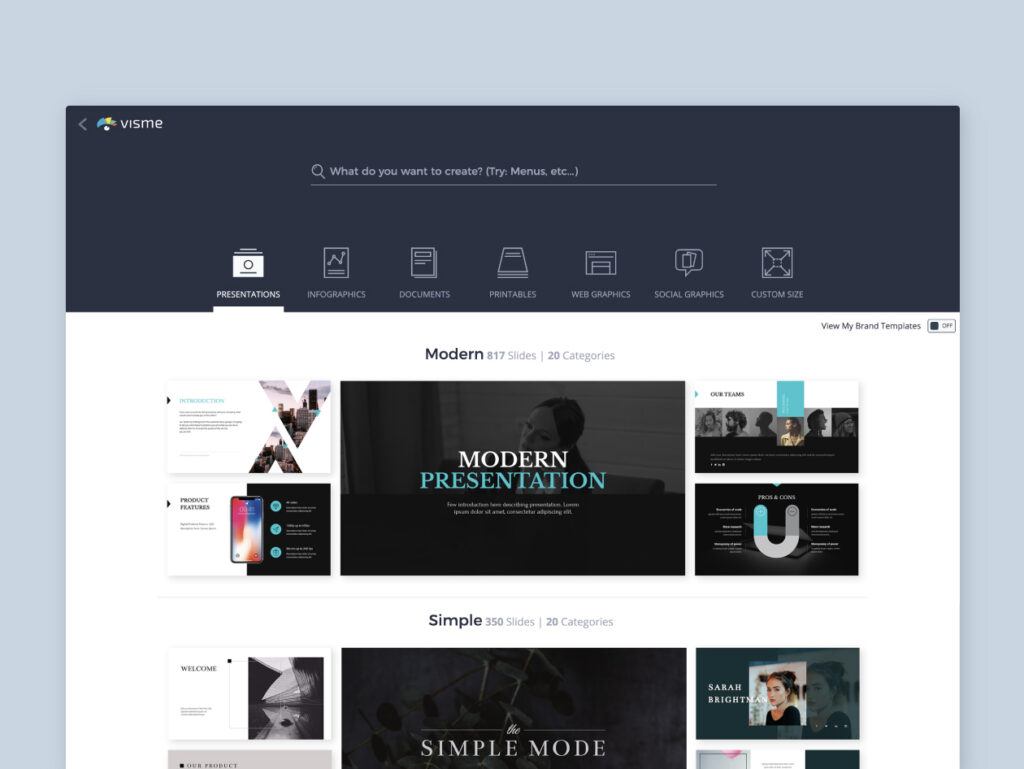 Almost everyone is familiar with creating presentations. We do it at school and in our business. Pitching an idea requires a bold and beautiful presentation. Presenting your homework could be done beautifully with engaging presentations.
Visme provides over 450+ templates to choose from. We can guarantee you will never run out of ideas with these templates. Moreover, it's way better than PowerPoint. So, you will have to move on from traditional PowerPoint presentations.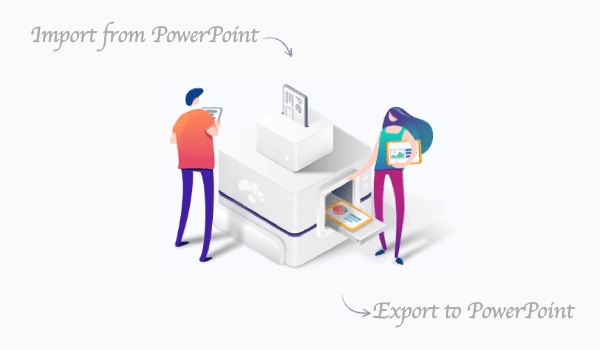 However, if you find it hard to move on, you can still import your PowerPoint presentation slides to Visme and vice-versa. It's a win-win solution for both users.
We've tried designing presentations with Visme, and apart from the interface, almost all of the essential features are similar. You can add slides, modify texts, add animations and transitions, and color palettes, just like PowerPoint.
But, there is one key difference when you want to add charts and graphs. In PowerPoint, if you're adding graphs and charts, it is linked with Excel. Even though PowerPoint has an auto-design feature to show graphs and charts, its visualization is limited.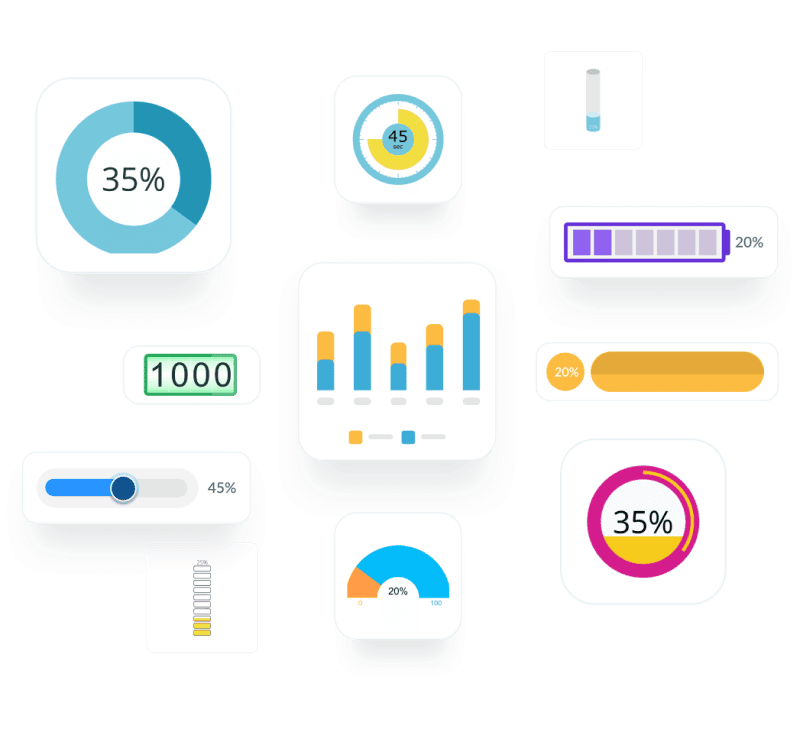 However, Visme definitely beats PowerPoint in terms of presenting visual information. Visme is more versatile since all the graphs and charts are standalone design elements. You can access more than 300 ready-made charts and graph templates and add them to your presentation.
Another essential feature to highlight when using Visme to create a presentation is the ability to access Visme Presenter Studio. After you have finished designing your presentation slides, you can record your presentation and share it with your audience. It's a great feature if you're running webinars or conferences.
Infographics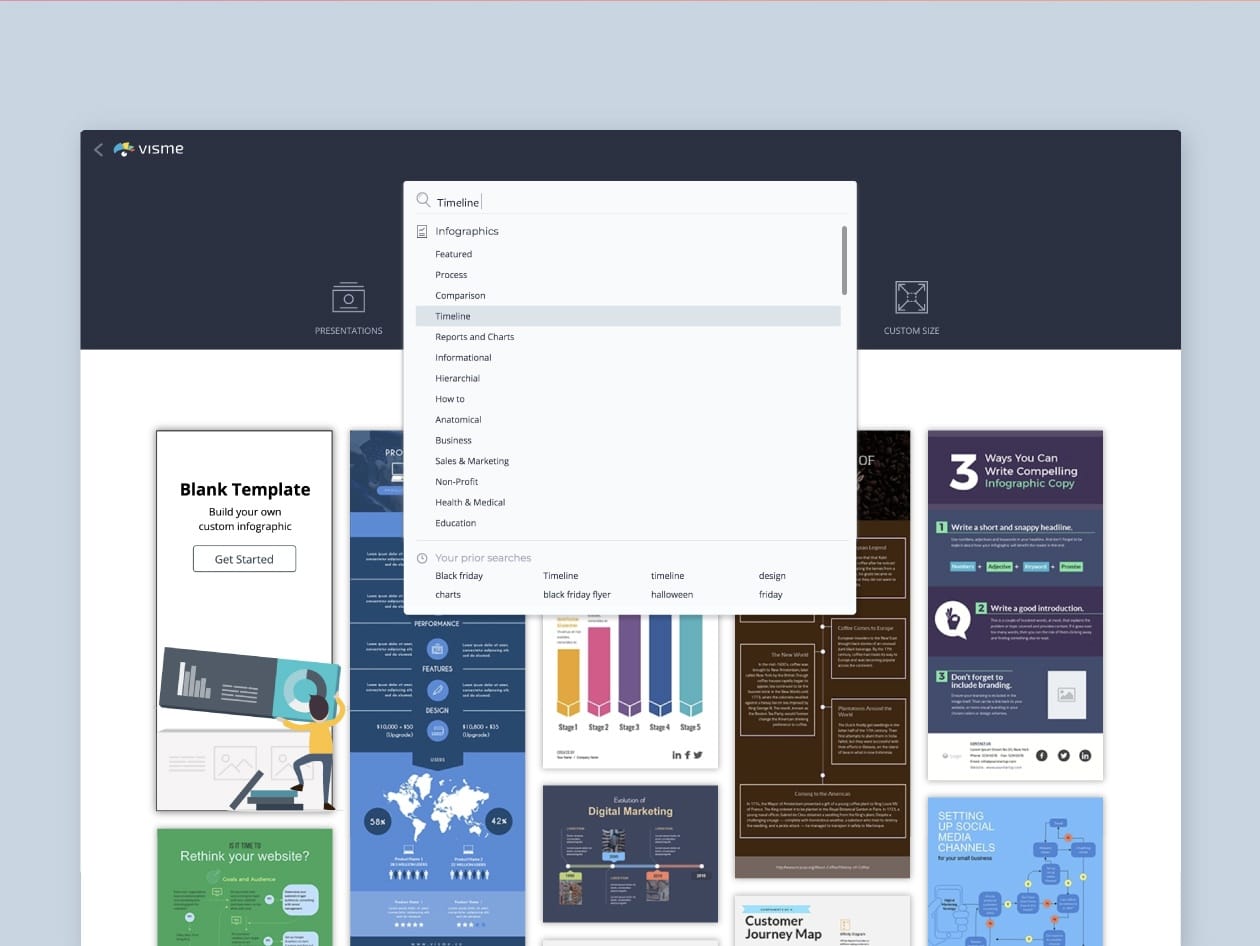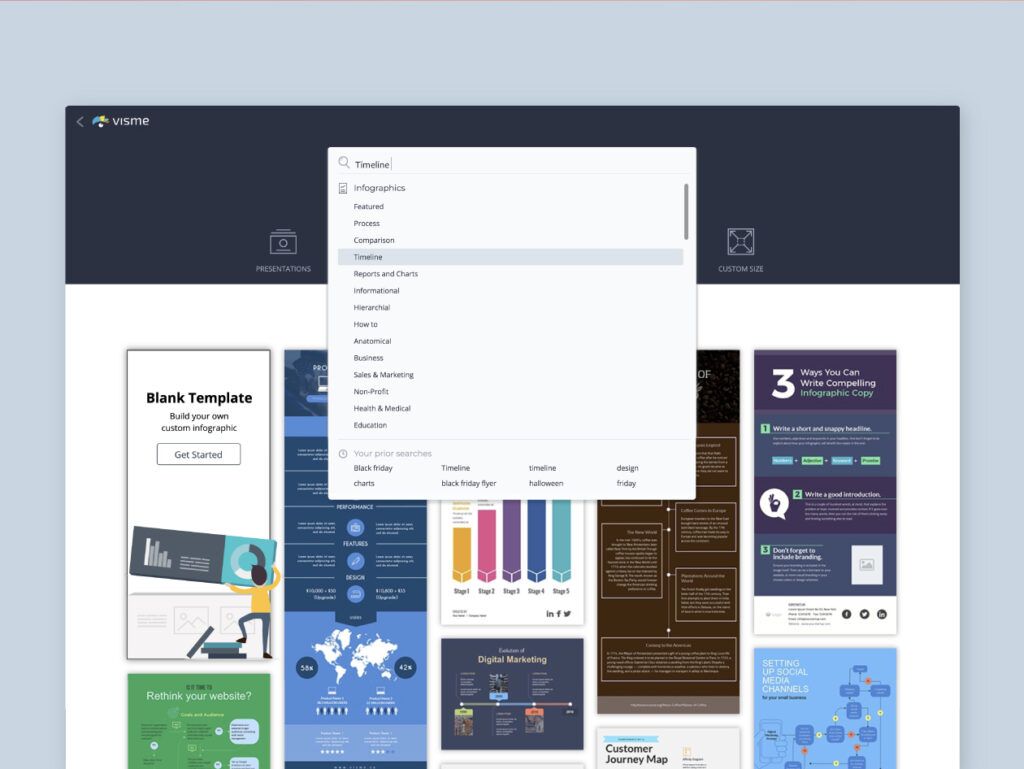 One of the best ways to do data visualization is with infographics. Why? Because it summarizes valuable data and transforms dull visuals into engaging content. Usually, infographics are visualized with content blocks, icons, and beautiful fonts. This makes your data shareable, and people can relate to them.
But, if you're not familiar with infographics, it could be a daunting process. It could take a long time to create high-quality infographics. That's why Visme provides more than 1,000 ready-made templates for you. Millions of graphic design elements, diagrams, charts, and maps are available inside Visme.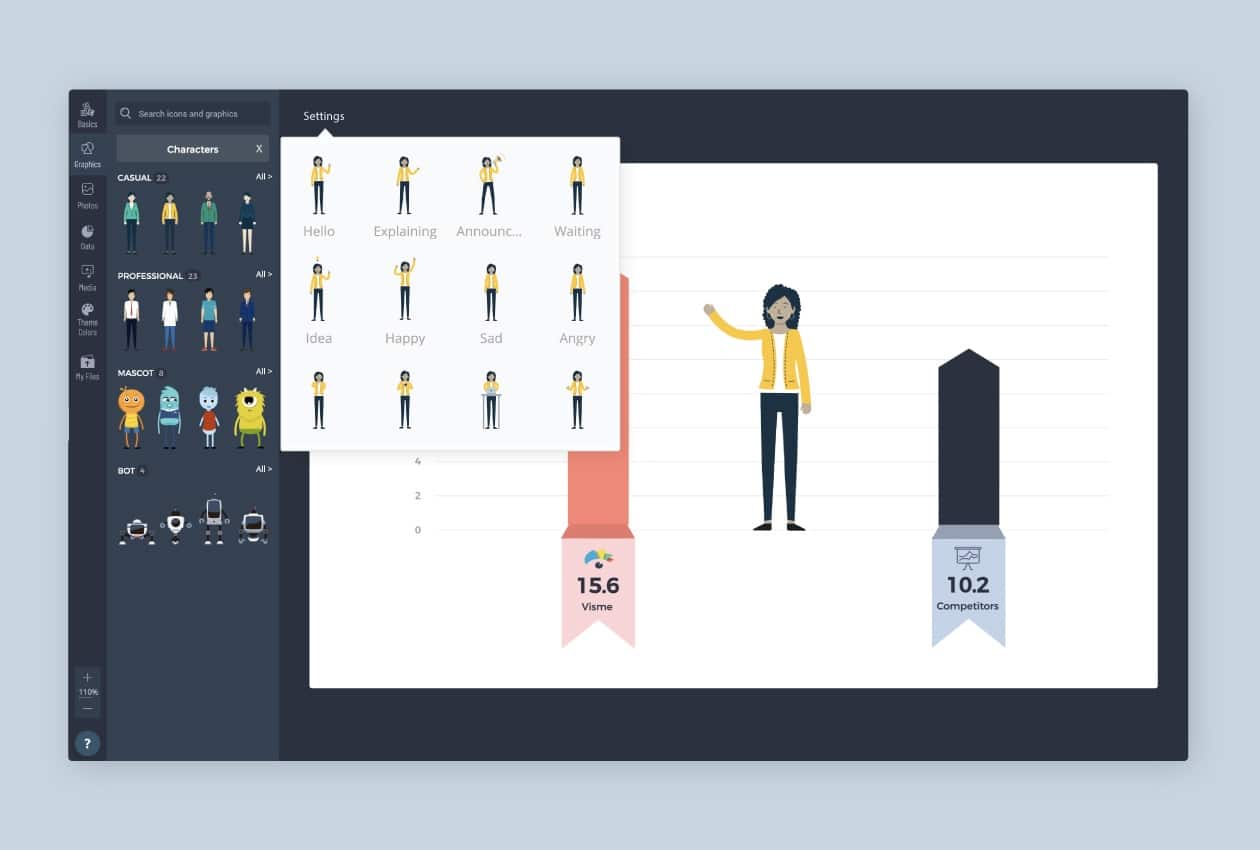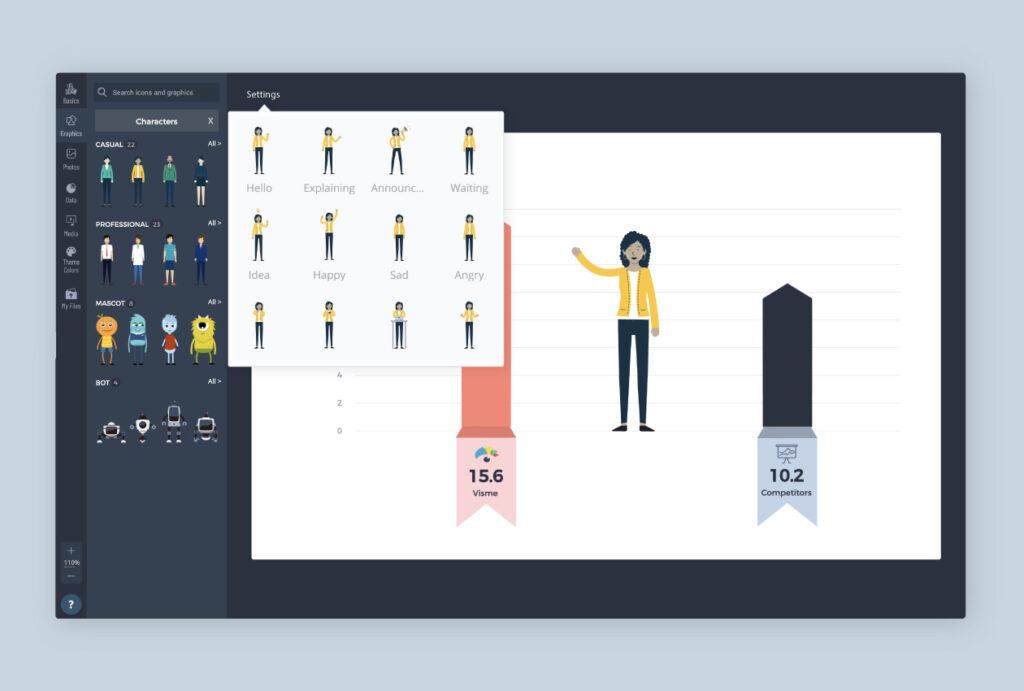 Visme is taking infographics to another level with animated characters, gestures, and illustrations. These assets are exclusively available for Visme users. In addition, you can also embed external content into your infographics. You can add videos, maps, forms, and documents to create beautiful content.
To create infographics with Visme, you only need three steps.
Step 1 Choose your infographic templates and content blocks. You can choose from thousands of templates for any kind of information you want.
Step 2 Edit and customize your information. You can add logos, colors, stunning images, and change colors to your infographics. You can do it all within a few clicks and a drag-and-drop editor.
Step 3 Publish and share your infographics. People will be surprised to know you can create beautiful infographics within minutes.
Social Media Graphics


Most people and brands have social media accounts right now. One of the main reasons to have a social media account is to reach and engage with their customers. However, designing social media posts could be overwhelming.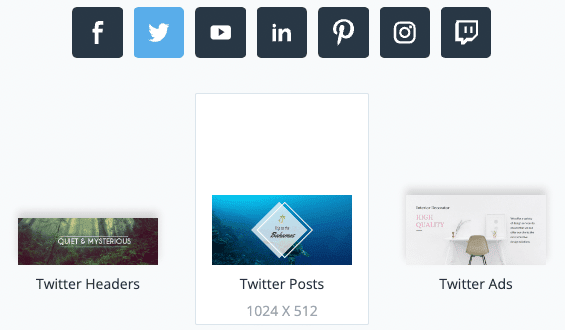 Why? Because each social media has its own recommended sizes. A square Instagram post is sized at 1080×1080 pixels. Pinterest recommends 1000×1500 pixels for each pin. You see, customizing your canvas could take a lot of time. Imagine having to open different Artboards to design similar content.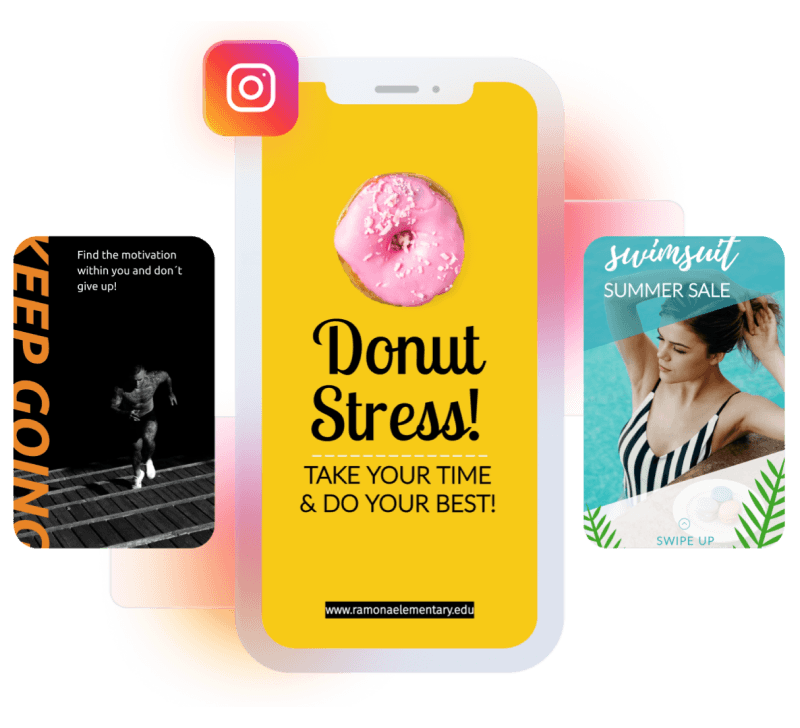 That's not the case if you use Visme. You can create stunning social media graphics with a few clicks. Simply choose from hundreds of ready-made, perfectly sized templates and create social media posts within minutes.
Not only that, you can publish your design directly to your social media account, right inside Visme.
If you have read our review of RelateSocial, you might notice that RelateSocial lacks high-quality templates. With Visme, you gain access to templates made by professional designers and millions of free stock photos, icons, shapes, and many more. Simply search for any keyword related to your business, and you'll definitely find something you can work with.
Documents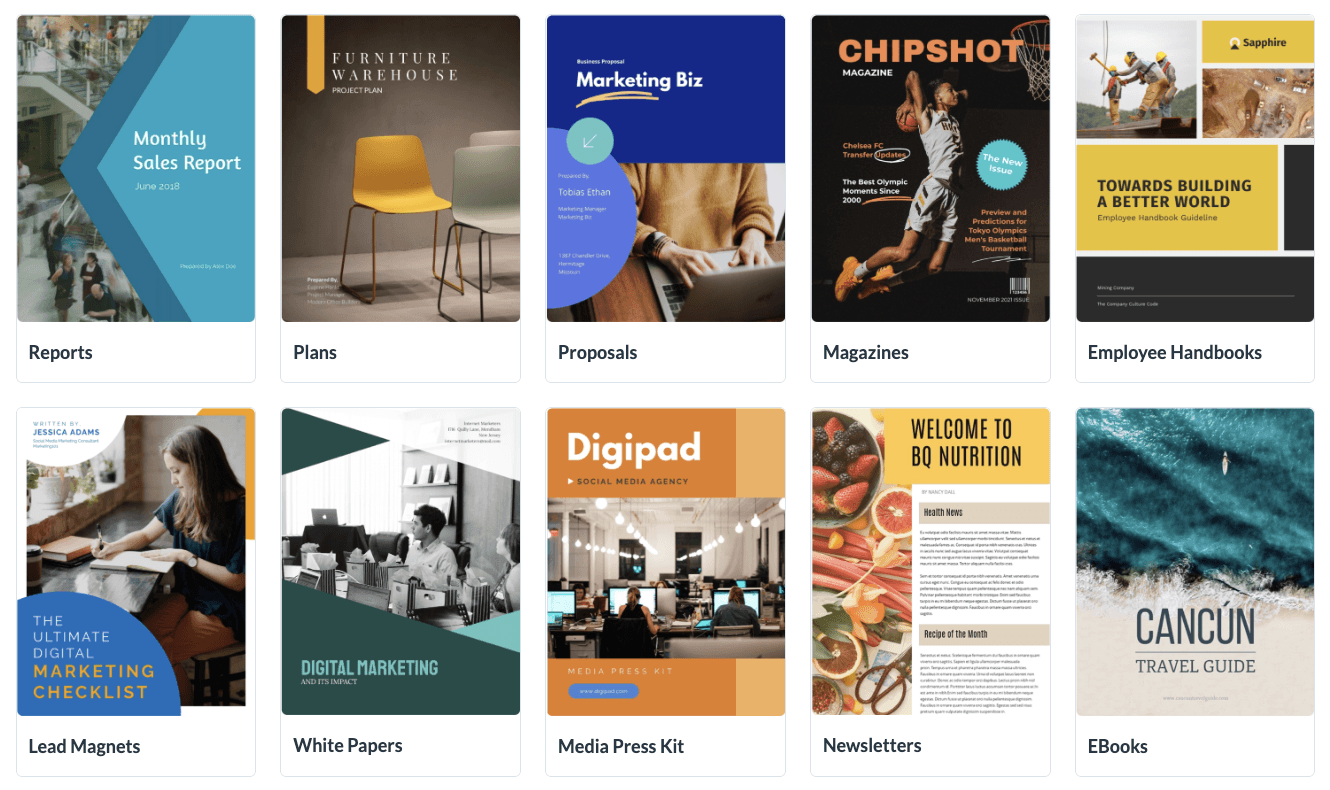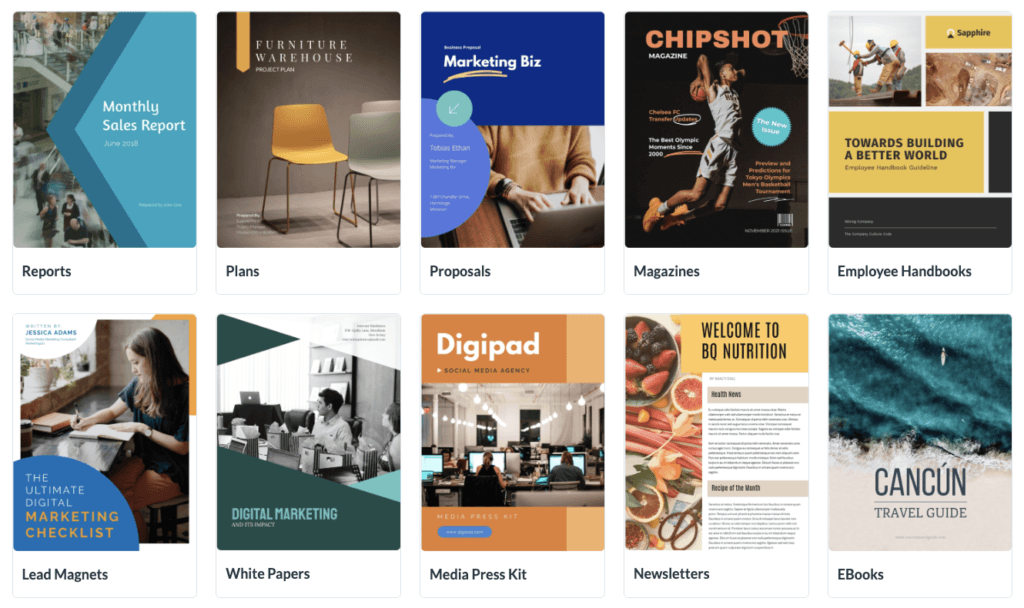 If you're a business owner or an agency, sometimes you need to create reports, lead magnets, business proposals, and even handbooks for your customers. Usually, the problem with these kinds of documents is the lack of visuals and monotonous layout.
Fortunately, you can create professional documents with stunning visuals with Visme. You can access ready-made templates and simply customize them for your business needs.
Writing long-form reports such as annual reports could take days and countless working hours. Visme allows you to accelerate that process with a fully customizable template and an easy starting point to create any documents you need.
It doesn't stop there. Remember the content blocks, graphs, charts, stock images, and other resources from previous content types? You can easily add them to your documents using the same drag-and-drop editor.
Don't listen to us. Listen to these testimonials below.


Printables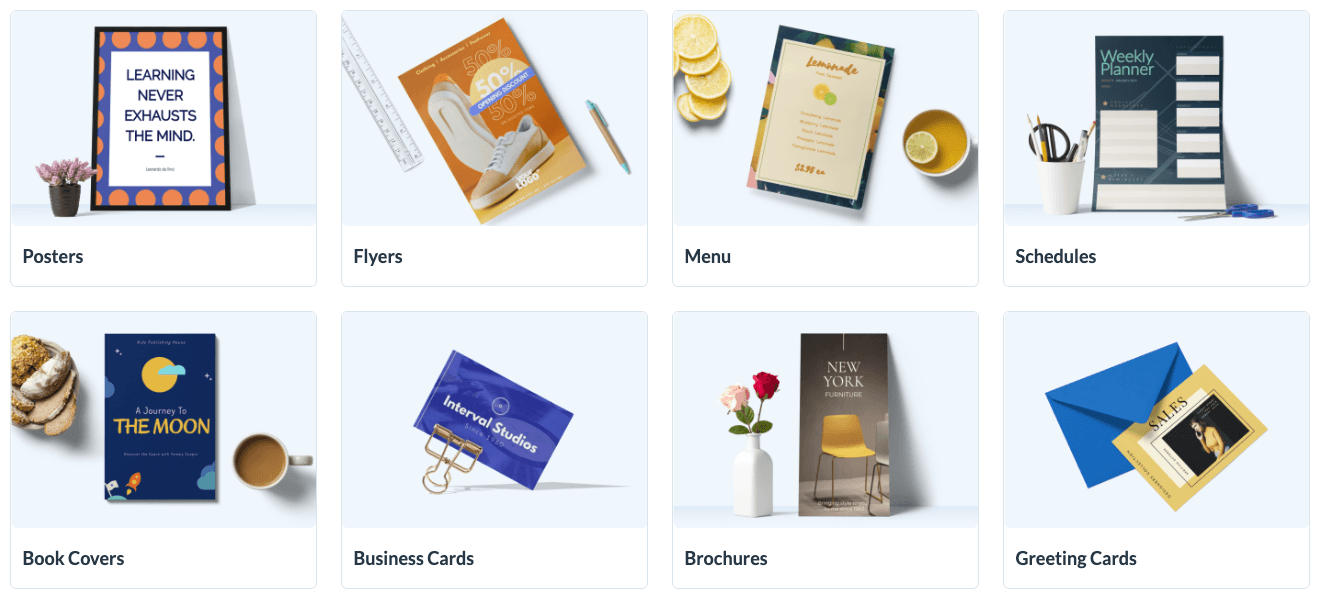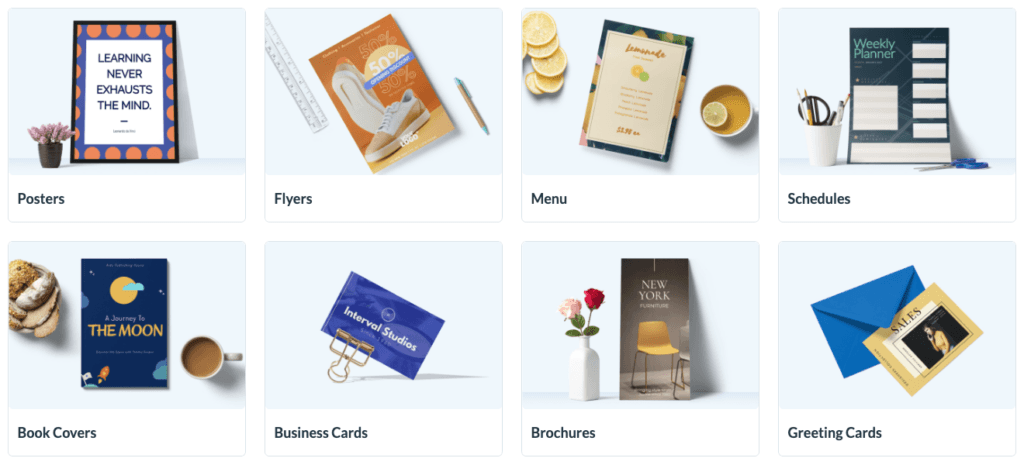 Sometimes, you need to create a design that can be printed. Posters, flyers, brochures, letterheads, business cards, restaurant menus, and many more are categorized as printable designs.
The problem with these kinds of designs is similar to social media posts. They came in various and customized sizes. Thankfully, Visme also covers them with pre-designed printable templates for you.
You don't have to worry about hiring a professional designer to create these designs. A non-designer can simply choose and customize everything with a few clicks. Even better, you can design them based on your brand's color scheme, so everything will be matched accordingly. Pretty convenient, isn't it?
Mockups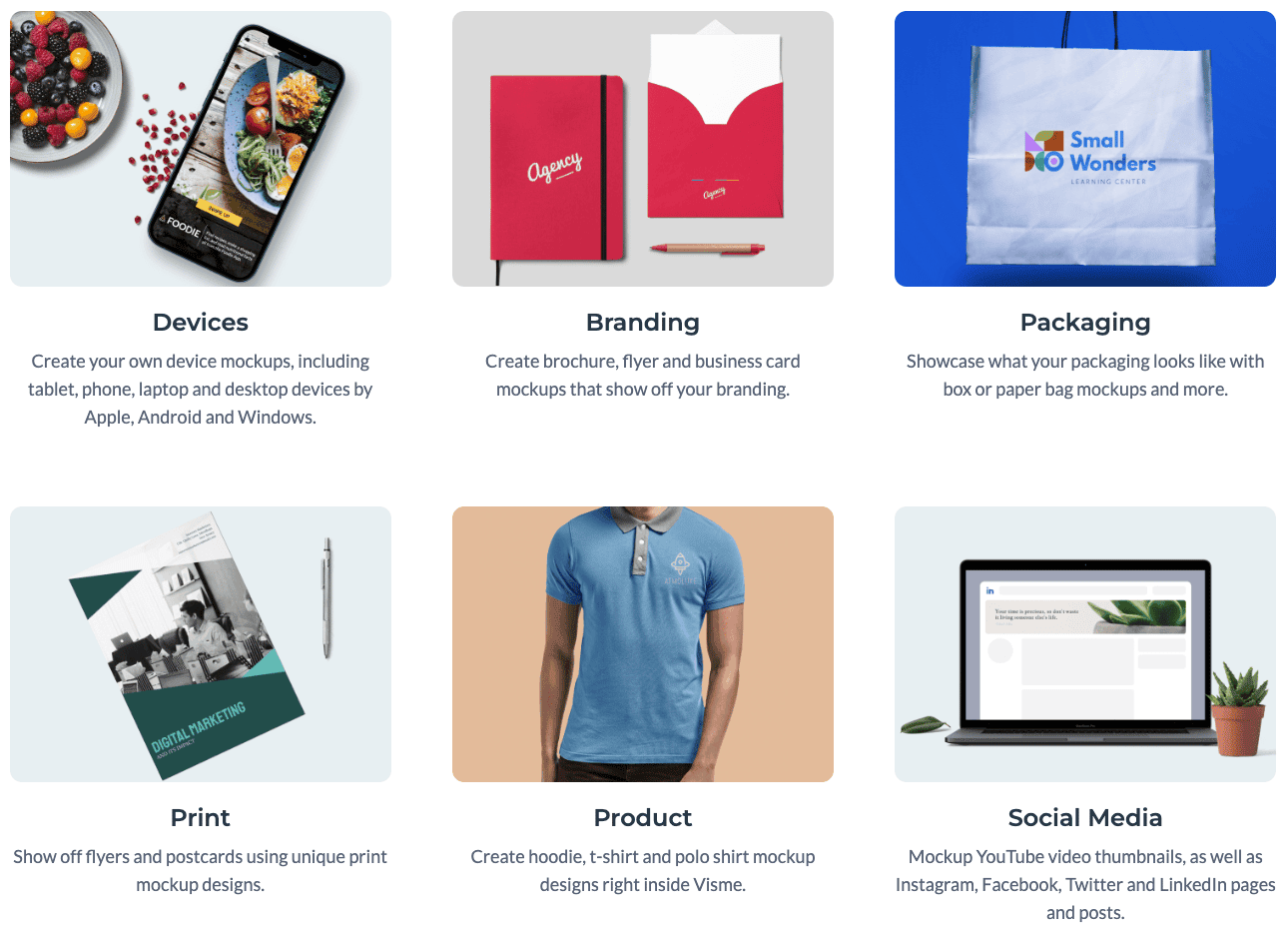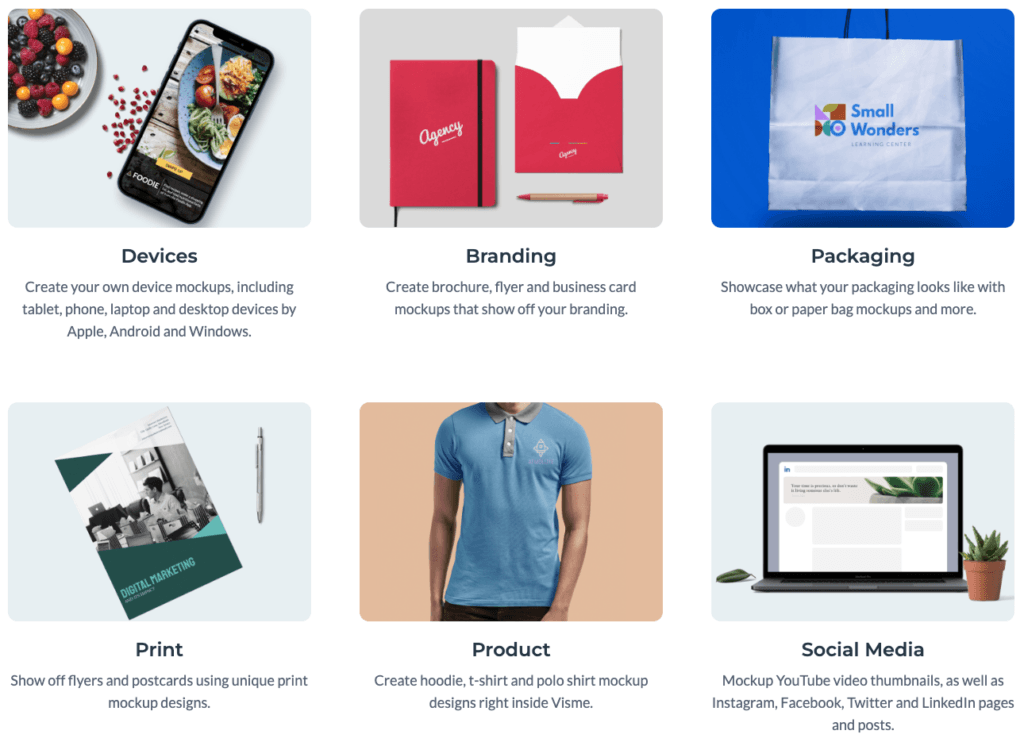 Many people can't imagine something that is still in the concept stage. That's why designers create a mockup. It helps them to visualize various designs on a different medium. You can't tell people to imagine an app designed for an iPhone without showing a mockup.
Do you think creating a mockup is an easy task? Well, it doesn't seem easy as it looks if you're not using Visme's Mockup Generator. With a simple drag-and-drop, you can change all the design elements inside the medium of your choice.
Visme has a placeholder image where it doesn't change anything other than the image inside the mockup itself. Let's take a look at these before and after examples.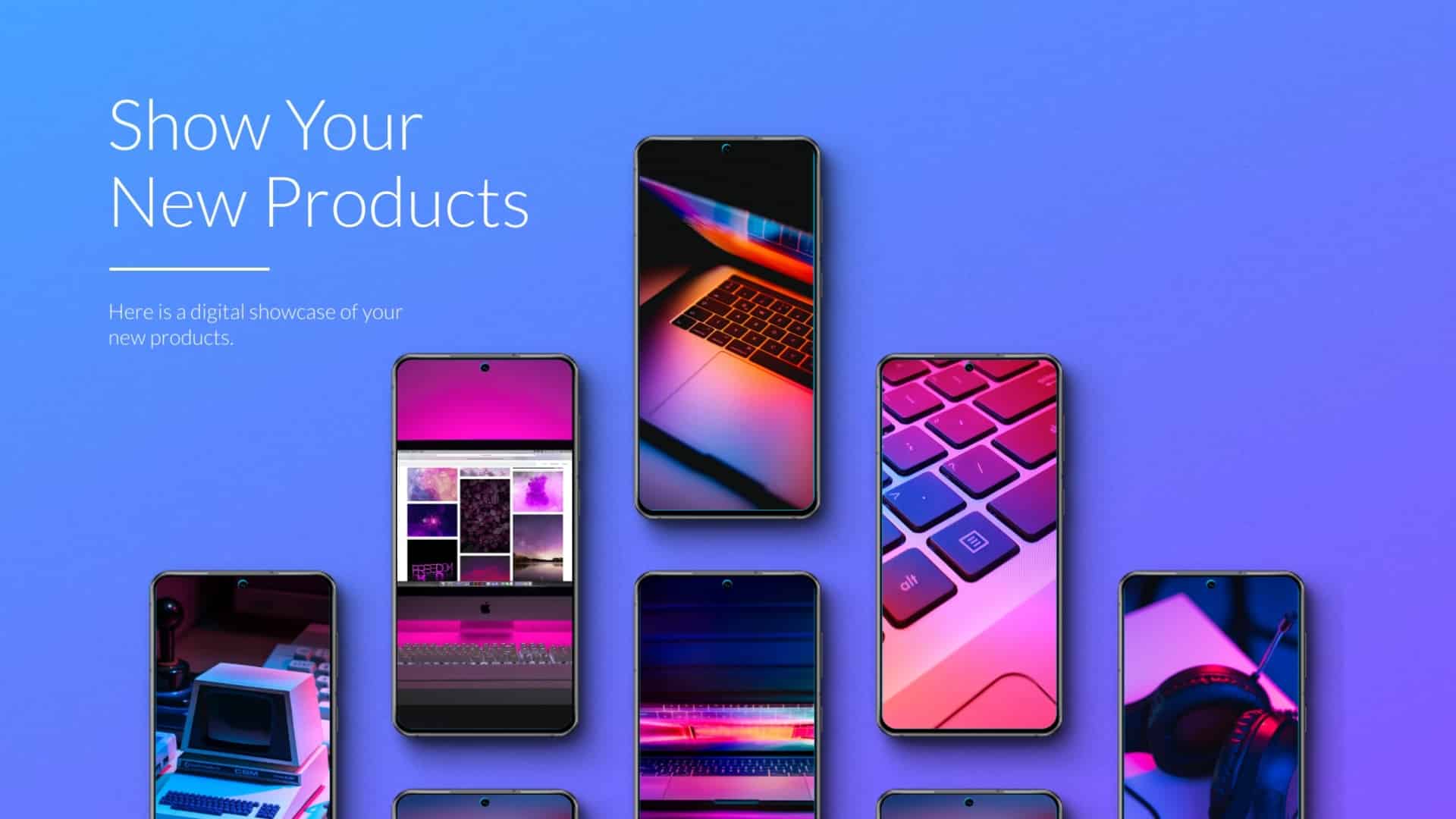 The image on the left is the original template, while the image on the right is customized with stock photos. As you can see, the smartphone design element in both mockups doesn't change.
You can add images, videos, graphs, charts, icons, and every resource available inside Visme to your mockups. You don't need to be a professional designer to create a beautiful mockup.
Videos


Now, everything we've mentioned so far is related to graphic design. What if you want to create a short video with Visme? Is it possible?
Fortunately, Visme also has video templates for you to choose from. This feature is available for Business Plan users. However, it is critical to understand that you're not creating an entire YouTube video. These video templates are suitable for social media posts, YouTube's intro and outro, and a simple explainer video.
The way it works is similar to creating an animated presentation. You can think of it as creating a storyboard in the form of slides. Visme also has a timeline view to edit and arrange your video animations. The user interface for editing video is not so easy to use, but it is still pretty decent.
Another thing you can also add is music and voiceovers to your video, and Visme got a good taste in music. In addition, you can download and share your videos directly on social media. This makes Visme a tough competitor for Canva.
Charts & Graphs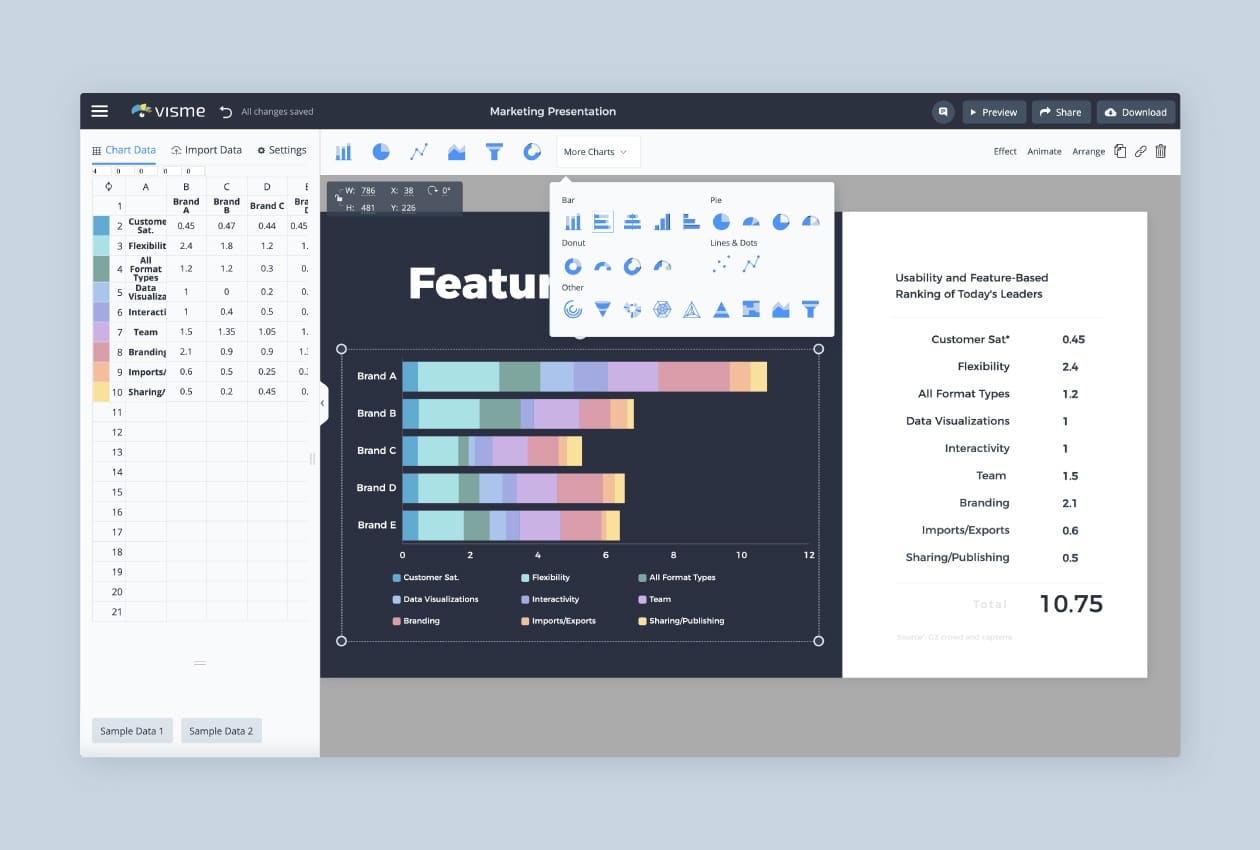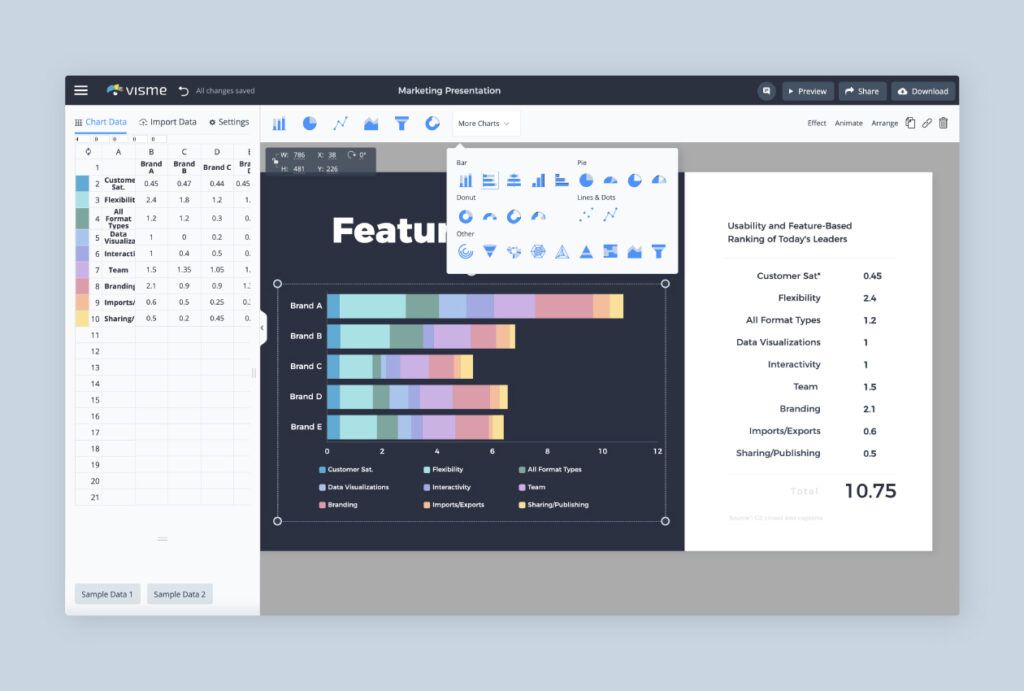 Visme is great for creating customized graphs and charts. But, you can also upload static data to Visme and convert them into beautiful visuals. In other words, you can upload a set of data from Excel or even Google Sheets to Visme. 
Take a look at these testimonials below.


Branded Templates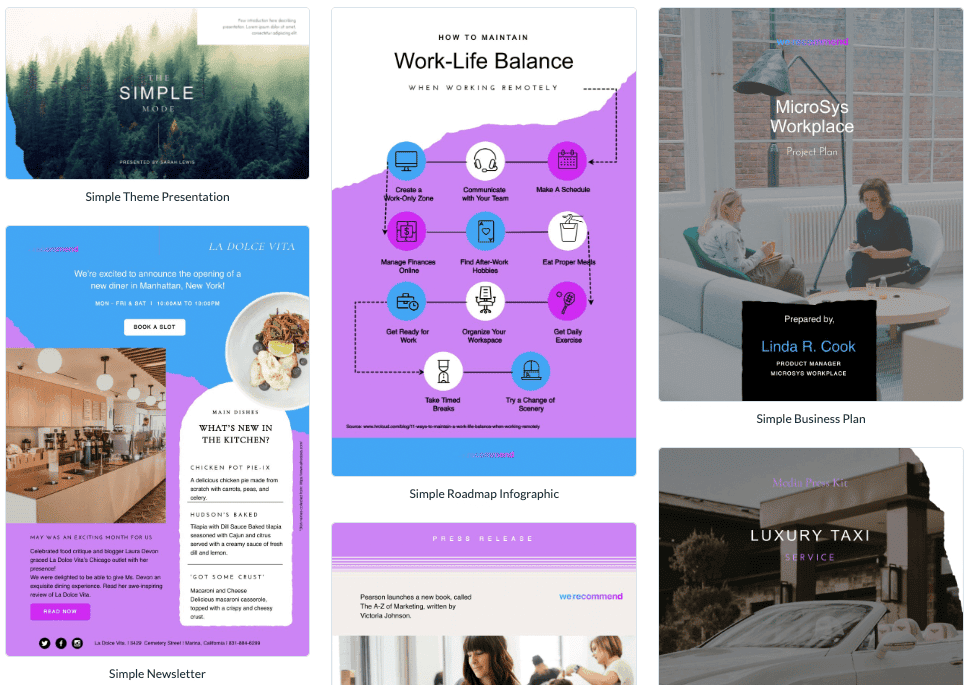 Another benefit as a Business Plan user, you get access to branded templates. First, let's watch this short video about how branded templates work.
Basically, you can create your own templates that match your brand guidelines. You get a matching color scheme, fonts, and design elements throughout your brand assets. In other words, whether you're creating presentations or printables, you don't have to worry about mix-matching everything.
To set up your branded templates, you can use the Brand Wizard tool from Visme. It's an AI tool that can extract color schemes from your brand logo or website and create templates for your brand in seconds. Pretty handy, isn't it?
Visme Features
Now, let's talk about Visme's key features that differentiate it from other similar online editing tools. After testing Visme for about a week, we found at least 4 key features that stand out.
1. Free Presentation Course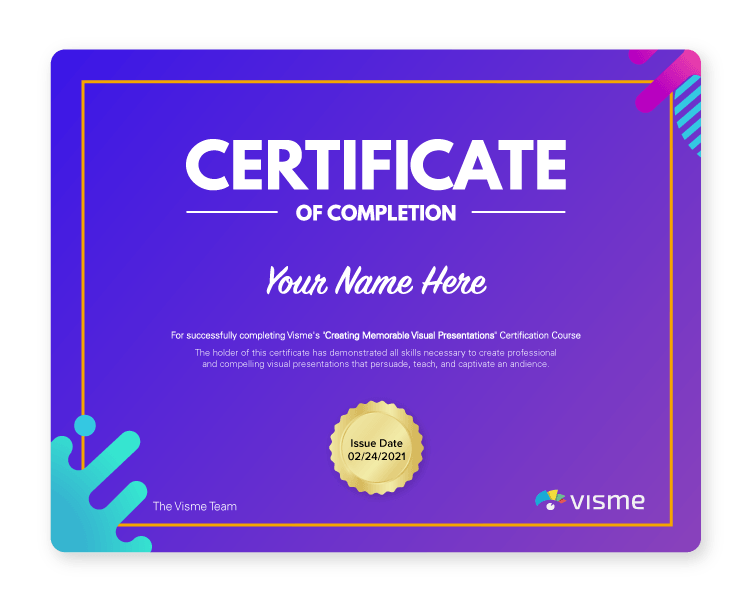 Compared to similar tools like Canva or Pictochart, you get access to a free presentation course to create a professional and beautiful presentation. After completing the course, you will get a certificate of completion and a Visme expert badge in your account.
In this course, you'll learn about:
How to inform, captivate, inspire, and persuade your audience through visual communication.
How to structure a presentation to engage with your audience.
How to use colors, fonts, and pictures to increase the impact of your message.
How to present data, charts, and graphs like a pro.
How to deliver an unforgettable presentation for your audience.
2. Animated Graphics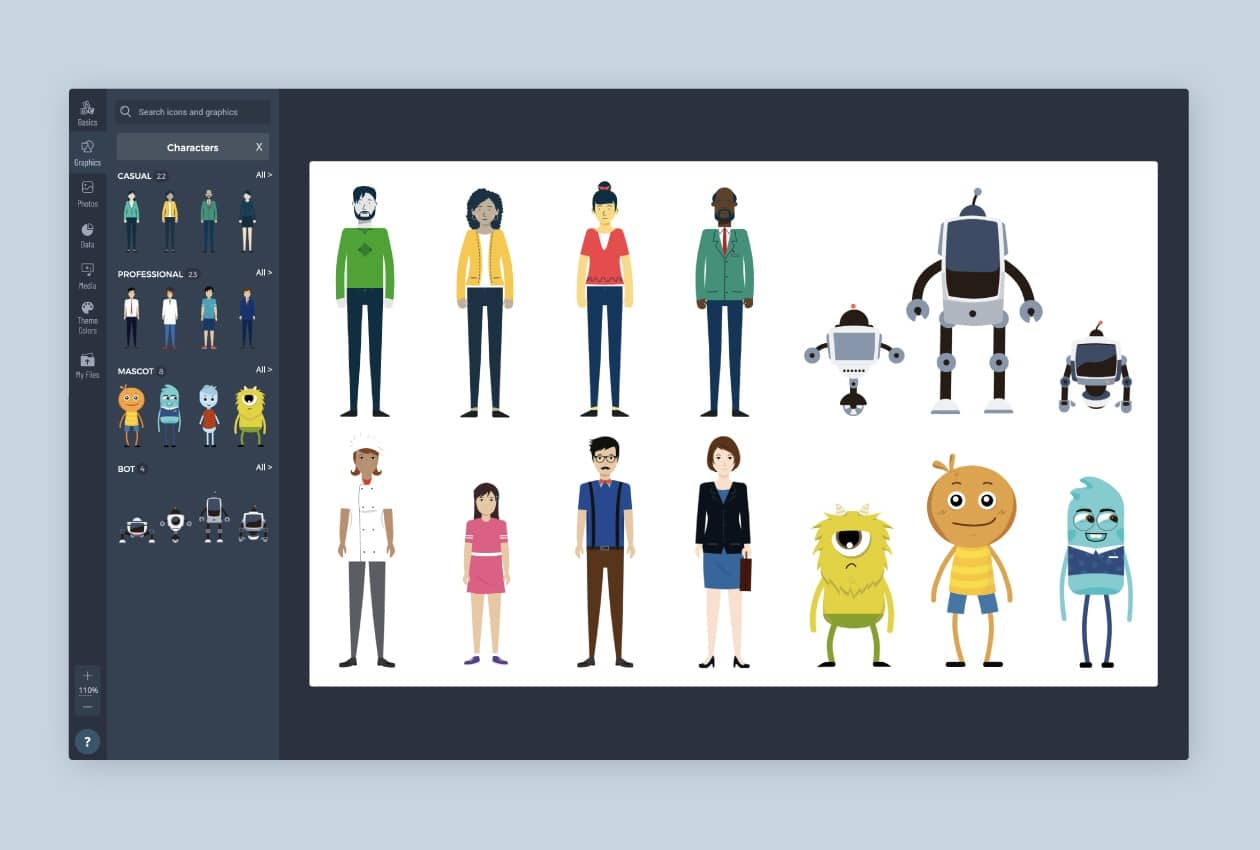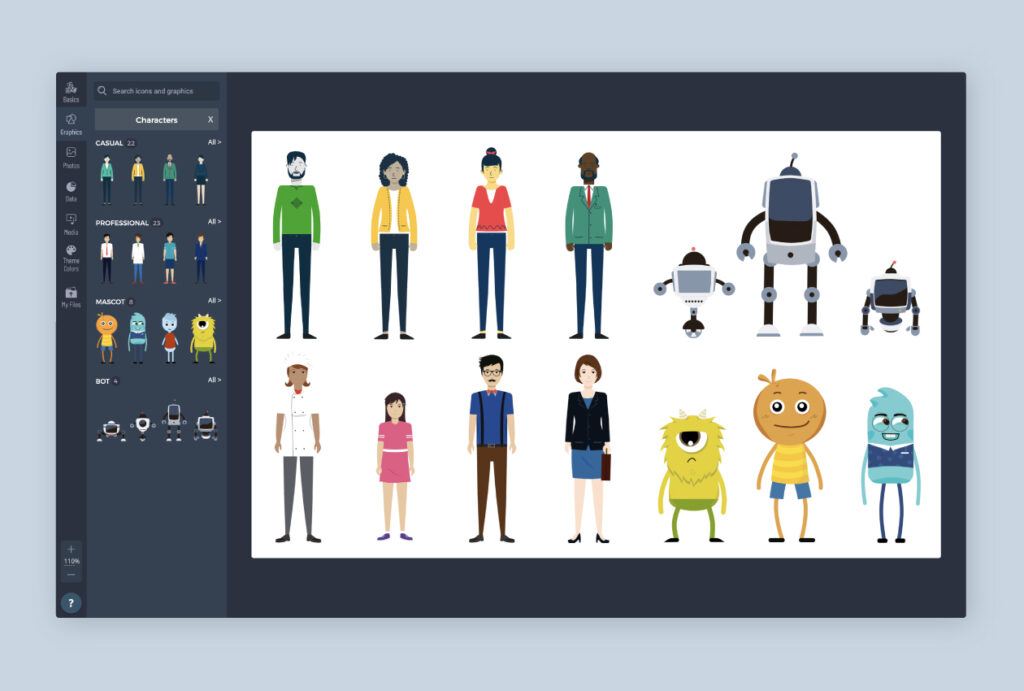 Visme also has over 500+ customizable animated illustrations, characters, and gestures which you can drag and drop into any design you're working on. These graphics are built-in-house by Visme's graphic experts and exclusive to Visme. So, you won't find them anywhere else.
3. Registration Form

If you'd like to know who is viewing your content, you can collect information such as name and email. This feature acts as a lead-generation tool for you. You can do this by turning on the Requires Registration feature from the Privacy Tab.
4. Analytics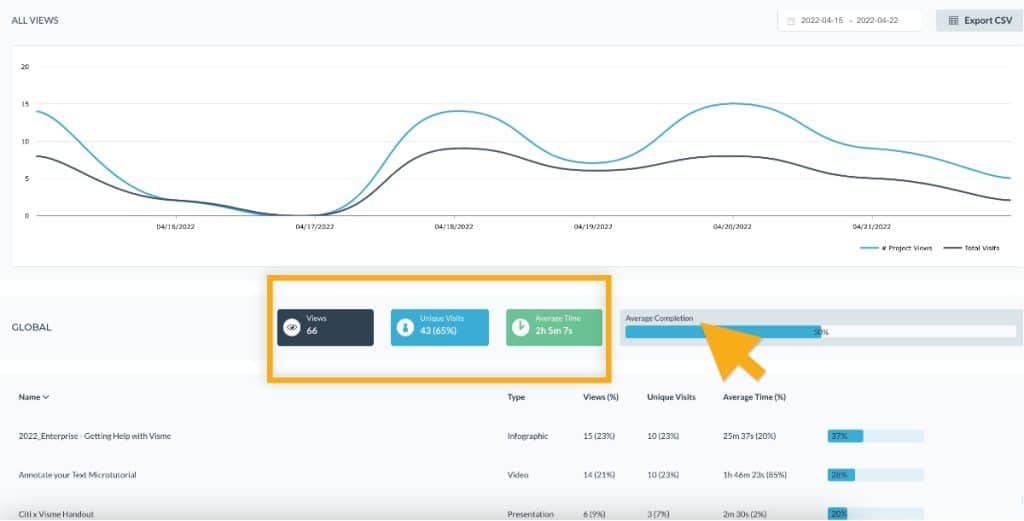 Another great feature that makes Visme stand out from the rest is the ability to track traffic and stats of every published project. This way, you can monitor the number of views, unique visits, the average time people spend viewing your content, and many more. These are essential stats to help you understand what works for your audience.
Visme Pricing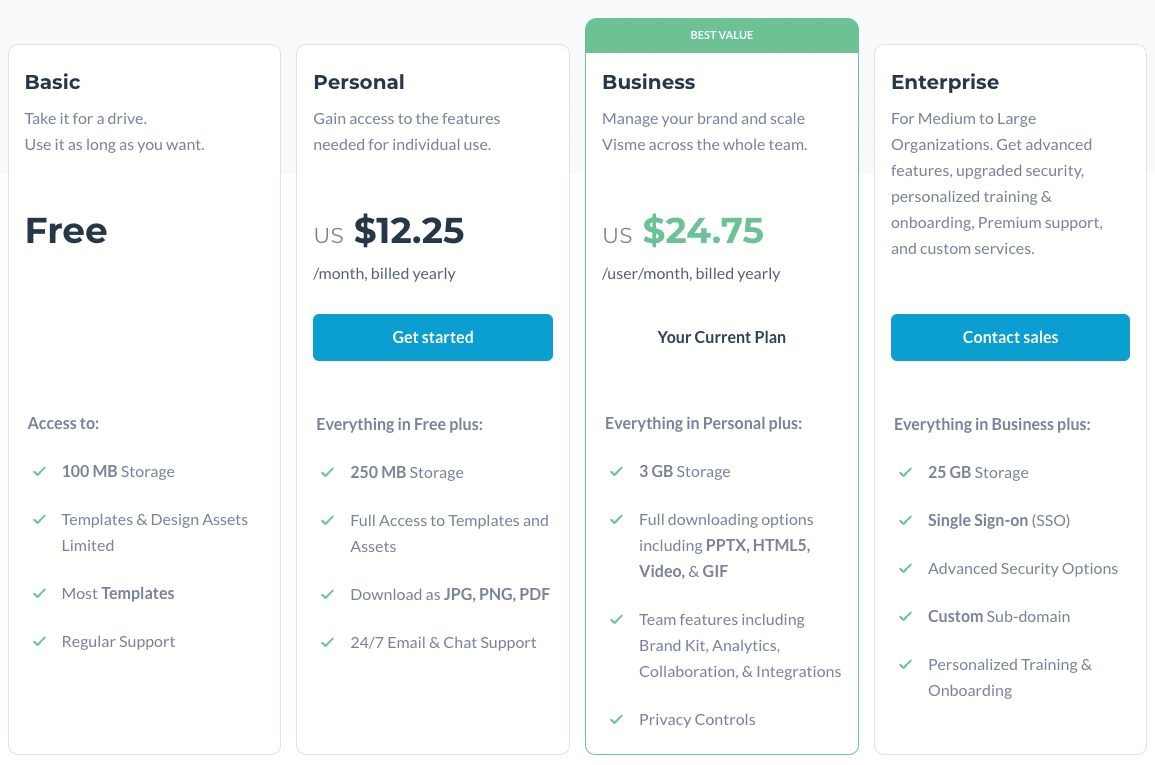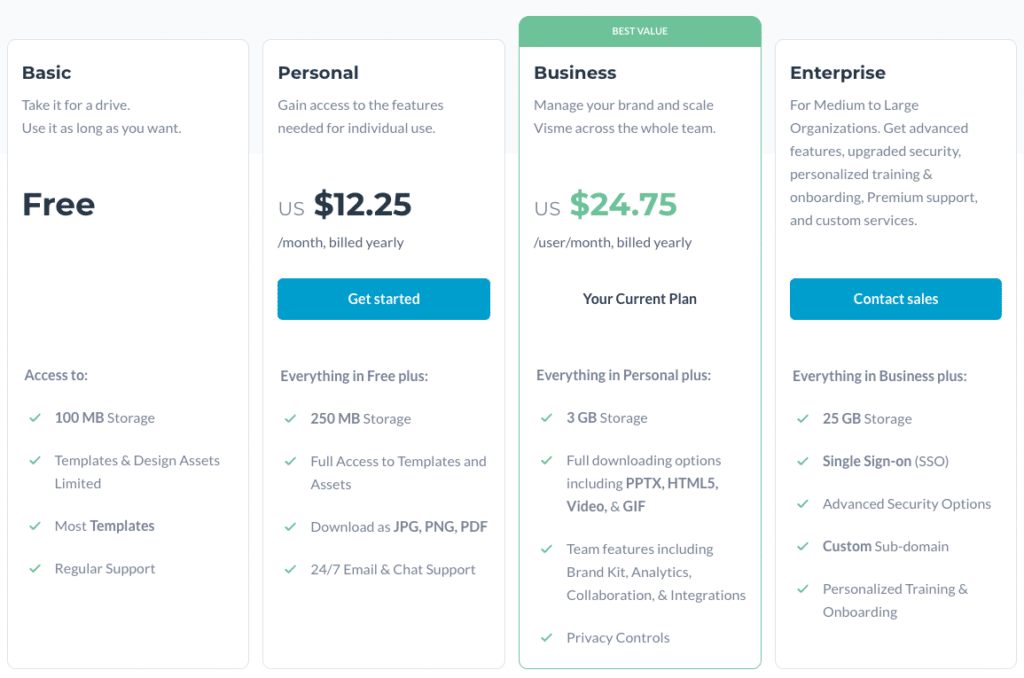 Pricewise, Visme's Business Plan offers the best value for money on annual payments. It costs $297, compared to $59 if you pay monthly.
We recommend testing out the free account with limited storage to only 100MB if you'd like to test drive Visme to create social media posts or infographics.
Visme vs Canva
We did mention that Visme is a tough competitor to Canva. Although there are similar tools such as Venngage and Piktochart, we think Canva is an apple-to-apple comparison with Visme. Here are a few comparisons between Visme and Canva.
Ease of Use
Both tools offer an easy, intuitive user interface with a drag-and-drop editor. You don't have to be an expert to use these tools. However, Canva provides a better user interface than Visme for creating videos.
Template Variations
Canva offers a lot of templates for education purposes, while Visme has better templates for business and presentations.
Data Visualization
Visme is a clear winner in this area. Thanks to various content blocks
available to be integrated into any projects you're working on.
Free Plans
Canva obviously does better in free plan than Visme. You get 5GB of cloud storage with Canva, while you only get 100MB of storage in Visme.
Free Trial Availability
Canva offers a 30-day free trial for the Pro version, while Visme doesn't.
Paid Plans
Canva Pro will cost you $119,99 annually for up to 5 people,
while Visme Business Plan starts at $297 annually. However,
the price of Canva Pro goes up if you have additional members.
Each member will cost you $4 per month.
Uniqueness
Visme allows you to track and capture leads while also providing analytics. This is one of the best reasons to choose Visme over Canva.
Which One is Better, Visme or Canva?
Overall, Canva is still a better option due to its price and ease of use. But, if you're more into data visualization, we strongly recommend Visme over Canva.
Frequently Asked Questions
Does Visme have an education plan?
Yes. If you have a ".edu" email, you can sign up using that email.
Can you make your content private with Visme?
You can set up your content as private if you're on Visme Business Plan.
How to contact Visme's Support Team?
You can send an email to support@visme.com.
How to open an Enterprise account?
Simply click this link, and you can contact Visme's sales team.
Conclusion
To summarize our Visme review, Visme is one of the best data visualization tools in the market. We think it is the best visual content creation tool for anyone passionate about presenting engaging data.
If you're on a limited budget, Visme might not be a better option to choose. However, if you're doing a lot of infographics, charts, and graphs in your work, we strongly recommend using Visme. It is suitable for individuals, businesses, and organizations due to its professional looks.
Let us know your thoughts in the comment section below.
---