This post contains affiliate links. We may receive a commission for purchases made through these links without any extra cost to you. Thank you for your support.
---
A famous saying that originated in China state it clearly,
"A journey of a thousand miles begins with a single step."

—Chinese Proverb
Just like any other job in this world, you always start as a beginner. No one does a better job without any experience and skills. The same goes for affiliate marketing. The more you learn about your job, the more skillful you become.
In this post, we'll explore 5 affiliate marketing skills you need to learn as a beginner.
Let's start right away, shall we?
What Skills Do You Need for Affiliate Marketing?
Based on our experience, these are the 5 skills you need for affiliate marketing as a beginner. Research, copywriting, design, marketing, and time management. Since affiliate marketing is not a get-rich-quick scheme, understanding these skills and putting them into practice is essential to do affiliate marketing properly.
Research
One of the most essential skills for every affiliate marketer is none other than doing research. It's not research in terms of academic research. It's research in learning and understanding the product or service you are promoting.
We believe one of the best ways to help other people through our site is by giving honest reviews and recommendations. That's been our goal in the first place. That's why we need to learn about everything we have reviewed before hitting that publish button.
It could take countless hours to test and explore each product or service we reviewed, but it needs to be done to deliver the best result for our readers. People wouldn't visit our site if we were not being honest.
Another kind of research that every affiliate marketer has to learn is keyword research. The goal of writing and publishing on every website is to get visitors to your site. To get visitors, Google needs to crawl, index, and rank your site. That's why you need keyword research.
Even though no one knows how fast Google can do all of those stages other than Google itself, you still need to do proper keyword research. Otherwise, you wouldn't stand a chance to get your post on the search engine.
---
---
Copywriting
It's obvious, isn't it? As an affiliate marketer, you need to write your blog posts, reviews, or emails to your audience. Even if you don't write in English, you still need to learn how to write. That's why copywriting is crucial to your affiliate marketing journey.
Thankfully, there are enough resources on the internet about copywriting. Moreover, there are also AI copywriting tools to help you write better content. However, we do not suggest you use AI to write and publish your post. Why? Because Google knows if your post is generated by AI. It could affect your search rankings and performance.
So, if you're trying to learn about copywriting, you can use AI to assist you in writing your first draft. You still need to edit and polish your content with your own words. Here's a famous quote by one of the best copywriters in the world.
"People who think well, write well."

—David Ogilvy
Design
Well, you might be surprised to find design skills as one of the affiliate marketing skills you need, right? Even though your primary job is writing, you still need to produce content and publish them in a visually appealing way for your audience. Why? People do pay attention to beautiful things. So, you need basic design skills to at least create a compelling featured image for each post you publish on your site.
"Design is not just what it looks like and feels like. Design is how it works."

—Steve Jobs
Fortunately, there are a lot of online design tools to help you. We strongly recommend using Visme, Canva, or DesignCap to produce high-quality graphics for your site. If you're more into doing infographics and publishing pins on Pinterest, we suggest using Visme. It's the best tool for content visualization.
You don't have to be a pro in design. You just need to understand the basics to create an appealing design in terms of color, composition, and layout. The rest is easy because you can customize from the pre-designed templates available on any design platform you choose.
Marketing
It would be funny to do affiliate marketing without learning about marketing, isn't it? Imagine you're writing 10 blog posts and not doing anything after publishing them on your website. You're hoping hundreds of people suddenly come to your site and buy from your affiliate link. Trust us, it wouldn't happen if you just started.
Marketing your site and brand is another affiliate marketing skill you need to learn as a beginner. Why? Simply because without marketing, your site wouldn't stand a chance to survive in the harsh stream of online marketing.
That's why learning any form of marketing is essential to assist you in your affiliate marketing journey. Social media marketing, email marketing, and content marketing are the top priorities in your learning checklist.
Time Management
This is probably the most common skill you've already known. Yet, it's one of the most forgotten skills when you are just starting your affiliate marketing journey. Working as an affiliate marketer is like owning an online business. You are the boss of your company.
Since you might be working alone, it might be hard to manage your time and activities at first. That's where your time management skills are needed. Showing up in front of your computer or laptop is similar to working in an office environment.
Managing your time to do daily tasks, research, write blog posts, and marketing could be challenging without proper time management skills. That's why you need a daily to-do list to assist you.
However, your time management skills also require you to take a short rest in between your daily tasks. Sometimes, forcing yourself to work non-stop isn't good either. Even though there are many things to do in the early stage of your affiliate marketing journey, taking a break is crucial to help you clear your mind. Forcing yourself too hard might lead you to burnout and facing writer's block, which would end in quitting your journey in the early stage.
Conclusion
In conclusion, there you have it. These are the 5 affiliate marketing skills you need as a beginner. Despite any other skills, such as communication skills, web design, and problem-solving, which is quite complex, these skills require you to do your own homework.
After around 6 months of doing affiliate marketing and making a small amount of money during the process, we believe affiliate marketing is more of learning while doing the job. The more you're involved in affiliate marketing, the more you learn from it.
So, what do you think? Would you agree with our opinion? Or do you have other skills that should be on this list? Let's discuss this and leave a comment below.
---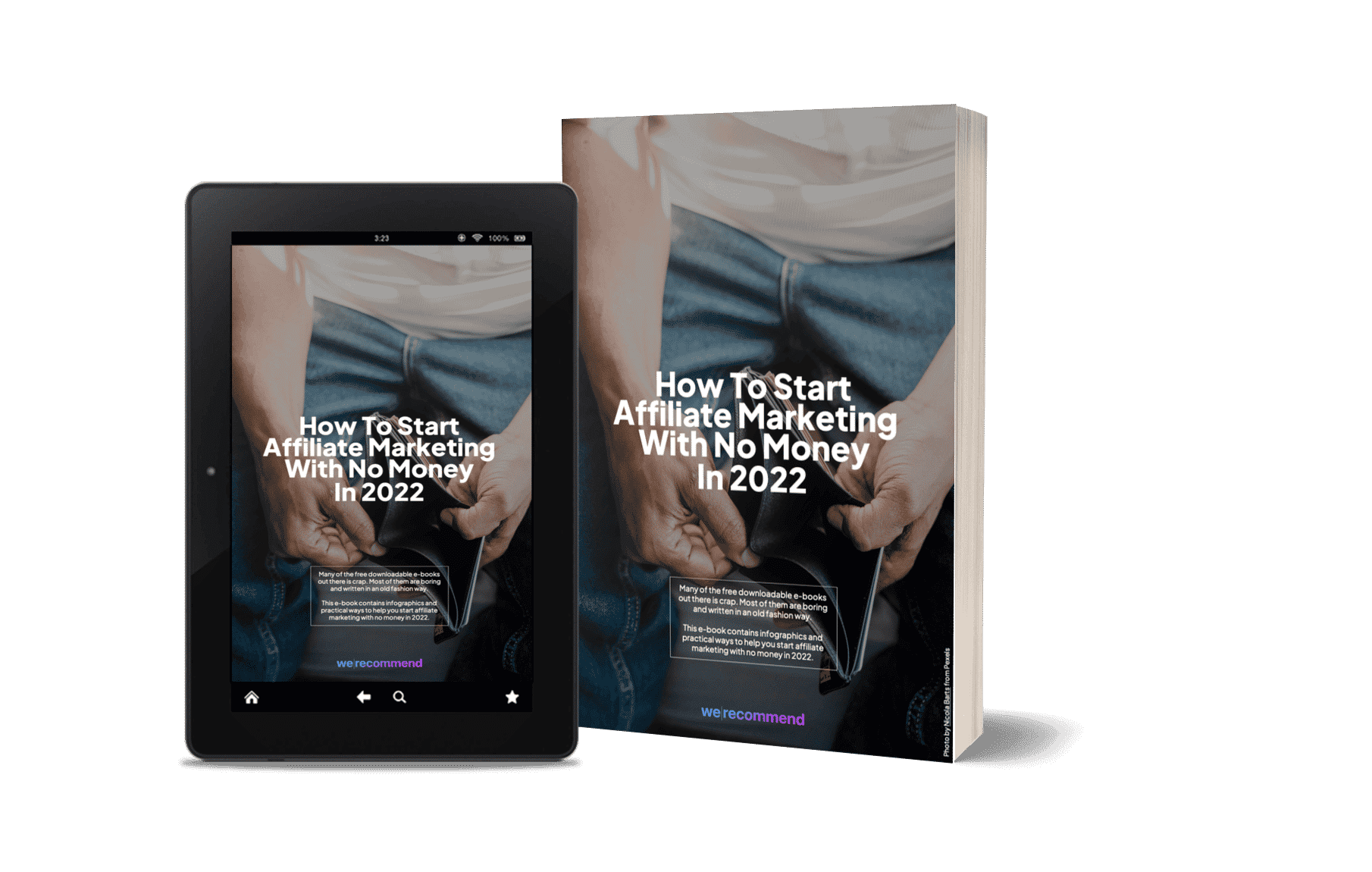 How to Start Affiliate Marketing With No Money in 2022
Many of the free downloadable ebooks out there is crap. Most of them are boring and written in an old fashion way. This ebook contains infographics and practical ways to help you start affiliate marketing with no money in 2022.
---