---
Disclosure: This post is sponsored by DesignCap. All opinions inside this post are based on our personal experience testing and reviewing DesignCap without guidance from the brand itself.
---
In this DesignCap review, let's explore another easy-to-use online graphic design tool worth trying in 2022.
If you're familiar with Canva, you might notice that it's one of the most popular online graphic design tools you can use. However, there is one good reason we're not using it. We think Canva's user interface is a bit too crowded when we use it to browse for templates.
When you don't have any prior knowledge of design, sometimes having too many options could overwhelm you. It's not that Canva isn't great for graphic design. It's just too crowded. Sometimes, less is better.
That's why we look out for another alternative that is off-the-grid: DesignCap. It has similar features to Canva, but it's simple and easy to use, making it a beginner-friendly tool.
Let's dive deeper to take a look at it.
What is DesignCap?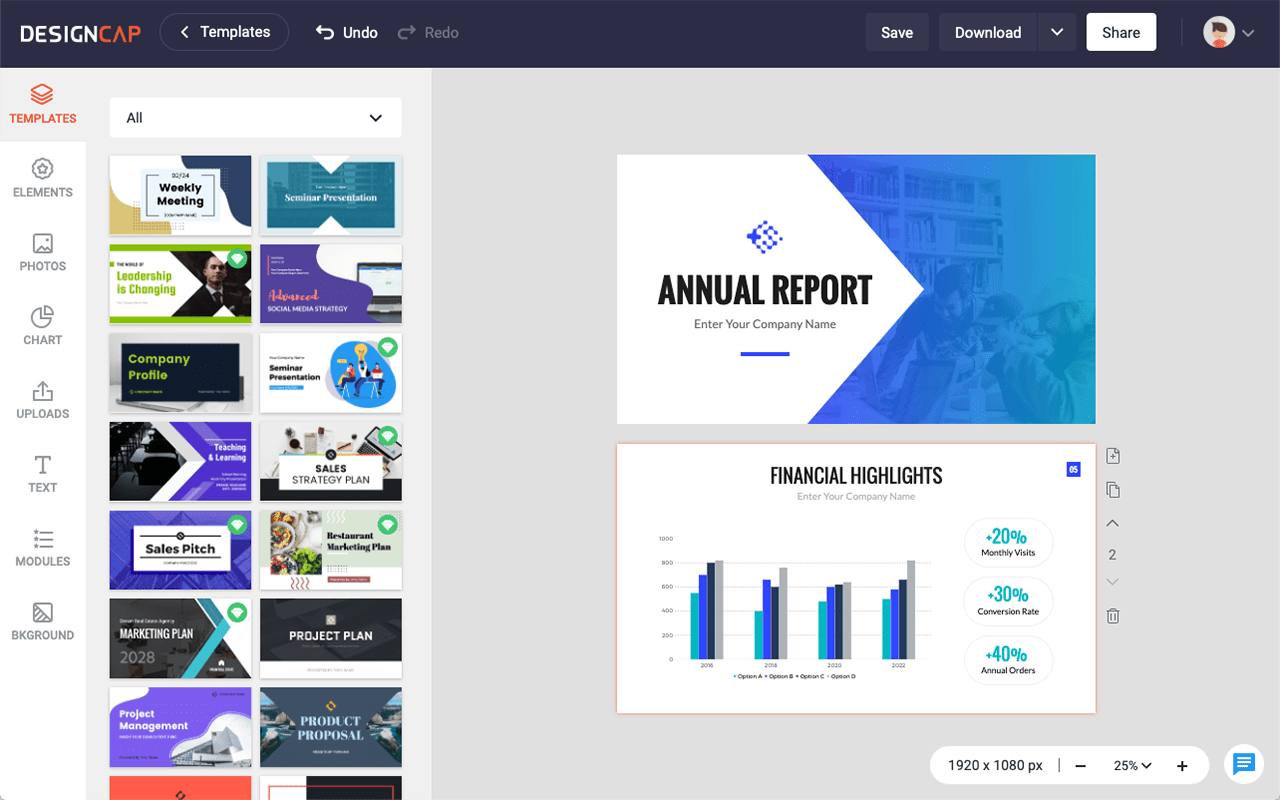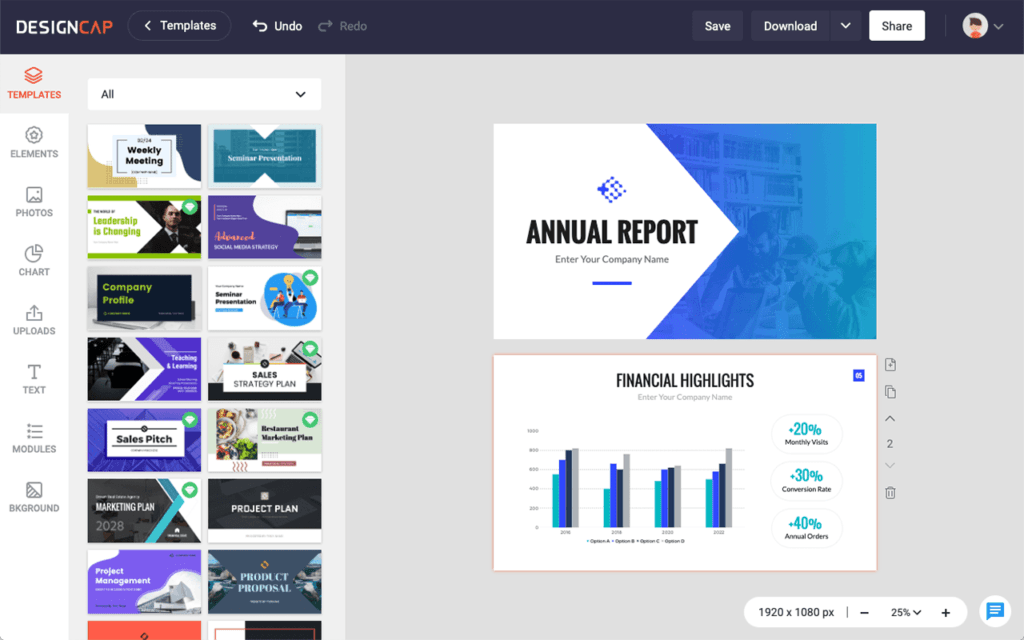 DesignCap is another tool designed by PearlMountain. It's an online graphic design software to help anyone create everyday design needs such as social media graphics, posters, flyers, and many more. With thousands of available templates, DesignCap provides a user-friendly dashboard to help you create a professional design within minutes.
What Can You Create With DesignCap?
DesignCap categorizes its templates similarly to other online design tools such as Canva and Visme. Here's a complete list of template categories you can create with DesignCap:
Marketing (10)
Infographics
Charts
Posters
Flyers
Logos
Business Cards
Brochures
Facebook Ads
Leaderboard
Menu
Documents (4)
Presentations
Reports
Resumes
Schedules
Social Media Graphics (10)
YouTube Channel Arts
Facebook Covers
YouTube Thumbnails
Twitter Headers
Tumblr Banners
Email Headers
Facebook Posts
Instagram Posts
Instagram Stories
Pinterest Graphics
Events (2)
Apart from these lists, you can also create a design from scratch. You can customize a blank canvas and start designing anything you want.
How to Use DesignCap?
To use DesignCap, you can sign up for a free account and choose any template you want to start working on your design. We'll show you what we mean by simple and easy-to-use by creating a Twitter header for our account.
Step 1: Browse Templates
After signing up, you will see a dashboard like this below. It has various templates available from all the categories we've mentioned before.
As you can see, DesignCap's user interface is plain and simple. You got a search bar and 5 different category tabs. That's it. No fuss with keywords and everything you might not need.
Since we want to create a Twitter header, let's look at a few available templates.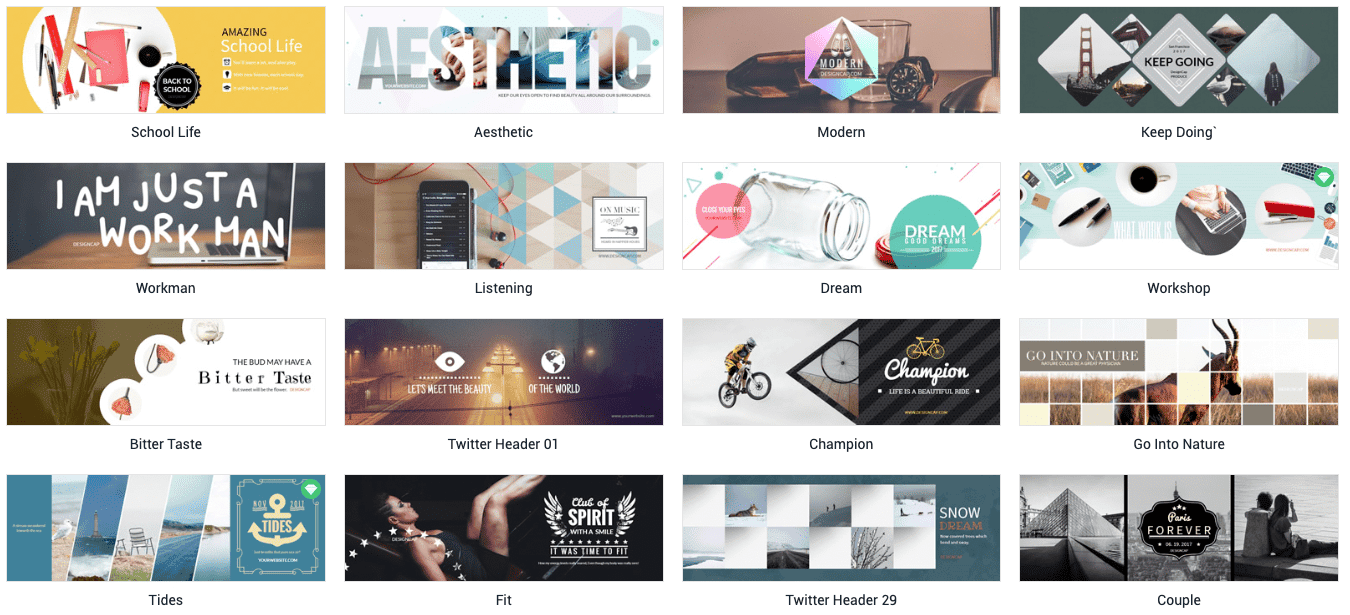 Step 2: Customize Your Design
We got one that we think fits well with our niche. We simply select and click the Customize button. Then, you'll see a working space like this below.
There are a few ways to customize your design. You can use all the tools on the left sidebar to help you create what you want. Check out these lists below.
Elements – you can add lines, basic shapes, arrows, badges, speech bubbles, and many more to your design.
Photos – simply choose free stock images to use on your design and modify them.
Charts – if you want to create charts for infographics, you can choose from all the various templates available and modify the numbers accordingly.
Texts – there are several pre-designed text templates for you to use as headings and sub-headings.
Modules – this is where you can add various pre-built charts or diagrams and icons to your design.
Backgrounds – if you'd like to start your design from scratch, there are various backgrounds to choose from. Moreover, you can modify it based on solid or gradient colors.
Uploads – you can also use your own images by uploading them to DesignCap.
You can also access essential editing tools such as layers, alignment, color, spacing, and many more. However, there is one feature that DesignCap lacks. It's a ruler. In other words, you might find it hard to properly lay out your design elements. However, you can also use the invisible line guides to help you.
Anyway, here's a simple layout we made for our Twitter header. Pretty good, isn't it?
Step 3: Download and Publish Your Design
If you have already finished with your design, you have two options, you can download or share them. You can download it in JPG, PNG, or PDF format and customize the size from Small to Extra Large. However, if you're using the free plan, you can only download it in JPG and small format.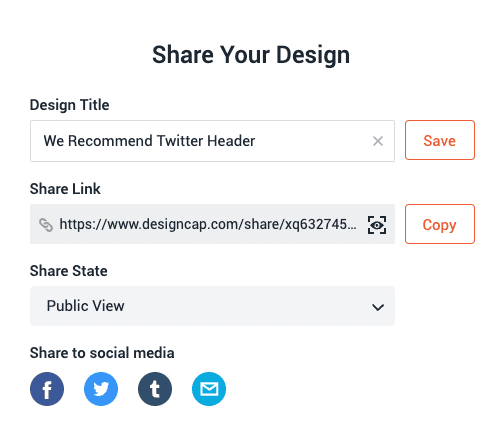 Another thing you could do is share your design through a link. Moreover, you can allow other people to see and edit your design. It's possible if you're working with your team. In addition, you can set your link in private mode, so only you can view it.
DesignCap Review: A Few Things to Consider
Based on our opinion and personal review, there are a few things to consider if you intend to use DesignCap as your primary design tool.
Lack of Ruler
This might be one of the main reasons to not use DesignCap. A ruler is a primary tool for accurately placing your design elements in a balanced layout. Unfortunately, DesignCap didn't provide this feature. We're hoping they could add this in the long run.
Lack of Gridlines
Another measurement feature that is both functional and important is gridlines. In our previous review of DesignEvo, there is an option to show gridlines in the editing tool. We think it would be a great addition to use on DesignCap.
Lack of Measurement Points
Regarding measurement, DesignCap doesn't provide an indicator of the design element when you add it to your design. This might be hard if you're working on a large-scale format.
If these factors don't matter, you can use DesignCap as your daily design tool. We strongly recommend using DesignCap for single-page designs such as social media posts, posters, and flyers. Here are a few testimonials about DesignCap.


DesignCap Pricing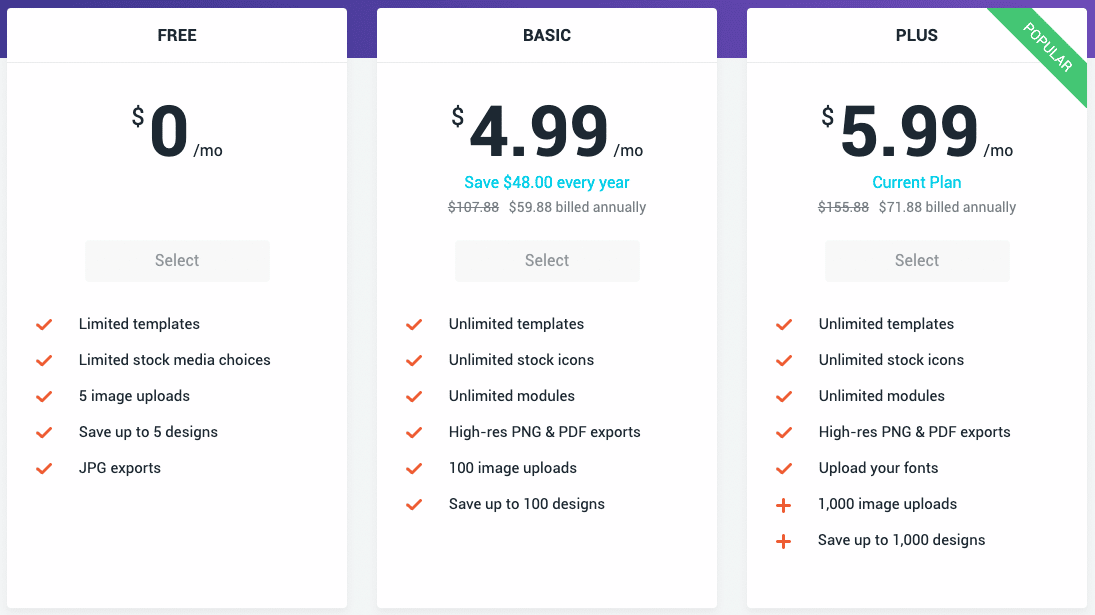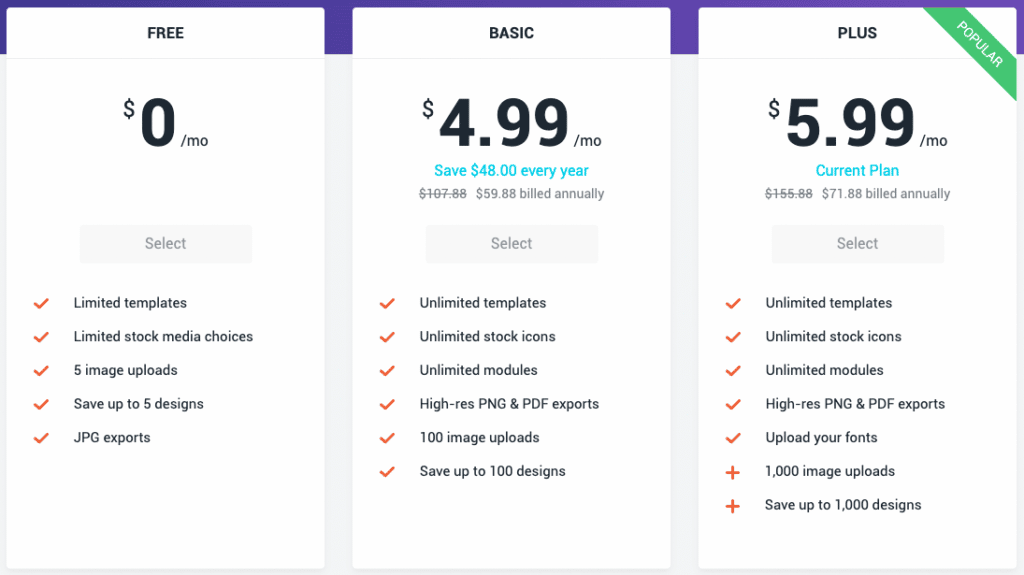 As you can see, DesignCap offers three plans, Free, Basic, and Plus. The Basic Plan starts from $59,88 on an annual payment. You already have access to unlimited templates, stock icons, and modules to use. Moreover, you can also download your design in high-resolution PNG & PDF formats. However, the Plus Plan is priced at $71,88 on an annual payment. It's only a $1 per month difference from the Basic Plan.
It's better to choose the annual plan than to pay monthly because the price difference is high. The Basic Plan is priced at $8,99 per month, while the Plus Plan is priced at $12,99 per month. Even though we consider these plans affordable pricing for everyone, the monthly payment is a bit too high.
Frequently Asked Questions
Can you use DesignCap for commercial purposes?
Yes. You can use any materials and design elements from DesignCap for commercial purposes. You can also share your design on social media.
How do you remove the watermarks?
There are advanced assets with a green icon in the top-right corner. These assets can be removed by subscribing to either Basic or Plus plans.
Does DesignCap have a lifetime account?
Currently, no. DesignCap doesn't have any lifetime accounts.
What about DesignCap's refund policy?
DesignCap offers a 7-days money-back guarantee after your initial purchase.
Conclusion
To summarize our DesignCap review, even though there are better tools, we still think DesignCap is an easy-to-use graphic design tool. This could be one of the best alternatives to Canva and Visme. With a clean and beginner-friendly user interface, you might consider using it as your everyday design tool.
If you'd like to subscribe to one of DesignCap's plans, we recommend choosing the Plus plan with a $12 difference in annual payment. Why? Because if you use our 10% code, you can get it at almost the same price as the Basic plan. Pretty decent deals, isn't it?
---