This post contains affiliate links. We may receive a commission for purchases made through these links without any extra cost to you. Thank you for your support.
---


Disclosure: This post is sponsored by FlexClip. All opinions inside this post are based on our personal experience testing and reviewing FlexClip without guidance from the brand itself.
---
In this FlexClip review, we'll talk about this easy-to-use online video editing tool that will save you a lot of time!
So, as some of you may already know, YouTube is one of the most profitable ways to make money online. But, creating a captivating video doesn't seem as easy as it looks. It takes a lot of time and resources to complete a single video.
Fortunately, we've found FlexClip!
If you're thinking about making YouTube videos but don't have any technical skills to do it, FlexClip is for you!
Let's dive in!
What is FlexClip?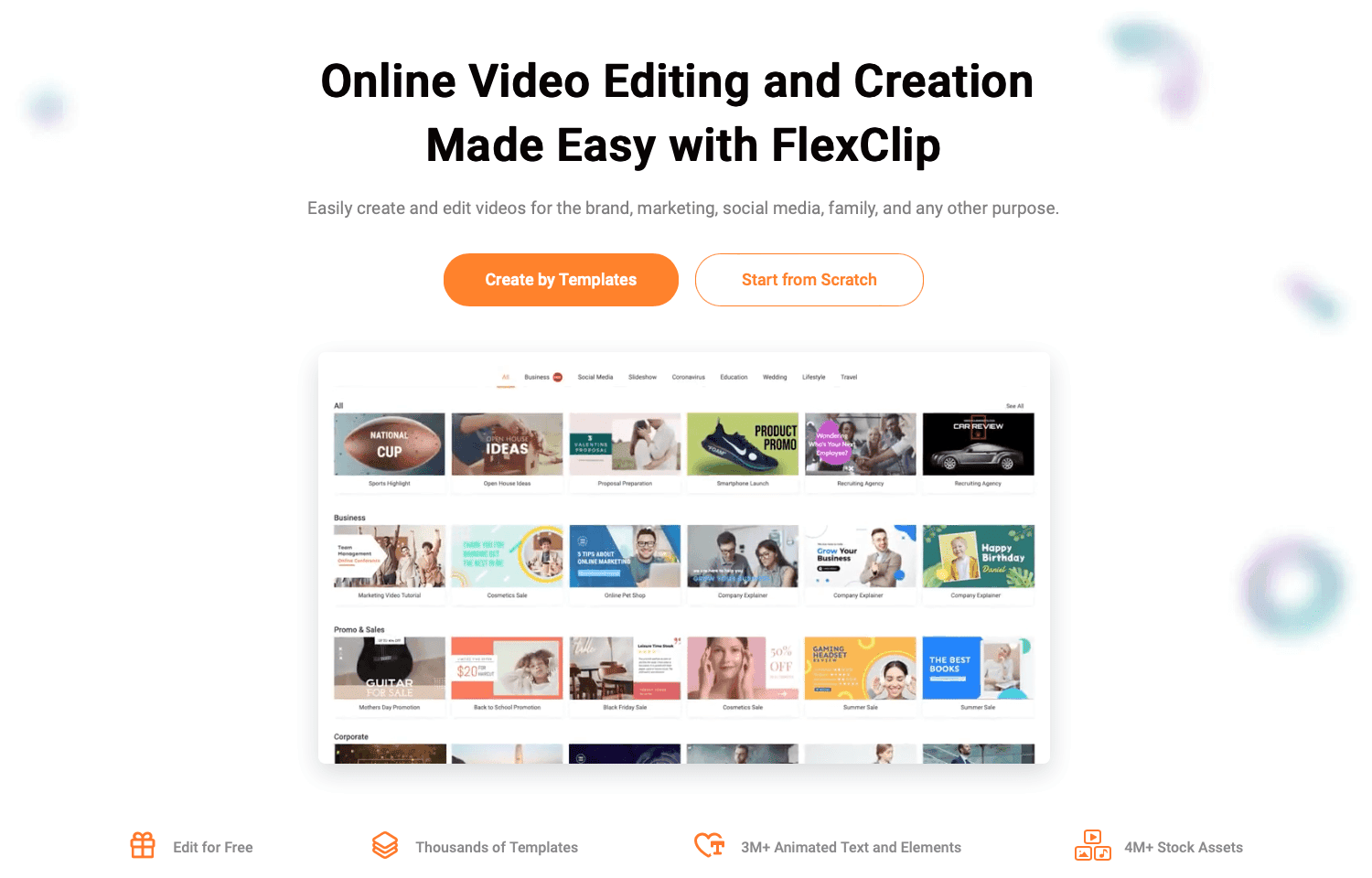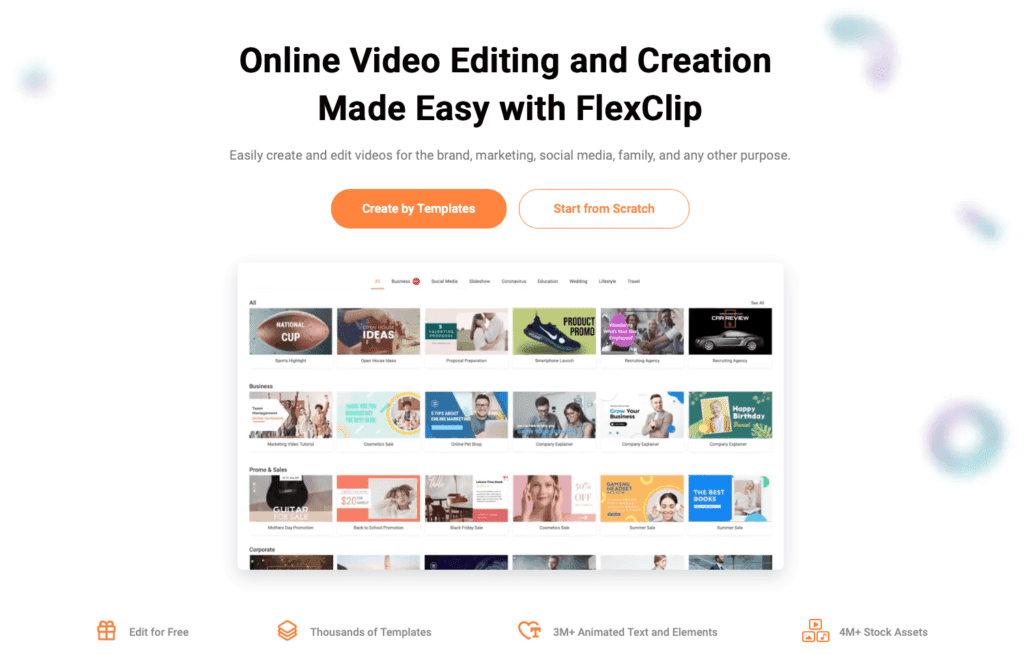 FlexClip is an online video editing tool developed by PearlMountain. Online means you don't have to download and install software on your computer. You can simply visit their website and start editing right there. Below are a few interesting stats about FlexClip users you might want to know.


Judging by the number of worldwide and registered users, you can sense that this program is easy to use. You don't have to be a world-class video editor to produce high-quality video, isn't it?
How Does FlexClip Work?
There are two ways to create your video. The first one is to choose from the provided templates.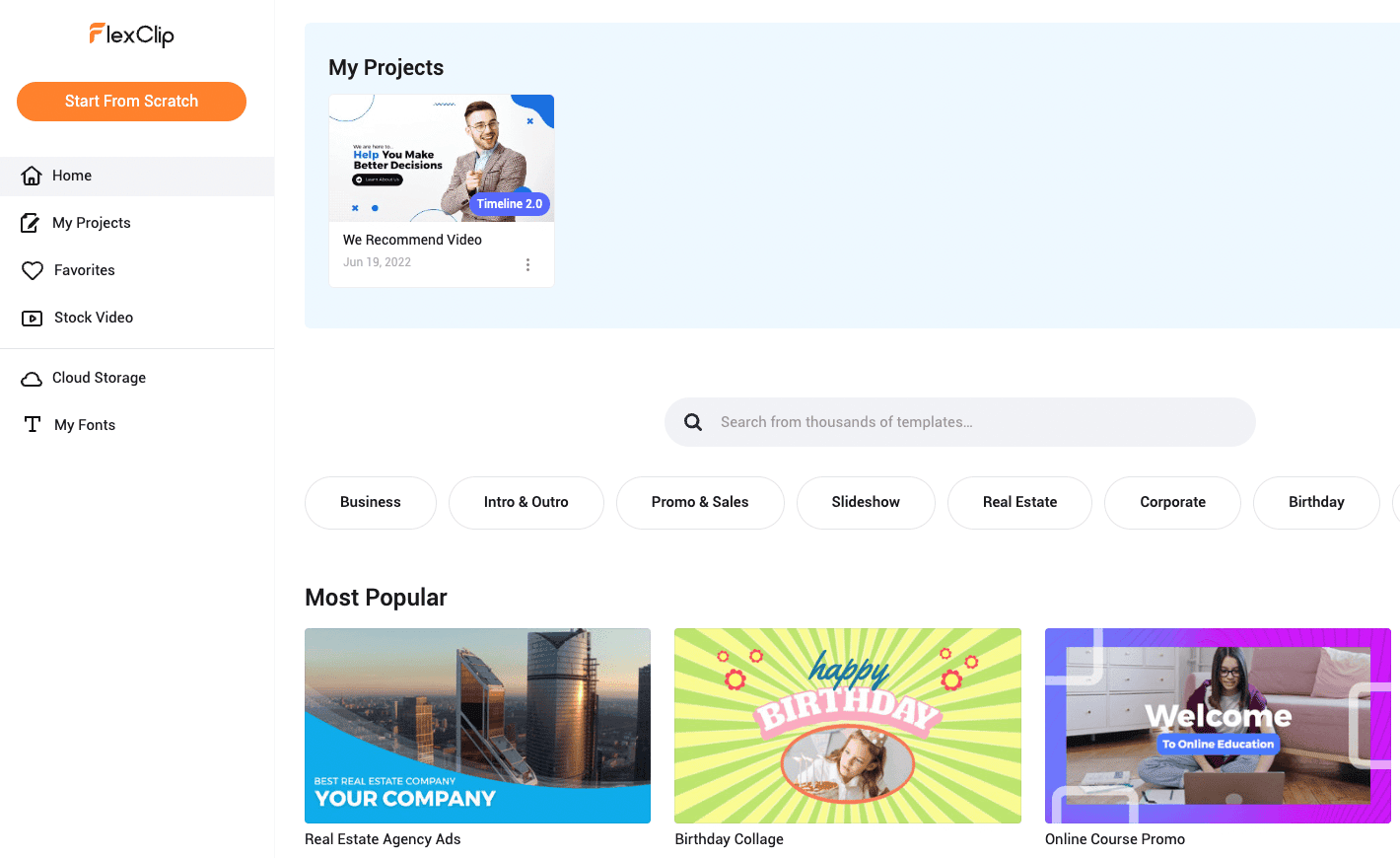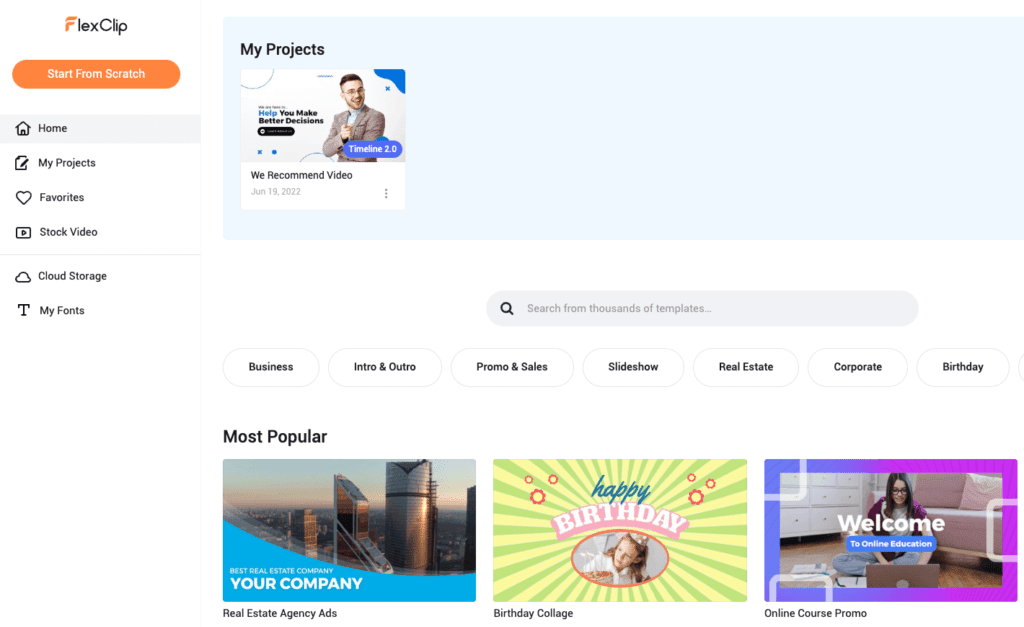 FlexClip got a lot of template categories for you to choose from. To name a few, they have:
Promo & Sales
Lifestyle
Real Estate
Slideshow
Intro & Outro
Ads
Education & Training
Corporate
Birthday, and many more!
So, you don't have to worry about running out of ideas to create your video.
If you're not into templates and you want to create everything from scratch (we assume you know what you're doing), then you can create your video from scratch.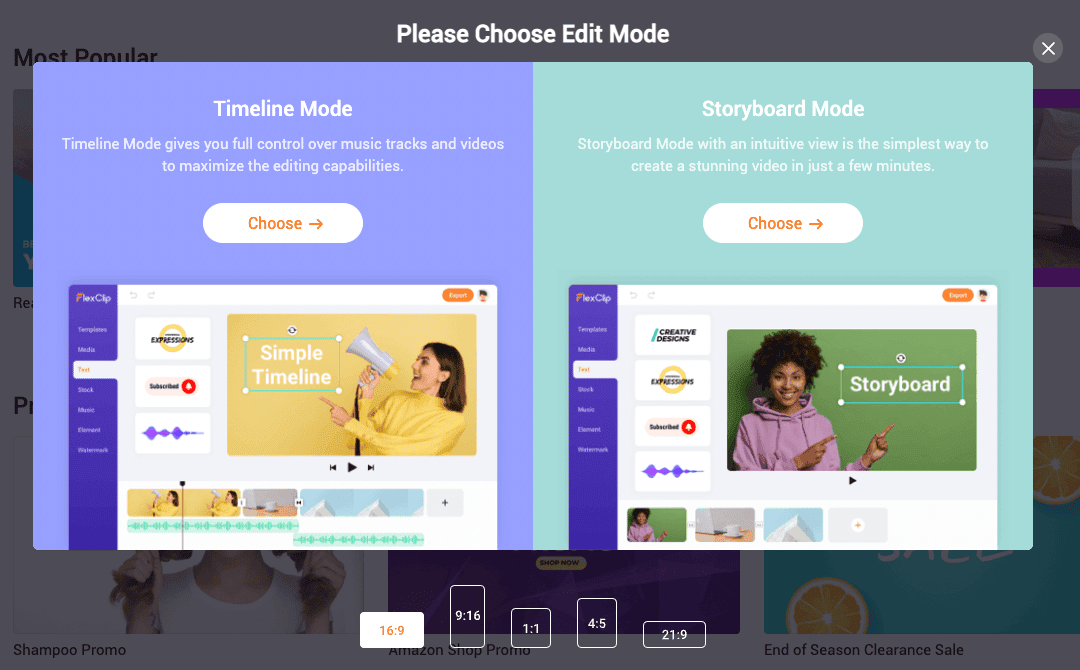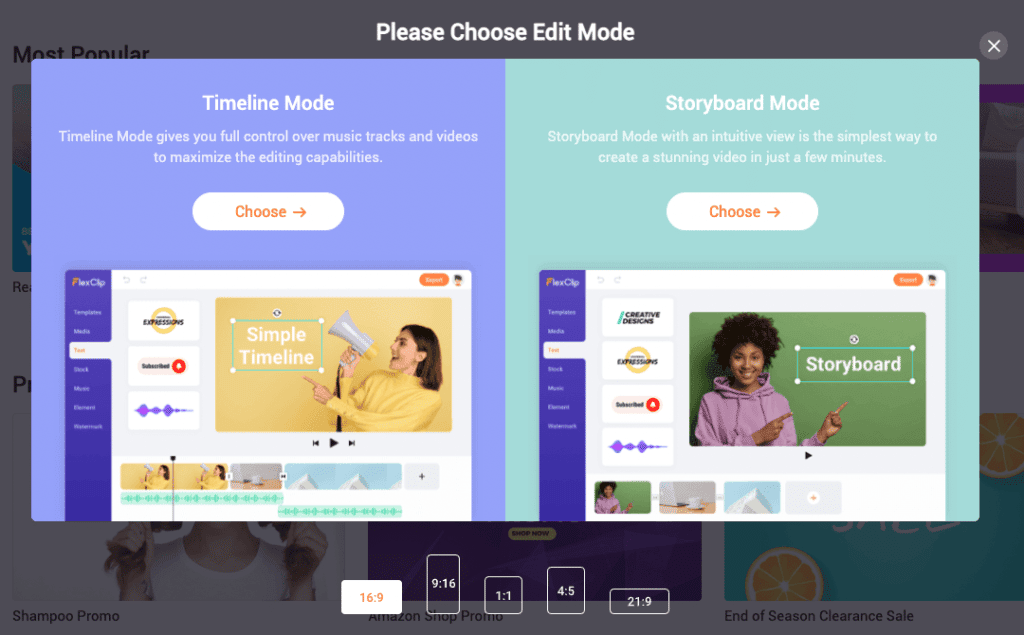 You can create your video based on two modes, Timeline Mode and Storyboard Mode.
What's the difference?


Timeline Mode allows you to edit your videos on a timeline-based view. So, you can control what you want to put inside the timeline editor.

Storyboard Mode allows you to create videos based on the information sequence you want them to appear.
Pro Tip 💡
If you just started, we suggest using the provided template to get an idea of the editing tools.
FlexClip Benefits
Firstly, we'd like you to know that we're not video editors. So, we're not familiar with the interface for editing a video. But, as you can see below, FlexClip's user interface is easy to navigate. You have your timeline below to see your video and all the editing elements on the left sidebar.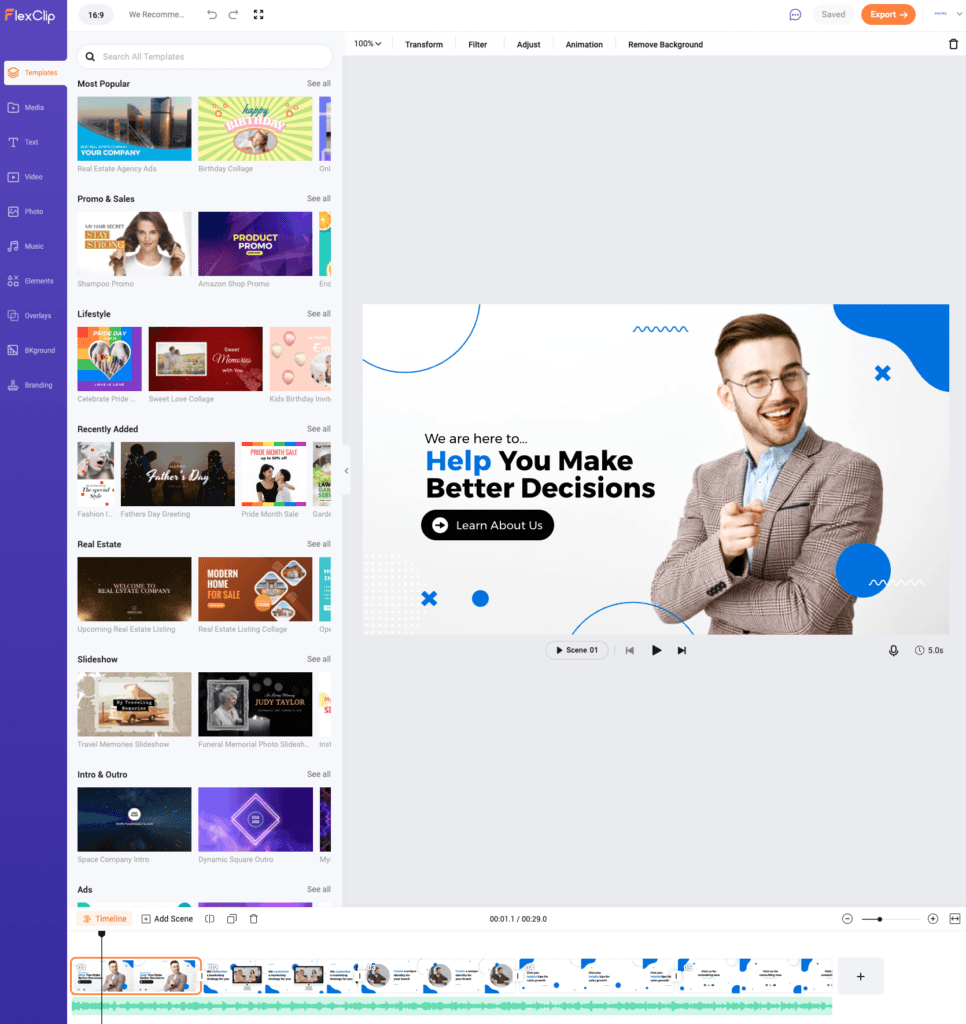 If you want to edit text or images, you can simply edit them on the screen. We're an expert with PowerPoint and Keynote, so we can say it feels the same as editing a presentation.
The second benefit we'd like to talk about is efficiency. We mentioned the amount of time and resources to create a video before. Creating a 3 minutes video can take you hours or even days to finish.
But, with FlexClip, you can finish them in minutes, depending on the objective you want to achieve. Take a look at this short 30 seconds video about us.
It takes us (a total newbie video editor) less than 30 minutes to finish. We simply use one of the templates, change a few texts, and voila, we're done. Sure, you can't say this is a professional video by a professional editor. But still, it's a good video and worth sharing.
FlexClip Features

What kind of tools and features are provided when you use FlexClip? To be honest with you, there are a lot of them.
So, we're going to highlight 6 of our favorite features.
1. Slideshow Maker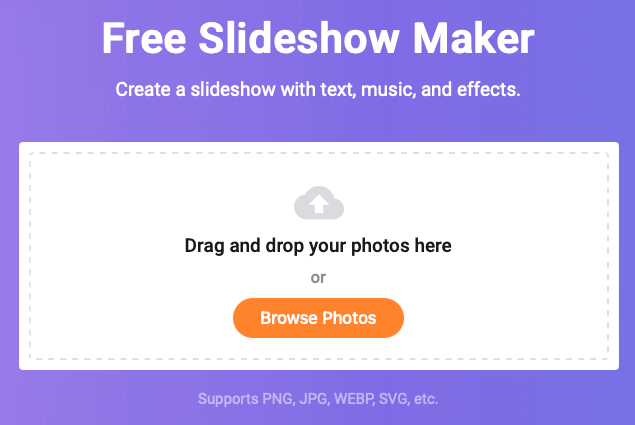 Do you have any photos and videos from your last holiday or birthday celebration? Well, you can create a beautiful compilation of your photos automatically with this Slideshow Maker.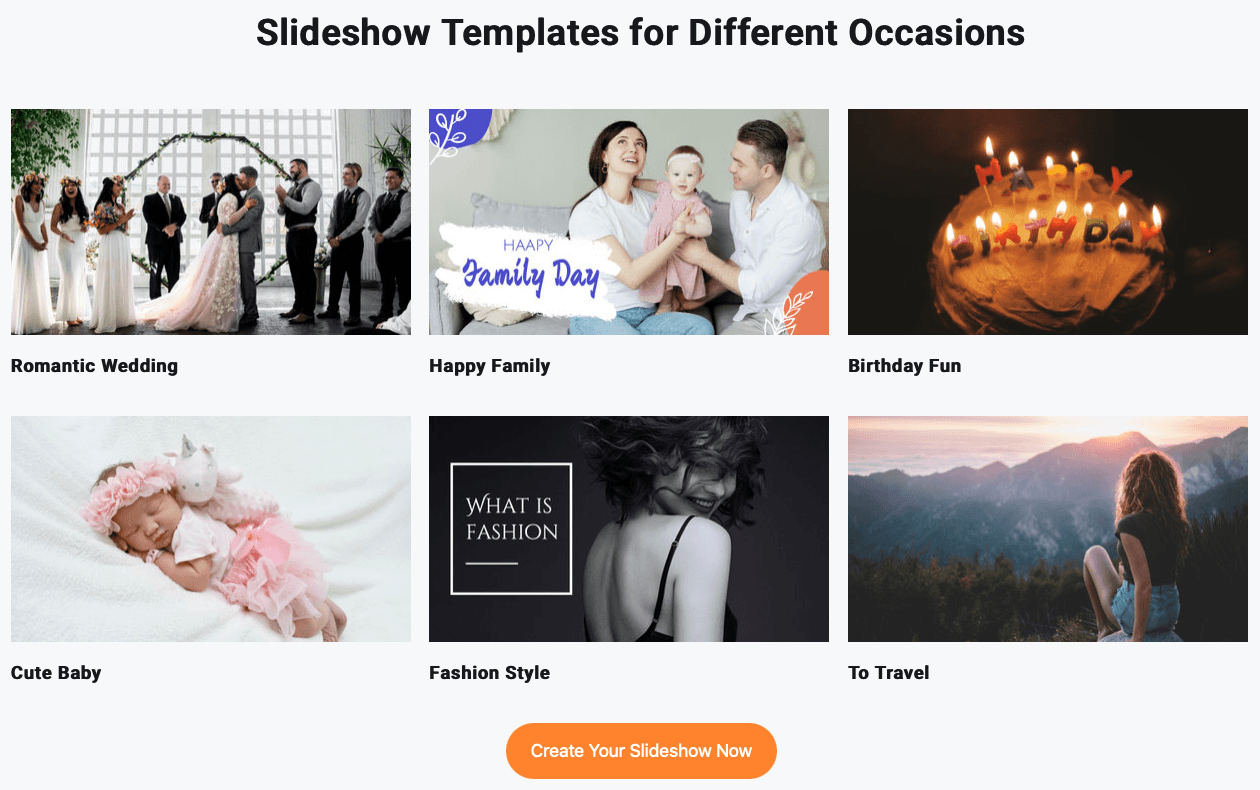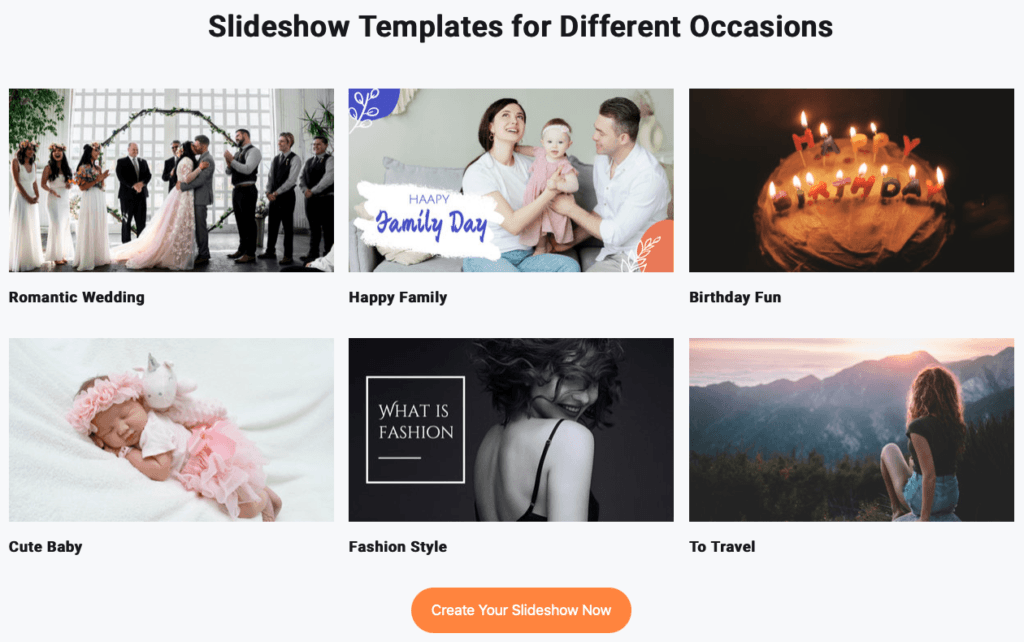 Simply upload your photos and select a template, and FlexClip will automatically create it for you. It doesn't stop there. You can add background music, text animations, and transitions to your slideshow.
2. Meme Generator
Now, this is our favorite feature! You know a meme is intended to be funny and relate to those seeing it. You probably saw hundreds of memes on social media. But, do you ever wonder how to create one Well, you know the answer. Here's a meme for you.
3. Stock Videos
You see, sometimes you need a stock video to help you visualize that represents what you're talking about in your video. Guess what?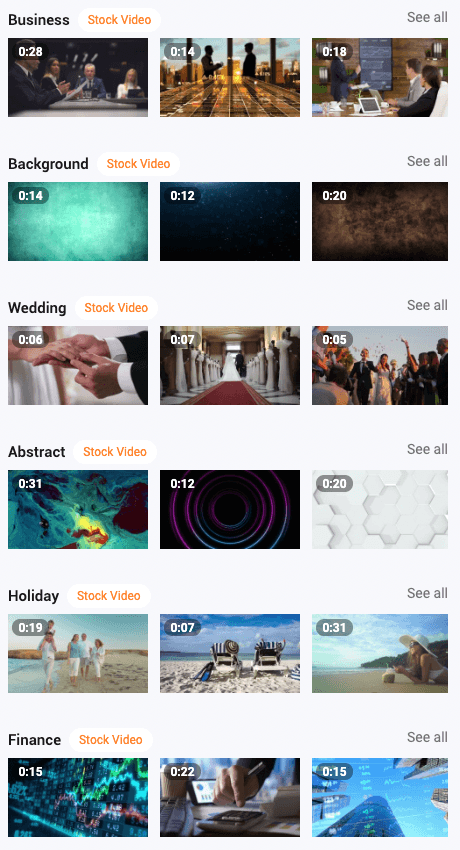 FlexClip provides them for you. Simply choose as many pre-recorded stock videos of various lengths, and drag them to your timeline.
4. Music
Your video is not complete without any music. But, finding the right music could be a challenging task.

Well, there's no need to look outside FlexClip. They have it ready for you to choose from, and you don't have to worry about having a copyright issue.
5. Cloud Storage
If you're planning to upgrade to the Premium Account, you can upload your editing resources to Cloud Storage. This will help you to access your files online wherever you are.
6. Learning Center


As someone who doesn't know what they are doing, having a learning center full of tutorials helps us. FlexClip has a learning center where you can learn a lot about layout, animation, case studies, and many more.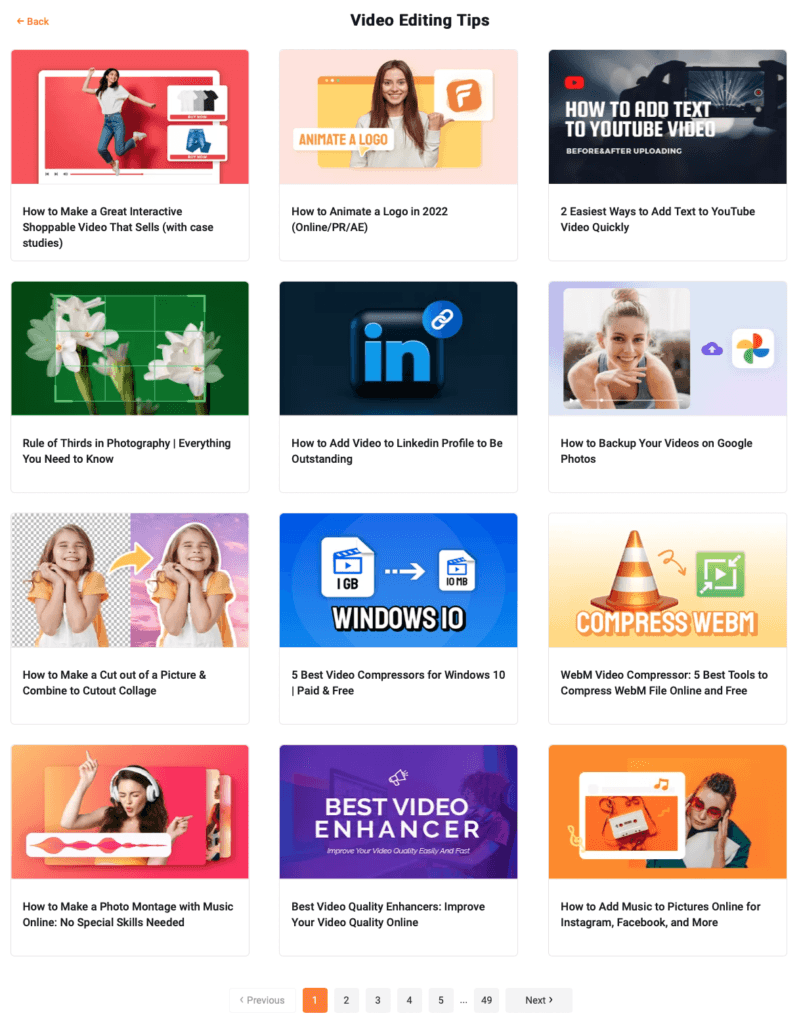 If you're lost in the process, you can always follow the guidelines inside the learning center.
FlexClip Pricing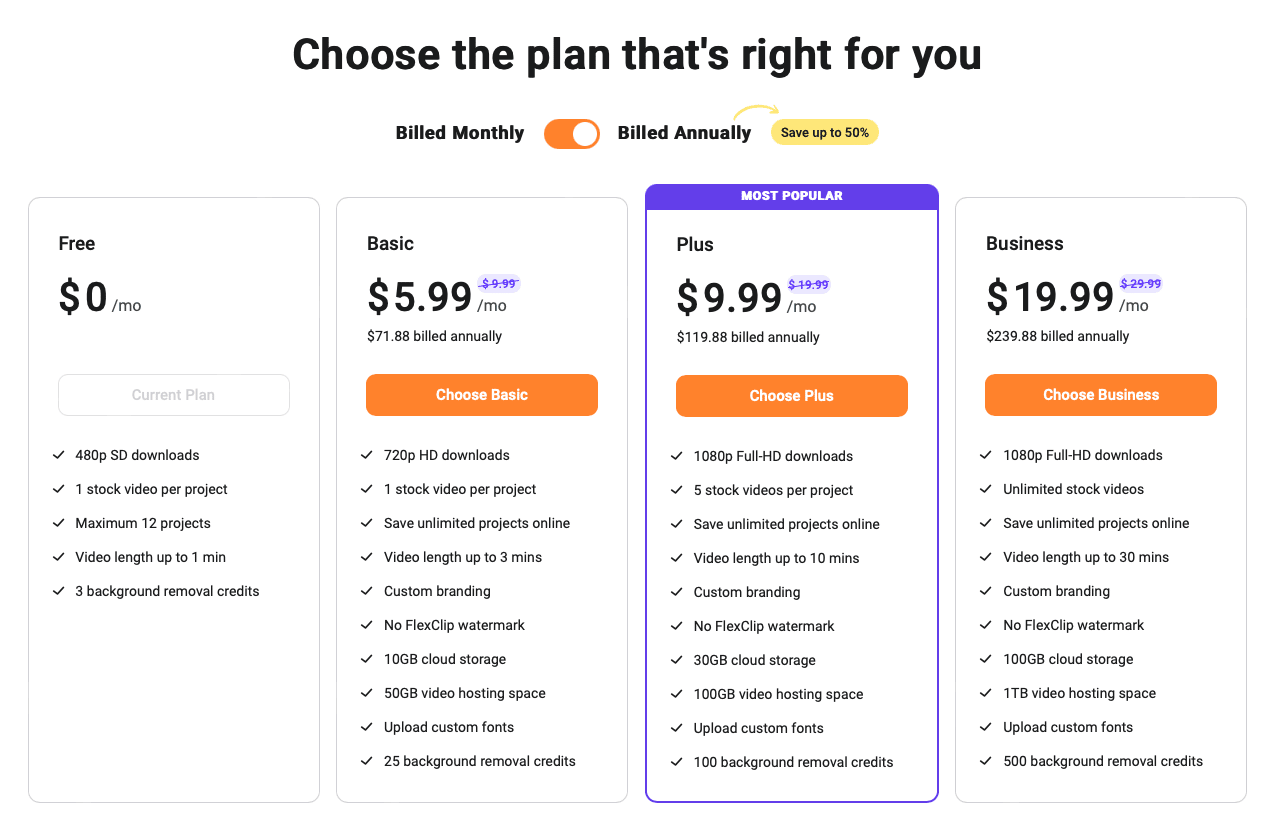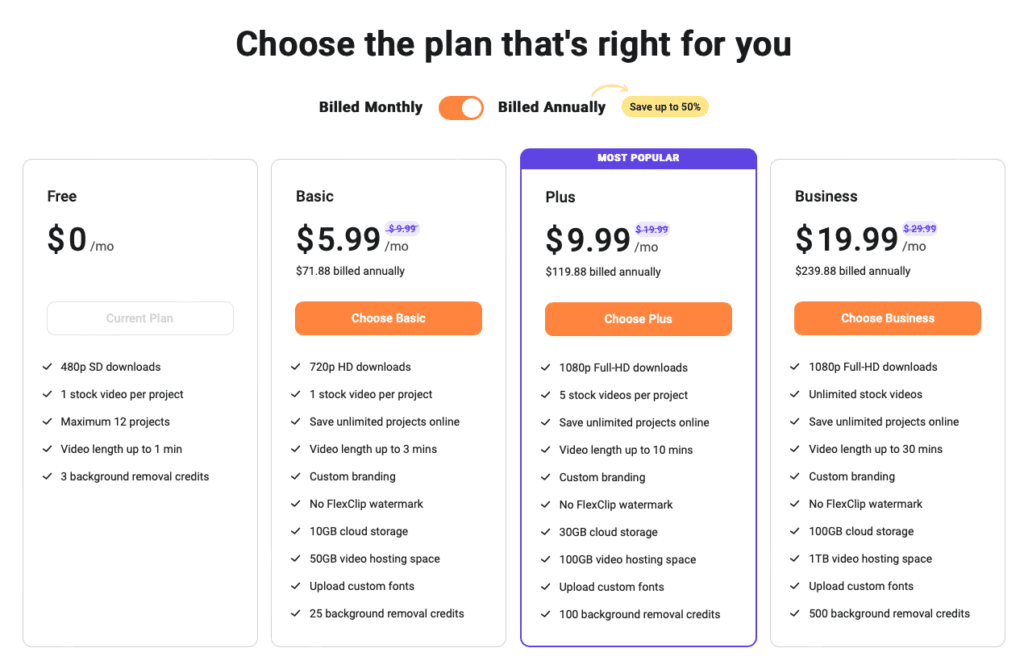 As you can see, FlexClip Basic Plan starts from $5,99 per month, and the most popular by demand is only $9,99 per month on annual payment.
You might be familiar with the big names of editing tools like Adobe Premiere Pro or Final Cut Pro. But, both software needs high-performance hardware to help them perform at their best.
So, even though Final Cut Pro will cost you $299 for a lifetime, you still need high-end hardware, which might cost you more than $1,000.
Pro Tip 💡
Use our FlexClip Coupon Code: FLEX15 to get 15% off on the annual plan!
Frequently Asked Questions
Can you use FlexClip for free?
Yes, you can sign up for free and create your video online. But, a free account does come with a limitation on the maximum resolution of your video. So, we suggest upgrading at least to the Basic Plan.
Can you use FlexClip for commercial purposes?
Yes. If you use the resources provided by FlexClip on a Premium Account, you can use them for commercial purposes.
What browsers does FlexClip support?
Currently, you can use Chrome, Safari, Firefox, and Edge.
Is there any lifetime premium account?
Unfortunately, FlexClip does not provide them right now.
Conclusion
In conclusion, FlexClip is one of the best online video editing tools at an affordable price. The fact that this is an online tool makes it accessible to many people who want to create a decent video. In a sentence, it's an online video editing tool for everyone!
We hope you enjoy reading our FlexClip review, and we'd like you to try it and create your first video online within minutes!
---