This post contains affiliate links. We may receive a commission for purchases made through these links without any extra cost to you. Thank you for your support.
---
In this Rock Solid Mailer review, let's find out if it's any good or just like other safelist mailers.
We've tried several safelist mailers, and none of them works well. Other than List Mailer Plus and InstantAdPower, other safelist mailers have low click-through rates, which means people are not reading our emails.
When we first heard about Rock Solid Mailer, we were tempted to explore more because there is something that makes it stand out from other safelist mailers.
So, without further ado, let's dive in.
What is Rock Solid Mailer?
Rock Solid Mailer is a safelist mailer with a built-in email wizard to help you write better emails. It's a new safelist mailer by Matthew Graves, who claims to be an online marketer since 2001. We did some research and didn't find anything other than a YouTube channel under his name.
Long story short, we did sign up and tested the platform. The user experience and design of the member's area are plain and simple. Nothing special. However, it's full of referral links to other safelist mailers, traffic exchange sites, and solo ads sites such as LeadsLeap, Herculist, ListJoe, and many more. It's still easy to navigate and explore the membership area.
At the end of the day, a safelist mailer will always be the same. You need to click on emails to earn credits and use that credits to send your emails. That's just how the way it works.
Rock Solid Mailer Features
In this section, we'll cover more about Rock Solid Mailer features. There is one feature that we haven't seen anywhere else. We think this feature might interest you to use it for your email marketing activities.
Traffic Checklist
Once you sign up, inside the member's area, there is a menu called Traffic Checklist. At first, you might see it as a to-do list to earn credits and drive more traffic. In reality, this is a daily to-do list to help grow Matthew's referrals since most of the to-do list is related to joining other sites. Here's a screenshot to help you understand what we're talking about.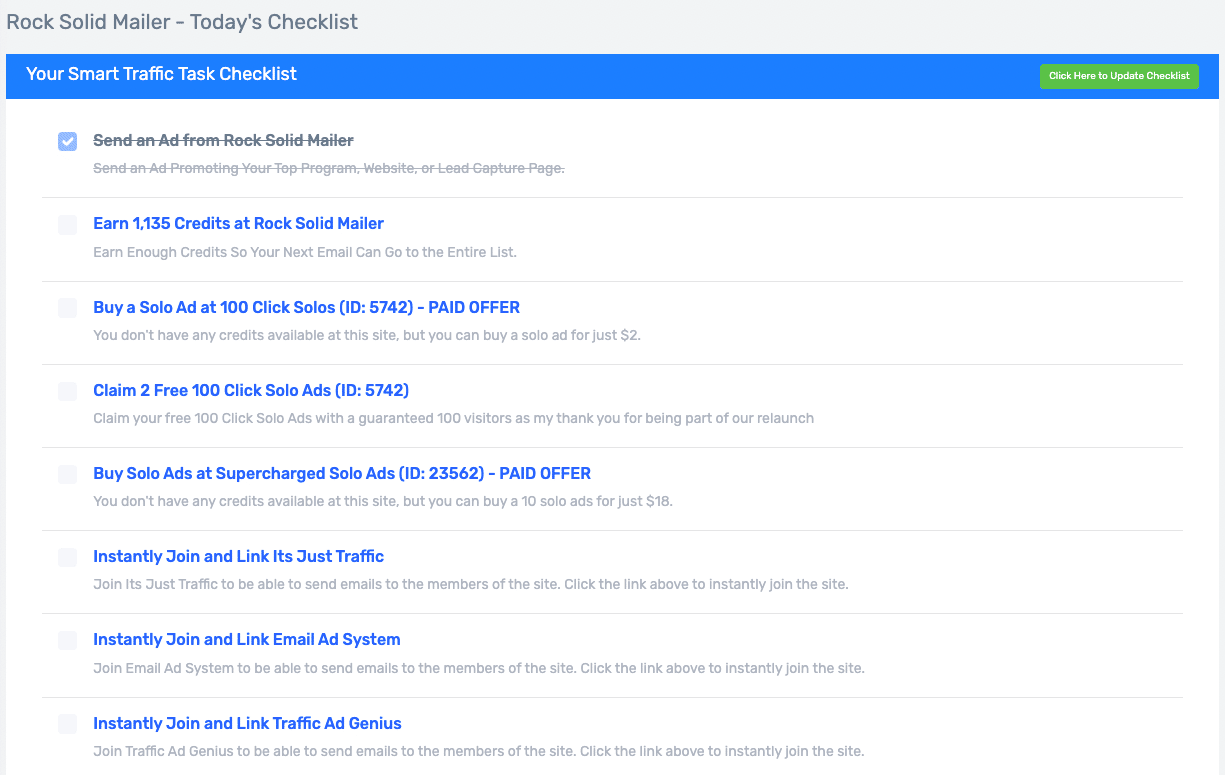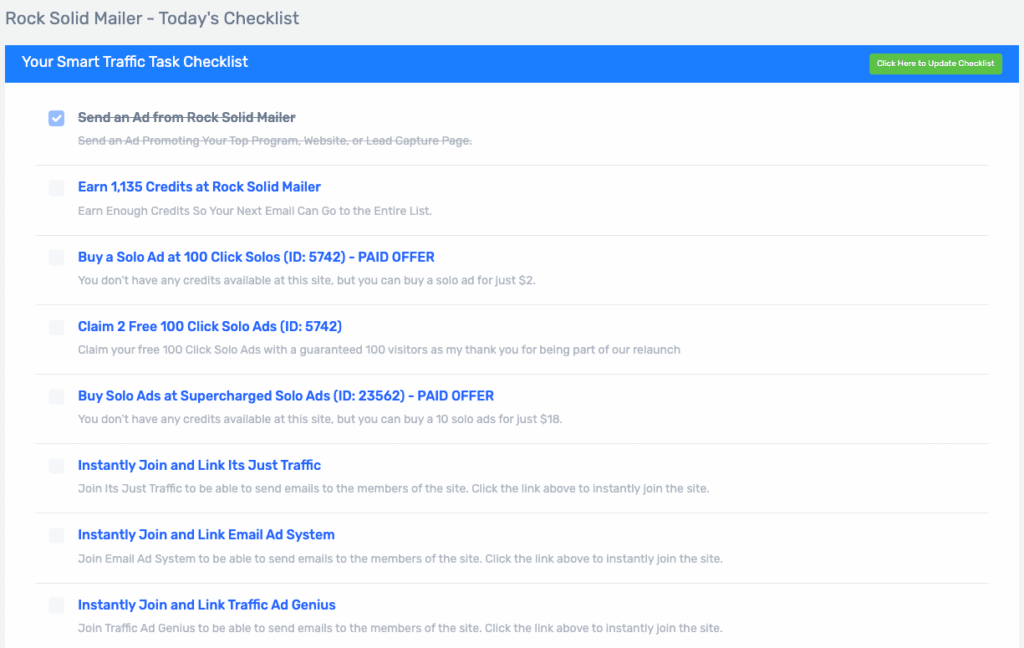 As you can see, the first list of your to-do list is to earn credits. For each email you view, you can get 30 credits, with each email reading time at 15 seconds. You can view these emails in your inbox inside the member's area or view them from your email. The rest of it is an invitation to join other traffic sites.
Email Wizard

One feature that makes Rock Solid Mailer different is you get an email wizard to help you write your emails. This feature works with a pre-built copy by applying the PAS (Problem-Agitate-Solution) method for copywriting.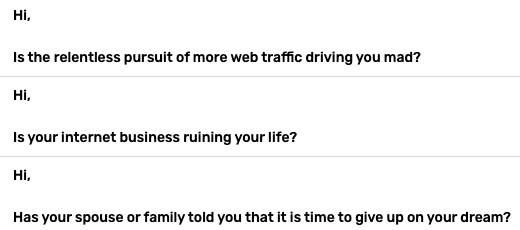 As you can see from the screenshot above, you'll get access to pre-built email marketing copy that you can use interchangeably from opening to closing. Once you have selected your sentences, you can finalize your email by editing the placeholders with relevant words to your offer. Here's an example of what it looks like.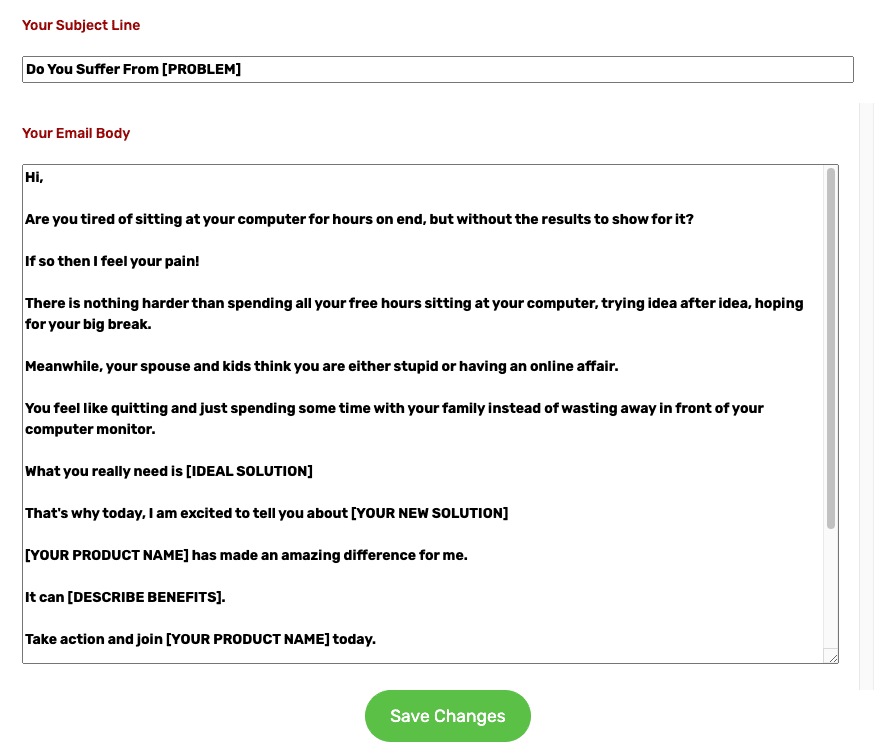 This feature obviously saves a lot of time if you're new to email marketing. You don't have to write your email from scratch because Rock Solid Mailer already provides them. One thing we'd like to mention is to ensure your copy makes sense. Otherwise, your readers will be confused.
Rock Solid Mailer Membership Upgrade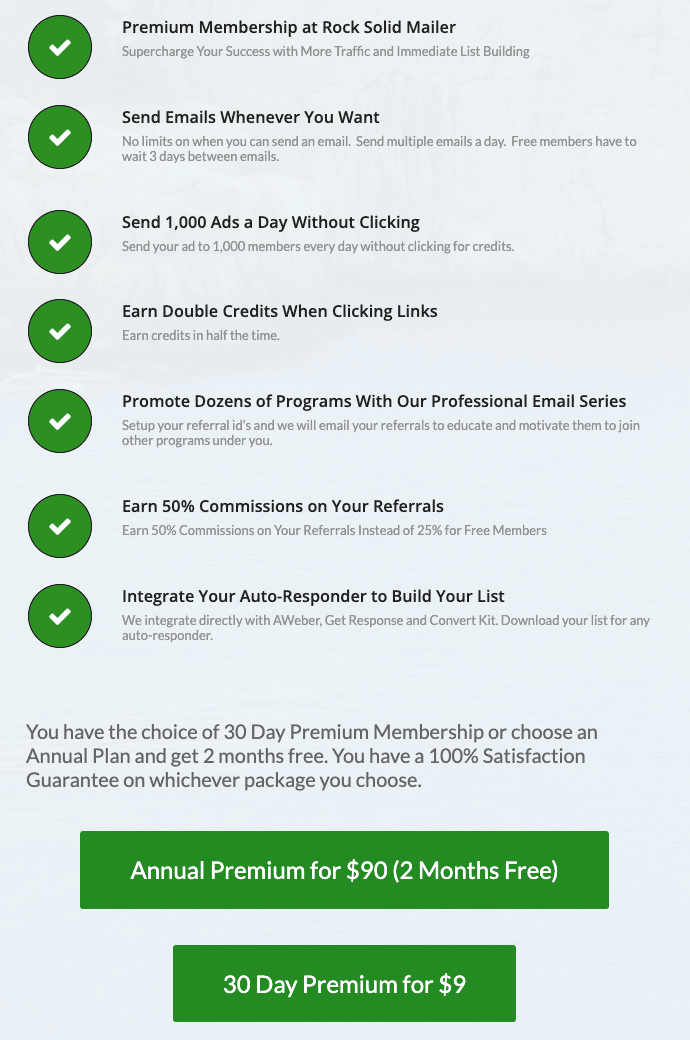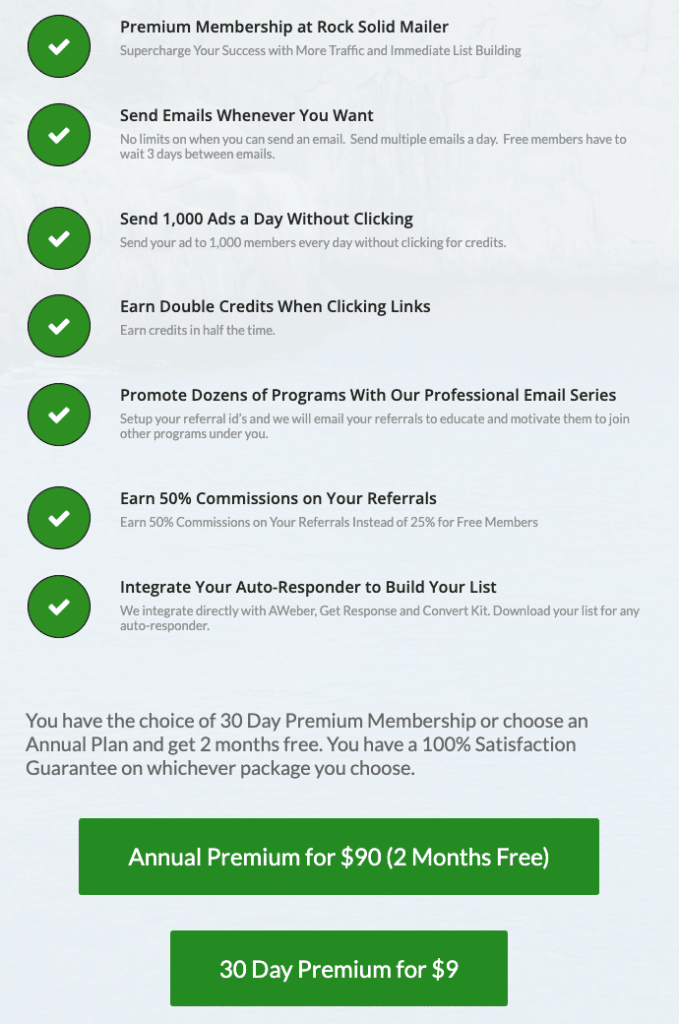 If you're interested in upgrading your membership, you can do it by paying $9 a month or $90 on an annual payment. With Premium Membership, you can get updated features such as:
Send 1,000 ads per day without clicking.
Earn double credits when clicking links.
Earn 50% on your referrals.
Integrate your Autoresponder to build your list.
It's not stated whether you can request a refund or not, but we assume you can't get a refund.
Rock Solid Mailer Pros and Cons
As a new safelist mailer, Rock Solid Mailer has several pros and cons you might want to consider before using their service.
Pros
Email Wizard is a service you can use for free to write your emails. It's a unique service from Rock Solid Mailer.
Simple user interface with easy navigation.
It has a link checker to ensure your link can be viewed by other members.
You got several pre-built lead capture pages to promote Rock Solid Mailer.
Cons
No basic email customization features, such as adding a bold, italic, underline, or highlight, to your email sentences.
Low click-through rates (734 sent, 15 opens, 25 clicks).
It's full of a referral system to other similar sites.
After all, it's just another safelist mailer.
Frequently Asked Questions
Is Rock Solid Mailer legit?
Rock Solid Mailer is a legit safelist mailer with a nice feature that helps you write emails via Email Wizard.
Is it worth upgrading to Premium?
It depends on your take on a safelist mailer. Generally speaking, we don't think it's worth upgrading for low click-through rates.
Conclusion
To summarize our Rock Solid Mailer review, it's not that good. However, it has a nice Email Wizard feature to help you write your emails. The primary downside of using Rock Solid Mailer is you don't have any word-processing tools to customize your emails. But, if you'd like to try, you can use it for free to promote your offer and see the results yourself.
---