This post contains affiliate links. We may receive a commission for purchases made through these links without any extra cost to you. Thank you for your support.
---
In this SocialBee review, let's find out if this is the best social media management tool you can use to schedule and publish social media posts.
If you're using various social media platforms to improve your brand presence and authority, you know it could be overwhelming to check multiple social media tabs on your browser. Moreover, it could even distract you if you need to post on more than one social media platform at once.
For this reason, many brands and businesses use social media management tools such as SocialBee to help them. However, is it the best platform to do that?
Without further ado, let's find out!
What is SocialBee?
SocialBee is a platform where you can create, schedule, publish, and analyze your social media posts. It covers every social media platform, so you don't have to worry about opening multiple tabs on your browser. You can manage everything right inside SocialBee. In other words, you can automate the process and focus on everything else.
The platform itself has been around since 2016 and constantly grows ever since. Many brands worldwide have been using SocialBee to publish their social media posts on autopilot. The primary intention of SocialBee is to unite every social media platform in one place and attract leads to grow businesses in the long run.
How SocialBee Works?
SocialBee works by integrating your social media profiles in one place. You can manage up to 25 social media accounts just with SocialBee. This is suitable if you are running a social media agency. However, it's not a free tool, so you will have to pay a monthly recurring fee or annually to unlock SocialBee's full potential.
As far as we know, no social media management tools allow you to publish, schedule, and analyze multiple social media posts' performances. Even if they offer a free service, you will always get limited access to a certain extent. As with SocialBee, there is a 14-day free trial option to explore all the available features.
SocialBee Features
We will highlight SocialBee's features and show how it can help you manage multiple social media profiles without leaving the platform.
Social Media Management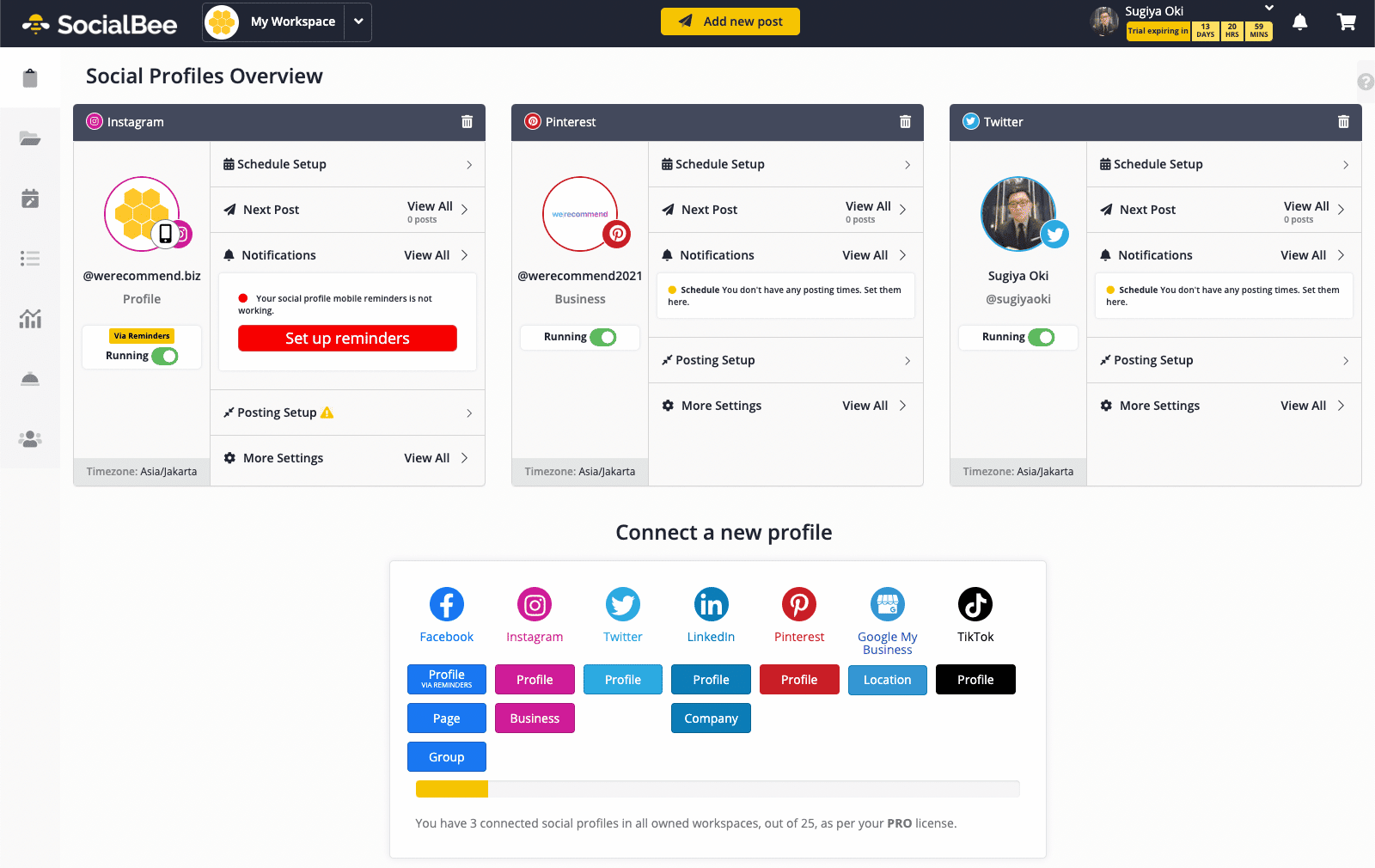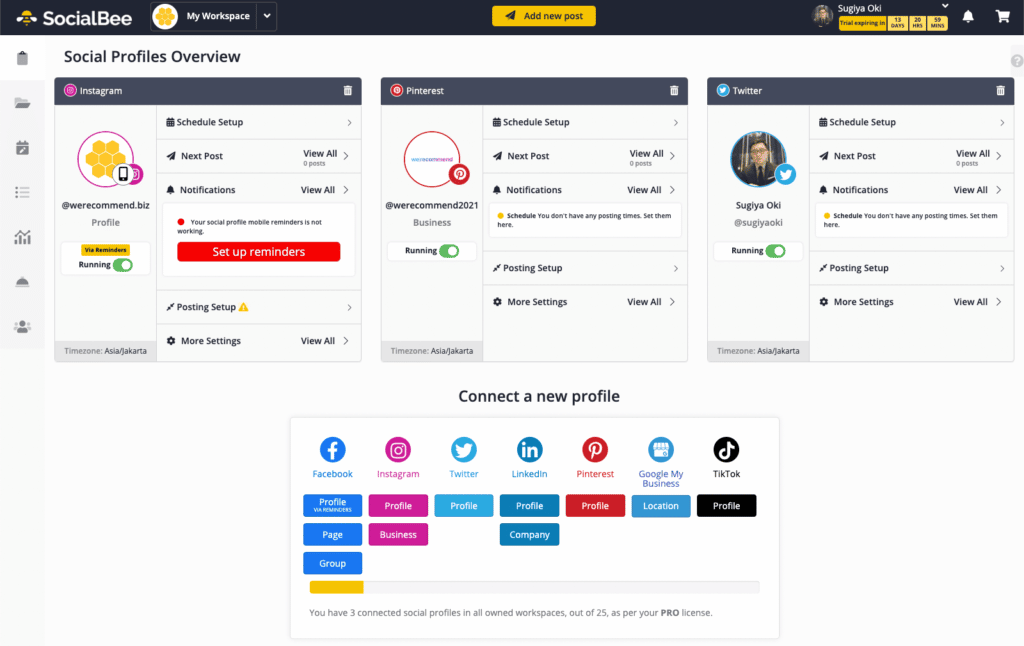 What makes SocialBee stands out is that you can manage up to 25 social media profiles in one account. SocialBee covers social media platforms such as:
Facebook (including Page and Groups)
Instagram (including Business)
Twitter
LinkedIn (including Company)
Pinterest
Google My Business
TikTok
Some tools, such as Analisa.io, only cover Instagram and TikTok. Other tools, like Minter.io, don't cover Pinterest, LinkedIn, and GMB. RelateSocial also didn't cover TikTok and Pinterest. So, in terms of versatility, SocialBee covers everything. We think that's already a plus point.
Furthermore, you can use SocialBee to do almost everything related to the content creation process of your social media. As some of you may know, once we publish a new post on our website, we also publish them on social media, mainly on Facebook, Twitter, and LinkedIn. This process is easy since you can share it via WordPress.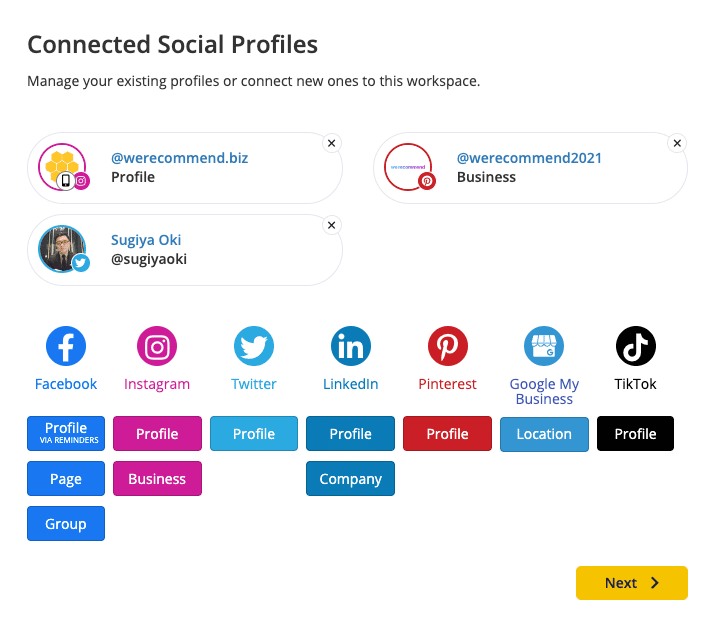 However, things could be challenging if we want to post on Instagram and Pinterest. Since both platforms have different post sizes, it's tiring to log in and set everything manually, so having SocialBee is a timesaver for us.
Here is the list of social media management-related tasks you can do with SocialBee:
Category-Based Scheduling: You can create a post based on category and arrange everything beforehand. We will cover more about this later.
Re-queue Posts: Sometimes, re-publishing the same content works well to recycle your posts, especially if it is considered top-performing content. SocialBee makes this process easy by re-queue your posts.
Customize Post for Each Profile: As we mentioned earlier, tweaking each post to fit each social media platform could be challenging. That's not the case with SocialBee since you can customize them accordingly.
Create Post Variations: You can create unlimited post variations right inside SocialBee.
Bulk Editor: Even better, you can change and edit your scheduled posts in bulk, making it easier for you to adjust everything beforehand.
Content Categorization
If you post daily on your social media, you know that one of the best practices is to diversify your content category. Sometimes, you just want to share pure information. Other times, you might want to create promotional posts. Most of the time, you might want to interact and have an engaging conversation with your audience. This practice is especially true when you run a social media agency for brands.
With SocialBee, you can track and create content categories based on your needs. Moreover, SocialBee can help remind you to prepare your posts in advance. With Content Categorization, it is easy to see the big picture of your content plan because you can view it in SocialBee's Content Calendar. Nothing is more frustrating than losing track of what you need to post on social media.
Social Media Analytics
One of the main reasons to use a third-party platform to manage social media is to analyze your social media performance. With SocialBee, you can access valuable data, such as Audience Demography, Real-Time Growth Performance, and Insights, to help you understand your audience. Here are a few examples of the data you can access on SocialBee.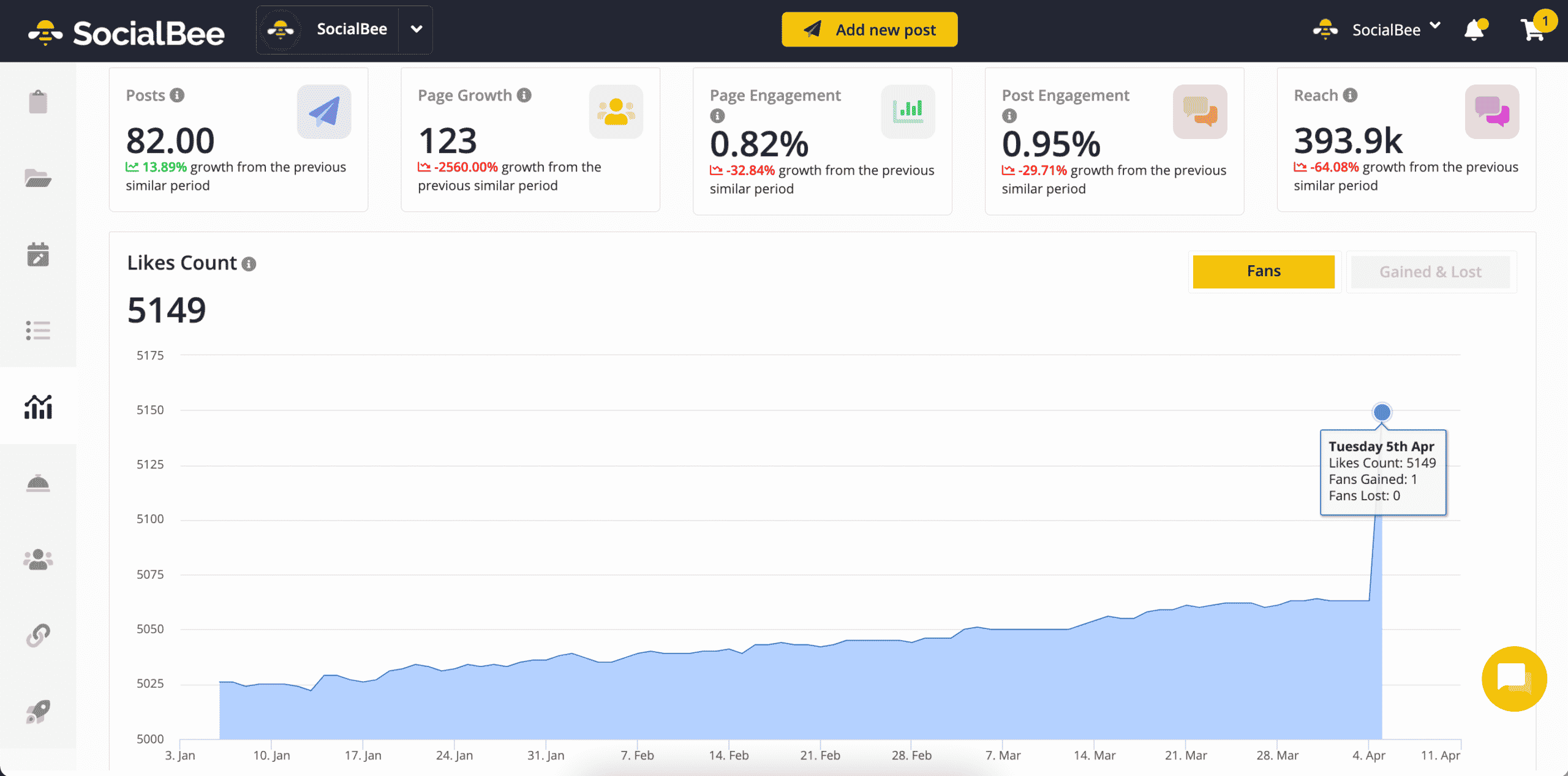 As you can see from the screenshots above, you can track almost every essential metric related to your social media performance. You can monitor your post reach and impressions, engagement rate, likes, comments, shares, and many more. SocialBee covers everything in one analytics dashboard.
Integrations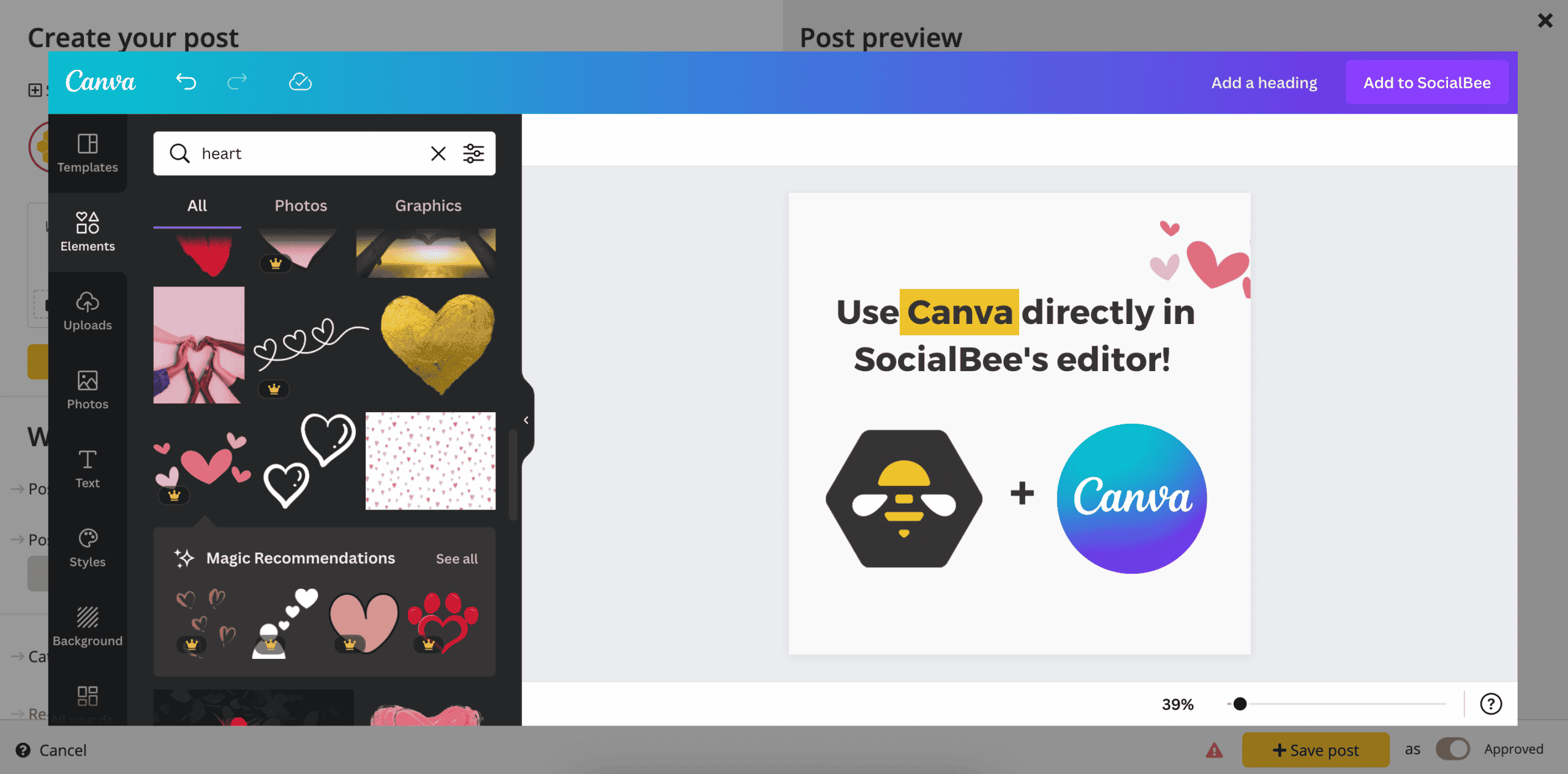 Another feature that makes SocialBee probably one of the best social media management tools is the built-in integrations. You can integrate several platforms, such as Canva, Unsplash, GIPHY, and Quuu. These integrations allow you to accelerate the content creation process inside SocialBee.
Custom URLs & Tracking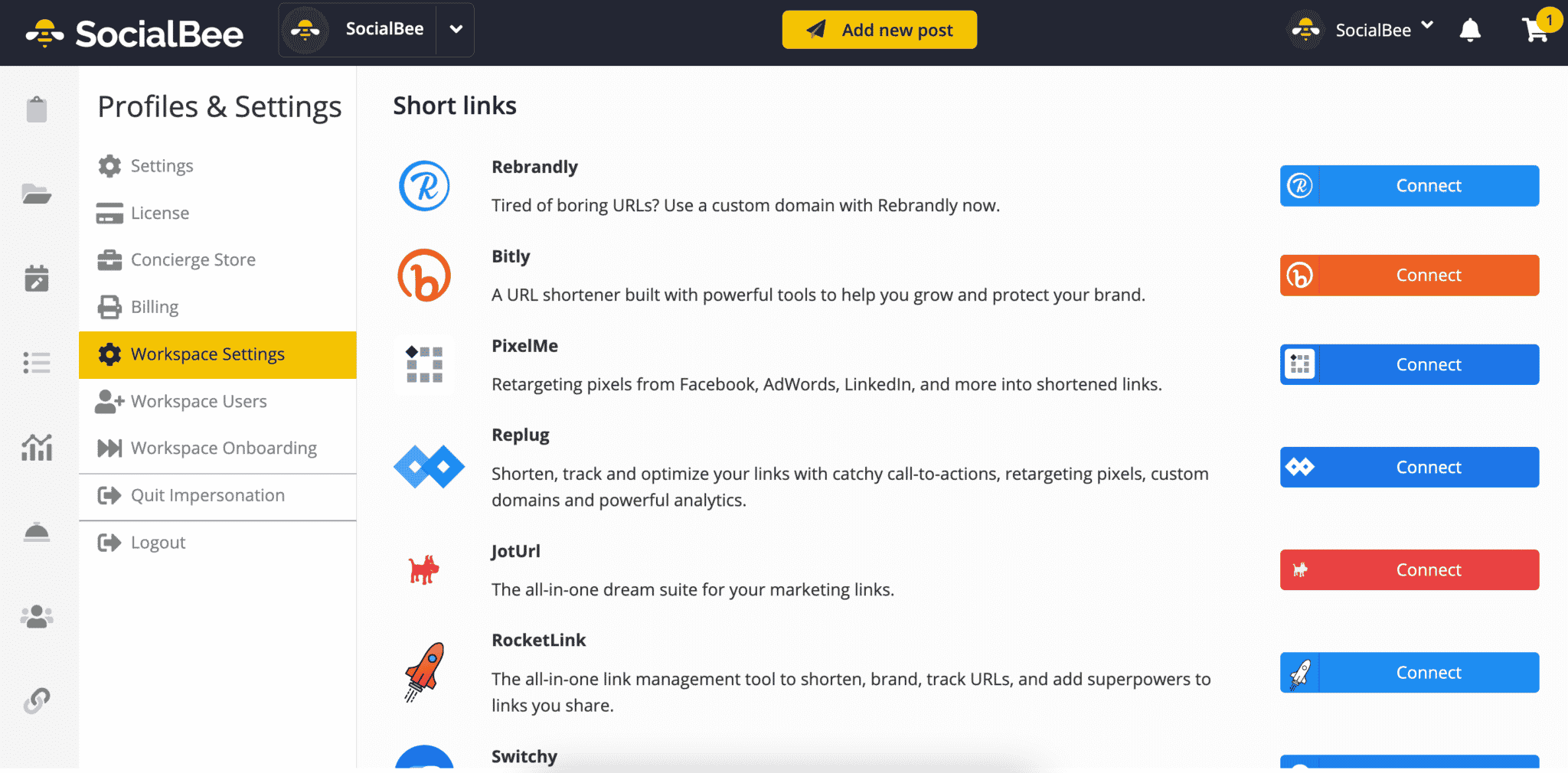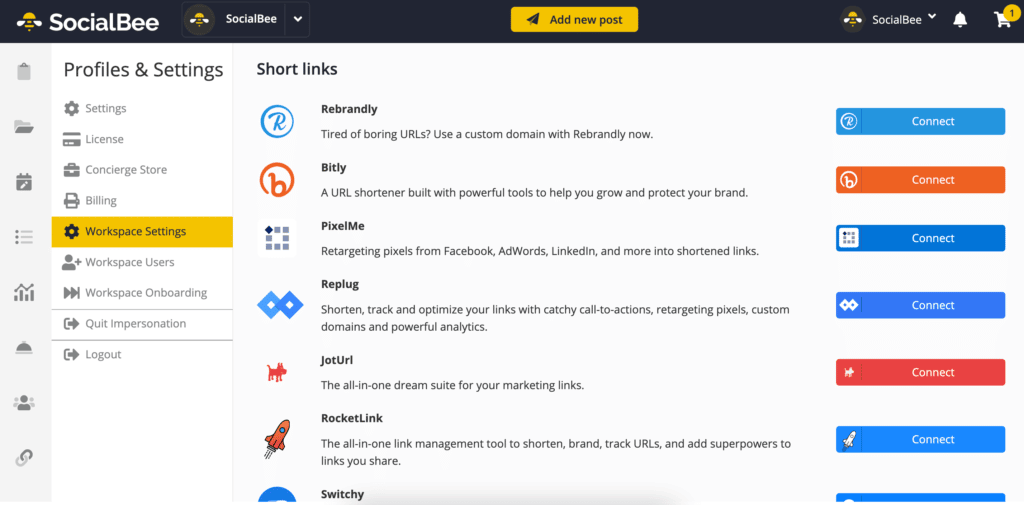 We think this is one of the best features of SocialBee. When you post a URL on your social media post, usually, you'd like to know if people click on your content or not. SocialBee allows you to shorten your link and provide tracking to monitor the result. If you already use other platforms, such as Bit.ly or Rebrand.ly, you can integrate them directly on SocialBee. We believe many people will love this feature since you don't have to open multiple tags and copy-paste everything in your social media post. It's a true time saver.
Collaboration
This feature is suitable for a social media agency. You can invite team members to manage multiple workspaces. It's handy if you handle several brands at once. Moreover, you can customize roles within your team members and assign tasks for them. When everything is done, you can give the final approval and schedule them.
SocialBee Pricing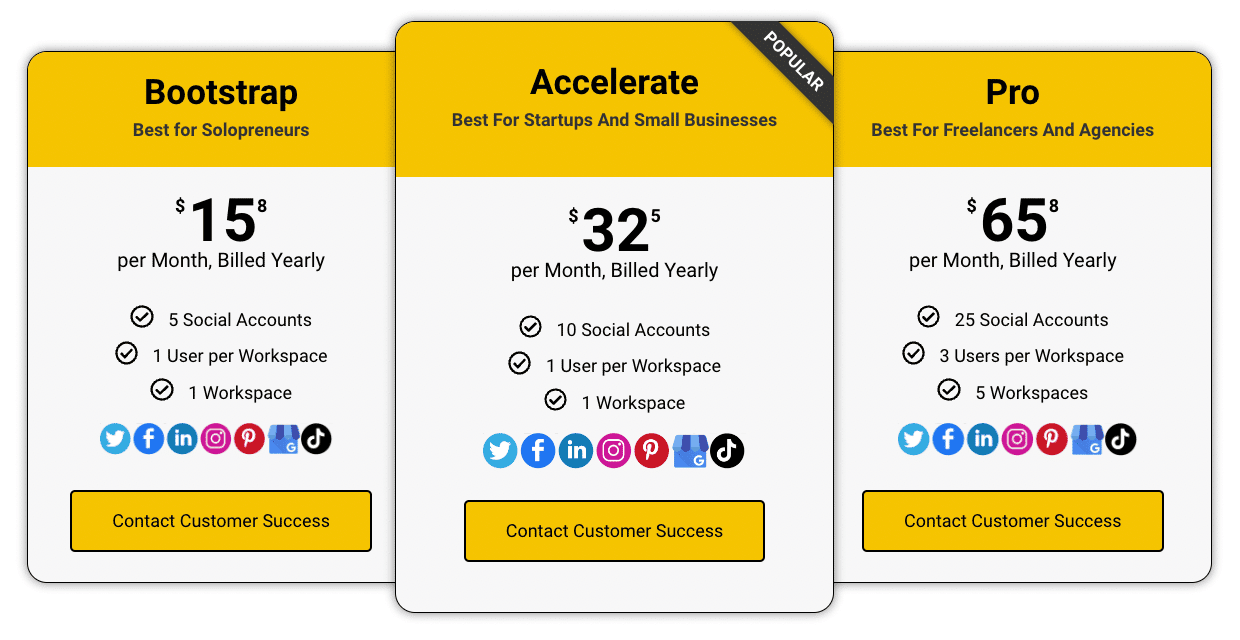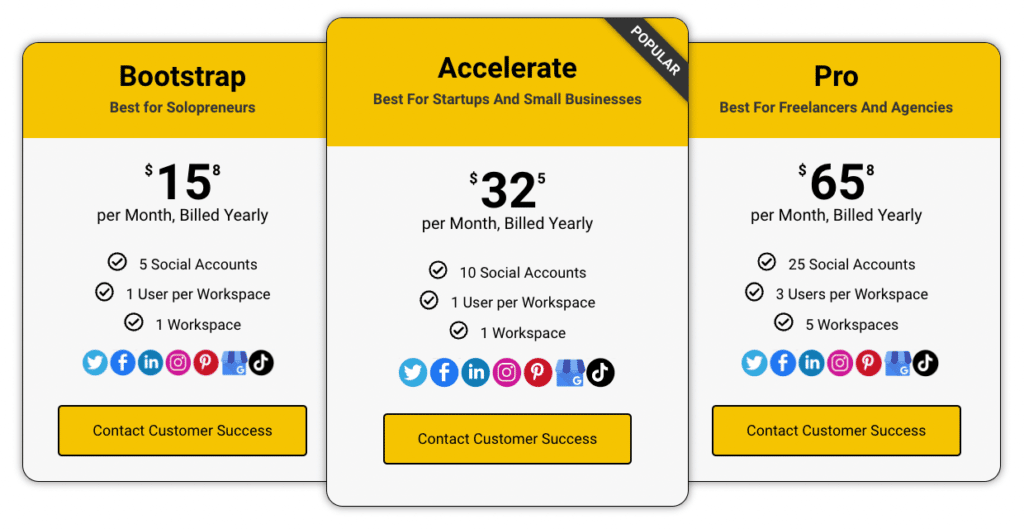 As you can see from the pricing plans above, there are 3 different plans you can choose from. At $15,8 per month on annual payment, you can manage up to 5 social media accounts with the Bootstrap Plan. This plan is suitable for solopreneurs who only manage one brand. However, one of the downsides of this plan is you only get limited analytics access for up to 3 months of data.
The Accelerate Plan allows you to manage 10 social media accounts at $32,5 per month or $390 on an annual payment. If you run a social media marketing agency and handle multiple clients, SocialBee's Pro Plan is most suitable for that purpose.
Generally speaking, we believe SocialBee's pricing is affordable compared to other similar tools. Moreover, you get access to all social media platforms, so you don't have to use different tools to manage multiple social media accounts. If you're considering switching to SocialBee, we believe it would be wise to start with a free trial.
SocialBee Pros and Cons
Despite all the benefits above, there are several pros and cons of using SocialBee as your social media management tool.
Pros
The most versatile social media management tool where you can manage up to 25 social media accounts in one place.
Affordable pricing plan for any kind of business, from solopreneurs to agencies.
SocialBee has various integrations that will help you accelerate the process of content creation.
Access to all analytics across all your social media profiles.
Cons
It takes time to learn about using the platform to the full extent. SocialBee's user interface is not too crowded, but you could get confused if you manage multiple profiles.
One of the downsides of using SocialBee is you can't export PDF reports unless you're in the Pro Plan.
Frequently Asked Questions
Does SocialBee have special pricing for non-profit organizations/ NGOs?
Yes, they have. You can learn more about it here.
What are SocialBee Concierge Services?
In short, you can ask for help with SocialBee's network of specialists to support your social media activities, from content creation to marketing, growth, and many more. However, these are additional services and start from $129 per month. You can explore all of their services here.
Conclusion
To summarize our SocialBee review, we believe SocialBee is the best social media management tool you can use today. We simply couldn't find anything better regarding price, versatility, and features. It has everything you need to fully manage multiple social media accounts in one place. So, if you're looking for the best platform to manage your social media accounts, SocialBee is worth the price and the overall experience.
---