This post contains affiliate links. We may receive a commission for purchases made through these links without any extra cost to you. Thank you for your support.
---
In this Super Affiliate Hacks review, let's find out if this affiliate marketing offer is worth buying.
If you're looking for a shortcut to making money online, you might come across Super Affiliate Hacks by George Wickens. So, before you buy this program, it would be wise to read our review in the first place.
We'll highlight what this program is about and if it could really help you make money in the long run.
Without further ado, let's dive in.
What is Super Affiliate Hacks?
Super Affiliate Hacks is an affiliate marketing education program that gives you tips and tricks about affiliate marketing, email marketing, website traffic, and many more. You can think of Super Affiliate Hacks as in-depth training on how to become a super affiliate.


The program itself was developed by George Wickens, who also created the Super Funnel Hero System. George Wickens is a 7 figure internet marketer who has been around since 2009. Both of his programs are available on WarriorPlus. 


To our surprise, his Super Funnel Hero System sold more than 25,000 times and has a 0% refund rate, which means it satisfies people who bought the program. Moreover, this program is backed up by Jeff Aman from The Click Engine. That's why we'd like to write a review about this program, especially what you get in the first entry sale.
What Do You Get When You Buy Super Affiliate Hacks?
Most reviews out there will never show you inside the member's area because they didn't buy it in the first place. But, we did buy it, and we'll show you a glimpse of what you'll see inside the member's area.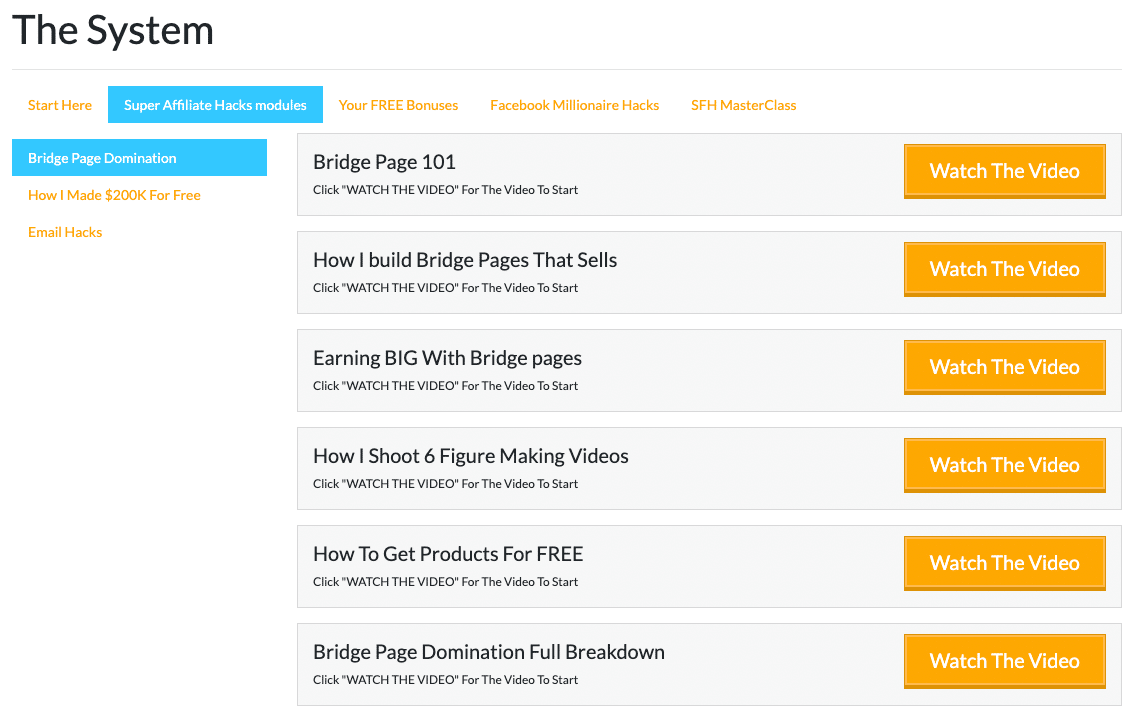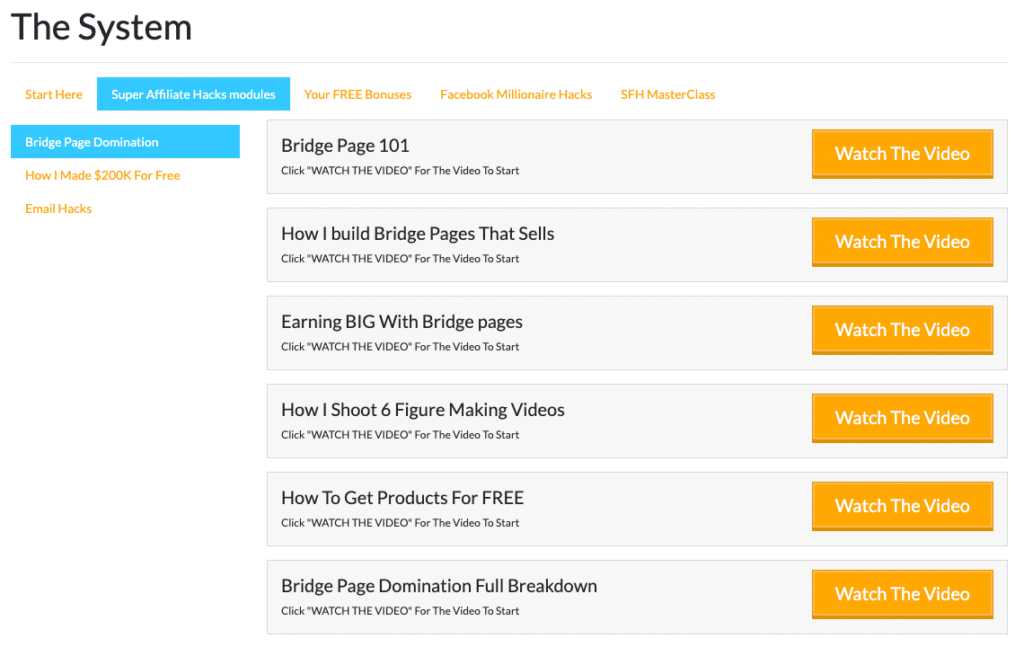 As you can see from the screenshot above, you'll get comprehensive modules with video tutorials on each module. The first module is the Bridge Page Domination module. Inside this module, you'll get access to:
Bridge Page 101
How to Build Bridge Pages that Sells
Earning BIG With Bridge Pages
How to Shoot 6 Figure Making Videos
How to Get Products for Free
Bridge Page Domination Full Breakdown
As for the second module, you'll learn how George made $200,000 for free. Lastly, in the final module, you'll learn about Email Hacks:
Why Email Marketing?
How to Get in the Inbox
Your Perfect Customer and Subscriber
How to Boost Your Features and Benefits
Power of the Click and How to Maximize Profits
The Ultimate Email Format
Proven Strategies for Powerful Email Content


Moreover, this offer has a lot of freebies if you plan on buying it. Here are what you get for free:
Super Funnel Hero System (FREE)
Super Affiliate Secrets (FREE)
Super Funnel Pages (FREE)
Easy Profit Rolodex (FREE)
Live Coaching Session (FREE)
Lifetime Updates (FREE)
Super Affiliate Hacks Pricing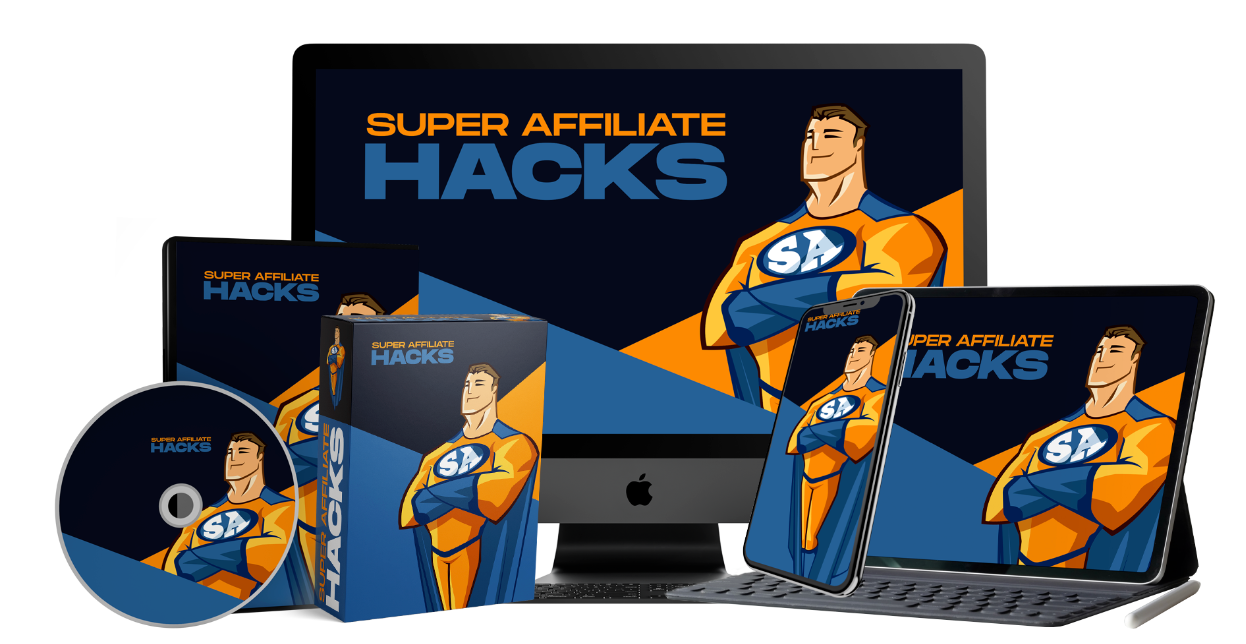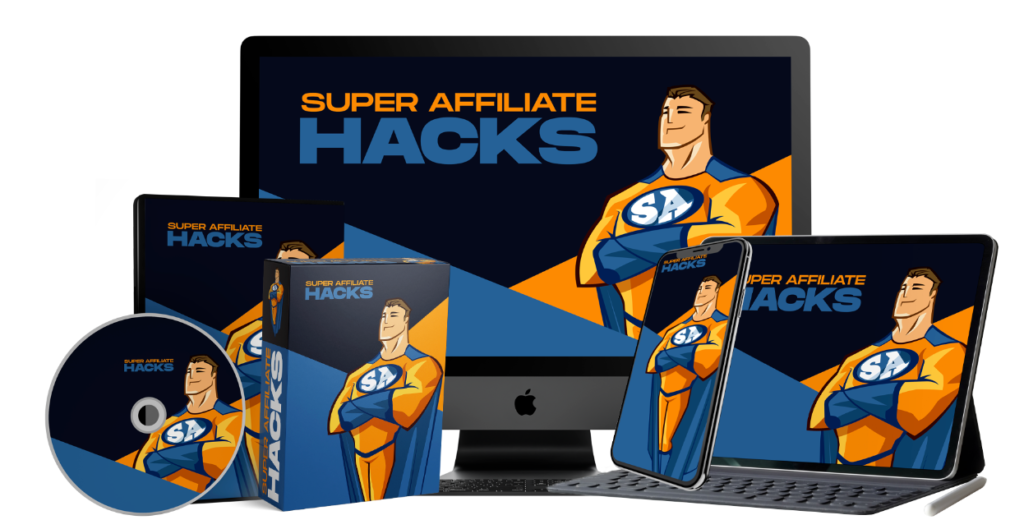 For less than $10 on the launch period, we think it's a great deal. Even after that, the price still makes sense for less than $30.
Super Affiliate Hacks Upsells
If you're interested in more hacks, there are several upsells you can choose from. All of the upsells are one-time offers. So, you don't have to pay monthly recurring to access everything.
$100K Super Affiliate Secrets: This offer will appear on the checkout page of WarriorPlus. This will cost you $14,97.
Facebook Millions Hacks: This offer will appear after you make your first-entry purchase. This offer will cost you $97.
Super Funnel Hero Masterclass: This offer will also cost you $97.
JV For You: This offer is a super affiliate program for people who want more personalized service from George. It's a done-for-you system where you can get one-on-one coaching calls with George and free clicks to your funnel. This offer will cost you a whopping $997.
Super Affiliate Hacks Pros and Cons
As we watched the videos and learned throughout the training material, there are several pros and cons you would like to consider before buying this program.
Pros
One-time payment without any hidden fees. You get what you pay for. There is no need to pay monthly to access what you paid.
All the training materials are video recorded, so you can learn at your own pace.
You get a 30-day money-back guarantee if you think the system doesn't fit your needs.
Cons
So far, there is nothing to dislike about this offer. However, the upsells are more expensive, but we're pretty sure it's worth the value.
Conclusion
To summarize our Super Affiliate Hacks review, we think this offer is suitable for anyone who wants to learn about making money online at an affordable first-entry price. It has comprehensive video training full of valuable information to help set up a bridge page in your sales funnel. Moreover, you got information related to email marketing as well.
However, if you're just starting out, making money online is not as easy as it looks. Although these hacks are proven for George, it doesn't mean you can get the same result within days. There is no such thing as a get-rich-quick scheme in making money online. But, we believe George's proven methods are good enough as a reference for people who want to make money online. So, if you'd like to spend your money to buy George's hacks for $9,95, it's worth buying.
---