---
In this LeadsLeap review, we'll show you how to drive 100% genuine traffic to your website.
We've been using LeadsLeap for about 3 months now. It's one of our main tools to drive traffic to our site. With the recent launch of LeadsLeap 4.0, we believe this is the perfect time to publish our LeadsLeap review. In fact, this might be the ultimate guide about LeadsLeap you'll ever find.
So, without further ado, let's dive in!
What is LeadsLeap?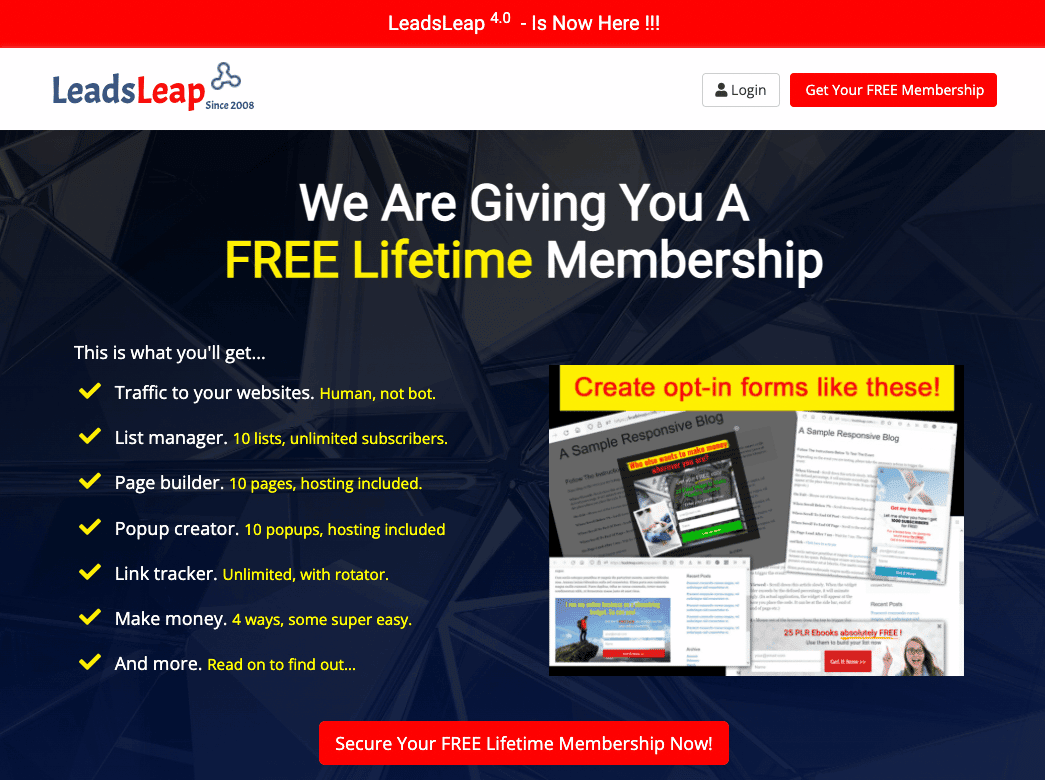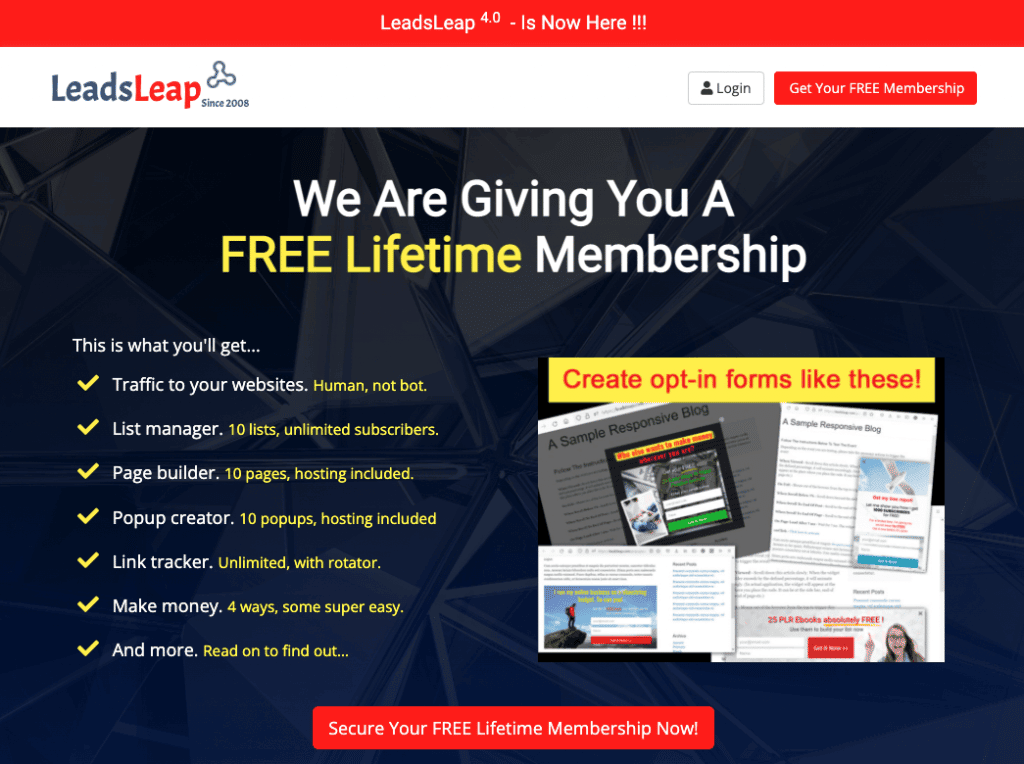 LeadsLeap is a marketing and traffic exchange platform to help you grow your online business from scratch. LeadsLeap has many features, and many of them are free to use. As you go through this LeadsLeap review, you'll notice that LeadsLeap has everything you need to start and grow your online business.
The site itself was launched back in 2008. In other words, LeadsLeap has been around for more than 10 years! So, the fact that this site is still around and attracts many online marketers is a good sign that it's a legitimate service. Take a look at these testimonials below.


LeadsLead was founded by Kenneth Koh from Singapore. When you sign up as a LeadsLeap member, you will get an email series from Kenneth. He will be talking about his life lessons. These are long email series, but it's full of valuable lessons. Through his email series, you will understand why Kenneth built LeadsLeap in the first place.
Currently, LeadsLeap has more than 170.000 members. If you're into affiliate marketing, you will find a lot of affiliate programs and new business opportunities on this platform. In fact, most of the advertisements on LeadsLeap are related to the MMO (make-money-online) niche. So, it's a great place to find the one that suits your needs.
How does LeadsLeap Work?
LeadsLeap's primary business is traffic exchange and advertising, which means you can drive traffic to any link you want using LeadsLeap features. As you might have guessed, you need to click on other members' ads to get traffic to your link.
With the recent addition of LeadsLeap Traffic Coop, LeadsLeap Pro members could drive more than 4,000+ traffic every month on autopilot. We'll cover more as we talk about LeadsLeap features in the next section.
LeadsLeap Features
In this LeadsLeap review, we'll try to explain everything about LeadsLeap. We will give you a brief introduction to the membership area.

As you might notice from the screenshot above, there are 7 menus you can access as a LeadsLeap member:
Traffic
Tracker
Tools
Money
My Followers
Affiliate
Learn
We will highlight everything by dividing these menus into two categories, Free and Paid or Pro Tools.
Free LeadsLeap Tools
As a free LeadsLeap member, these are the list of tools you can use for free.
Post Credit Ads: You can use this feature to drive traffic to your site. It's the bread and butter of LeadsLeap as a traffic exchange site. We will cover more on how to set up this feature later.

View Bookmarked Ads: While surfing on LeadsLeap, you can bookmark the ads that you find interesting. So, you can explore them later. This feature is handy if you find a good sales funnel or new business opportunities.

Social Review: With thousands of active members, LeadsLeap has been a place where members can write a review about many affiliate programs on the internet. You can read those reviews to learn more about the program before deciding to apply for it.

Tracker: One of the best features you can use as a free member is the Link Tracker. What's cool about this feature is the LeadsLeap Link Tracker can identify real visitors and tell you how long they've been surfing on your link. It's a handy tool we use to track our affiliate links. We'll cover more about this feature in a dedicated section later.

Rotators: A rotator is a link that contains several links inside it. When you click on a rotator, the first link you see will be different when you click again. In other words, a rotator works by rotating a list of links inside it. As a free LeadsLeap member, you can get up to 10 links in your rotator.

Ad Bars: This feature will showcase a red bar on the top of your link. So, if your visitor clicks on that bar, they will be redirected to your targeted link. You can think of it as a clickbait headline to drive visitors to your website.

SendSteed Email Marketing: LeadsLeap also has its own email marketing service called SendSteed. It's a free email marketing platform with limited features. If you'd like to know more about it, we happen to write a dedicated review about SendSteed.

Page Builder: If you need to create a custom landing page to capture email addresses, you can use the free page builder to do it. Moreover, LeadsLeap provides various templates you can use for free, so you don't have to create them from scratch. Simply customize your page copy and images, and you're good to go. We'll cover more about how to create a landing page using LeadsLeap later.

Form/Popup Generator: Did you notice the full-screen popup on our website? We made it using LeadsLeap PopupXpert. Like the page builder, you don't have to worry about creating everything from scratch. LeadsLeap has more than enough templates to help you create a professional-looking popup for free. We will also cover more about this later in the how-to section.
LeadsLeap Pro Features
Most of the LeadsLeap Pro features are improved versions of the free features you can use. However, there are several features we think are worth mentioning.
Post Pro Ads: As a Pro member, you can set up 10 ads on LeadsLeap to run on autopilot 24/7. For us, it's one of the reasons to upgrade our membership to Pro. Imagine getting thousands of genuine traffic to your offer without doing anything. It's only possible with LeadsLeap.

Submit Social Review: Generally speaking, LeadsLeap is a website. So, if you don't want to worry about creating your site, you can use LeadsLeap Social Review as your medium to write reviews. As a Pro Member, you can submit your review to LeadsLeap to gain traffic and leads to your offer. It's a powerful feature to get additional traffic every month.

Traffic Coop: This new feature was released at the end of July 2022 to improve LeadsLeap overall traffic to all of the members' ads. Based on our previous experience, LeadsLeap's monthly traffic could only drive around 1,000 visitors per month. But, after the launch of Traffic Coop, the traffic to our links quadrupled to up to 4,000 visitors per month!

Custom Path/URL Slug: When you create a landing page or track a URL on LeadsLeap. You will get random words and numbers as your URL. We think it's a bit ugly. But, when you upgrade to Pro, you can customize it to anything you want. It's a handy feature to showcase a professional-looking URL to your audience.

Email Series: You can create unlimited autoresponders to your list on SendSteed. It's called Email Series here.

Top Recommendations: As you recruit affiliates to join LeadsLeap, one of the best ways to promote your affiliate link is by listing your reviews into top recommendations. Your followers on LeadsLeap will be able to see your top recommendations when they visit your profile.

Newsletter Booster: When you write reviews on LeadsLeap, they could be featured in the weekly newsletters. Moreover, it's not just showcasing your link so people can read it on LeadsLeap. It's an actual review inside the newsletter.

Hosting Services: As a Pro member, you can host files and images inside LeadsLeap hosting services. You can host up to 100MB of files like PDFs and images on LeadsLeap.

Higher Earning Ability: If you become a LeadsLeap Pro member, you get a higher commission scheme at 50% when your referrals upgrade to Pro.
LeadsLeap How To
In this section, let us show you how to use LeadsLeap features by providing an easy step-by-step process you can follow.
How to Set Up Post Credit Ads
First, we'll show you how to set up Post Credit Ads. As we said earlier, credit ads are the bread and butter of LeadsLeap service. After all, it's a traffic exchange by nature.
As a free member, you can only set 3 credit ads. We think it wouldn't be enough, so that's another reason to upgrade to Pro since you can create 10 ads and run them simultaneously.
To set up your post credit ads, hit the Add A New Ad button.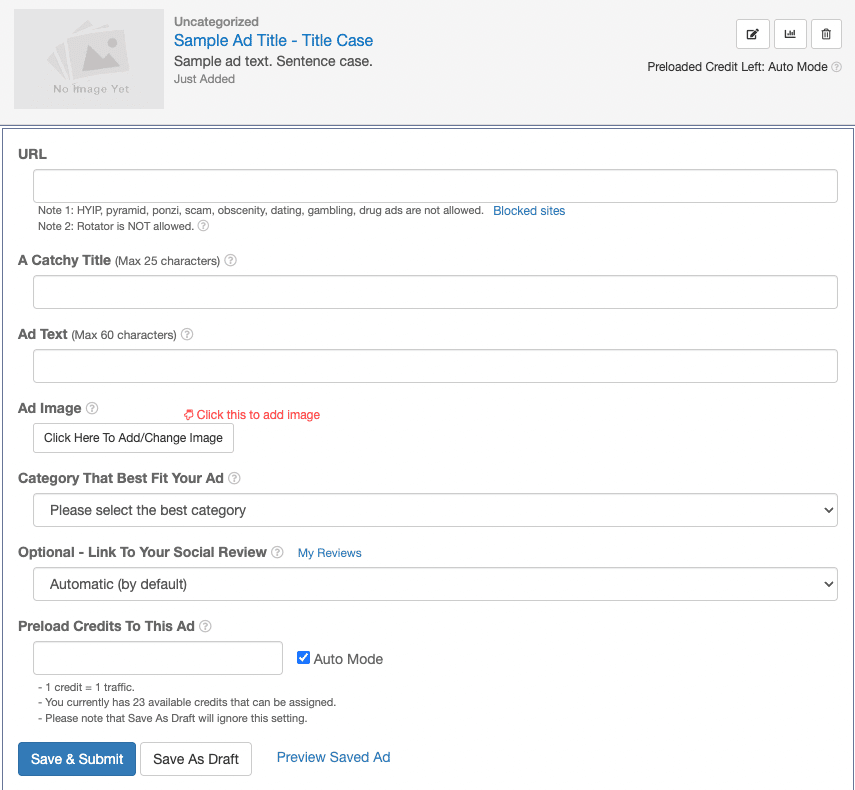 As you can see from the screenshot above, you must fill in all the rows to activate your ad.
URL: Fill it with the URL you want. It could be your affiliate link or website link.
A Catchy Title: Limited to 25 characters max. You can create a headline for your ads.
Ad Text: To support your headline, you can create a sub-headline for your ads. It's good to elaborate your headline with informational sentences. The limit is at 60 characters max.
Ad Image: An ad is not complete with a supporting ad image.
Category That Best Fits Your Ad: There are several categories you can choose, such as Traffic, IM Tools, BizOpp, and many more.
Optional – Link To Your Social Review: If you already write a review on LeadsLeap Social Review, you can link it using this feature.
Preload Credits To This Ad: As a free member, you can surf ads from other members to gain credits. This credit will determine the number of traffic you'll get. We set it on auto mode to distribute the traffic evenly.
To submit your free ads, you need to surf and gain 10 credits for each ad. Your ad will then get reviewed by LeadsLeap within 24 hours before other LeadsLeap members can see it. However, LeadsLeap Pro members don't have to do this since every ad will be automatically approved as long as it doesn't violate LeadsLeap guidelines.
How to Set Up Link Tracker
Go to the Track Links menu and click the Add a New Track Link button. You will see a popup like in this screenshot below.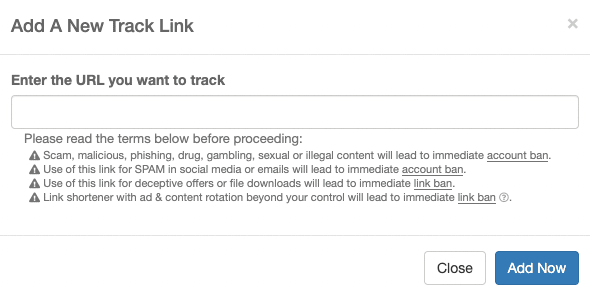 Insert the URL you want to track. This can be your affiliate offers, landing page, email capture page, and many more. Later on, you can put this link on another traffic exchange site or LeadsLeap itself.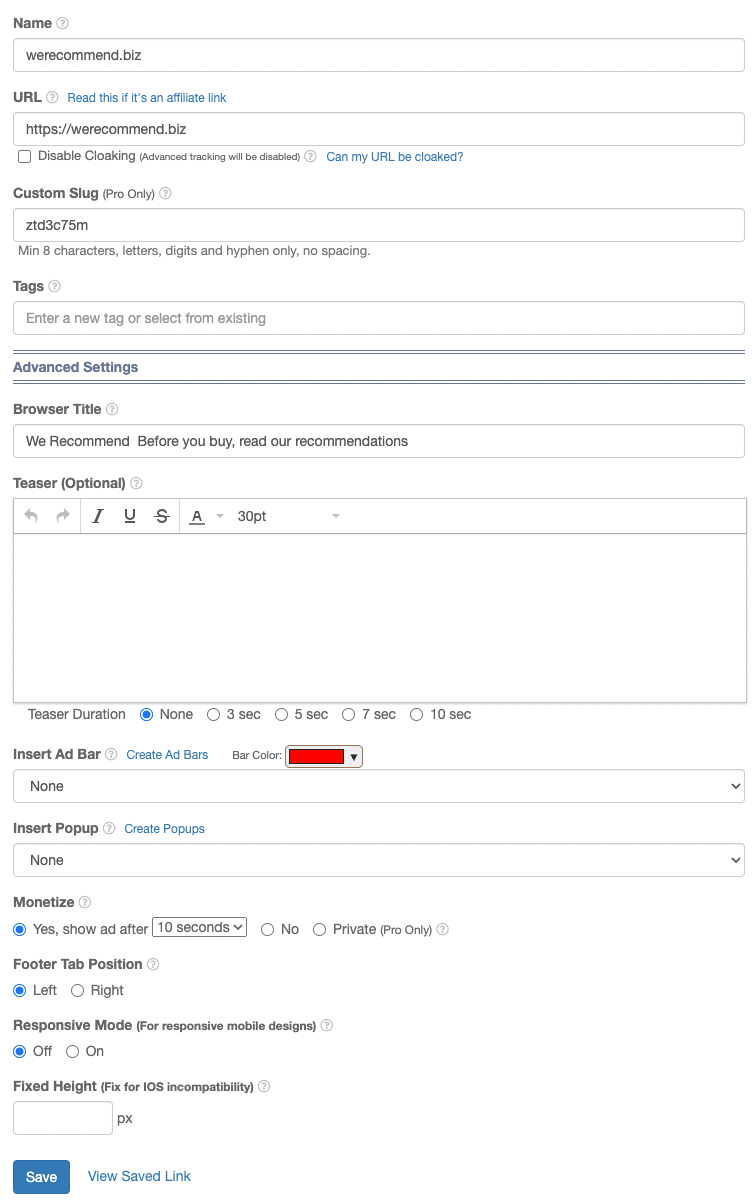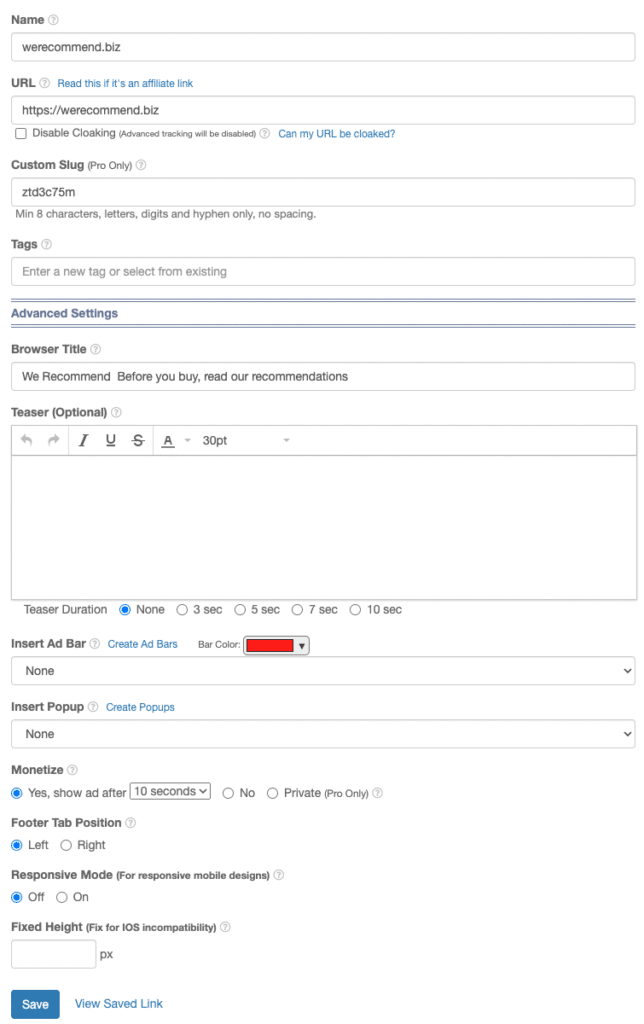 As you can see from the screenshot above, there are several rows you need to fill in.
Name: Fill in the name of the link with anything you want.
URL: The actual URL of the link.
Custom Slug: If you are a Pro member, you can customize your URL slug.
Tags: You can use tags to manage links if you have many links to track.
Browser Title: You can customize the browser title and showcase it when someone visits your link.
Teaser: You can also create a teaser before the link you tracked fully loads. This feature acts as a presell before the actual sales page.
Insert Ad Bar: As the name says, you can choose to insert Ad Bar to show at the top of the link.
Insert Popup: You can also choose to showcase your Popup Form.
Monetize: You have the option to monetize your link by showing ads by LeadsLeap.
Footer Tab Position: This will be the position to showcase ads from LeadsLeap.
Responsive Mode: You need to turn the responsive mode on if your link is also responsive on a mobile device.
Fixed Height: Some web designs don't work on iOS due to incompatibility. This feature could help you resolve those issues. However, most of the time, you can leave it empty.
Don't forget to hit the Save button after customizing your link settings.
Pro Tip????
Another great thing you can do is integrate Ad Bars, Popups, and Monetize to your link.
How to Set Up Rotators
From the Rotators menu, click on Add a New Rotator button to customize your rotator. You can add links from your Link Tracker to the rotator. Take a look at this screen below.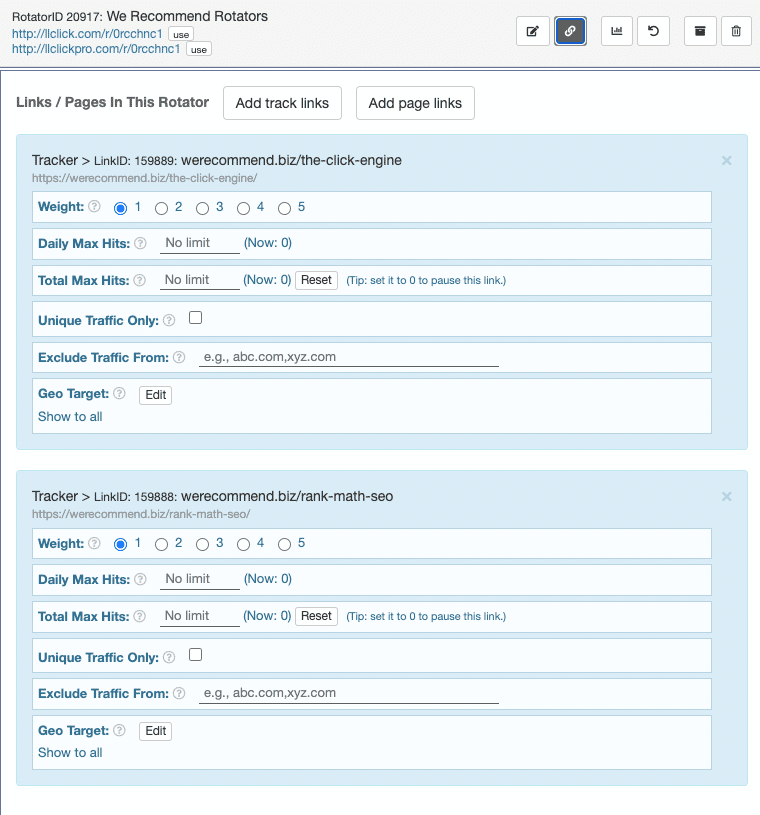 If you're still confused with link rotators, here's a simple way to understand them.
Let's say you have 3 different links and 3 different capture pages. You can put all of those links and capture pages on link rotators. When you send traffic to your link rotators, your visitor will be redirected to one of the links inside. You can adjust the weight of each link from 1 to 5. Higher numbers mean it will be shown more frequently than lower numbers.
For example, let's say you have 2 links. For the first link, you set the weight at 5. For the second link, you set the weight at 3. So, every 8 rotations, your first link will roughly show 5 times, and the second link will roughly show 3 times.
We use the word roughly because it is an algorithm called Weighted Random. This same principle works on The Click Engine.
How to Set Up Ad Bars
From the Ad Bars menu, click on Add A New Ad Bar button to customize your ad bar. Take a look at this screenshot below.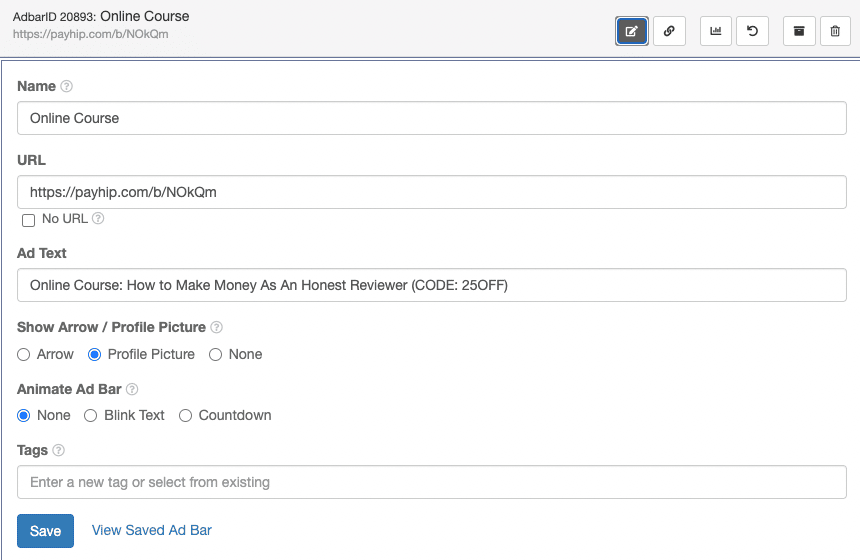 You can add a custom link to your ad bar. Moreover, you can create an ad text to show. In the example above, we use the ad bar to promote our online course coupon code. You can customize your ad bar to show an arrow or a profile picture. Furthermore, you can also animate your ad bar if you want. This is what our ad bar looks like.

How to Set Up Page Builders
Firstly, hit the Add a New Campaign button, and fill it with a campaign name.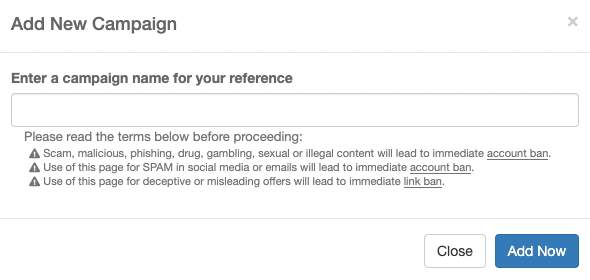 After that, you can add a browser title to your page accordingly. We recommend filling your browser title with a short sentence related to your campaign.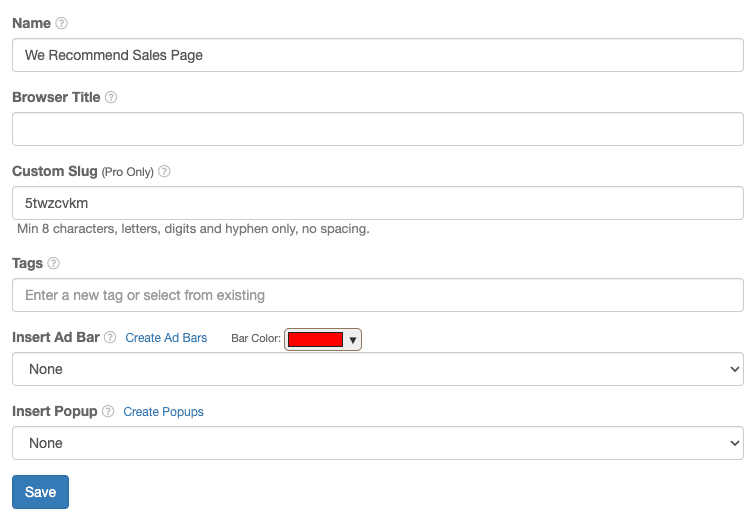 Based on your preference and marketing strategy, you can use the Ad Bar or Insert Popup feature on your page. Lastly, click the Save button to proceed to the next step.
Now, click the + Add A New Page button, and you'll see a screenshot like this below.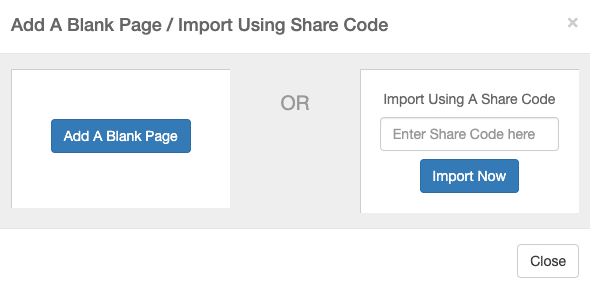 You can choose to Add A Blank Page or Import Using A Share Code. To start designing your page from scratch, select the add a blank page and proceed accordingly. However, if you have another LeadsLeap member that already creates a funnel on LeadsLeap, you can import them by entering the share code.
To start designing your page from scratch, click the Launch Editor button, and you can customize your page based on the templates provided by LeadsLeap.

To activate the page, don't forget to set the status from Inactive to Active.
How to Set Up Form/Popup
The process is similar to creating a page. First, you can start by clicking the Add A New Campaign button and filling it with a campaign name.

PopupXpert works similarly to Page Builder. You can either Add A New Form or Import Using A Share Code.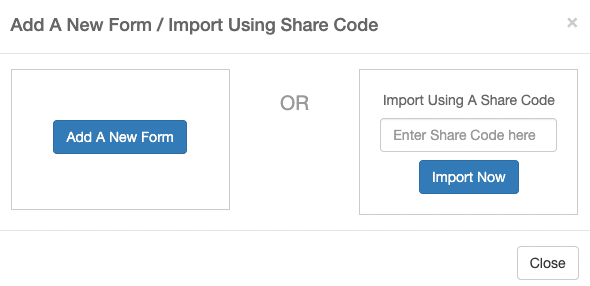 To design your form, click the Launch Editor button and customize it from the available templates.

Don't forget to change the status from Inactive to Active after finishing everything.
How to Earn Credits From LeadsLeap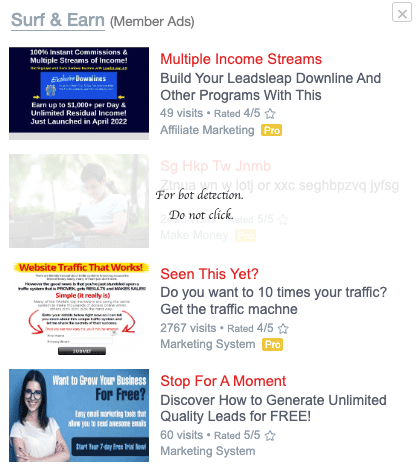 On the right side of the membership area, you'll see a section named: Surf & Earn. Click on one of the Ads with a Pro label. A new window will open, and you'll see a screen like this.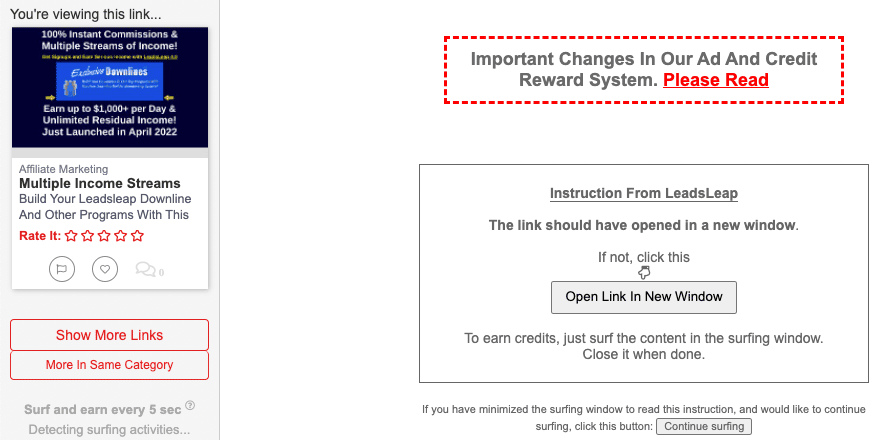 The next thing you do is hit the Open Link in New Window button. On the left side of the screen, you will notice this sentence, "Surfing started…"

At the bottom of the screen, you will see a tracker showing you how many clicks you have done.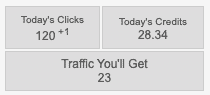 You will also see how many credits you have accumulated. Moreover, you can also see the amount of traffic you will get in exchange for those credits. After you're done viewing the ads, you can close them.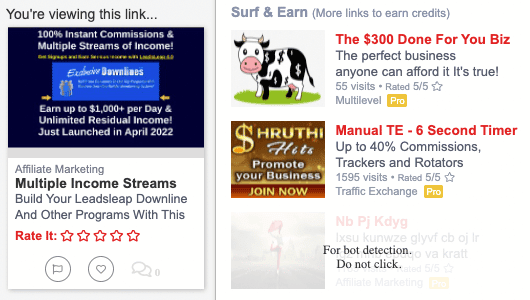 As you might notice, there are 3 advertisements to see, but one of them is marked: For bot detection. Do not click. Click on one of the other two ads and wait until the "Surfing started…" message appears. This is how LeadsLeap can drive 100% human traffic to your site.
Pro Tip????
If you want to earn credits fast, click on Pro Ads. These ads will give you more credit than regular ads.
How to Set Up PPC Widget Code
First, you need to click the Get PPC Widget Code.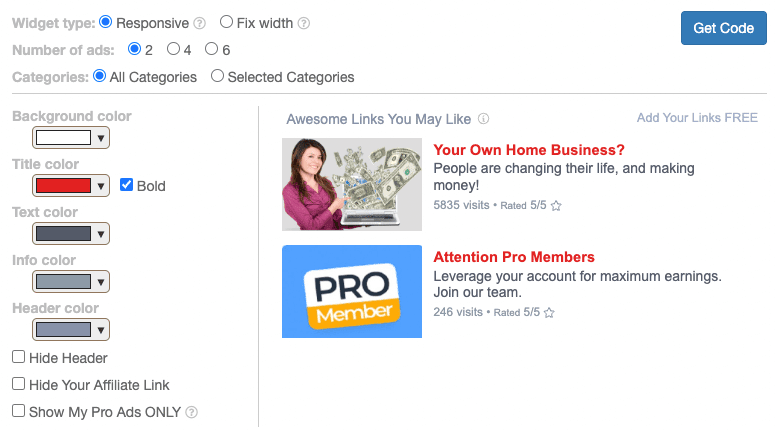 After that, you can set your widget type, the number of ads (you can showcase up to 6 ads), and categories related to your niche. Moreover, you can also customize whether you want to hide/show your header and affiliate links. After customizing your widget, hit the Get The Code Button and follow the instructions.
If you don't own a website, you can show LeadsLeap PPC Widget on your page (the one you created with Page Builder). As a Pro member, you could showcase only your Pro Ads. We found this feature very helpful since it will drive traffic and generate leads to your affiliate offers.
Can You Make Money With LeadsLeap?
This might be one of the most common questions about LeadsLeap. However, if you go to the Money section, you will find 5 ways to make money on LeadsLeap. These are:
Daily Active Bonus
Credit Encashment
Coop Earnings
PPC Earnings
Affiliate Commissions
Daily Active Bonus
Daily Active Bonus is a way LeadsLeap to thank its members for being active. They do it by sharing 5% (Free Member) or 10% (Pro Member) of their earnings based on the credits you gathered. To receive this daily earning, the minimum click you need to do is only 10 clicks. In other words, the more you click, the more daily active bonus you'll get.
For your information, LeadsLeap's server will reset at Singapore time (GMT +8:00). However, as Pro Members, we try to surf at least 30 or 60 ads daily to get more bonuses. It could be tiring and considered a monotonous job. But, if you have free time, you can utilize it.
Credit Encashment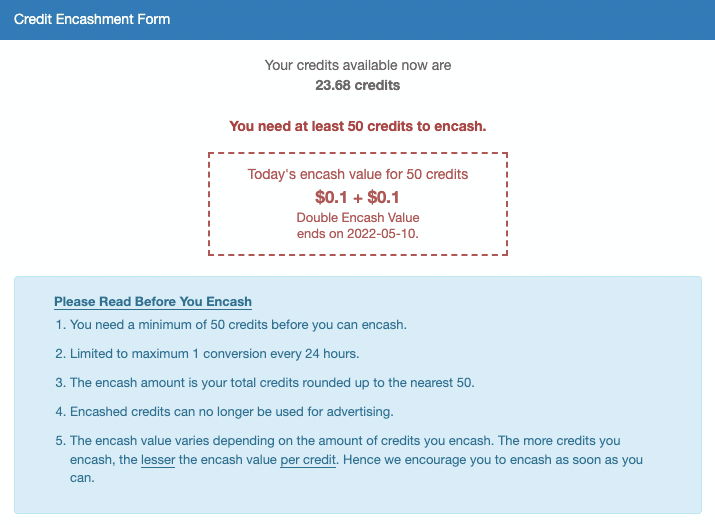 If you have plenty of time and can surf for at least 3 to 4 hours daily, you can exchange your credits for cash. This is an opportunity for free members to earn by clicking on ads.
You need a minimum of 50 credits to encash your credits. The ratio is $0,1 for every 50 credits. Let's do a simple math here, to earn $1 every day, you need 500 credits. Based on our experience, you can get 30 credits by clicking at least 60-90 ads.
If an ad view takes about 10 seconds, including load time, you can view 6 ads within a minute. In 10 minutes, you can view 60 ads. In an hour, you can view 360 ads. Assuming that 30 credits could be achieved by viewing 60 ads, you need at least 2 hours to get 500 credits, which could be converted to $1.
Coop Earnings
LeadsLeap's new feature, Traffic Coop, is another way you can do to make money every day with LeadsLeap. Since Traffic Coop earning is calculated after 5 seconds of viewing a co-op ad, you can share your Traffic Coop link to another traffic exchange site or safelist mailer to get more views.
PPC Earnings
If you own a website, you can earn money through PPC advertising. As you might already know, PPC stands for Pay Per Click. So, when you show LeadsLeap Ad to your visitors, and they click on the Ad, you can earn money. Similar to Coop Earnings, PPC earnings are calculated every Friday.
Moreover, as stated in the members' area:
The earning calculation is based on the number of traffic, uniqueness, surfing duration, geographical location, and our earnings that week.
However, it's calculated only for non-member visitors, and you are not allowed to click the ads in your own ad widget. So, whatever you do, do not click on it.
Affiliate Commissions
One of the best ways to make money with LeadsLeap is to invite people to become new members on the platform itself. At first, we're only using LeadsLeap for free. But, after a while, we think it's worth upgrading by paying $19,9 a month to get all these benefits we have explained to you.
Moreover, if you are a Pro member, you'll get a 50% commission on every Pro member upgrade from your referrals. The minimum withdrawal is $10, and you can get paid through PayPal, Wise, or Bitcoin.
LeadsLeap Affiliate Program
Here, you can find all the resources you need to promote LeadsLeap and invite referrals. Your referrals are also called Followers, and there is a menu that you can use to monitor and interact with them.
Followers
Those who signed up using your referral link will be shown in this menu.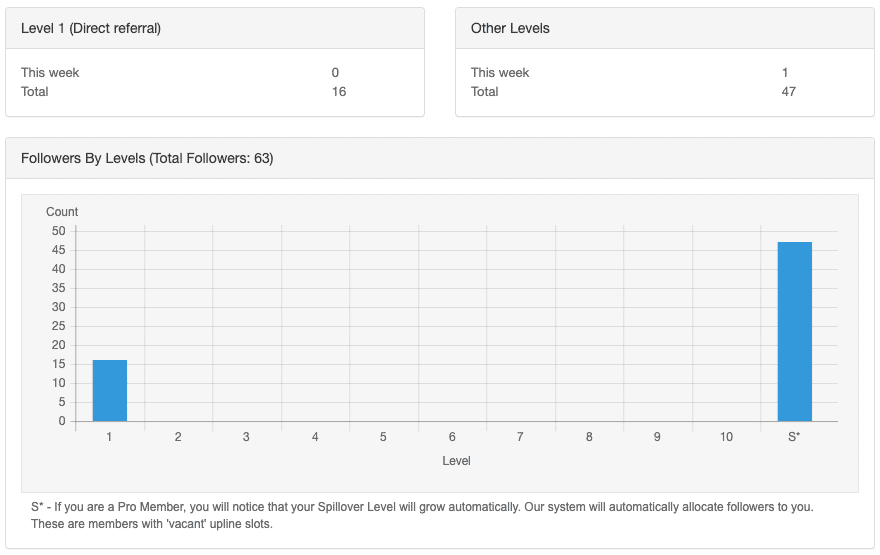 As you can see from the screenshot above, there are two types of referrals on LeadsLeap. Level 1 (direct referrals) and Other Levels (referrals from one of your referrals).
What's unique about LeadsLeap's referral system is that you can earn an overriding credit from your referrals. In short, the more referrals you get, the more you can earn credits and traffic to your affiliate offers.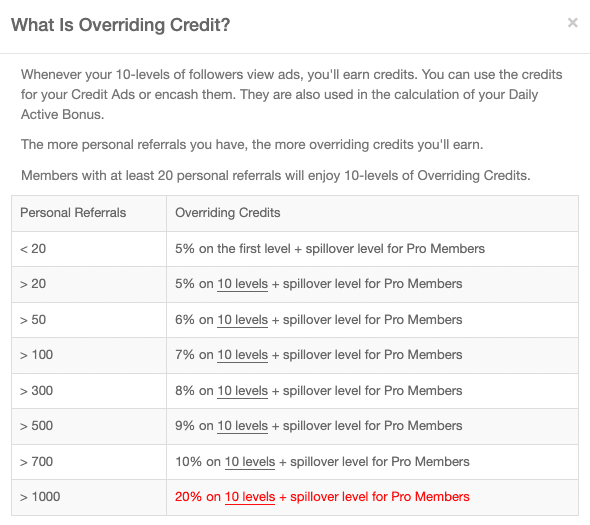 You need at least 20 personal referrals to enjoy 10-levels of these overriding credits.
Message Followers
You can also send a message to your followers and direct them to your offer. More importantly, if you have more than 20 direct referrals, your message will be seen by your 10 levels of followers. So, there is a high chance more people can visit the link you are promoting.
Affiliate Links & Tools

You will find all your affiliate links and resources here. Moreover, you can also learn how to promote LeadsLeap through a list, blog, forums, and traffic exchange networks. Not only that, but you will also get pre-built email swipes to send to your list.
If you already have a website, you can add banners to showcase them to your visitors. Just in case you're wondering, the answer is yes. People do click on banners.
Affiliate Traffic Stats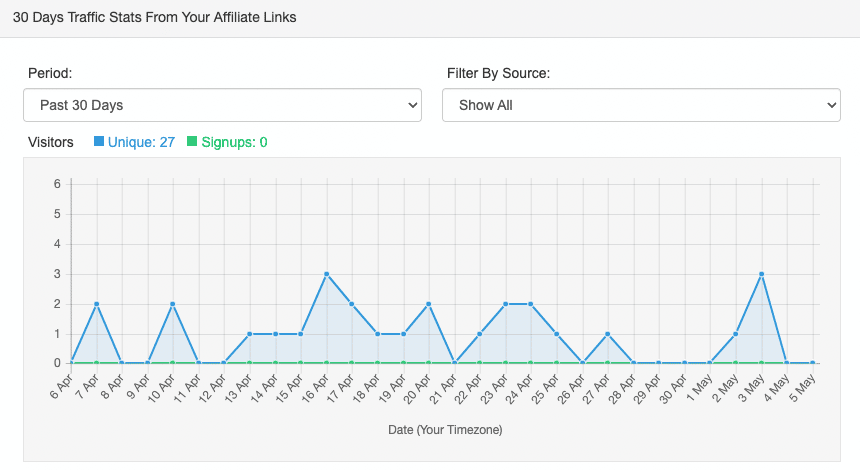 You can monitor how your affiliate links perform here. Moreover, you can also track its source. So, you will know which method works best to promote your affiliate links.
Free eBooks
After all of these free features, you still get an ebook for free to promote as a lead magnet. There are two ebooks you can use to promote to your audience:
Insider Advertising Report
This ebook is written by Kenneth Koh himself. It consists of 17 chapters to help you create better advertisements for your online business. Here's what other people said about this ebook.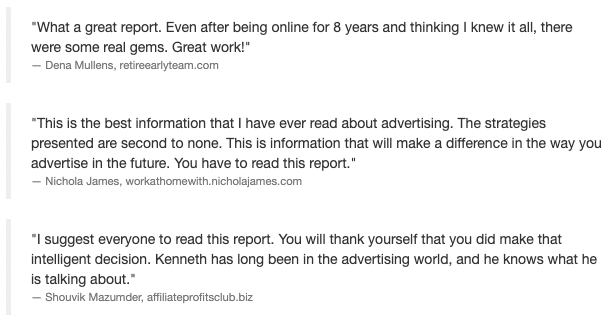 One Sign-up A Day
One of the LeadsLeap members, Andre Zunde, wrote this report. He explained how he built a network of more than 20,000 leads through the LeadsLeap system.
LeadsLeap Pricing
Here is a table of comparisons between Free and Pro membership.
One of the powerful benefits of Pro membership is you can run up to 10 ads 24/7 on the LeadsLeap network. In other words, you will have 100% traffic on auto-pilot. Another great benefit is you can create an unlimited funnel. You will also earn a 50% recurring commission from your referrals.
Pro Tip????
You can pay for an upgrade using the credits you have accumulated.
Frequently Asked Questions
Is LeadsLeap legit?
Yes. LeadsLeap is a legit platform that has been around for more than 10 years. It's one of the best platforms to grow your business with all of the features and benefits it has to offer to its members.
Is there any LeadsLeap alternative?
Generally speaking, LeadsLeap's service is one of a kind you can't find anywhere else. It's an ad network, traffic exchange, email marketing, page builder, and lead generation platform that exceeds our expectations.
Conclusion
To summarize our LeadsLeap review, you can use LeadsLeap to drive 100% genuine traffic to your website. Since we have outlined every feature you can use as a Free and Pro member, we strongly recommend using LeadsLeap as an all-in-one marketing tool for every level.
If you find the user interface overwhelming, check the tutorial page on every menu. Everything is covered, and it's well written. Moreover, if you're into affiliate marketing, we believe this is one of the must-have tools you need.
---