This post contains affiliate links. We may receive a commission for purchases made through these links without any extra cost to you. Thank you for your support.
---
In this LeadsLeap review, we'll show you how to drive 100% genuine traffic to your website.
We've been using LeadsLeap for about 3 months now.
It's one of our main tools to drive traffic to our site.
With the recent launch of LeadsLeap 4.0, we believe this is the perfect time to publish our LeadsLeap review.
In fact, this might be the ultimate guide about LeadsLeap you'll ever find.
Let's dive in!
What is LeadsLeap?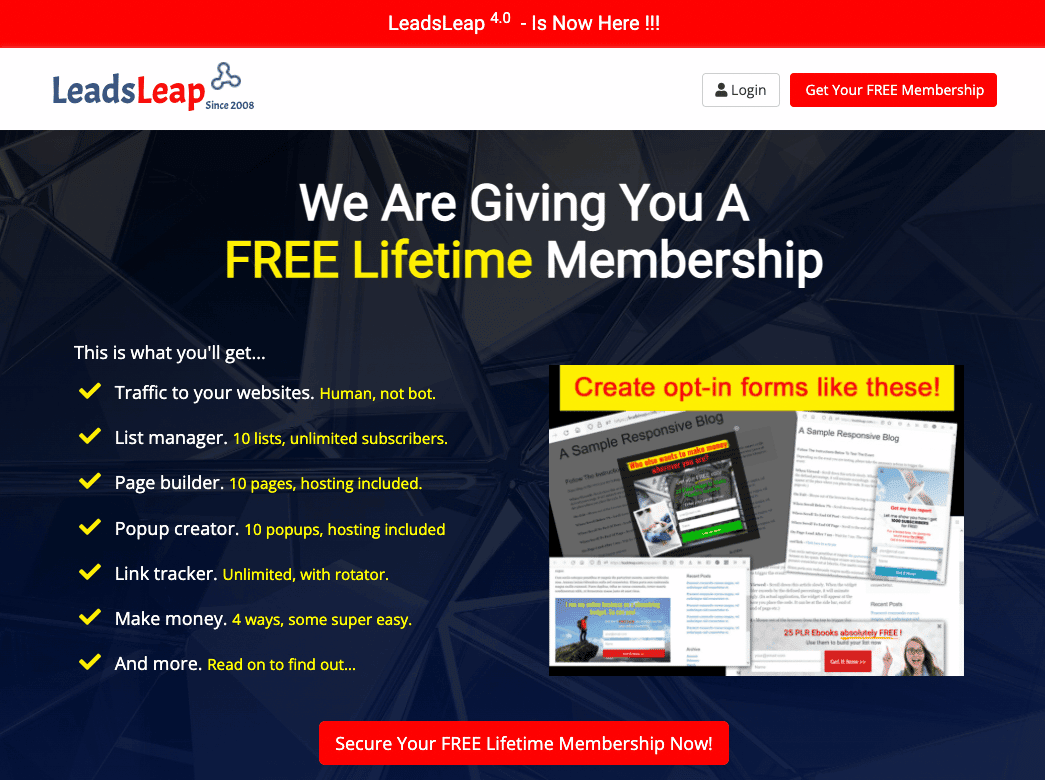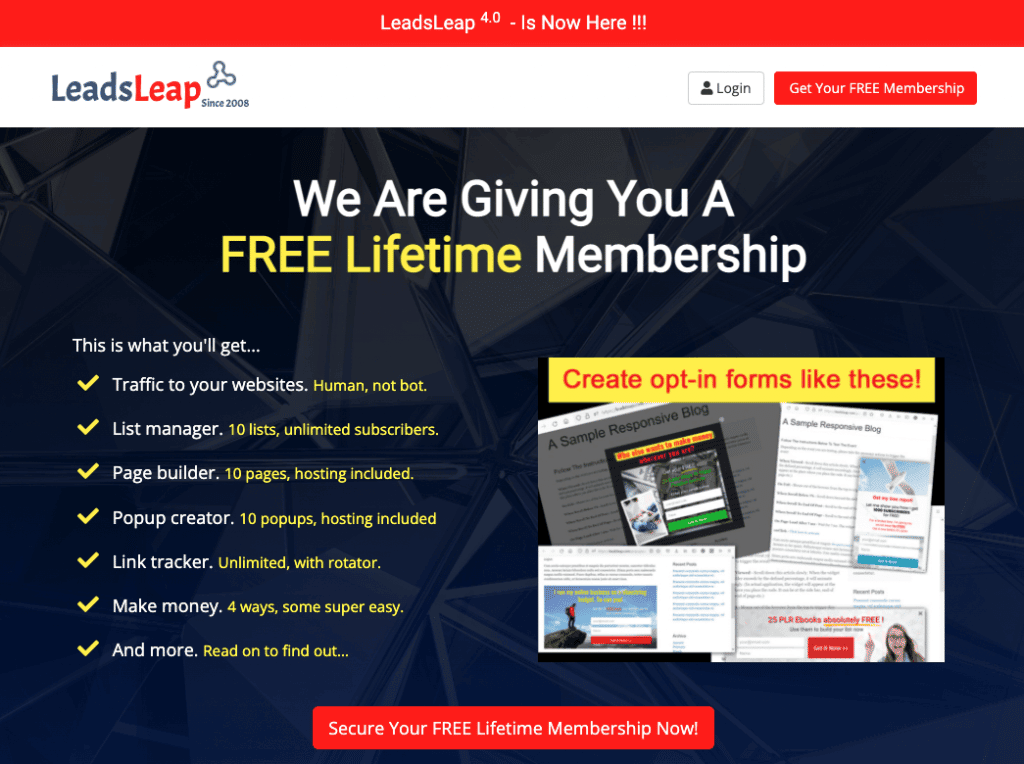 First of all, the site was launched back in 2008.
It was more than 10 years ago.
So, this site is definitely legit.
Here are a few testimonials from their users.


LeadsLead was founded by Kenneth Koh from Singapore.
After you sign-up—which is free, you'll get an email series from Kenneth talking about his life lessons.
Long story short, LeadsLeap is a platform to help you generate leads from scratch.
Many of its features are free.
That is why we are still using it daily.
If you're into affiliate marketing, you will find a lot of affiliate programs on this platform.
Currently, they have more than 170.000 members.
Many of the advertisements you'll see are related to the MMO (make money online) niche.
You will also find a lot of new business opportunities here.
So, it's a great place to find the one that suits your needs.
LeadsLeap Review: Features

Here is a glimpse of their membership area.
As you might notice, there are 7 menus:
Traffic
Tracker
Tools
Money
My Followers
Affiliate
Learn
We will highlight every tool accessible as a free member.
Traffic
In the traffic menu, you will find:
Post Credit Ads (Free)
As a free member, you can use this feature to drive traffic to your website.
We will explain this in the next section.
Post Pro Ads (Available in Pro Membership)
This feature is only available for Pro Members.
You can post your ads, and they will be rotated in the network 24/7 without credits.
In other words, you will get traffic without doing anything.
View Bookmarked Ads
While surfing on LeadsLeap, you can bookmark the ads that you find interesting.
So, you can explore them later.
Social Review
My Reviews
This is another feature that you can use as a free member.
You can write a review about your program to drive traffic to your affiliate offers.
The purpose of the social review is to get good leads from LeadsLeap and search engines.
My Top Recommendations
After writing your review, you can show up to 5 of the best recommendations on your profile.
Read Reviews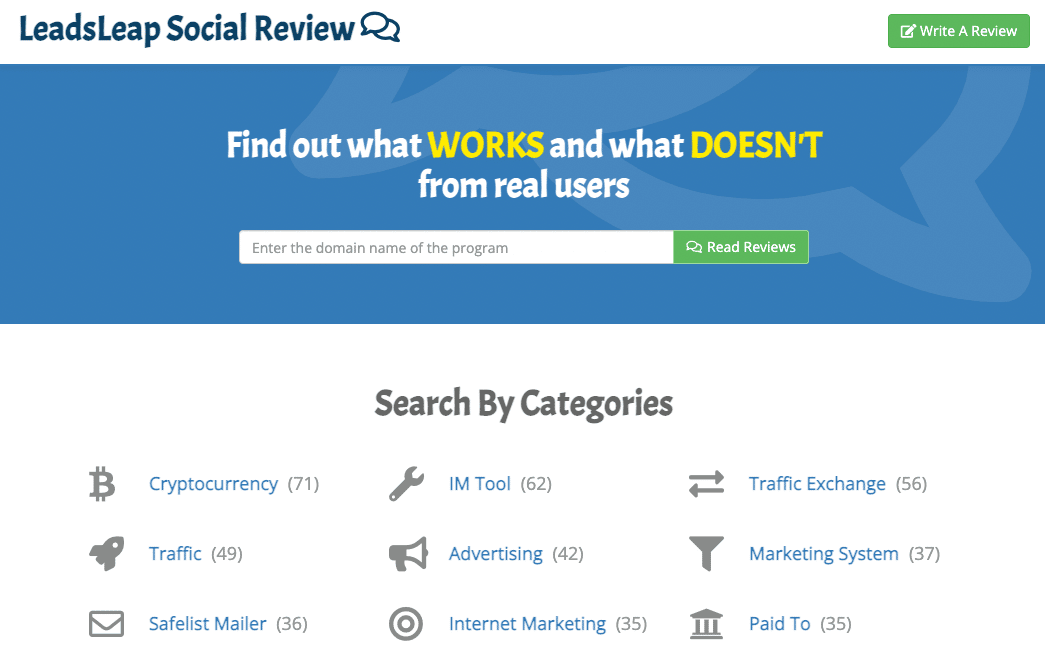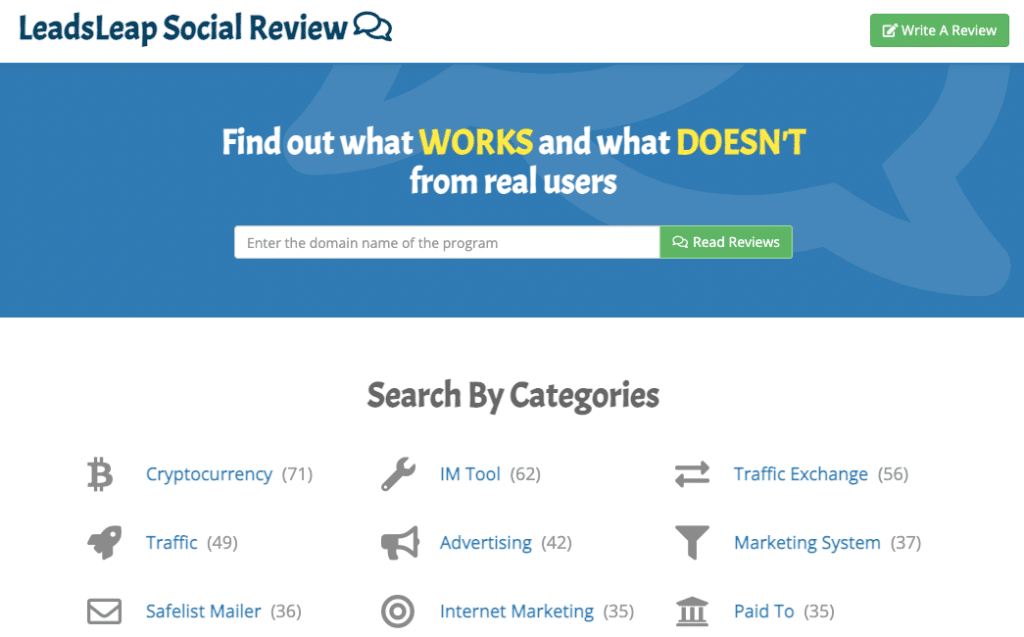 You can read other reviews by other members here.
Simply type the domain name in the search box, or you can browse based on the available categories.
Tracker
One of the best features you can use as a free member is the Link Tracker.
LeadsLeap Link Tracker can identify real visitors and tell you how long they've been surfing on your link.
Track Links
Hit the 'Add new track link' button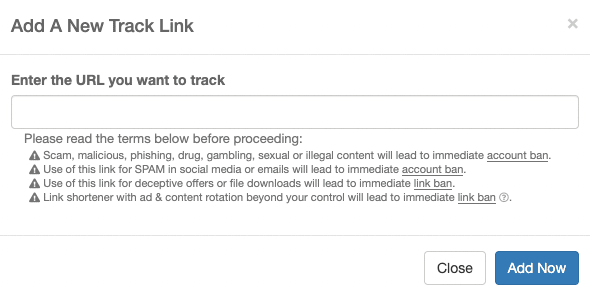 Insert the URL you want to track.
This can be your affiliate offers, landing page, email capture page, etc.
You can put this link on other traffic exchange sites or LeadsLeap itself.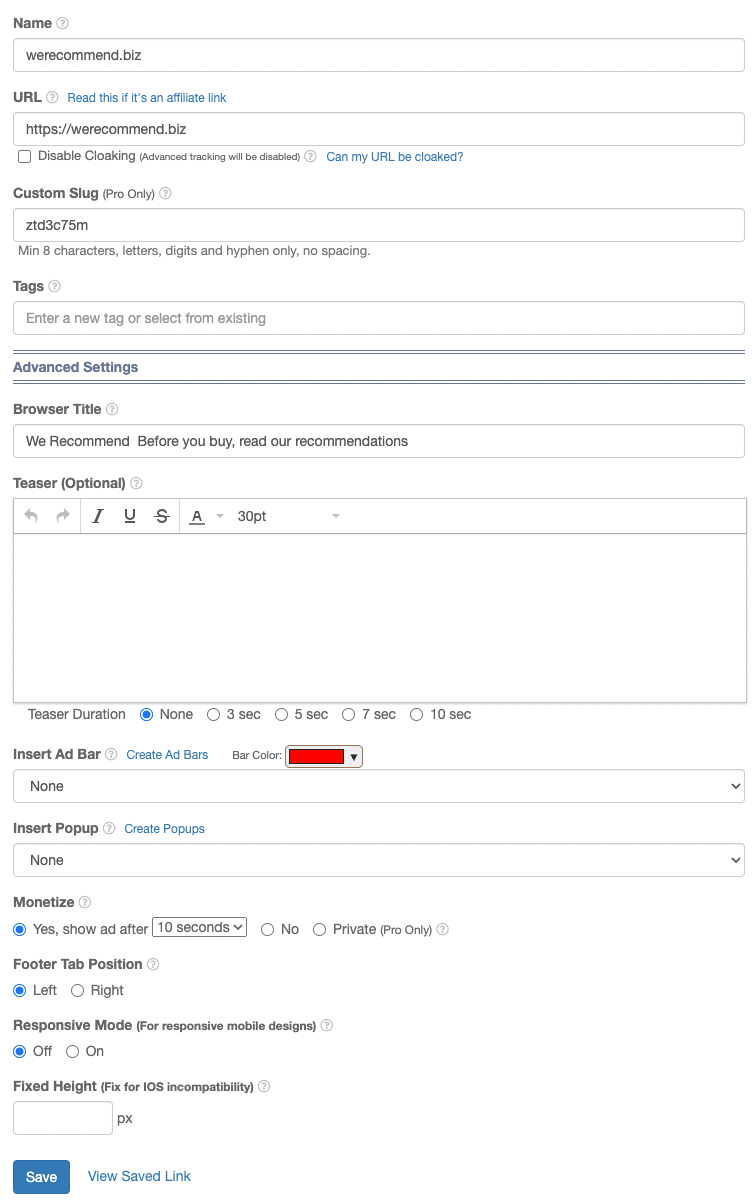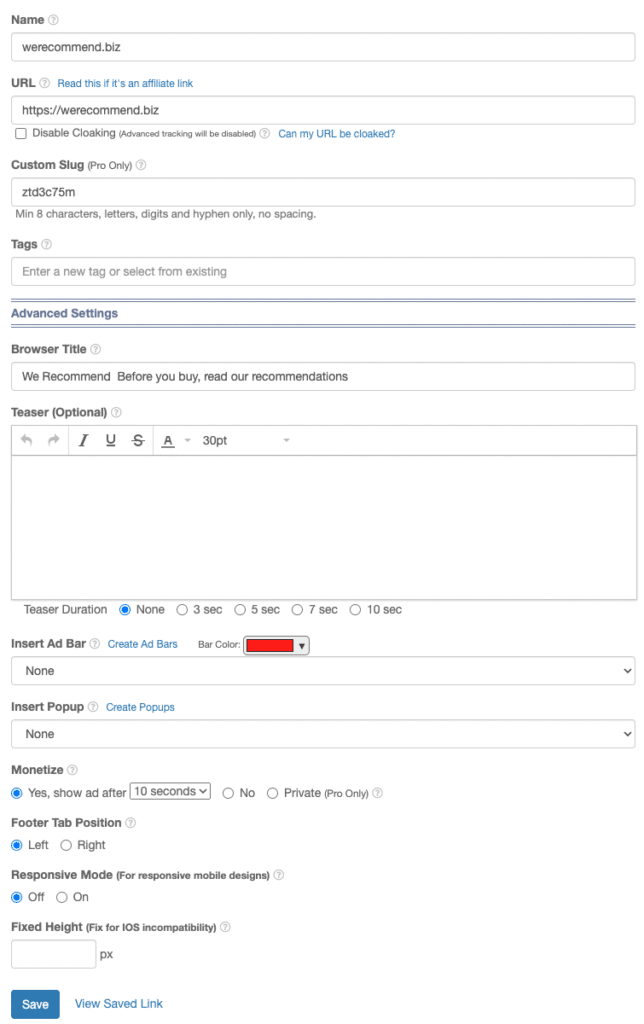 You also have the option to monetize your link by showing ads by LeadsLeap.
Another great thing you can do is integrate Ad Bars and Popups to your link.
Rotators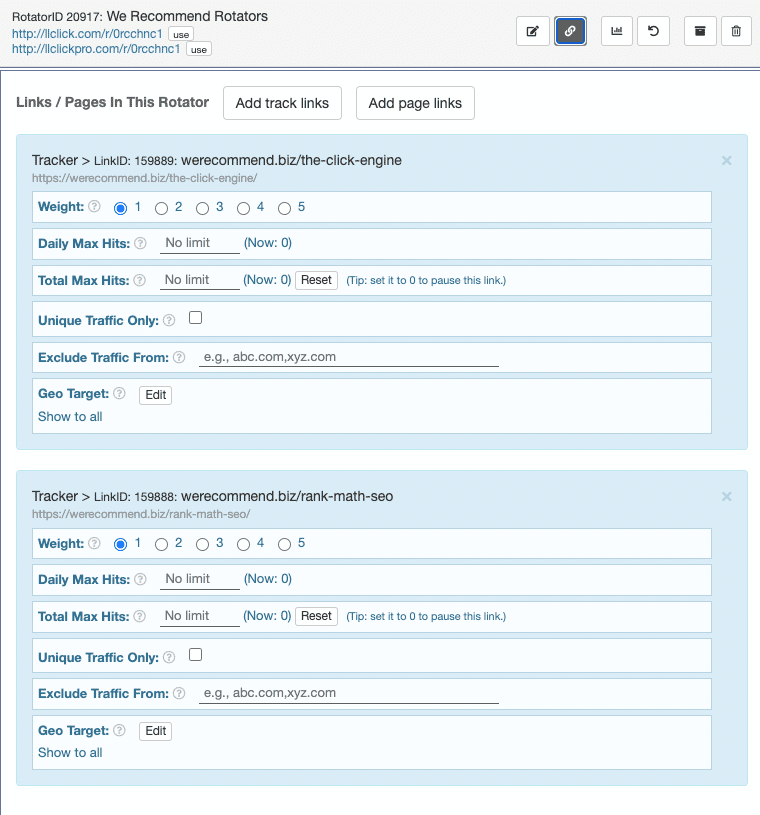 If you're not familiar with link rotators, here's a simple way to understand them.
Let's say you have 3 different links and 3 different capture pages.
You can put all of those links and capture pages on link rotators.
When you send traffic to your link rotators, your visitor will be redirected to one of the links inside.
You can adjust the weight of each of your links from 1 to 5.
Higher numbers mean it will be shown more frequently than lower numbers.
For example, let's say you have 2 links.
For the first link, you set the weight at 5.
For the second link, you set the weight at 3.
So, every 8 rotations, your first link will roughly show 5 times, and the second link will roughly show 3 times.
We use the word roughly because it is an algorithm called Weighted Random.
This same principle works on The Click Engine.
Ad Bars
This feature will showcase a red bar on top of your screen.
Its primary function works the same as rotators.
If your visitor clicks on that bar, they will be redirected to your targeted links.
You can think of it as a clickbait headline to drive visitors to your website.
Tools
In this menu, you will find:
Email Marketing (Free)
Page Builder (Free)
Funnel Builder (Pro Membership)
Form/Popup Creator (Free)
Hosting Service (Pro Membership)
Email Marketing
All free members can access List Manager and Broadcasts.
As for the other features, Email Series, Blog to Broadcast, and YouTube to Broadcast are only available for the Pro Members.
List Manager + Broadcasts
If you don't have any tools to capture an email list, you can use this feature for free.
You can build your email list by utilizing the Form/Popup Creator menu.
After building your email list, you can start sending email marketing to your subscribers.
Page Builder
If you don't have a website, this feature is one of the best you can find for free.
You can create:
Opt-in page
Thank you page
Review page
Sales page
Download page
LeadsLeap is generous enough to provide a free template for all of those pages.
So, you don't have to create anything from scratch.
Simply change the copywriting, and you're good to go.
Setting Up Page Builder
Hit the 'Add a new campaign' button.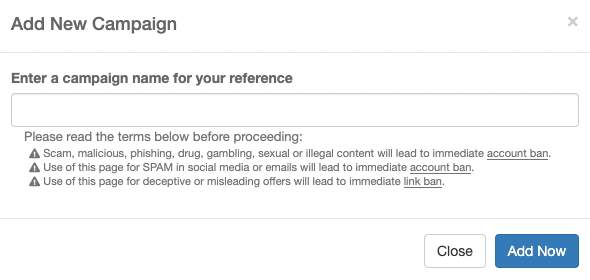 Fill with the campaign name.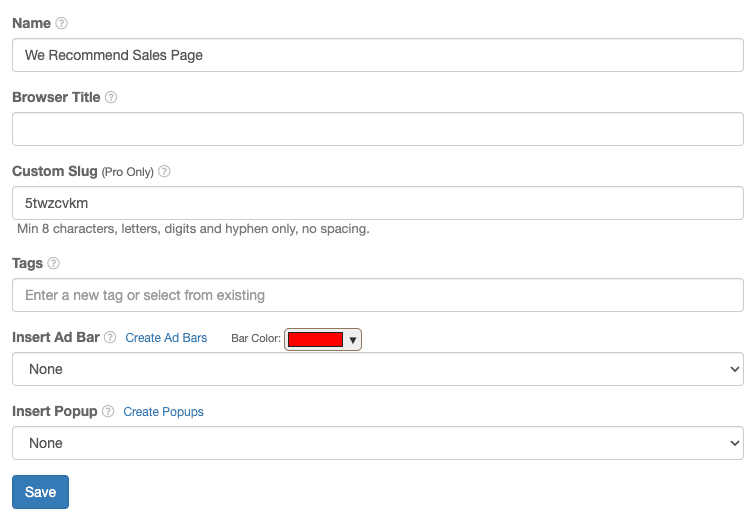 Add a Browser Title.
You can choose to use the Ad Bar or Insert Popup feature on your page.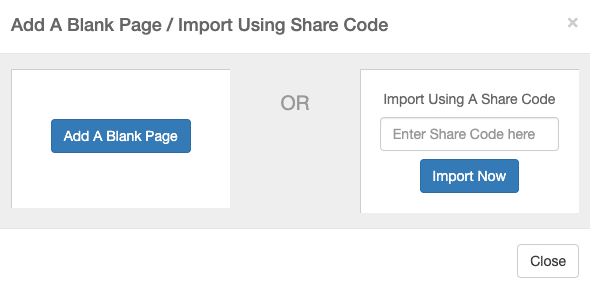 Hit the + button.
Click 'Add a blank page.'

Click on 'Launch Editor'
Start customizing your templates.
Save the page.
Set the status from Inactive to Active.
Form/Popup Creator
You can add forms to capture your visitor email list with this feature. It is called PopupXpert.
Setting Up the Form/Popup Manager
Hit the 'Add a new campaign' button.

Enter a campaign name.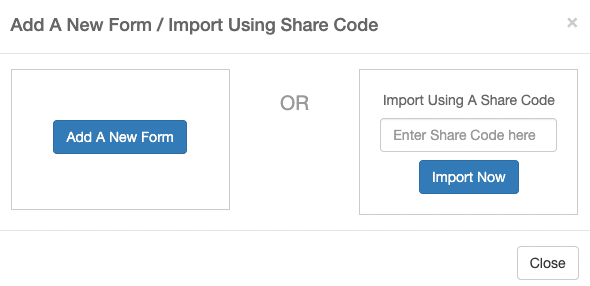 Click the 'Add now' button.

Click the 'Launch Editor' button.
You can customize it from the available templates.
Hit the 'Save' button.
Change the status from Inactive to Active.
Money
In the money section, you will find:
Daily Active Bonus
Credit Encashment
PPC Earnings
Affiliate Commissions
Daily Active Bonus
This is the place to monitor your earnings from Daily Active Bonus.
LeadsLeap server will reset at Singapore time (GMT +8:00).
Your task as a free member is to surf the ads 10 times.
That is the minimum amount of ads you need to view to earn a Daily Active Bonus.
What's that?
In short, it's just a way for LeadsLeap to thank you for being active.
Credit Encashment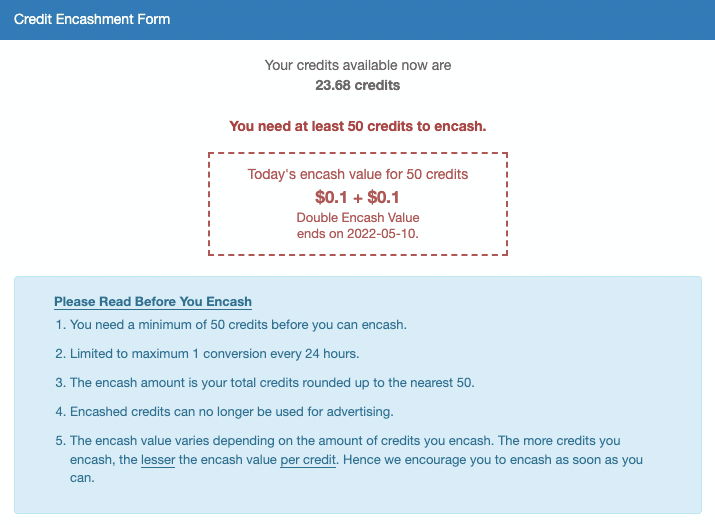 If you have plenty of time and can surf for at least 3 to 4 hours a day, you can exchange your credits for cash.
You need a minimum of 50 credits to encash.
The ratio is $0.1 for every 50 credits.
To earn $1 every day, you need 500 credits.
PPC Earnings
If you own a website, you can earn money through PPC advertising.
PPC stands for pay per click.
So, when you show LeadsLeap Ad to your visitors, and they click on the Ad, you can earn money.
As stated in the members' area:
The earning calculation is based on the number of traffic, uniqueness, surfing duration, geographical location, and our earnings at that week.
PPC earning is calculated every Friday.
It's calculated only for non-member visitors, and you are not allowed to click the ads in your own ad widget.
Setting up PPC Widget Code
Click the Get PPC Widget Code.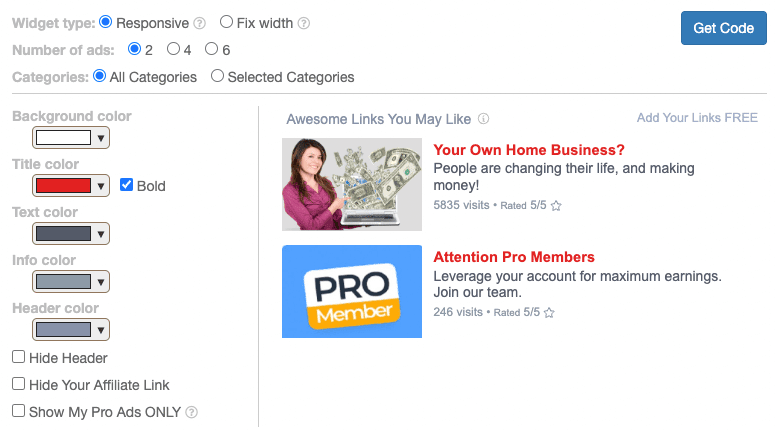 Set your widget type, number of ads, and categories.
You can showcase up to 6 ads.
You can also customize whether you want to hide/show your header and affiliate links.
After customizing your widget, hit the 'Get the code' button, and follow the instructions.
If you don't own a website, you can show LeadsLeap PPC Widget on your page—the one you created with Page Builder.
Affiliate Commissions
This is where you monitor your affiliate commissions.
The minimum withdrawal is $10, and you can get paid through PayPal, Wise, or Bitcoin.
My Followers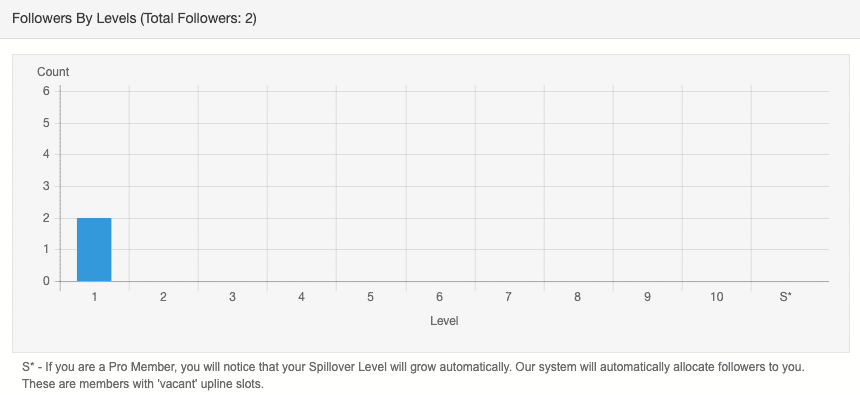 Those who signed up using your referral link will be shown here.
View Followers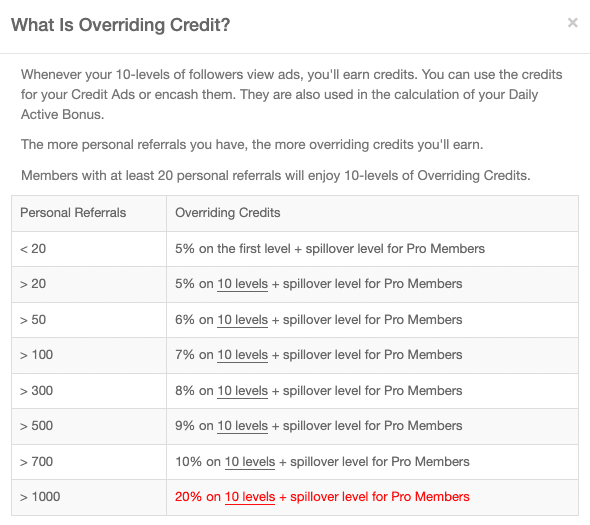 LeadsLeap implements an Overriding Credit on their referral system.
What's that?
In a sentence, the more referrals you get, you can earn more credits.
You need at least 20 personal referrals to enjoy 10-levels of these overriding credits.
Message Followers
You can also send a message to your followers and direct them to your site.
If you have more than 20 referrals, your message will be seen by your 10 levels of followers.
Affiliate
Here you can find all the resources you need to promote LeadsLeap and invite referrals.
Affiliate Links & Tools

You will find all your affiliate links here.
You can also find how to promote LeadsLeap through a list, blog, forums, and traffic exchange networks.
You will also get pre-built email swipes to send to your list.
If you have your website ready, you can add banners to showcase them to your visitors.
Affiliate Traffic Stats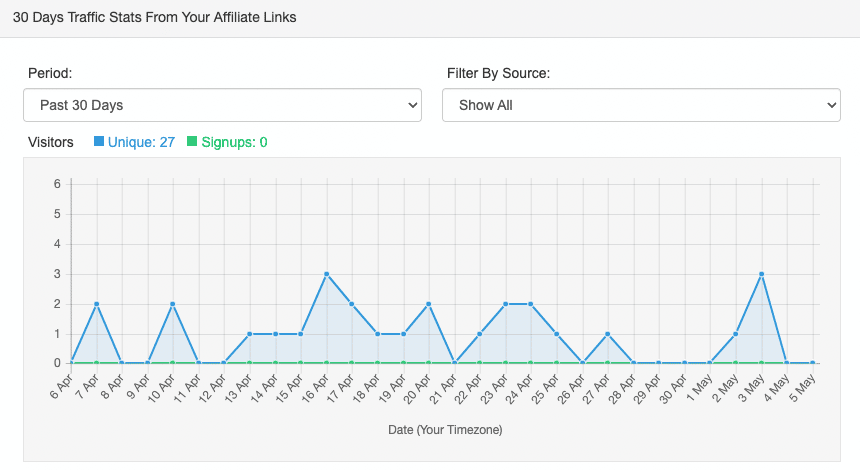 You can monitor how your affiliate links perform here.
Moreover, you can also track its source. So, you will know which method works best to promote your affiliate links.
Learn
After all of these free features, you still get an ebook for free to promote as a lead magnet.
Insider Advertising Report
This ebook is written by Kenneth Koh himself.
Here's what other people said about this ebook.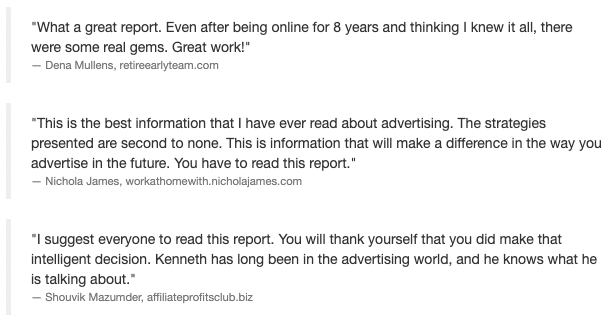 It consists of 17 chapters to help you create better advertisements for your online business.
Click here to read it for free.
One Sign-up A Day
One of the LeadsLeap members, Andre Zunde, wrote this report.
He explained how he built a network of more than 20.000 leads through the LeadsLeap system.
Click here to download the report for free.
How To Use LeadsLeap To Drive Traffic To Your Website?
Now, we're going to show you how to utilize Post Credit Ads as a free member.
Setting Up Post Credit Ads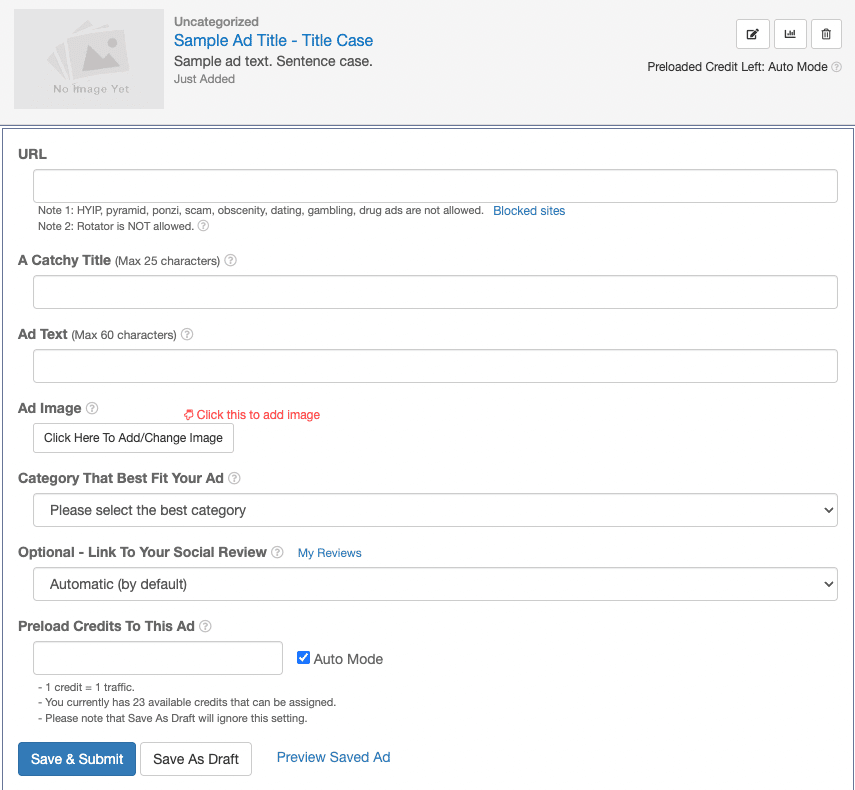 Hit the 'Add a new ad' button.
Fill the URL with your website address.
Write a catchy title in 25 characters.
Insert your ad text as your call to action.
Add an image.
Choose the category that fits your ad.
Leave the Preload Credits To This Ad empty and tick the Auto Mode.
As a reminder, you need 10 credits to submit this ad.
How To Earn Credits From LeadsLeap?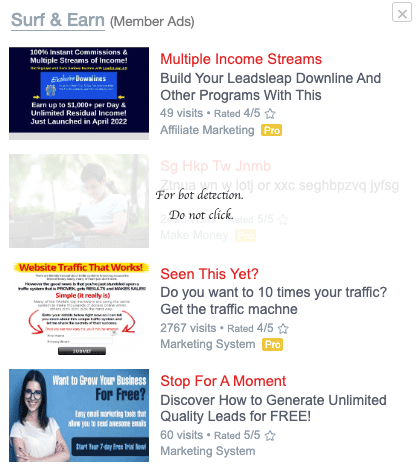 On the right side of the screen, you'll see a section named: Surf & Earn.
Click on one of the Ads with a Pro label.
A new window will open, and you'll see a screen like this.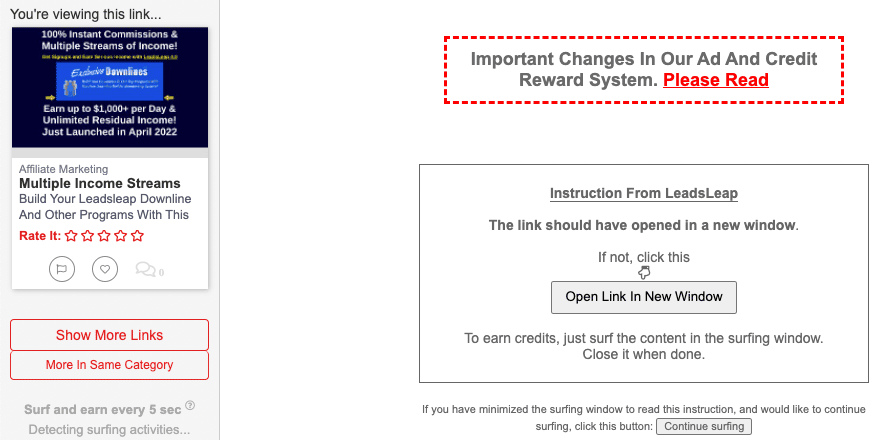 The next thing you do is hit the 'Open Link in New Window' button.
On the left side of the screen, you will notice this sentence, "Surfing started…"

At the bottom of the screen, you will see a tracker showing you how many clicks you have done.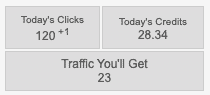 You will also see how many credits you have accumulated.
You can also see the amount of traffic you will get in exchange for those credits.
After you're done viewing the ads, you can close them.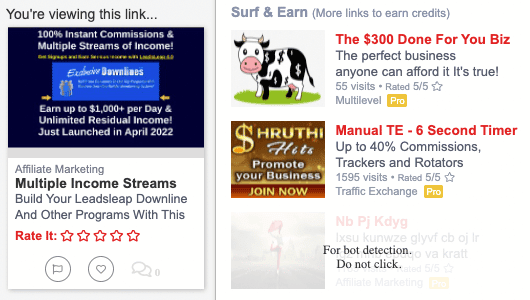 As you might notice, you have 3 advertisements to see, but one of them is marked: For bot detection. Do not click.
Click on one of the other two ads and wait until the "Surfing started…" message appears.
This is how LeadsLeap can drive 100% human traffic to your site.
Pro Tip💡
If you want to earn credits fast, click on Pro Ads. These ads will give you more credits than regular ads. You can also earn more credits by rating the advertisement from 1 to 5 stars. Just make sure to rate objectively.
Should You Upgrade To Pro Membership?
Here is a table of comparisons between Free and Pro membership.

One of the powerful benefits of Pro membership is you can run up to 10 ads 24/7 on the LeadsLeap network.
In other words, you will have 100% traffic on auto-pilot.
Moreover, these Pro ads with 5 stars rating will get featured in the members' area.
Another great benefit is you can create your own Sales Funnel.
You will also earn a 50% recurring commission from your referrals.
Pro Tip💡
You can pay for an upgrade using the credits you have accumulated.
Conclusion
To sum everything up, in this LeadsLeap review, we have outlined every free tool you can use.
We totally recommend LeadsLeap as an all-in-one online marketing tool for every level.
If you find the user interface overwhelming, simply check out the tutorial page on every menu.
Everything is covered, and it's well written.
If you're into affiliate marketing, we believe this is one of the must-have tools you need.
---
Sugiya is the Writer and Owner of We Recommend. He is passionate about helping people make better decisions when buying things on the internet.