This post contains affiliate links. We may receive a commission for purchases made through these links without any extra cost to you. Thank you for your support.
---
In this ListJoe review, we'll explore another safelist mailer that claims to be profitable.
As an online marketer, using a safelist mailer might be a great alternative to promote your offer. However, if we're talking about a safelist mailer, the list quality is the number one aspect to consider.
That's when we came across ListJoe while researching for affiliate offers on LeadsLeap.
So, without further ado, let's dive in to learn more about this safelist mailer.
Is it a Profitable Safelist Mailer?
Nope. If you're using ListJoe as a free member, we can hardly say it is profitable. With a low click-through rate of 1,3% from our first email, we wouldn't be surprised if we didn't make any sales. It's too low, and you can't expect much when there is an option to list secondary emails to receive emails from other ListJoe members. However, you might expect a result if you upgrade your membership to the Gold level.
What is ListJoe?
ListJoe is a credit-based safelist mailer you can use every 3 days to send emails to 1,000 members for free. When you sign up, you will get 1,000 credits to start with.
Like other mailers, you get credits by reading and clicking other members' emails. When you open an email from ListJoe, you'll receive 30-200 credits. Each credit is worth 1 email. So, if you have 100 credits, you can send emails to 100 members.
Another thing you can do when you open an email, you can rate the website you're visiting from 1 to 5 stars. At first, we didn't know what the rating was meant for. But, it turns out this rating will show up when you upgrade your membership and place an ad inside ListJoe's membership area. That's how it works.
ListJoe Insider Look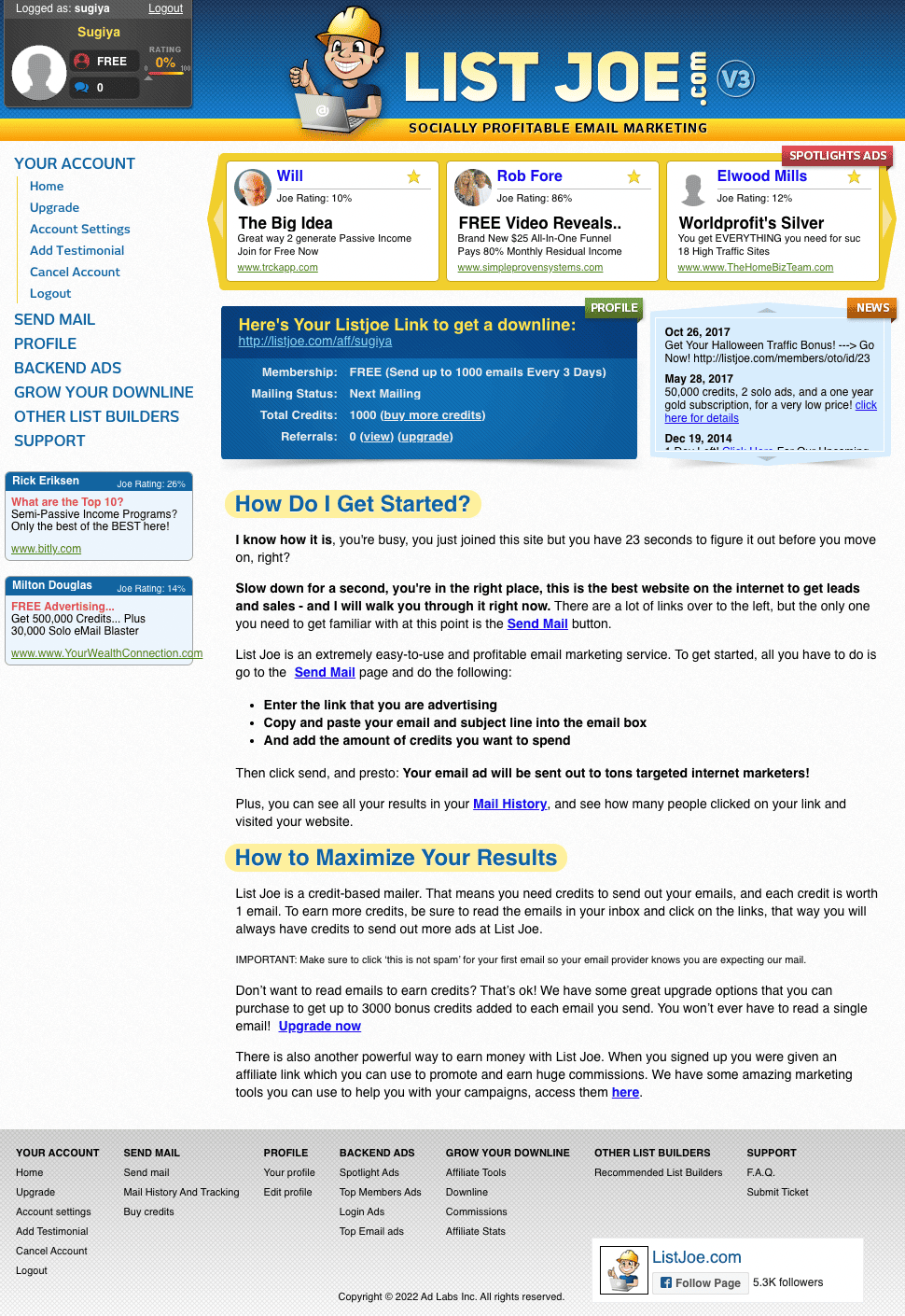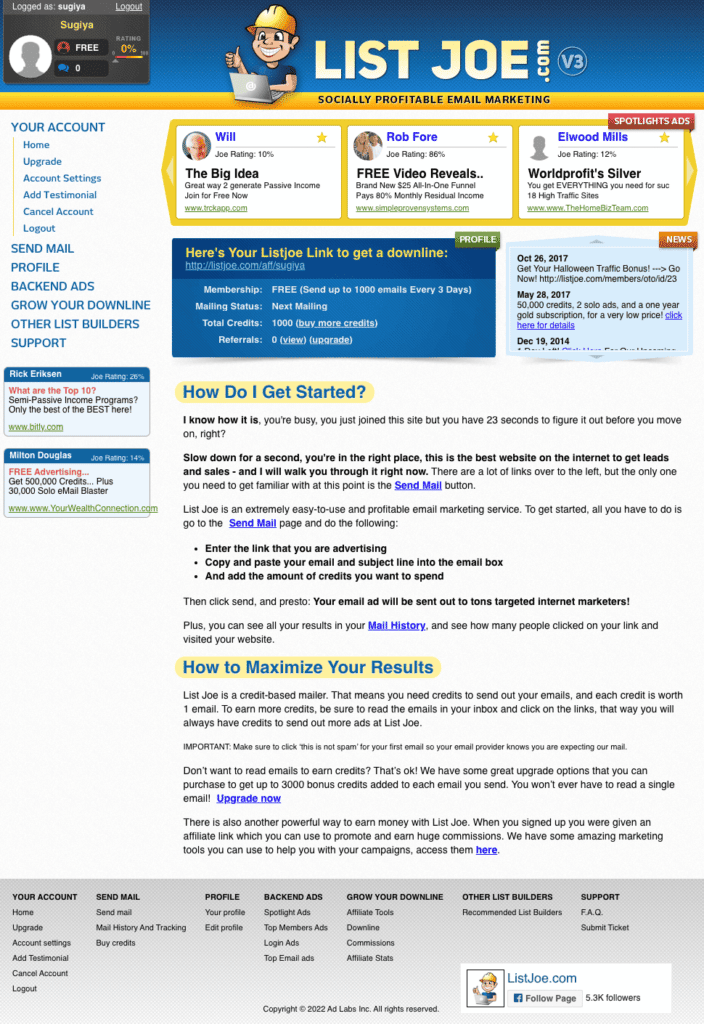 When we first sign up, our first impression is quite good when we look at the user interface. It's simple, clean, and neat. For us, that's a plus point. We've seen several other mailers that don't really care about the user interface, and it's horrible. Having a clean user interface helps us to navigate through ListJoe.
Send Mail
Since we got 1,000 credits as a sign-up bonus, we think it's better to use them to promote our latest e-book to see its effectiveness. However, there is something that we didn't expect when we wanted to send our email. Let us show you by giving a screenshot of the mailing platform.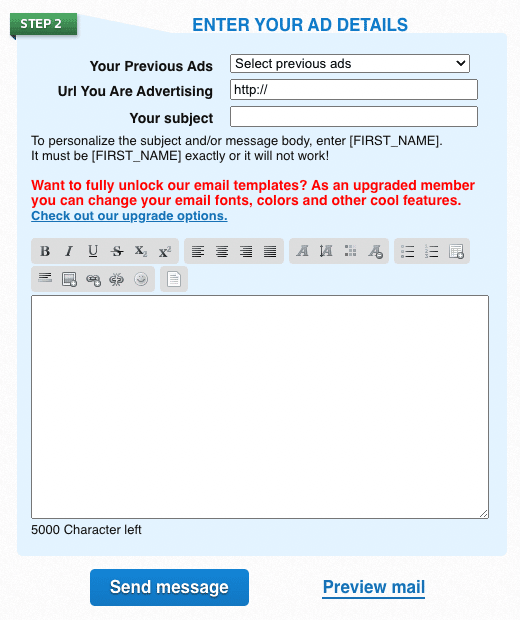 Do you see the area in gray? That area is locked, and that is only for basic formatting like using bullet points, numbering, and even giving a bold, italic, or underline in a sentence. To use this feature, you must upgrade your membership. It's ridiculous.
Mail History & Tracking
You can check the statistics of your email in the Mail History & Tracking menu. However, based on our findings, the click-through rate is so low. Take a look at this screenshot below.

We've been waiting for 3 days and only got 13 clicks. This is something that we didn't expect for a safelist mailer that claims to be socially profitable email marketing. For us, 1,000 emails is a lot of emails, but getting a 1,3% click-through rate is a bit of a downer, isn't it?
We tried to find out how this could happen, and we think we know the reason for the low CTR. When you go to your Account Settings, you will see a menu like this.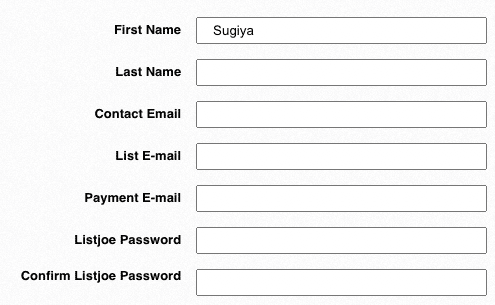 There is an option to fill in your contact email (the email you use to sign up) and a list email. Now, what does this means? You can use a different email to receive emails from other ListJoe members. There is a high chance that members didn't open their list email because it's their secondary email account.
Earlier, we said that list quality is the number one aspect to consider. However, when a safelist mailer allows its members to use secondary email to receive emails, it will lack open rates and click-through rates. So, we think it's just a waste of time to think about list quality when there is still an option to use another email to receive emails.
Buy Credits
If you're impatient, there is an option to buy credits on ListJoe. Take a look at this screenshot below.

Judging by the best-seller option, you can get roughly 1,500 visitors for $97. It is pretty cheap. However, the number is still an estimate, hence the * sign. ListJoe claims their average CTR is at 3%. Well, we don't quite think spending $97 for 50,000 credits is worth the money.
Buy & Send Solo
Now, here is a unique feature inside ListJoe. There is an option to send solo ads to every member. This might be the best feature of this mailer. To send solo ads, you need to buy tokens. Here is the price list.

The advantage of sending solo ads is you can reach every member without spending any credits at all. However, there is one catch with this feature. You will never find the exact amount of members inside ListJoe.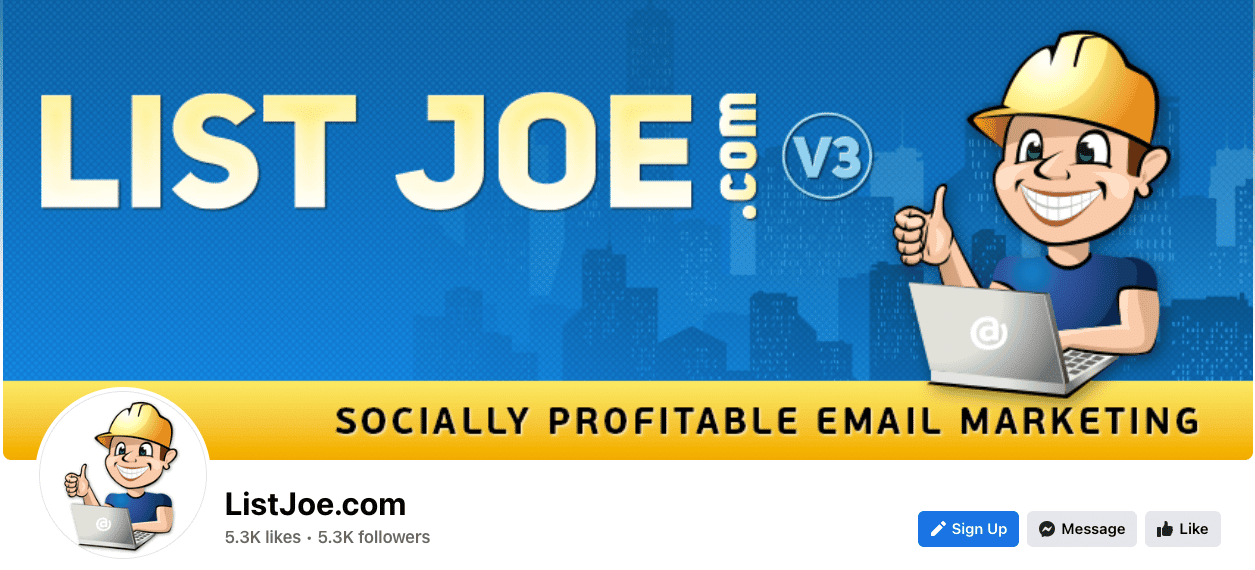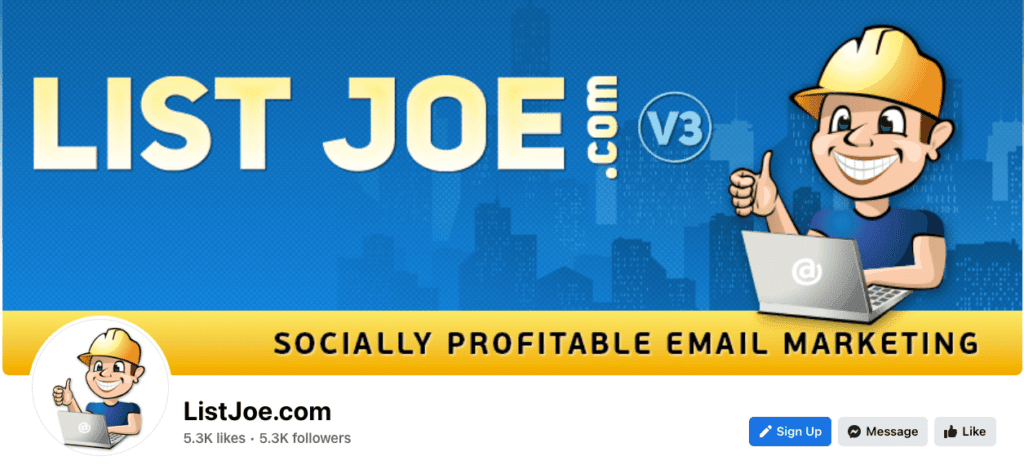 If we could assume based on their Facebook Page followers, ListJoe has around 5,300 followers. But, followers are just followers, and you are not obliged to be a member to follow a Facebook Page. Moreover, the last post was on 23 September 2016. You can do the math, and we'll let you decide its effectiveness.

Backend Ads
Another similar feature that every safelist mailer have is ad placements. You can use this feature when you upgrade your membership. There are several ads you can place on ListJoe.
Spotlight Ads. These ads are located on the member area home page. It shows three different ads at a time.
Top Member Ads. The main difference between this ad and the spotlight ad is the number of placements. It shows two different ads, and you don't get a profile picture. That's it.
Login Ads. When you log in to ListJoe, every member can see your ad while waiting to get to the member area.
Top Email Ads. You can place your ad inside every email that ListJoe members send. There will be a spot on the top right of every email that shows your ad.
You can use these ads to promote your offer and reach more audiences. However, these are based on your membership level. We will highlight this in the pricing section.
ListJoe Membership Pricing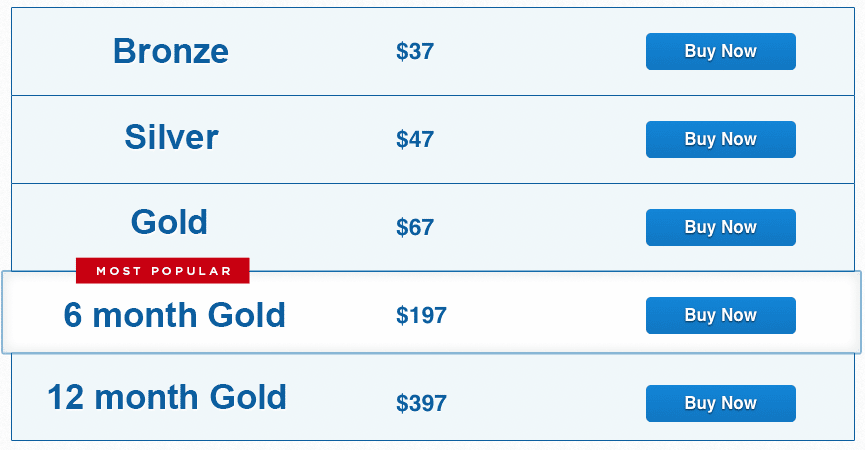 As you can see, there are three different level memberships on ListJoe: Bronze, Silver, and Gold. Moreover, there are also two payment plans to choose from for the highest membership level. You can choose to pay for 6 months or 12 months. Here is the complete list of benefits for each membership level.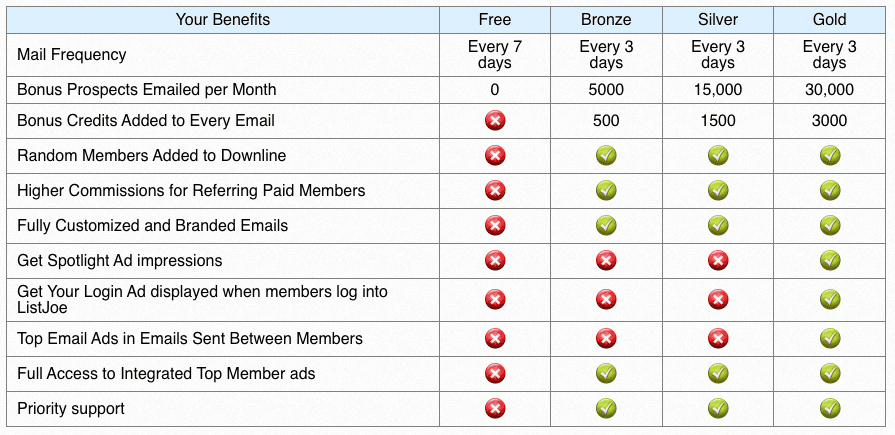 One of the first things that catch our attention is you also get the chance to send an email every 3 days, just like any other membership level. Other than that, here is another benefit you might want to consider. When you upgrade, there is a bonus prospect emailed per month. We think it's a bit fishy since there is no statement of the exact members inside ListJoe.
So, to pay monthly is ridiculously expensive. Even as a Bronze Member, you can't do much other than unlock the email formatting option. But, if you consider the Gold Membership for $197 per 6 months, it's quite a nice catch because you get more than 50% off. Moreover, if you can really get the bonus prospects emailed per month for up to 30,000 people, it's totally great.
ListJoe Affiliate Program
You can earn commissions by promoting ListJoe to your audience. You will get several affiliate tools, such as splash pages, email swipes, and banners. The design quality and swipes are good enough, though.
But, here's something that we didn't expect (again) from an affiliate program. There is no percentage of commission when you can refer someone to ListJoe. Besides, ListJoe claims you can earn up to $100 per referral. It's confusing, isn't it? Don't worry. We were also confused.
List Builders
ListJoe claims this feature helps you maximize your profit by referring your referral to build downlines in other list builders recommended by ListJoe. These are:
Bweeble
ListBonus
List Adventure
Traffic Bonus
State of the Art Mailer
Viral URL
The Lead Magnet
List Jumper
Adchiever
List Surfing, and
Mailsy
So, when someone joins through your affiliate link, they will join these list builders as your downline. It's a typical method you can see in almost every mailer. Nothing new.
ListJoe Pros and Cons
Here we will outline the pros and cons of using ListJoe as your safelist mailer.
Pros
Great user interface. Clean and neat.
0% spam rate. It goes directly to your email.
Cons
Ridiculous option to lock the email formatting feature.
Low click-through rates.
Members can use secondary email to receive emails.
Highly expensive for a membership upgrade.
There is no information about the number of active members on ListJoe.
Conclusion
To conclude our ListJoe review, you might already guess that it's not a profitable safelist mailer if you're just a free member. However, we can see there is potential to make money with this mailer if you upgrade your membership to the Gold level.
But, we don't recommend upgrading unless you don't have any other members and platforms to promote your offer. However, if you're looking for an alternative, one of the best purchases you can make is My Lead Gen Secret. It's our first recommendation because you can get up to 200,000 leads and send them one email daily to promote any offers.
However, you can still use ListJoe as a free member to practice writing email copy and test your subject lines. It's one of the best use cases for us to keep using it.
---