---
In this MailerLite review, let's find out if it's worth trying this email marketing platform.
According to EmailToolTester, MailerLite was considered an excellent Mailchimp alternative. With a score of 4.4 out of 5 and a free-forever plan, MailerLite is a top contender to GetResponse.
So, without further ado, let's dive in.
What is MailerLite?
MailerLite is an email marketing platform with an affordable plan similar to Moosend. However, since Moosend didn't provide a free forever plan, MailerLite does offer a free plan for up to 1,000 subscribers and 12,000 monthly emails. This allows you to send 12 emails if you have 1,000 subscribers. It might be more than enough if you're just getting started.
What can you do with MailerLite?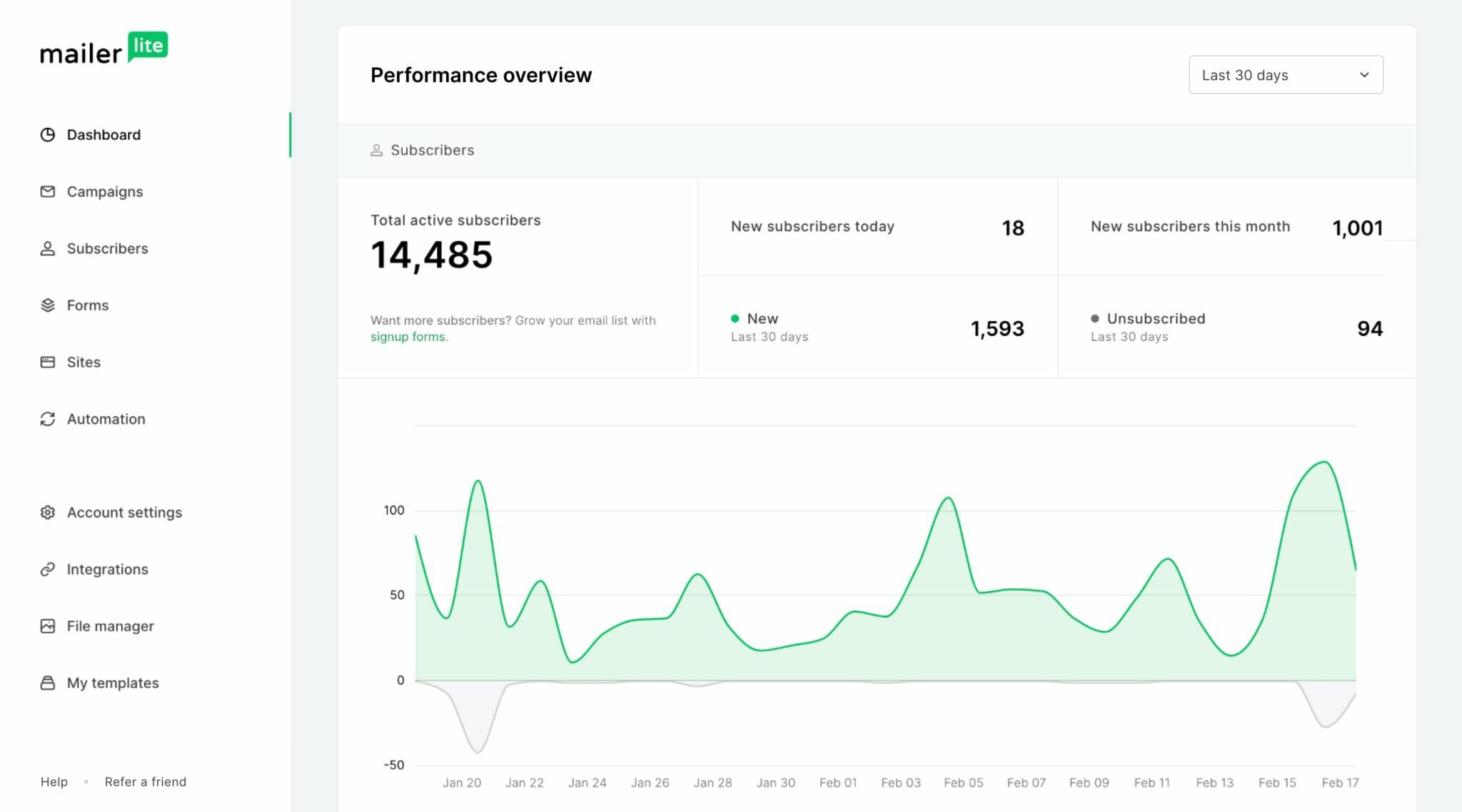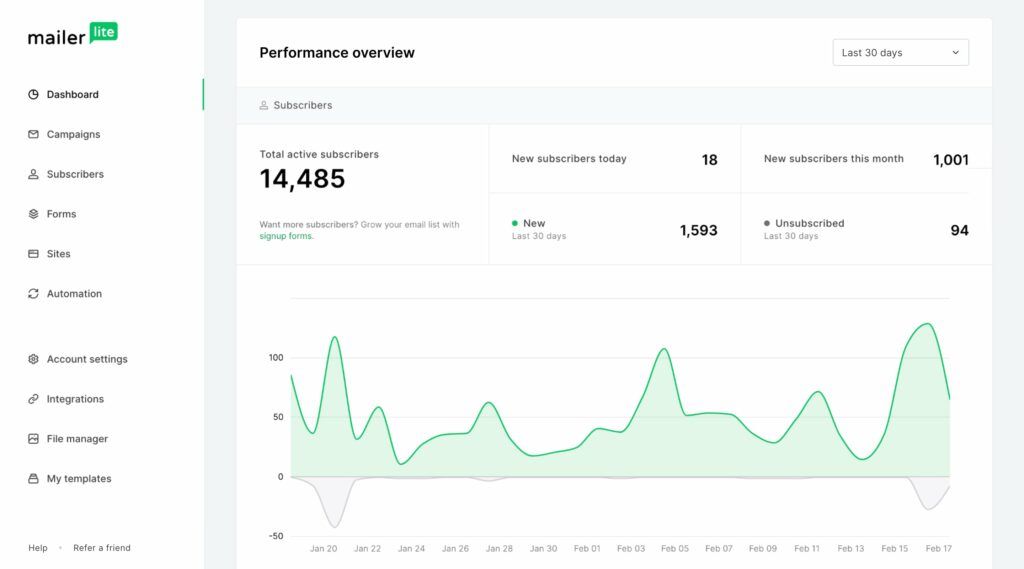 Now, let's find out what you can do with MailerLite. Actually, if you've read our previous reviews about email marketing platforms, you'll find similar features. We'll highlight a few differences in the features section.
Email Marketing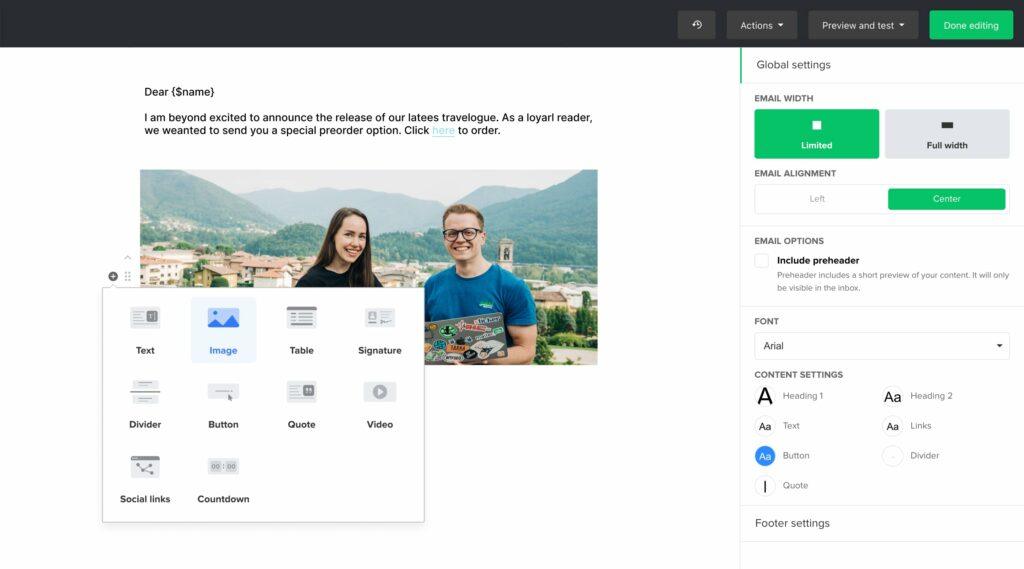 MailerLite comes with a drag-and-drop editor to help create a visually appealing email to your subscribers. This is a standard feature for any email marketing platform. You also get rich text and a custom HTML editor if you want a more personalized email.
Furthermore, you can also use various newsletter templates that suit your taste. In addition, it comes with more than 1 million free images from Unsplash and Giphy for GIFs. This will help you create a compelling email design without worrying about copyrights.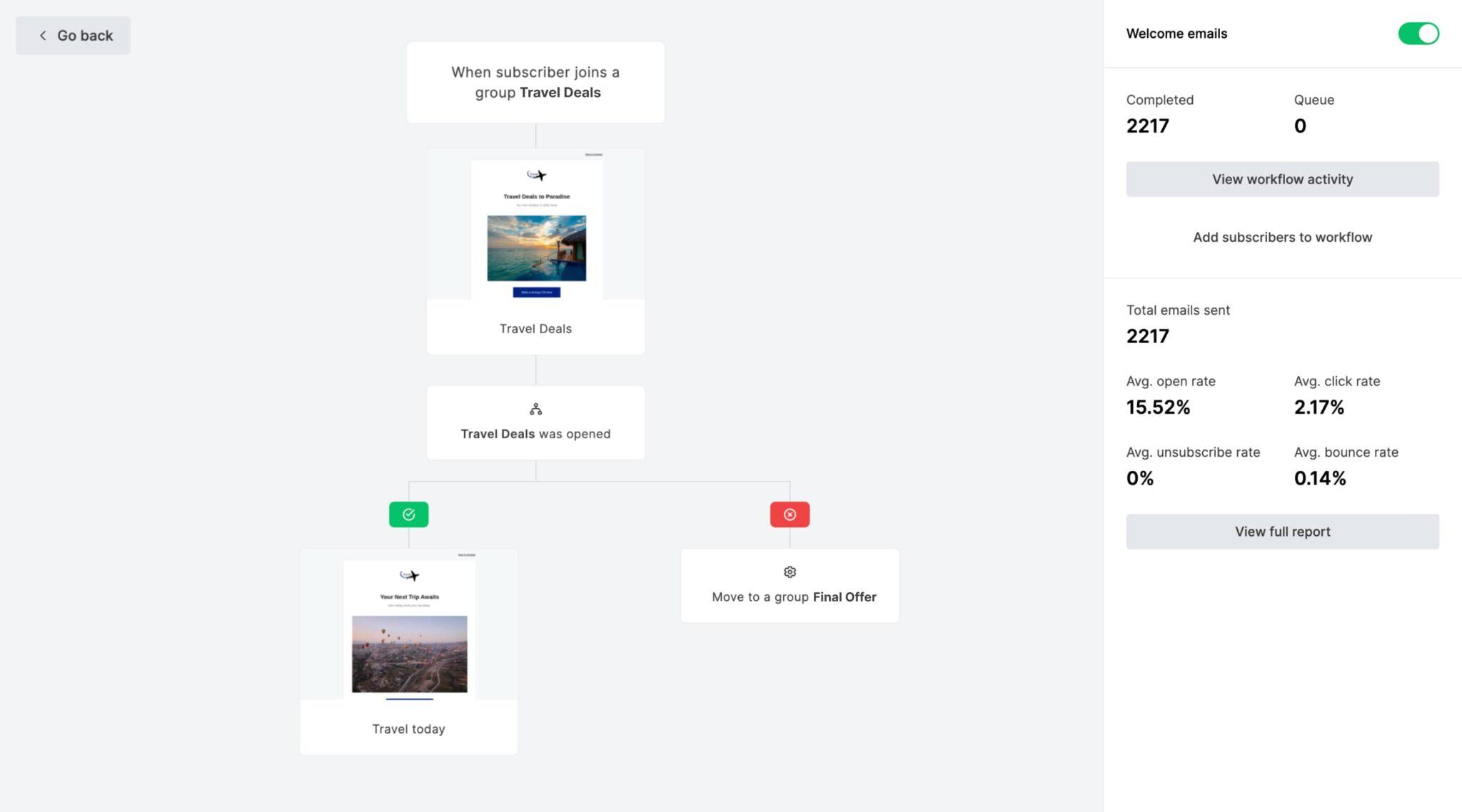 Another standard feature you can expect from MailerLite is email automation. You can set up a welcome email, autoresponder, and even anniversary greetings for your subscribers. Moreover, MailerLite also offers new multi-trigger email automation, which allows you to add up to 3 triggers for each automation in a single workflow. This feature is available on the Advanced plan.
MailerLite is also suitable for e-commerce businesses with transactional emails. It's an automated notification email when someone buys your product or service. In addition, you can integrate MailerLite with Zapier, Shopify, WordPress, and WooCommerce.
Website Builder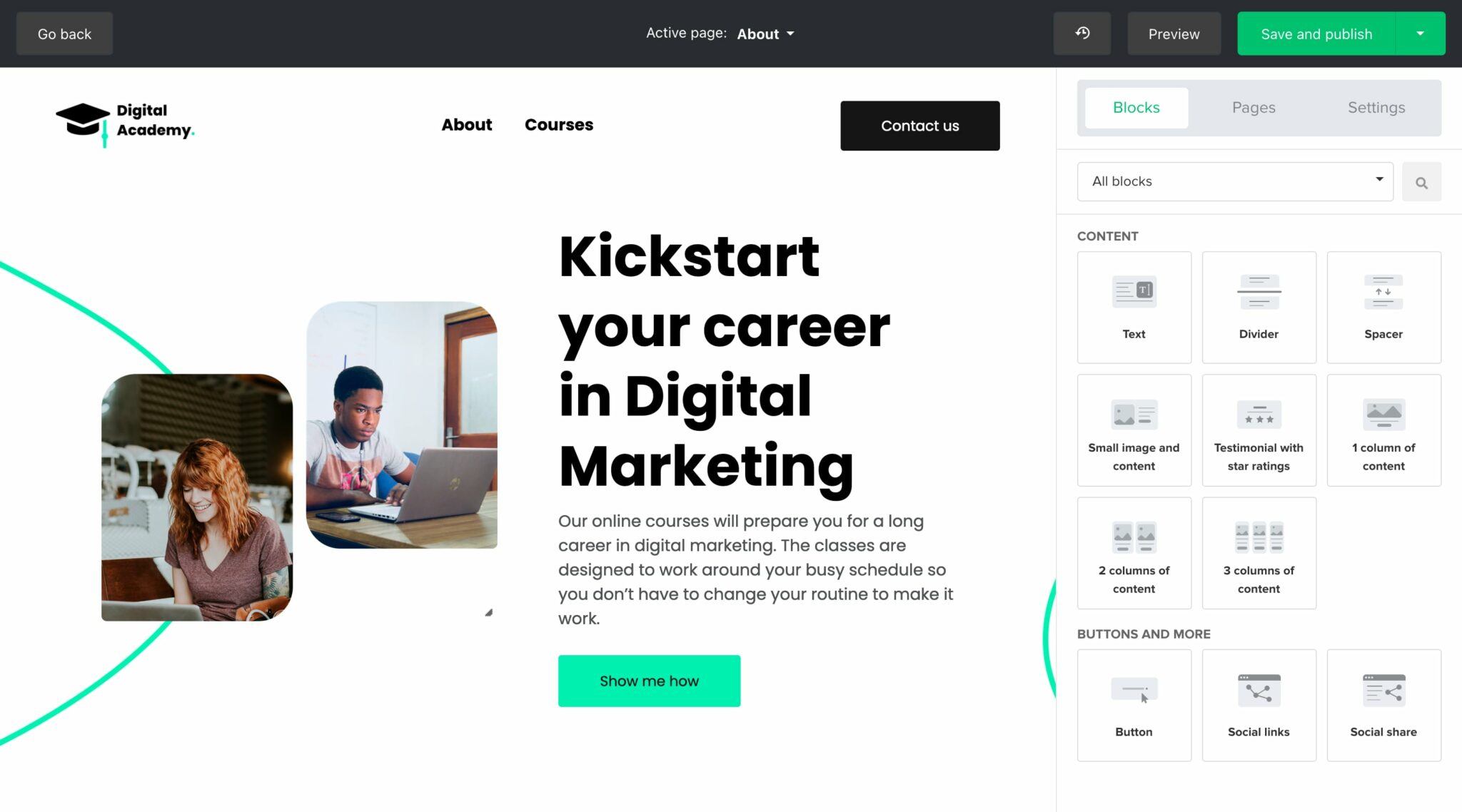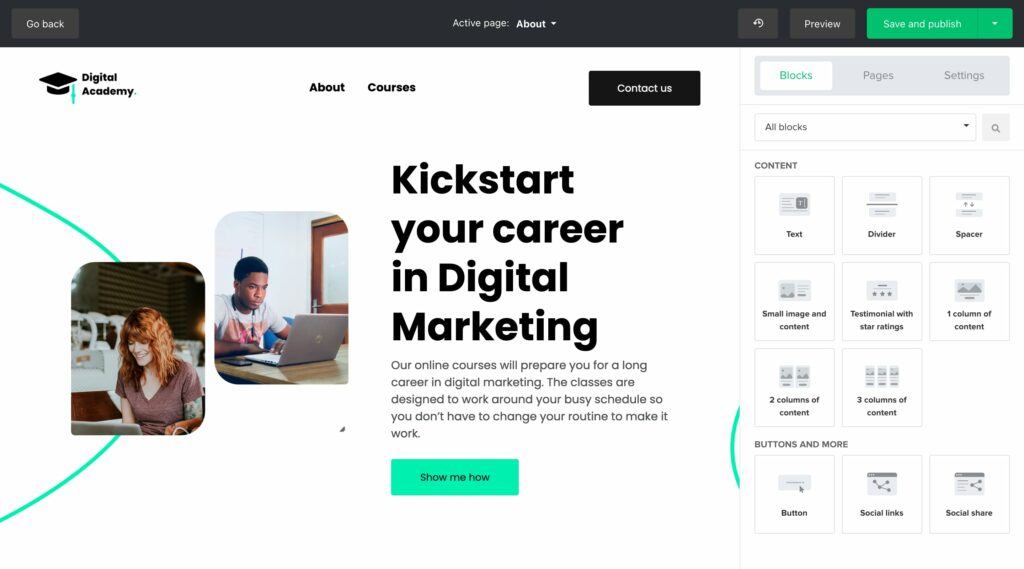 Inside the free-forever plan, you can create one website using MailerLite's website builder. It's fully customizable and uses a drag-and-drop editor to help you build your website without coding. It's convenient and easy to use.
Moreover, you can create a beautiful blog with stunning visuals on your website. You can also access daily analytics to track your website's performance and growth. In addition, if you plan on using MailerLite to build your website, they are included with an SSL and hosting plan.
Lead Capture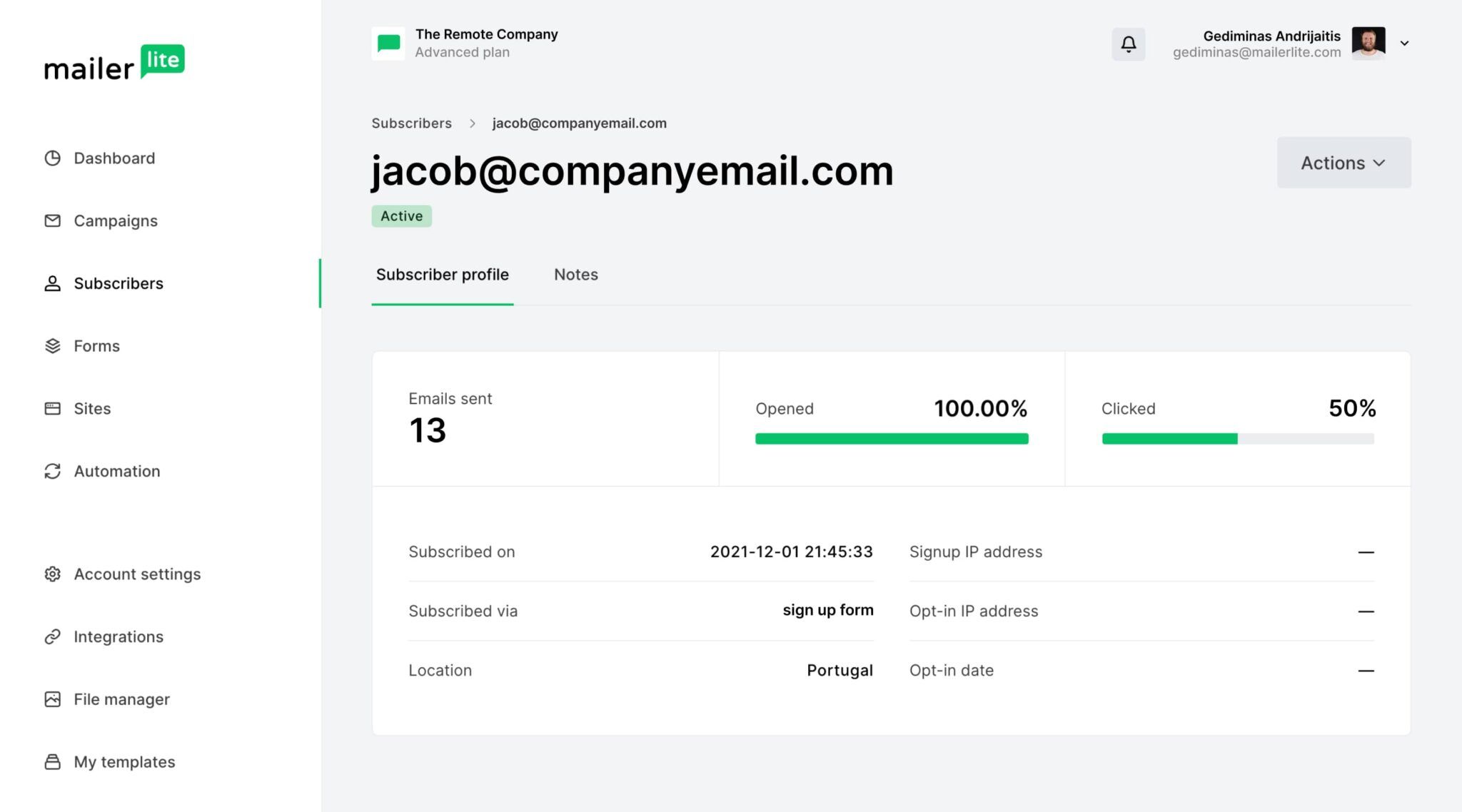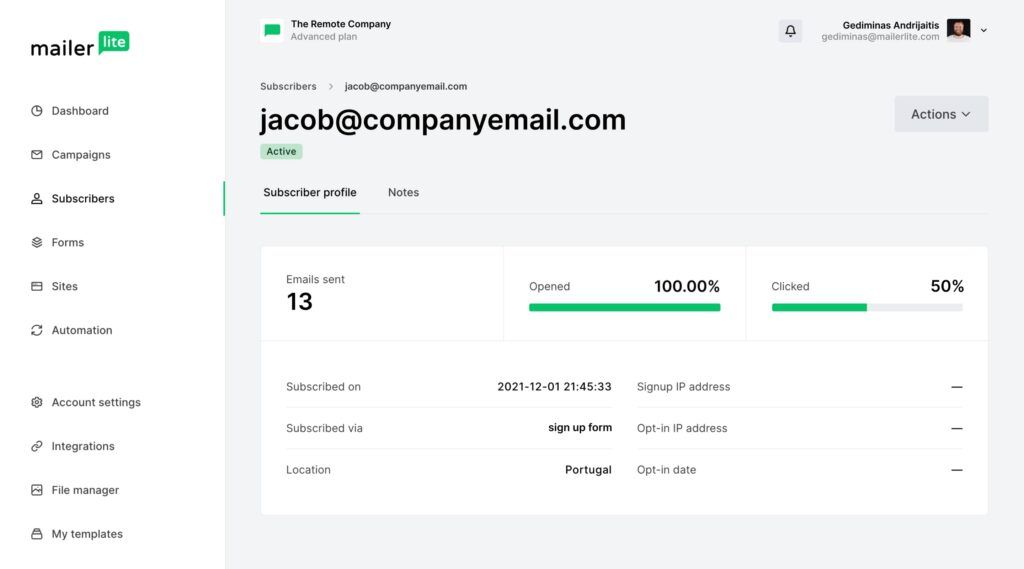 MailerLite allows you to create up to 10 landing pages on their free plan, which is more than enough. You can collect leads and build your funnels with MailerLite custom landing page builder and signup forms.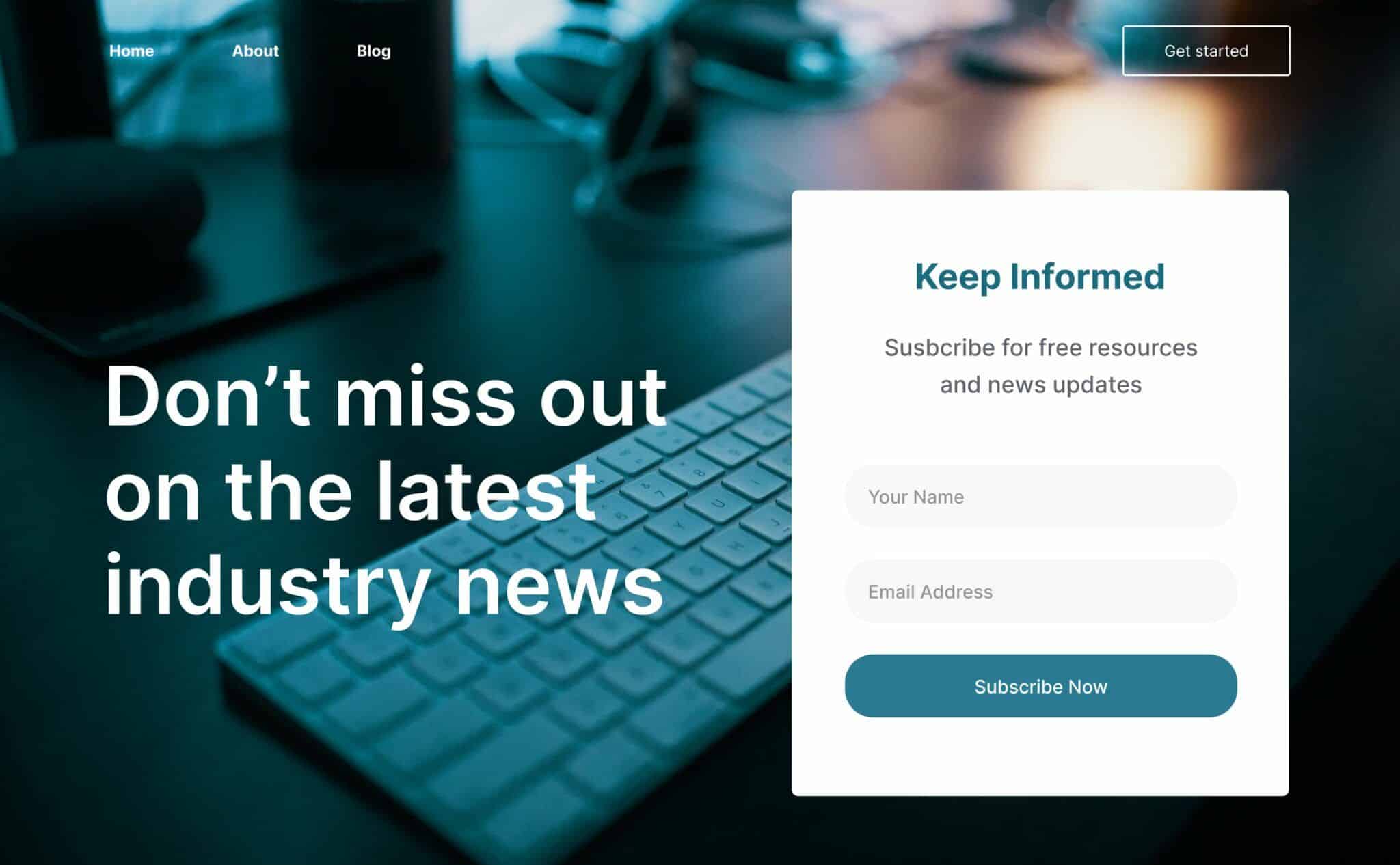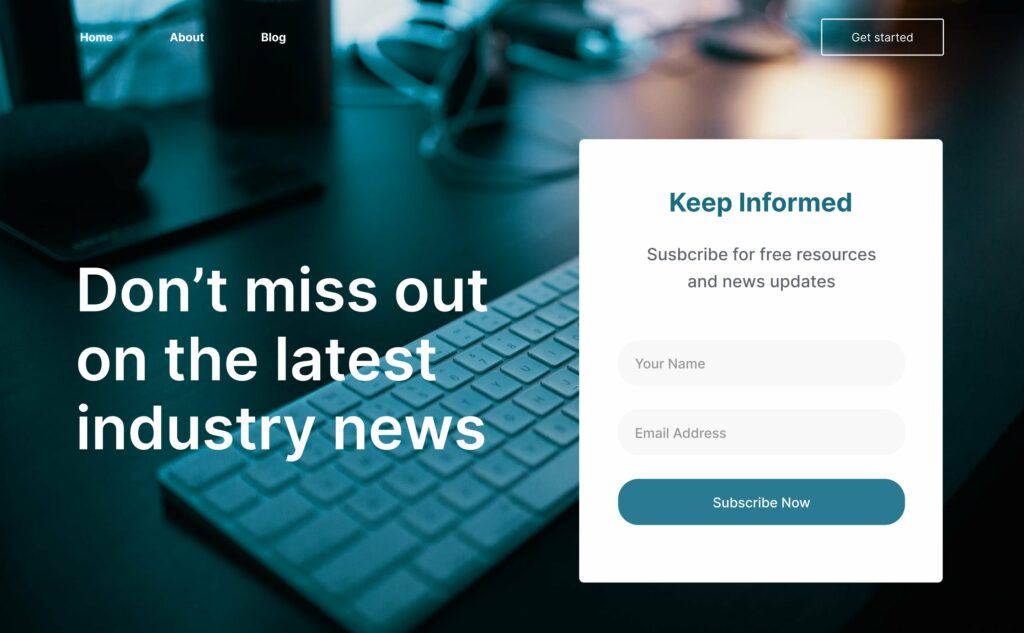 If you're worried about the design of your landing page, MailerLite also has various templates for you to choose from. There is no need to design a landing page from scratch. Simply pick one of the templates available, and customize them accordingly.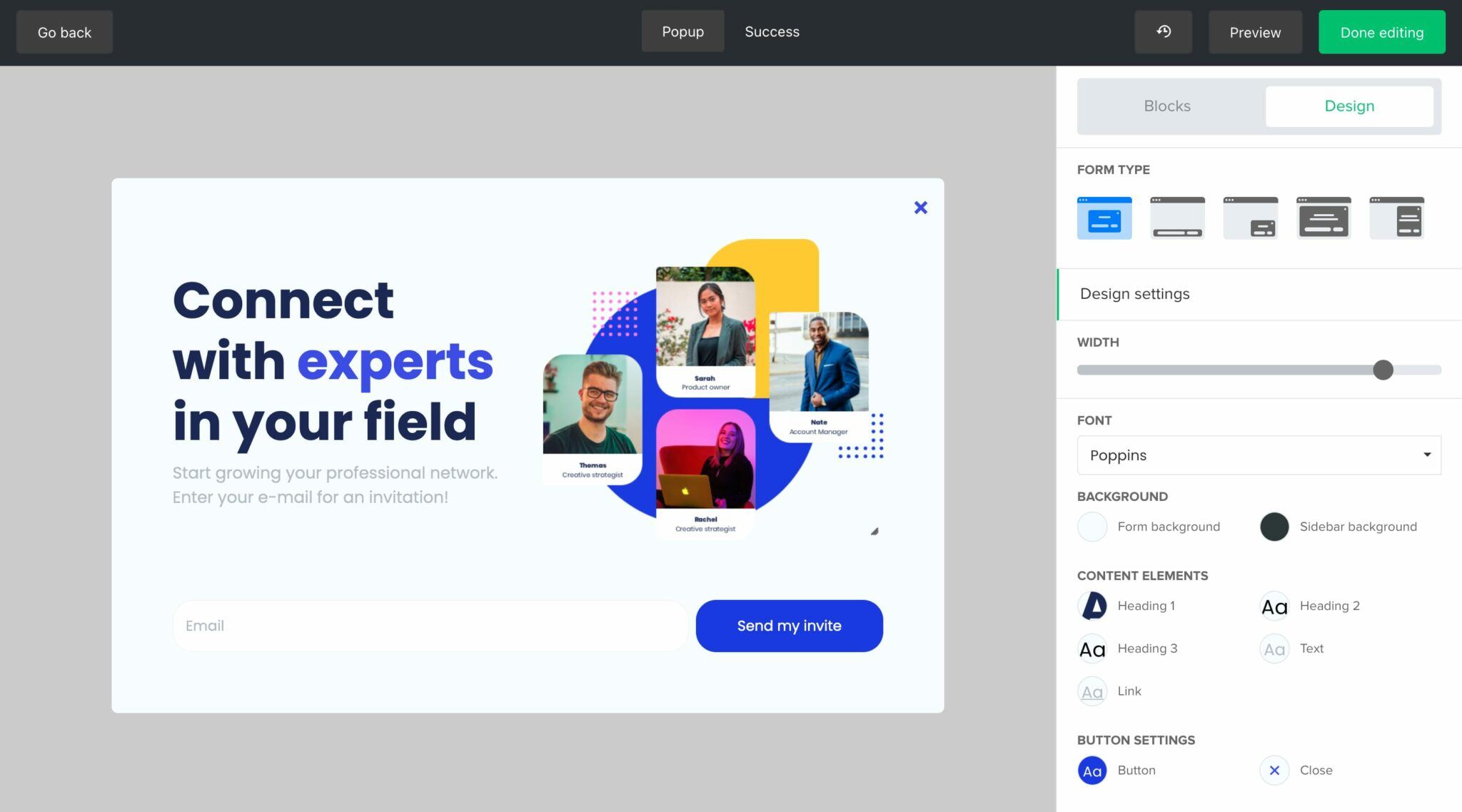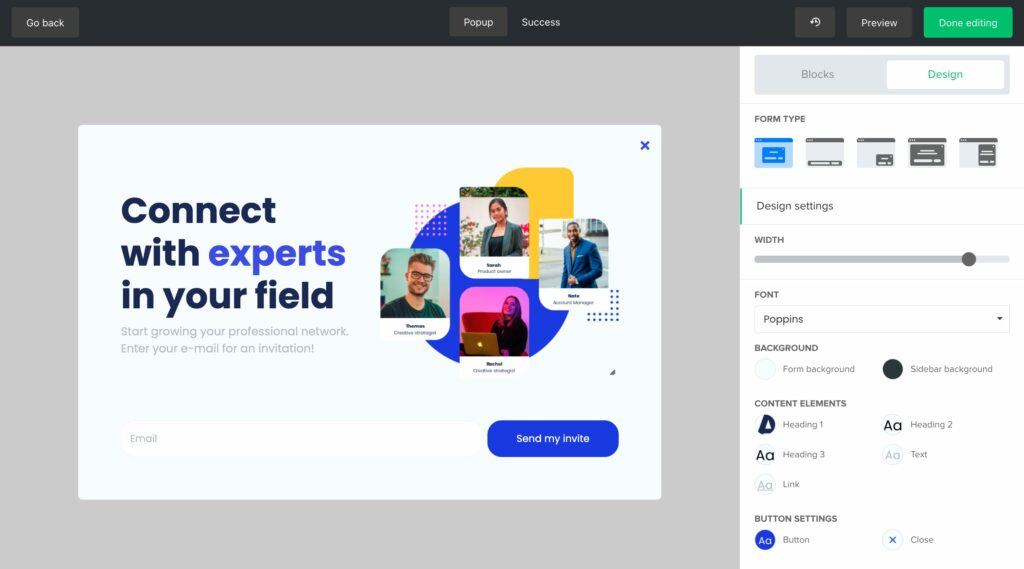 In addition, MailerLite also offers forms in various types and shapes; embedded, pop-ups, promotion pop-ups, you name it. You can confidently collect leads because it is also GDPR-compliant, which is suitable for your European audience.
Sell Products
As we've mentioned before, MailerLite suits e-commerce businesses. You can build, promote, sell, and accept payment from MailerLite. It is already integrated with Stripe, which accepts payments from 135+ currencies from all over the world. Moreover, you can also sell one-time purchases or recurring subscriptions based on your product or service.
If you have an online store, you can connect them easily with MailerLite. Furthermore, you can save tons of time using customizable product email blocks to send offers and promotions to your subscribers. Simply choose one of the e-commerce newsletter templates available, and you're good to go.
MailerLite Features
In this section, we will highlight some features that we find interesting in MailerLite. Here it goes.
Email Verifier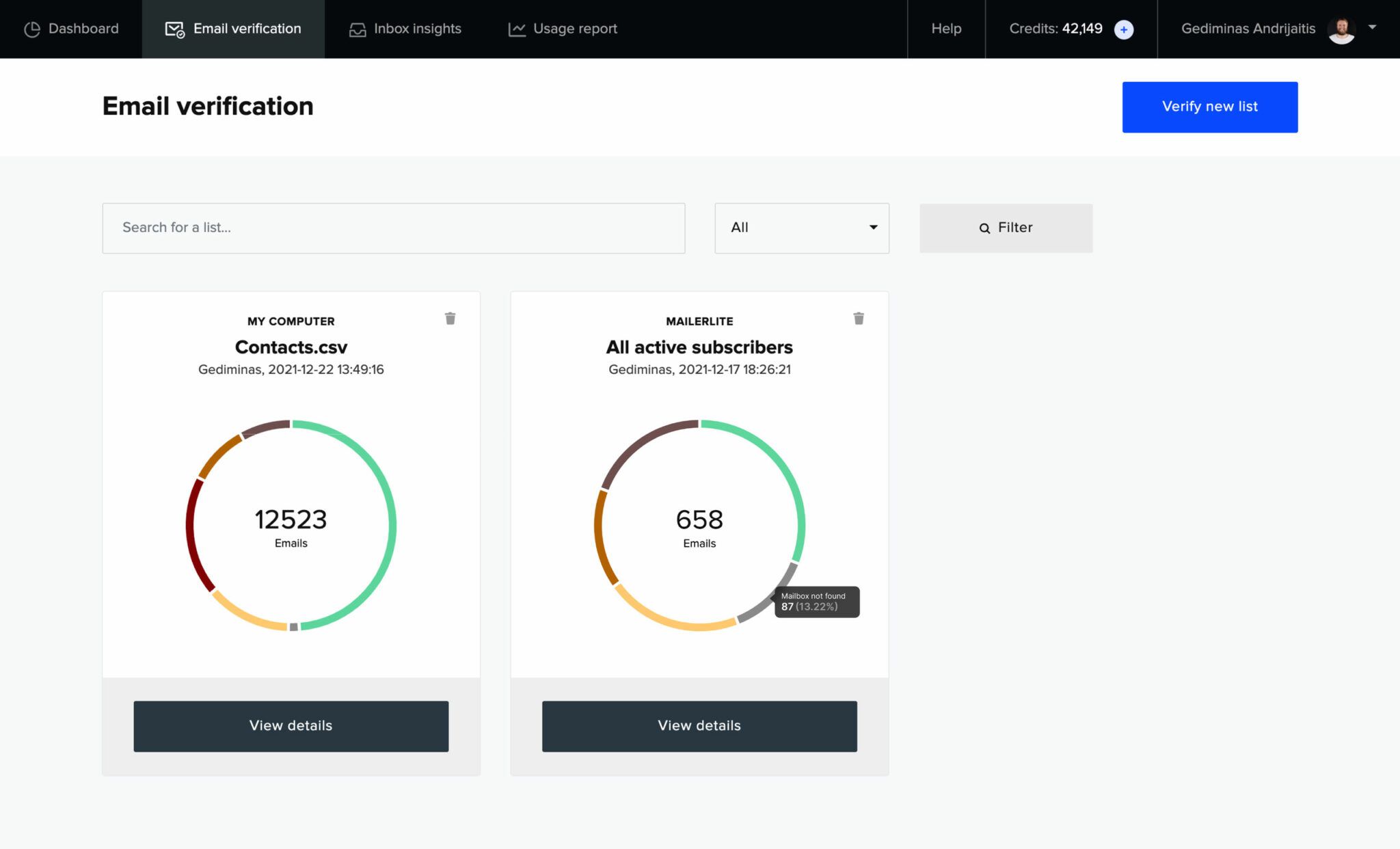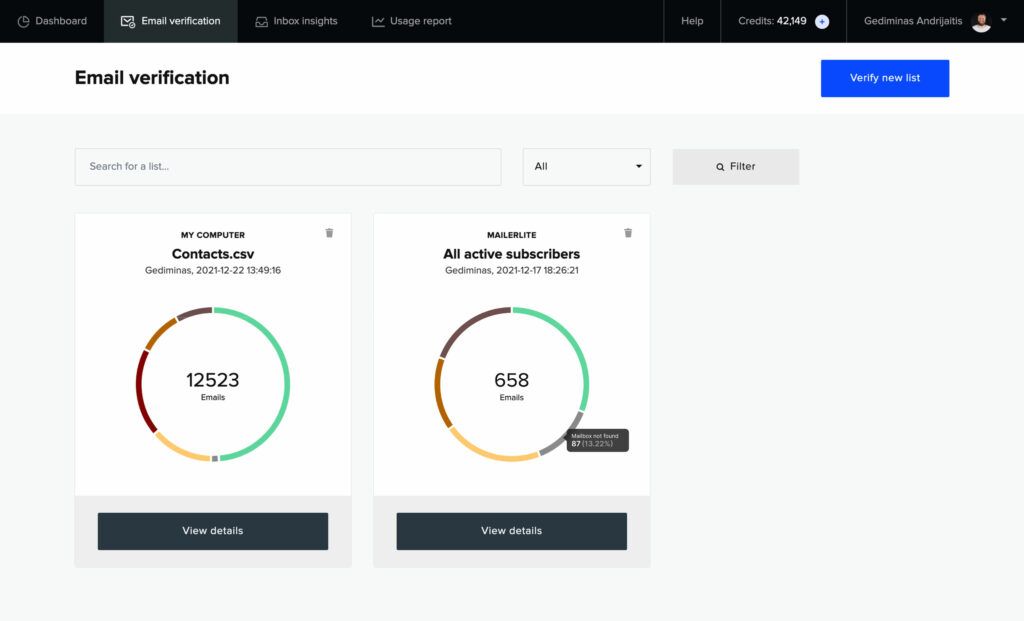 One of the main features of MailerLite is the email verifier tool called MailerCheck. Sometimes, people don't enter their actual email addresses when signing up. So, there is a chance to see weird email addresses appear on your list. That's why this email verifier is a handy feature.
The way it works is pretty straightforward. You can verify your email list in bulk, at a single address, or using the email verification API.
The bulk email verifier allows you to check hundreds or thousands of subscribers' emails. You can do it by uploading a list of CSV or TXT files, and MailerCheck will do the work for you. Or, you can check one or a few email addresses in seconds with single email verification.
Even better, it also works through the email verification API. So, whenever you get leads from your signup forms or landing pages, MailerCheck API will filter weird email addresses before it goes to your list.
Newsletters Blocks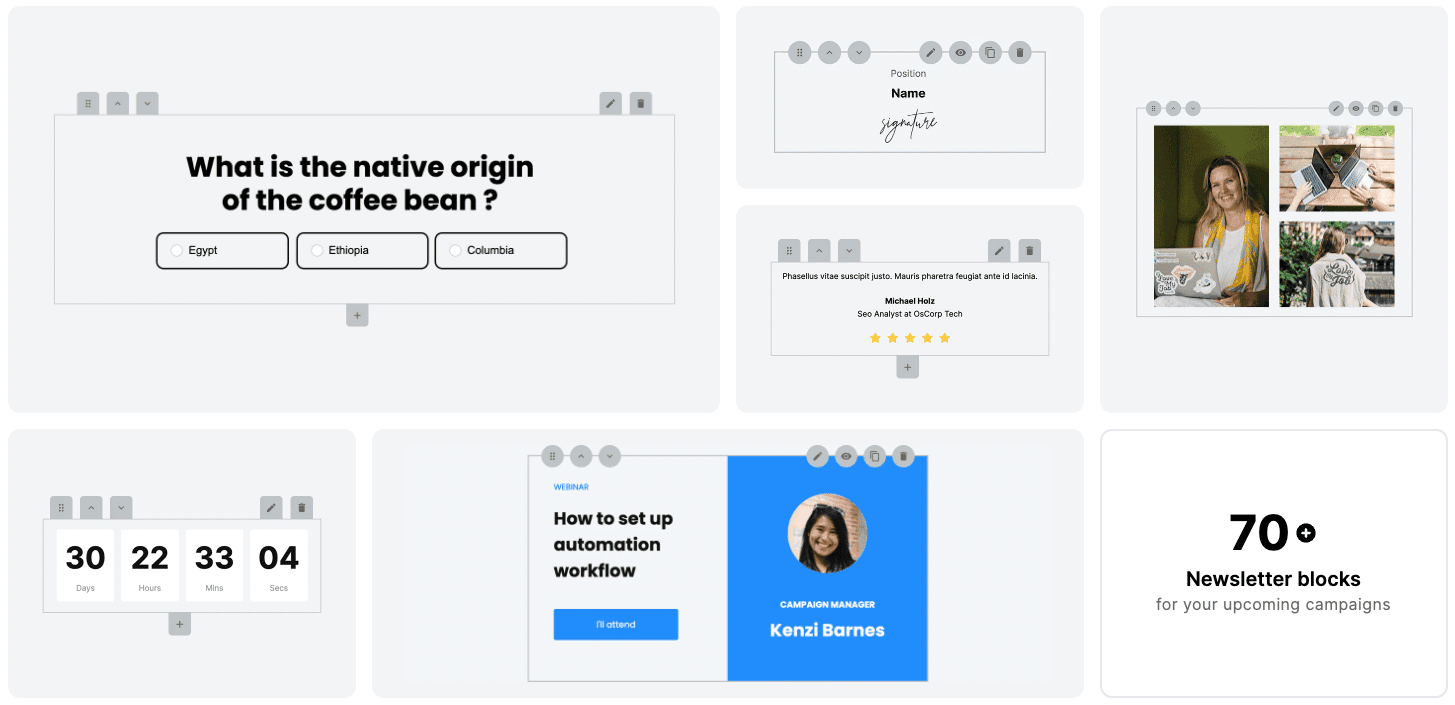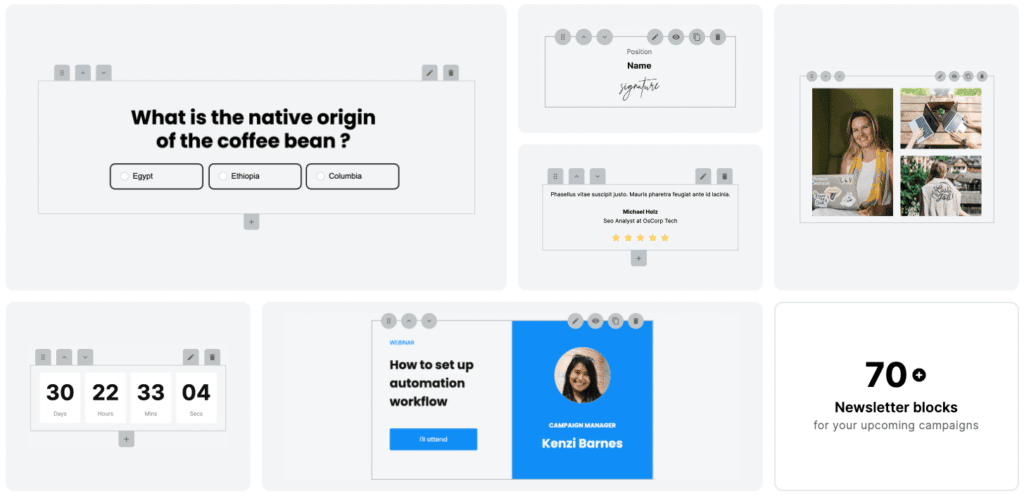 Even though every email marketing platform has its own drag-and-drop editor, MailerLite comes with more than 70 newsletter blocks to save your time and resource. You can add surveys, quizzes, carousel galleries, a countdown timer, and many more to your newsletters.
It's similar to what Outgrow offers with interactive content marketing on landing pages. Instead, MailerLite can use it on emails. So, you can create beautiful and highly engaging emails to your subscribers with this feature.
Built-in SEO Features
If you plan on using MailerLite to build your website, you get access to its built-in SEO features. Unless you don't want your site to be found on search engines, it's a no-brainer to not use this feature. Moreover, you get access to your website traffic, analytics, and heat maps. So, you can keep on improving your website experience for your visitors.
MailerLite Pricing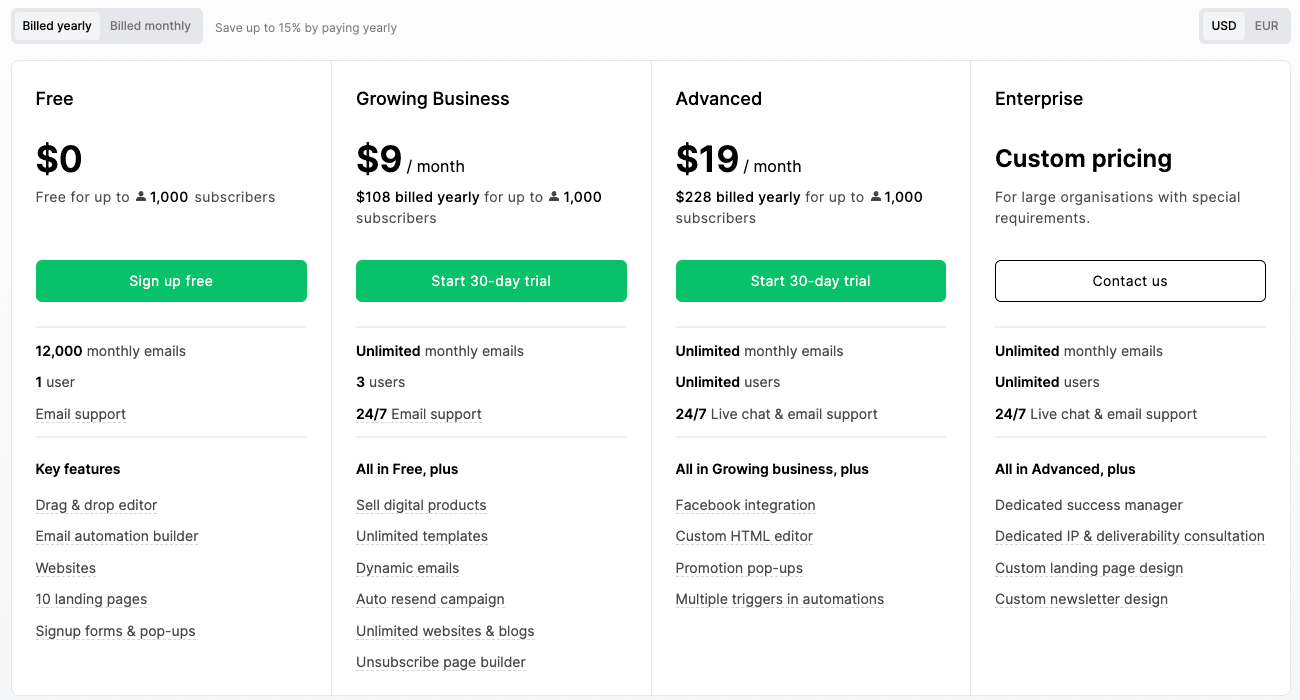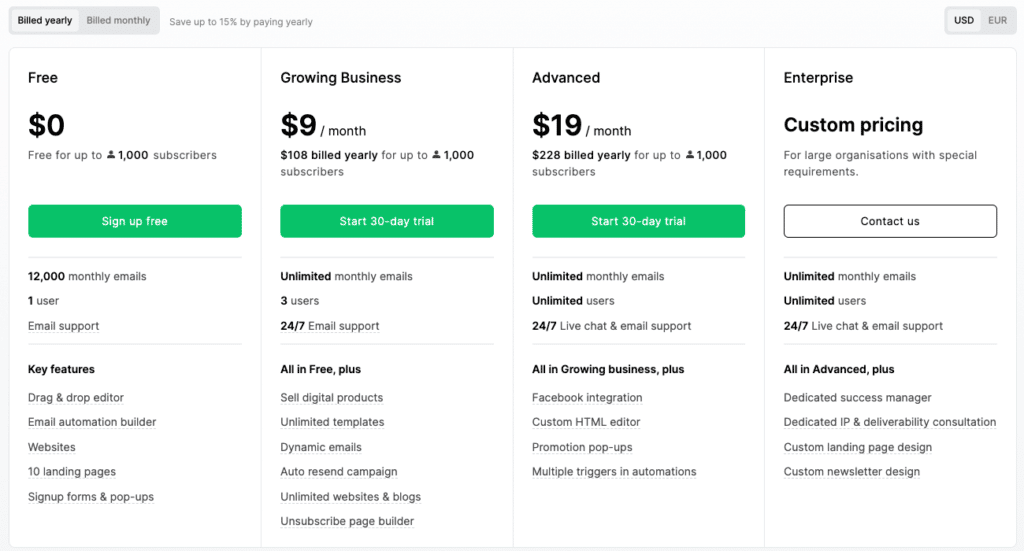 MailerLite's Growing Business plan offers affordable pricing for up to 1,000 subscribers for as low as $9 per month ($108) on an annual payment. Even if you pay monthly, the difference is just $1 at $10 per month.
The Advanced plan starts at $228 on an annual payment or $21 monthly. Moreover, MailerLite also offers custom pricing for organizations or companies with special requirements. The main difference between the Growing Business and the Advanced plan is the Facebook integration, access to a custom HTML editor, and multiple-trigger automation. In addition, both plans offer unlimited monthly emails. MailerLite's pricing is a strong contender in terms of affordability compared to Moosend.
Here's a complete list of MailerLite pricing plans depending on the number of subscribers.
Subscribers
Growing Business
Monthly Price
Growing Business
Annual Price
Advanced
Monthly Price
Advanced
Annual Price
1,000
$10
$108
$21
$228
2,500
$17
$180
$30
$324
5,000
$32
$348
$39
$420
8,000
$34
$372
$54
$564
10,000
$54
$564
$87
$924
15,000
$87
$924
$119
$1,260
20,000
$119
$1,260
$139
$1,500
25,000
$139
$1,500
$159
$1,688
30,000
$159
$1,688
$179
$1,860
35,000
$179
$1,860
$199
$2,040
40,000
$199
$2,040
$220
$2,244
45,000
$220
$2,244
$239
$2,460
50,000
$239
$2,460
$289
$2,964
60,000
–
–
$315
$3,240
70,000
–
–
$330
$3,360
80,000
–
–
$375
$3,840
90,000
–
–
$395
$4,080
100,000
–
–
$425
$4,320
110,000
–
–
$475
$4,860
120,000
–
–
$515
$5,280
130,000
–
–
$539
$5,520
140,000
–
–
$561
$5,760
150,000
–
–
$594
$6,060
160,000
–
–
$627
$6,420
170,000
–
–
$660
$6,720
180,000
–
–
$693
$7,080
190,000
–
–
$726
$7,440
200,000
–
–
$809
$8,280
220,000
–
–
$891
$9,120
240,000
–
–
$975
$9,960
260,000
–
–
$1,023
$10,440
280,000
–
–
$1,075
$10,980
300,000
–
–
$1,155
$11,760
320,000
–
–
$1,221
$12,480
340,000
–
–
$1,287
$13,140
360,000
–
–
$1,353
$13,800
380,000
–
–
$1,405
$14,340
400,000
–
–
$1,485
$15,120
420,000
–
–
$1,570
$16,080
440,000
–
–
$1,650
$16,800
460,000
–
–
$1,735
$17,760
480,000
–
–
$1,815
$18,480
500,000
–
–
$1,881
$19,200
Frequently Asked Questions
Can you embed MailerLite signup forms on a WordPress website?
Yes, you can use the official MailerLite Sign Up Forms plugin and install it on your WordPress site.
What is Hire an Expert inside MailerLite?
Basically, MailerLite offers you to connect with experts in email marketing to help you with your business. If you need a strategic consultation or design help, you can contact these experts for an opinion. The price for consultation varies from hourly basis or project basis.
What is MailerLite Academy?
It's a free online course provided by MailerLite to learn the basics of email marketing. You can get certified as an email marketing expert, too!
Conclusion
To end our MailerLite review, we think MailerLite is worth trying for anyone who needs an affordable email marketing platform. It's definitely better than Moosend because it allows you to have a free forever plan, even with limited monthly emails. However, we still think GetResponse is better because you don't have that limitation.
We strongly recommend you try it and enroll in the MailerLite Academy to learn more about email marketing for free!
---