This post contains affiliate links. We may receive a commission for purchases made through these links without any extra cost to you. Thank you for your support.
---
In this Moosend review, we'll explore this affordable email marketing automation platform used by brands like VOGUE, GUCCI, Domino's, Ogilvy, and many more.
If you're looking for an email marketing platform, we have provided you with several options, such as Omnisend, SendSteed, NeoMail, and GetResponse. If you're somehow not convinced with all of the options above, you can try Moosend.
For us, it is essential to stick with one or even two email marketing platforms, as long as it suits your needs and business. Otherwise, you're going to be confused with too many platforms.
So, without further ado, let's jump right into our review.
What is Moosend?
Moosend is an all-in-one marketing platform with powerful features in email marketing. Based on our experience, Moosend has one of the best user-interface for their email editor. Just take a glimpse by looking at this screenshot below.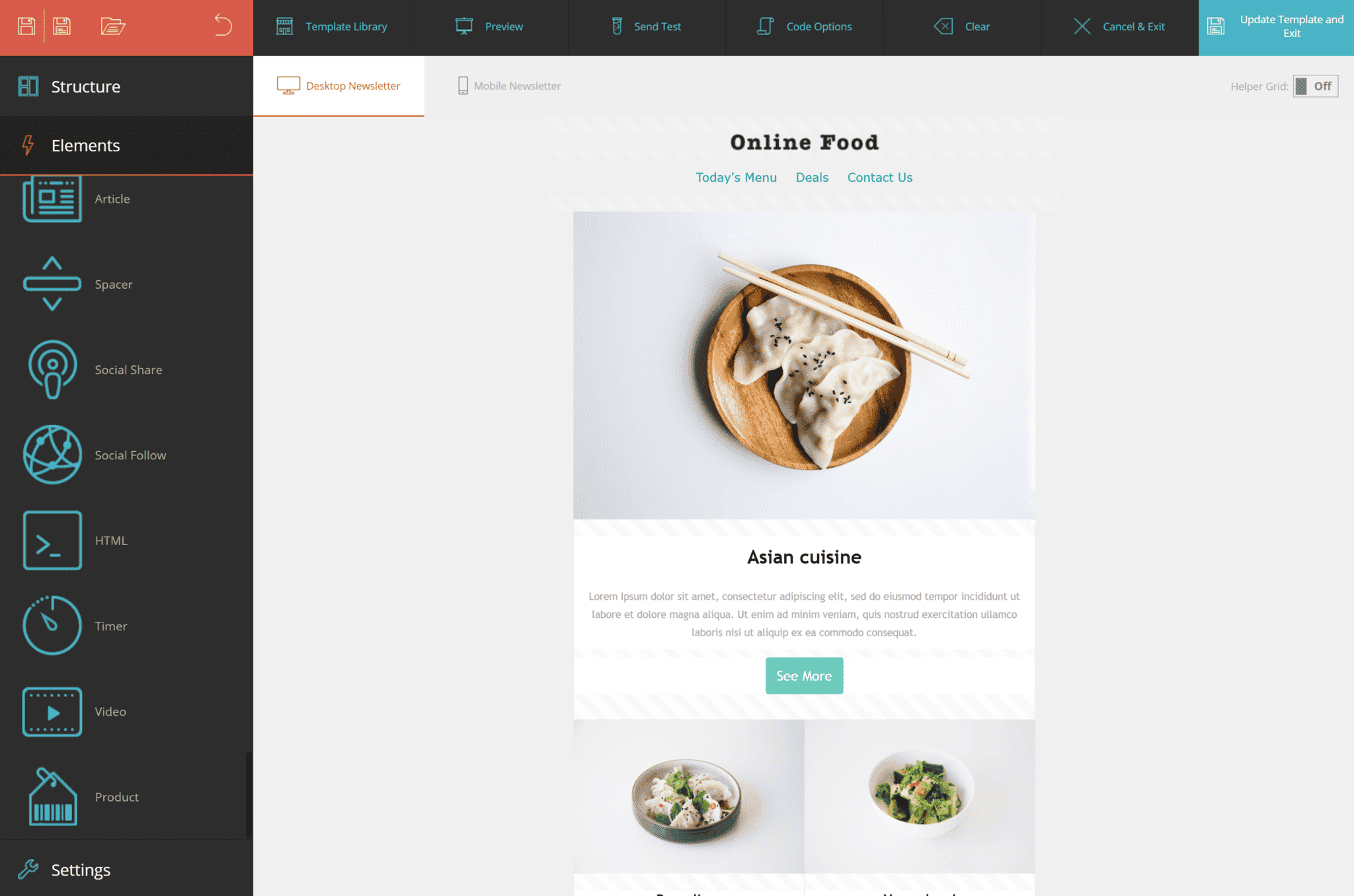 If you're an affiliate marketer like us, you are subscribed to dozens of newsletters from different companies. When you subscribe to several email marketing platforms, you know which one stands out from the rest. Well, Moosend is definitely one of them.
Take a look at this testimonial below.
Moosend Features


In this section, we'll highlight Moosend's key features to help you decide if it is suitable for you and your business. We believe these features are worth considering if you plan on using Moosend in the long term. After all, there must be a reason why big brands are using Moosend, right?
Check out this testimonial.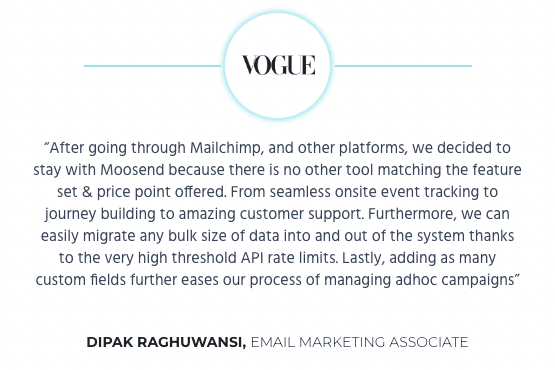 Email Marketing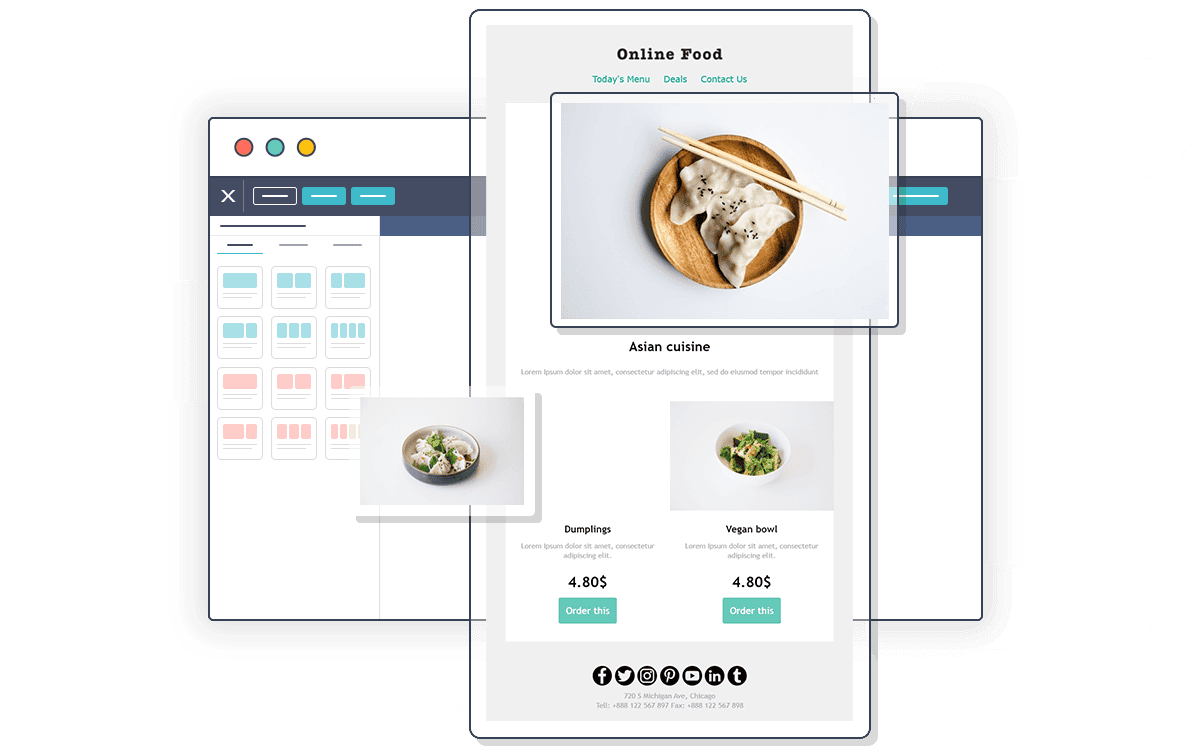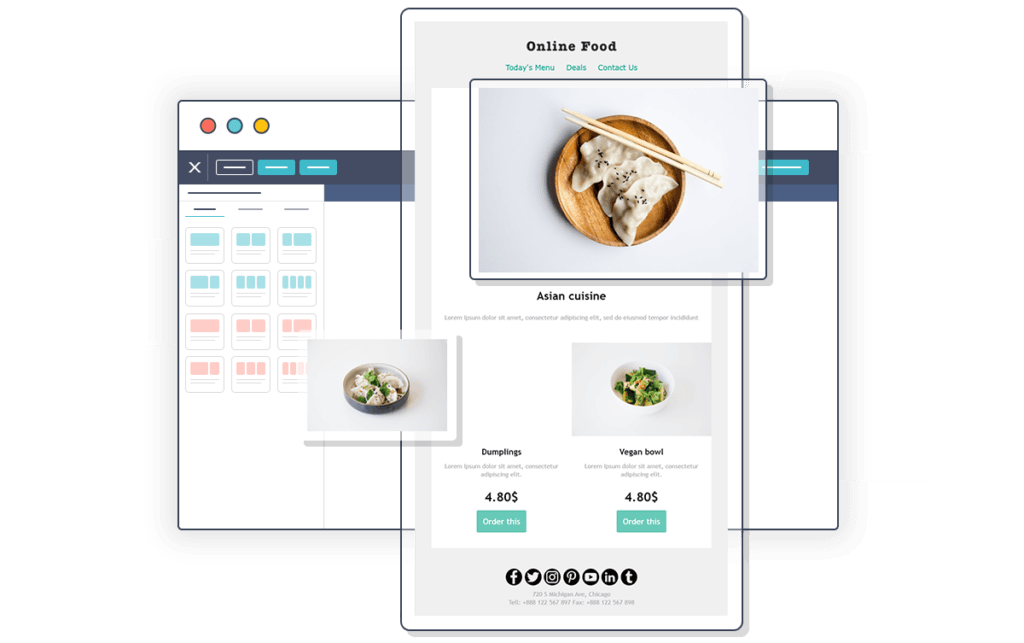 As an email marketing platform, Moosend provides one of the best and most user-friendly interfaces to help you create beautiful emails. You've seen the previous screenshot, right?
With a simple drag-and-drop email editor, you can create highly visual email campaigns for your subscribers. It's easy to customize your email with Moosend. You can add elements such as visuals, CTA buttons, spacer, social share, countdown timer, video, and many more. Even if it's your first time doing email marketing, people wouldn't know.
If you're stuck with email designs, Moosend provides you with more than 75+ email templates. Take a look at these beautiful designs below.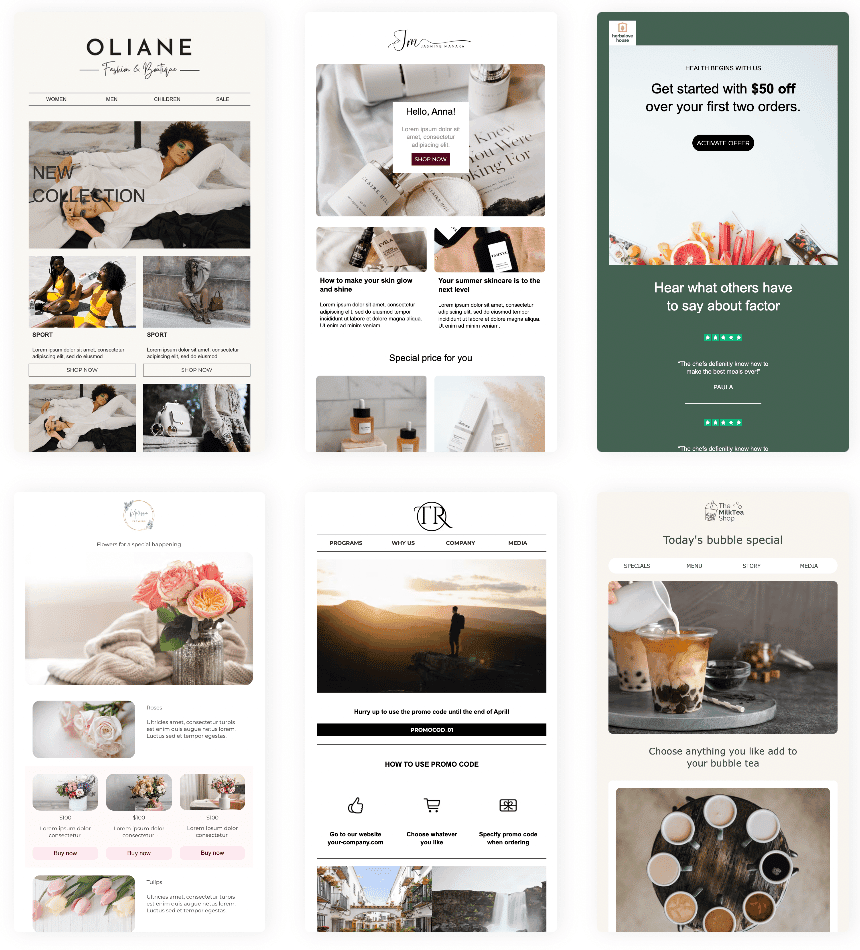 Sometimes, a highly visual email could look totally different when viewed on a laptop and phone. However, Moosend's email templates are mobile responsive. So, your email will look great on mobile devices. You don't have to worry about email design anymore. We can guarantee that.
In almost any email marketing platform, you can create A/B testing to test your email campaigns with Moosend. Simply compare your subject lines, content, and "From" names. This allows you to see which one gives you better results. After all, email marketing is all about trial and error, right?
Segmentation
If you're running email marketing, you will need a segmentation feature to help create personalized emails based on your subscriber's profiles. You can segment your subscribers with tags such as gender, age, and even their product preference and purchase history.
This is an essential feature if you're running an e-commerce business. Why? Because you can learn about your subscribers and promote the right product based on their preferences. Here's a complete list of everything you can tag to your list.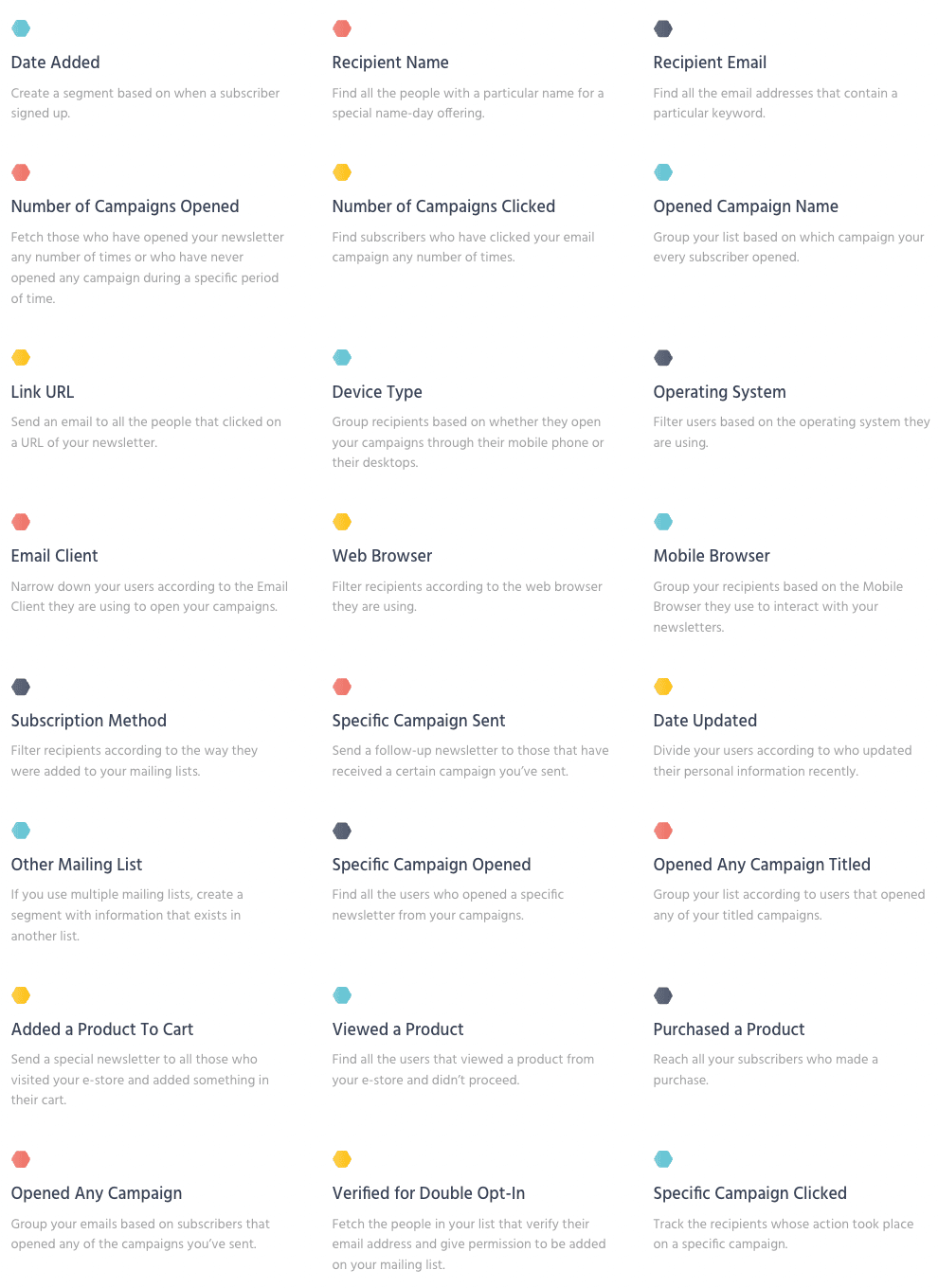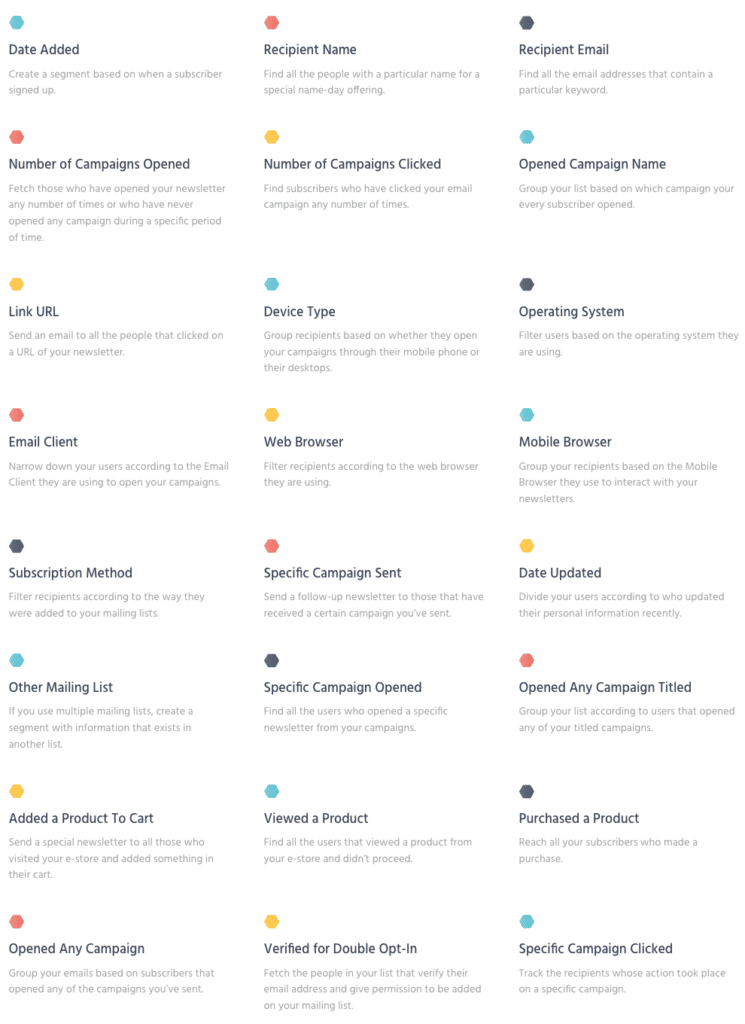 Pretty much everything, right?
Subscription Forms
What if you're just getting started on building your email list? Well, you don't have to worry about that. Moosend will help you with various subscription forms. You can choose from a pop-up, inline form, floating bar, floating box, and even a full-page option to capture emails from your visitors.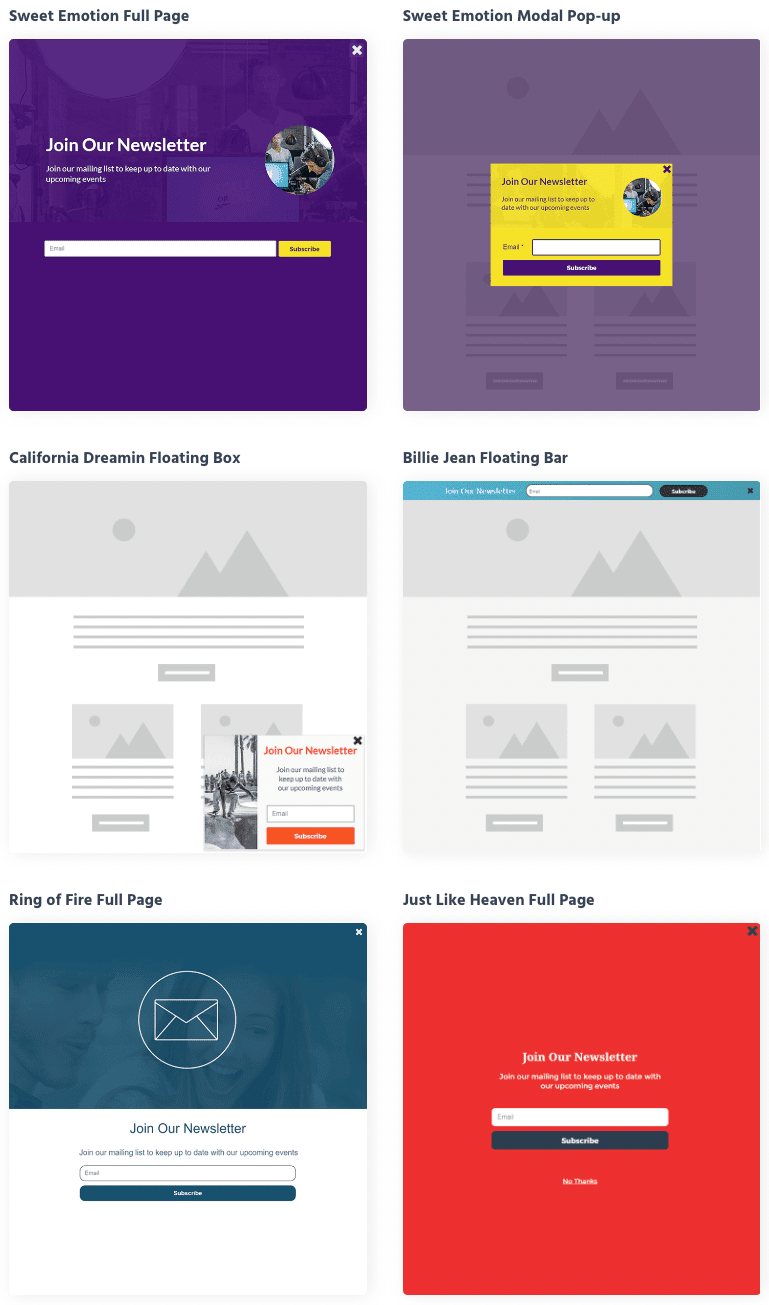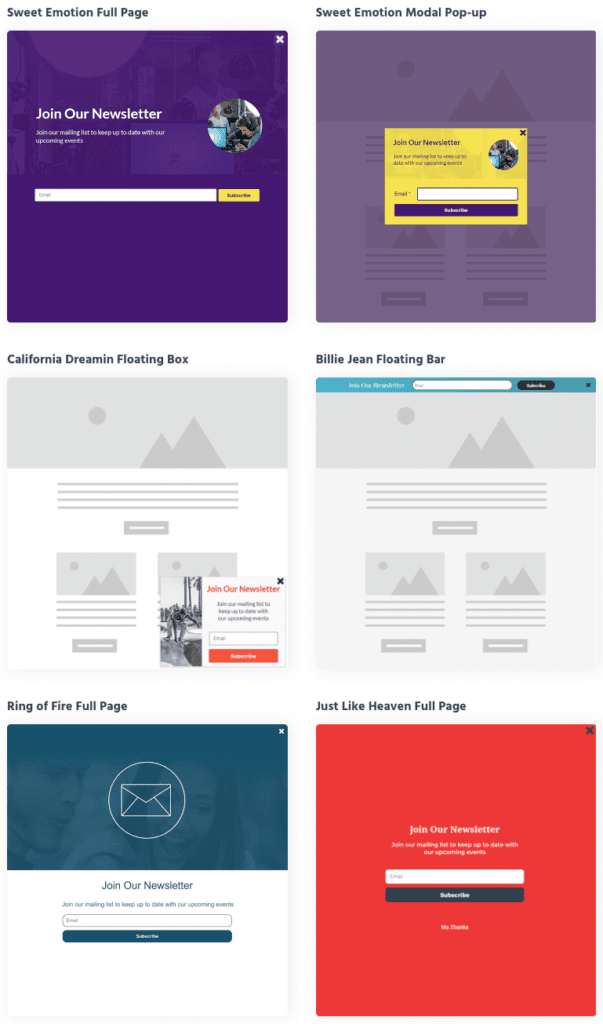 Moreover, you don't have to create your forms from scratch. Simply access various templates available and customize them based on your personal preference. Even better, your drag-and-drop editor is available to help you customize without any coding.
Landing Pages
What else do you need to start growing your business? The answer is none other than a landing page. Think of it as your visitor's first impression when they visit your website. You want your landing page to look professional, simple, and captivating to your visitor.
Fortunately, Moosend is ready with lots of ready-made templates to help you streamline your landing page creation. Check out these beautiful templates that are already optimized for mobile devices.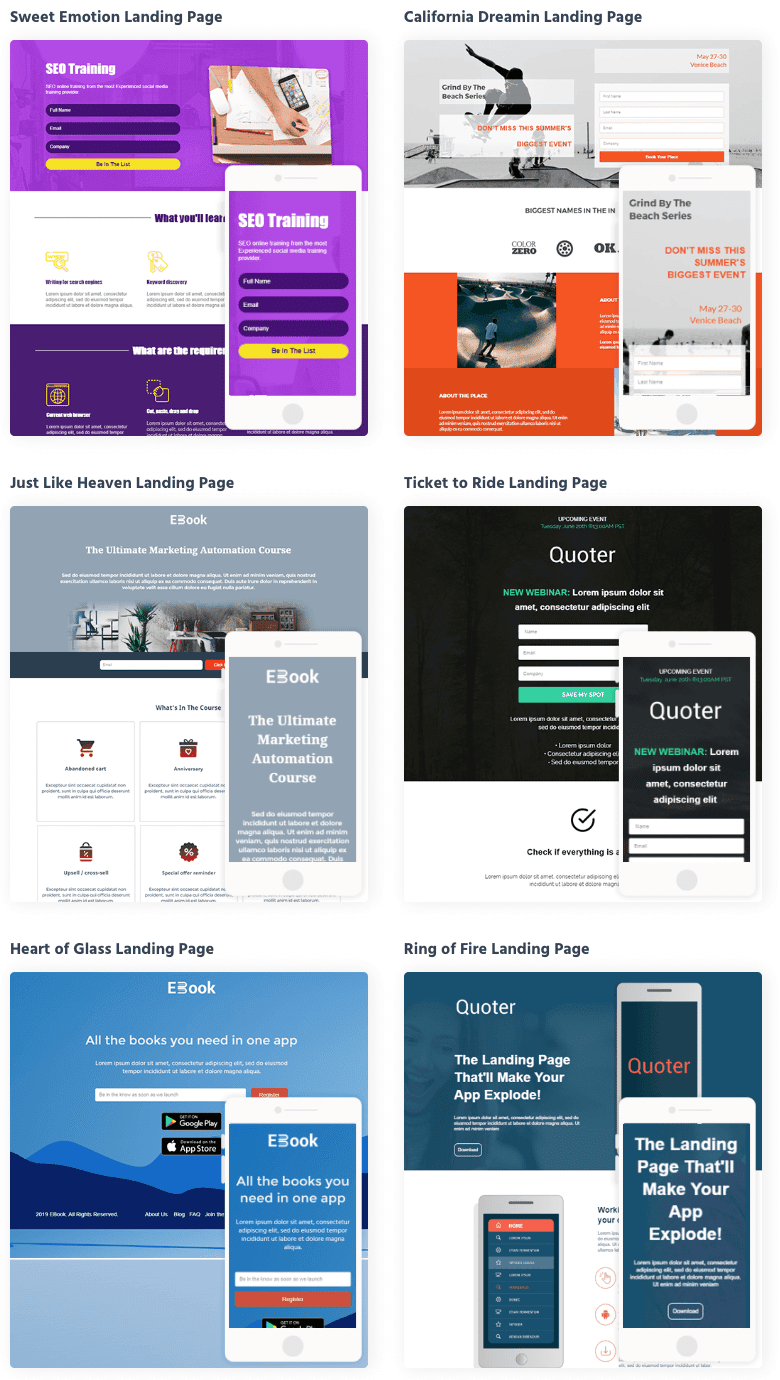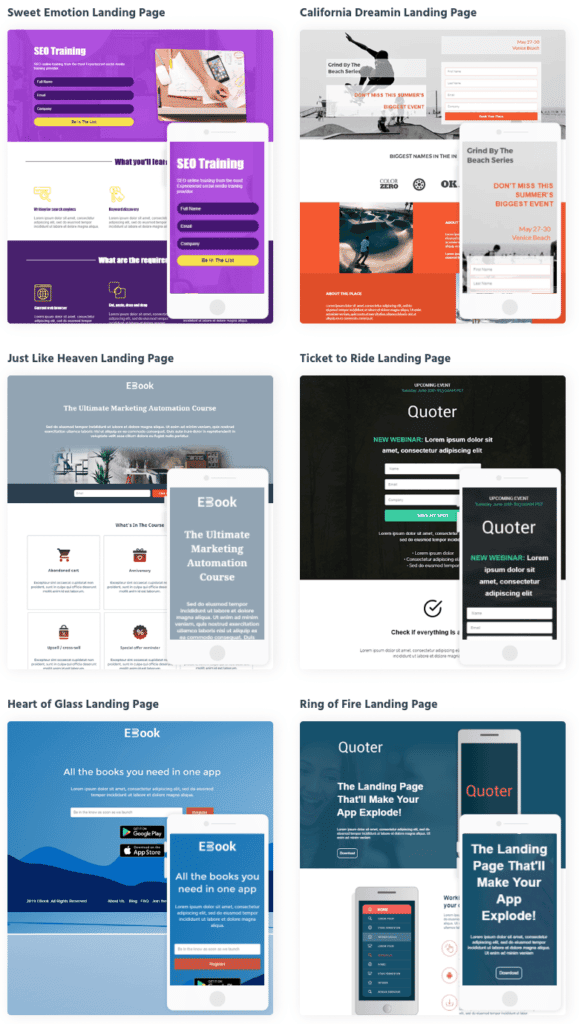 Pretty cool, right?
Marketing Automation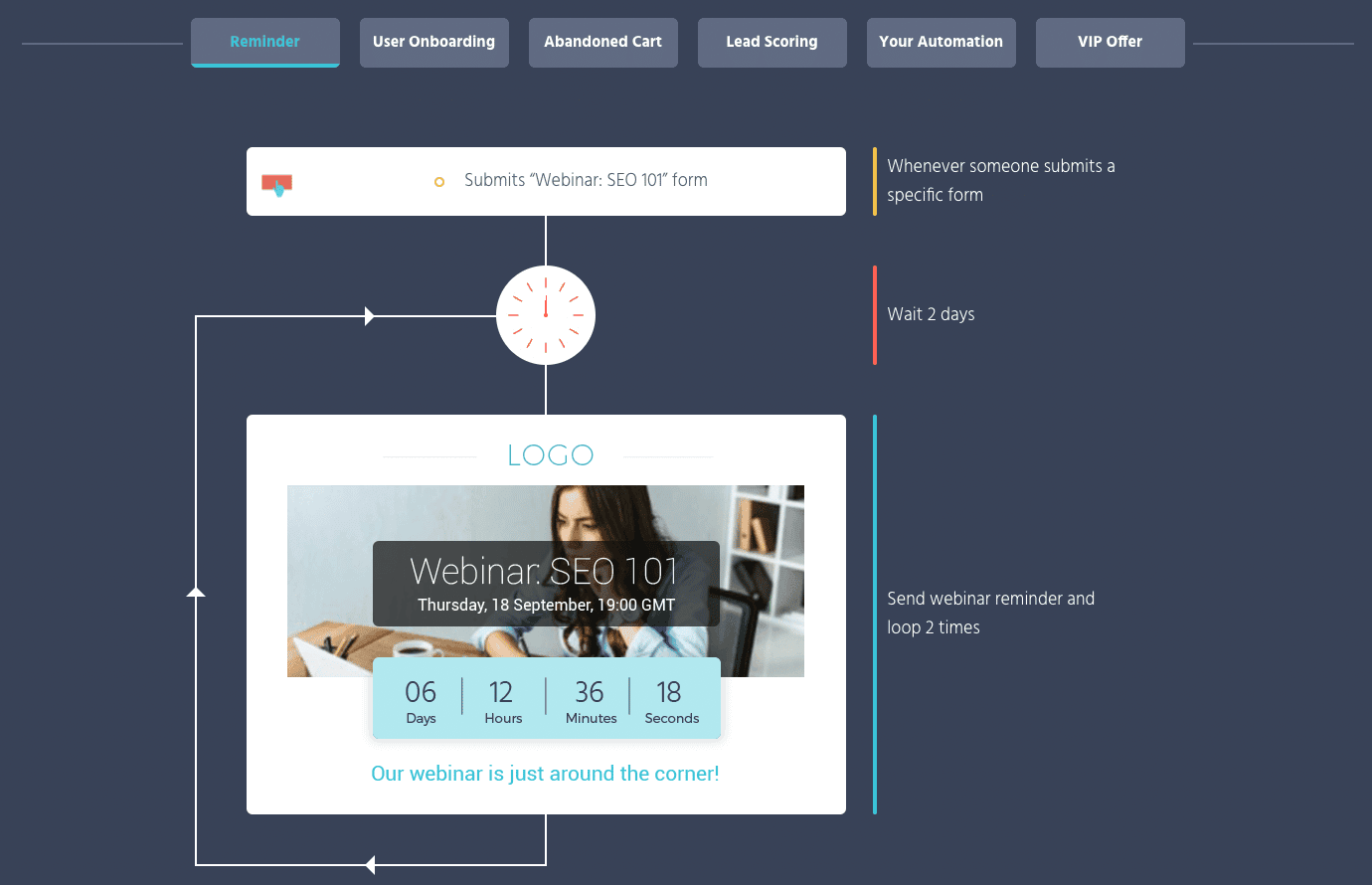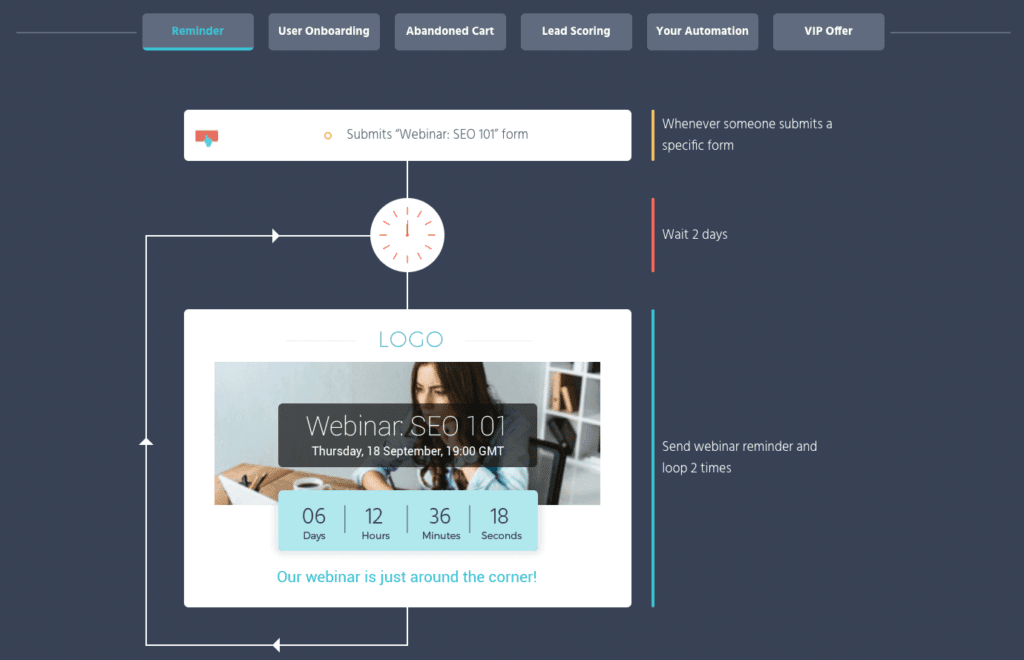 Now, let's talk about one of the best features in Moosend, marketing automation. Firstly, let's take a look at this video.
If you're running a marketing campaign, you want it to run on auto-pilot. You want everything to be automated. So, you don't have to worry about the grueling process of sending emails, right?
Moosend allows you to create unique marketing automation workflows for every detailed step in your marketing campaign. Moreover, you can use it with a simple drag-and-drop, just like what you did with email editors.
Here is the list of features you can enjoy with Moosend's marketing automation.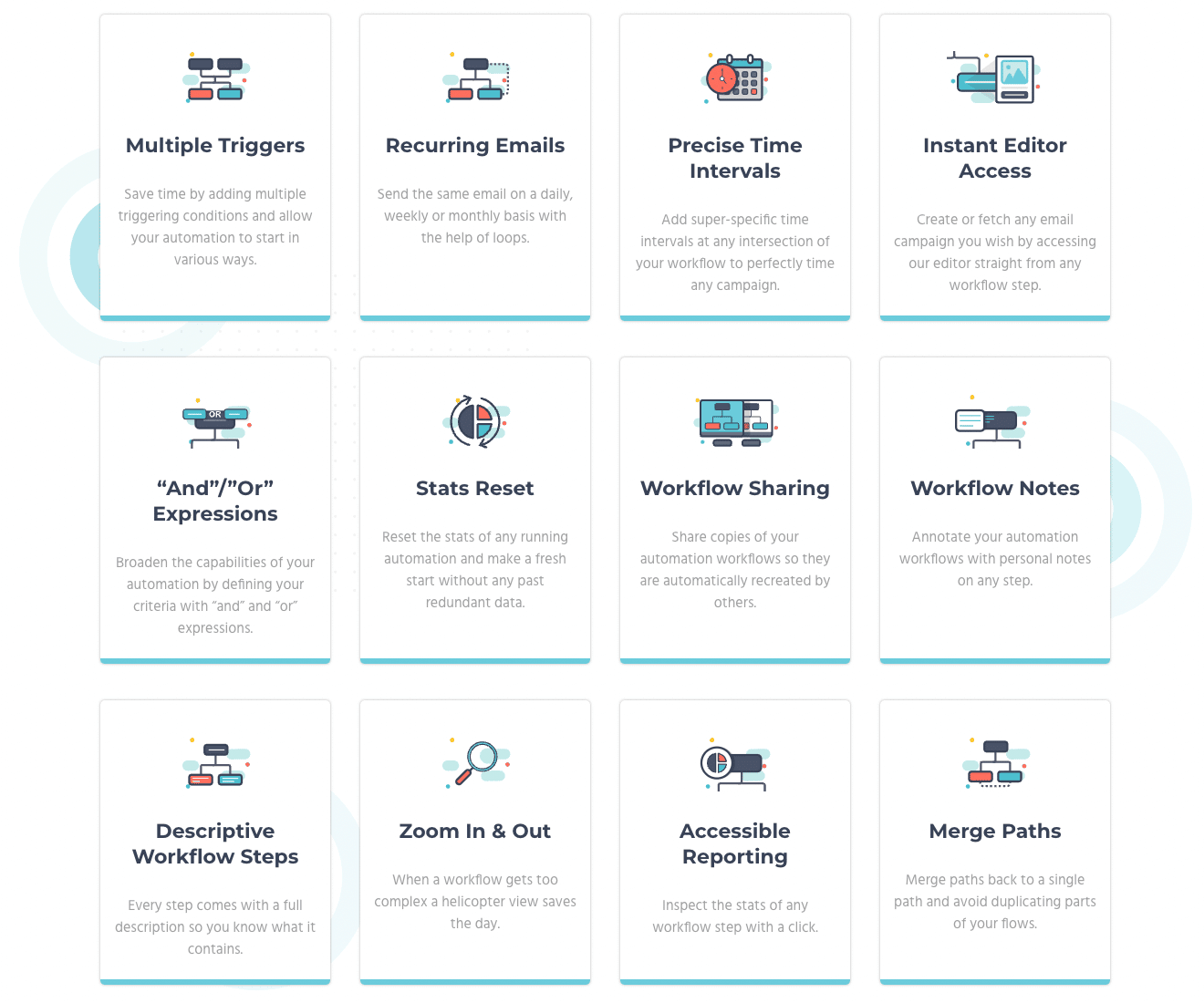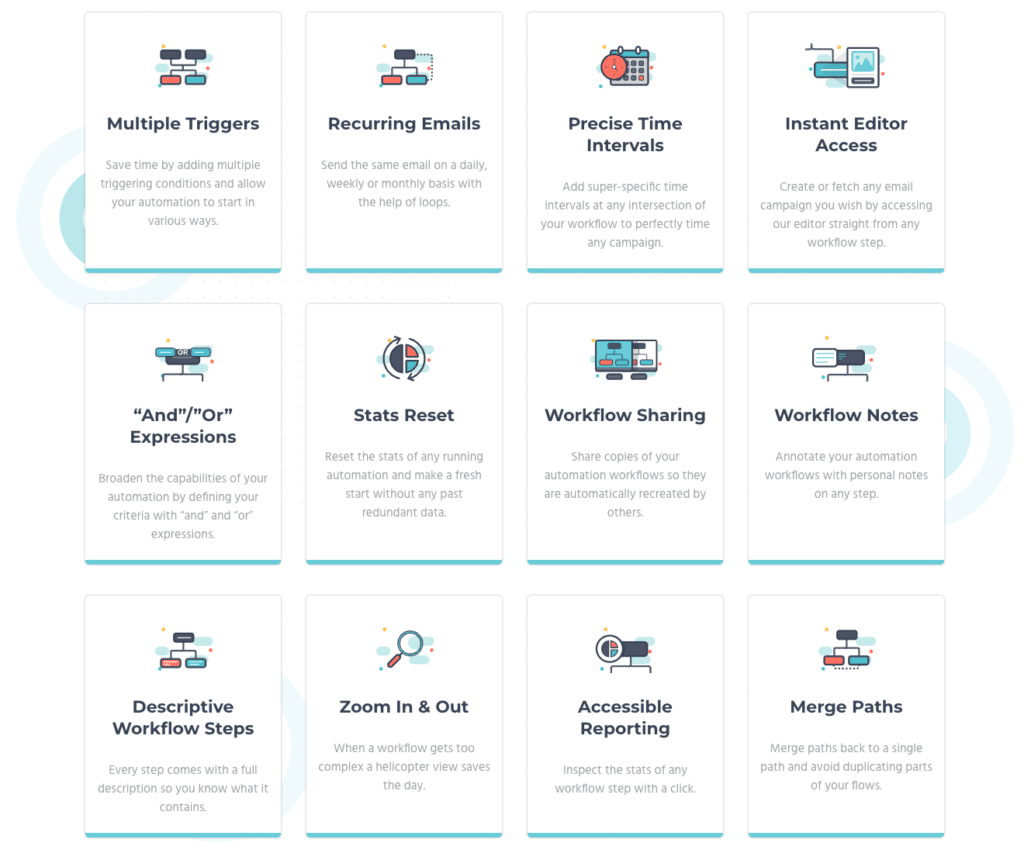 Advanced Reporting & Analytics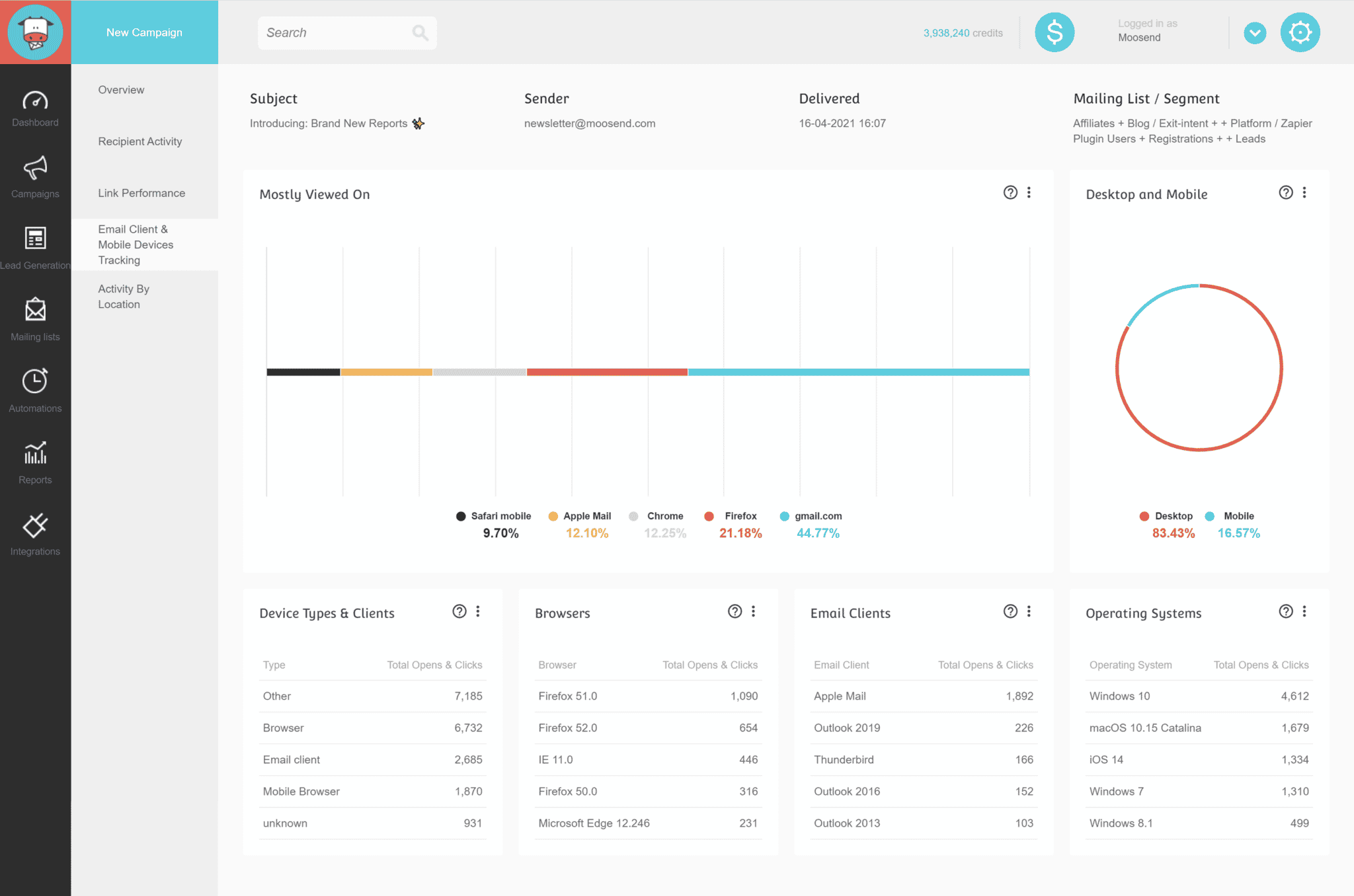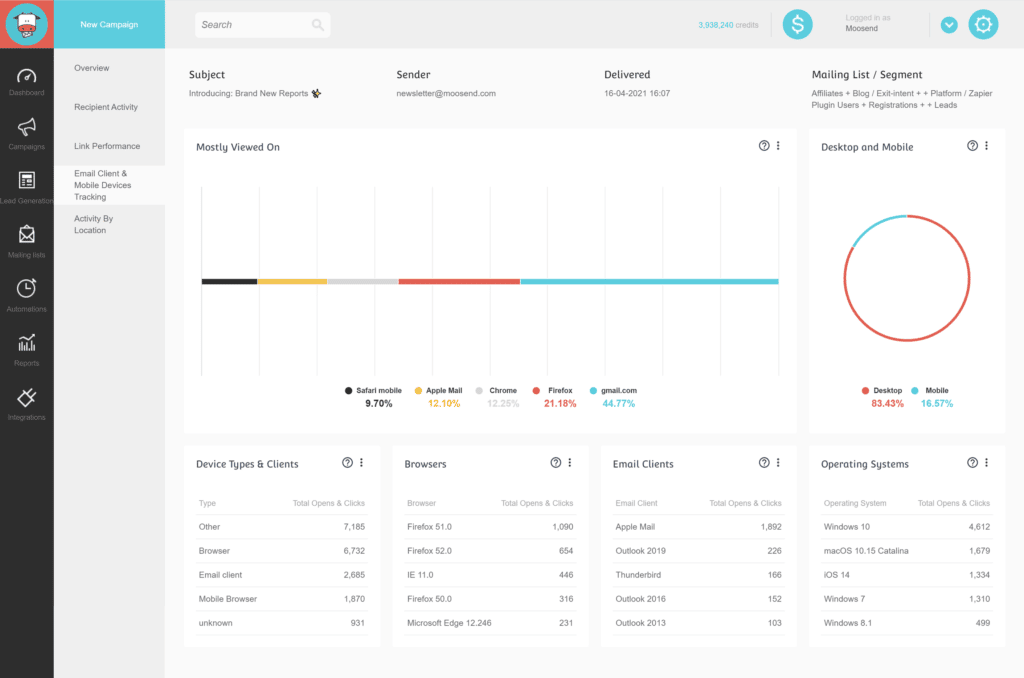 One of the most crucial things in email marketing is none other than accessing your report and analytics. Otherwise, you wouldn't know the result. Without knowing the result, you wouldn't know what to do.
That's why this video explains Moosend's capability to provide you with a comprehensive report to help you make better business decisions.
You can track open rate, bounce rate, subscribes/unsubscribes rate, conversions, and many more. You can even see your subscriber's email device. In addition, you will be able to monitor heatmaps from your landing pages, so you'll know where your audience is clicking and spending most of their time. Isn't it awesome?
Moosend Pricing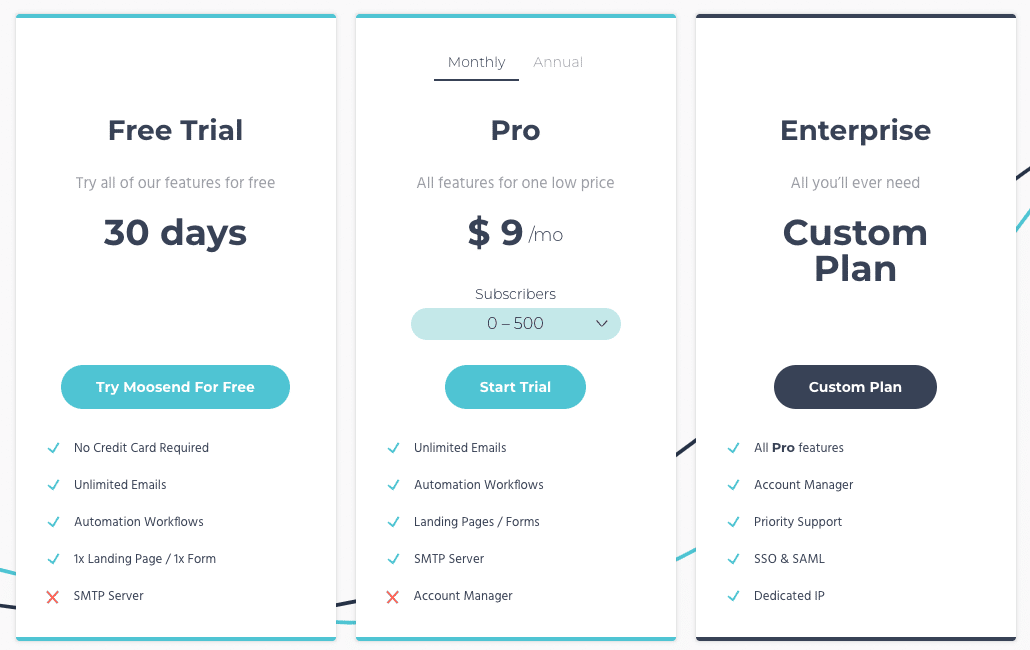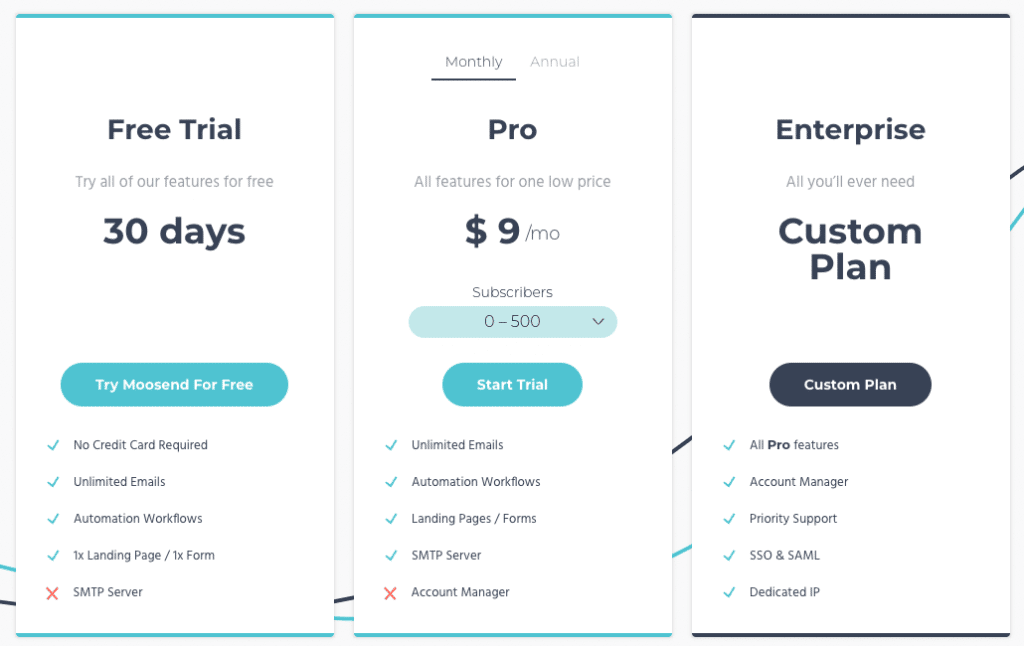 As you can see, Moosend's pricing system is pretty straightforward compared to similar tools. You can start with a free trial for 30 days and see if it suits you. Your free trial allows you to access every paid feature except transactional emails and a dedicated SMTP server.
However, if you're not into free stuff, you might love Moosend's Pro Plan. We know for a fact that some people are more comfortable using something that they pay for. Moosend Pro plan gets higher based on the number of subscribers you have. It starts from $7/month for up to 500 subscribers, which is affordable on an annual payment. In addition, you can add up to 5 team members, making it even lower at $1,4/month.
Here's a complete table to help you decide based on the size of your list. It goes up to 1,000,000 subscribers.
| Subscribers | Monthly Price | Annual Price |
| --- | --- | --- |
| 0 – 500 | $9 | $7 |
| 501 – 1,000 | $16 | $13 |
| 1,001 – 2,000 | $24 | $19 |
| 2,001 – 3,000 | $32 | $26 |
| 3,001 – 5,000 | $48 | $38 |
| 5,001 – 8,000 | $64 | $52 |
| 8,001 – 10,000 | $88 | $70 |
| 10,001 – 25,000 | $160 | $128 |
| 25,001 – 50,000 | $315 | $252 |
| 50,001 – 75,000 | $416 | $333 |
| 75,001 – 100,000 | $624 | $499 |
| 100,001 – 150,000 | $936 | $749 |
| 150,001 – 200,000 | $1,216 | $973 |
| 200,001 – 250,000 | $1,520 | $1,216 |
| 250,001 – 300,000 | $1,808 | $1,446 |
| 300,001 – 400,000 | $2,532 | $1,882 |
| 400,001 – 500,000 | $2,896 | $2,317 |
| 500,001 – 600,000 | $3,536 | $2,829 |
| 600,001 – 700,000 | $4,080 | $3,264 |
| 700,001 – 800,000 | $4,640 | $3,712 |
| 800,001 – 1,000,000 | $5,840 | $4,672 |
If you're a mid to large company, you can also request an Enterprise account with Moosend's Custom Plan. You'll get a dedicated Account Manager to help you anytime you need.
Frequently Asked Questions
How does Moosend rank against competitors?
Even with the big names in the email marketing industry, Moosend still tops out Sendinblue, Mailchimp, Constant Contact, and ConvertKit in terms of ease of setup, use, and support. Learn more about the comparison report.
What happens if you don't upgrade after your free trial ends?
Your account will still be registered on Moosend, and you don't have access to all the previously available features. So, it's better to upgrade after you are confident with Moosend.
Conclusion
To summarize this Moosend review, we strongly recommend Moosend as the most affordable email marketing platform compared to others. It starts from $7 per month for up to 500 subscribers.
If you're a startup running an e-commerce business, small-medium-sized agency, or bloggers, you'll love Moosend's pricing plan. It's a great option to grow your marketing activity with Moosend.
However, there is no free plan with Moosend. If you want more of a free platform due to budget, it's better to choose GetResponse over Moosend. But, if you're serious about growing your online business with a paid email marketing platform, Moosend is the right choice to invest your money in.
---