---
In this GetResponse review, let's find out if this is the best all-in-one marketing platform for beginners.
As you can see in our sidebar, we're using GetResponse to capture leads. Before we get into details, we'd like to let you know our primary reason for using GetResponse.
First of all, GetResponse's user interface is very user-friendly. Anyone will most likely know how to navigate inside the membership dashboard.
Secondly, it is available for free. Even with limitations, we still choose it over other similar tools. The main reason is simply based on our business needs. Since we're still in the early stage, GetResponse provides everything we need with their free plan.
Now, let's dive deeper to learn about GetResponse.
What is GetResponse?

GetResponse is an all-in-one marketing platform for any business. It is one of the best and probably underrated marketing platforms compared with similar tools—even though it has been around for more than 20 years.
With GetResponse, you can create almost anything. That's why it is called an all-in-one marketing platform. You can create your website, landing pages, funnels, manage marketing automation, and even SMS marketing inside one platform.
If you're an affiliate marketer, you have probably heard about GetResponse. In fact, many affiliate marketers are using GetResponse as their email marketing platform. Why? We bet it's because there are many use cases where you can use it for almost everything related to online marketing activities.
Watch this video to get a better understanding of GetResponse.
What Can You do With GetResponse?
Basically, there are 4 big things you can do with GetResponse.
Generate Leads
Sell Knowledge
Engage Customers
Boost Online Sales
We'll explore this one by one.
Generate Leads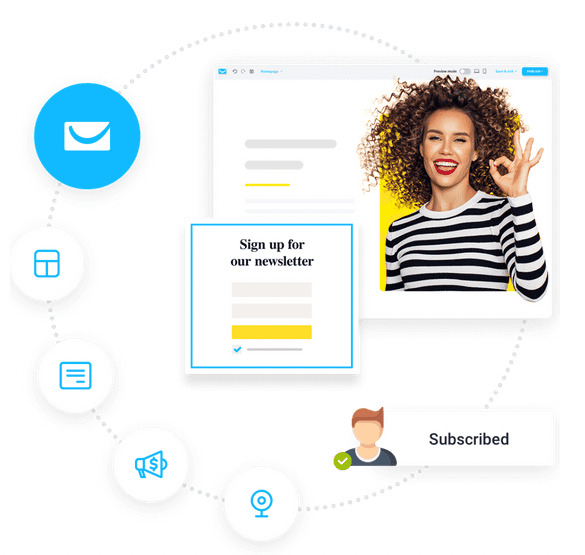 You can grow your audience by utilizing several features from GetResponse. The main reason to generate leads is to convert your website visitors into a list of potential customers. You can do it with landing pages, popups, sign-up forms, and paid ads.
As previously mentioned, we're using GetResponse's sign-up forms for our readers to join our newsletters. However, you can choose from various templates available. So, you don't have to start from scratch. We will explore this later in the features section.
Sell Knowledge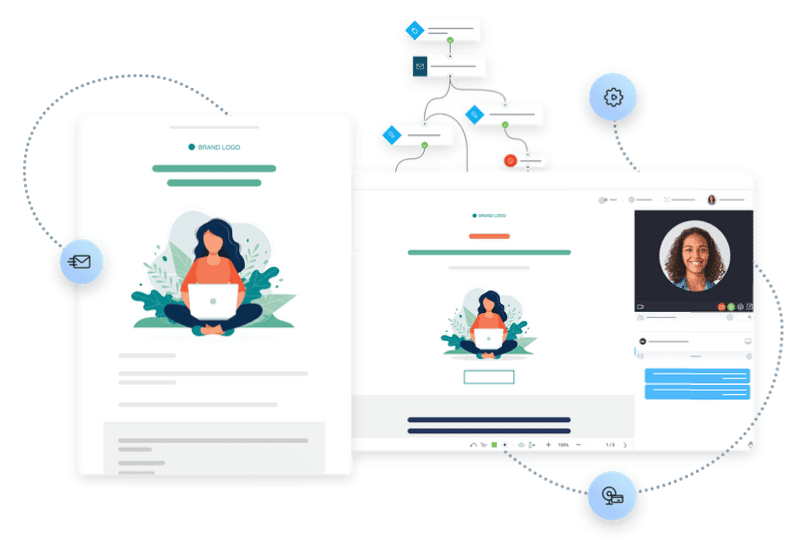 If you have an online course, you can sell them using GetResponse. You can find prospective students, engage with your students, and create webinars to transfer your knowledge. More importantly, it could be a new source of passive income for you!
Here's a testimonial worth reading about utilizing GetResponse to sell online courses.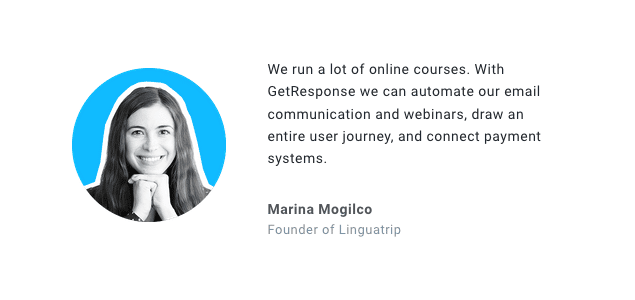 Engage Customers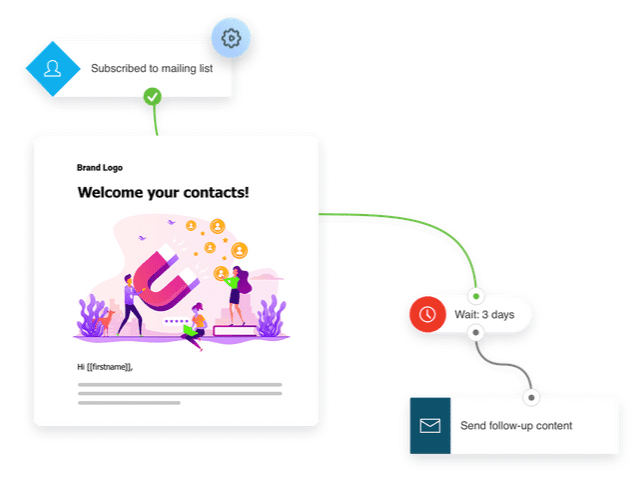 One of the primary things to do with email marketing is nurturing your leads. So, you need to segment your audience based on their preference. Like any other similar tools, GetResponse can help you segment your audience. In other words, you can send targeted and relevant emails to your subscribers with autoresponders.
Here's another testimonial worth reading.

Boost Online Sales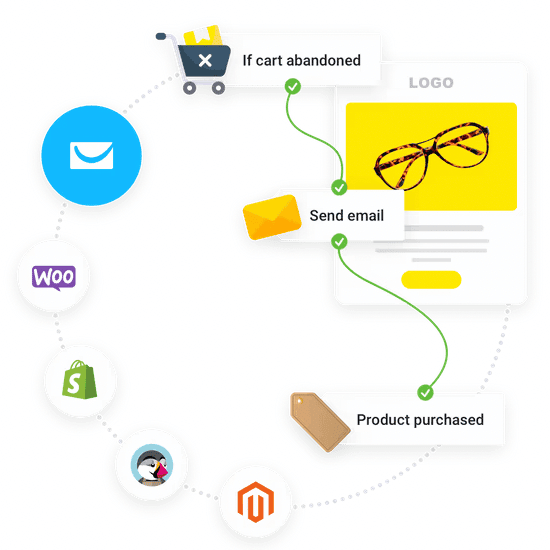 If you're running an e-commerce business, you can also utilize GetResponse to boost online sales. GetResponse is integrated with major e-commerce platforms such as Shopify, WooCommerce, PrestaShop, and Magento.
You can use advanced segmentation to identify your customer's behavior, purchases, and order history. So, you can create a personalized experience for potential customers.
Moreover, you can also create automated transactional emails to send purchase confirmations and trigger abandoned cart emails. All of these can be done using GetResponse. We will cover more about this in the GetResponse for e-commerce marketing section.
GetResponse Features


Now, let's talk about GetResponse features. Although this is a long list of powerful features, many of them are accessible in the free plan. This is one of the main reasons people use GetResponse for their online marketing activities.
In this section, we'll outline almost everything for you.
Email Marketing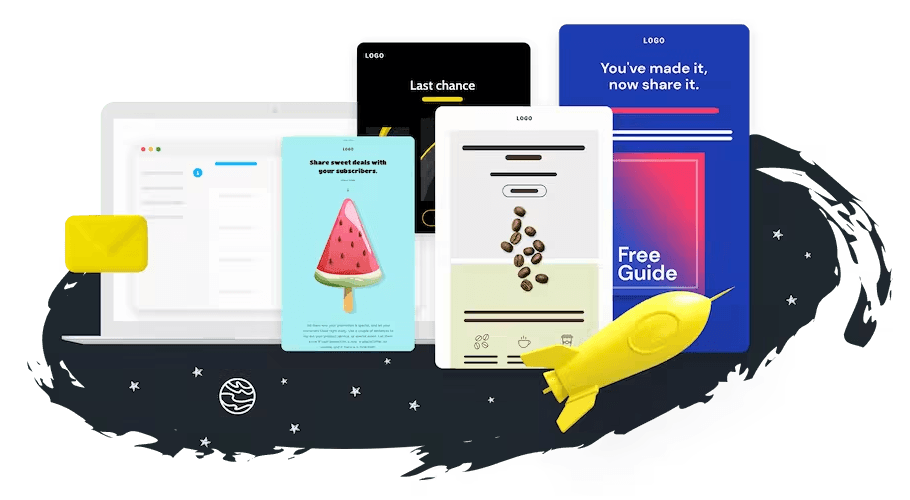 With GetResponse, you can create beautifully designed newsletters, autoresponders, automation emails, and transactional emails. You can also deliver your email with the Perfect Timing option and Time Travel delivery tools. We'll explore this in detail soon.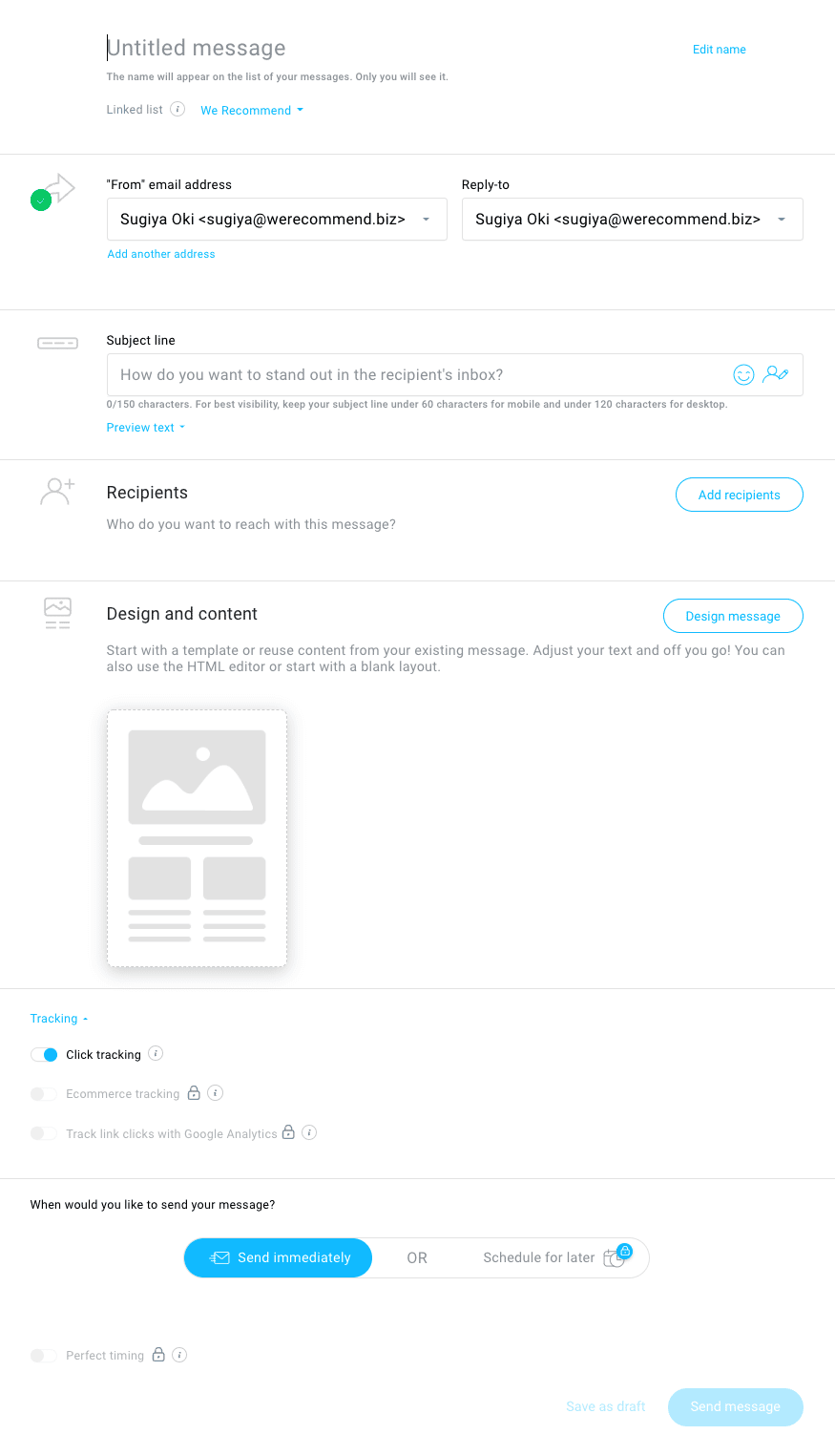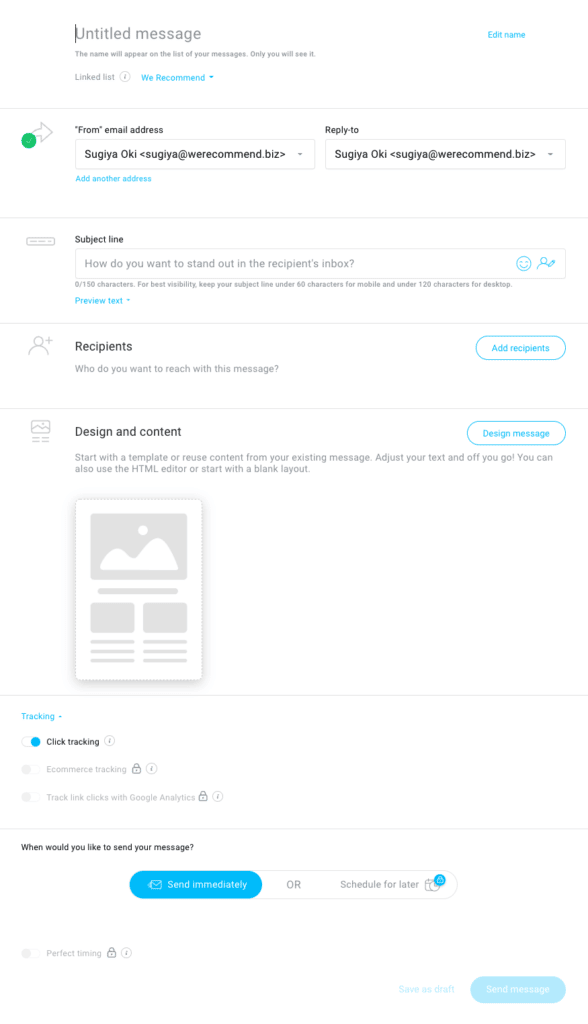 When you create your newsletters, you will see an option on the bottom left side of the page called Perfect Timing. It works similarly to what we have explained in our My Lead Gen Secret Review. GetResponse will deliver your email when your subscriber is most likely to open and click them. Time Travel will send your email at the local time of your subscriber's location. Pretty cool, isn't it?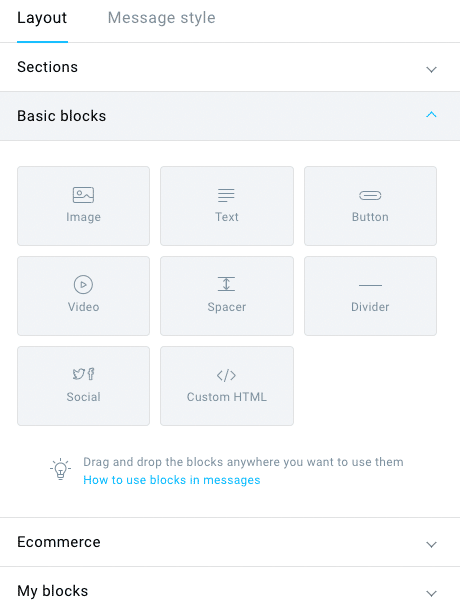 If you're familiar with any email marketing software, the drag-and-drop feature is the core of creating beautiful emails. You can use layouts and sections to build your message.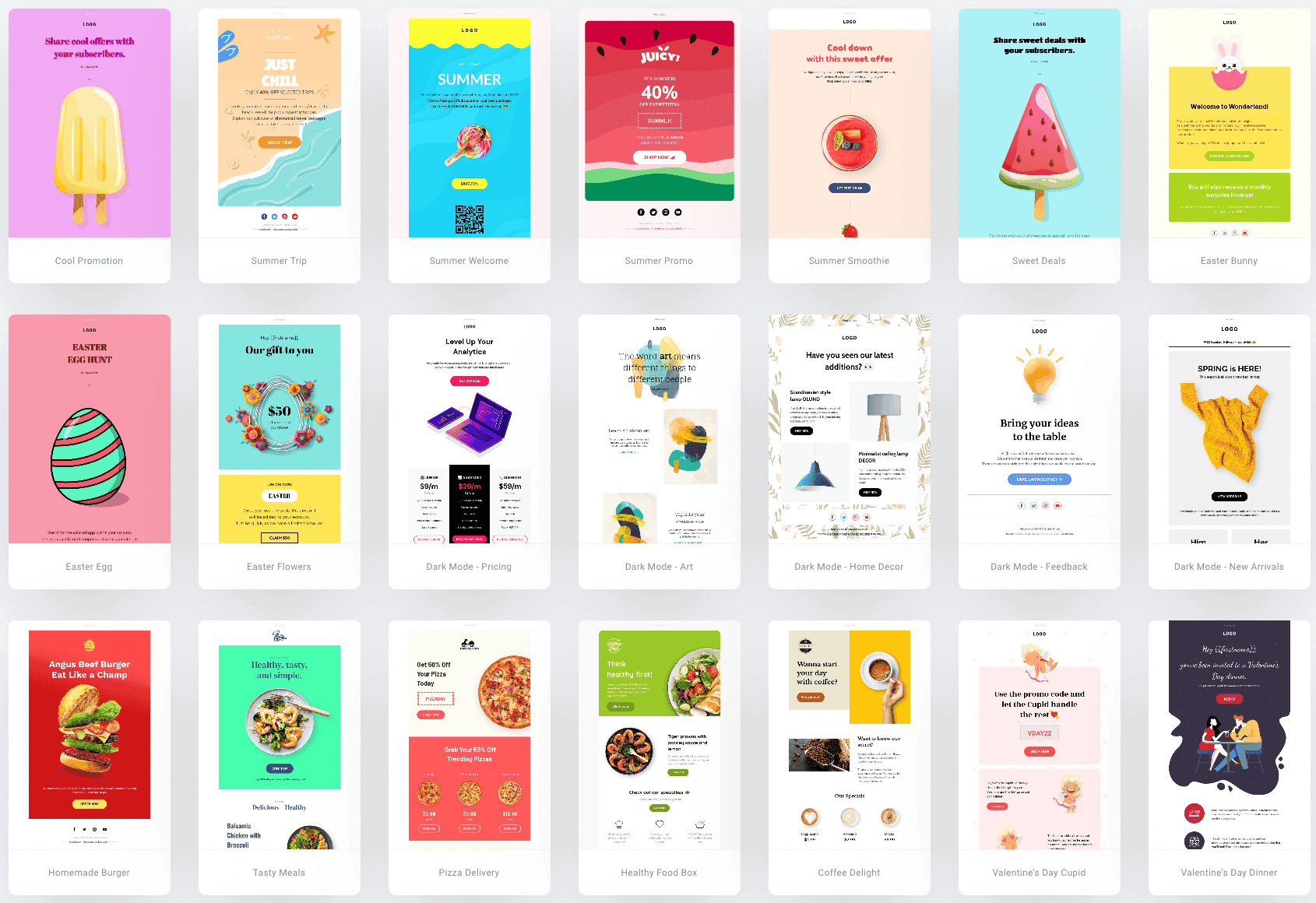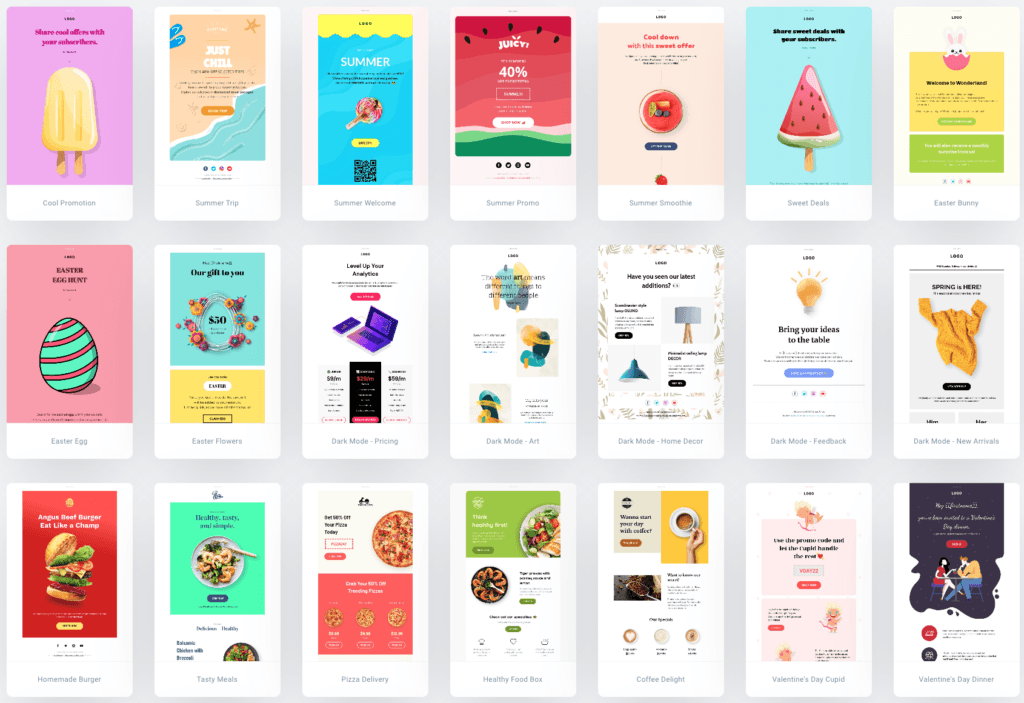 When you're stuck with email designs, simply access GetResponse's email templates and customize them based on your needs. Moreover, you will be provided with free images and GIFs to help you create beautiful email designs.
As an all-in-one email marketing platform, you should always look into autoresponders. In a sentence, it is an automated email to your subscribers based on time and particular event. As part of your email marketing strategy, using autoresponders is one of the best moves to convert subscribers into loyal customers. Take a look at this testimonial below.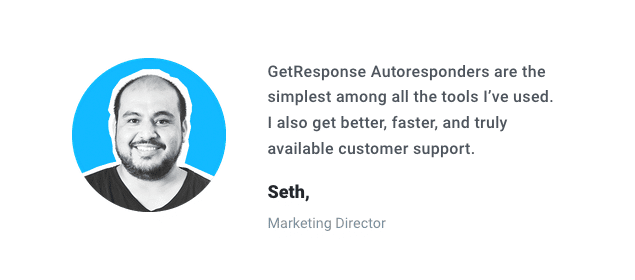 With GetResponse, you can create segmentations based on your audience's preferences. Custom segmentation helps you to deliver personalized email content. More importantly, you can ensure your email is received based on your audience's preferred time using the perfect timing tool.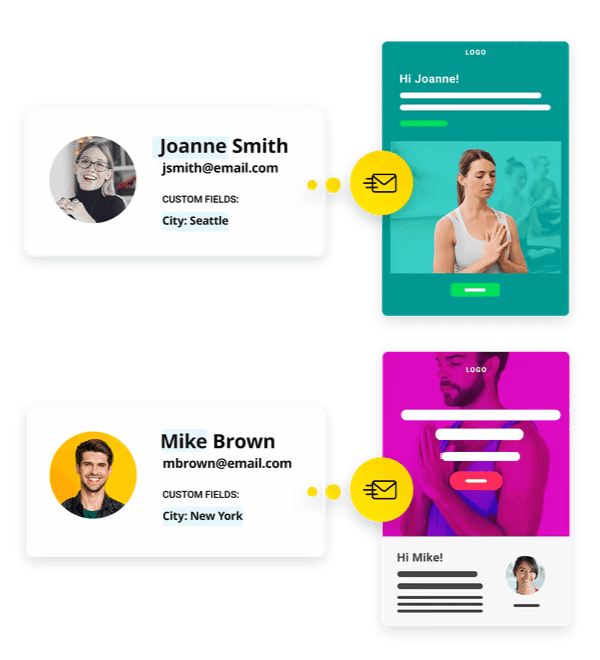 Does it stop there? No. To help you get better performance through your email marketing efforts, you can also perform A/B testing with your emails. You can create different subject lines, layouts, media, and call-to-action to increase your click rates.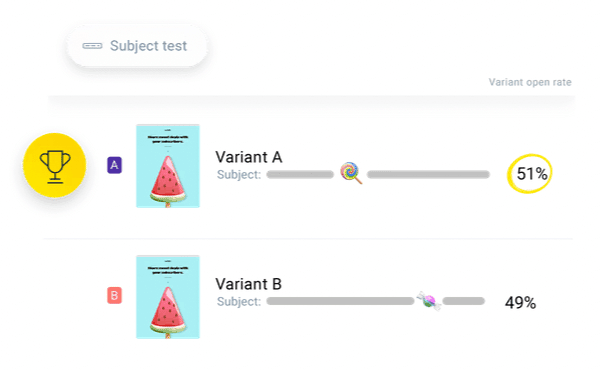 Another important thing about email marketing is none other than access to your email stats and analytics. Thankfully, GetResponse provides a neat dashboard for you.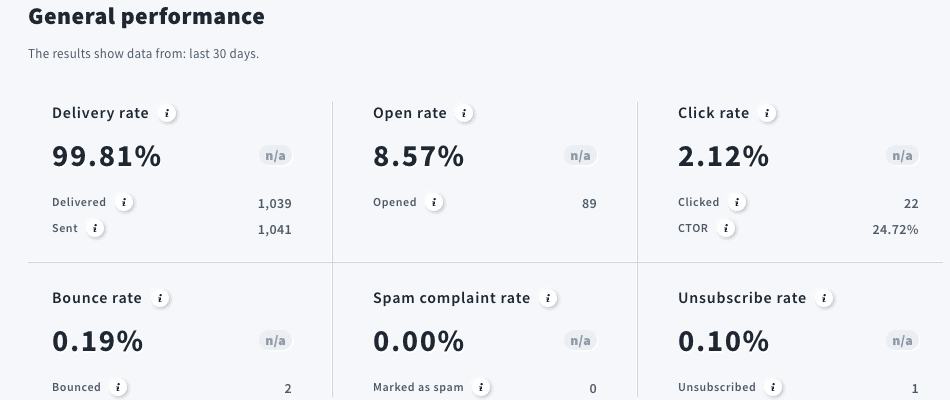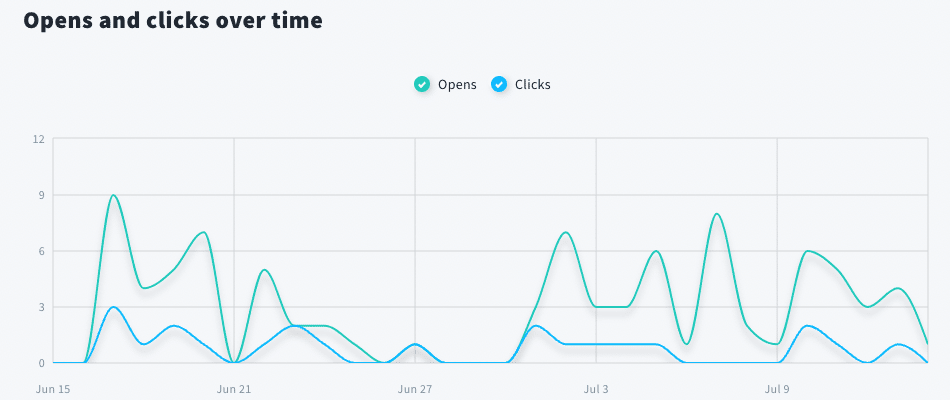 You can track every essential information, such as:
Delivery rates
Open rates
Click rates
Bounce rates
Spam complaint rates
Unsubscribe rates, and many more!
This way, you can learn how to tweak your emails to get the best result for your email campaigns.
Lastly, if you're in the e-commerce business, you can create fully automated transactional emails with GetResponse. Order confirmation, purchase receipt, and abandoned cart emails will help you drive sales through event-triggered emails. This way, you can focus more on developing your product and worry less about sending emails to your customer.
Website Builder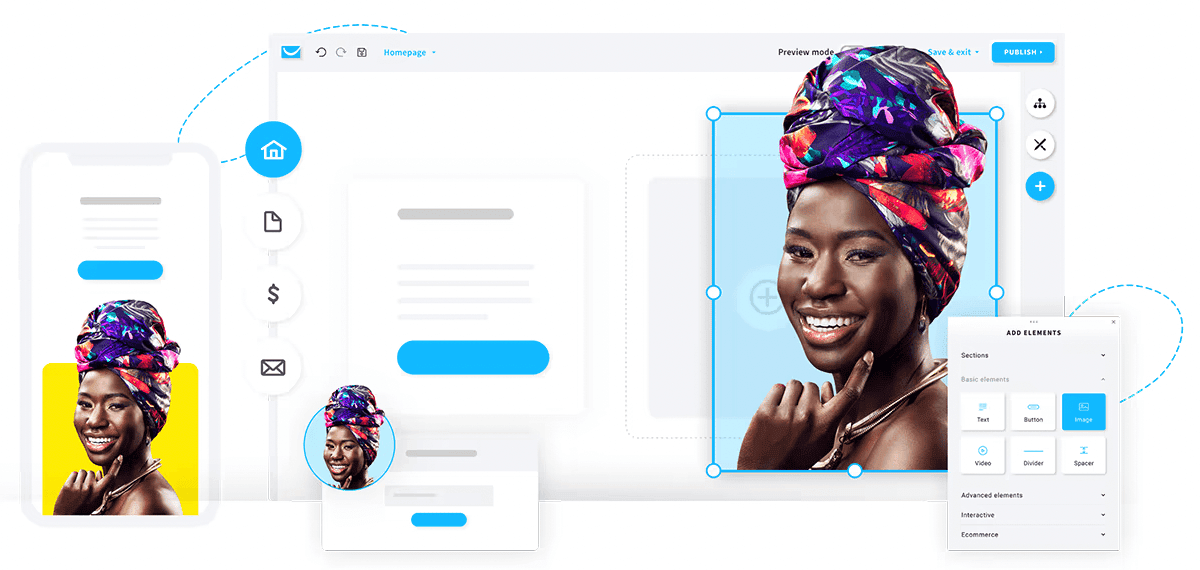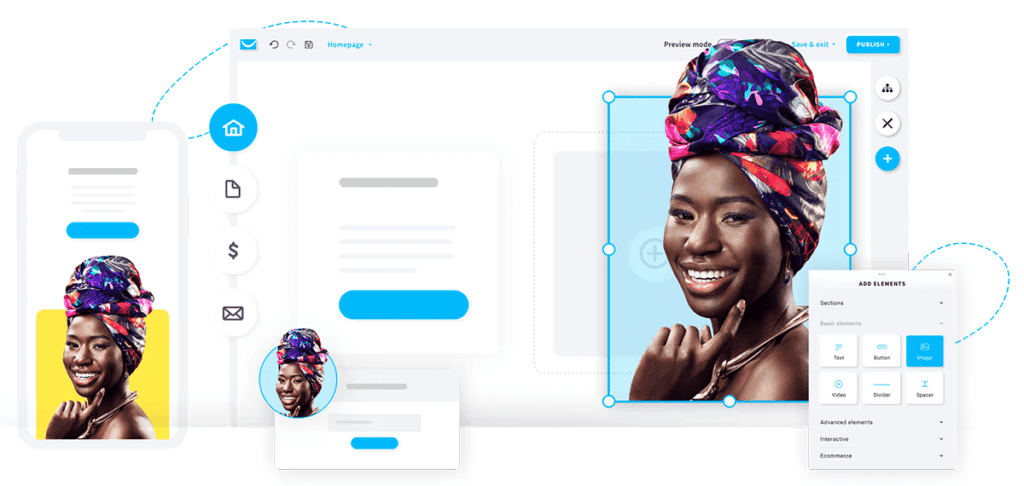 Now, this is a new feature from GetResponse. You can create your website using the website builder for free. More importantly, you don't have to do any coding. Simply choose between ready-made templates or an AI-powered builder to launch your website within minutes.
Take a look at these beautiful templates you can customize for your business.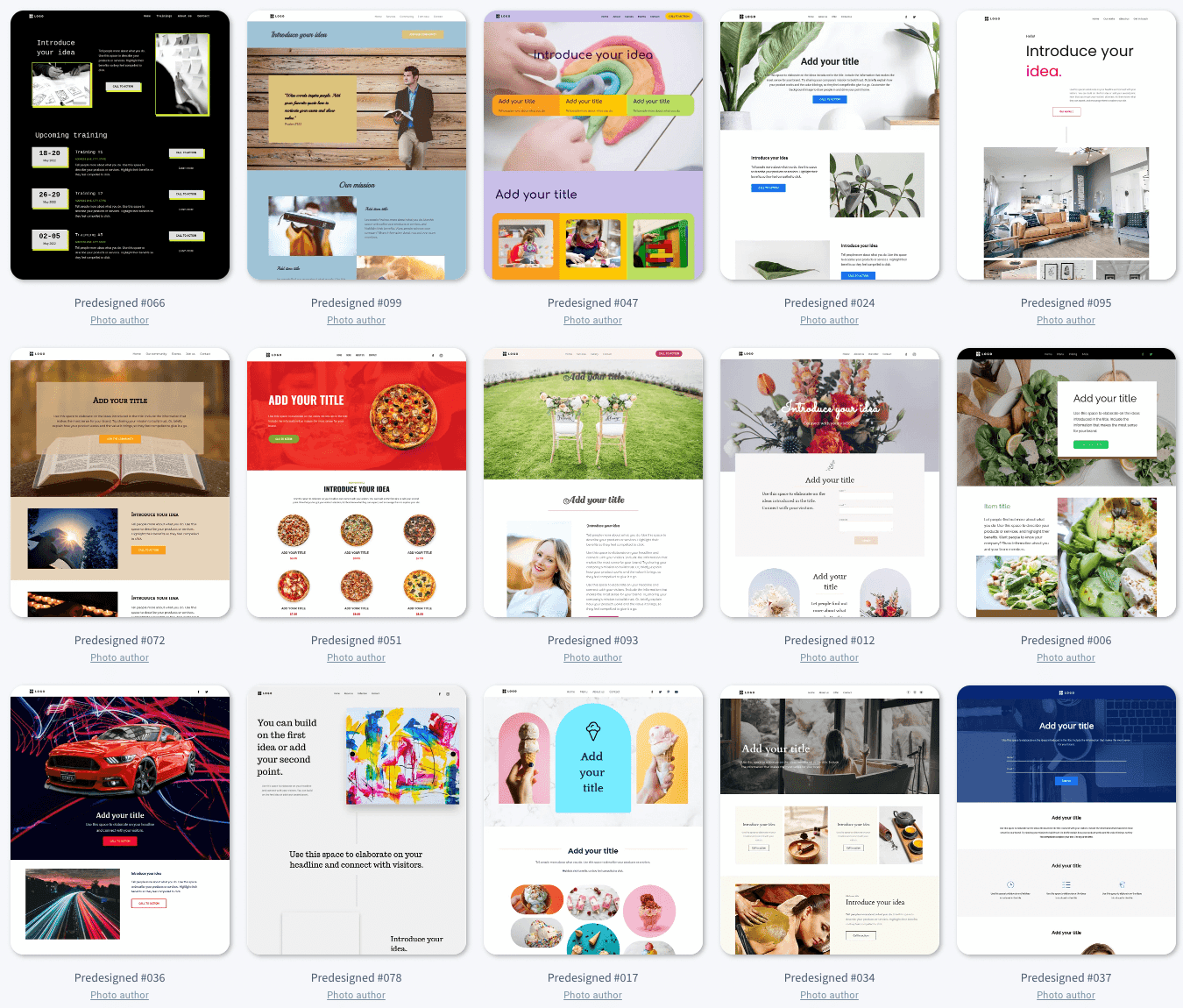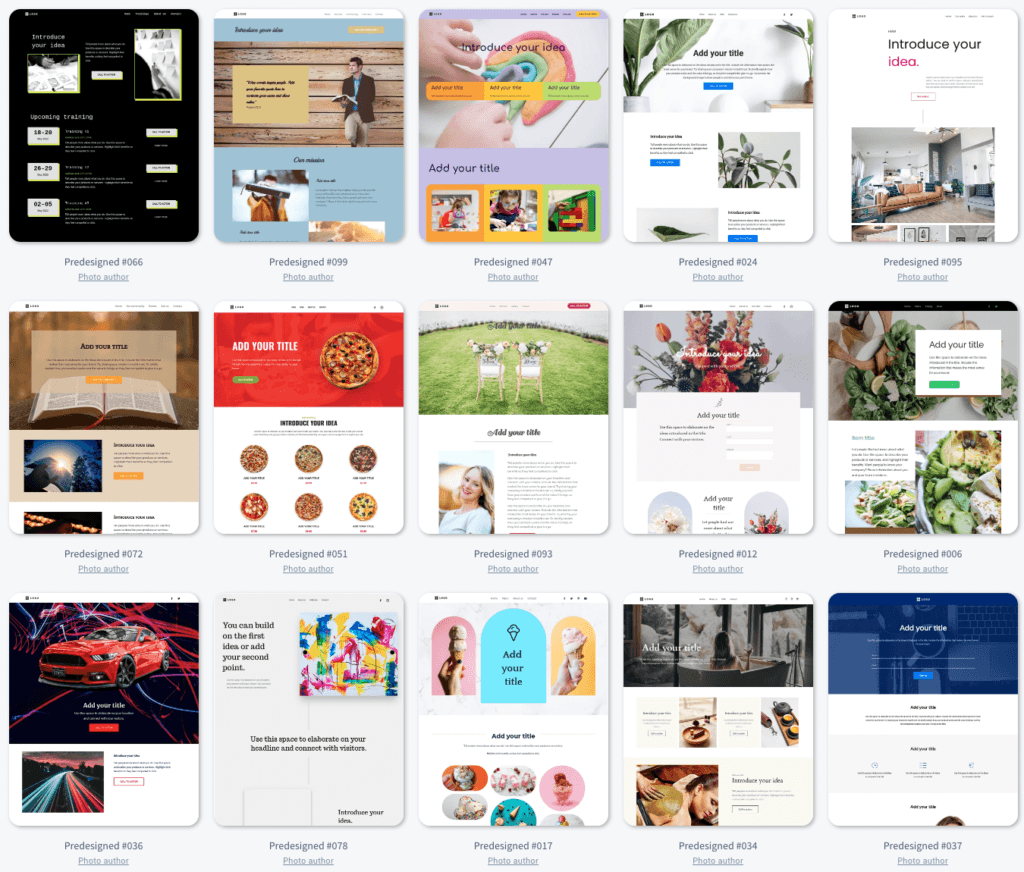 Pick one that suits your business, and you're good to go. Above all, you can edit your website using the drag-and-drop editor and ready-made sections available.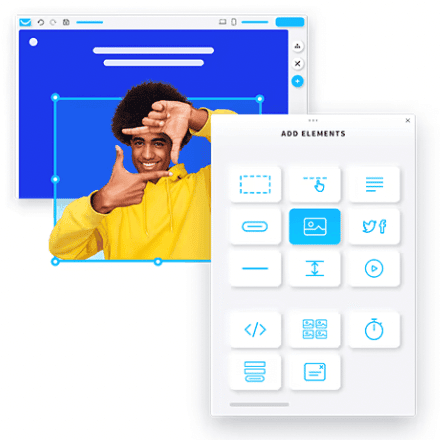 If you want to use the AI-powered builder, you can answer these questions and let the AI do the job. You don't have to worry about adding features to your website because GetResponse's AI wizard will do it for you.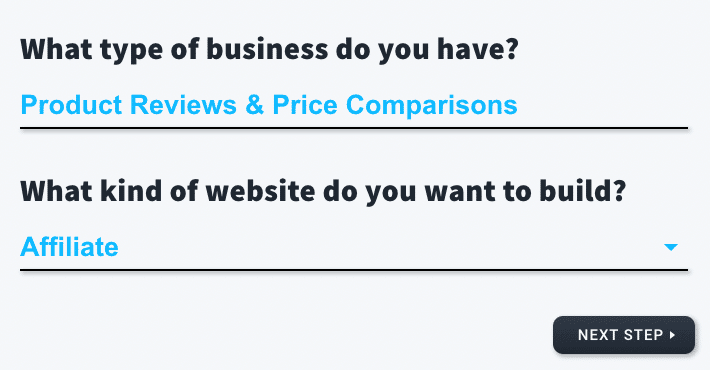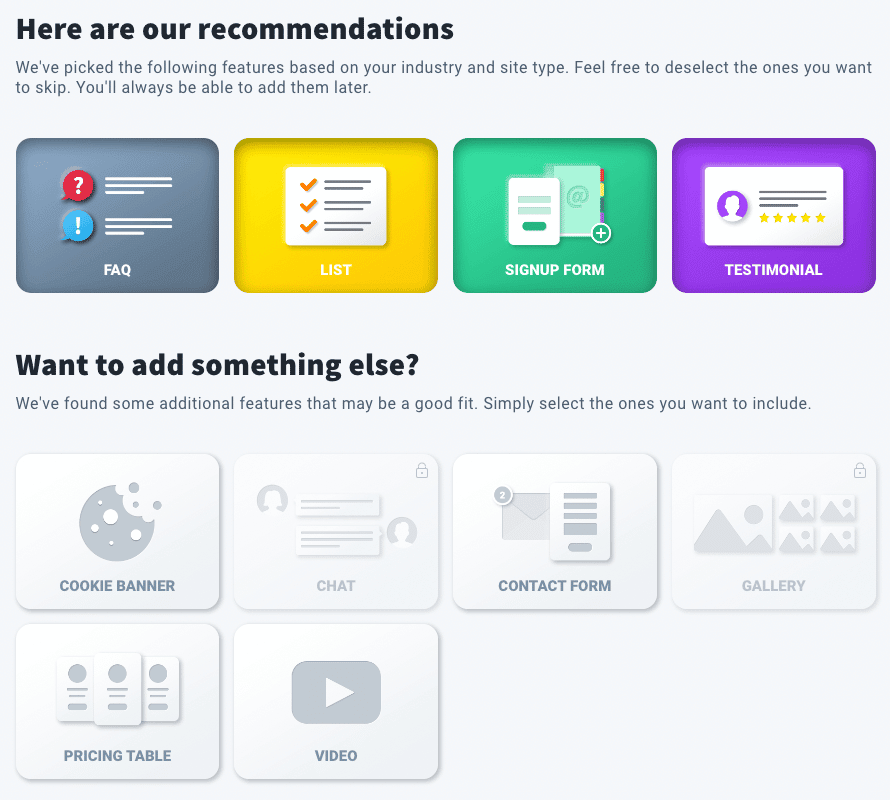 Once your website is live, you can buy or connect your domain name with GetResponse. They will give you free hosting as long as you're designing your website using the website builder feature. Pretty handy, isn't it?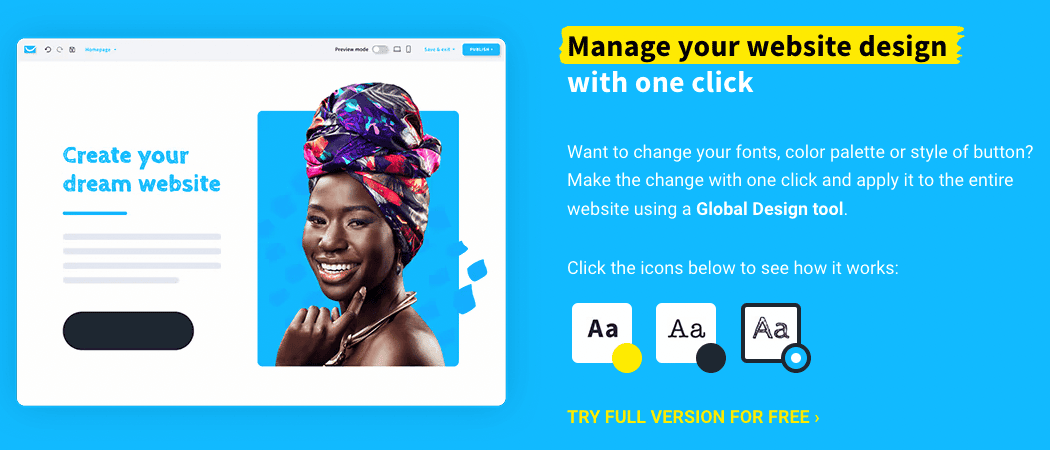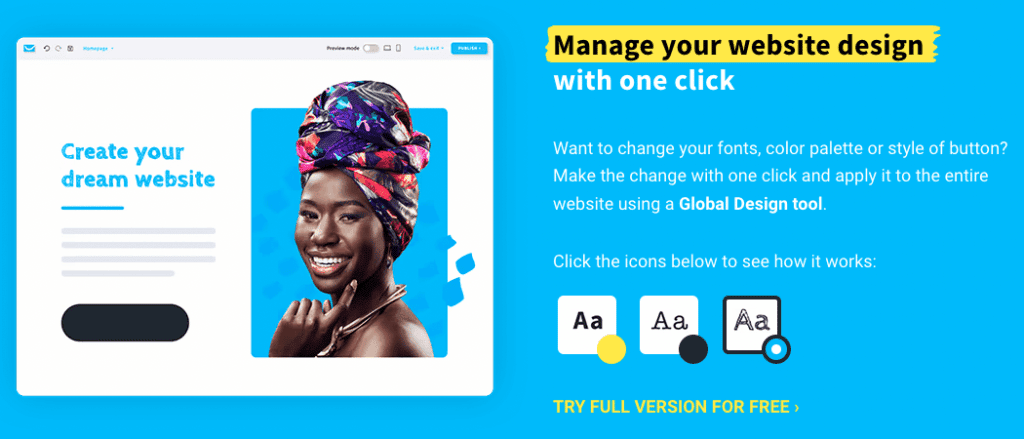 Another great feature inside the website builder is Global Design Tool. You can change every element design with just a click. Fonts, color palette, button style, you name it. If you'd like, you can check this feature in action.
So, you might be wondering, if you can create a website for free, what kind of feature do you get, right? Well, here it is.
Email marketing
5GB bandwidth
Connect a domain
Landing pages
Sign-up and contact forms
Isn't it perfect for those who are just getting started?
Marketing Automation

If you're running a business, one of the most essential things to consider is your customer journey. Well, GetResponse will take care of it for you. You can create an automated customer journey right from the moment a new visitor visits your website and all the way to becoming your loyal customer.
Simply use the drag-and-drop automation workflow, and you can simplify the complex automation process to deliver personalized marketing experiences.
Here's a testimonial that wraps up our explanation.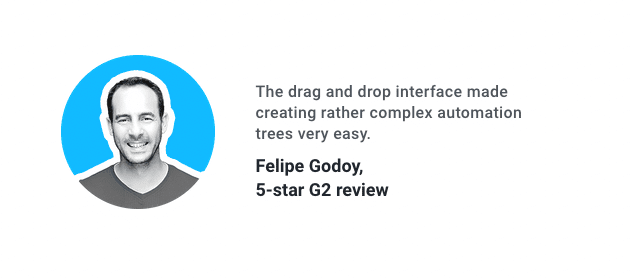 Webinars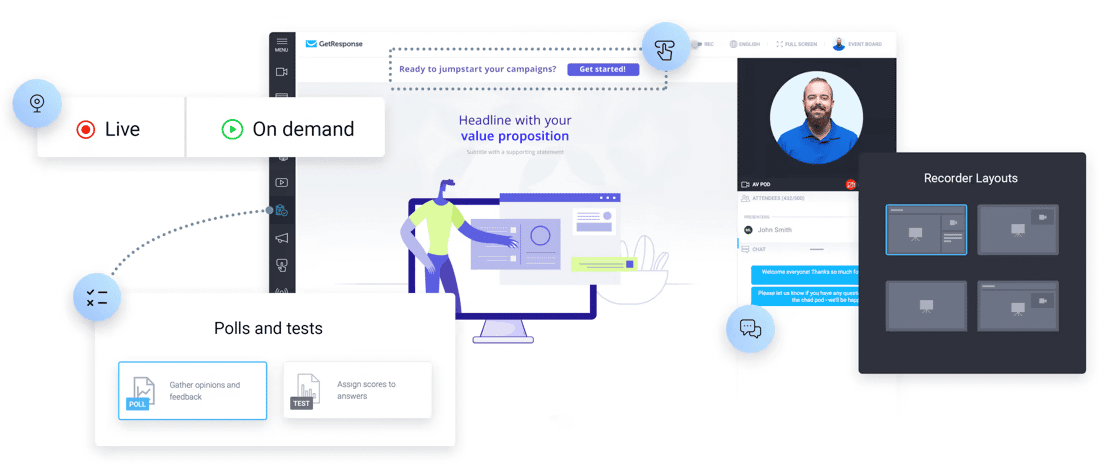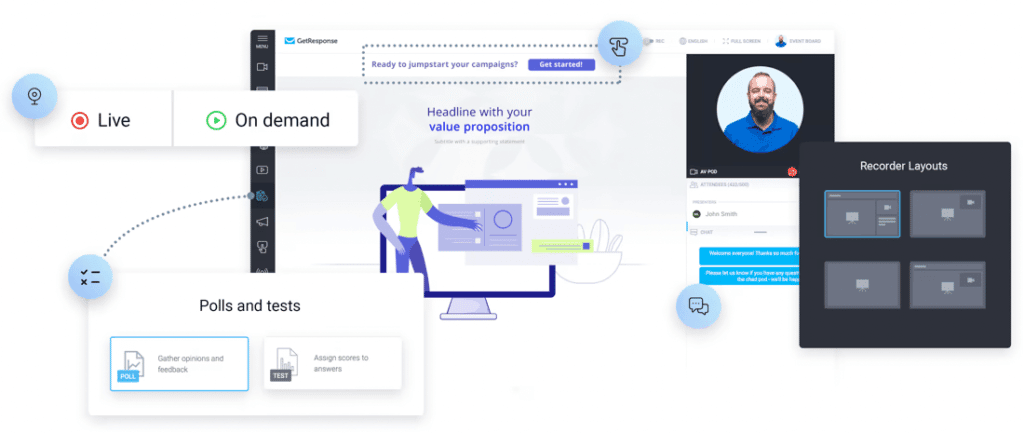 Due to Covid-19, webinars are getting a spotlight as a medium to connect with your audience. What if you could host unlimited webinars with a room for up to 1,000 live attendees, share the stage with two other people, and store up to 20 hours of webinar recordings? Wouldn't it be great? Well, GetResponse got you covered.
Whether running an online class or sharing knowledge, you can use GetResponse to help you host your next webinar. Moreover, it even works with prerecorded webinars. So, your audience can access them anywhere and anytime they want.
You can set up your webinar within minutes and promote your event by sending traffic to your landing page. Simply access the pre-designed registration pages, and create your invitation emails. After everything is done, you can collect your leads and nurture them with invite links and reminders. Moreover, you can also integrate a payment gateway for your paid webinars.
Here's another testimonial to support our explanation.

Paid Ads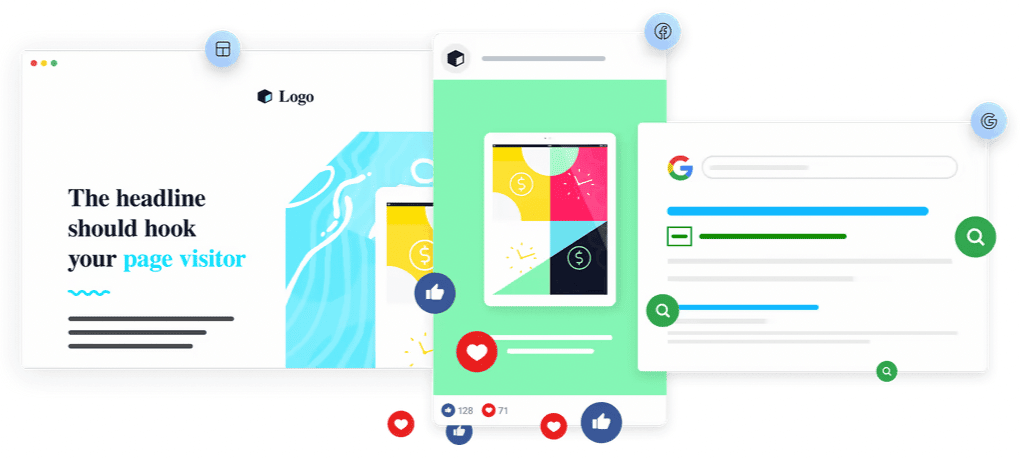 As an online marketer, utilizing paid ads is a bold move to help your content get delivered to the right audience. However, designing an optimized ad needs a lot of trial and error. But, you can use GetResponse paid ads creator to help you generate new leads.
You can create, buy, and manage Facebook and Instagram ads on GetResponse. However, it doesn't stop there. You can also find new customers with Google Search Ads. In other words, you can drive targeted traffic without leaving GetResponse.
This is not a free feature, so you need to upgrade your account to the email marketing plan for $15,58 per month.
Landing Pages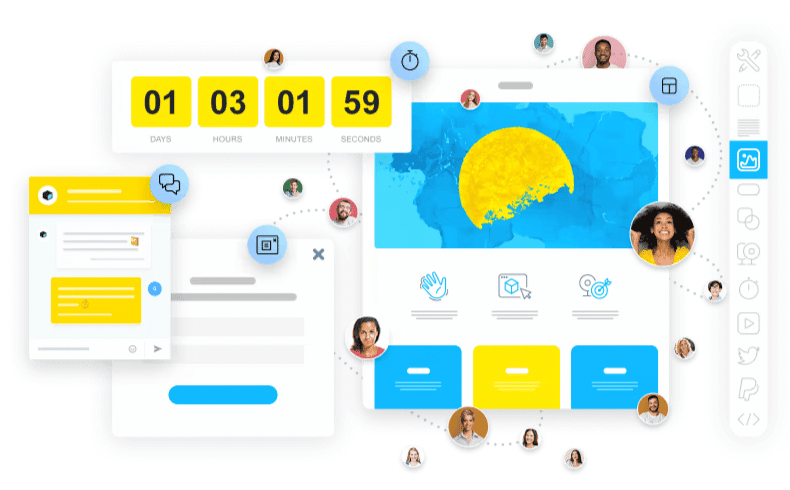 With more than 100 free landing page templates, you can capture new subscribers and generate sales with GetResponse. If you're starting on a free account, you are allowed to create one landing page. It's more than enough to help you get started.
Take a look at these customizable landing pages below.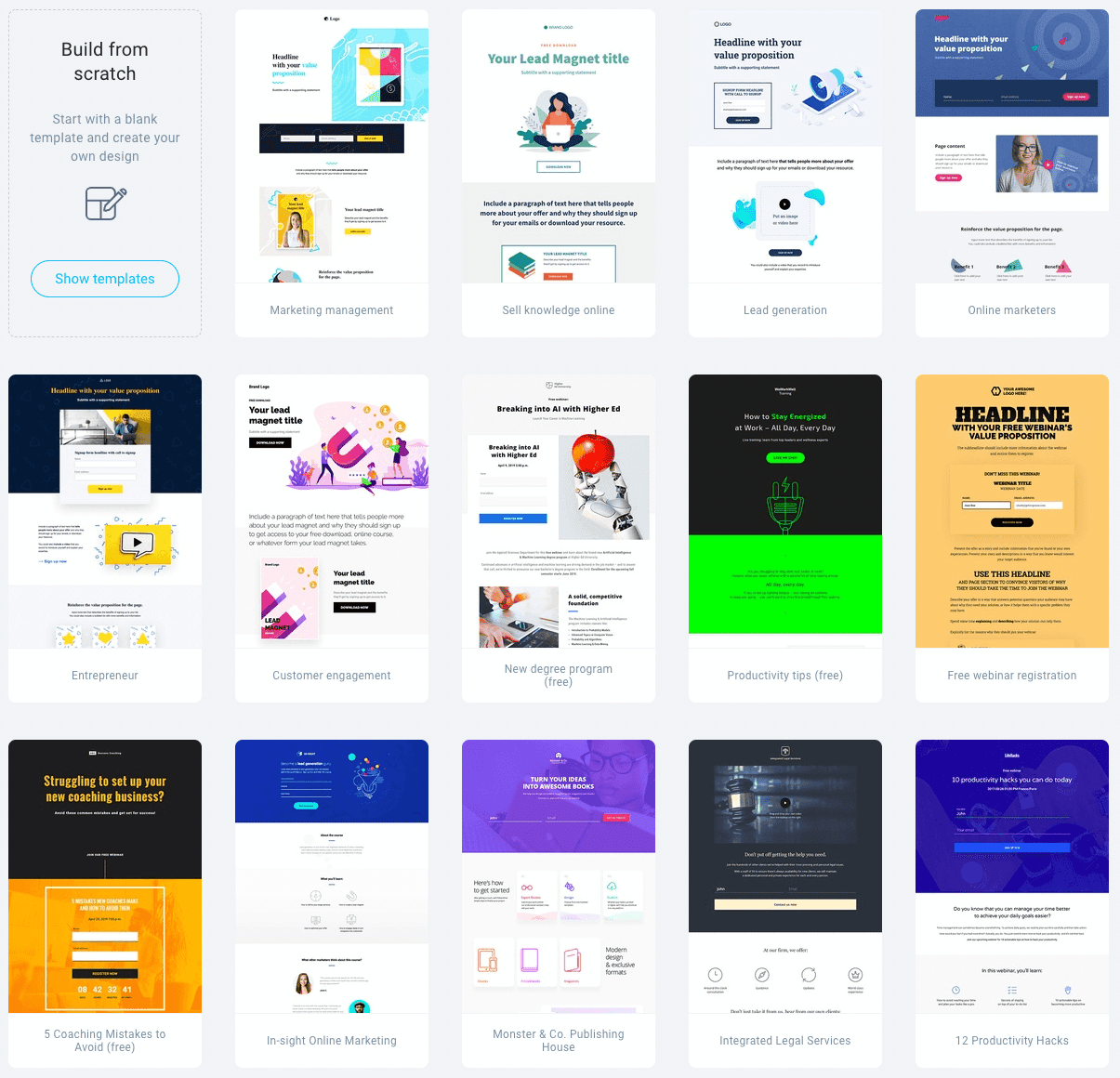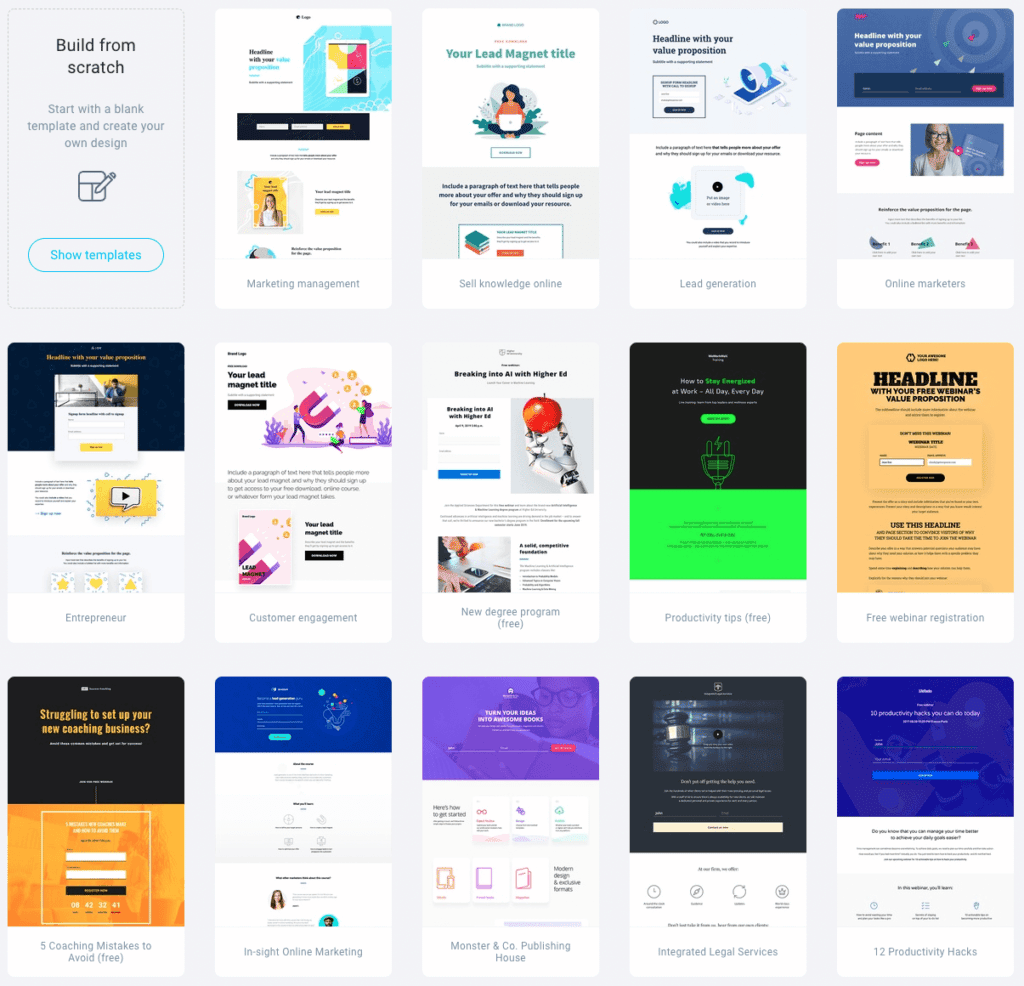 As you might have guessed, the drag-and-drop editor is available to help you customize your landing pages without any coding.
Moreover, you can also analyze your landing page's performance by tracking visits, clicks, and conversions. If you upgrade your plan, you can create multiple versions of your landing page and run A/B tests to find which one works better.
You can integrate your landing page with Google Analytics, Tag Manager, and Facebook Pixel. So, if you're running paid ads on your landing page, you can track its performance.
Conversion Funnels
This might be your favorite feature if you use GetResponse to create conversion funnels. First, let's take a look at this infographic below.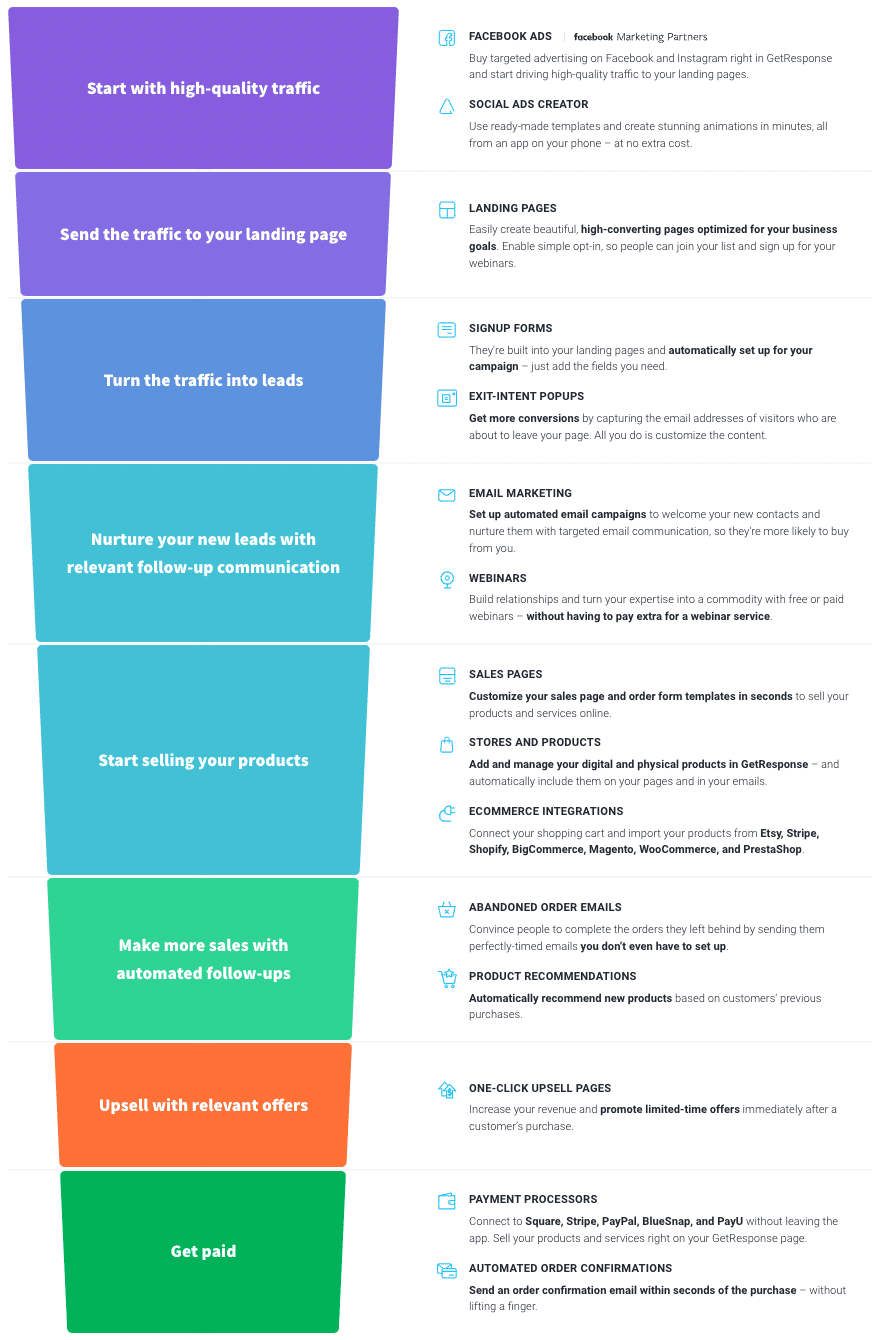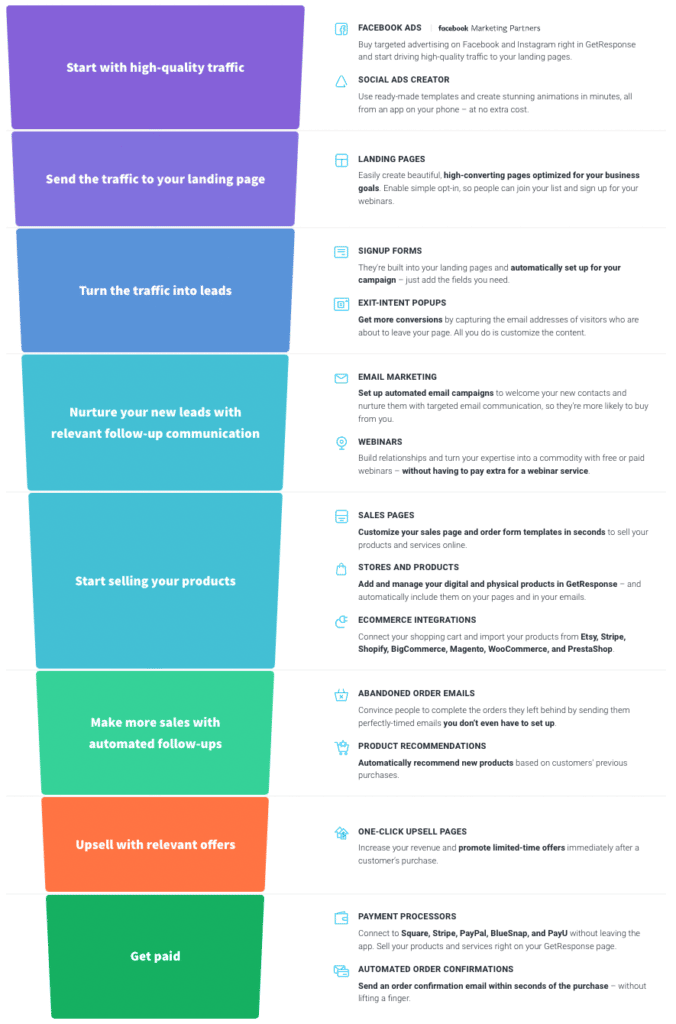 As you can see, it doesn't matter how complex your funnels are. GetResponse will help you deliver the best experience to build contact lists, showcase your offers, and help you grow your business. If your funnel has upsells or even down sells, you can rely on GetResponse to get it done.
Take a look at this testimonial below. It explains why you need to try this feature when you upgrade your free account.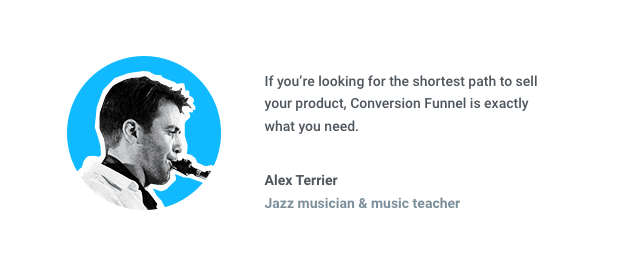 Live Chat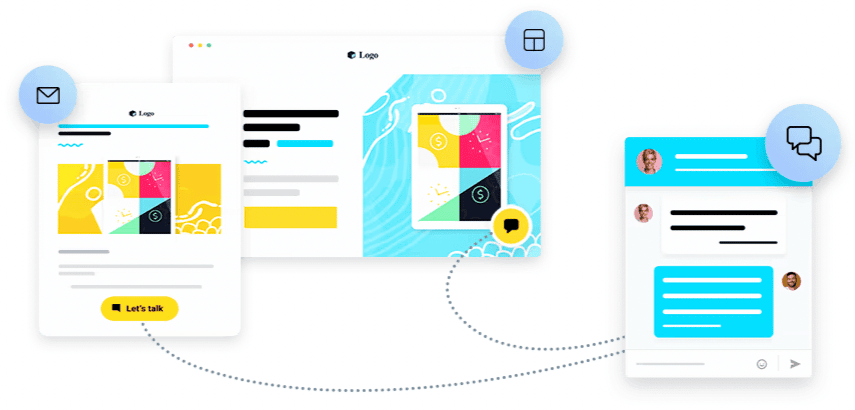 Another great feature to utilize on your paid plan is none other than live chat. It's impossible to stay in front of your computer for 24 hours. That's why an automated live chat comes in handy. It pops out on your website and allows you to connect with your audience.
More importantly, this feature allows you to send automated away messages when you're not around, so you can inform your visitors when you'll be back. This feature is handy if you're running an e-commerce business.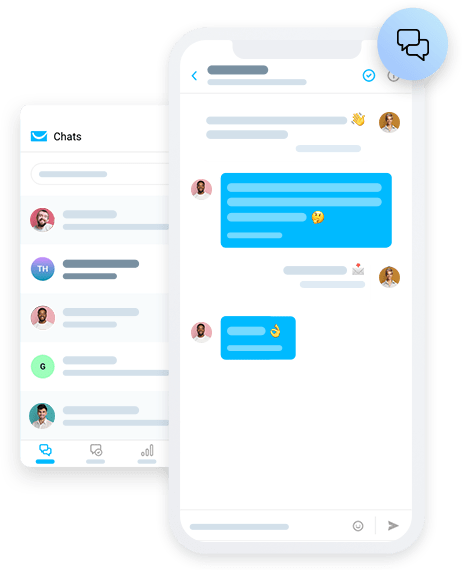 Above all, live chat can increase your conversion and subscription rates because your visitor will know if they're chatting with a human or a bot. GetResponse live chat solution is also available in an app version. So, you can still reply to live chat using the app if you're not in front of your computer.
Web Push Notifications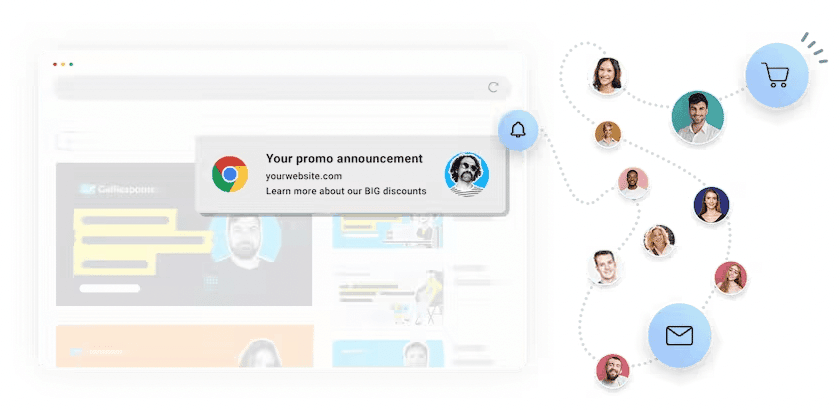 Now, any business would always love returning visitors, right? That means they find your business valuable. You can use web push notifications to engage and convert visitors into customers. It is intuitive, customizable, and hard to miss. Using web push notifications adds another engagement tool to your marketing arsenal.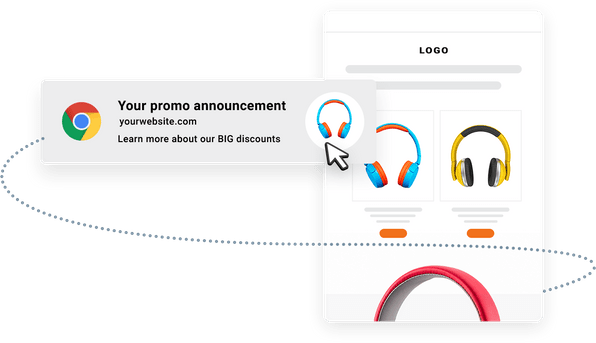 One of the best use-case for web push notifications is to offer promotions for e-commerce businesses, such as abandoned carts and promoting new offers. Not only that, but you can also analyze the performance of your notifications. So, you can develop a strategy to maximize your conversions.
SMS Marketing
For mid and large-scale businesses, reaching your customers through SMS marketing is not only powerful, but it is also effective. With an average of 98% open rate and 19% click-through rate, SMS is definitely a must-have tool for e-commerce businesses. It's the fastest way to get in touch with customers effectively.
This powerful feature is available on the GetResponse MAX Plan, where you can send 1,000 or 5,000 SMS. It's available for custom pricing for your business.
GetResponse for E-commerce Marketing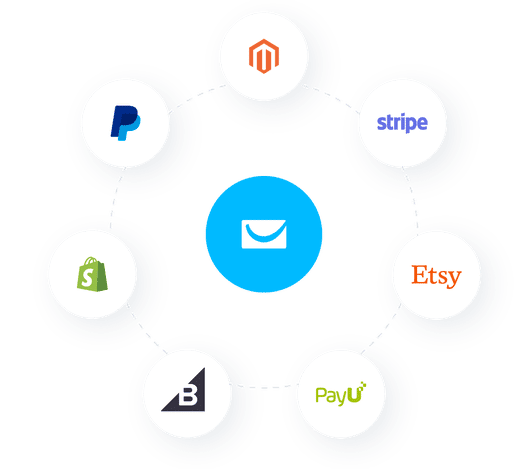 As we've mentioned before, you can use GetReponse to boost your online sales. That's why GetResponse is also suitable for e-commerce businesses. With one-click integrations, you can easily integrate GetResponse with top e-commerce platforms such as Shopify, PrestaShop, Magento, and WooCommerce. Here are a few highlights of what you can do with GetResponse for e-commerce marketing.
Advanced Segmentation
If you're running an e-commerce business, your customer data is a valuable asset for your business. Now, you can tap into all the information about your customers, such as product purchases, order history, and behavior patterns on how they're spending time in your shop. These data will allow you to create targeted marketing campaigns for your customers and develop tailor-made marketing strategies based on data and analysis, not assumptions.
Transactional Emails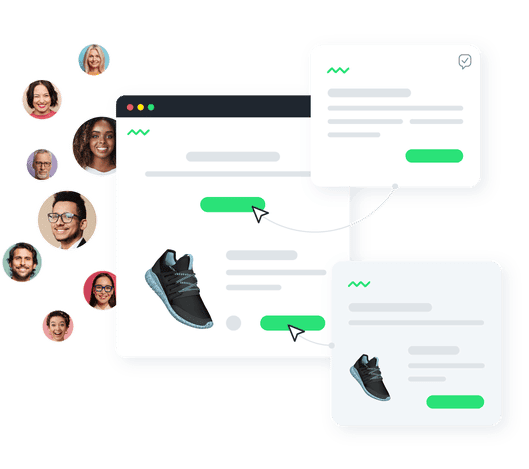 When shopping through e-commerce or an online shop, have you ever wondered how they can send a lot of emails to you almost instantly after you made your purchase? That's where transactional email plays the part.
In addition, you can also use this feature to trigger automated abandoned cart emails or simply remind them about pending transactions. Above all, utilizing transactional email could boost your e-commerce sales by up to 25%. It's 25 sales out of 100 people who visit your store.
Promotional Codes
Another way to increase sales conversions is by giving promotional codes to your customers to use for their purchases. Well, GetResponse got your back covered. You can synchronize promo codes from your e-commerce platforms and simply drag and drop them into your newsletters. Pretty handy, isn't it?
Product Recommendations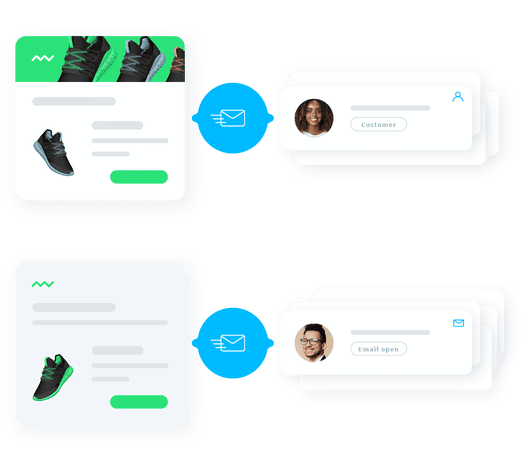 Now that you already have your customer data, what else can you do to utilize those data to get a higher conversion rate? It's none other than product recommendations. GetResponse's Product Recommendation Engine is a powerful tool that can analyze your customer preferences and potential needs based on their historical purchases. There is no one size fits all in product recommendations, and GetResponse allows you to recommend a relevant product to each customer on your list.
GetResponse Pricing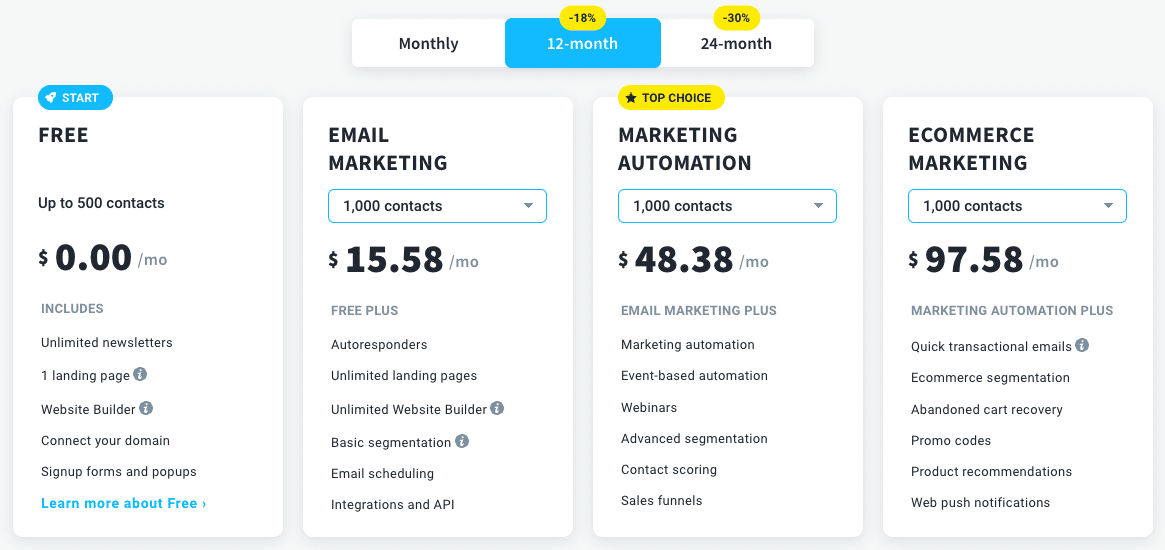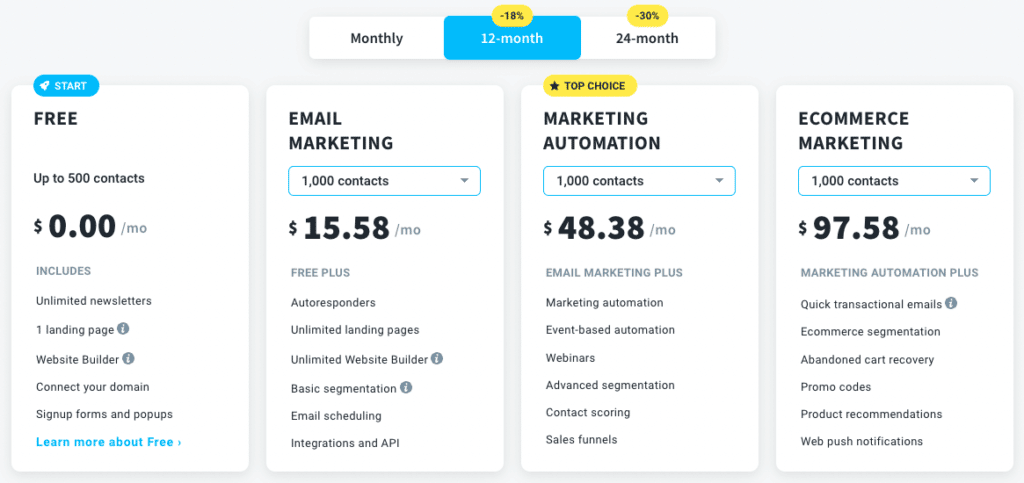 GetResponse has various plans suitable for your business. Depending on the number of your list, you can start with $15,58 for 1,000 contacts on the Email Marketing Plan. Or, if you intend to use GetResponse to handle your marketing activities, you can opt for the Marketing Automation Plan for $48,38/month. We strongly suggest buying the annual plan since it is 18% less than the monthly payment. You can opt for the bi-annual plan (24 months) with 30% off.
To help inform you about GetResponse's pricing, we have prepared a complete table of comparisons for each tier of contacts.
| Number of Contacts | Email Marketing | Marketing Automation | E-commerce Marketing |
| --- | --- | --- | --- |
| 1,000 | $15,58 | $48,38 | $97,58 |
| 2,500 | $23,78 | $56,58 | $113,98 |
| 5,000 | $44,28 | $77,9 | $138,58 |
| 10,000 | $64,78 | $93,48 | $163,18 |
| 25,000 | $142,68 | $176,3 | $245,18 |
| 50,000 | $245,18 | $294,38 | $364,08 |
| 100,000 | $441,98 | $491,18 | $573,18 |
Price per month on an annual plan
As previously mentioned, you can get custom pricing with the MAX and MAX2 Plans. Both of these plans are great for mid and large companies. Here's a highlight of its key features.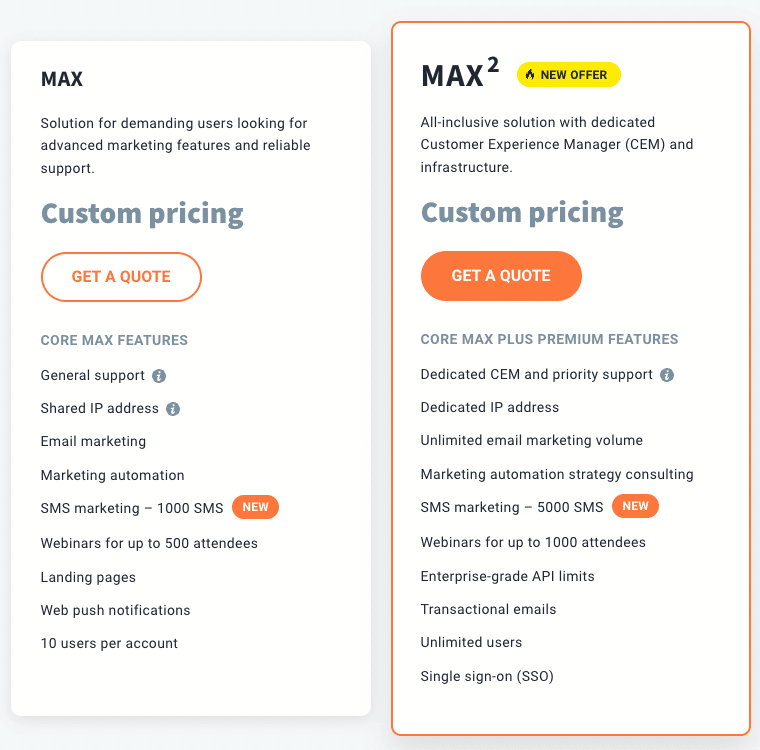 Frequently Asked Questions
Are there any resources to get started with GetResponse?
Yes. GetResponse has a complete resource to help you get started with everything. Simply go to the Help Center and find your answers.
Can you really use GetResponse for free?
We are using GetResponse for free right now. Since we have a small email list (less than 200), we can still utilize everything the free plan has.
Does GetResponse have any premium free trial?
If you haven't got the chance to create your free account, you can access premium features for 30 days at no cost. Enjoy every tool available, from email marketing to conversion funnels. It's more than enough to understand how everything works.
Conclusion
To summarize this GetResponse review, we strongly agree to put GetResponse as one of the best all-in-one marketing platforms for any business. More importantly, with their free forever plan, you can start your marketing activities as soon as today.
Simply create a free account and start growing your business with GetResponse. We also recommend GetResponse for new affiliate marketers like us. It's a fantastic tool if you're just getting started.
---