This post contains affiliate links. We may receive a commission for purchases made through these links without any extra cost to you. Thank you for your support.
---
In this Mister Safelist review, let's find out if this safelist mailer is worth your time or not.
Actually, there are a lot of safelist mailers out there. However, many of them lack in terms of user experience. We did a review with List Mailer Plus, and we could agree that it is easy to use.
The intention of using a safelist mailer is to get your ads seen by other like-minded people. However, many safelist mailers are simply too crowded. It's jam-packed with too many menus and hard to navigate. Is Mister Safelist any different?
Well, let's dive in!
What is Mister Safelist?
Mister Safelist is a safelist mailer by Jerry Ianucci. It is ranked fourth on List Hoopla—a dedicated site to promote various offers related to email advertising and traffic.
We tried to search for information about Jerry Ianucci. Unfortunately, nothing relevant appeared. We only found his website, Facebook profile, and the fact that he's opening a shop on Redbubble. That's all. However, his site has been around for 14 years. So, we might assume he knows about safelist mailers.
Mister Safelist Insider Look
We decided to try and join Mister Safelist. The signup process is simple and easy. It doesn't take long for us to complete the process. However, there is one downside to the process itself. The confirmation email goes to our spam folder. It's unusual to see a safelist mailer that goes into spam, right?
After signing up, you'll get to the home page like this screenshot below.
It's not too bad. It's clean, and you are not bombarded with too many ads. However, there is one part of the site that really tickles our attention. Check this out.

We checked back to his site, and it seems that Mister Safelist emails had started showing up in the spam folder. Well, that's a downer for us. But, other than that, everything seems fine.
Mister Safelist Credit Mailer
Just like any other safelist, you need credits to send emails. When you signup for Mister Safelist, you get 2,000 free credits to your account. We thought it was generous. So, we thought we should give it a try.
Here's a preview of the email editor inside the credit mailer.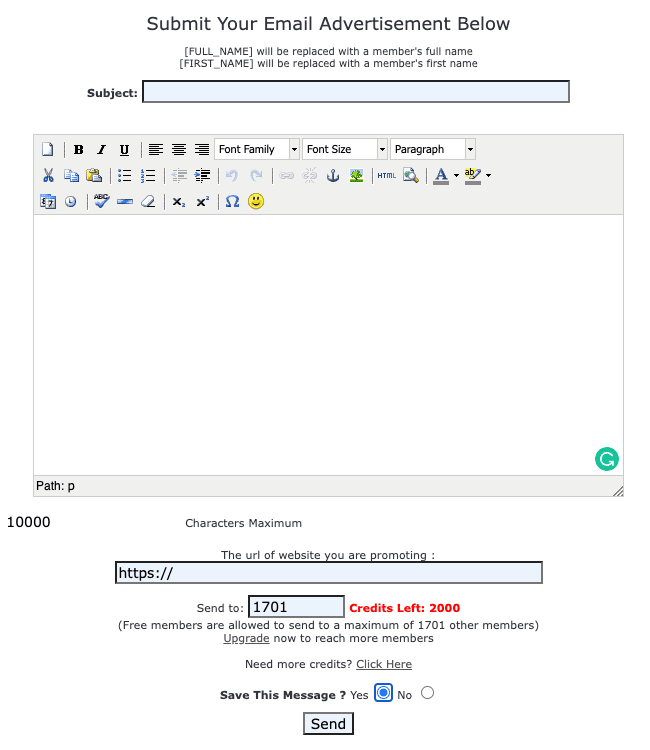 As you can see, it's similar to other email editors. You can use [FULL_NAME] and [FIRST_NAME] to create a personalized email in your email copy. You can add 1 URL when sending your email. Thankfully, almost any URL works.
If you intend to use Mister Safelist as a free member, you can only send emails to 1,704 other members. That's the maximum member you can send. We have no idea why did he choose to limit this. If you'd like to send to more members, you must upgrade your account to the Pro or VIP plan.
When we signed up, as you might notice from the home page screenshot, the number of active members was only 1,868. It's only 164 members difference.
So, we tried to send our email, and just as we feared, our email landed in spam. No wonder there was an instruction to add Mister Safelist to our Whitelist. Another downer for us.
Mister Safelist Buy Credits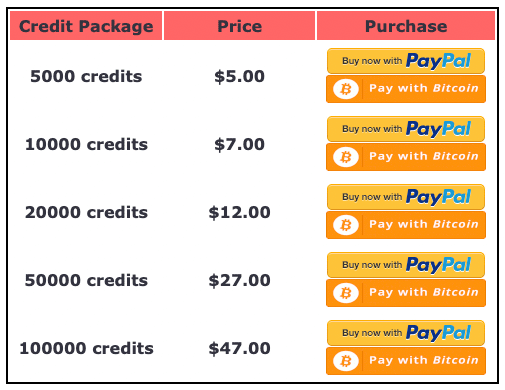 If you run out of credits, you can buy credits starting from $5. It's available for purchase via PayPal and Bitcoin. The price is affordable since $7 could send you 10-11 emails. But, would you buy it? We'll leave it up to you.
Mister Safelist Downline Builder
You can also build your downline using Mister Safelist. In the Downline builder, simply fill out your Affiliate ID to build your downline on other safelist mailers. The list is quite long. Amongst the top 5 are TezzerMail, Viral URL, European Safelist, State of The Art Mailer, and Traffic Leads 2 Income VM.
Mister Safelist Pricing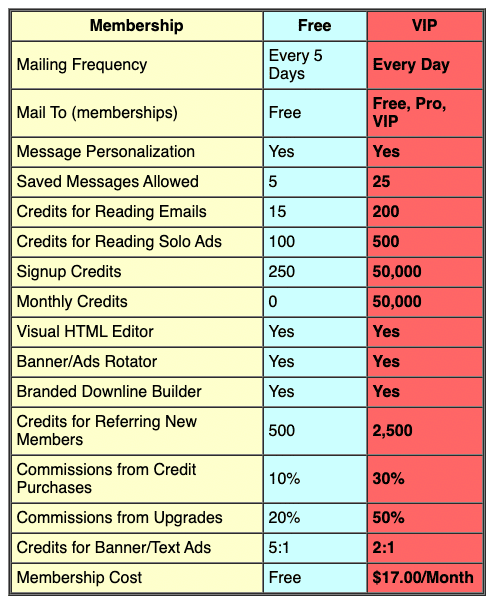 Here's an interesting part related to Mister Safelist's pricing plan. As a VIP member, you can send an email every day to the Free, Pro, and VIP members. It will cost you $17 per month.
We didn't know if the number of active members we saw was only the free member or if it was all of the members. If 1,868 was all the members, it's not worth paying $17 to add only 164 members, right?
Mister Safelist Affiliate Program
After signing up for Mister Safelist, you can promote their affiliate program. The minimum payout is $5 and can be paid via PayPal or Bitcoin. That's pretty low, and it's good!

However, if you look closely at the commission scheme above, it says the commission for referring Free, Pro, and VIP is 20%. This simply means, as a free member, you can also earn money from Mister Safelist. If you can refer a VIP member, you'll get $3,4 every month.
You also get the usual promotional tools such as splash pages, video splash pages, Twitter text, email ads, and various banner sizes.
Conclusion
To end our Mister Safelist review, you might already know the answer. We do not recommend it. Why would you waste your time sending an email that lands in the spam folder?
So, the answer is a definite no from us. It's better to use List Mailer Plus even though you'll get limitations on promoting your URL. It has a better user interface and is far easier to use.
If you'd like to learn more and experiment with email marketing, our best recommendation goes to My Lead Gen Secret. You can send an email and get fresh leads every day. Better yet, you can also get paid to build your email list with List Infinity.
---