This post contains affiliate links. We may receive a commission for purchases made through these links without any extra cost to you. Thank you for your support.
---
In this QwikAd review, let's find out if this advertising platform is easy to use and delivers a decent result.
Driving traffic to anything online is one of the most challenging tasks for an affiliate marketer. Without traffic, you can't do much online. That's why we always try to keep an eye on various traffic resources, and QwikAd stole our attention for a bit.
So, without further ado, let's dive in and explore this advertising platform.
What is QwikAd?
QwikAd is an advertising platform that is easy to use. It has been around since January 2012 and started as a US classifieds. Currently, QwikAd is open to over 90 countries worldwide. Posting an ad on QwikAd doesn't take long. More importantly, you can get it done in a few minutes, and it's free!
However, to ensure this site is valid and got a strong foundation as an advertising platform, we did a little research on Similarweb. Here's what we found.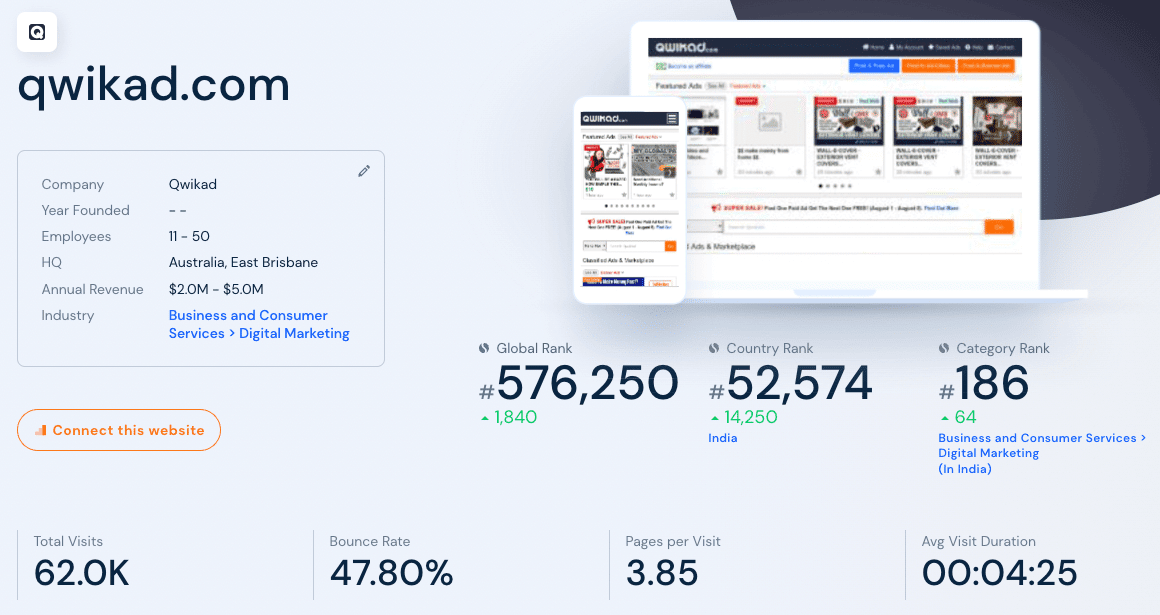 As you can see, the estimated annual revenue of this site alone is around $2 – $5 million, with the majority of the QwikAd traffic visitor coming from India and followed by the United States. So, this site is valid, and many people have been using it.
How to Use QwikAd?
You can sign up for free to QwikAd. After creating your account, you can post your ad on QwikAd. There are two types of ads to post: free classified and banner ads.
Post A Free Ad
Setting up a free ad is pretty straightforward. However, there is one downside to creating a free ad. You can only showcase your ad in a specific location. Take a look at this screenshot below.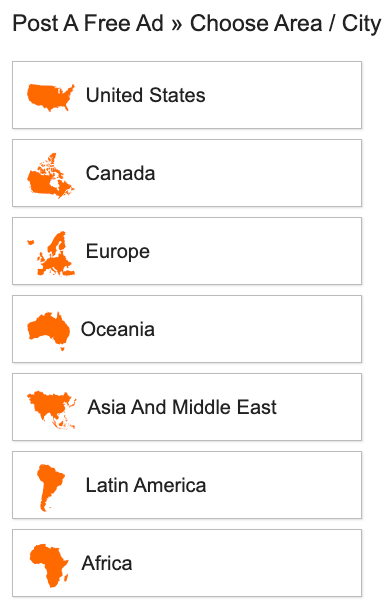 As you can see, when you click the Post A Free Ad button, you need to choose the geographical area to show your ad. For example, if you choose the United States, you need to select which specific state will see it, down to the city. In this example, we're using the state of Idaho and choose East Idaho.
The next step is to choose the category of your ad. Here's the complete list.
Make Money
Local Life
Services
Pets & Animals
Real Estate
Jobs
Automotive
For Sale
My Web Pages
Wanted Ads
Inside each category, there are several sub-categories. You need to select that represents your ad. After that, you can start writing your ad. You will see a form like in the screenshot below.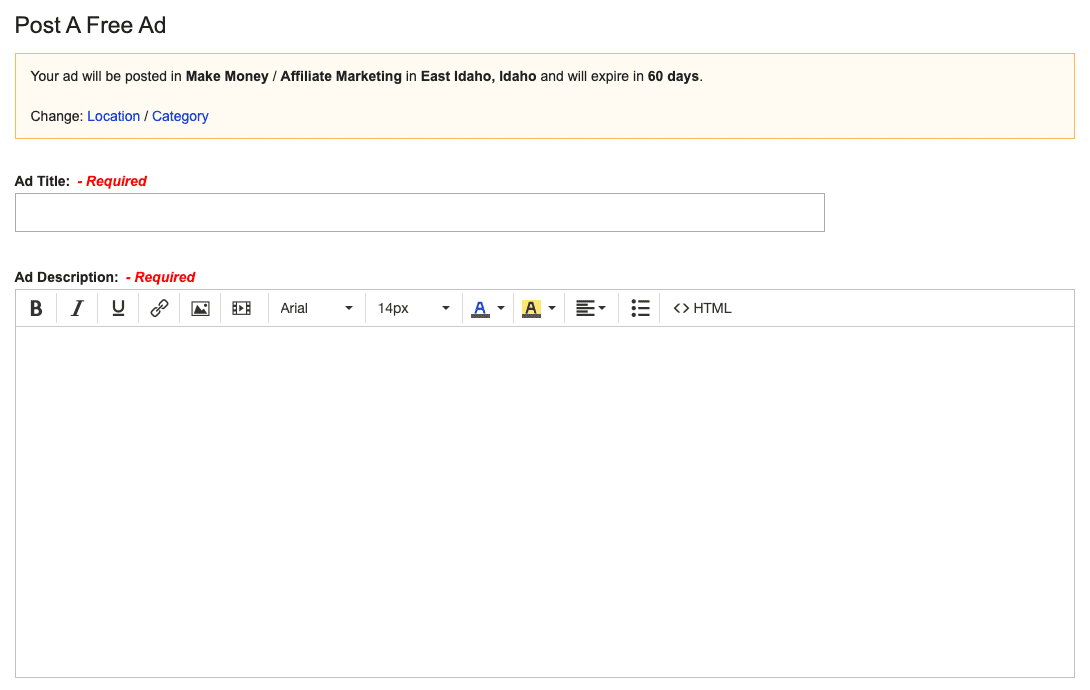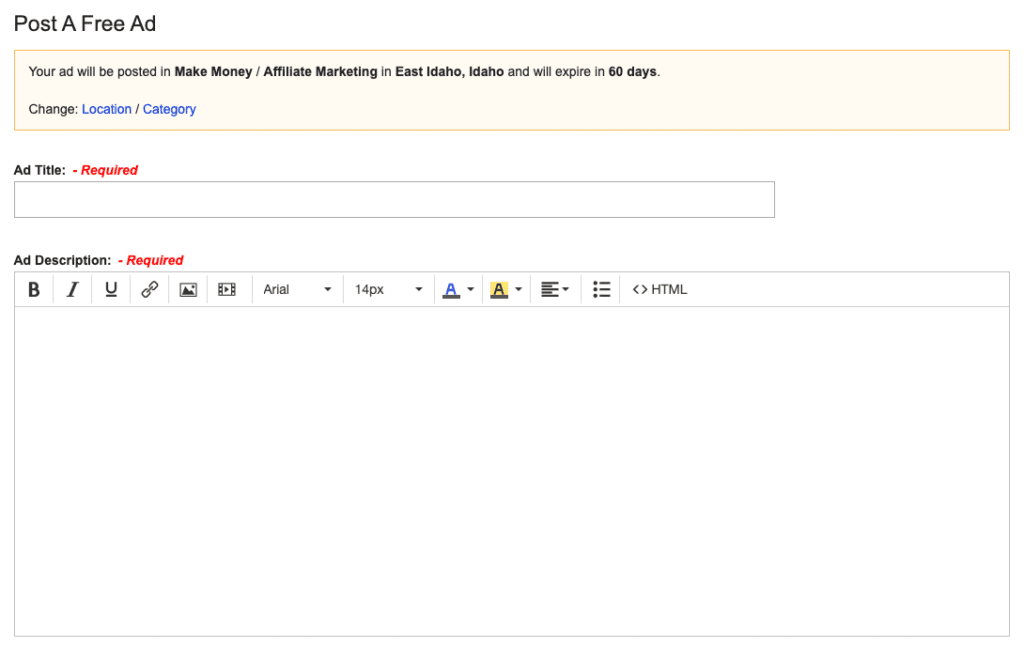 You can fill in your ad title and description and add images to showcase your offer when someone clicks on your ad. Other than that, you can fill in the optional form such as commission or bonus based, earning potential, price, phone number, contact name, company name, ships to, business hours, and even add a map. You can also upload up to 10 images to your ad. After filling in everything, your ad is ready to be published. That's it.
There is one more thing before publishing your ad. At the end of all the optional information, there are several add-ons to boost your ad listing. However, we'll cover more about this in the pricing section.
Post A Banner Ad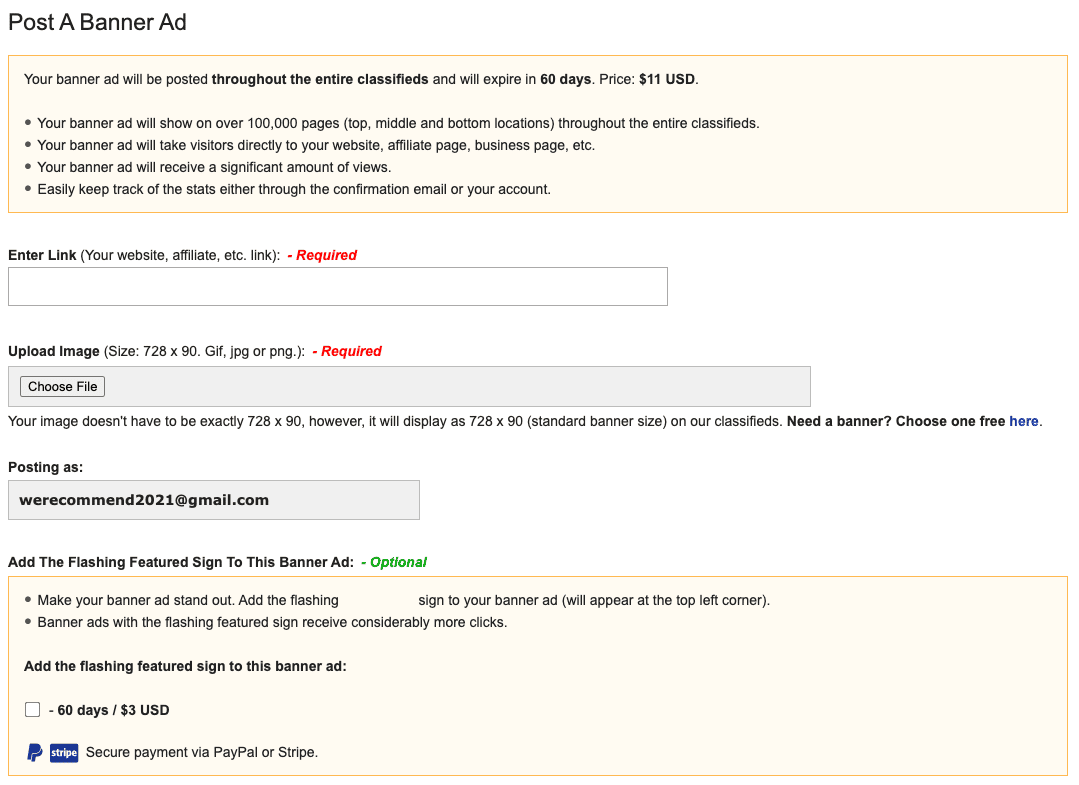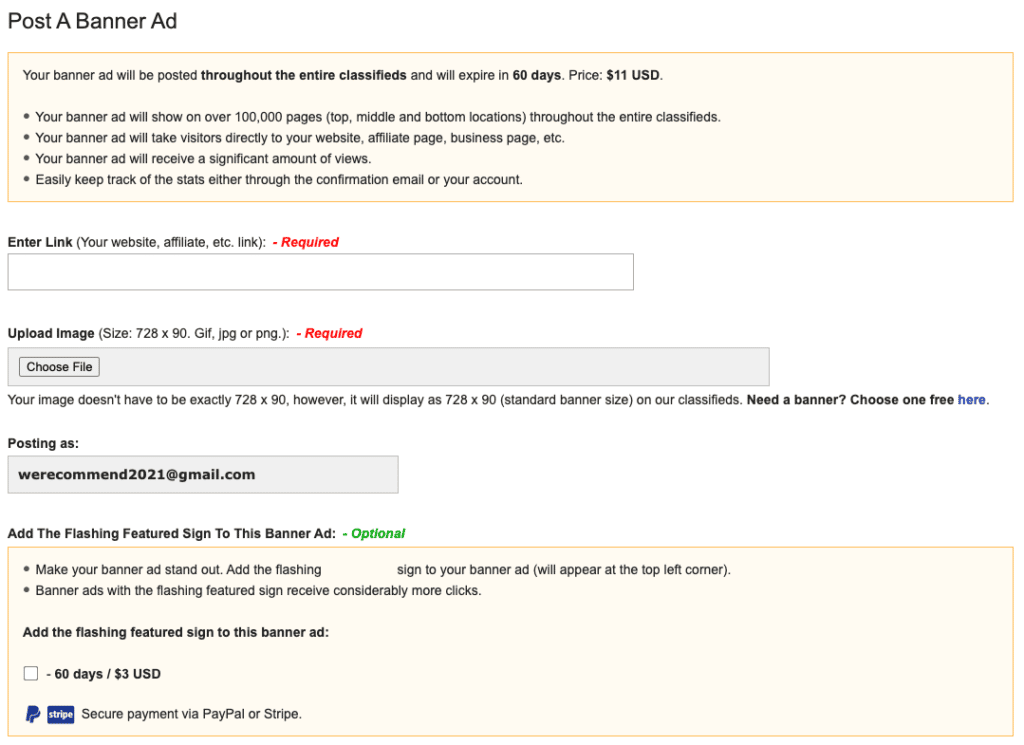 The second type of ad you can post is a banner ad. If you think a banner ad doesn't work, you're wrong. It works, and many people have been using it to promote almost anything. However, to post a banner ad, you need to pay at least $11. QwikAd will advertise your banner ad for 60 days. That's less than $0,2 per day.
Fill in your link and upload your banner ad with the exact size of 728 x 90 pixels. There is one add-on to showcase a flashing featured sign for $3 that will appear at the top left corner of your banner. Getting this add-on might result in getting more clicks to your link.
QwikAd Pricing
Let's learn more about the pricing offer (add-ons) if you want to place an ad on QwikAd. As you previously read, there are several add-ons to showcase your ad to get better results. Here's a screenshot of all the add-ons you can choose when posting classified ads.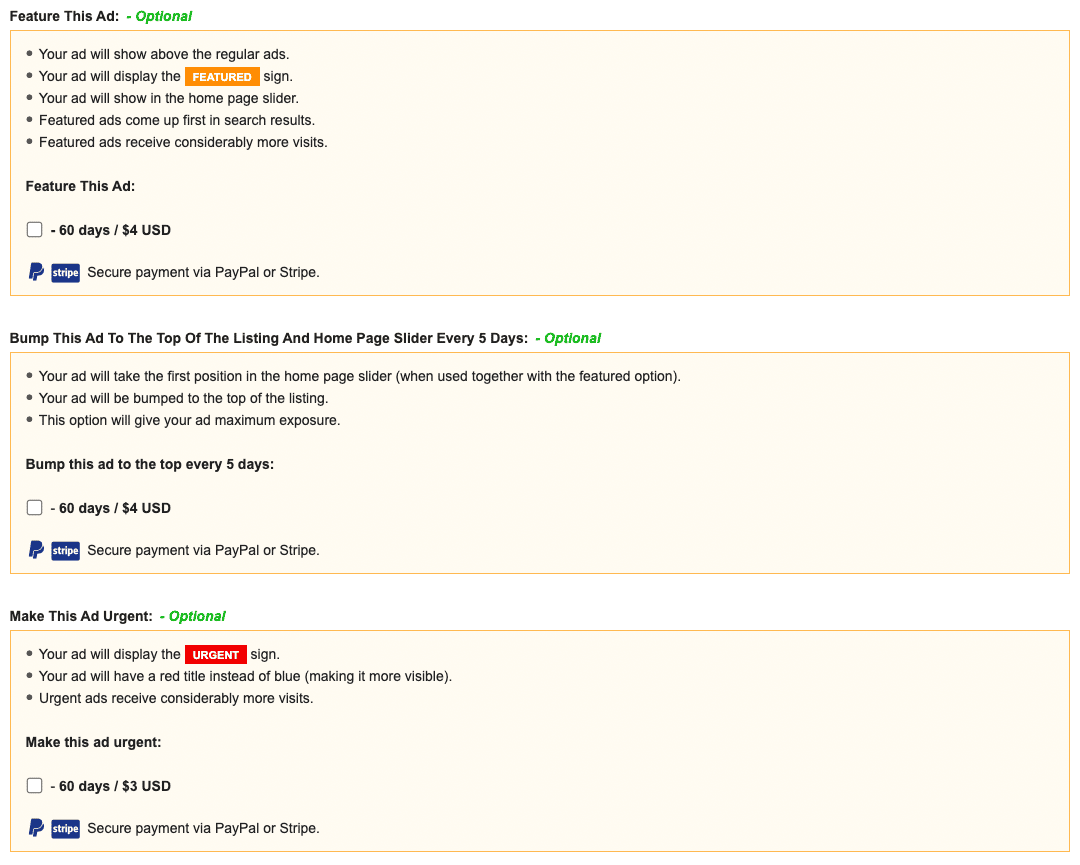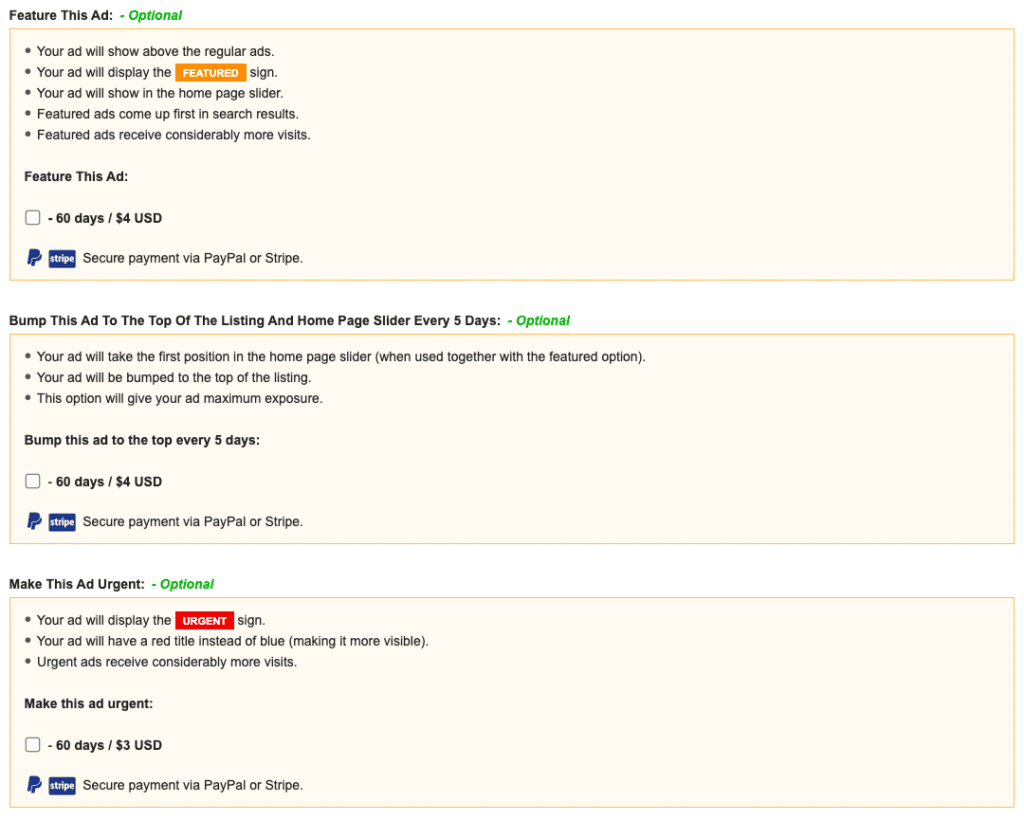 As you can see, there are three affordable add-on options, Featured Sign (+$4), Bump Every 5 Days (+$3), and Urgent Sign (+$3). If you choose all of the add-ons available, it will cost you $11. Your ad will run for 60 days and get bumped to the top of the listing every five days. We consider it affordable as it only costs you less than $0,2 per day.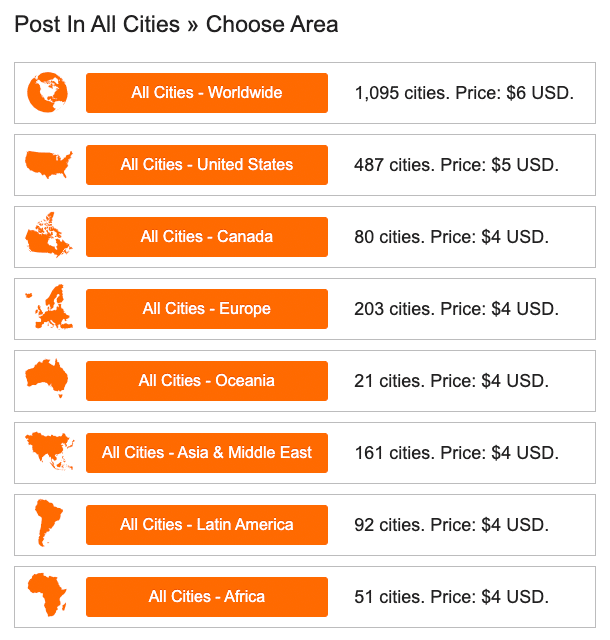 However, there is one more add-on that we think most people will get. It's the Post In All Cities ad. The process is similar to posting a free ad, but now you can choose between worldwide and all cities within a country or continent. In other words, you can run your ad in 1,095 cities worldwide. This add-on will cost you an additional $6. It doesn't stop there. Add another $4, and you can get a featured sign on your classified ads.
Here's a breakdown of the entire cost if you want to run both ads (classified and banner) for the next 60 days.
Classified Ad
Worldwide $6 or Worldwide + Featured Sign $10
Bump Every 5 Days $4
Add Urgent Sign $3
Total cost: $13 or $17 for 60 days.
Banner Ad ($14)
Setup $11
Featured Sign $3
Total Cost: $14 for 60 days.
So, the maximum spending per ad is $31 for 60 days. It's a cheap offer of nearly $0,5 per day.
QwikAd Pros and Cons
There are several pros and cons to using QwikAd to advertise your offers.
Pros
Your ad will be displayed for 60 days straight. It's a long period for promoting an offer.
Price-wise, it's affordable.
You can advertise almost anything on QwikAd. Choose from various categories of classified ads.
Setting up your ad is easy and pretty straightforward.
Once you sign up, you can promote QwikAd as an affiliate and earn money from paid ads.
Cons
Compared with paid ads, the free ad option can't compete well in impressions and views.
QwikAd's primary traffic came from India, which is not a first-tier country.
QwikAd's effectiveness may vary depending on your ad category.
Conclusion
To summarize our QwikAd review, this advertising platform is easy to use and worth trying. The maximum amount for posting an ad (classified and banner) is $31 for 60 days, which is cheap.
However, we don't think it is possible to use free ads to drive traffic to your offer. You can't compete with paid ads with all the add-ons turned on. So, we recommend trying it using the add-ons.
---