---
If you're looking for a legit Typli AI review, you've come to the right place. In this post, we'll share our thoughts about it and why it's the most intuitive AI content writer compared to other tools.
We've been saying that AI copywriting tools is a competitive playing field. This situation has become even more competitive due to the presence of ChatGPT. People are using it to answer questions on Quora, write blog posts, and many more. Moreover, you can use ChatGPT for free, which makes it a terrifying competitor to many AI writers.
Despite the facts above, one AI writer seems confident in providing a new perspective in delivering a new and unique AI writing experience. It's called Typli AI.
In this review, we'll highlight how Typli AI is different than other tools we have reviewed and show you the quality of the content it has produced.
Without further ado, let's dive in!
Is Typli AI The Most Intuitive AI Writer?
Fortunately, we think it's not the most intuitive AI writer. However, it provides a different experience than other tools since you can give commands to Typli AI, just like ChatGPT. We think it's still worth considering using Typli AI as a drafting tool to help you produce your content.
What is Typli AI?
Typli AI is an artificial intelligence writer developed by Atlas Web Solutions, a Software as a Service (SaaS) Growth Agency. According to their home page, Typli AI is the most intuitive AI content tool, which combines AI writing and an SEO assistant. To learn more about this tool, you can watch this short video.
What Makes Typli AI Different?
Generally speaking, every AI copywriting tool we've reviewed so far utilizes some template or framework to produce content. One of the main reasons we mention ChatGPT at the beginning is that you can write a command to Typli AI to write for you. Once you've logged in to your account, you'll see a screen like this.


As you can see from the screenshot above, Typli AI doesn't have tools or templates to work with. It's literally a blank canvas. To use Typli AI, you only need to write a command, block it, and hit the Generate AI Content button.
If you need help identifying what commands are available on Typli AI, click the '+' button, and you'll see a small taskbar like in this screenshot below. On the far right, there is a drop-down menu that shows all the available commands.

Two of our favorite commands are "How would you sell" and "Give me a list of 7 myths about" Here's an example of the result.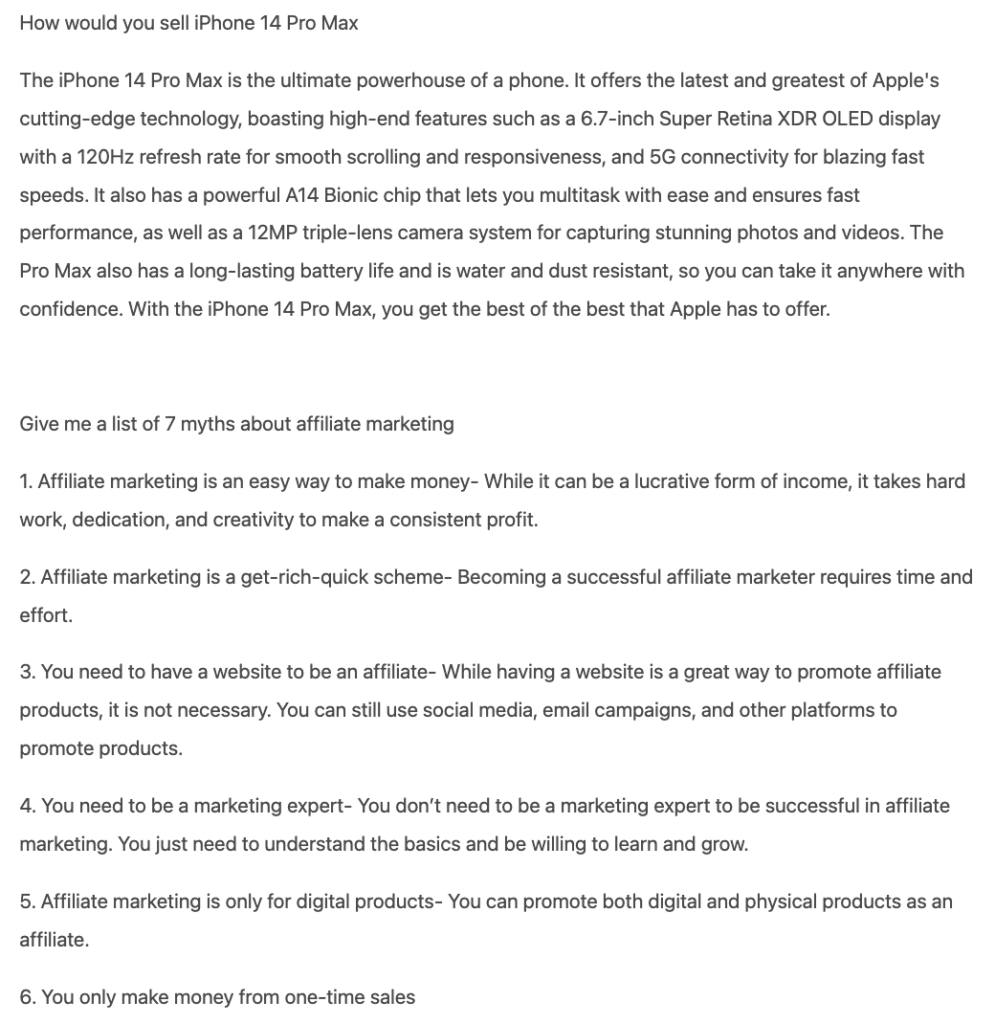 Honestly, the copy quality is similar to what other tools are providing. Nothing new here. The only downside to this kind of experience is you can't get several copy variations to choose from. In other words, if you'd like another copy variation, you must repeat the process by blocking the command prompt and clicking the Generate AI Content button.
When we first used and tested this AI content generator, we didn't know what to do since we were used to seeing templates and tools. However, once we understand how it works, everything is easy—especially if you're already familiar with ChatGPT. We think it's friendly enough even for beginners.
Typli AI Features
As with other reviews, we wouldn't bore you with similar features like tools. Instead, we'll highlight several features that stand out inside Typli AI to help you decide to use it compared to other AI writers.
ChatBot
Like ChatGPT, Typli AI also has a ChatBot feature where you can ask whatever you want. However, it seems it is not working well since it can't answer a simple question about itself. Check out this screenshot below.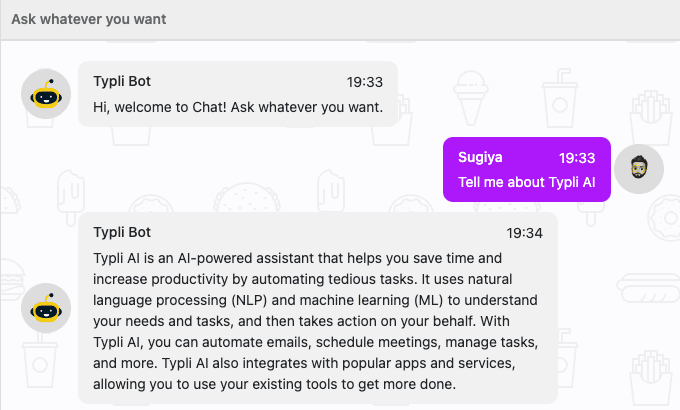 As you can see, the explanation is totally different than it should be. However, it works if you ask general questions like "How to make money online?"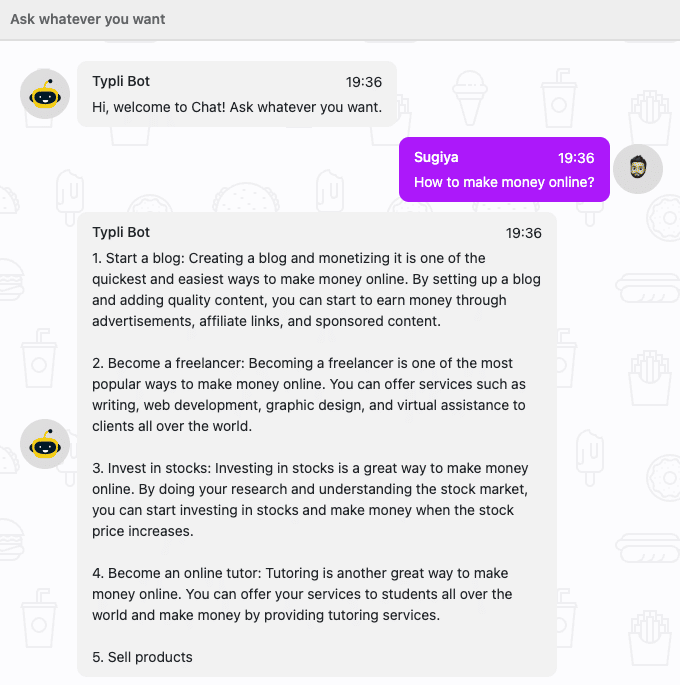 Depending on the length of the answer, it will consume your credits, as you can use it in your content. So, it's similar to giving commands like you previously saw.
There is one downside when you use this feature. It wouldn't save the answer it has provided for your question. So, it would be a waste of credits if you're not using it in your content.
Built-in SEO, Keyword Analytics, and Keyword Suggestion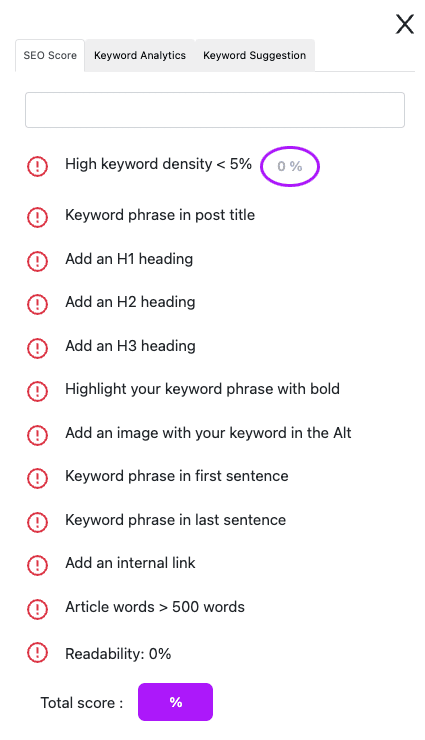 One feature that stands out in Typli AI is a built-in SEO scoring system, keyword analytics, and keyword suggestion in the writing area. You can use it as a guide to help you write SEO-friendly content. However, we wouldn't rely 100% on the scoring system because it's just a general guideline.
We think it's not even relevant for those of you who understand how SEO works. Moreover, since we've used Rank Math SEO Content AI, it's not comparable in terms of the value it gives.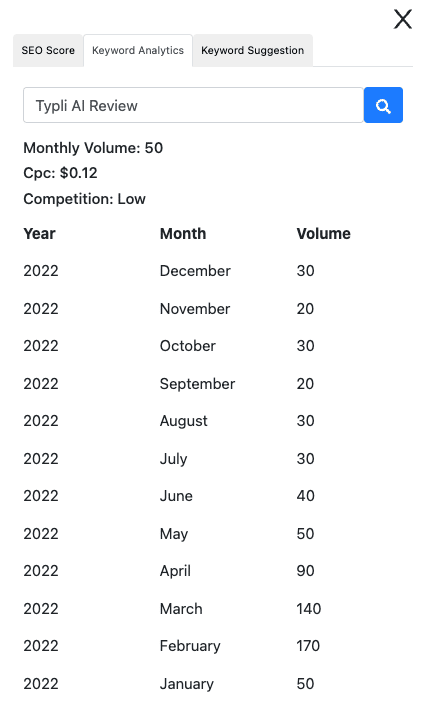 For keyword analytics, it also seems that the search volume isn't accurate and not based on actual data. So, we wouldn't recommend it. We think it's better to use Google Keyword Planner as it takes data from Google Search. The same thing applies to keyword suggestions.
Integrations

Since not many AI writers provide a browser extension, Typli AI provides a Chrome Extension, Mozilla Extension, and a WordPress plugin to help you write anywhere. We think this is a helpful feature that many AI writers didn't provide.
Copyscape & Spin Text
If you have a Copyscape account, you can integrate it with Typli AI. This will help you check the produced content for plagiarism. Nothing is more frustrating than publishing a plagiarised post from another place.
Another essential feature we think is great to use is the ability to Spin Text without consuming credits. Usually, you need to input several sentences and ask AI to rewrite them, which will eat up your credits. In Typli AI, you can do that by blocking your sentences and hitting the Spin Text button for free.
Typli AI Pricing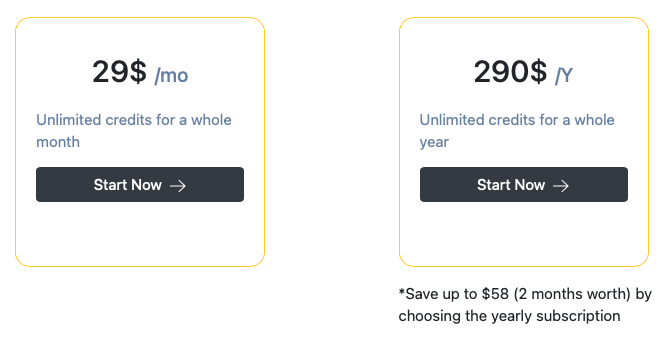 It's rare to see an AI writer gives unlimited credits for only $29 a month or $290 per year. So, we think it's a generous offer compared to other tools. Moreover, you can start with a 7-day free trial and generate up to 4,000 characters for free before subscribing.
Typli AI Pros and Cons
Based on our experience testing Typli AI, we found several pros and cons you might want to consider before subscribing.
Pros
You can use it like ChatGPT.
It has affordable pricing with unlimited words.
It has a free trial plan.
Cons
There is no free-forever plan.
SEO-related features are not relevant.
You can't save ChatBot answers.
You can't get multiple copy variations to choose from.
It's only available in English.
Frequently Asked Questions
Is there a refund policy?
Fortunately, yes. You get a 7-day money-back guarantee if you think Typli AI is not the right tool for you or your business.
How do you cancel your Typli AI subscription?
You can send an email to [email protected]. However, you won't get any refund if you have already passed the 7 days money-back guarantee period.
Conclusion
To summarize this Typli AI review, we think it's not the most intuitive AI writer. However, it's still worth considering due to its affordable price and unlimited words. If you'd like to test Typli AI, we strongly suggest signing up for a 7-day free trial before subscribing.
---