This post contains affiliate links. We may receive a commission for purchases made through these links without any extra cost to you. Thank you for your support.
---
In this Keyword Tool Dominator Review, we will examine if this tool is worth buying or not.
If you're running a website like me, I can't overstate the importance of doing keyword research before writing your posts. If you want to get ranked on the first page of Google Search, doing keyword research is a must. However, doing keyword research without any tool is challenging.
That's why having a tool like Keyword Tool Dominator is handy.
I will bring you the pros and cons of this tool so you can decide if it is for you.
So, without further ado, let's dive right into it.
What is Keyword Tool Dominator?
Keyword Tool Dominator (KTD) is a keyword research tool to help you find the most popular keywords in real-time from various platforms such as:
Amazon
Bing
eBay
Etsy
Google
Google Shopping
Home Depot
Walmart
YouTube
Since most keyword research tools mainly focus on Google Search, having alternatives like Keyword Tool Dominator is helpful to help you identify potential keywords to rank on various platforms. This way, you can optimize your website or online business for exposure and traffic.
If you'd like to use Keyword Tool Dominator, you can use it for free with a limited number of searches. Every keyword tool for each platform above has a free option with 2 daily keyword searches. So, you can have a taste of how this tool can help you identify potential keywords before deciding to purchase them.
I believe Keyword Tool Dominator can help content marketers and agencies identify and optimize keywords. Moreover, SEO specialists and company owners may also use Keyword Tool Dominator to help them find long-tail keywords without breaking their bank account.
Keyword Tool Dominator Features
In this section, let's explore Keyword Tool Dominator features and how they could benefit you when you use them properly.
As a content marketer, keyword research tools are essential to help you outrank your competitor by targeting long-tail keywords. With 9 keyword tools, you can identify potential keywords you want to target based on search popularity. If you'd like to create niche-dominating content, utilizing Keyword Tool Dominator is like having a cheat sheet to add more value to your content.
9 Keyword Tools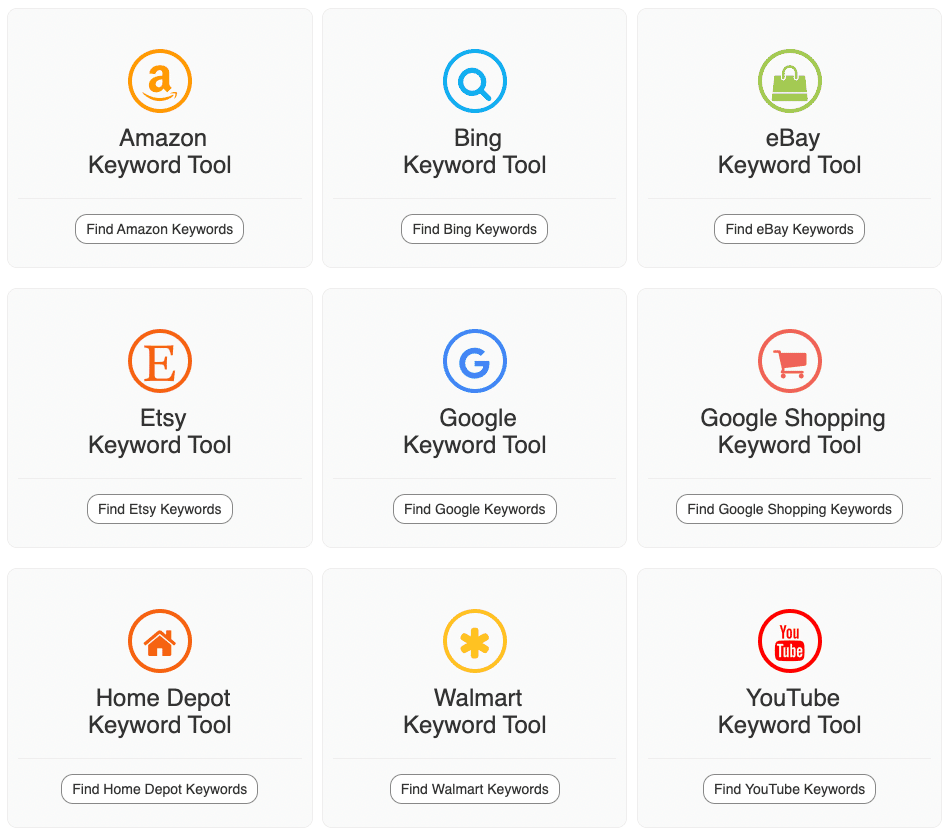 Keyword Tool Dominator offers specialized keyword tools for each of the platforms above.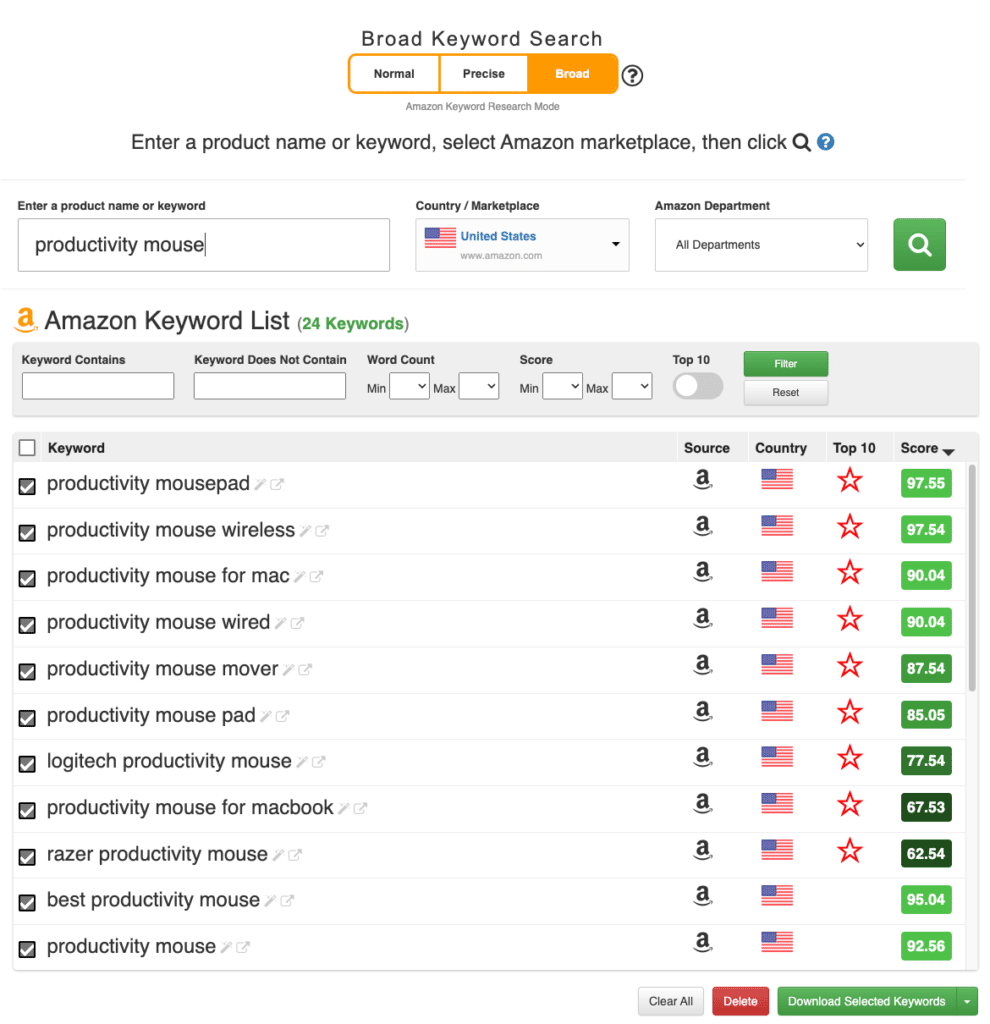 Amazon Keyword Tool: You can use it to help you identify keywords for product listings. Since Amazon has its own SEO, you can rely on Amazon Keyword Tool to identify relevant product keywords across 16 Amazon marketplaces worldwide in all departments. Simply select the Broad option to find long-tail keywords based on your needs.
Bing Keyword Tool: Bing is an alternative search engine other than Google. So, it has its own SEO that works differently than other search engines. If you want to target long-tail keywords on Bing, you can try using this Bing Keyword Tool to help you find relevant keywords related to your niche.
eBay Keyword Tool: As an online marketplace with billions of product listings, you can use eBay Keyword Tool to find potential auction listing keywords and/or long-tail keywords with Keyword Tool Dominator.
Etsy Keyword Tool: If you're using Etsy to sell your products, you can use Etsy Keyword Tool to help you create optimized copy for your listings. This way, you can outrank similar products by targeting long-tail keywords for your product listings.
Google Keyword Tool: If you want more traffic to your website, using the Google Keyword Tool will help you identify potential keywords for your business. Compared to similar and expensive tools like Ahrefs and Semrush, using Keyword Tool Dominator is a cheaper alternative option. It's even more affordable than Jaaxy, which came along with Wealthy Affiliate membership.
Google Shopping Keyword Tool: Similar to other marketplaces, you can use Google Shopping Keyword Tool to help you identify seed and long-tail keywords to add to your listings.
Home Depot Keyword Tool: If you'd like to identify words and search phrases on Home Depot, you can try using the Home Depot Keyword Tool to help you rank better.
Walmart Keyword Tool: Another eCommerce platform you might want to consider testing is Walmart. Simply enter your keywords in the search box, and you'll find all the related keywords based on Walmart's SEO.
YouTube Keyword Tool: Finding long-tail keywords on YouTube is not a big challenge if you use the YouTube Keyword Tool. You can identify top-ranked YouTube keywords and add them to your video description and titles.
Customizable Search Function


When you run keyword research on one of the Keyword Tool Dominator tools, you can customize your search result by:
Targeted country location.
Adding or excluding a particular keyword in your search result.
Set the minimum and maximum word count.
Set the minimum and maximum scores.
Include the top 10 keyword results.
These customizations will help you identify the best-performing keyword for your content.
Wild Card Search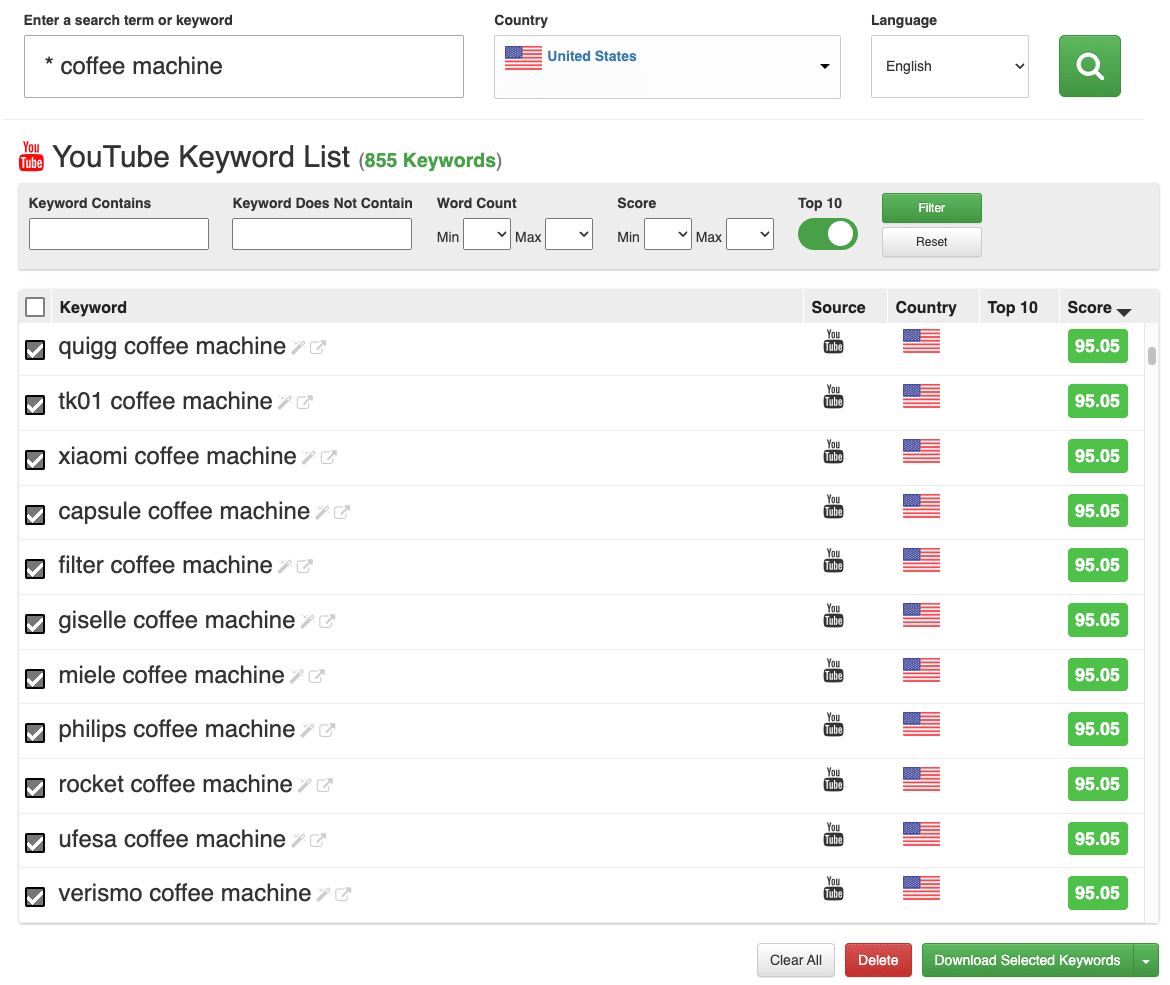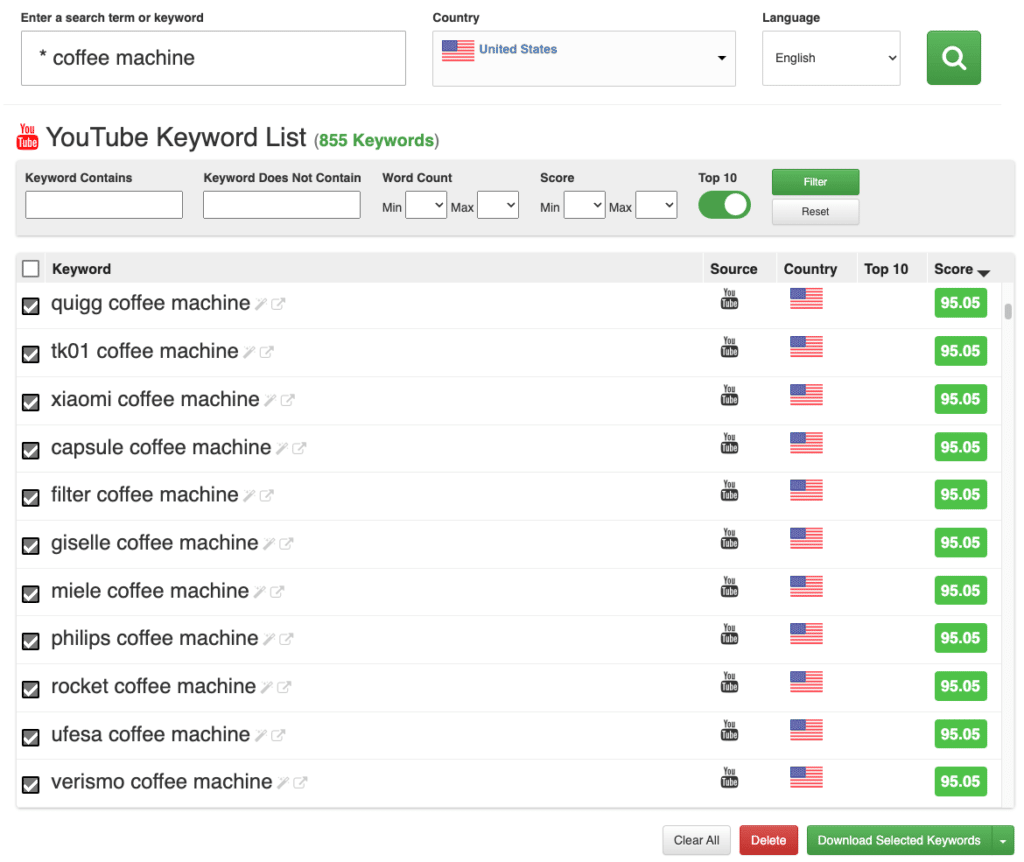 If you'd like to find long-tail keywords, you can use the Wild Card Search by applying the * symbol on your keywords. For example, if you're looking for a coffee machine in the search term, adding a * sign will expand your search for more long-tail keywords. This feature works on Amazon, Bing, Google, Google Shopping, and YouTube Keyword Tool.
Top 10 Unique Words by Frequency
When you run a search on Keyword Tool Dominator, other than your search result, you will also see a visual graph based on frequency, like in this screenshot below.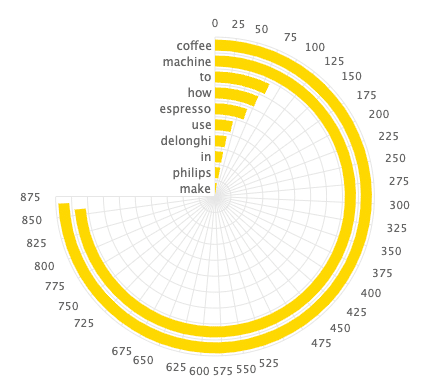 This visual graph will help you identify potential keywords that will attract traffic to your content. So, you want to ensure to add some of them to your content.
Keyword Tool Dominator Pricing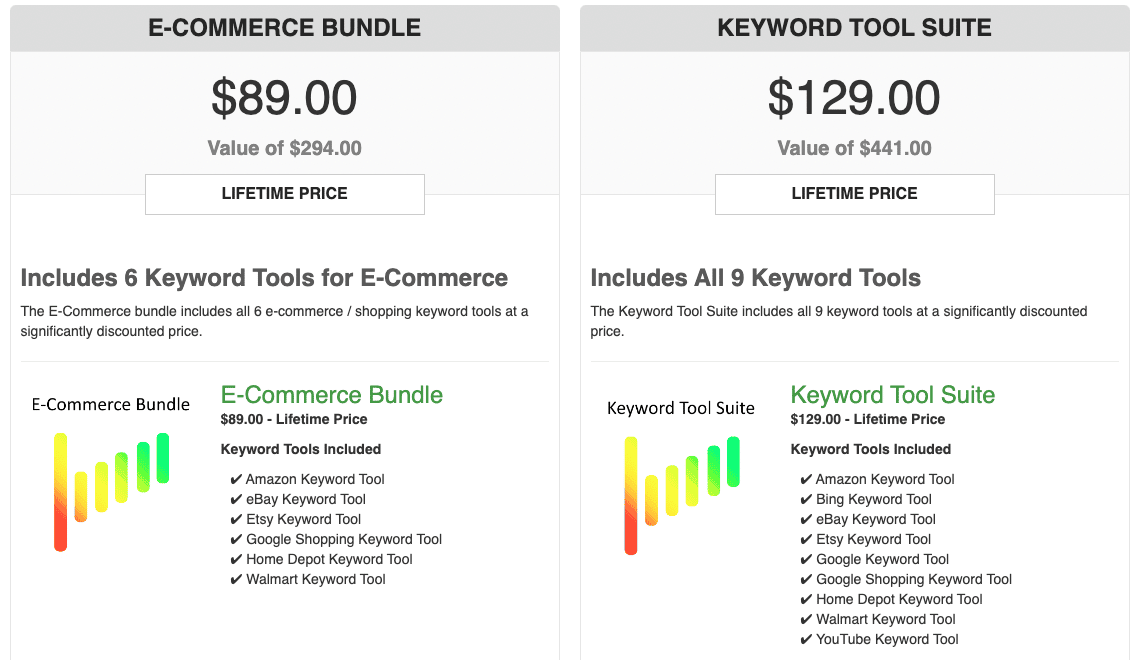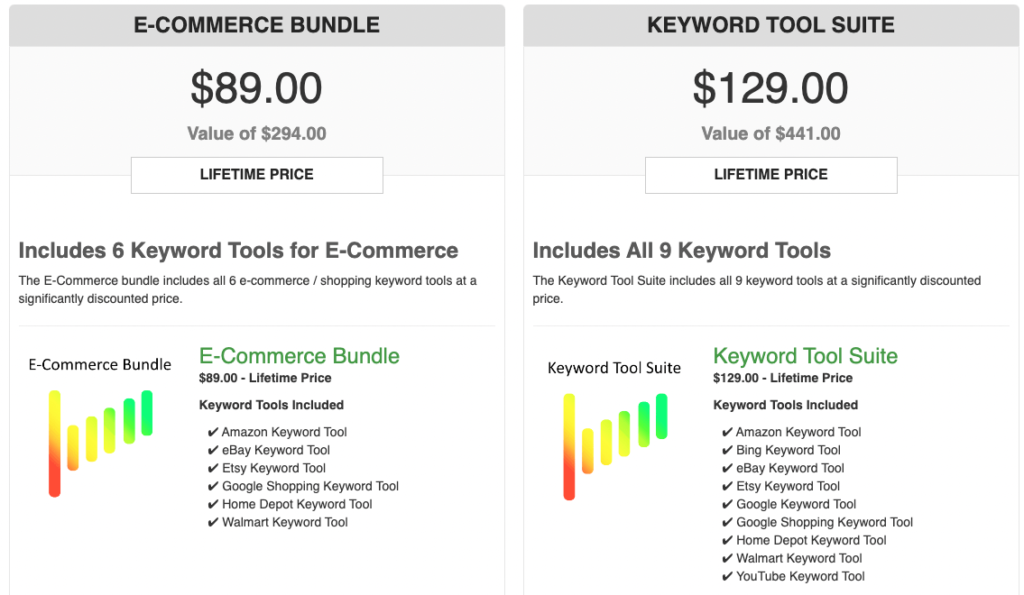 You can buy Keyword Tool Dominator individually or in a bundle package. If you plan on buying individually, it will cost you a $49 one-time fee. However, you can buy them cheaper with the eCommerce bundle for $89 or everything at once for $129.
Keyword Tool Dominator Pros and Cons
I can say that Keyword Tool Dominator has numerous benefits. It has more pros than cons.
Pros
Free signup with a limited number of searches.
Access to keyword popularity score.
Keyword Tool Dominator has 215,407 users.
You can download keyword research results in CSV/Excel format.
One-time fee if you plan on upgrading.
Cons
Unlike other keyword research tools, you don't get access to search volume.
You might not need to use all keyword tools if you buy the Keyword Tool Suite for $129.
You have to install the Google Chrome extension to use it.
Frequently Asked Questions
What is Keyword Score?
The keyword score on the keyword search results refers to the search popularity of those keywords. The higher the number, the higher the search popularity for that exact keyword.
Do you have to install Google Chrome Extension to use Keyword Tool Dominator?
Yes. Keyword Tool Dominator will not work unless you install the extension. 
Conclusion
To summarize our Keyword Tool Dominator review, it's worth buying if you plan on using all the platforms available for keyword research. You can buy them separately based on your needs or in a bundle. For beginners, it's suitable if you are just learning about keyword research.
However, as I previously mentioned, Keyword Tool Dominator does not have data related to search volume. So, you might consider that before purchasing. If you want to experiment with Keyword Tool Dominator, you can sign up for free and try them with limited 2 daily searches.
---