This post contains affiliate links. We may receive a commission for purchases made through these links without any extra cost to you. Thank you for your support.
---
In this TopDogsRotator review, let's find out if it's worth your time to use it to drive traffic to your website or affiliate offers.
Since December 2022, we've been exploring TopDogsRotator and using it to drive traffic to some of our affiliate offers. We'll share our experience with you and let you decide if you'd like to try it too.
Without further ado, let's dive in!
Is it Worth Your Time?
We think it's worth our time to spend a few minutes clicking 250 ads daily at the TopDogsRotator. It doesn't have a long waiting or verification time to earn credits when you view an ad, so you can open multiple tabs at once and wait until every ad you view is verified by the system.
What is TopDogsRotator?
TopDogsRotator is a traffic exchange system with a massive audience reach to drive traffic to a website or affiliate offers. It has been around for decades and is run by Maryanne and Sabrina Myers. Just in case you're curious, they are family related.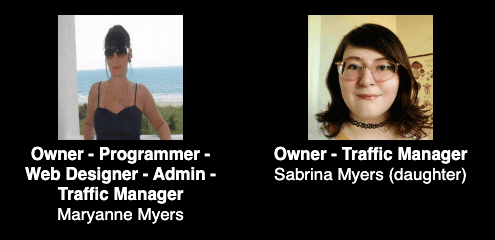 This traffic system has nearly 12,000 members and has sent more than 400 million hits to various affiliate offers. Based on our research and findings, it's one of the most active rotators used by affiliate marketers to promote their products and offers.
How TopDogsRotator Work?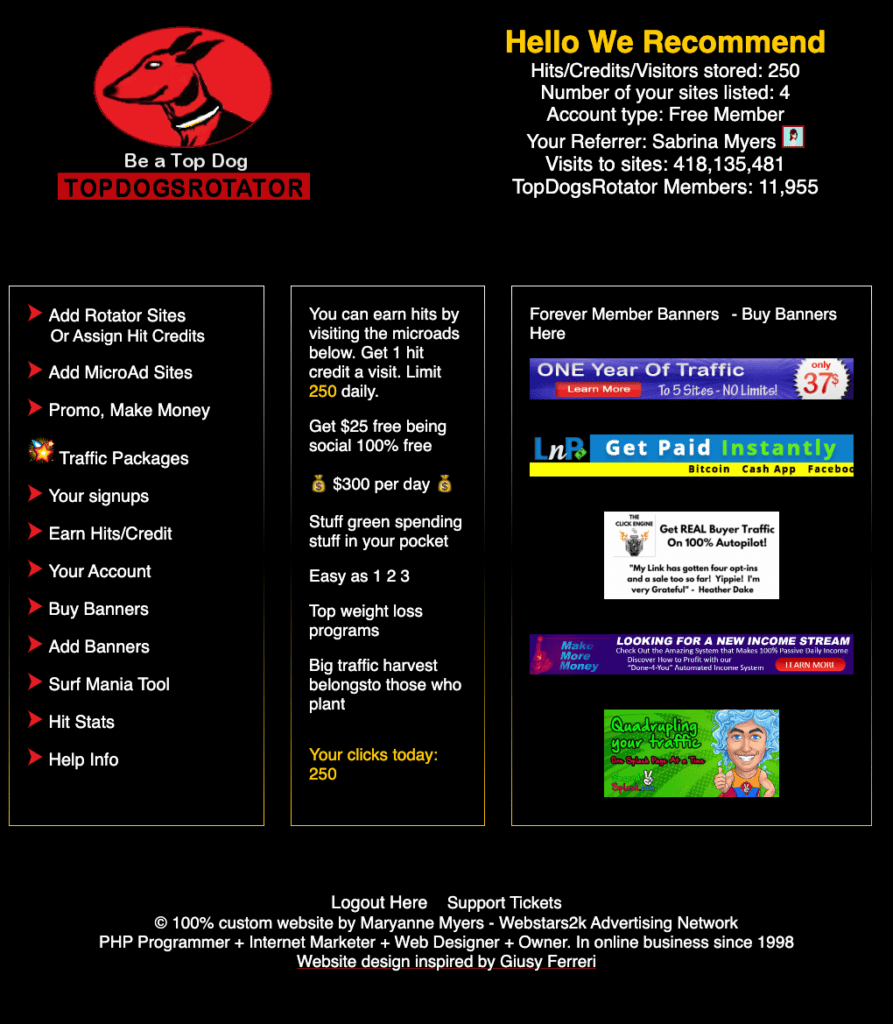 To use TopDogsRotator, you can expect it to work similarly to traffic exchange sites and safelist mailers. In a sentence, you need to browse ads to earn credits or hits before you can use them to drive traffic to your website or affiliate offers.
Compared to other traffic exchange sites, the waiting or verification time doesn't take long on TopDogsRotator. It only takes about 10 seconds to get your ad view verified. Moreover, you can open multiple sites, and the timer still runs, which is a time-saver for us. Some traffic exchange sites, such as LeadsLeap and TrafficAdBar, require you to view only one ad at a time.
As a free member, you can browse and earn up to 250 credits every day. Based on our experience, it takes about less than 10 minutes to reach 250 hits. So, we think it's worth our time.
How to Add Sites and Assign Hit Credits on TopDogsRotator?
Before you can assign credits, you need to add your websites and get them verified by the system. To add your sites, go to the first menu on the top left menu bar called: Add Rotator Sites or Assign Hit Credits. After that, you'll see a page similar to this screenshot below.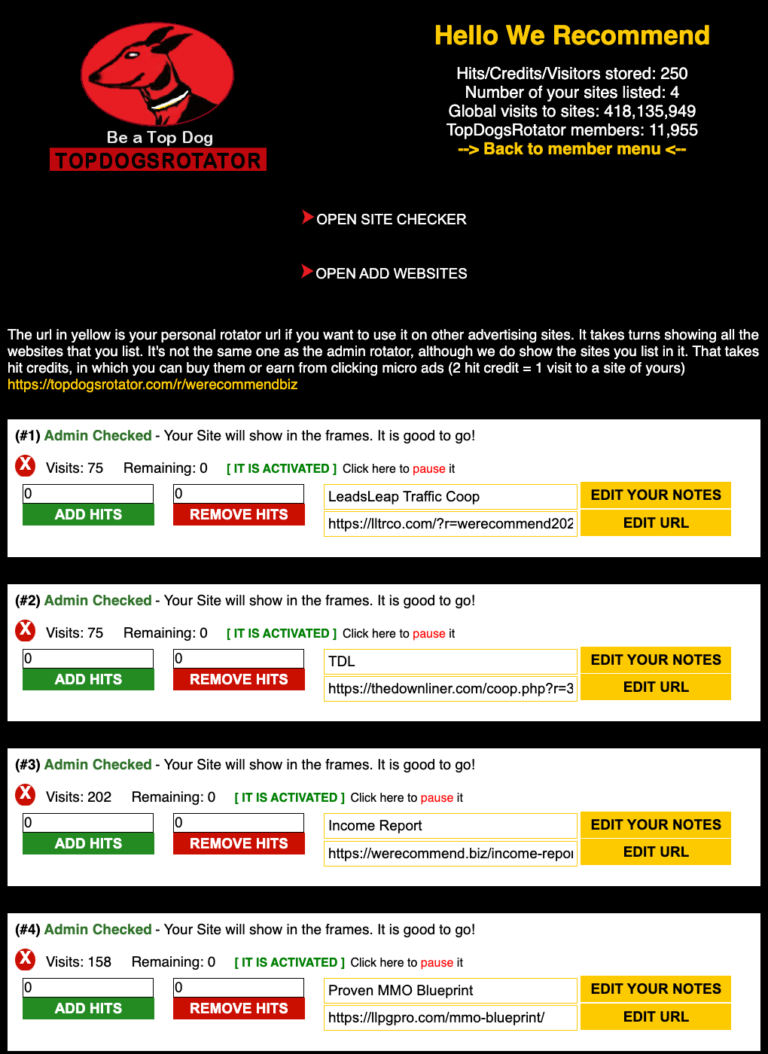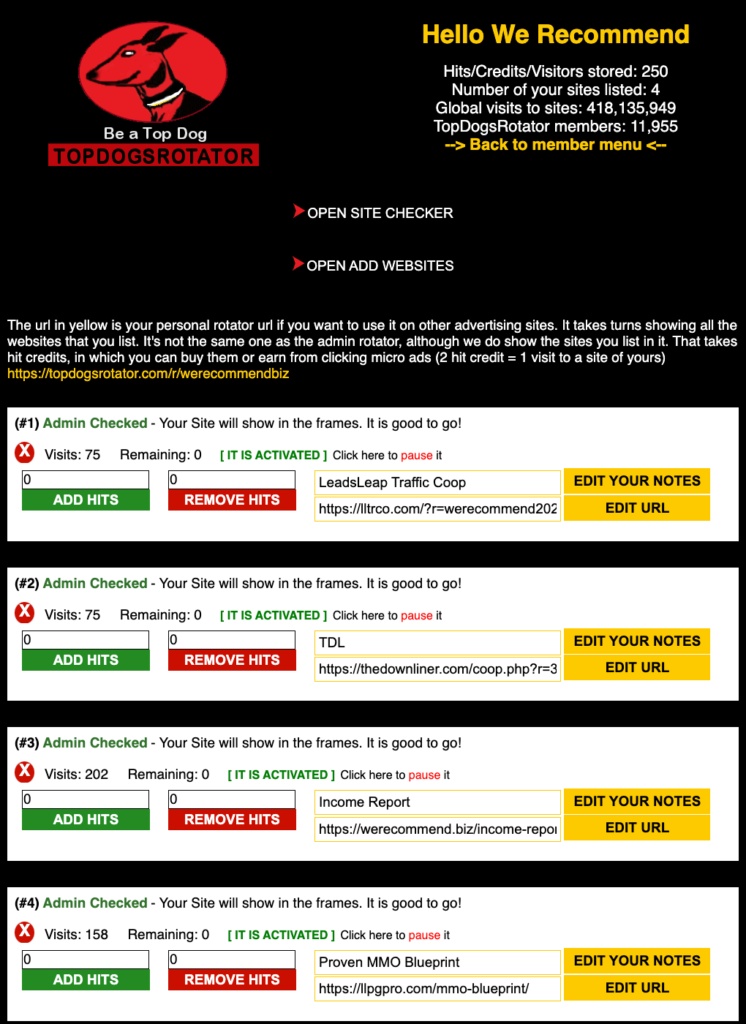 Click on the Open Add Websites to input your URL and add a note. It takes about 12-24 hours since Maryanne and Sabrina checked every site before it got approved in the system.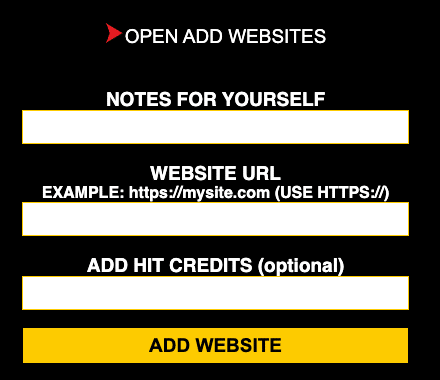 Once you get enough credits, you can assign them to your website and affiliate offers. If you have 250 hits, you can use them on one website or divide them into multiple sites. However, one thing in mind is that every 2 credits equal 1 visit to your site. So, 250 hits are equal to 125 visitors.
How to Ensure Your Site Appears on TopDogsRotator?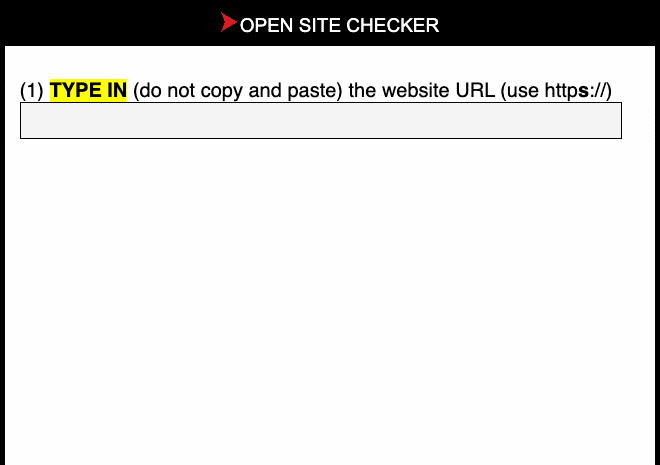 Before adding sites to the TopDogsRotator, you can check if your site could appear in the system using the Site Checker. You only need to type in the URL address, as you can see in the screenshot above, and if your site appears in the preview box, your site is guaranteed to appear in the system.
Some affiliate offers wouldn't let you promote their link on a traffic rotator. One way to overcome this challenge is by creating a splash page or a new landing page to show your offer and add your affiliate link by creating a button or an anchor text. Our best recommendation is to use LeadsLeap to create a new landing page for free.
TopDogsRotator Traffic Packages
If you're not into clicking ads and assigning credits, you can opt for one of the Traffic Packages inside TopDogsRotator. It's a one-time payment with plenty of benefits—including displaying micro ads in the member area with up to 20 ads, getting unlimited sites into the rotator, and additional hits to your offer.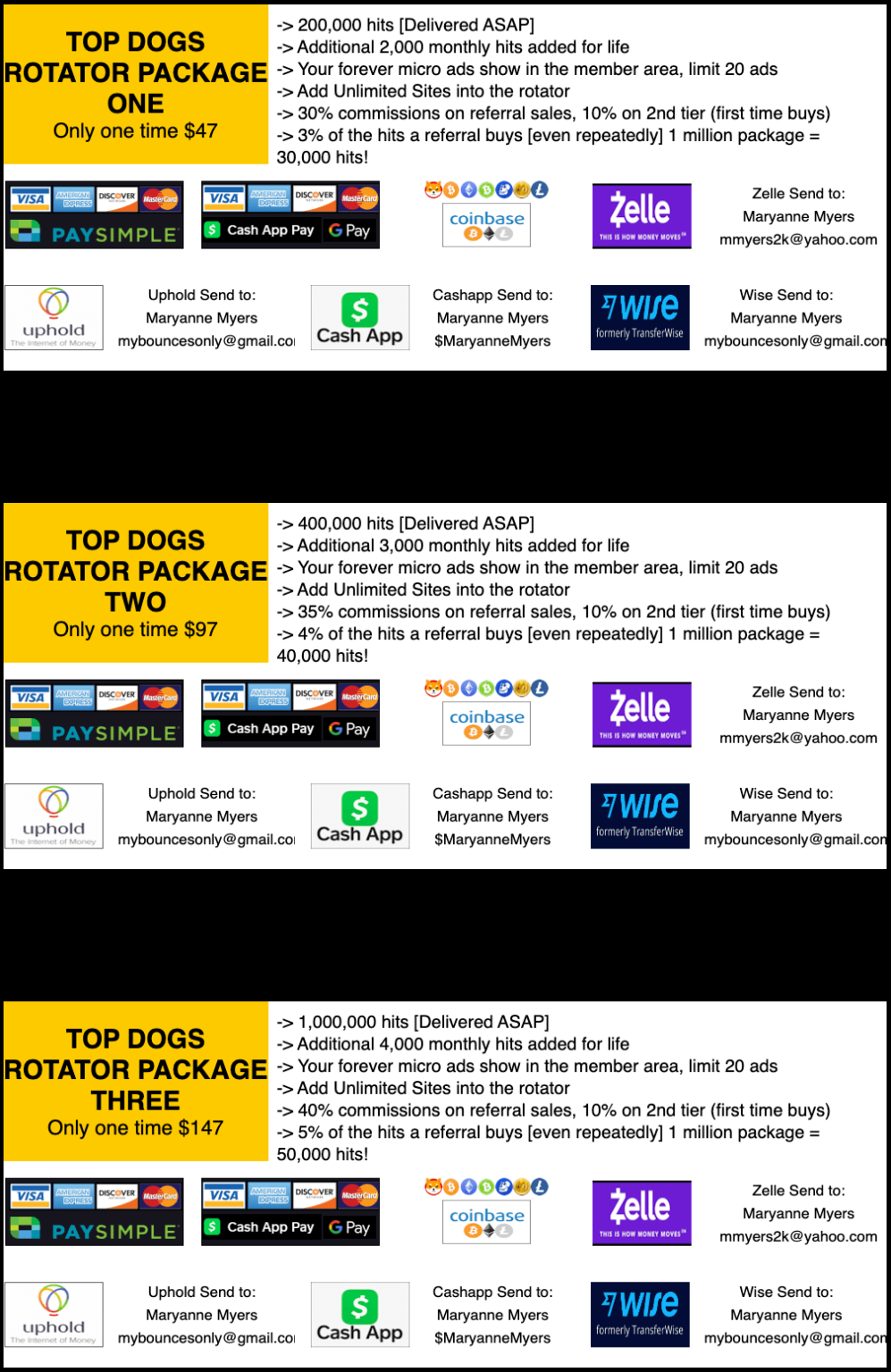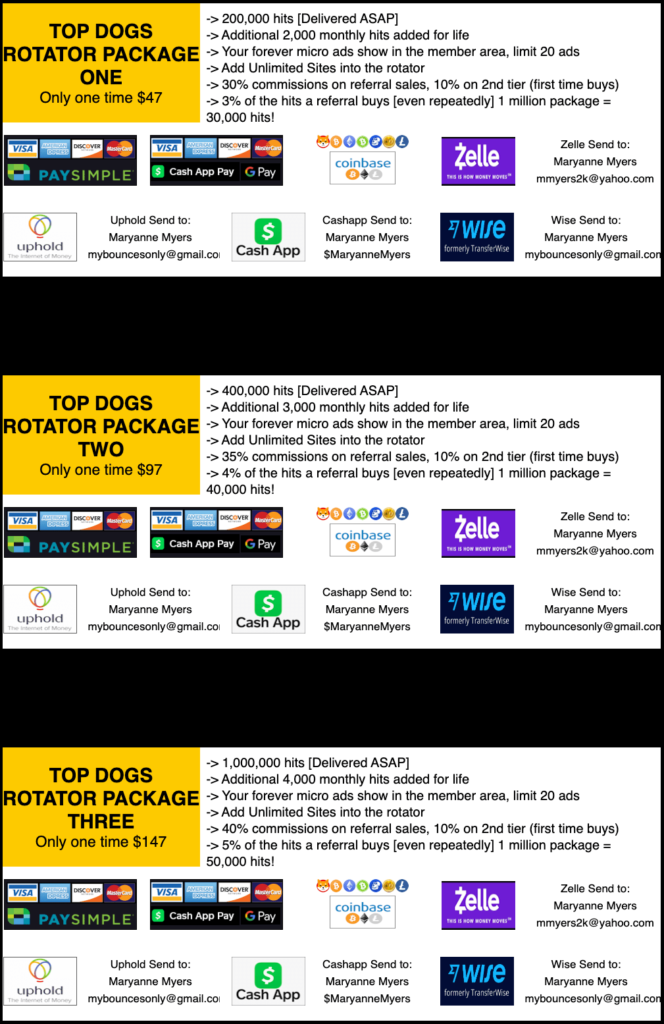 There are three pricing options:
Package 1 – $47
Package 2 – $97
Package 3 – $147
As you can see in the screenshot above, you can get up to 1,000,000 hits delivered as soon as possible to your websites if you purchase Package 3.
Generally speaking, we believe this is a generous offer, as you can get up to 4,000 monthly hits on autopilot with these traffic packages. Moreover, when you purchase one of these packages, you will receive higher commissions on referral sales and a higher percentage of referral hits.
You can buy these traffic packages by sending the payment via Bitcoin, PaySimple, CashApp, Uphold, Zelle, and Wise. Unfortunately, TopDogsRotator doesn't support PayPal as its payment processor. If you're interested in exploring these packages, we suggest signing up for a free account and testing the platform before buying one.
TopDogsRotator Banner Ads

If you're on a tight budget, there is a banner ads option which will cost you $25 for a one-time payment. You can add any banner size, but the maximum is 728 x 90. It's a standard banner like in the screenshot above.
Based on our experience, banner ads are not that powerful unless you have a captivating design and ad copy. So, we suggest designing your banner ads using tools like Canva or Visme and testing various banner ad copies. If you need help crafting banner ad copy, you can use one of these AI copywriting tools on our list.
TopDogsRotator Pros and Cons
If you're interested in testing out this traffic system. You might want to consider some of the pros and cons regarding TopDogsRotator.
Pros
You can use it for free.
Browsing for credits is not going to take much time.
You can open multiple websites at once and still earn credits.
Traffic Packages are available for a one-time payment.
Buying Traffic Packages is worth the money in the long run.
Cons
Free members are limited to getting 125 visitors daily.
You won't see a significant result unless you opt for one of the traffic packages.
Frequently Asked Questions
Can free members make money?
Yes. You can make money by referring other people to use and buy Traffic Packages or Banner Ads. As a free member, you'll earn 25% commissions and 4% of hits for each package sold.
What happens if I buy one of the packages more than once?
You will receive added benefits on top of what you bought in the first place.
Will your advertising credits run out?
As a free member, you must browse ads to earn credits daily. However, if you buy one of the Traffic Packages, your advertising credits will never run out.
Are there any TopDogsRotator Alternatives?
Conclusion
To summarize this TopDogsRotator review, we believe it's worth your time to use it to drive traffic to your websites or affiliate offers. However, this system shines better when you upgrade to one of the offered Traffic Packages.
If you're new to traffic exchange sites and rotators like this, we suggest signing up for a free account and testing them to learn more about how the system works.
---
Sugiya is the Writer and Owner of We Recommend. He is passionate about helping people make better decisions when buying things on the internet.