---
Are you looking for a legit Udimi review? Fortunately, you can rely on us as we have purchased several solo ads from Udimi.
In this review, we will share our experience using Udimi as a way to make sales and grow our email list. Even though there are several articles out there stating Udimi is not legit, we'd like to give another point of view.
So, without further ado, let's dive in!
Should You Buy Solo Ads From Udimi?
Udimi is a legit solo ads marketplace to deliver high-quality traffic to your offer. You can buy solo ads from Udimi by carefully considering and filtering your seller options. We recommend ordering from sellers with at least a 50%-60% sales rating for the best result. Based on our experience, we made several sales through Udimi solo ads while exponentially growing our email list.
What is Udimi?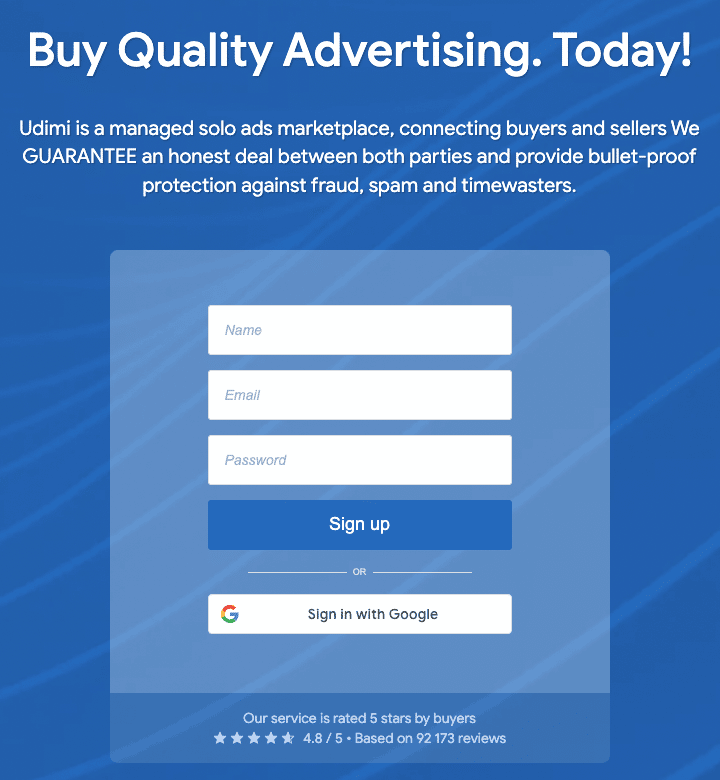 Udimi is a solo ads marketplace where you can buy and sell solo ads to drive traffic to your offer. There are hundreds of sellers you can carefully choose to buy traffic. On Udimi, the primary metric is the number of clicks.
Based on our experience, the price for each click varies from $0,40 to a whopping $2 per click. Usually, the higher the price, the more quality traffic these sellers provide. However, we strongly recommend browsing the reviews before choosing which seller you want. We will cover more about this in the next section.
How to Buy Solo Ads on Udimi? (Udimi Tutorial)
To buy solo ads on Udimi, you need to create an account. After that, you can browse sellers by clicking on the Find Sellers button or Solo Deals.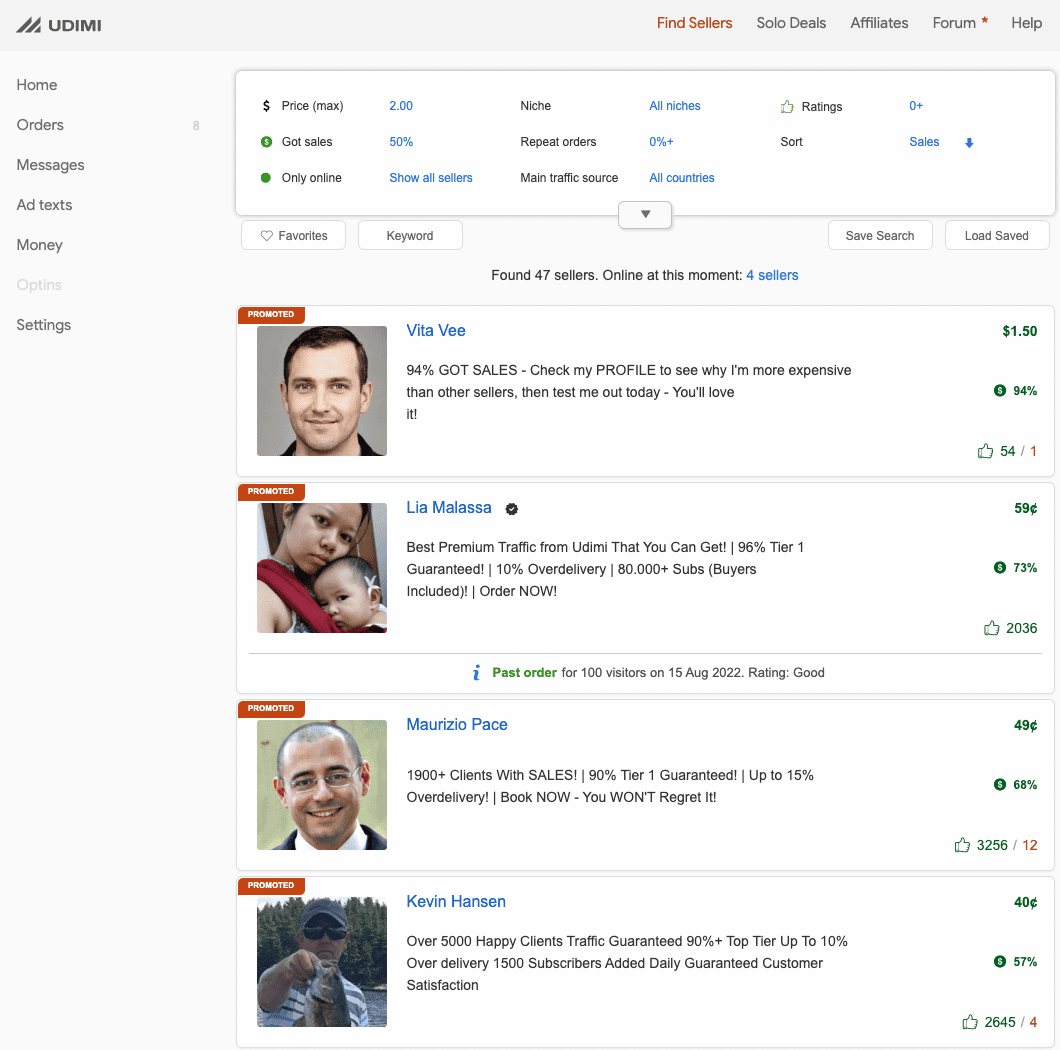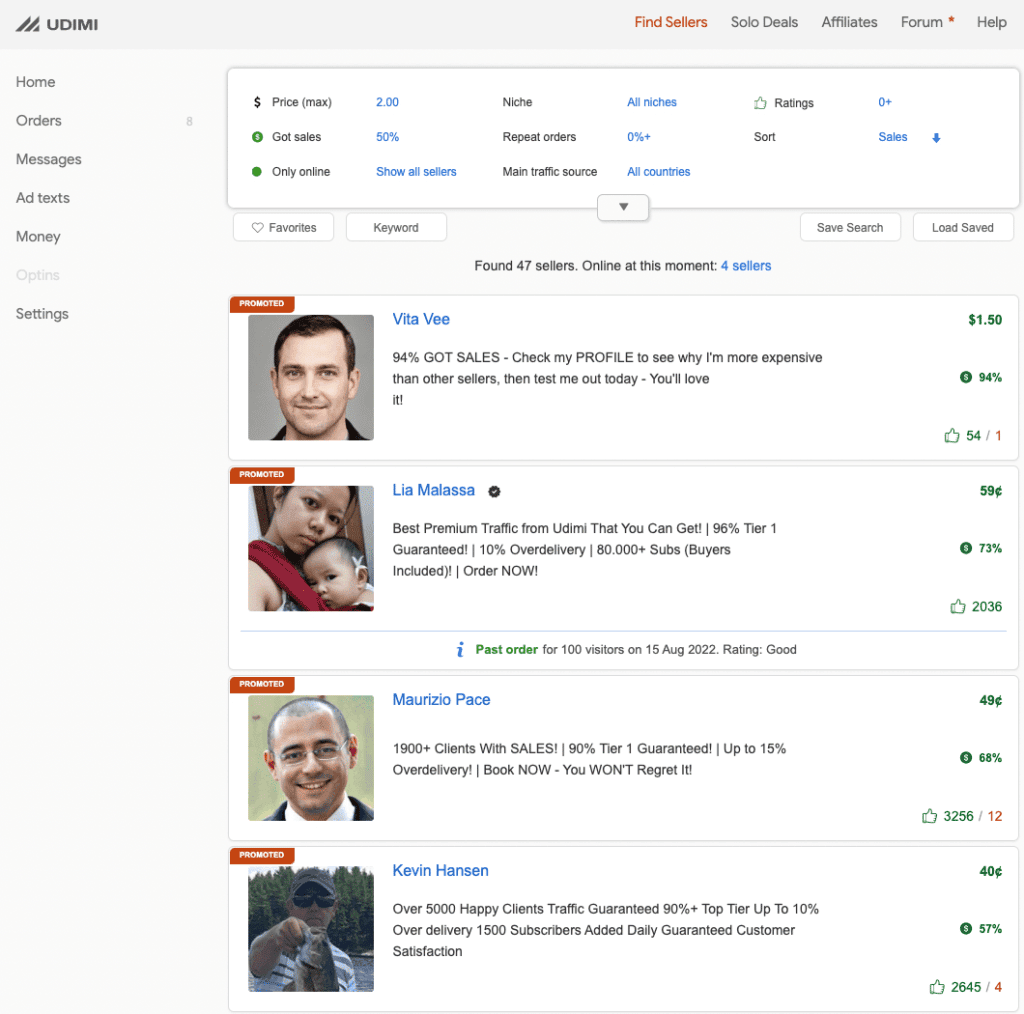 The difference between these two is the price and discount offer. Sometimes sellers offer Solo Deals which means they give a lower price per click than their usual rate. Usually, this happens only on a particular day, so you might want to pay attention to these sellers.

However, the most common way to browse for sellers is by clicking the Find Sellers menu. Here, you can see there are filters you can apply to look for high-quality sellers. Apart from the other settings, there are several settings you need to pay attention to:
Price: You can filter the seller's rate based on price starting from $0,40 up to $2 per click. So, you can buy solo ads based on your budget.
Got Sales: This setting might be the only setting you need to look for high-quality sellers. It is the percentage where buyers got sales from buying solo ads from these sellers. You want to set this filter to show sellers with 50% sales based on their history.
Niche: Some sellers have a list that works for a particular interest, such as marketing, finance, health, mobile, social, and crypto. Depending on your offer, you might want to use this filter if you're promoting health or cryptocurrency products.
Repeat Orders: You can also filter sellers based on their repeat orders. If someone does a repeat order from a particular seller, it shows that their lists are active and could drive sales to your offer.
Main Traffic Source: Typically, you can set this filter to show only sellers with traffic from top-tier countries such as the US, UK, CA, and NZ. However, based on our experience, it is best to set this filter to all countries.
If you need more information, here is a video to show you how to buy solo ads on Udimi.
After you place your order with a particular seller that suits your offer, your seller will approve your order and start delivering traffic within 100 hours. Moreover, you will get access to monitor your progress inside Udimi. We will cover this in the feature section.
What Kind of Offer Works on Udimi?
Generally speaking, you can promote any offer on Udimi. However, there are two types of offers you can drive traffic through Udimi sellers. These are Ad Texts and Links.
Ad Texts works best if you'd like to use it for testing your email copywriting. It's like sending out an email marketing campaign through the seller's list to test how it performs. We have never done this before because we use My Lead Gen Secret to experiment with email marketing copy.
Links work best when you want to drive traffic to any affiliate offers. But, it would be a waste if you buy solo ads to promote your links without any capture page. So, the best practice is to create a capture page before promoting your offer. This way, you can grow your email list with solo ads.
Udimi Review: Key Features
As a solo ad marketplace, Udimi has a great feature to deliver high-quality traffic to your offer. We will highlight some of them here.
Udimi Click Filter
One of the bad practices with solo ads is that you can get scammed with bot clicks. Nothing is more frustrating than paying for fake clicks. Thankfully, Udimi provides a filter that allows a buyer to get the quality traffic they are paying. This filtering process works through Udimi's tracking link.
When you place an order as a buyer, Udimi will convert your link using their tracking link. This way, every click is verified as human and not bot traffic or came from a traffic exchange site. Here's an example of how this click filter works.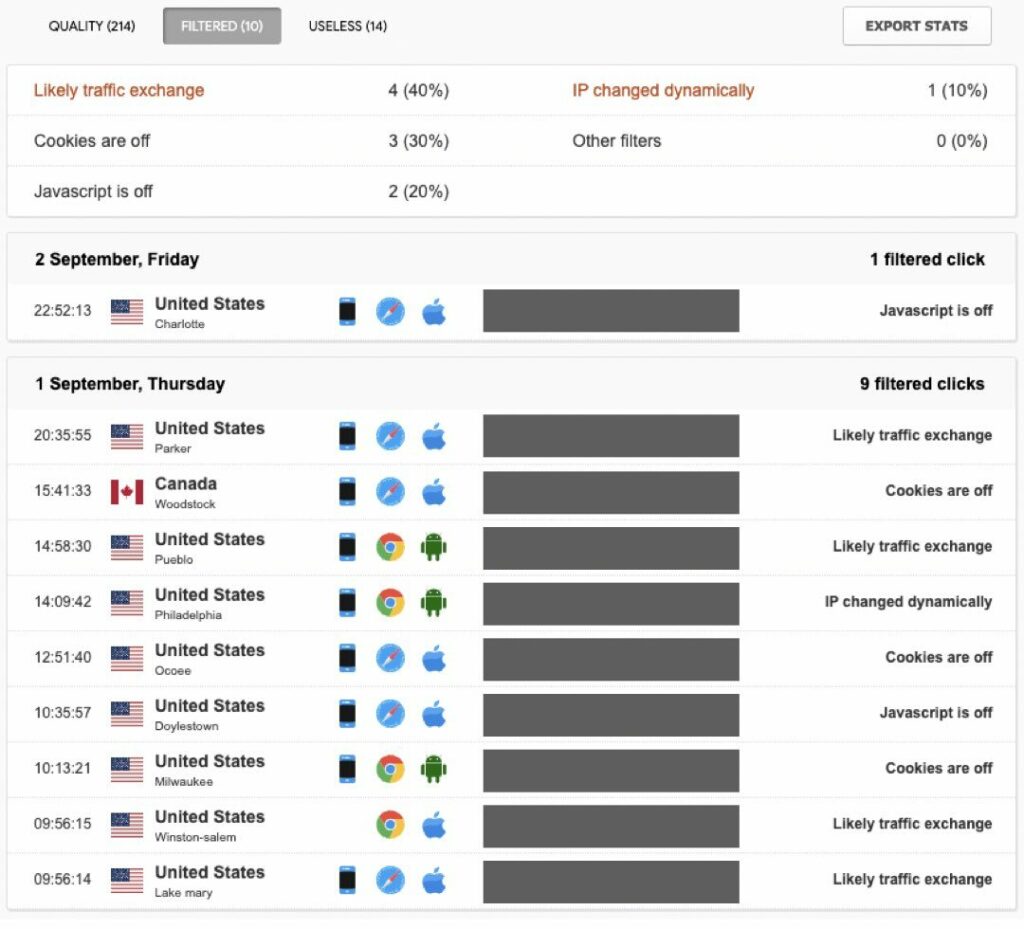 As you can see, Udimi can identify when a seller doesn't deliver high-quality traffic to their buyer. It can also differentiate if the traffic came from a traffic exchange site. So, rest assured, you'll only pay for high-quality traffic.
Blind Rating
Since Udimi is a solo ad marketplace, ratings and reviews play an essential role in potentially influencing decision-making. However, Udimi implements a blind rating principle to deliver an honest and unbiased rating system.
Buyers and sellers could give a rating to each other. But, Udimi doesn't allow both parties to know each other's ratings until both parties have finished giving a rating to each other. This method prevents either buyer or seller from providing similar ratings to each other. In other words, ratings are based solely on the quality of the transaction.
Prime Status
When you sign up on Udimi, there is an option to upgrade your membership to Prime. You'll get several benefits as a Prime member, such as:
Advanced Opt-in Tracking: This feature allows you to monitor heatmaps and attention maps when visitors visit your link.
Prime Filter: When you order a prime filter, sellers will charge you more for better traffic delivery. However, this is free when you are a Prime member.
50% Affiliate Payments: As a Udimi member, you can promote Udimi as an affiliate to earn money. As a Prime member, when someone you refer purchases a solo ad, you'll get a 50% commission instead of 25%.
However, the Prime membership is quite expensive at $29,95 per month. We wouldn't recommend getting a Prime membership unless you are a consistent buyer of Udimi.
Udimi Pricing
Generally, the lowest price range on Udimi is around $0,40 to $0,69 per click. As previously mentioned, some sellers even price their service at $1,50 per click, which is expensive, but it's worth it when you can get sales from their list. Imagine ordering 100 clicks at $150 and getting $300 from your affiliate offer. It's possible.
Udimi Pros and Cons
Although Udimi claims to deliver only high-quality traffic, there are several pros and cons to consider before you place an order.
Pros
Several qualified sellers have more than 80% sales rating. Some of them even have more than 90%.
Udimi is a trusted marketplace, and you can get a refund when your order does not qualify as high-quality traffic.
Not everyone can be a seller on Udimi. They must have a good track record.
People are giving honest reviews based on their results.
Most sellers gave over-delivery up to 15%. So, when you order 100 clicks, you might receive 115.
Cons
For starters, Udimi could be expensive.
Udimi Prime is considered pricey.
You could have several trials and errors before finally getting the result you want with several sellers.
Sometimes, people who have opt-in to your email list have no money. They are just interested in making money online without any investment.
Udimi Affiliate Program
When you sign up on Udimi, you automatically become an affiliate. You can get 15% commissions on all orders from your referrals orders. For example, if one of your referrals purchases $1,000 worth of solo ads this month, you'll get $150. Moreover, if your referral upgrades their membership to Prime, you'll receive up to 50% on their membership.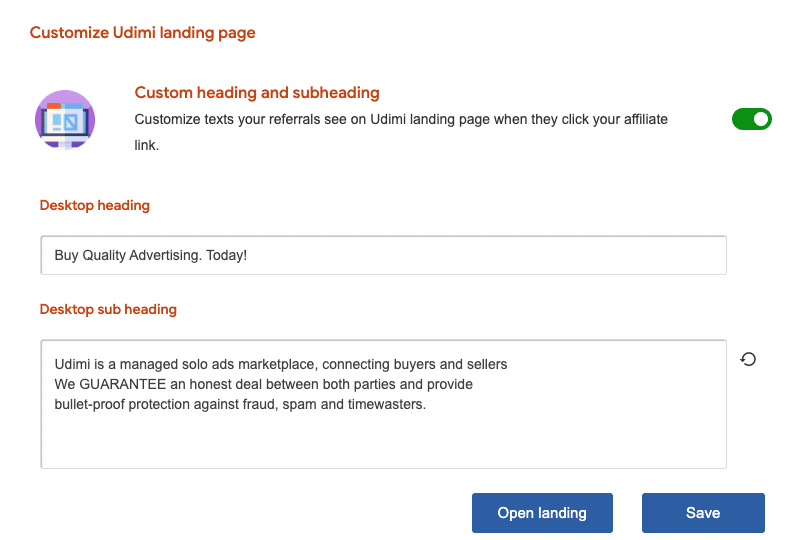 Udimi also provides you with the usual affiliate tools such as banners and videos. However, one of the unique ways you can do to promote Udimi to your network is that you can customize the Udimi landing page copywriting. Furthermore, you can also create a custom automation message when your referral signs up through your affiliate link.
Frequently Asked Questions
How to cancel or delete your Udimi account?
To cancel your account, you need to contact Udimi Live Support Team.
What payment method does Udimi offer?
You can purchase solo ads from Udimi using credit card payment or PayPal.
How can you get a refund from Udimi?
When a seller fails to deliver quality traffic within 100 hours, you will automatically get a refund to your Udimi wallet. You can transfer it back to your PayPal or purchase another solo ad.
Conclusion
To summarize this Udimi review, we strongly recommend reading through the reviews of each seller before placing an order. Based on our experience, we have several recommended Udimi sellers if you'd like to get high-quality leads. These sellers have delivered great opt-in rates and signups for our offers, and we believe they will do so for your offers.
---