This post contains affiliate links. We may receive a commission for purchases made through these links without any extra cost to you. Thank you for your support.
---
In this Fliki review, let's find out everything you need to know about this text-to-speech video creator. You'll be surprised by how powerful this tool is.
As you might have read through our reviews, many of them are reviews about content creation tools. Recently, we tried to find something unique for our valuable readers, and that's when we found Fliki. Unlike Speechelo, where you can only create a text-to-speech AI voice-over, Fliki allows you to create a video. So, it's more versatile in terms of usage.
Before going deeper to learn more about this tool, we realized content creation takes a lot of work. That's why there are more tools to help content creators scale their content as fast as they can. This phenomenon is especially true if you're creating a video.
Even though there are powerful online video editing tools such as FlexClip, Canva, and Visme, you can't ignore the fact that you must learn how to navigate through the user interface. Otherwise, a simple drag and drop could turn into a nightmare.
Well, Fliki is the opposite of that nightmare. We are blown away by the simplicity of the user interface. Honestly, we never thought of creating a video like this.
So, without further ado, let's dive in and break down everything about this tool.
What is Fliki?
Fliki is a powerful tool for creating audio and video content with AI-powered text-to-speech technology. Nowadays, YouTube Shorts, Instagram Reels, and TikTok Videos are getting more popular among content creators. These kinds of videos have the potential to reach a large audience because they are shareable, short, and fun to watch.
When you create this kind of video, the process could be time-consuming and costly, even for a short 60 seconds video. In addition, the cost is even higher if you add a voice-over to the video. We did a little research about this and found the average salary of a voice-over artist is around $31 per hour in the US.
Now, what if you can use AI to help you create videos? That's what Fliki is all about. With a simplified workflow and user interface, Fliki allows you to create video content based on a script you write. AI will process your speech into narration, and you can add relevant images and clips to your video. Pretty interesting, right? Wait until you see this video showing how to create videos from text using AI voices.
What Can You Create With Fliki?
If you're using a smartphone, you must have used Siri or Alexa at least once, right? Since Fliki is a text-to-speech online editing tool that allows you to create audio-based content, there are several practical use cases of Fliki for content creation. Here we will outline four of them.
Voice-Over Creator
As we previously mentioned, creating a voice-over with Fliki is possible. You only need to write or submit a script to the platform, and Fliki will instantly generate an AI voice-over on your behalf. Moreover, what you get is not a cheap robotic-like voice-over that sounds weird. You will get a natural-sounding voice-over with Fliki.
Video Maker
If you're a video editor, you might be familiar with the term timeline for editing your video. As the name says, a timeline is where you can arrange all your clips, images, voice-overs, background music, and many more in one place. Fliki allows you to create a video, add a subtitle, and even render it beautifully within minutes.
Podcast Maker
Podcast has been around for years, and it has a dedicated audience for sure. We are not into a podcast, but Fliki is powerful enough to help you create your next podcast and publish them on various platforms. We're talking about Spotify, Apple Podcasts, and Google Podcasts here. In addition, Fliki also provides you with a beautiful public page to showcase your podcast episodes. Plus, you can analyze the traffic to plan and scale your podcast to new heights.
Audiobook Creator
Another valuable use case for text-to-speech software is to convert your e-book into an audiobook. With Fliki, you can easily create an audiobook within minutes. Just like all the other use cases before, Fliki will instantly generate the voices based on the text of your e-book. You don't have to hire a voice-over artist to publish your audiobook. You can do it with Fliki.
In the next section, we'd like to show you how you can create a video with Fliki. However, before that, take your time to read these valuable testimonials below. You might want to try Fliki to support your upcoming content creation process.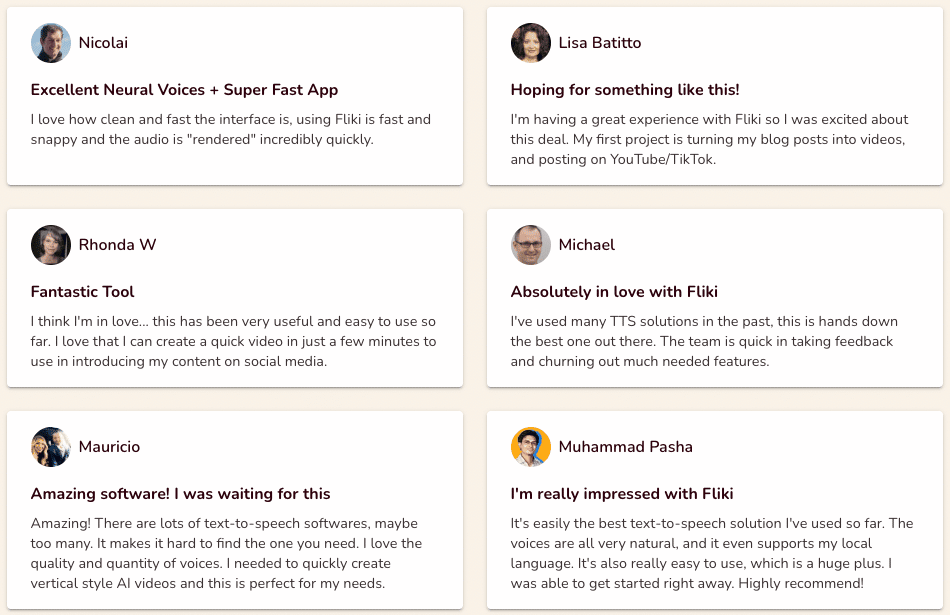 How to Create a Video With Fliki?
To create a video, you can sign up and create a free account on Fliki. After creating your account, you will see a dashboard like this below. Neat and clean. That's our first impression when we see this.
There is a menu bar on the left side with four use cases: Scripts, Videos, Podcasts, and Audiobooks. For this review, we will try to create a video with Fliki.
Step 1: Setting Up Your Video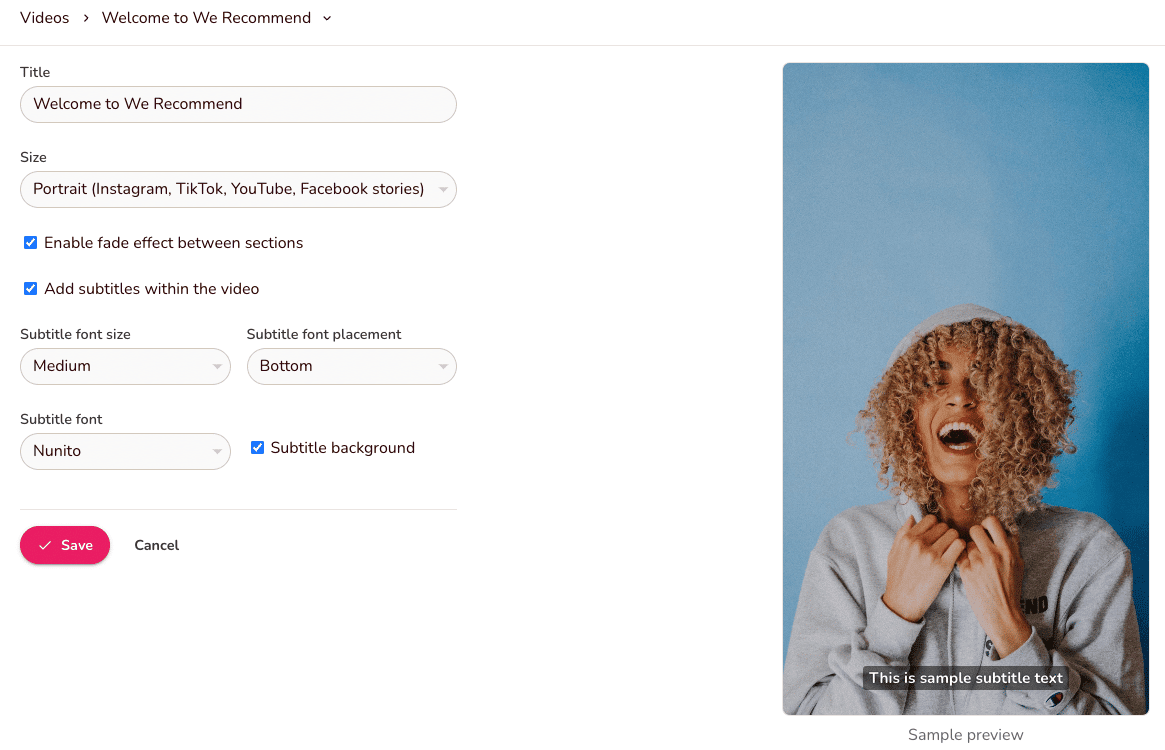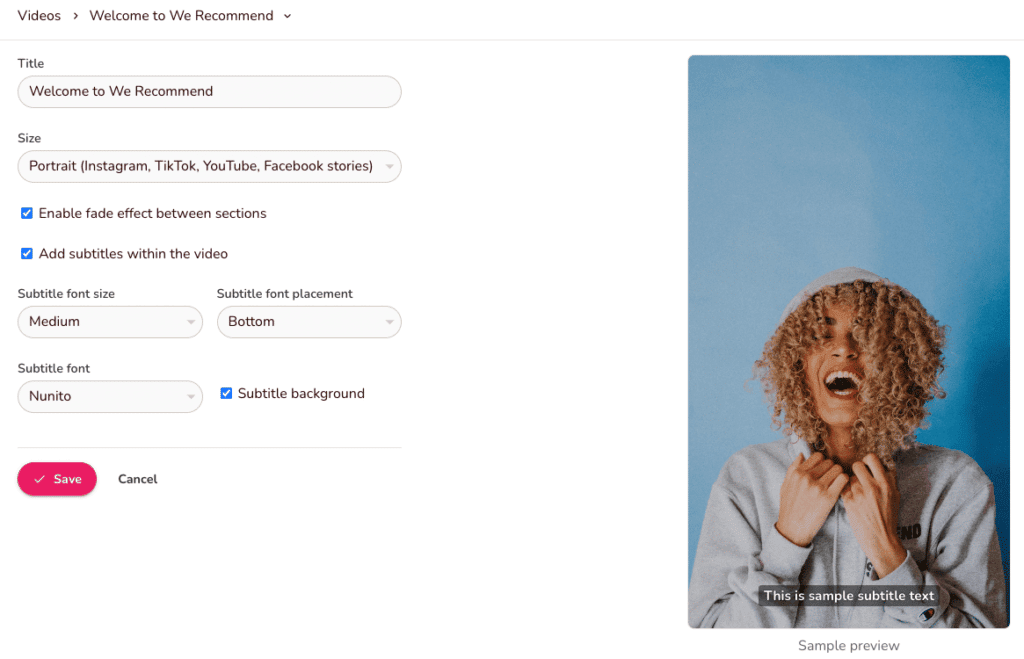 Firstly, you need to enter the title of your video and select the size of your video output. There are three video sizes to choose from; square, portrait, and landscape. As you can see, there is a video preview on the right side of the screen.
After choosing the size of your video, you will see two checkboxes where you can choose to enable the fade effect between sections and add subtitles within the videos. When you tick the subtitle option, you can customize your subtitle—its font size and placement. Moreover, you can also choose if you want to add a background to your subtitle.
Step 2: Write Your Script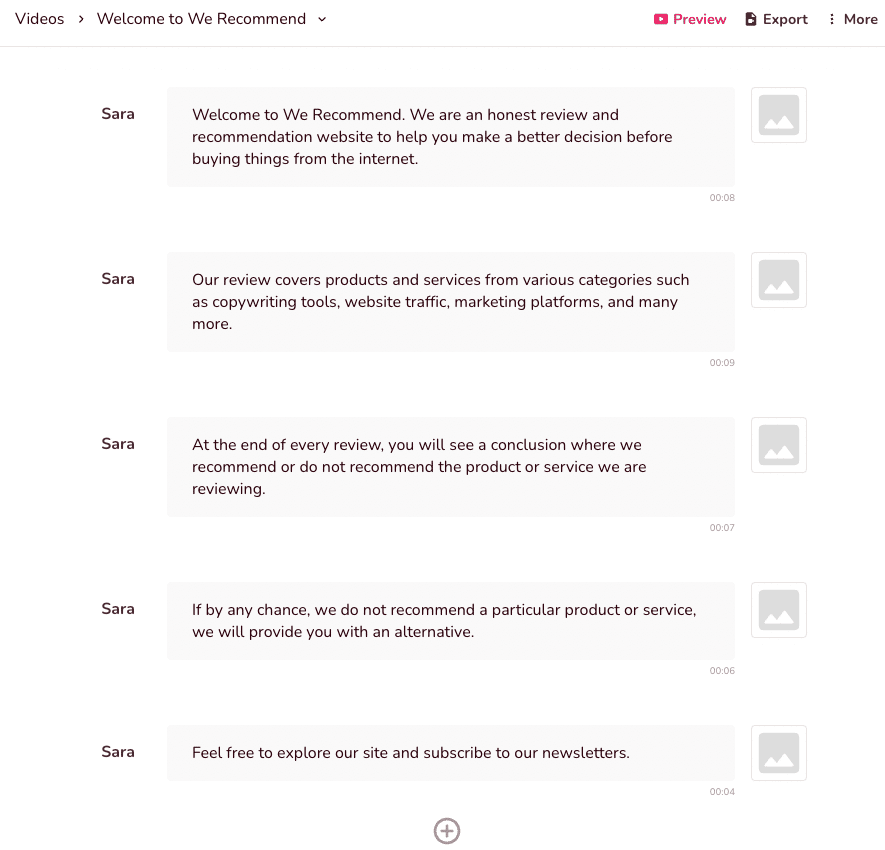 Here comes the best part to see how Fliki's text-to-speech works. If you already have a script, you can input and divide it into sections. You can think of it as a way to break down your message into small chunks.
As you can see from our example above, we are writing a short script as an introduction video for our website. If you click on the image, there is a small duration at the bottom right of every section. It's a timer to show how long the AI will read your text. In our example, the total duration is 34 seconds.
Step 3: Customize Your Video

When you hover your mouse over each section, you will see an image placeholder alongside a play audio button and additional settings. If you click on the image placeholder, you will see a pop-up menu like in the screenshot below.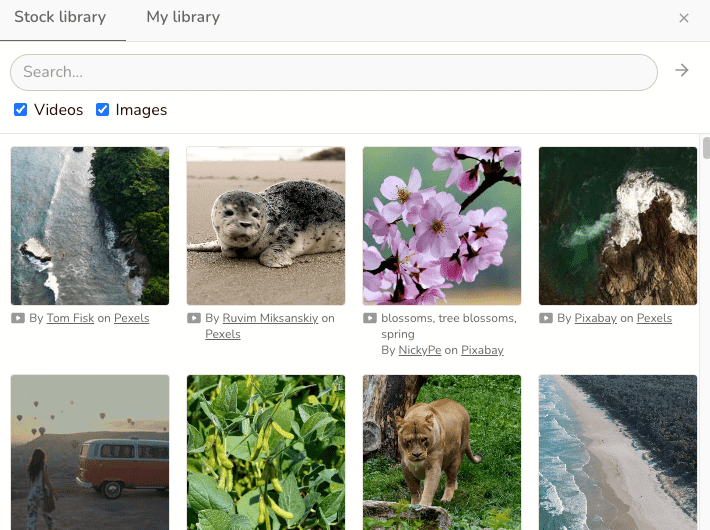 You can search for free clips and images to put in your videos or upload your own. It's your call. Each section will have its dedicated image or clip to show. When you fill in all the image placeholders, your timeline will look like the screenshot below.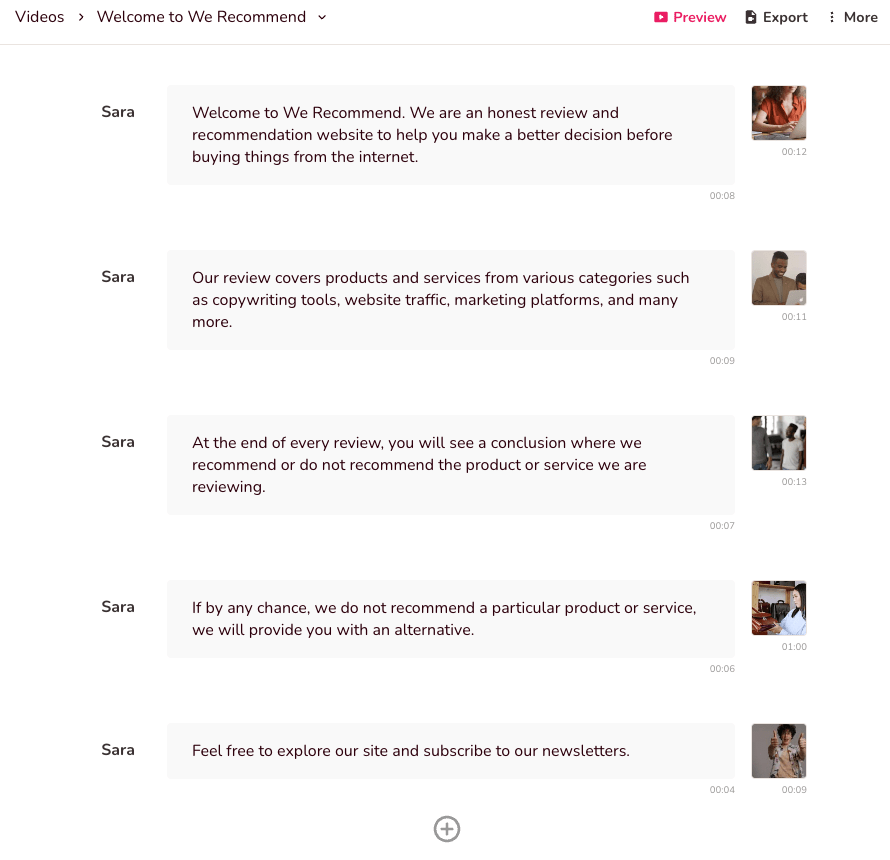 Generally speaking, viewing a horizontal timeline is the best way to look at your video. However, we didn't know that a vertical timeline is also possible. We can organize everything clearly without being confused. Fliki's user interface made this possible to edit your video using a vertical timeline.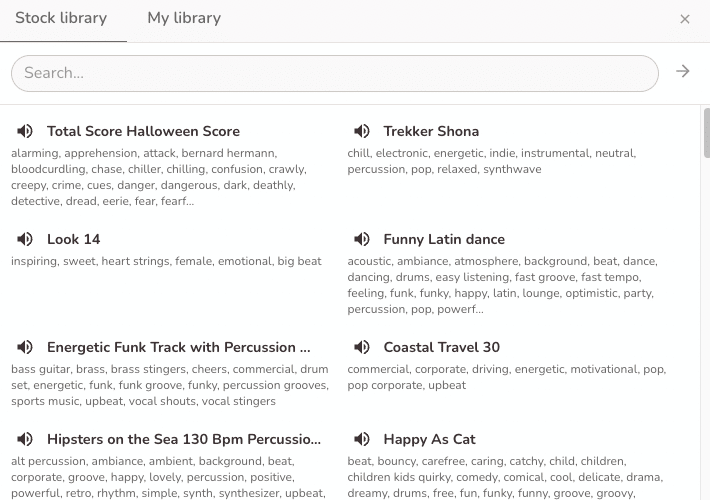 Now that you have your video, it's time to add background music. You can hit the More button on the top right corner of your screen and select the Background music option. You will see a similar pop-up menu as when you search for clips and images.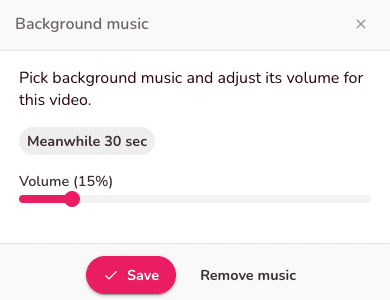 You don't have many options here, but we think that's not a big deal since you can upload your own if you want. After selecting your background music, you can easily adjust the volume—so it doesn't overlap with your AI voice-over.
If you'd like to preview your video, hit the Preview button, and Fliki will render your video. Honestly, we are amazed by Fliki's speed when preparing a preview. It's blazingly fast!
Step 4: Export Your Video
Now that you already have your video ready, it's time to export them. Hit the Export button, and Fliki will render your video in a high-resolution format within minutes. Take a look at the result. We think it's pretty decent for a short introduction video.
Fliki Features
In this section, we'll highlight several features Fliki has to offer. We believe since Fliki is still new, there will be many features coming along the way.
65+ Languages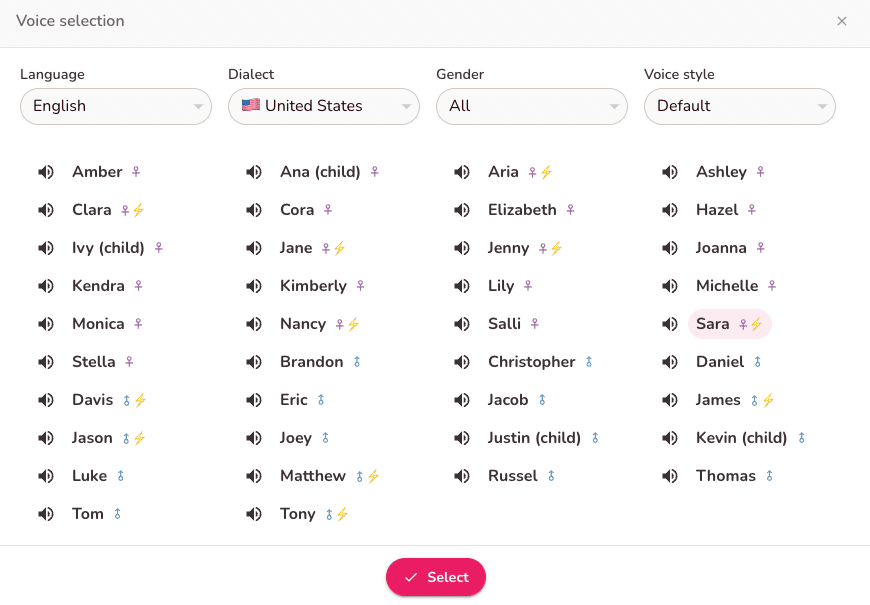 Currently, Fliki supports AI voice-over in more than 65 languages. So, you don't have to worry about creating a customized video in your local language. You can click on the voice name and use the dropdown language menu.
Dialects/Accents
Fliki doesn't stop there in generating a high-quality voice-over with AI. It even provides a customized voice-over in a particular dialect or accent. It's just amazing to hear these dialects applied to English. More importantly, Fliki supports more than 100 dialects/accents from all the languages available.
Male/Female Voice-Over
You can choose from more than 700 voices in both female and male AI voice-overs. Moreover, you can select several tones to help you get the proper intonations for your voice-over. Try these two tones, Excited and Whispering. You will be amazed by the quality. In addition, there is also a child voice-over if you'd like to create videos for kids!
Script Editor

This feature is the bread-and-butter for every text-to-speech software. When you write your script on Fliki, you can adjust how the AI would sound based on your preference. You can fine-tune the sentences reading speed, pitch, and even pauses. For us, this feature is a sign that Fliki is taking it seriously to be the best text-to-speech AI generator.
Pronunciation Map
Another feature that makes us want to explore Fliki is that you can add your own words dictionary and use it in your video. This feature is valuable if you're writing about a brand with a unique name, such as Rytr. You can use the pronunciation map to replace the sound of Rytr as Writer. Otherwise, AI will read it as R-Y-T-R.
Fliki Pricing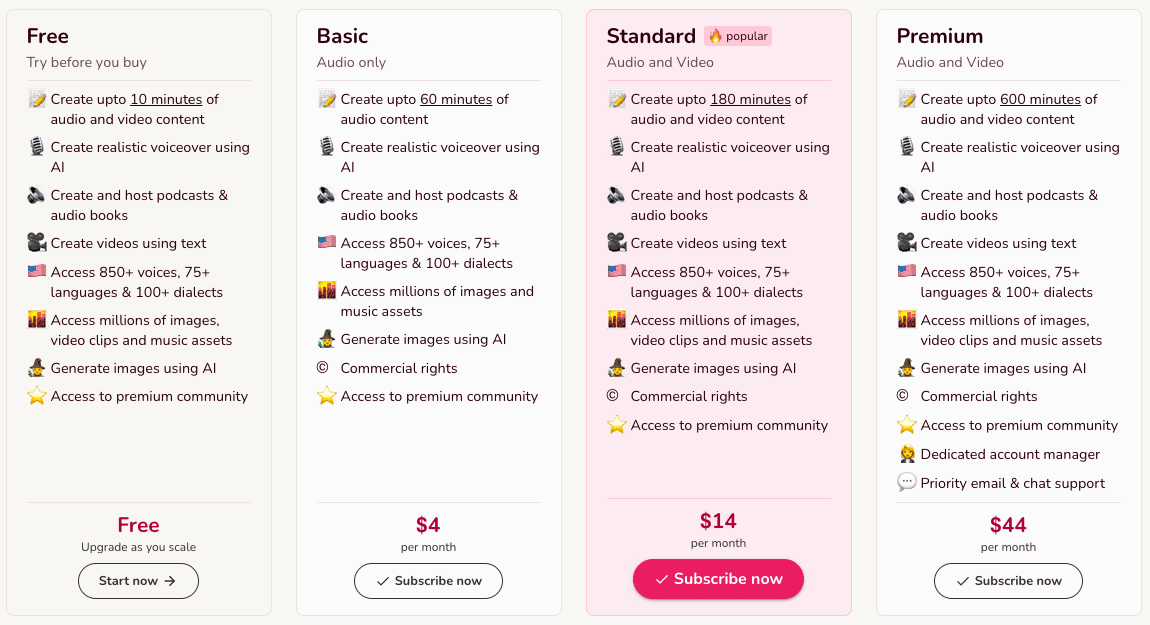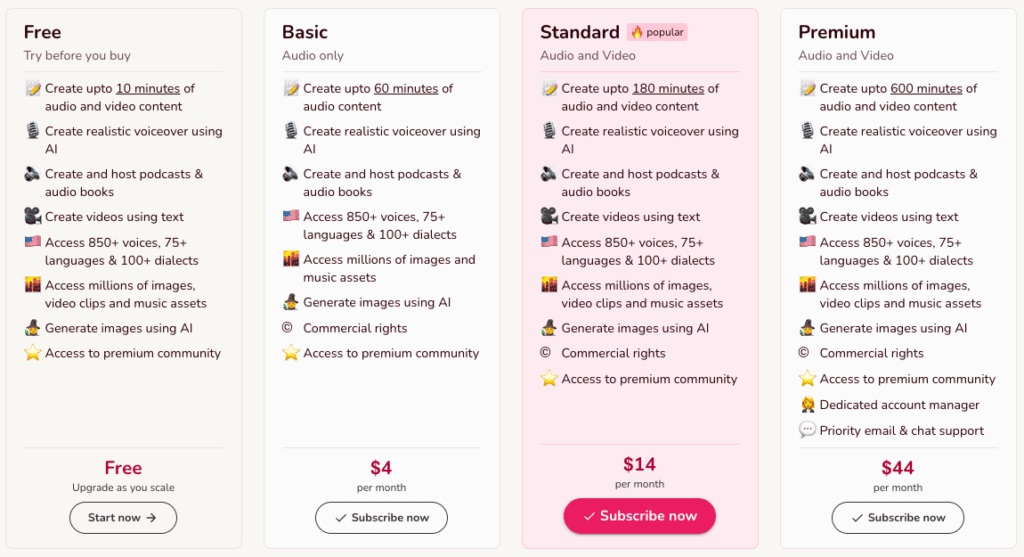 Fliki has four plans to choose from; Free, Basic, Standard, and Premium. With the Free Plan, you can generate up to 10 minutes of video and audio content per month. It's enough to create one or two short videos. However, you don't have commercial rights to any content you create with Fliki.
For us, the best plan is the Standard Plan at $168 per year, where you can create up to 180 minutes of audio and video content. If you're creating content daily, you might opt for a Premium Plan.
Fliki Pros and Cons
As we previously mentioned, Fliki is still a new platform, and it's growing fast. That's why there are several pros and cons to consider.
Pros
The free-forever plan is good enough as your online video creation tool. It's not a pro tool like Adobe Premiere or Final Cut Pro, but it works well.
User-friendly and easy to use for beginners.
The vertical timeline is a great way to organize your scripts.
Fully customizable high-quality AI voice-over.
Affordable saver plan!
Cons
There are no monthly subscription plans.
You don't have that many options for background music.
Limited animation for video transitions.
Frequently Asked Questions
Are there samples of Fliki's AI voice-over?
Yes. You can listen to all the samples of each AI voice-over for free.
Does Fliki offer a separate credit purchase for AI-generated words?
As far as we know, there is no such thing right now. However, you might want to consult with the support team by email at support@fliki.ai. Or, you can use the live chat feature.
Can you use Fliki to produce a video with long duration?
As long as you don't run out of credits for the AI-generated words, you can create up to 50,000 words in one video by subscribing to the Premium plan.
Can you mix and match the AI voices to create a conversation?
Yes! Since Fliki divides your script into sections, you can create a conversational video with Fliki.
Does Fliki have any refund policy?
No. There is no refund policy for the subscription you have already paid. You can use it until the current subscription period.
Conclusion
To summarize our Fliki review, this might be the best text-to-speech AI voice-over you can use for content creation. Based on our experience, using Fliki is intuitively easy, and we think anyone without video editing skills can do it.
So, if you're looking for an online video editing tool that is easy to use and powerful enough to create short videos, Fliki is the answer. We strongly recommend it for people looking to scale their YouTube channel or Podcast episodes at an affordable cost.
---
Sugiya is the Writer and Owner of We Recommend. He is passionate about helping people make better decisions when buying things on the internet.